These oddly shaped artificial ponds tucked into woods and meadows in the heart of the Willamette Valley are a real gem for anglers of all abilities.
The seven main ponds hold a wide variety of fish, from seasonally stocked rainbow trout, to battling largemouth bass, to the occasional giant channel catfish.
This article has been updated, including adding the current trout stocking schedule below.
Access to St. Louis Ponds
The ponds are not too far off Interstate 5 south of Woodburn, a very easy drive from Salem and under an hour away for much of the Portland area.
Not only that, but the ponds are a great venue for kids and other beginning anglers and also are fishable for people who need easily accessible water.
Fishing platforms, docks and wide pullouts along long paved pathways put these ponds in reach of anglers of nearly all abilities.
A significant part of the park is Americans with Disabilities Act (ADA) accessible, but there also are more primitive paths into the farther ponds for those who are able to get away from the more developed sections.
Fishing Regulations
First off, please note that special harvest regulations and other rules have long been in place at the ponds, so it's best to always check the current regulations before fishing.
Particularly, at last check there continued to be daily limits for largemouth bass (one), channel catfish (two) and crappie (10).
Also, no boats of any kind are allowed, but the ponds are shaped in such a way that anglers's casts can reach just about anywhere from the bank.
Rainbow Trout Fishing
The biggest crowds will come with the trout, which are trucked in multiple times each spring and often again in the fall.
On our most recent check, which we provide as an example, trout stocking was set to begin in February and continue with regular visits until May. That's four solid months of trout fishing.
Stocking also was scheduled to resume for the Labor Day Weekend, with a handful of fall plantings planned into October.
Fall is a great time of year because trout fishing tends to be just a little less crowded than in spring. Dodge an occasional storm coming through, and early fall is also a great time to catch some bass and panfish and a pretty time in the Willamette Valley.
In many cases, ODFW shows St. Louis Ponds anglers some extra trout fishing love by stocking both the typical pan-sized legal rainbows as well as a pretty good number of larger "trophy" trout.
We've created an easy-to-read schedule for trout stocking at St. Louis Ponds, which you'll find at the end of this article. It's based on the Oregon Department of Fish and Wildlife's annual trout stocking plan. We should note that plans sometimes change, so it's also good to keep tab's on ODFW's weekly recreation report.
Trout are typically stocked in a select number of ponds, usually Pond No. 1 and 3, which are closest to the main parking lot and have very accessible bank access.
Sometimes these plantings support family fishing events that the ODFW hosts at the park. Extra fish may be stocked then, and there are typically still lots of trout around following the event.
For best odds of catching trout, show up in the days soon after trout are stocked, because fishing fades quickly as trout are caught. Plus, trout don't fare well in warmer water that arrives after the stocking season.
The usual trout baits and lures will work here.
PowerBait is a favorite almost everywhere hatchery rainbow trout are stocked, and other doughs, marshmallows, salmon eggs and nightcrawlers will all catch fish. The natural baits also are more likely to tempt the year-round species of gamefish in St. Louis Ponds.
I like the active pursuit of casting and retrieving spinners or spoons, even if the actual catch rate is often better with bait.
Lures are fun to fish and usually result in a fish hooked right on the edge of the lip, instead of the deep and often fatal hookups that come with bait fishing.
Fly fishing will always catch trout, even those fed fish pellets their whole lives in a cement pond before being trucked and dumped at St. Louis Ponds.
Rainbows are genetically wired to eat insects, although these hatchery versions aren't too finicky about having that hatch be matched. A simple woolly bugger or other types of streamer is usually all you need.
For an added challenge, see if you can get a trout to take a dry fly off the surface. Again, you probably won't need to get fancy. Just tie on a Parachute Adams or whatever you have in your fly box.
For more details on how to catch trout, read our article Trout Fishing: Basic How-To Techniques and Tips.
Brood Trout
We should also note that St. Louis Ponds are one of a handful of Willamette Valley waters that is typically stocked with broodstock rainbow trout.
These huge fish, ranging from 5 to 15 pounds (and sometimes bigger), were part of ODFW's trout-rearing operations before being released into area ponds to provide a possible thrill of a lifetime.
Most often the brood size rainbows are planted during the cold season in fairly modest numbers. Just as an example, a recent year's stocking at St. Louis Ponds was 80 brood trout and took place during early January.
Keep tabs on ODFW's weekly recreation report for news of brood trout, because these plantings aren't necessarily posted in the annual trout stocking schedule.
If specifically targeting brooder 'bows, we suggest you at least consider using heavier lines and rods and reels than you might for pan-sized trout. These extra big trout are more the size of salmon and steelhead.
Oh, and don't forget the rule about only keeping one trout over 20 inches. These brood fish will almost certainly be over that length.
Warmwater Fishing
St. Louis Ponds really shine for warmwater fishing, which is best from mid-spring through early fall. For warmwater anglers, there's something for just about everyone here.
Largemouth Bass
Largemouth bass are a popular target here, where most serious bass anglers practice catch and release.
There are good numbers of smaller bass. You'll have to work more for the larger ones here than at some of the state's premier largemouth bass fisheries, but they're in there.
As a side note, if you're interested in bass fishing, next read our article Best Largemouth Bass Fishing in Western Oregon for more.
To dive a little more deeply into the different ways to catch bass, try our easy guide, Bass Fishing: Simple How-To Techniques and Tips.
Crappie
Both black and white crappie varieties are in the ponds.
Crappie often travel in schools while hunting smaller minnows to eat, so if you catch one, there might be more nearby.
Jigs and lures that imitate small fish work best.
As with the bass, we have more on this type of fishing in the region. Please read Best Crappie Fishing in Western Oregon.
And then to better learn how to catch crappie anywhere, in different waters, seasons and fishing conditions, our easy guide on crappie fishing will definitely help.
Bluegill and Other Sunfish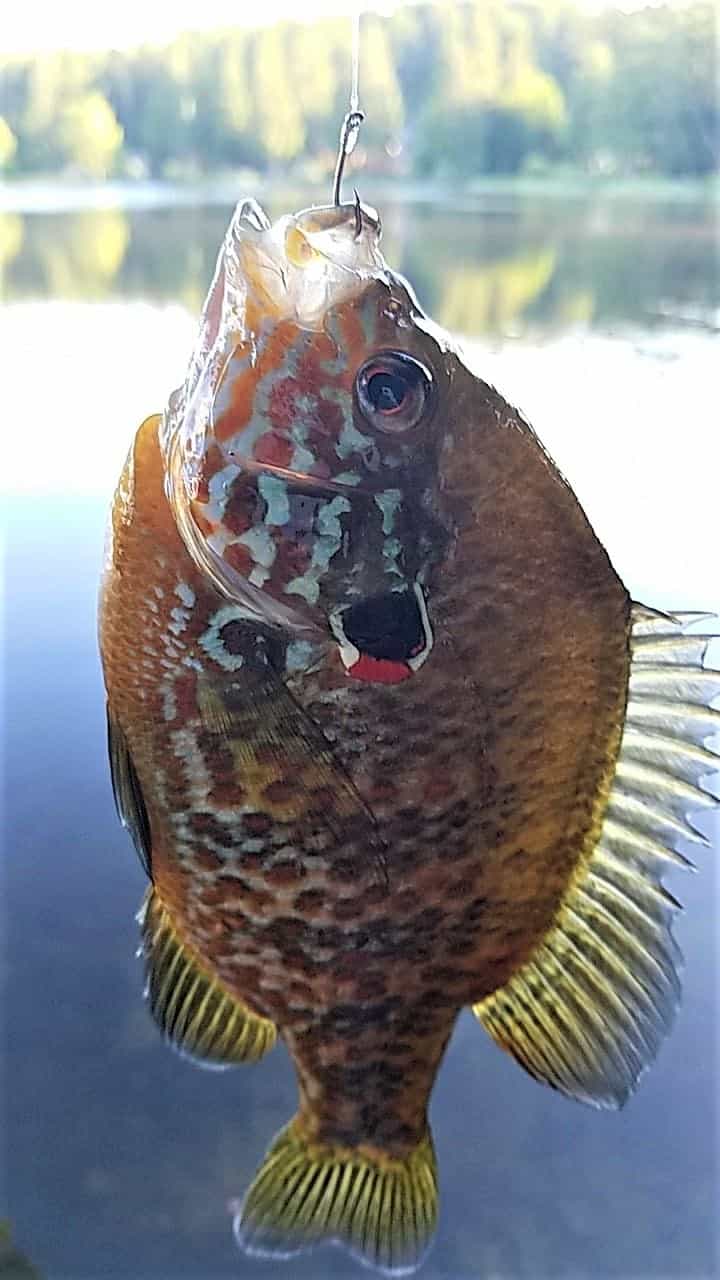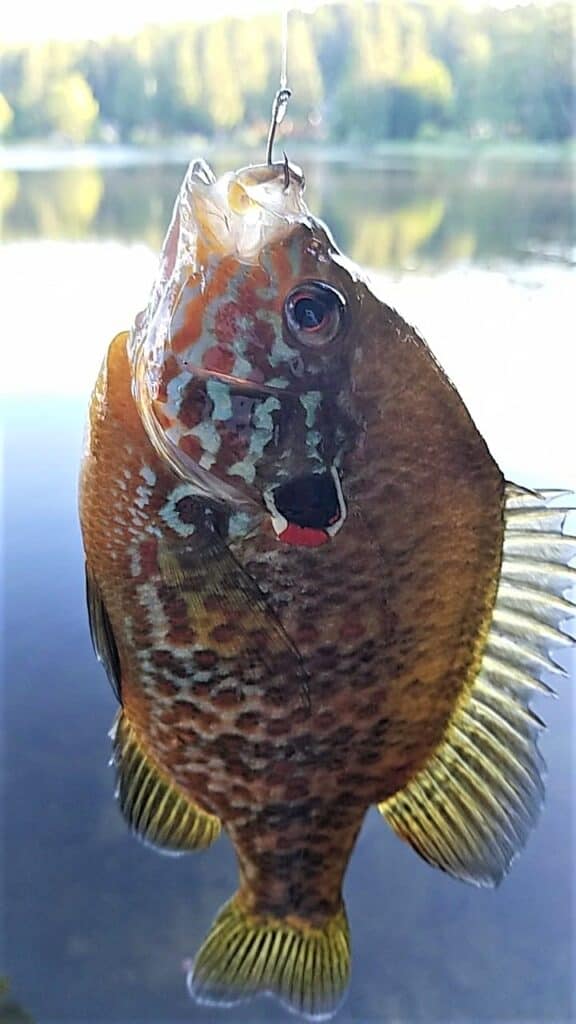 St. Louis Ponds are full of bluegill.
Many of these common sunfishes are small, but some larger specimens can be caught as well.
Bluegill are readily caught on natural bait such as worms, mealworms and crickets, often suspended beneath a bobber.
Or do what we often do and try dropping the bait at your feet beneath one of the docks because bluegill like to hide in the shade of docks as well as around weeds and other structure.
Bluegill also strike artificial flies and small lures and are especially aggressive in the spring while guarding nests near shore.
The ponds also are home to both redear and green sunfish, which are similar in size and habits to bluegill.
For more suggestions about this type of fishing, try our easy guide, Fishing for Bluegill and Sunfish: Simple How-To Techniques and Tips.
Bullhead and Channel Catfish
Like many waters across Oregon, the ponds are home to bullhead catfish, which run small but are easy and fun to catch for young anglers.
Unlike many waters on the western side of the state, the ponds hold a modest number of channel catfish. These fish can grow to lunker size and are the largest fish found at St. Louis Ponds.
Some of the biggest channel cats caught here have approached 30 pounds. Channel catfish are great fighters and excellent to eat.
For more about where in Oregon to catfish, we suggest you also read Best Catfish Fishing in Oregon.
Want to know more about the best catfish catching methods? Read our easy guide, Catfish Fishing: Simple How-To Techniques and Tips.
More St. Louis Ponds Information
The ponds are located within a larger 240-acre park jointly operated by ODFW and Marion County Parks. See the county's webpage for additional details.
The ponds are open to fishing all year, and thanks to recent installation of an automated gate, access has also switched to year-round.
Anglers can legally fish at the park beginning at 6 a.m. daily all year. Fishing is allowed until 9 p.m. from April 1 through September 30. It closes at 7 p.m. the rest of the year (October through March).
To get there from Portland, it's easiest to take the Woodburn exit and head west past the entrance to the outlet malls until you hit Butteville Road, where you'll turn left.
Drive to the south on Butteville Road through the country and across I-5 to the town of Gervais. Then turn right on St. Louis Road, which goes westward back across I-5.
After St. Louis Road straightens a little west of I-5, look for Tesch Road just before the railroad tracks.
Turn left on this gravel road and follow it down and around the park to the parking area, where there are restrooms and picnic facilities as well. There are a few places anglers pull out and walk in to other ponds.
From Salem driving north, you can take the Brooks exit and turn east toward Highway 99E and then north to Gervais, where you'll pick up the directions from above.
Or you can take the Brooks exit and turn west across I-5 and then take River Road north to the intersection with St. Louis Road. Turn right (east) and then look for the right turn on Tesch Road just after the railroad tracks.
2023 St. Louis Ponds Trout Stocking
| | |
| --- | --- |
| 2023 Stocking | Total |
| Feb. 6 – 11 | 1,000* |
| Feb. 27 – Mar. 3 | 1,950* |
| Mar. 6 – 10 | 1,000 |
| Mar. 13 – 17 | 1,700* |
| Mar. 20 – 24 | 1,000 |
| Mar. 27 – 31 | 1,000 |
| Apr. 3 – 7 | 950* |
| Apr. 10 -14 | 1,250 |
| Apr. 17 – 21 | 700* |
| Apr. 24 – 28 | 1,250 |
| May 1 – 5 | 1,125 |
| May 8 – 12 | 1,125 |
| May 15 – 19 | 1,375 |
| May 22 – 26 | 700* |
| May 29 – Jun. 2 | 2,466 |
| Aug. 28 – Sep. 1 | 700* |
| Sep. 11 – 15 | 700* |
| Oct. 2 – 6 | 500* |
| Oct. 9 – 13 | 950* |
| Oct. 16 – 20 | 500* |
*These stocking dates include 200 or more trophy-sized rainbows (the weeks of Feb. 6 and March 13 stockings have extra trophies).
Stocked fish are legal-sized rainbow trout unless otherwise noted. Stocking schedules are subject to change for a variety of reasons. The ODFW Weekly Fishing Report linked under Oregon Resources below may provide updated information.
Find more fishing spots in Marion County
Oregon Resources
ODFW Weekly Fishing Report
ODFW Trout Stocking Schedule
Oregon Fishing Regulations
National Weather Service