For a relatively big city, there are plenty of places to take kids fishing in and around Portland without needing to drive far.
Heck, you can even get to some of these on Tri-Met!
This article will point you to some of the child-friendliest fishing holes the Portland area has to offer.
As the resident experts on fishing in these parts, the Best Fishing in America website already has a ton of information about fishing in the metropolitan Portland area.
But this article boils it down for you to find the types of fishing holes that will work for your children, and quite possibly for the rest of your fishing friends as well.
Some of the waters mentioned here are specifically managed by the Oregon Department of Fish and Wildlife to provide fishing opportunities for youth, including some age-restrictions that prohibit able-bodied adults from angling in designated waters.
We should mention that the spots listed in this article also are very good fishing options for people with disabilities, thanks to easy and safe access combined with plentiful fish.
Don't worry, we'll link you as we go to specific articles also on this website, to give you all the rest of the information you need, once you've narrowed down your search.
We also offer plenty of links where you can check current fishing conditions, read fishing regulations and so on, to make it as easy to plan your trip as possible.
Does my child need a fishing license in Oregon?
Good question. The answer to this is, it depends on their age. Children who are 11 or younger don't need a fishing license in Oregon.
Children who are 12 to 17 need a youth license that costs $10 a year. It's a pretty good deal, as it also covers shellfishing (such as clamming and crabbing), the state's Columbia River endorsement for salmon, steelhead and sturgeon, and even hunting.
Here are the criteria we looked at when choosing the best places to take your kids fishing:
Easy to catch fish
We are focusing on stocked rainbow trout as well as bass and panfish, as these species are found in relative abundance and are generally eager to bite anyone's line.
For trout, bait-fishing is effective. If worms give you the willies, try buying a jar or two of PowerBait, cured salmon eggs, or another commercially made product designed for trout.
Hey, check out our article about Trout Fishing: Basic How-To Techniques and Tips for pretty much all the info you'll need if you aren't already a seasoned trout catcher.
For panfish, catfish, bass, crappie and yellow perch, all common fish in many of our close-in ponds and lakes, usually a simple worm on a hook fished beneath a bobber or on the bottom will catch some fish.
Bass and crappie also really like lures that look like small fish.
If you're looking for something far more challenging to catch (but potentially requiring too much patience and investment for your crew), please use the search feature on this website to open up a bunch of free information about fishing for salmon, steelhead or sturgeon, or maybe fly fishing.
Easy to access
You can get there quickly from home on good roads, with good parking.
And when you arrive, you won't have to hike to reach the water.
Many of our featured locations are stroller-friendly, and as mentioned most also are great for anglers with disabilities or who have difficulty walking distances over rough terrain.
Safe environments
We don't want anyone to get hurt or lost. The majority of waters we are recommending here are smaller lakes and ponds, with no big rivers and currents.
These locations also tend to be away from traffic or other potential hazards, and not too secluded.
More fun things to do
Many of these ponds are in parks that are great for picnics, throwing Frisbees, or whatever interests your group. Some have playgrounds, barbecue grills, or other amenities as well.
Added to that, we'll mention a few other nearby attractions, fishing or otherwise, that will help make your trip successful regardless of whether the fish are biting.
Best Kid-Friendly Fishing
We'll provide this information in two main sections. In the first, we'll talk about nearby fishing spots that are close in to the cities and suburbs.
In the second section that follows, we'll mention some other fishing destinations that might be a little farther but still within about an hour or so and, we think, often worth a little driving.
Remember, each location also is linked to a fuller article about that fishing lake or pond, so take advantage of the free information we have on this website.
Here you go:
Best Spots Close to Portland
These fishing holes are within the urban and suburban neighborhoods of the greater Portland metropolitan area, located within a short drive for most residents and even along mass transit lines in some cases.
East Side Fishing Holes
Blue Lake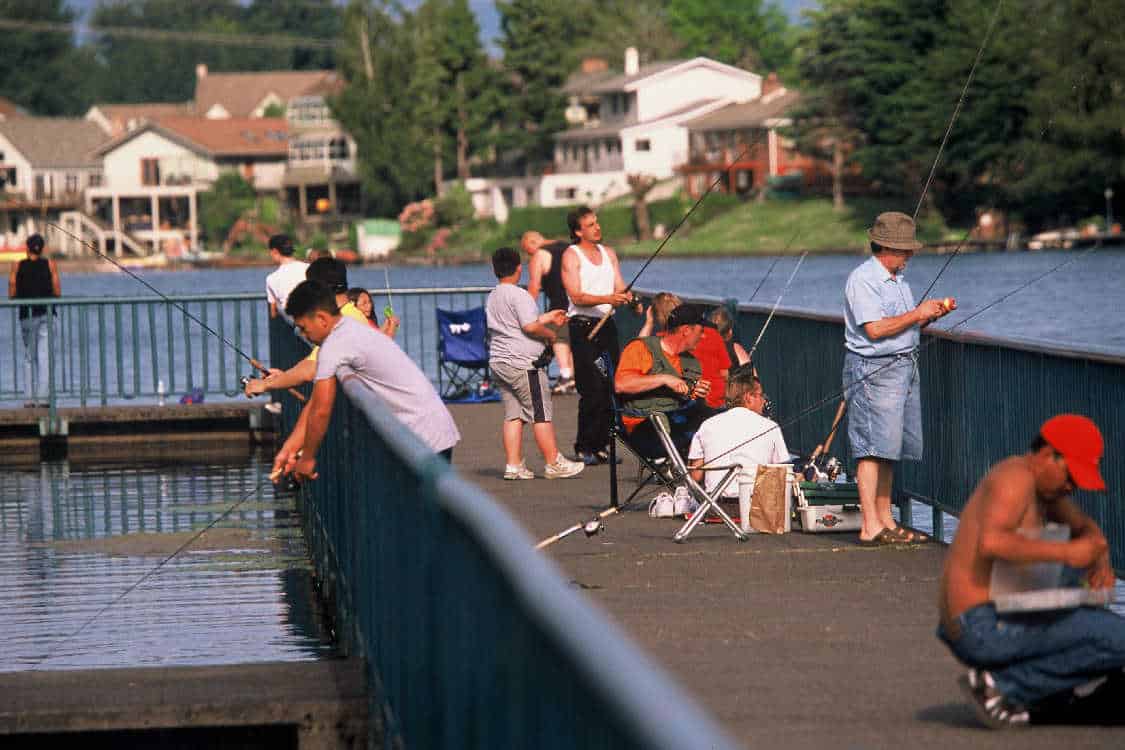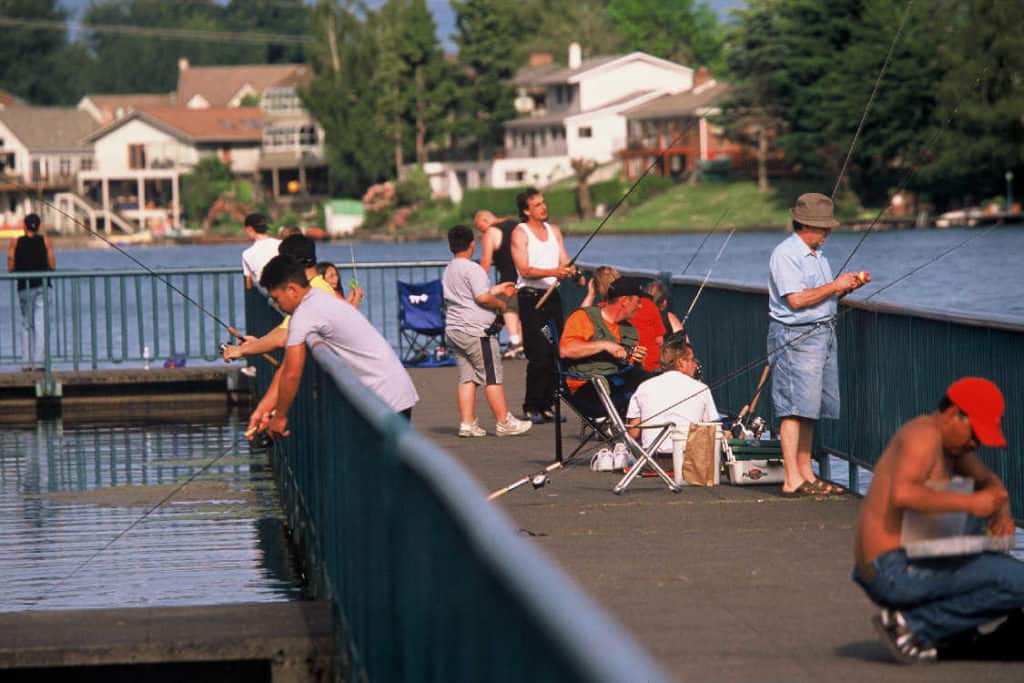 This medium-sized lake is in the awesome Blue Lake Regional Park in Fairview, located near Marine Drive close to Northeast 223rd Avenue, about 25 minutes northeast of Portland via Northeast 223rd Avenue off Interstate 84.
The most popular time to fish at Blue Lake is during the spring, when the Oregon Department of Fish and Wildlife tends to stock it several times with hatchery-raised rainbow trout.
Often those trout plantings will occur during the March and April time frame (think Spring Break!), but use the link to the trout-stocking schedule below to time your trip.
The best fishing tends to happen within a week or so of a stocking as these fish get caught quickly.
By the time kids are out of school, the trout fishing is probably pretty darn slow here, but fortunately the lake has sunfish, crappie, bass and other fish that often will bite during the warmer months.
A good place to start your fishing adventure here is the excellent and accessible fishing dock in the park, but bank fishing also is a productive option.
Blue Lake Park has plenty of other fun stuff to do, including renting paddle boats, having a picnic, taking a walk, swimming in a safe area (summertime) and even disc golf.
The link in this section will get you to details and fee information for the park.
More from this website: Fishing at Blue Lake in Fairview
Google Map and Directions for Blue Lake Regional Park
Mt. Hood Pond
This is a small pond located on the Mt. Hood Community College's main Gresham Campus, located on the east side of town just off Southeast Stark Street (near Troutdale).
The pond is easy to reach from the Kane Drive entrance and then driving south through the parking lot and walking down the paths from there.
Mt. Hood Pond is restricted to fishing for kids 17 and under from April through August. People with an Oregon Disabilities Hunting and Fishing Permit also may fish during this time.
At other times of the year, the pond is open to all anglers.
Typically the pond is stocked with trout several times every year, both in and outside the kids-only time frame. Popular stocking times here have included mid-winter, spring, and also often around September and October.
Check the trout-stocking link below to time your trip, as catches are definitely best soon after fresh trout are planted.
If you go in the summer, trout are likely to be very hard to catch and quite possibly non-existent in the warm water.
However, fishing in the hot months might produce some bluegill, crappie or catfish, and it's a nice place to have a shady picnic or stroll the campus.
More from this website: Fishing at Mt. Hood Pond in Gresham
Google Map and Directions for Mt. Hood Pond
Salish Ponds (West and East)
This is two spots in one located in a city park in Fairview, right next to Gresham, along the north side of Northeast Glisan Street just west of Fairview Parkway.
The Salish Ponds Wetland Park offers very nice access for fishing the ponds, including trails ringing the waters and some fishing docks, platforms and easy bank access spots.
The West Salish Pond, the smaller of the two closes to Salish Ponds Elementary School, is occasionally stocked with rainbow trout during the spring and offers a short period of excellent fishing.
Look for the trout-stocking schedule below for more details, because stocking here has varied a fair bit through the years. Fishing will be much better right after it is stocked but will fade within a few weeks.
East Salish Pond is managed more for self-sustaining (or occasionally supplemented) populations of warmwater fish species, such as largemouth bass, crappie, bluegill and bullhead catfish.
Highly sought channel catfish are sometimes caught as well.
Fishing for these bass and panfish species is best from mid-spring, through summer and into early fall. They can be caught all year but it will be tougher during the winter.
More from this website: Fishing at Salish Ponds in Fairview
Google Map and Directions for Salish Ponds
West Side Fishing Holes
Bethany Lake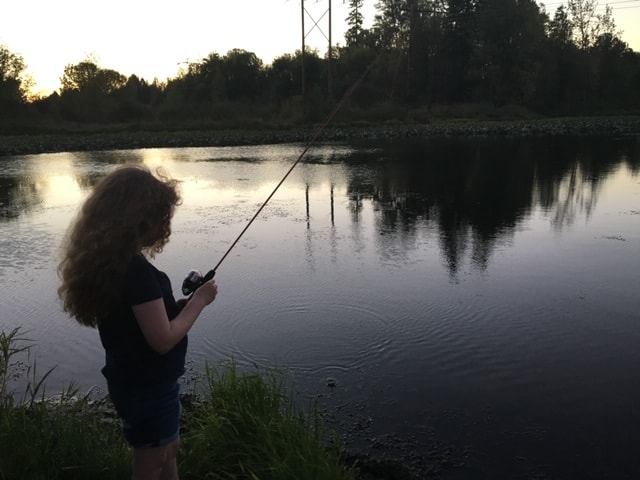 This suburban park pond is in the Bethany-Rock Creek neighborhoods north of Sunset Highway, minutes from both Beaverton and Hillsboro. It's easily reached off 185th Avenue just south of West Union Road.
Bethany Lake, or Bethany Pond if you wish, is a small, lily-pad studded waterway surrounded by grassy slopes and a community garden in Bethany Lake Park.
The access is primarily along the south side of the lake, where there is a paved trail and picnic tables and a small parking lot.
In the spring, it is stocked a couple times with a fair number of feisty rainbow trout, courtesy of the Oregon Department of Fish and Wildlife.
Trout fishing is quite easy for short bursts of time after plantings, then dies down quickly.
The pond also has pretty decent fishing for warmwater fish, including sunfish, crappie and largemouth bass. The latter can reach pretty good size and we encourage releasing these long-lived, slow-reproducing fish.
More from this website: Fishing at Bethany Lake
Google Map and Directions for Bethany Lake
Commonwealth Lake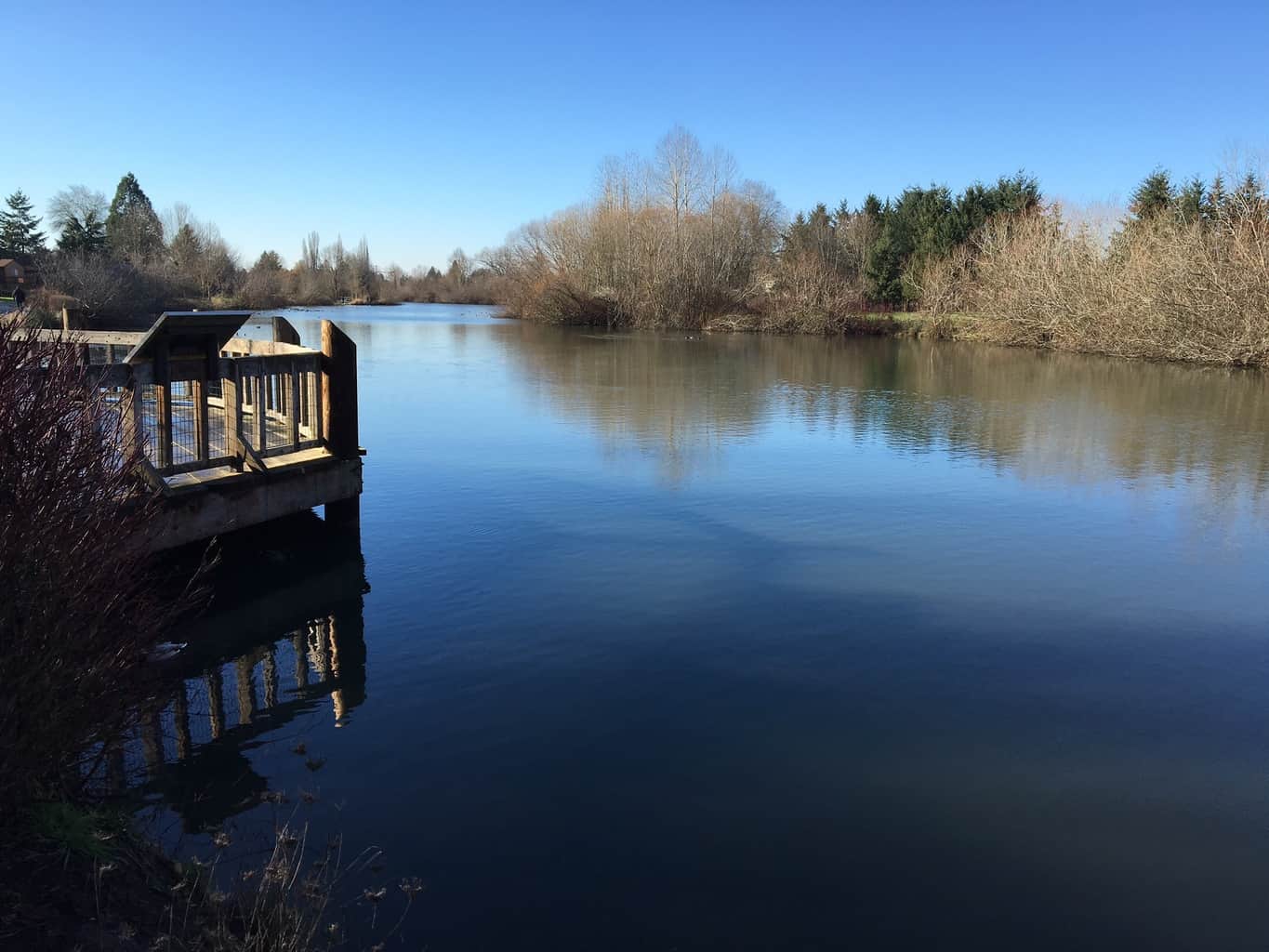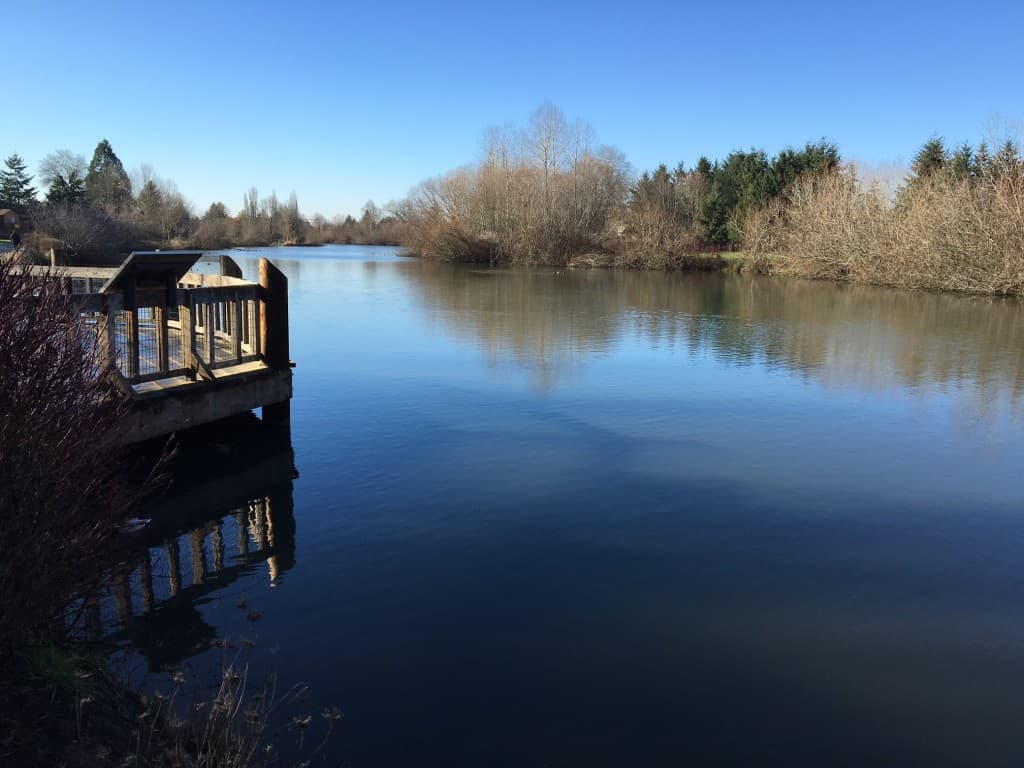 You might first think of this as a typical duck pond, but fishing here can be excellent right after the ODFW stocks it with rainbow trout.
Check our link to the state's trout-stocking schedule below to best time your trip. It will be somewhat crowded when there are lots of trout, but there is plenty of bank access and several fishing piers to provide good fishing access.
The pond is located within Commonwealth Lake Park, inside a residential neighborhood in the Cedar Hills area next to Beaverton.
There's a nice paved trail (a little under a mile) that rings the pond and is popular with walkers, runners and stroller pushers. There also are playgrounds, ballfields and open grassy areas for those more inclined to run around than sit and fish.
After the trout-fishing falls off, you still have a shot at catching some bass, crappie, bluegill or catfish in the pond.
We'd rate those opportunities at Commonwealth as modest, but it's not uncommon to convince some of these fish to put a wiggle on your Dora the Explorer fishing pole.
More from this website: Fishing at Commonwealth Lake
Google Map and Directions for Commonwealth Lake
Progress Lake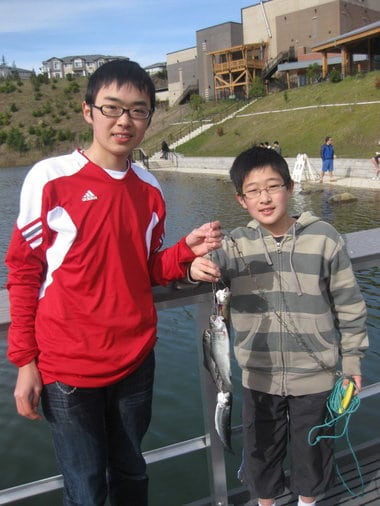 This is a deep lake in an old rock quarry in newer neighborhoods on the south side of Beaverton, near the boundary with Tigard.
The pond, on the edge of the Progress Ridge Shopping Center, is stocked periodically with hatchery rainbow trout, often on the same schedule as the other neighborhood park lakes in the Beaverton area.
However, Progress Lake has an advantage in that its deep, cool waters stay tolerable for trout all year long, although fishing will still be far better soon after its stocked.
There also are some bullhead catfish and bluegill in this pond, which can provide decent action after the trout fishing wanes in warming weather.
Progress Lake has shoreline access along its east bank, the shoreline immediately below the shopping center.
Anglers get to the lake down steps on either end of a shoreline sidewalk, or via a wheelchair-accessible ramp.
Visitors cast bait or lures from the shore, a platform or a very nice fishing dock.
More from this website: Fishing at Progress Lake
Google Map and Directions for Progress Lake
Best Spots Farther from Portland
These fishing holes will take a little bit of driving to reach, usually an hour or less for many residents.
What the following lakes and ponds lack in quick access they often make up for with very good fishing in a slightly more rural and possibly less-crowded setting, away from the hubbub of the city and 'burbs.
For the sake of organization, we'll discuss these selections starting from the Columbia River Gorge east of Portland and cover them in a big half circle heading in a clockwise direction toward the south and then west sides.
Benson Lake and Hartman Pond
Here's another spot with two lakes in one stop.
These two small lakes are located in Benson State Recreation Area, literally just off Interstate 84, just before (on the west) Multnomah Falls.
Both lakes are typically stocked with hatchery rainbow trout during the spring, with the larger Benson Lake likely to get a few more of these.
The lakes also are home to a nice population of warmwater fish such as bass, crappie, yellow perch and sunfish.
Both have bullhead catfish that can be eager biters during the warm months. Hartman (previously known as Wahkeena Pond) also occasionally puts out some good-sized channel catfish sometimes planted there.
These are good fighters and even better for eating.
The state park is only about 15 minutes past Troutdale and a little more than twice that from Portland.
It offers a nice place to picnic, swim, play disc golf and start a hike to nearby Wahkeena Falls and a little beyond to Multnomah Falls in the fantastic Columbia River Gorge.
Fair warning, while the amenities and fishing are worth the trip, we will note that the lakes are close to I-84, which is mostly an issue in terms of noise rather than safety.
More from this website: Fishing at Benson Lake and Hartman Pond
Google Map and Directions for Benson Lake and Hartman Pond
Small Fry Pond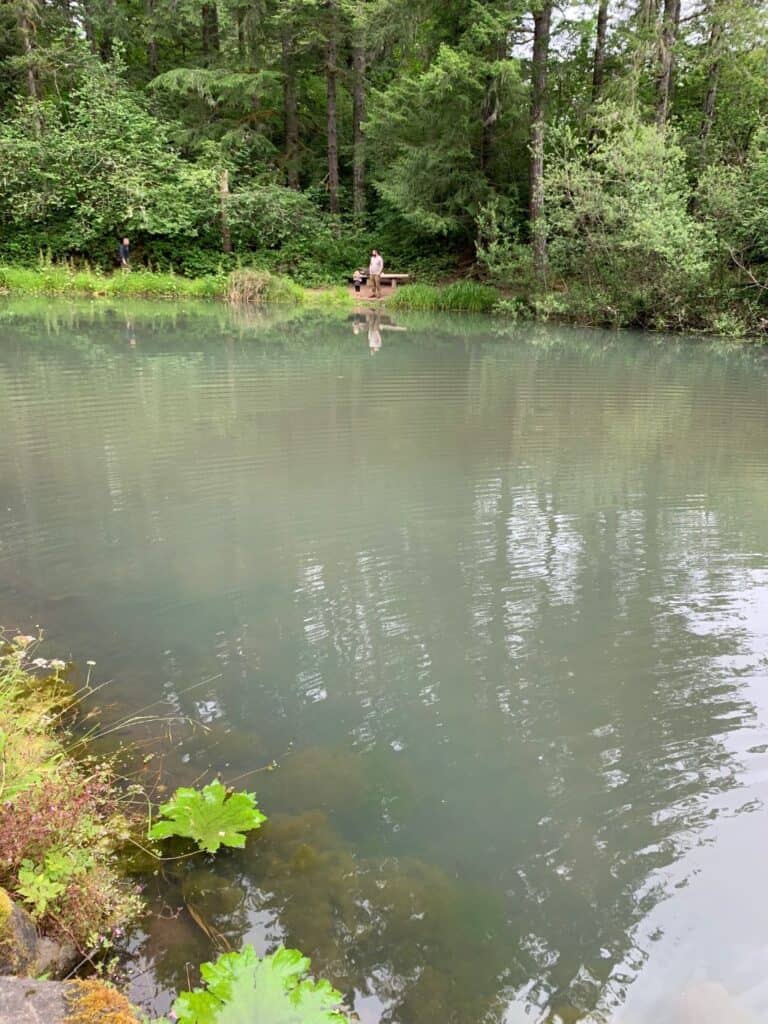 This is a tiny, kids-only fishing hole inside PGE's Promontory Park on the North Fork Reservoir a little past Estacada and about an hour from Portland.
Small Fry Pond is stocked with hungry hatchery rainbow trout a couple times most months from late spring through summer, offering easy fishing for young anglers (17 and under) and people with a disability (and appropriate permit).
The park offers camping and day use, playgrounds, hiking and other activities in the fantastic Clackamas River area.
The adjacent North Fork Reservoir is heavily planted with rainbow trout and is open to anglers of all ages, if that works better for your outing. It has good bank access and you also can rent a boat or launch your own.
Other nearby waters that also offer easy trout angling for people of all ages include Estacada Lake and Faraday Lake.
More from this website: Fishing at Small Fry Lake
Google Map and Directions for Small Fry Lake
Canby Pond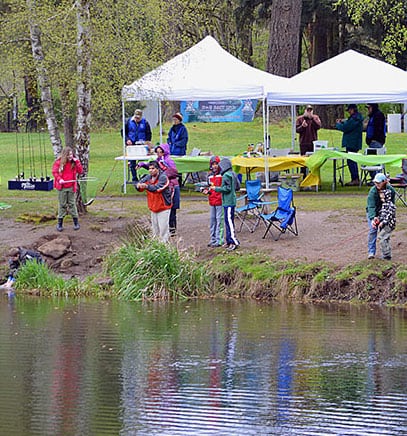 This is another small lake set aside strictly for fishing for kids and people with disabilities (issued an ODFW-issued permit).
The pond is located in Community Park (aka River Park) on the southwest end of Canby, along the Molalla River.
It's a 30-40 minute drive from Portland.
The pond is periodically stocked with trout, usually fairly often in the spring and quite possibly again in about October, after the water cools again.
Trout fishing is best in the days or within a few weeks after it's planted, and then the fish are caught out fairly quickly.
The pond also is home year-round to some bass, bluegill and crappie, which bite best in warmer weather from late spring through summer and early fall.
More from this website: Fishing at Canby Pond
Google Map and Directions for Canby Pond
St. Louis Ponds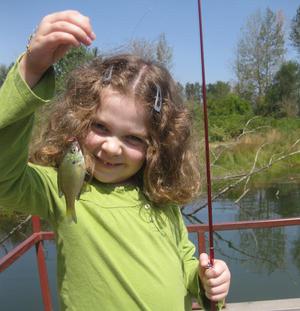 This is a cluster of man-made ponds in a pleasant rural park setting in the Willamette Valley just south of Woodburn.
The ponds are a mecca for both seasonal trout fishing and excellent bass and panfish angling.
It's about 45 minutes or so from the Portland area and also is one of the best places near Salem to take kids fishing.
The trout are stocked in the pond closest to the parking area with some frequency, typically from mid-winter through spring. It's often stocked again later in the season, perhaps before Labor Day.
So this is a good place to visit whenever there is a short break in the weather and in the school schedule.
The ponds also really shine during the warm months, long after the trout-fishing has petered out to nothing.
All seven fishable ponds feature a variety of warmwater fish species, including largemouth bass, crappie, bluegill and catfish. Occasionally, anglers land very large channel catfish here, as this is one of a handful of places where these prized fish are stocked on occasion.
The park, co-managed by ODFW and Marion County, has trails (quite a few paved) than wind around the oddly shaped ponds to reach an incredible number of short access points.
This is a nice spot for a picnic, bike ride or just getting out of the city.
More from this website: Fishing at St. Louis Ponds
Google Map and Directions for St. Louis Ponds
Henry Hagg Lake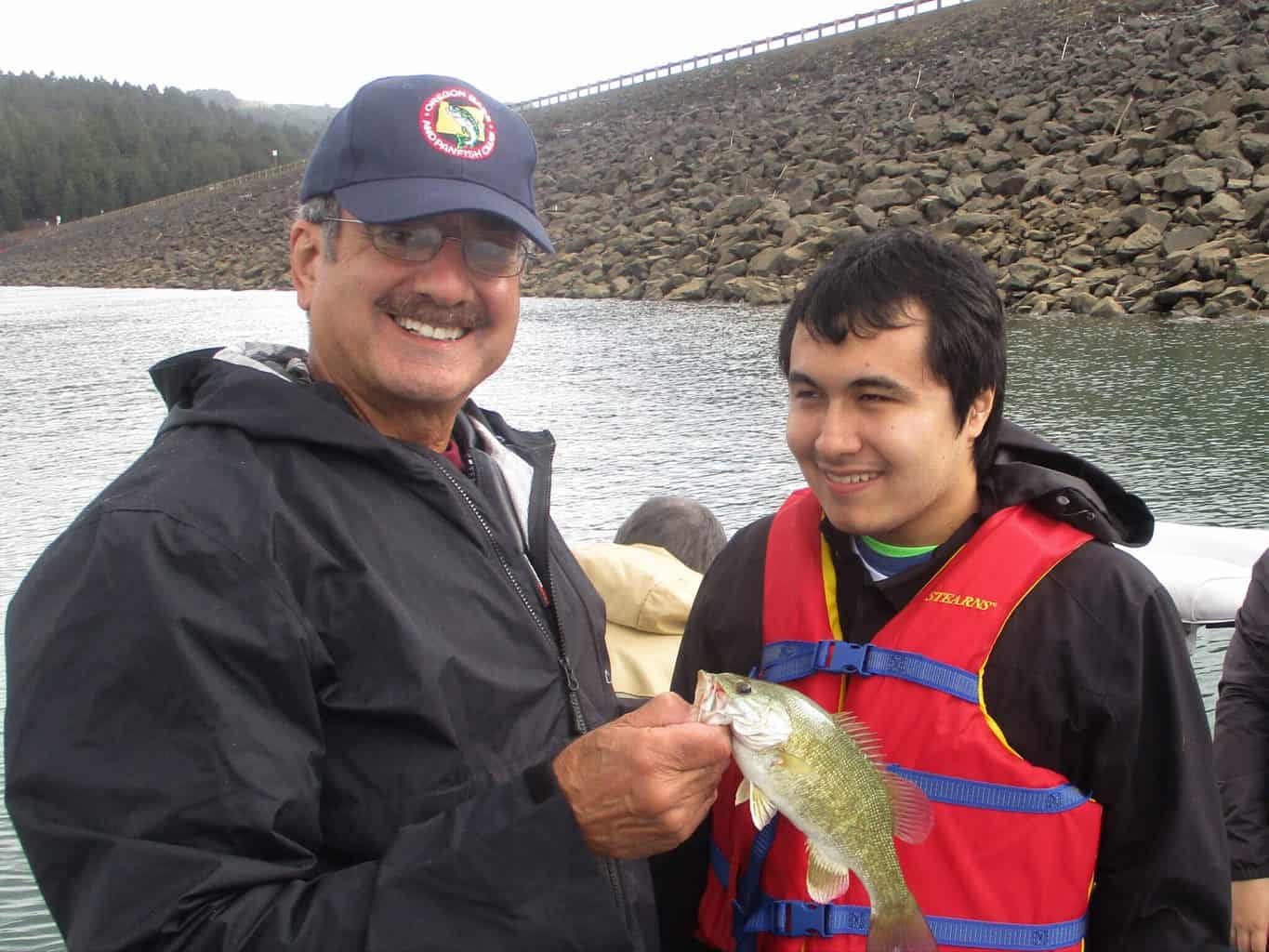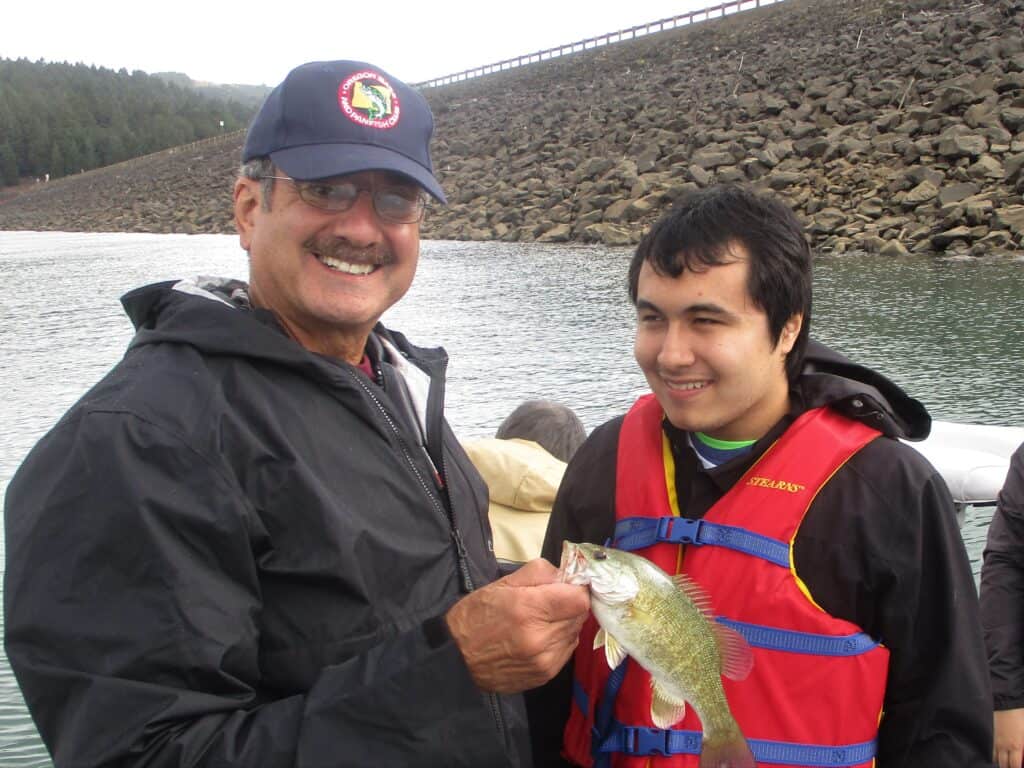 This is the biggest water on our listing here, but we put it here for the excellent opportunities to catch fish in a pretty setting not far from home.
The reservoir is in the Coast Range foothills southwest of Forest Grove, about 45 minutes from Portland and a faster drive from Hillsboro or Beaverton.
Hagg Lake is well-stocked with rainbow trout, with tens of thousands of fish planted for the popular spring season and lots more added in early fall.
For kids, we'll point you to the area around Boat Ramp C, located on the west side of the lake. It's quickest to cross the dam (left turn) right after entering the county park.
Here you will find a long, safe pier that is most useful for fishing during the spring months, when the reservoir is usually full or close to it and there's plenty of fishy water in casting distance.
There also is good bank-fishing access in this area and adjacent Sain Creek Recreational Area.
The Eagle Point area across the reservoir also offers boat launching and bank access, but no fishing pier.
Besides the trout, which can be caught year-round but bite best in spring and fall, the reservoir is a hot spot for bass and panfish.
Hagg Lake has produced state record fish for both smallmouth bass and bullhead catfish, and both are very common here.
Also very common are yellow perch and bluegill, and crappie fishing is fair if you can locate schools hovering around submerged cover.
A little more under the radar, Hagg Lake also has some fairly impressive largemouth bass, which tend to hang out in the weedy backwater coves while their smallmouth cousins like the natural and manmade rocky structures, including the dam.
More from this website: Hagg Lake Trout Fishing and Hagg Lake Bass and Panfish Fishing
Google Map and Directions for Henry Hagg Lake
Vernonia Lake
Also known as Vernonia Pond, this small reservoir along the upper Nehalem River in this timber town offers some really good fishing at times of the year.
Of course, the anglers really come out in droves for trout fishing, especially after the pond is stocked with rainbows in the early spring.
Spring Break is usually an excellent time to hit this spot, which is about an hour from much of the Portland area.
Vernonia Lake also shines when it comes to bass and panfish.
There are some pretty good-sized largemouth bass hiding in the lily pads and sunken branches in the pond, but please do everyone a favor and let them go to fight again. They grow and reproduce slowly.
Crappie fishing can be good near branches, lily pads and the fishing dock near the parking lot.
The pond also is home to bluegill, perch and bullhead catfish, all of which are a sucker for a piece of worm on a hook.
The park has good fishing access, including for people with disabilities, and is a nice spot to spend a few hours day fishing and picnicking. It's also at the north end of the Banks-Vernonia State Trail.
More from this website: Fishing at Vernonia Lake
Google Map and Directions for Vernonia Lake
Recreation Lake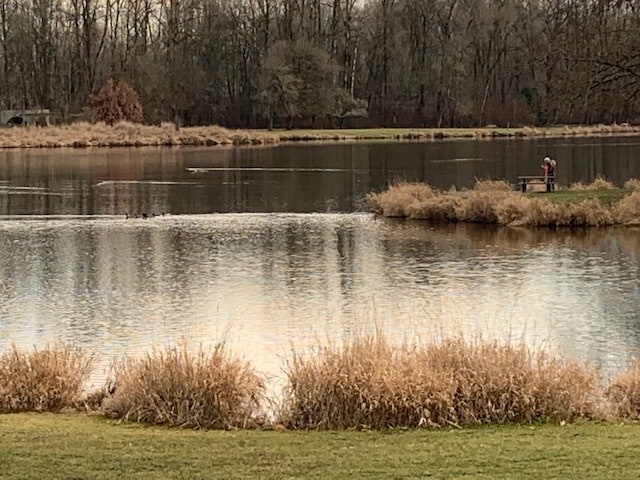 You (and sometimes ODFW) might know this as Trojan Pond, after the former nuclear power plant near the Columbia River town of Rainier, Oregon.
Whatever you call it, know that the main pond at Trojan Park sits in a pleasant setting and can offer very good trout fishing in season and a fair opportunity for bass and panfish when it's warm outside.
Trojan Park is about an hour or so northwest of Portland, reach simply by heading down Highway 30 on one of the routes to Astoria, passing through Scappoose and St. Helens along the way.
Specifically, it's between the tiny communities of Prescott and Goble, about 5 miles before you reach Rainier and the bridge to Longview, Washington. You'll see it on the river side of the highway.
The lake sits among grassy hills and shady trees, perfect for picnicking while you wait for a trout to nibble during the spring months.
The lake is typically stocked in the early or mid-spring time period and fishing will definitely be best around trout plantings, which you can put on your calendar by using the link below.
By May and definitely by June, when the picnicking is really good but the trout fishing will be mostly a pleasant memory, you still can catch fish here.
The pond offers fair (sometimes good) fishing for largemouth bass, sunfish, crappie, yellow perch and bullhead catfish, all of which bite best from late spring, throughout summer, and into early fall.
More from this website: Fishing at Recreation Lake (Trojan Pond)
Google Map and Directions for Recreation Lake (Trojan Pond)
Oregon Resources
ODFW Weekly Fishing Report
ODFW Trout Stocking Schedule
Oregon Fishing Regulations
National Weather Service