This 10-acre artificial pond on the edge of Beaverton and Tigard opened for fishing in 2012, when Tualatin Hills Park & Recreation District completed turning an old rock quarry into a year-round trout fishing spot in the suburbs west of Portland.
This city park pond is surrounded by suburbs but offers cool and fairly clear water typically found at higher elevations.
Trout Fishing
Generally, the lake is stocked with hatchery-reared rainbow trout one or two times each year, most often in the late winter and spring.
Look for the first 1,000 or so fish to be planted in March, usually before spring break.
It has the possibility of being stocked in the fall if ODFW has extra trout available.
Watch the stocking schedule and weekly fishing reports linked at the bottom of this article. As with any stocked water, catches will be highest immediately following a fish plant.
However, we will say that at last check, Progress Lake wasn't listed in ODFW's trout stocking schedule, and yet it was stocked in the spring anyway. Watch for a bump in the number of anglers trying it, and there's a decent possibility some trout got delivered recently.
Unlike other city ponds in the heart of the metro area, Progress Lake's depth of over 50 feet, and its potential to tap into cool municipal water supplies, means trout here will not die off due to warm water.
Those comfortable temperatures plus the fact that fishing here is limited to a relatively small length of shoreline means at least some trout will survive to extend the fishing season, with catches possible any month.
While bagging a quick limit doesn't seem likely months after the last planting, anglers will often have a shot at a nice fish or two.
Warmwater Fishing
Progress Lake also has a self-sustaining population of brown bullhead catfish that can help offer some year-round action, even if the trout aren't biting.
Also, on our last visit, we saw anglers pull in a decent stringer of modest-sized bluegill off the fishing dock. We've also seen photos of crappie caught at the pond, and it's definitely possible other warmwater fish will eventually populate the park pond, if they aren't there already.
There have been anecdotal reports of goldfish seen swimming in the lake.
Where is Progress Lake?
Progress Lake is in the southwest corner of Beaverton.
From Scholls Ferry Road, take Barrows Road to the Progress Ridge Townsquare shopping center.
The pond is on the north side of Barrows and the west end of the shopping center.
There's usually some extra parking available for anglers in the shopping center. Big Al's Bowling Center is just across Barrows near the Tigard city limits.
Once there, you can get down to the lake level (well below the parking lot level) on a paved path that begins near the fountain along Barrows. A ramped sidewalk on this south end offers access for people with disabilities, strollers, etc.
There is a second access down a stairway out of the shopping center, accessing the north end of the fishing area.
Between the two access points, there is a sidewalk just above water level where anglers can fish right from shore.
There also is an excellent accessible pier that any anglers may use as long as disabled anglers have the first shot at it. It's also a good spot for kids to fish.
Boats and swimming aren't allowed, and this one stretch of sidewalk and pier are the only fishing access available at this time.
Where to Catch Trout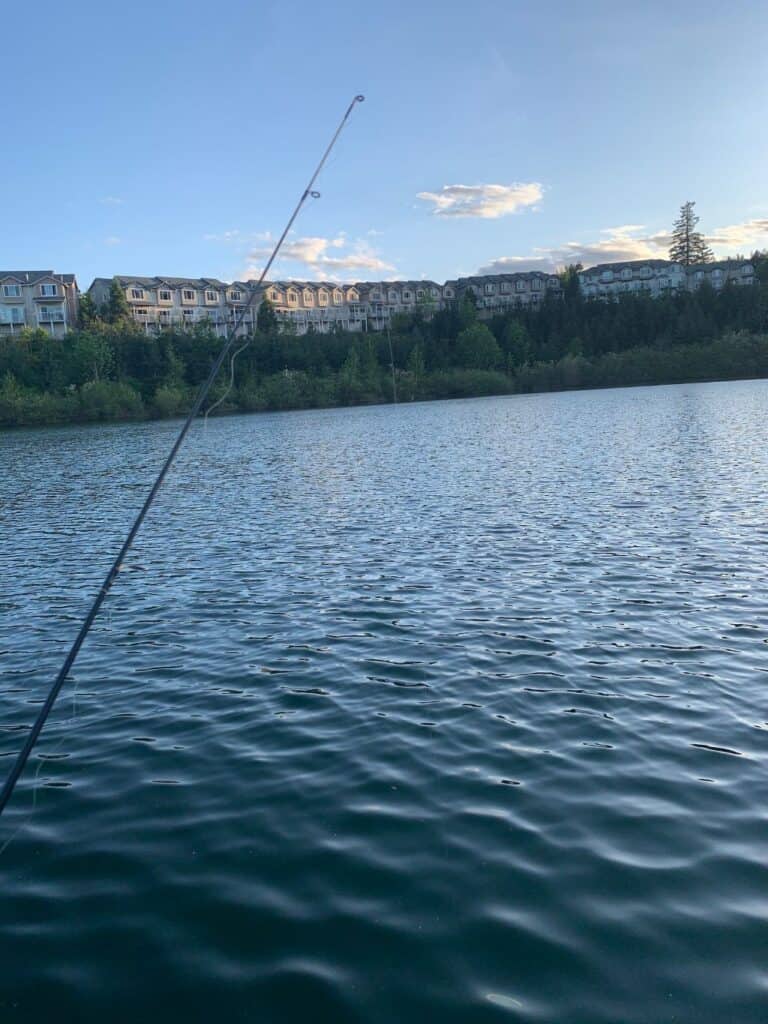 This editor has in fact been in a boat out on the lake with a student crew doing depth readings for official use, and I can tell you that the bank drops off fairly quickly from all sides, including the area with angling access.
The maximum depth recorded at that time was about 53 feet.
A good long cast could probably put your bait or lure into water 40 feet deep or more, but that's not always going to be the best approach.
From my own fishing experience in the spring, often the most fish are caught in shallower water, not that far beyond where you can no longer see the bottom.
For perspective, good numbers of fish have been caught at about the same depth as the end of the fishing platform or just beyond.
I also would note that the area near where the stairs come down from between shopping center buildings can be quite good. You'll see some large, underwater rocks near shore.
Try casting just past those.
If shallow casts aren't producing, try progressively longer casts into deep water. It's quite possible that's where trout will move during the heat of summer.
The usual PowerBait and other baits get the job done here for trout. Floating baits should help keep your bait up out of the crags in the rocky bottom and visible to fish.
I'm sure worms fished on or very close to the bottom would take either trout or catfish.
Spinners and other lures also take trout.
Be careful if you decide to try fly-fishing, because there isn't a lot of space.
If you'd like to brush up on basic ways to catch trout, read our article Trout Fishing: Basic How-To Techniques and Tips.
Additional ponds in the Tualatin Hills Park & Recreation District seasonally stocked with rainbow trout are Commonwealth Lake and Bethany Lake.
Fishing Regulations
Progress Lake is open year-round with typical regulations for trout: You may keep five per day, at least 8 inches in length.
There are unlikely to be smaller fish because trout won't reproduce here and ODFW plans to stock legal-sized or larger fish.
There are no length or quantity limits for bullheads or bluegill.
Find more fishing spots in Washington County
Oregon Resources
ODFW Weekly Fishing Report
ODFW Trout Stocking Schedule
Oregon Fishing Regulations
National Weather Service