This is a suburban pond in the Tualatin Hills Park & Recreation District with a popular springtime fishery for stocked trout and some pretty decent angling for largemouth bass and other warmwater fish.
Bethany Lake (a.k.a. Bethany Pond) is easy to reach for anyone living in Washington County.
Its small parking area is right along Northwest 185th Avenue near the Rock Creek and Bethany neighborhoods, within easy reach of Beaverton, Hillsboro and Aloha.
From the Sunset Highway (U.S. 26), head north on 185th Avenue past Westview High School (on your right) less than half a mile and then turn left into the parking lot.
If you reach West Union Road, turn around because it's about a block to the south.
The parking is at the east end of the lake and there is a paved trail that runs the length of the 10-acre lake along the south side, which provides the easiest access to places two cast from openings in the shoreline vegetation.
The narrow lake can get really weedy, especially during the summer and early fall after the trout fishing is done.
The park is open dawn to dusk. Additional THPRD ponds that are at times stocked seasonally with trout are Commonwealth Lake and Progress Lake. See the park district website for more information on their facilities.
Trout Fishing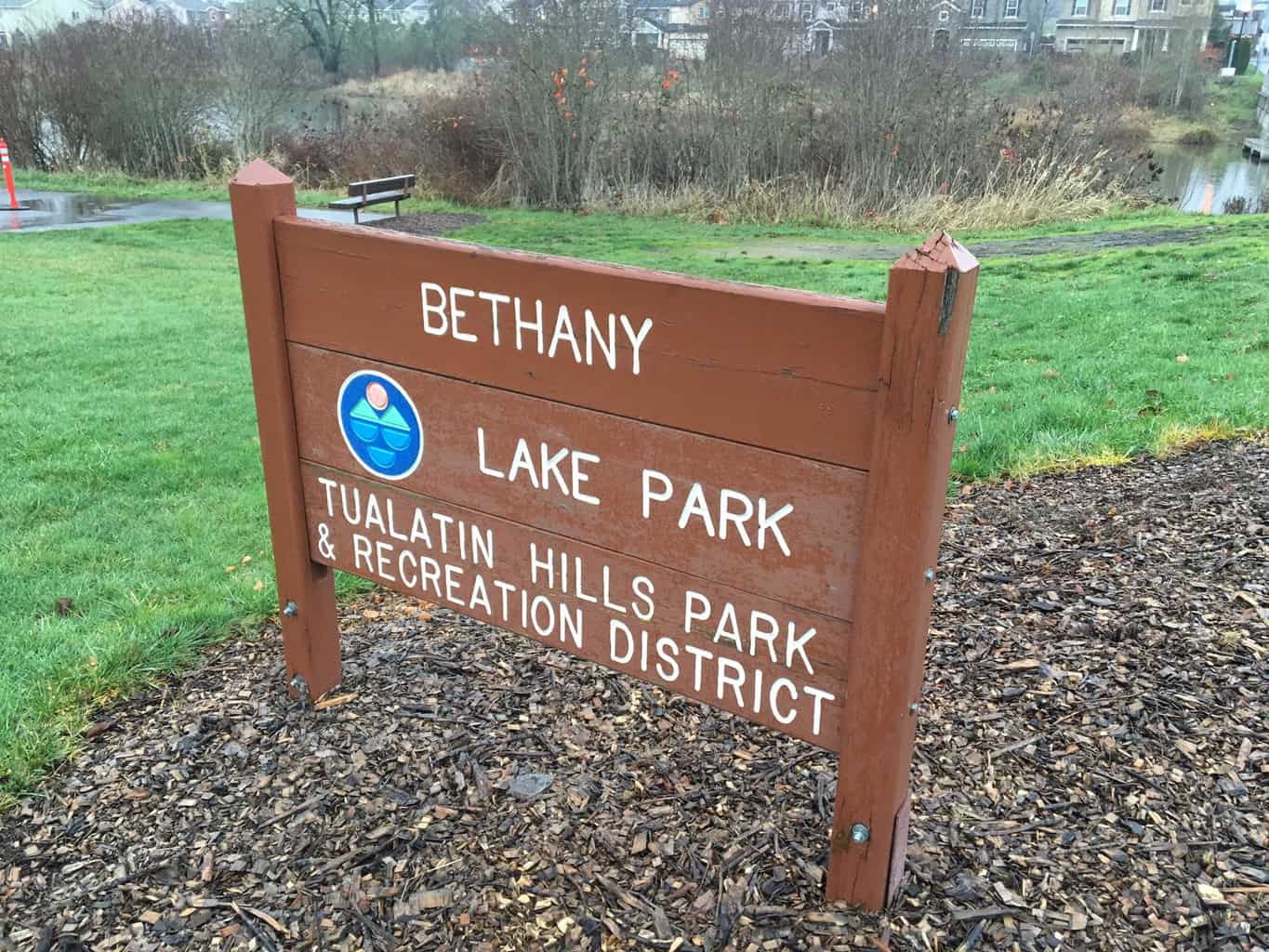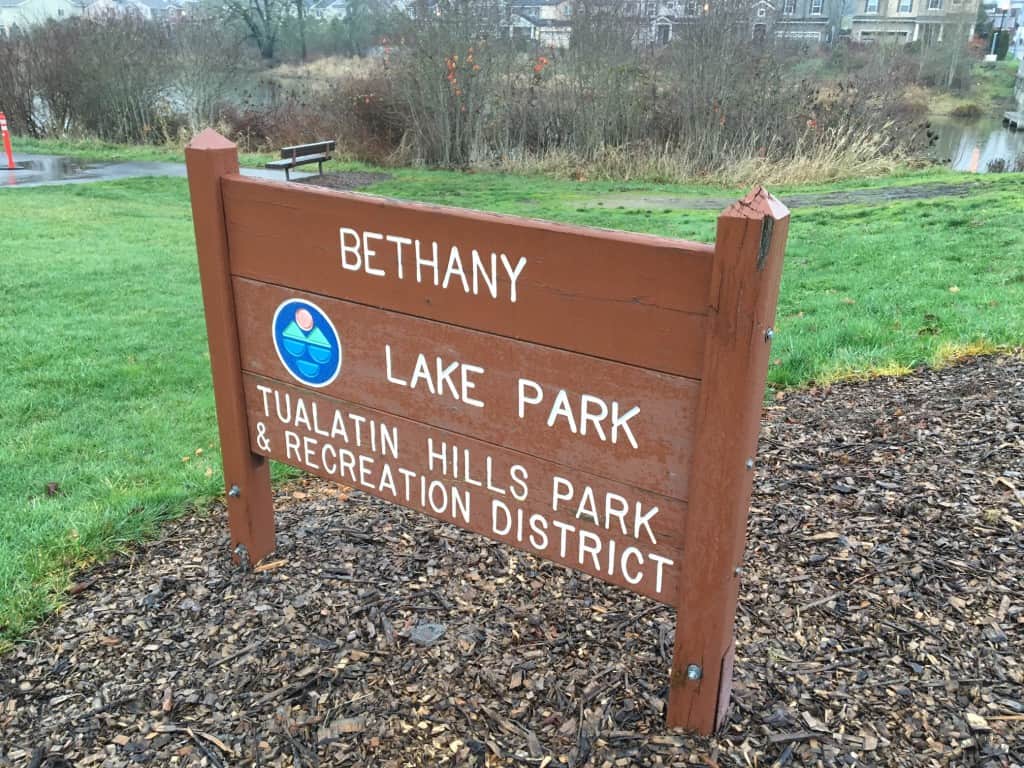 Hatchery-reared rainbow trout are planted in Bethany several times early in the year in batches of 1,000 to 2,000 fish, typically beginning in March and continuing through April or May.
This is the only time of year fishing you might have to work to find a spot to fish.
Trout are stocked at the most accessible east end of the lake and will spread out, but the best fishing (especially for young anglers in need of action) will be in the first days after a planting and fades considerably within a week or two as fish get caught out.
Recently it has been reported that the numbers of trout stocked here have been reduced somewhat due in part to neighborhood complaints about the traffic from anglers.
But there are still some decent numbers of fish planted, so use the schedule below to find times when trout fishing will be at its best.
How to Catch Trout
Probably your most important tip is to take note of the Oregon Department of Fish and Wildlife's schedule … or watch for a sudden influx of anglers.
Remember, trout are not present here year-round.
The usual bait and lures will catch trout here. You can also use fly fishing techniques.
Open water will be the easiest to fish, as there are a fair number of snags.
If you need more insights into ways to catch trout, read our article Trout Fishing: Basic How-To Techniques and Tips.
Bass Fishing
Warmwater bass and panfish are year-round residents here and can be caught anytime, but these species are generally most cooperative in warmer weather.
This is not a big water, but it has a pretty good reputation for largemouth bass fishing, including some fish of size.
We suggest you practice catch and release to keep this bass fishery going, because this lake is too small to support a lot of harvest.
There is lots of good bass structure with weeds and lily pads.
The shallow west end would be a good place to try, but anywhere in the lake could hold bass.
How to Catch Bass
Floating and shallow-running lures imitating frogs, fish and mice can be great during the warm season.
Poppers and other topwater lures could be a blast, especially in the lower light just after dawn and just before dusk.
Natural and plastic worms and other soft plastics can be deadly.
A Senko can fool some big ones as well.
Diving crankbaits will certainly catch fish but beware of snags.
Anglers also have reported bass caught in ponds along nearby Rock Creek, which runs just east of Bethany Lake near West Union Road.
Here are lots more bass fishing techniques and tips.
Crappie and Other Panfish
ODFW notes populations of both bluegill and crappie in Bethany Lake, and anglers also have reported yellow perch.
Bluegill and perch like natural baits such as worms or mealworms fished under a bobber or on the bottom.
Crappie often can't resist something that imitates a small, twitchy minnow, like a crappie jig moved slowly under a bobber near woody or weedy structure.
Learn more about how to catch crappie.
Bullhead catfish also are present and will suck natural baits such as worms or pieces of fish, or prepared catfish doughs, off the lake bottom.
Many of these species are fun and easy to catch, as are the trout right after a planting.
Carp can grow to more than 10 pounds here and are primarily fished for the sport of fighting these oversized goldfish cousins.
Soft bread balled around your hook can be effective. Use reasonably stout gear or pay the consequences.
2022 Bethany Lake Trout Stocking
| | |
| --- | --- |
| 2022 Stocking | Total |
| Mar. 7 – 11 | 666 |
| Apr. 11 – 15 | 666 |
| Apr. 25 – 29 | 1,332 |
Stocked fish are legal-sized rainbow trout unless otherwise noted. Stocking schedules are subject to change for a variety of reasons. The ODFW Weekly Fishing Report linked under Oregon Resources below may provide updated information.
Find more fishing spots in Washington County
Oregon Resources
ODFW Weekly Fishing Report
ODFW Trout Stocking Schedule
Oregon Fishing Regulations
National Weather Service