This is a pond in a suburban park in the Cedar Hills neighborhood on the north side of Beaverton.
Commonwealth Lake is heavily fished for trout after the stocking truck visits several times each spring and modestly fished for a variety of warmwater fish species year-round.
It's a good spot to take kids or new anglers and has access points for people with disabilities.
Commonwealth Lake Park is in the Tualatin Hills Park & Recreation District and is open dawn to dusk all year.
It's located just off Southwest Butner Drive between Cedar Hills and Murray boulevards (just south of Sunset Highway).
In the neighborhood, use trails into the park off Butner, Foothill Drive or Huntington Avenue. There is street parking near entrances.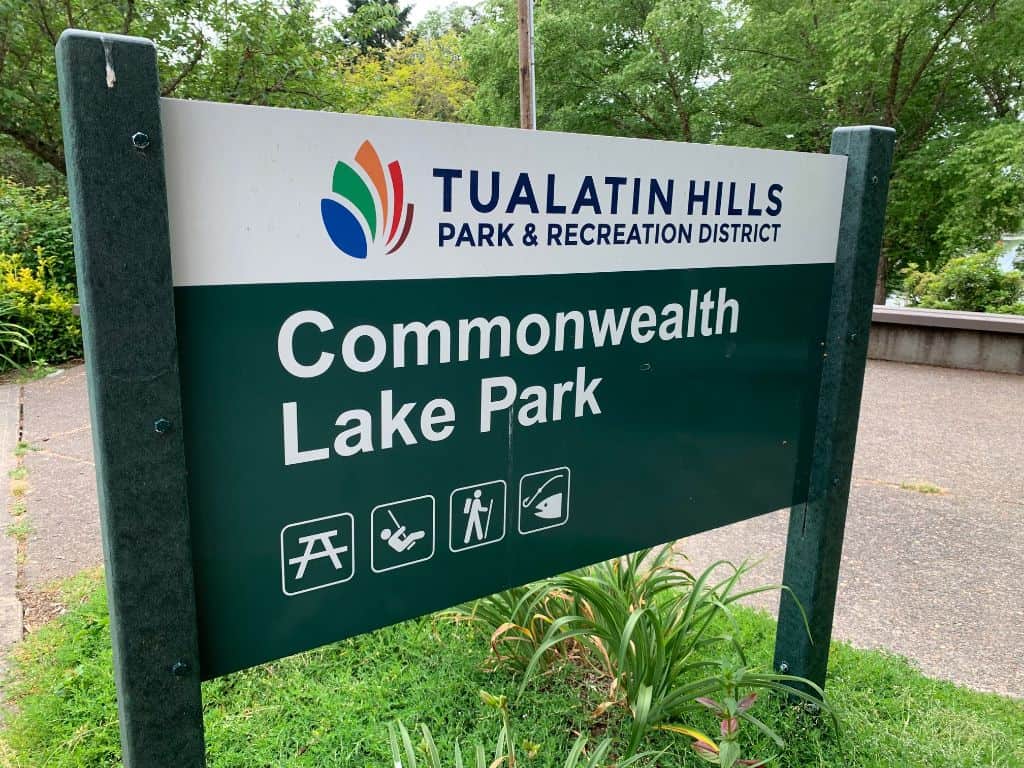 The lake itself is a typical man-made suburban pond with a paved trail encircling the water.
It's popular with walkers and ducks all year, but when the fish are biting there is plenty of access at regular openings between trees and from three fishing platforms/piers.
There is a wide grassy areas at the southwest end near a playground and soccer field (Foothill Drive entrance) with plenty of elbow room to cast during the crowded trout season.
Commonwealth Lake Trout Fishing
Commonwealth Lake is often stocked with trout from about March through May.
The truck will typically bring 1,000 or so trout per trip.
That number is down from some previous years when twice that number of trout would sometimes be planted here, due to neighborhood complaints about crowds of anglers and an increase in homeless people in the park.
However, trout fishing should still be very productive here soon after a planting, so use the link below to check the latest stocking schedules.
Fishing is definitely best in the days right after a planting, and it will be busy then with lots of families with kids going fishing, but angling pressure and success quickly fades.
Fishing can be good wherever you find access because the fish quickly spread out in the small pond.
As is usually the case for stocked rainbows, most anglers will soak bait such as Berkley PowerBait to catch trout here.
Casting and retrieving spinners or other lures also can be a very effective alternative, but be aware that it's a shallow and somewhat snaggy lake. Don't let lures sink much or you'll be fighting more weeds and sticks than trout.
If you'd like to learn more about this kind of fishing or brush up on what you know, read: Trout Fishing: Basic How-To Techniques and Tips.
The trout limit is five per day.
Additional park district ponds seasonally stocked with rainbow trout are Bethany Lake and Progress Lake.
Commonwealth Lake Warmwater Fishing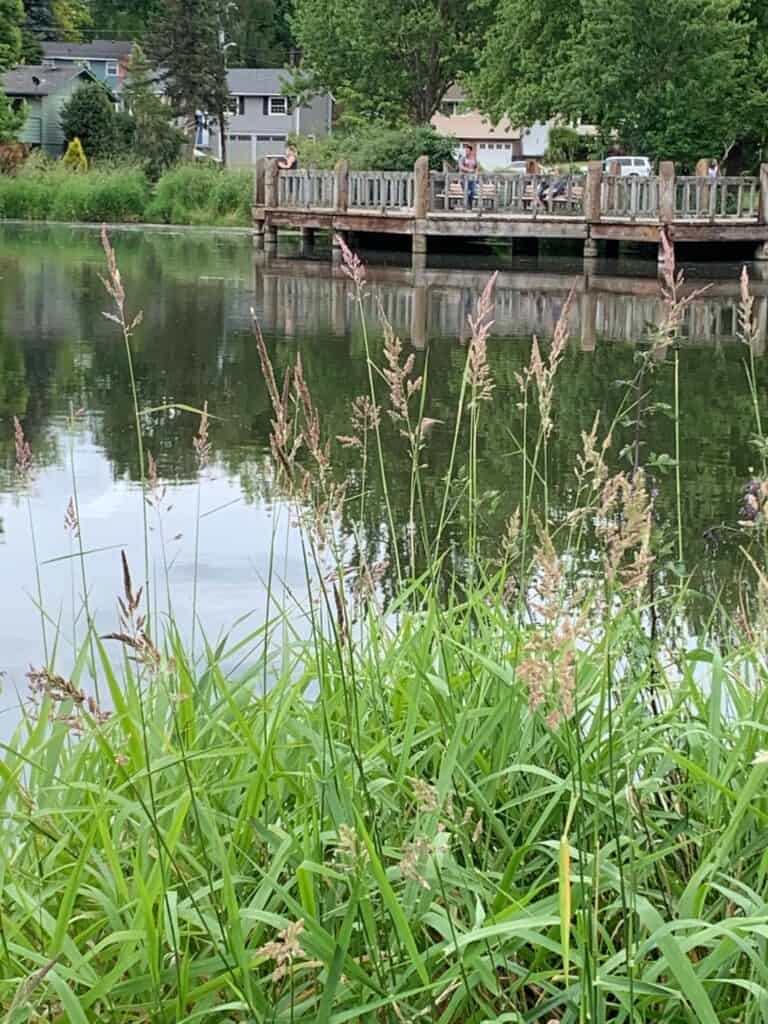 Commonwealth has a variety of resident warmwater species that can be caught year-round, although spring through fall when the water is warmer is generally best. It can get pretty weedy during the warm season, though.
Commonwealth Lake Bass
Largemouth bass are available, but this is a modest fishery here and not a lot of anglers report large fish.
If you live nearby, it's a fun place to try your luck but plan your major bass fishing trips elsewhere. (Find more in our article about the best largemouth bass fishing in Western Oregon.)
Some anglers have reported smallmouth bass. Both species are aggressive and fun to catch, even at fairly small size, wherever you find them.
Bass eat other fish, frogs, crayfish, salamanders and just about any other critter they can stuff into their mouths. Larger ones will even swallow baby ducks.
Lures that imitate common prey will often catch bass.
Soft plastic lures including worms and Senko-type lures and crankbaits including Rapalas are popular.
Bass also bite worms but sometimes swallow bait with fatal consequences, and catch and release fishing is a good plan for long-living bass.
Try fishing around structure such as the piers and trees at the edges of this pond.
Topwater lures in the warm summer months could be effective and less likely to snag. Those can be deadly as dusk approaches before the park closes.
The bass limit is one per day, but we personally suggest catch and release fishing here to help keep the population viable.
Panfish found here are primarily crappie and bluegill.
Commonwealth Lake Crappie
Crappie love eating small fish, so a crappie jig or other lure that imitates a small minnow is a good idea.
Given the snags, try a crappie jig fished a few feet under a bobber. Experiment with depth and with a cast and retrieve. Try a slow retrieve with frequent stops, small jerks and direction changes to mimick a minnow's behavior.
Cover a lot of area until you start catching fish because crappie are a schooling fish. Try both the open water and near structure such as lakeside branches and fishing platforms.
The daily crappie limit is 10.
Commonwealth Lake Bluegill
Bluegill eat a lot of worms and insects. Worms are the easiest bait to obtain and use, free for the digging in most backyards.
Mealworms work great as well and are often available at pet stores. Crickets are excellent and possibly also available in pet stores, but they are more work.
Using a bobber and hook set-up is common with bait.
Flies and small lures are also effective, especially if bluegill are in shallow water around their nests, which they aggressively guard.
In fact, bluegill are quite often found close to shore near weeds and overhanging brush throughout the warm months.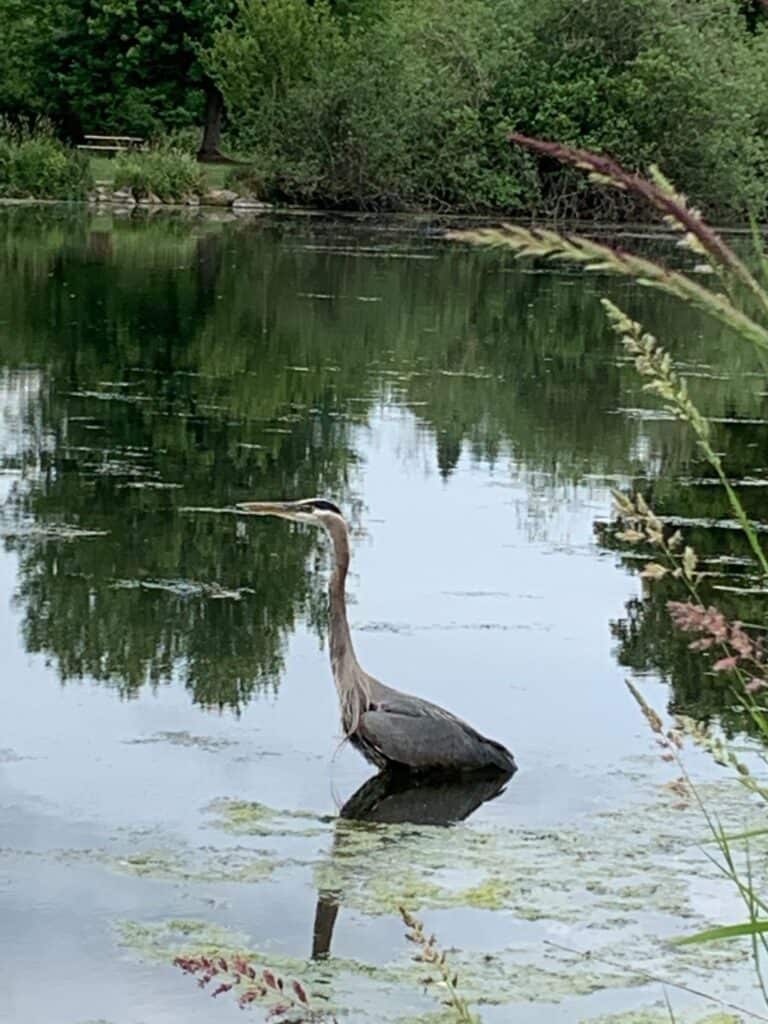 Commonwealth Lake Catfish
Catfish have been reported here as well. Most catches will likely be common brown bullheads, but there have been some channel catfish present.
Where present, catfish are easily caught fishing with nightcrawlers or garden worms, pieces of fish or prepared catfish baits near the bottom.
There are no limits on bullheads, but only two channel cats may be kept per day.
Commonwealth Lake Carp and Suckers
Some anglers report good carp fishing here, mostly as a sport as they are known more for their fight than for good eating, although some people do just that or save the meat for bait.
Soft bread molded into a ball around the hook is often the easiest way to catch carp, which you might spot feeding in groups. These big fish are tough fighters and can break light lines or rods.
Suckers also are common at the lake, often large enough to put up a fun fight for anglers not necessarily looking for the best-tasting fish around.
Commonwealth Lake Sturgeon?
People who regularly fish Commonwealth Lake have stories about sturgeon occasionally being caught here.
If true, it's likely to be very few fish that someone planted in the pond, as this is not typical sturgeon habitat – but oh what a fight they would be on your kid's Dora the Explorer rod!
Find more fishing spots in Washington County
Resources
ODFW trout stocking schedule
ODFW weekly recreation report and regulation updates
ODFW annual fishing regulations
National Weather Service forecasts