This easily accessible reservoir is a short drive east from Eugene on Highway 58, offering close-to-home fishing for stocked rainbow trout and several other species of fish.
The reservoir, at the community of Lowell, is formed by Dexter Dam on the Middle Fork Willamette River.
Below the dam is one of the Willamette Valley's better river sections for hatchery spring Chinook salmon and summer steelhead
But above the dam is this medium-sized reservoir crossed at its midpoint by one of Lane County's bucolic covered bridges.
Rainbow Trout Fishing
We don't mention that bridge just for scenery, but because it's a also good landmark for anglers, especially those looking for trout.
The fishing platforms just north of the covered bridge, accessed from Pioneer Street that crosses the lake between the highway and Lowell, offers the best bank fishing for trout anywhere on the reservoir.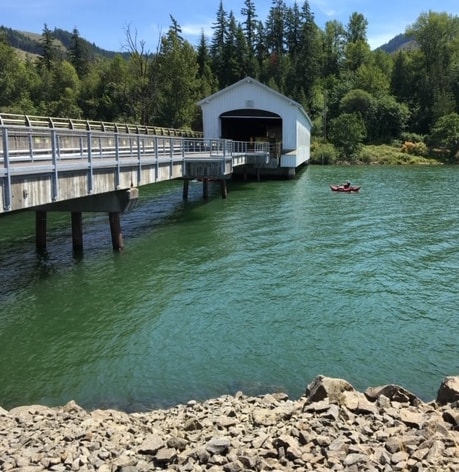 The water coming down from Lookout Point Reservoir immediately above Dexter squeezes through artificially narrows, and the modest current found at this spot attracts trout like a magnet.
A simple still-fishing rig with a sliding sinker and something tempting like PowerBait or natural bait should put you into some dinner here when the trout are plentiful, or casting lures such spinners and spoons also can get good results for stocked trout.
For trout, fish Dexter soon after it is stocked with hatchery reared rainbows, so check the link below to find the schedule.
It usually gets several generous plantings from February into the middle of spring before the hatchery trucks take a break for summer.
Some years the Oregon Department of Fish and Wildlife has planted Dexter again in about September, providing an excellent early fall fishery, but our most recent check didn't find a later stocking on the schedule.
Not only is Dexter quite generously stocked with impressive numbers of trout, quite a few of those trout recent have been what ODFW terms "trophy" trout, which are raised to significantly larger sizes than the pan-sized legals also planted.
Boat anglers also can do quite well fishing at Dexter, often concentrating their efforts on the downstream (west) side of the bridge for the same reasons mentioned above.
You can launch at both Dexter State Recreation Site near the dam (off Highway 58) or at Lowell State Park off Shoreline Drive just west of Lowell.
For more information on the how-to side of catching trout, read this article: Trout Fishing: Basic How-To Techniques and Tips.
Note that any salmon caught here can be kept as part of the trout limit.
If interested in nearby trout fishing, Fall Creek and Fall Creek Reservoir also are stocked with trout and the Middle Fork Willamette River has a noteworthy fishery for wild trout, especially for catch-and-release angling farther upstream.
Bass Fishing
Dexter Reservoir has quite a good number of bass, and you might catch either smallmouth or largemouth.
The smallmouths tend to average on the small side here, but fair fish can be found and all smallmouth are dogged fighters.
Look for these fish near rocky cover, which is common here. One good spot is along the dam, reached both by shore and boat.
If you are interested in learning about the region's smallmouth fisheries, check out Best Smallmouth Bass Fishing in Western Oregon.
There also are largemouth bass in Dexter, and they will be in some of the same areas as the smallmouths, though you might want to look in slightly different parts of the lake if targeting them specifically.
These big-mouthed cousins prefer softer bottoms, weeds and woody cover over rocky structure.
Try coves and other shallow or weedy areas for the largemouth, which may be harder to find here but can be caught in larger sizes if you do locate fish.
Lane County anglers will find better largemouth bass fishing at Cottage Grove Reservoir, Dorena Reservoir and Fern Ridge Reservoir or on our rundown of Best Largemouth Bass Fishing in Western Oregon.
Fishing for both species of bass picks up in the early spring, when larger fish are often in shallow water to spawn.
Bass fishing remains productive through the hot months and into early fall but is slow when the water is cold.
Northern Pikeminnow
Dexter also, frankly, tends to be well-populated with northern pikeminnows, a fish species most anglers consider a nuisance.
Pikeminnows are hard to keep off a nightcrawler or bass lure, they aren't known for being good eating and they make the lake less productive for sport fish.
In fact, the locals encourage people to cull the number of pikeminnows (previously know as squawfish) in the lake by hosting an annual pikeminnow derby during Lowell's Blackberry Jam Festival in July.
This is a fun time to catch lots of fish and maybe score a prize at a time that trout fishing is in its summer lull.
Are There Walleye in Dexter Reservoir?
We haven't found much in the way of direct reports of walleye in Dexter Reservoir, but we also wouldn't be surprised if the occasional one is caught here.
A fishery for these Midwest favorites has been developing just upstream in the much larger Lookout Point Reservoir, and walleye also have been found in the Middle Fork Willamette River just below Dexter Dam.
So, while we can't (yet?) recommend you put effort into walleye fishing at Dexter, if you catch a "funny looking" pikeminnow, it might just be one of the best fish meals you're going to catch this year.
Are There Kokanee in Dexter Reservoir?
Not that we know of, and not according to ODFW.
However, there might be some juvenile Chinook salmon that are migrating down river. Adult Chinook have been transported above the dams into the Middle Willamette. Know your salmon (Chinook have black mouths and spots), and the rules that apply.
Some anglers have reported catching kokanee in Lookout Point Reservoir above. Other anglers have reported landlocked Chinook there instead of kokanee. Kokanee are landlocked sockeye salmon common in several other Oregon lakes.
Wormy Fish?
Some anglers who fish Dexter relatively often have noted that some fish they catch (typically not newly stocked trout but fish that have been in the lake for a time) there have parasitic worms in the cavities.
These worms won't hurt you when the fish is cooked thoroughly, but they aren't the most appetizing thing ever.
We suggest you put any keepers on ice or into an ice-water slurry, which tends to keep the worms in the guts rather than moving into the fish flesh. That way they are easily removed during cleaning.
2022 Dexter Reservoir Trout Stocking
| | |
| --- | --- |
| 2022 Stocking | Total |
| Feb. 21 – Mar. 4 | 2,000 |
| Mar. 14 – Mar. 18 | 3,000* |
| Mar. 28 – Apr. 1 | 3,000* |
| Apr. 4 – Apr. 8 | 3,000* |
| Apr. 25 – Apr. 29 | 2,000* |
| Oct. 3 – Oct. 7 | 2,530 |
*These stocking dates includes 2000 – 3000 trophy-sized rainbows
Stocked fish are legal-sized rainbow trout unless otherwise noted. Stocking schedules are subject to change for a variety of reasons. The ODFW Weekly Fishing Report linked under Oregon Resources below may provide updated information.
Return to Oregon Trout Fishing page
Find more fishing spots in eastern Lane County
Oregon Resources
ODFW Weekly Fishing Report
ODFW Trout Stocking Schedule
Oregon Fishing Regulations
National Weather Service