Oregon is not widely known as an ice-fishing state, but there are some pretty good opportunities here when the weather is cold enough, long enough to freeze lakes sufficiently to make them safe to walk on.
This article makes three top suggestions from the Cascades.
We also have some additional ideas of spots in Eastern Oregon.
The latter can offer just as good hard-water fishing, but it depends both on having a year when both the ice is safe and when warmer season water conditions allowed good fish survival heading into the cold season.
There certainly are other lakes that might on occasion offer decent ice angling, although access can be troublesome that time of year.
We can't stress strongly enough that ice fishing takes a cautious approach. If you don't know the ice is safe, don't do it. Seek local advice before making the drive.
Before we get to that, here are some things the Oregon Department of Fish and Wildlife wants you to know about ice fishing in the state:
No special license is required, just a valid angling license. You also may need a Sno-Park permit in some locations.
For a first trip, any fishing pole will do. If you plan to pursue ice fishing regularly, you'll probably want a short rod made for the spot (about 24 inches long) or a tip-up.
Dig several holes to find schooling fish in winter. It's only legal to fish through a man-made hole 12 inches across or smaller.
Some anglers buy Oregon's two-rod license and use a tip-down for the second rod (this helps with checking different holes to find where the fish are in the lake).
Experiment fishing at different depths with bait, and try using a slow jigging motion.
Fish appear to rely on scent more than motion or color to attract their interest in the winter. Try different kinds of scent throughout the day.
Do your homework before ice-up and know where fish are likely to hold up when it gets cold; deeper areas, sunken springs and locations with wood or debris can all attract fish.
NEVER use live bait
Best Three Ice Fishing Lakes in Oregon
The following lakes (listed alphabetically) made our exclusive top tier of suggestions because in most winters they will offer at least some days with good ice-fishing conditions.
Here are three Oregon lakes that frequently have pretty good ice fishing in the dead of winter.
We like them because:
They typically offer decent year-round fish survival, including in drought years
They are reasonably accessible all winter
They all have lodges open at least part of the winter, offering an opportunity for up-to-date advice, supplies and a modest amount of winter activity that adds some measure of safety to the mix.
Diamond Lake Ice Fishing
Several years back, one of Oregon's very best rainbow trout lakes transformed into a year-round fishery, instantly placing Diamond Lake among the top of the state's best ice fishing destinations as well.
It's located in Oregon's Southwest Zone for regulations.
Trout grow quickly and to trophy size at Diamond Lake, which is heavily stocked with both keeper and fingerling rainbows and has excellent year-round fish survival.
Start your visit near Diamond Lake Resort at the northeast corner of the lake just off Highway 138.
The resort attempts to keep access open all year and also rents ice augers and other equipment, including snowmobiles you might need if you want to fish the far side of this big lake.
Typically you can walk out to productive water from the resort without much trouble, though.
For more about this spot, read our Diamond Lake Trout Fishing and Best Rainbow Trout Lakes in Oregon articles.
For current ice fishing information: Roseburg ODFW office (541-440-3353) or Diamond Lake Resort (800-733-7593).
Fish Lake Ice Fishing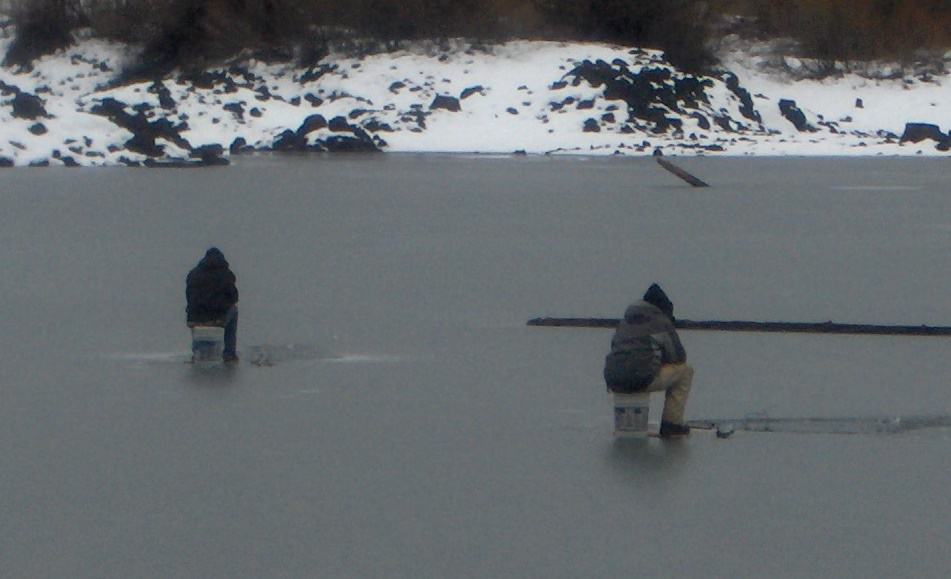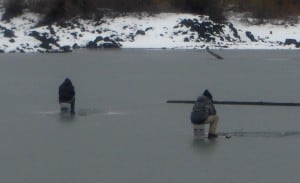 Located east of Medford and Grants Pass on Highway 140 (the route to Klamath Falls), this popular trout reservoir at times can be very good for ice fishing, often in January when this lake at 4,600 feet has a reasonable chance of having thick enough ice.
Like Diamond Lake, it's also in ODFW's Southwest Zone.
Fish Lake can suffer in drought years, but usually it fares pretty well heading into the cold season.
Besides stocked rainbows, Fish Lake also has decent numbers of brook trout, some land-locked Chinook salmon and a hybrid species known as a tiger trout.
The latter species was planted strictly to reduce the numbers of nuisance fish found here, and they must be released while the other species are available for harvest.
Debbi Blodgett at Fish Lake Resort suggested that Berkley PowerBait is a good bet to entice trout through the ice, either fished alone or with a nightcrawler. Some anglers use lures.
Start your visit near the resort, which is typically open Fridays through Sundays during the winter season and where you can rent an ice auger to drill the hole.
The ice is usually 6-24 inches thick during the prime winter fishing season. The resort also serves hot food and drinks.
There is a fee to park at the resort, or you'll need to buy a pass before coming up to park at the state park.
For current updates: Central Point ODFW at 541-826-8774 or Fish Lake Resort at 541-949-8500.
More: Fishing at Southern Oregon's Fish Lake.
Lake of the Woods Ice Fishing
Just east of Fish Lake but over the summit of Highway 140 is Lake of the Woods, located about mid-way between Medford and Klamath Falls in ODFW's Southeast Zone.
Lake of the Woods also is generously planted with rainbow trout, and these are one of the species you might catch here through the ice.
However, Lake of the Woods also has abundant yellow perch, which frequently are eager biters during the cold winter and considerably increase your chances of catching something.
Lake of the Woods also is home to brown trout, kokanee, largemouth and smallmouth bass, crappie and bullhead catfish.
Start your visit at Lake of the Woods Resort.
Call the resort (866-201-4194) for ice thickness or other information.
Much more Oregon ice fishing
The following lakes and reservoirs are open year round at at times can offer good ice fishing, according to information ODFW provided to Best Fishing in America.
However, the waters listed below can be more prone to fish die-offs due to drought, so be sure to check the ODFW's Recreation Report (linked below) to get a better sense of fishing prospects coming out of the dry season.
Several of the listed lakes also have limited access to regular vehicles during the winter months, as noted with each listing.
That all said, when conditions are right, these spots can be very productive.
Most are trout fisheries, but we'll note what else you might catch.
The following waters are divided into geographic areas. Many of the locations include telephone numbers for the nearest ODFW office, for more information.
Mount Hood
Trillium Lake
Trillium Lake is nicely stocked with rainbows during the main season and also has a reproducing population of Eastern brook trout, not to mention a calendar-worthy reflection of Mount Hood and great summer camping.
Either trout can hold over through winter and be caught through the ice in the heart of winter, but you'll need to walk in a bit. Snowshoes will help as the snow can really pile up.
Klamath District
Gerber Reservoir
This reservoir 40 miles east of Klamath Falls, offers yellow perch fishing but is typically slower than Lake of the Woods.
More information for Klamath area: 541-883-5732
John Day Watershed
Magone Lake
Can be good in January and February, but access usually requires a snowmobile.
Bull Prairie Reservoir
Same time frame as Magone, and you'll also likely need a snowmobile to reach it.
More information for John Day Watershed area: 541-575-1167
La Grande District
Wolf Creek Reservoir
Better access than many Eastern Oregon lakes, with road to launch area typically passable. Rainbow trout are the target species and fishing here can be more consistent than some drought-prone reservoirs in the district.
Phillips Reservoir
This is a fishery for both rainbow trout and yellow perch.
Unity Reservoir
This reservoir has pretty good access from a state park and can hold up better than some during drought years. It is known for the potential for producing very large trout, though not always high catch rates.
Thief Valley Reservoir
This reservoir has suffered pretty heavily during bad drought years, but when conditions are favorable this can be an extremely good ice fishing spot for rainbow trout, including some to excellent size. You should be able to access the reservoir by county road to the boat ramp area to walk out.
Pilcher Reservoir
This location is accessible from a county road, although you should be prepared to walk about a quarter mile in snow (snow shoes are a good idea) to reach the lake, which is at low pool during this season.
More information for La Grande area: 541-962-1829
Malheur Watershed
Malheur Reservoir
Rainbow trout fishing can be good hear when conditions allow, but it can be devastated by drought. It is located about 40 miles north of Vale and reasonably accessed by a county road off Highway 26.
Pole Creek Reservoir
Another area rainbow trout fishery located closer to Vale, just off Highway 26 about 25 miles north of Vale.
More information for the Malheur Watershed area:541-889-6975
Hines District
Beulah Reservoir
Contains rainbow trout, yellow perch, crappie and largemouth bass and is about 15 miles north of Juntura.
Delintment Lake
Rainbow trout fishing about 45 miles from Hines in the Malheur National Forest. This is only for the committed and prepared because it could take a 30-mile snowmobile ride during ice fishing season.
Yellowjacket Lake
Rainbow trout fishing about 35 miles from Hines in Malheur National Forest. The final 15 miles may require a snowmobile or at least a 4X4 during the winter.
Fish Lake
Brook trout and rainbow trout fishing on Steens Mountain, about 20 miles outside of Frenchglen. You'll need a snowmobile or snow cat from December into spring most years.
Mann Lake
Cutthroat trout fishing about 40 miles from Fields. These fish must be at least 16 inches and you can only use artificial flies and lures.
Poison Creek Reservoir
Rainbow trout fishing a few miles south of Silvies or 12 miles south Seneca. This spot has easier access from paved U.S. Forest Service Road 17.
More information for the Hines District: 541-573-6582
Lakeview District
Cottonwood Meadows
Rainbow and brook trout near Lakeview but accessed by snowmobile.
Desert Reservoirs
Multiple reservoirs located east of Lakeview have the potential for rainbow and Lahontan cutthroat trout fishing, but you'll need to call the Lakeview ODFW office for location and condition information and you'll need at least a 4×4 to get to them.
Dog Lake
Yellow perch, gluegill, largemouth bass and crappie fishing, but here you must release any trout you might catch. Access is by 4×4.
Duncan Reservoir
Rainbow trout fishing that might require a fairly short walk after you get there, most likely with a four-wheel-drive vehicle.
Heart Lake
Rainbow trout and kokanee are available at this lake near Lakeview, but you'll need a snowmobile to reach it.
Holbrook Reservoir
Rainbow trout fishing near Lakeview with access via snowmobile or 4×4.
Lofton Reservoir
Rainbow trout fishing near Lakeview with access by snowmobile.
Mill Flat Reservoir
Rainbow trout fishing near Lakeview with access by snowmobile.
Slide Lake
Rainbow trout fishing near Paisley with access by snowmobile. Ice here has the potential to stick around until April.
Thompson Reservoir
Rainbow trout and largemouth bass near Silver Lake. You'll need a snowmobile or 4×4.
Withers Lake
Brown, brook and rainbow trout all swim here and the ice might be safe into April some years, but you'll need a snowmobile.
More information for the Lakeview District: 541-947-2950
Wallowa District
Wallowa Lake
Only freezes hard enough to allow ice fishing on occasion, but trout and kokanee fishing can be good when it does.
Kinney Lake
Small lake east of Wallowa Lake can offer very good catch rates through the ice, when conditions allow.
More information for the Wallowa District; 541-426-3279
Other States
Ice fishing is more popular in many states across the northern and central parts of the U.S., from the interior mountain West to the upper Midwest to New England.
For example, Utah has some excellent ice fishing lakes and reservoirs.
Oregon Resources
ODFW Weekly Fishing Report
ODFW Trout Stocking Schedule
Oregon Fishing Regulations
National Weather Service