Despite some high-profile battles with invasive tui chubs, Diamond Lake remains one of the crown jewels among family trout lakes in Oregon.
In fact, Diamond Lake is very deservedly on our list of best rainbow trout fishing lakes in Oregon.
Diamond Lake's famous insect populations have rebounded after being grazed down by the chubs, and fingerling trout stocked in the lake once again pack on an inch or more a month during the season.
Rainbows survive the winters well and it's not all that uncommon for anglers to catch trout tipping the scales at 12 pounds or better in this large and beautiful lake high in the Cascade Mountains in the upper North Umpqua River drainage east of Roseburg.
Unfortunately, in recent years state biologists monitoring the lake have trapped more chubs, although at this writing their population isn't yet as extreme as earlier infestations.
These invasive fish are thought by many to have been introduced as the result of people using the live minnows for bait. The practice is highly illegal in Oregon and has resulted in previous explosions of tui chub populations.
ODFW in 2016 started stocking sterile "tiger trout" (a brown trout-brook trout cross) and brown trout and will take other measures such as netting and electro-fishing.
The tigers and browns feed more aggressively on small fish than typical rainbows and it is hoped they can help control chubs or other unwelcome species such as golden shiner minnows, which also are invasive and likely introduced through illegal fishing with live bait.
The tiger and brown trout must be released if caught.
If you're driving in, give yourself an hour and a half from Klamath Falls, close to two hours from Bend, two and a half hours from Eugene and at least four hours from the Portland area. It's close to Crater Lake National Park.
Angling Regulations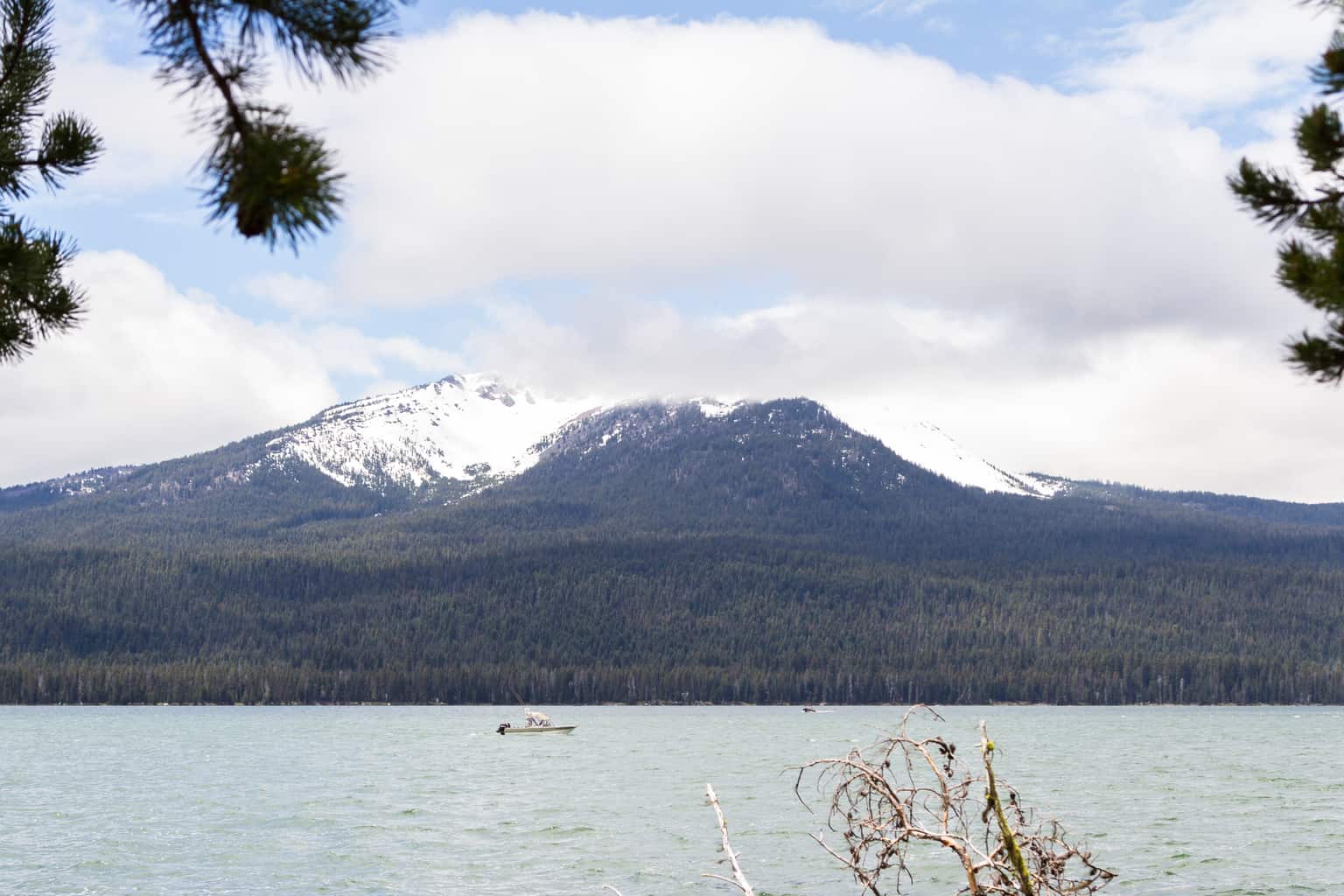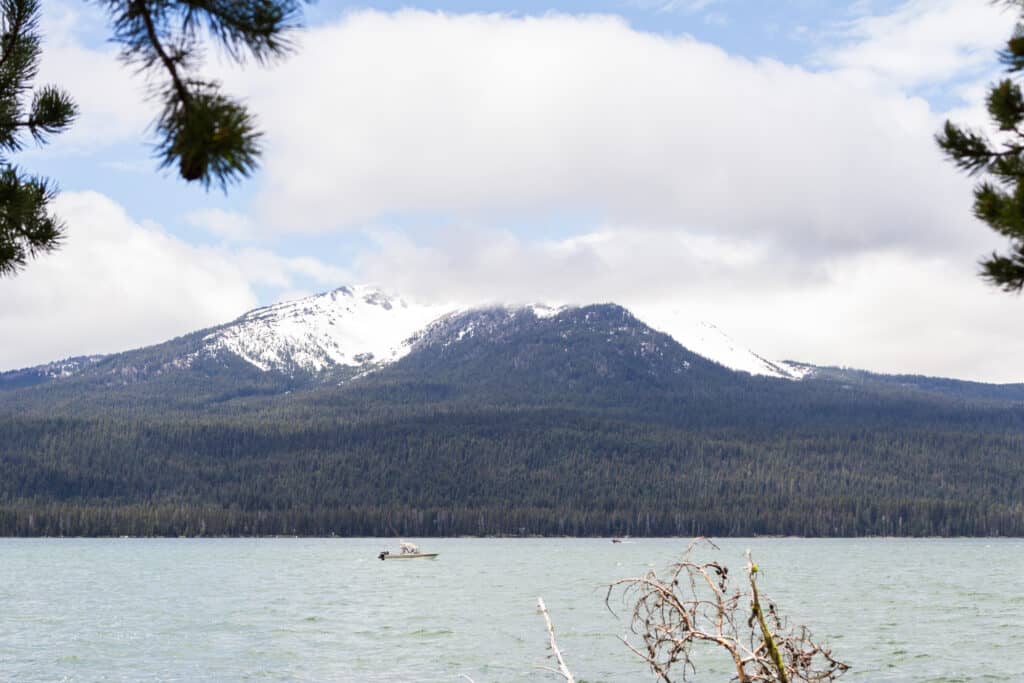 ODFW switched Diamond Lake to year-round fishing in 2013, creating a new wintertime opportunity for Oregon ice fishing when conditions allow. Anglers should be cautious and not fish at times when the ice is not solid enough to safely walk on the lake.
Motors are allowed but there is a 10-mph speed limit on the lake.
As with all Oregon inland waters, using live fish for bait is strictly prohibited.
Check current regulations for limits or other harvest information as rules here have shifted recently.
Know Before You Go
The lake (and its surroundings) is rich with bugs, including mosquitoes, which are particularly vicious in the spring and on through July.
After that, they aren't much problem and are completely gone by the fantastic fall season.
The Best Time to Fish
In particularly cold years, the surface of Diamond Lake can still be frozen solidly enough to allow ice-fishing during the traditional start of trout fishing in late April.
In more typical conditions in late April and early May, there is partial to fully open water that can be fished from shore or boats.
The fish are a little lethargic while the water is cold enough to retain ice. Better fishing generally begins a few weeks after ice-out, when the trout go on a feeding frenzy that lasts well into June.
Diamond Lake is worth a shot all season, but catch rates do dip in the heat of summer, with limits a bit tougher to come by in August and early September.
Then angling is red hot again for a few months in the fall before the ice forms. Late September can bring 100-trout days for adept catch-and-release anglers.
Where to Fish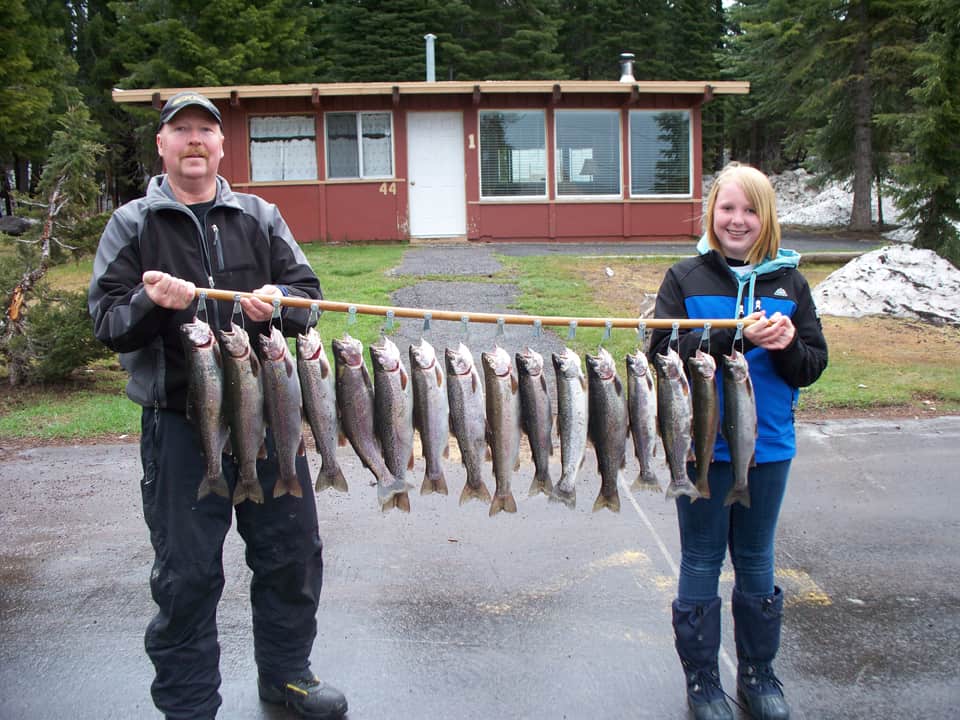 Old-timers used to congregate in the Shrimp Hole in front of Thielsen View Campground or the Cheese Hole (a.k.a. Velveeta Ridge) at the north end of the lake, where the crowds of anglers and resulting bait in the water concentrated the fish.
Those are still good places to start, but these days the fish seem to move about more. Look for clusters of boats or ask someone in the know to locate the latest bite.
The south end of the lake is shallowest and has the most weeds (and the resulting bugs), making it prime for fly fishing.
Trollers seem to work across the lake, charting paths between boat ramps at the Thielsen View and Diamond Lake campgrounds or between mounts Bailey and Thielsen. Trolling just off the eastern shore is another good option.
Bank anglers have success in various places, most often using bait-fishing techniques.
Three good shore spots are the rock jetty near the boat ramp at the northeast end of the lake, Rocky Point on the west side and the edge of the Cheese Hole, less than a half-mile walk on a paved path north from Diamond Lake Resort.
How to Catch
Bait fishing
By far, most anglers go after Diamond's stocked trout with bait, and the majority of those reach for their jars of Berkley PowerBait, particularly in chartreuse, rainbow and fluorescent orange colors.
The standard way to fish bait at Diamond is to use an 8- to 10-pound test for a mainline.
Slide a No. 9 sliding egg sinker up the mainline. Many anglers follow this with a tiny bead (5 mm or smaller) to help keep the line moving freely through the sinker.
Then tie on a swivel and 18 to 24 inches of leader, which allows your bait to float above the weeds. For leader, many people use 4-pound or lighter, but 6-pound is ideal due to abrasive vegetation.
For PowerBait, use a No. 14 or 16 treble hook to keep the bait on better, and stick with baits around the size of a child's marble – just big enough to float your hook.
Baits the size of golf balls chase away more fish than they attract, and you'll go through a jar of brightly colored dough (and a bunch of the green kind) in no time.
Use a similar setup for nightcrawlers, but switch to a No. 6 or 8 bait hook. Use a worm threader to string a third to a half of a crawler up the hook and partially onto the line.
Stick a marshmallow on the hook tip to float your bait off the bottom. Mike's Glo Mallows in shrimp or garlic flavors seem to work well, or add some Mike's or Pro-Cure scent oil to plain white mini-marshmallows from the grocery store.
"If the fish aren't biting," said Rick Rockholt, who worked for many years for Diamond Lake Resort, including serving as a fishing guide, "you can eat 'em."
Nightcrawlers seem particularly effective on the south end of the lake, where trout gorge on leeches and seem to appreciate worms.
Anywhere on the lake where there are weed beds, try casting baited rigs just to the side of dense underwater foliage.
Trout swallow bait more often than artificial lures. If you want to release fish, pinch down the barbs on bait hooks and cut off rather than wrench out deep-swallowed hooks if the fish isn't bleeding from the gills.
Trolling
The most common method of catching Diamond Lake trout from a moving boat is with a Luhr Jensen Ford Fender lake troll or another attractor, followed by a long leader and either a plain nightcrawler on a hook or a small trout lure, often tipped with a bit of bait.
Use ½ ounce to 1 ounce of lead to get the rig no deeper than 20 feet below the surface and work the trolling lanes described above.
Other anglers prefer to troll larger lures without attractors. Rig up a bit like a bait angler, with a No. 9 sinker above a bead and swivel on the mainline. Below the swivel, tie on a leader that is about a foot shorter than your rod. This will allow you to more easily net your catch.
An F-4 or F-5 Worden's FlatFish is a popular choice for this kind of fishing, with the frog pattern among good colors.
Luhr Jensen's Needlefish is also effective, particularly in Fire (fluorescent orange), Fire Tiger and Cop Car patterns. Worden's Rooster Tail and Panther Martin spinners also work well.
For the biggest fish, try trolling a Rapala or other small-fish imitating lure in 2½- to 3½-inch lengths. Silver-side patterns with black or blue backs, or the rainbow pattern, are good options.
This method won't land volumes of fish but can be deadly on lunkers – especially after ODFW dumps 300,000-plus fingerlings in the lake after in mid-May and the more cannibalistic brutes go on a binge.
Trolling with lures is particularly good along the eastern shoreline, which drops quickly. Troll in the top 10 feet of water without an attractor, and try sticking within 50 yards (and sometimes much closer) off the bank, in water that is generally 7 to 20 feet deep.
Fly fishing
Hatchery trout stocked in Diamond Lake as fingerlings quickly learn that bugs have replaced pellets on their menu.
This is particularly true at the south end of the lake, where Silent and Short creeks spill in and where vast shallows hold dense weed beds veined with channels where trout cruise the bug buffet line. Other weed beds also are worth trying.
Boats, float tubes and pontoons are all popular for this, and there are spots where wading anglers can get in on the action.
Most fly fishing is done in 3 to 12 feet of water. Most anglers employ a floating line with leaders of at least 9 feet, with 4x or 6x tippets.
Popular fly patterns include woolly buggers and leeches, especially in brown and olive colors.
Fishing with dry flies should also be improving as more trout grow up on insects following the lake's rehabilitation. Callibaetis mayfly imitations in sizes 14 or 16 are deadly when those insects are hatching by the millions, a dozen or more times each summer.
When the chironomids are hatching, a can't-miss fly is the "Brassie," which uses brass wire and small hackle and body to imitate the insects as they emerge from the muck at the bottom of the lake and break for the surface.
Rockholt lets the Brassie sink for about a 10-count, strips up some line to mimic an insect rising to the surface, and keeps repeating that motion back to the rod.
If All Else Fails
Combine conventional and fly-fishing techniques, literally with a twist.
Using an ultralight to medium-weight rod, tie a swivel to your main line, followed by a leader a bit shorter than your fishing pole.
Tie on a woolly bugger, leech or another dark fly – even a dry pattern – and troll or kick as slowly as possible 100 feet behind you across the weed beds. The fly will be just under the surface.
Now, to make this work even better, hold the rod at a 45-degree angle and roll the tip in 1-foot circles, which gives the fly an action that trout can't resist.
The only problem with this technique is that trout strike moving flies so savagely that it can yank the rod right into the water. Hang on tight.
Learn more Simple Trout Fishing Techniques and Tips
Return to Oregon Trout Fishing page
Find more fishing spots in Douglas County
Thanks to Rick Rockholt for helping extensively with the original version of this article. Many of his tips remain. He worked at Diamond Lake Resort for decades in marketing and operating the resort's charter service.
Oregon Resources
ODFW Weekly Fishing Report
ODFW Trout Stocking Schedule
Oregon Fishing Regulations
National Weather Service