Douglas County is one of western Oregon's largest counties, and it's full of fish of many species.
The county includes the large Umpqua River drainage, from the fantastic rainbow trout fishing in Diamond Lake in the upper drainage to the great angling for salmon, steelhead, bass and more before the river spills into the Pacific Ocean.
You'll find the major fishing waters in Douglas County listed alphabetically below.
Within the descriptions of those fishing spots, as well as below this article, look for links to more resources to get the most out of fishing in this region of Oregon.
Many of the waters mentioned in this article are regulated under the Oregon Department of Fish and Wildlife's Southwest Zone but some of the lakes in the northern area including Tahkenitch are in the Northwest Zone.
Also check for Marine Zone regulations. Read the rules before fishing.
Also check the fish advisory guidelines in the annual fishing regulations booklet if you plan on eating your catch from Cooper Creek, Galesville and Plat I reservoirs, which have naturally occurring mercury in the food chain.
Typically, recently stocked trout have less toxin build-up than resident fish.
Incorporated cities in Douglas County are Canyonville, Drain, Elkton, Glendale, Myrtle Creek, Oakland, Reedsport, Riddle, Roseburg, Sutherlin, Winston and Yoncalla.
Unincorporated communities within the county include Camas Valley, Dillard, Gardiner, Glide, Green, Idleyld Park, Scottsburg, Steamboat, Umpqua and Winchester Bay.
Attractions in Douglas County include Wildlife Safari in Winston, just off Interstate 5, and part of Crater Lake National Park, Umpqua National Forest and several other national forests.
Listed alphabetically, here are some fishing spots you'll want to get to know in Douglas County:
Ben Irving Reservoir
This is a good trout and warmwater fishing destination less than a half hour southeast of Winston and within a reasonable drive of Roseburg, Myrtle Creek or Myrtle Point.
There is bank and boat access to this 250-acre reservoir off Berry Creek Road south of Highway 42.
Ben Irving is best for trout in the late winter through spring when a few stockings occur. There's the possibility the stocking truck will return in late summer around Labor Day, potentially with some larger trout, but this isn't an annual occurrence.
Largemouth bass, sunfish and yellow perch make up much of the warm water fishery, including some bullhead catfish and crappie.
Bowman Pond
A nonprofit organization's pond in the Winston area that provides fishing opportunities for people with disabilities. It is stocked by ODFW. Call 541-679-5566 for reservation information.
Carter, Lost and Perkins Lakes
These smallish lakes are right along Highway 101 (Oregon Coast Highway) between the Siltcoos and Tahkenitch lake areas.
They are primarily fished for stocked trout during the spring.
There may be some modest warmwater fishing opportunities as well, including largemouth bass in Lost Lake.
Cooper Creek Reservoir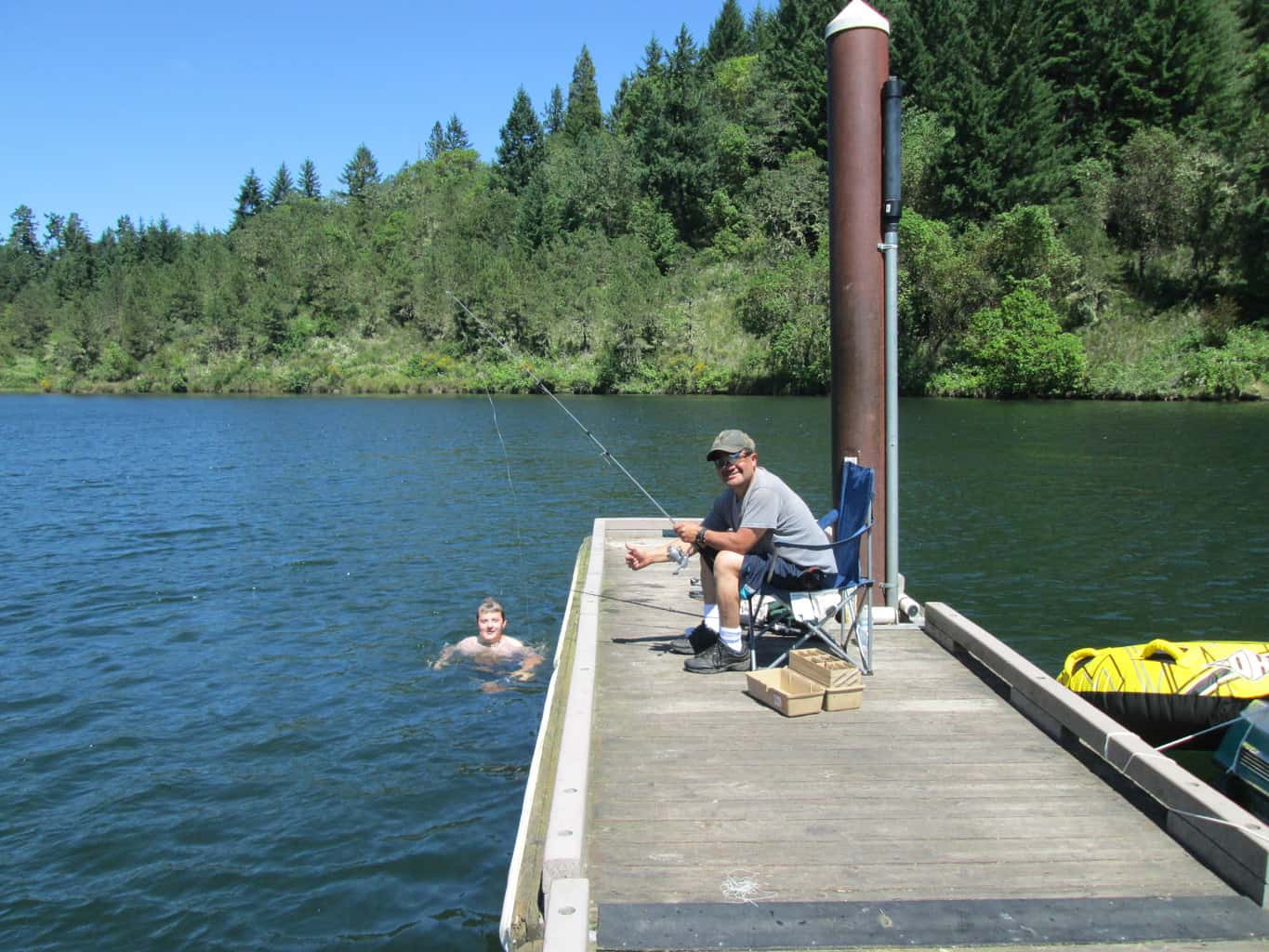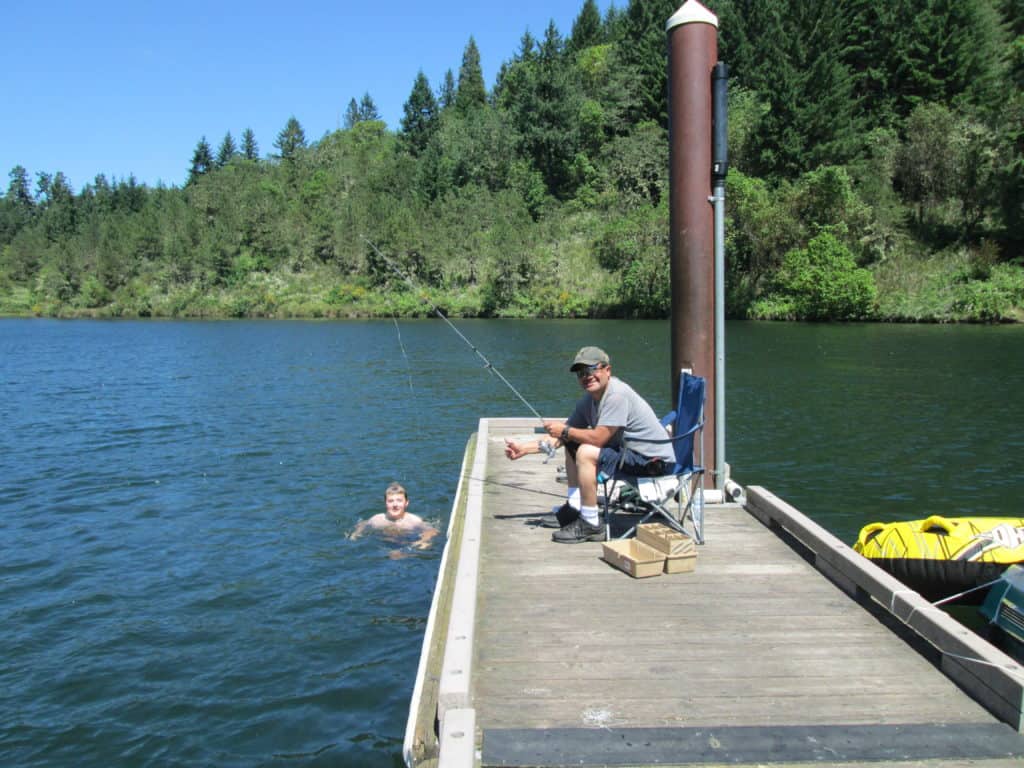 A nice trout, coho salmon and warmwater fishery just a few minutes from Interstate 5 just outside of Sutherlin.
The 160-acre reservoir is generously stocked with rainbow trout from late winter through spring and often again in the late summer and early fall. Those plantings may include some big trout.
It also has notable fishing for largemouth bass and panfish such as bluegill, crappie and bullhead catfish, and the coho fishery was established in recent years.
Bank and boat access is good.
See: Cooper Creek Reservoir Fishing.
Diamond Lake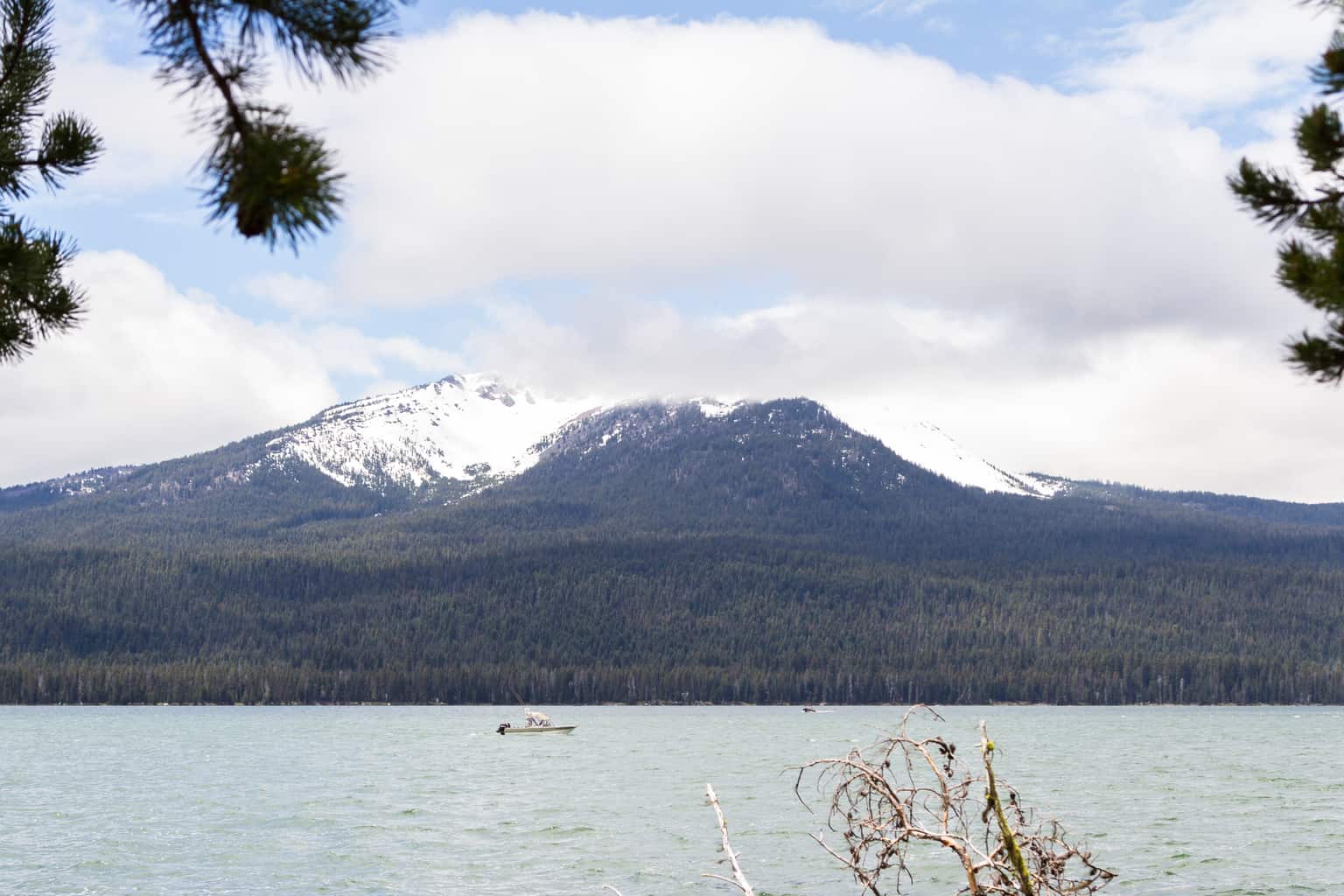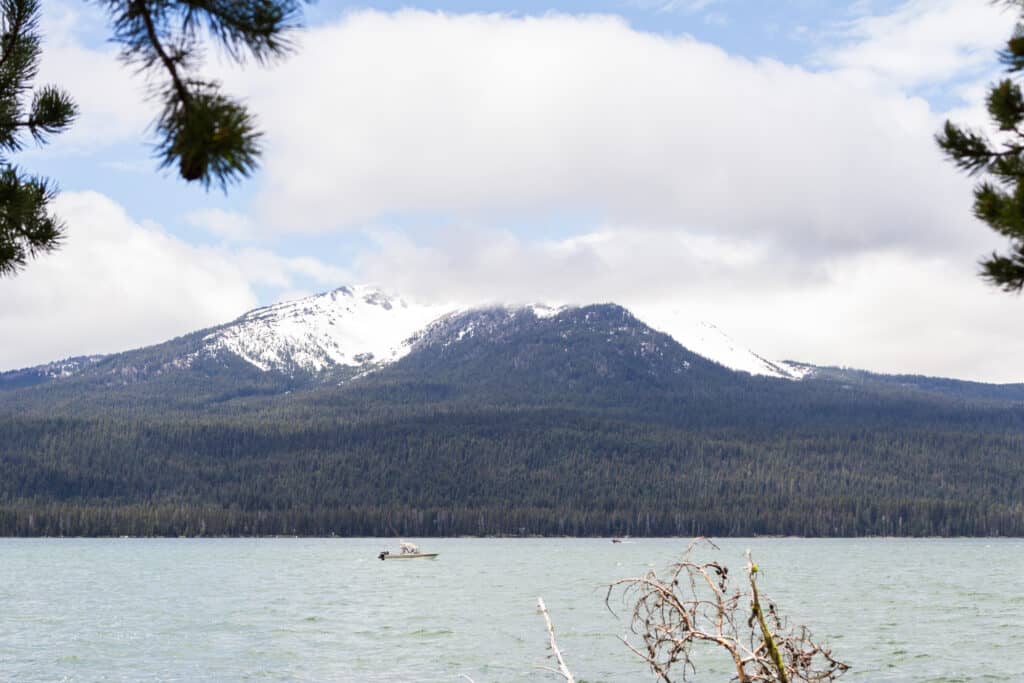 Simply put, if you like to fish for rainbow trout in Oregon, this precious gem should be on your bucket list.
We've named Diamond Lake as one of Oregon's best rainbow trout lakes and it's easily one of the best fishing spots near Crater Lake National Park.
It's also on the short list of best ice fishing lakes in Oregon, for those willing to brave wintertime conditions.
Diamond Lake is an incredibly productive natural lake (over 2,800 acres) stocked with fingerling trout (and sometimes legals) that grow to trophy size.
It's open all year, but this is high country so be prepared for potential cold weather and mosquitoes.
Public campgrounds and Diamond Lake Resort are among amenities.
There is good bank access and excellent boating facilities.
We could yammer on about Diamond Lake's fishing, but check our full article here.
Eel Lake
This good-sized lake (350 acres) shared with Coos County is known for good bass, crappie and trout fishing.
Rainbow trout are stocked in mid-spring, and there are native cutthroats as well.
This is a skinny lake with two long arms, with William M. Tugman State Park located on the south side near the bottom of its U-shape.
Eel is just north of the famous Tenmile Lakes in Coos County.
See: Eel Lake Fishing.
Elbow Lake
This is a smallish warmwater fishery at 20 acres, but Elbow Lake is known to have some pretty good largemouth bass fishing at times.
You also will find sunfish, yellow perch and bullhead catfish here.
Elbow Lake is located along Highway 101 just southwest of Tahkenitch Lake.
Ford's Pond
This 100-acre pond on the west side of Sutherlin has a nice warmwater fishery.
You can expect to find largemouth and smallmouth bass, crappie, sunfish, yellow perch and bullhead catfish.
The pond (now in city ownership) is located along Highway 138 (Elkton-Sutherlin Hwy.)
Bank access is good. You can use a non-motorized boat; a large boat would be difficult to launch here.
Similar fish species also are in smaller Sutherlin Log Pond on the southeast side of town, but ODFW generally rates Ford's the better of the two.
Galesville Reservoir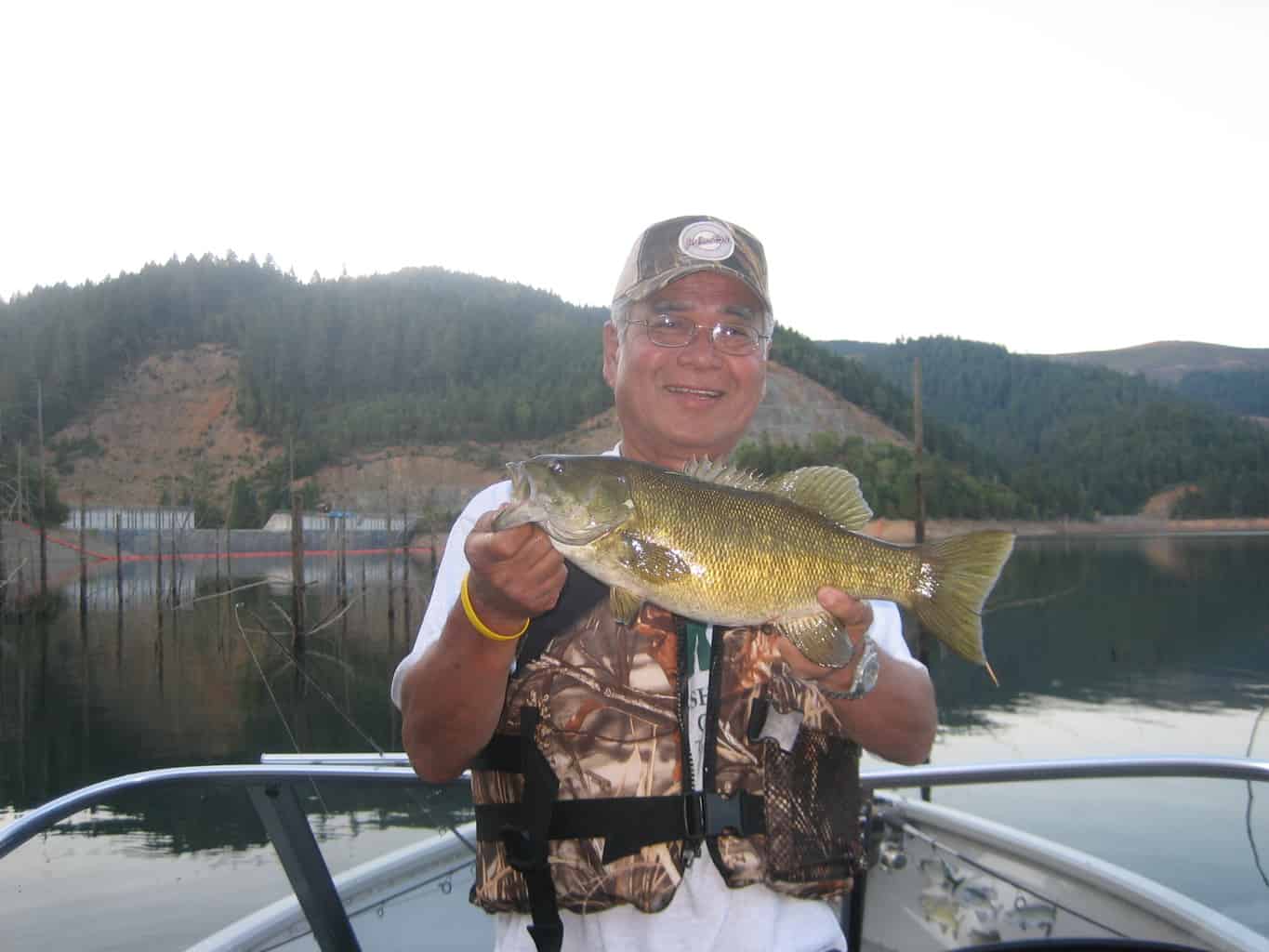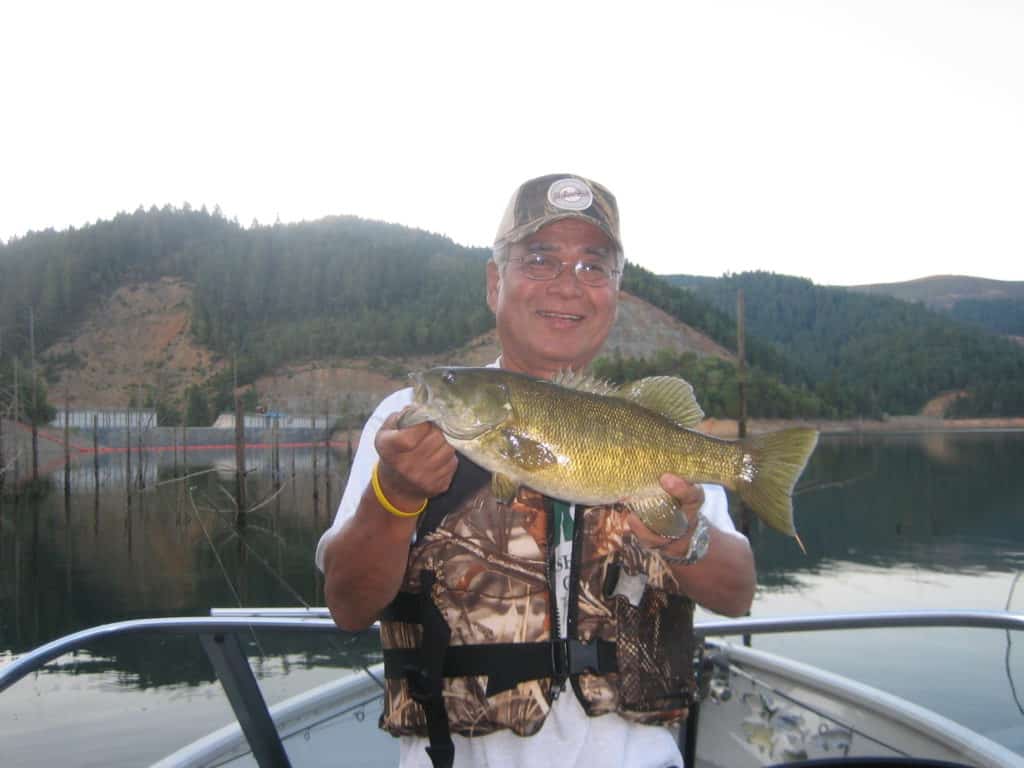 A fairly well-known spot to catch largemouth bass, with pretty good fishing for crappie, sunfish and bullhead catfish as well.
During the spring months, Galesville offers good fishing for periodically stocked rainbow trout.
ODFW had planted land-locked coho salmon here through 2015 but now are instead planted at Cooper Creek Reservoir, also in Douglas County.
It's a good-size reservoir at 630 acres, with good bank and boat access.
To get there, take the I-5 exit at Azalea and follow Upper Cow Creek Road a little over 6 miles to Galesville.
See: Fishing at Galesville Reservoir.
Hemlock Lake
This small reservoir in the Umpqua National Forest more than an hour east of Roseburg is regularly stocked with rainbow trout during spring and potentially again in the late summer.
There also are kokanee reported in the lake.
Nearby you'll also find Lake in the Woods, a small lake modestly stocked with trout on the same schedule.
See: Hemlock Lake Fishing.
Herbert Log Pond
This is a small fishery, about 8 acres, just east of Canyonville on the Tiller Trail Highway.
It offers fair fishing for largemouth bass, sunfish and bullhead catfish.
Lake Marie
This forested lake is in Umpqua Lighthouse State Park off Highway 101, just south of the community of Winchester Bay.
Lake Marie is nicely stocked with thousands of hatchery trout, most often during the spring. At times it has been planted again in late summer.
You'll also find good numbers of yellow perch and some largemouth bass here, providing a fishery between trout plantings.
Lemolo Lake
This 415-acre reservoir is a nice fishing destination for trout anglers, with plenty of camping and the private Lemolo Lake Resort (where you can buy supplies).
The fishing can be quite good for both rainbow and brown trout, and some big browns are taken.
Though trout are the main fishery, there also are kokanee here and anglers sometimes have good success with these small, land-locked sockeye salmon.
Access is good for bank and boat anglers.
It's about an hour and a half from Roseburg if you're driving into the upper North Umpqua River drainage, about 12 miles north of Diamond Lake.
See: Lemolo Lake Fishing.
Loon Lake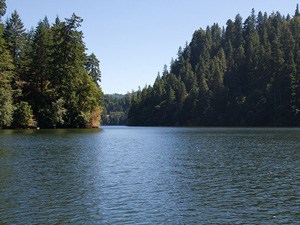 This pretty 270-acre lake at the edge of the Elliot State Forest is fished for both stocked trout and resident warmwater fish.
In the spring, the stocking truck comes to Loon Lake several times, and fishing for rainbows is good before the weather warms too much.
Largemouth bass fishing is popular here, and you'll also find crappie, sunfish and bullhead catfish.
Bank access is somewhat limited but include a BLM recreation area and a private resort. Boat access is excellent.
To reach Loon Lake, turn south off Highway 38 (Umpqua Highway) on Loon Lake Road. The intersection is a few miles west of Scottsburg, between Reedsport and Elkton.
See: Loon Lake Fishing.
Plat I Reservoir
This 150-acre reservoir has a good fishery for largemouth bass and also has a variety of other warmwater species, including sunfish, bullhead catfish, crappie and yellow perch.
Plat I also is a regular stop on the hatchery stocking truck circuit during the spring months.
The reservoir is just east of Sutherlin, about 5 miles from Interstate 5. It is in the vicinity of Cooper Creek Reservoir.
Red Top Lake
Also known as Red Top Spring Pond or Helipond, this small pond is located east of Myrtle Creek near Deadman Mountain.
Red Top Lake is currently stocked several times between April and Labor Day.
While the numbers of fish planted in this small water are modest, at times they are large fish or even trophy sized specimens from the hatchery.
You can reach Red Top Lake by driving up South Myrtle Road (along South Myrtle Creek) or north on Deadman Creek Road outside of Tiller.
You'll want to map the end of your route carefully. The upper route might not be passable in winter, when the pond isn't typically stocked but could provide some opportunity when accessible.
Other higher-elevation lakes in the region also have been periodically stocked with hatchery trout in recent years, including Calamut, Connie, Bullpup, Fuller, Cliff, Buckeye, Maidu, Pitt and Skookum lakes. Use a good map to find them.
Accessing these waters can be tough until snowmelt, and fish will bite better when it warms a little anyway.
Siltcoos Lake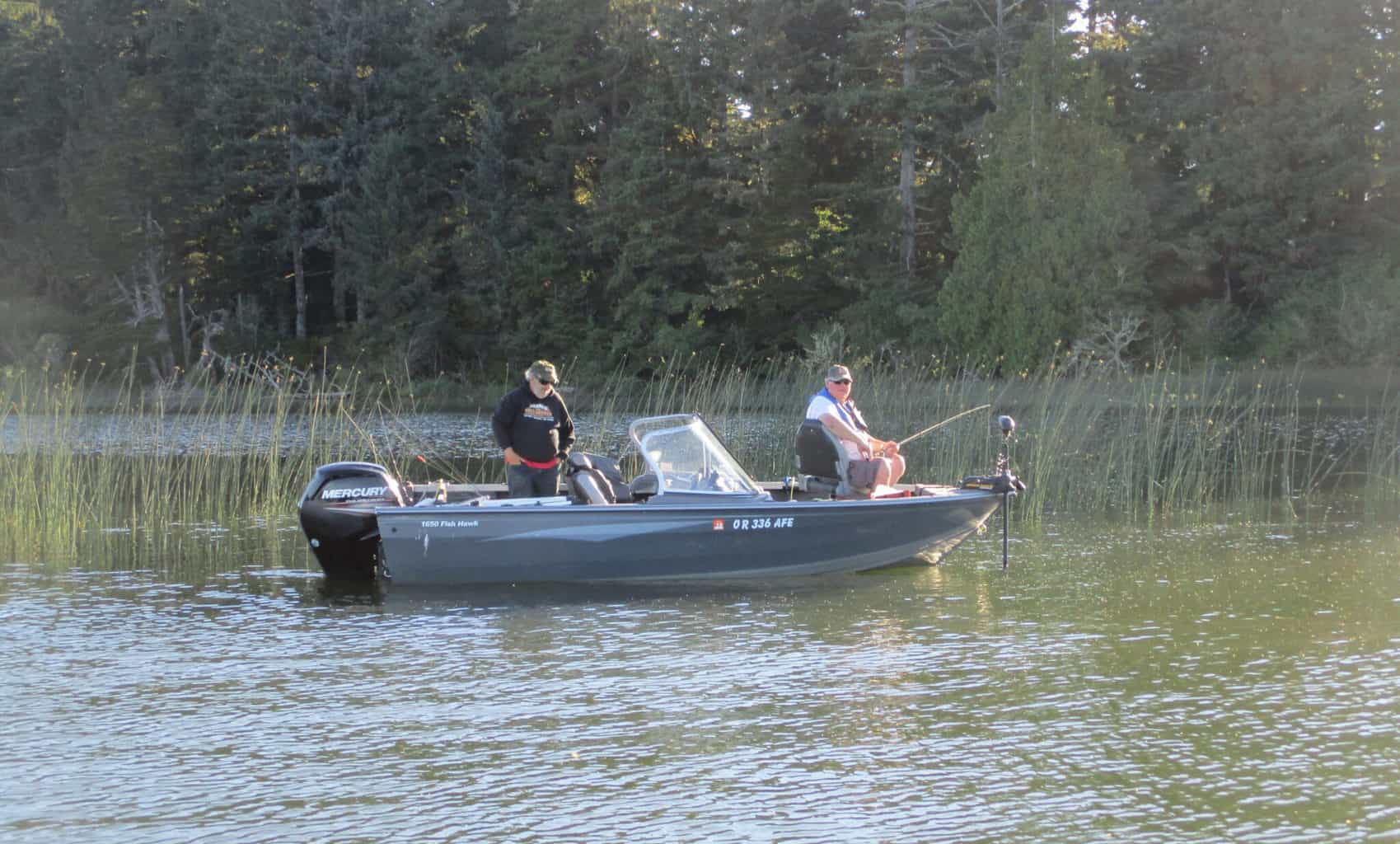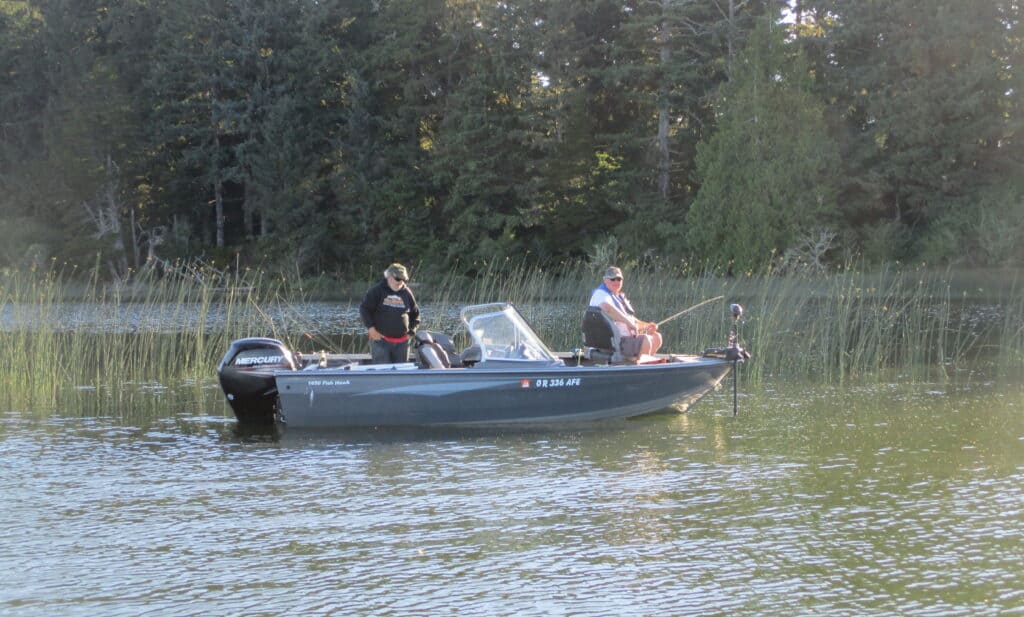 The biggest lake on Oregon's coast (shared with Lane County) also has some of its most diverse fishing opportunities.
For starters, this is typically the best place in the state to catch and keep wild coho salmon in a lake setting (Tahkenitch Lake and Tenmile Lakes are other options).
Fishing is best for coho when heavy fall rains draw them from the ocean up Siltcoos River and into the lake, usually peaking in November.
Siltcoos also has a healthy number of wild cutthroat trout, supplemented each spring by relatively modest numbers (for such a large water body) of good-sized hatchery rainbow trout.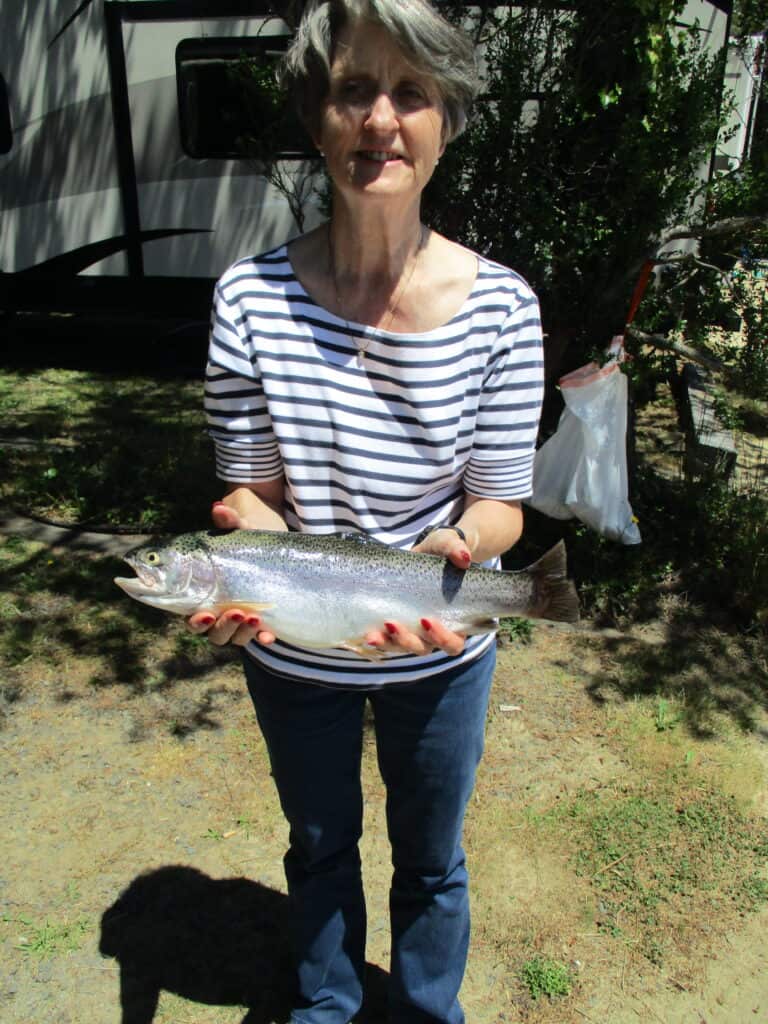 Don't confuse the very silvery young coho for trout; they look a bit like kokanee but must be released.
Largemouth bass fishing can fluctuate over the years here, but it's always worthwhile for bucketmouths.
You also can catch crappie, sunfish, bullhead catfish and yellow perch.
With limited places to get within casting distance along the bank, a boat is a huge advantage here.
To the west you'll find Siltcoos Lagoon, an old, horseshoe-shaped channel of the outflowing Siltcoos River, which is quite small but has better bank access and also is stocked with trout in the spring.
The river below the lake produces some coho salmon for bank angers and the occasional winter steelhead.
See: Siltcoos Lake Fishing.
Tahkenitch Lake
This is one of the largest warmwater fisheries on this part of the coastline.
The 1,674-acre lake, just south of the even larger Siltcoos Lake, is popularly fished during the warmer months for largemouth bass, crappie and yellow perch, and of course there are sunfish and bullhead catfish.
When the weather turns colder, Tahkenitch is also one of the few Oregon lakes where keeping a wild coho salmon is legal during the last months of each year.
Though it doesn't generally produce as many of these "silvers" as Siltcoos, coho fishing can be good in Tahkenitch at times from late October into December, especially after a good rains draws in fish.
The peak is often in November.
Check your regulations carefully for this salmon fishery.
And, like many coastal lakes, Tahkenitch also supports a population of native cutthroat trout.
See: Tahkenitch Lake Fishing.
Toketee Reservoir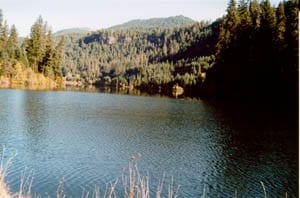 This nice-sized impoundment is primarily fished for German brown trout.
Toketee Reservoir is located in the North Umpqua River drainage a little more than an hour east of Roseburg, just off Highway 138 on the route to Diamond and Lemolo lakes higher up.
Toketee is open year-round.
Neighboring Clearwater Forebay No. 2 is periodically stocked with rainbow trout.
See: Fishing at Toketee Lake and Clearwater Forebay 2.
Umpqua River and Winchester Bay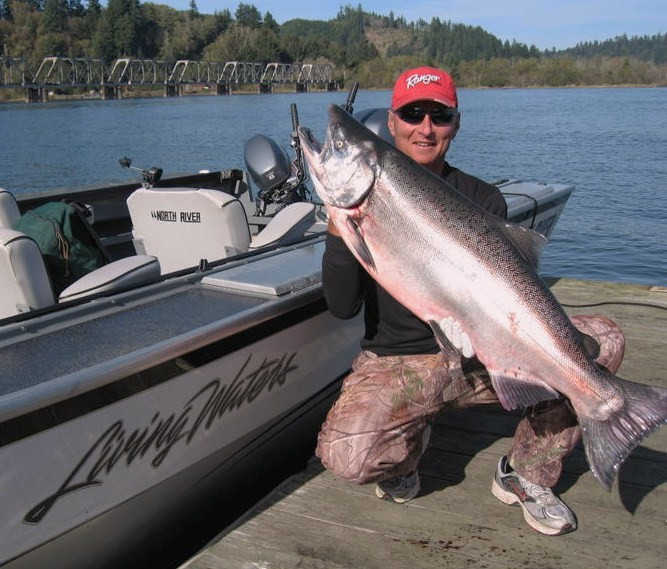 The bay and estuary areas have have fantastic fishing for many species, but fall salmon season in late summer and early fall is the height of its glory.
The Chinook run in can be epic in August and September, and the coho fishing can also be quite good around that time (usually slightly later than the Chinook).
Spring Chinook make a good showing in late April well into May or early June.
Winchester Bay also is an excellent offshore fishing port.
While we're down in the bay, the jetties offer a variety of saltwater fishing, and perch make a great run up into the bay during the spring.
Sturgeon fishing can be good at times, and the bay and estuary (including lower Smith River) is the best place in Oregon to catch a striped bass.
The Smith also has a modest fall Chinook fishery, good numbers of wild winter steelhead for catch and release fishing and keeper native cutthroat trout, but pay attention to which areas are open.
Crabbing and clamming can be quite good in lower Winchester Bay.
Up into the mainstem, both spring and fall Chinook runs can offer very good fishing when conditions are right, and coho also are caught.
The summer and winter steelhead runs are often strong, with a mix of wild (must release) and hatchery fish.
The Umpqua also is one of Oregon's premier smallmouth bass fisheries, and you can read plenty of expert tips about spring and summer bass fishing on this website.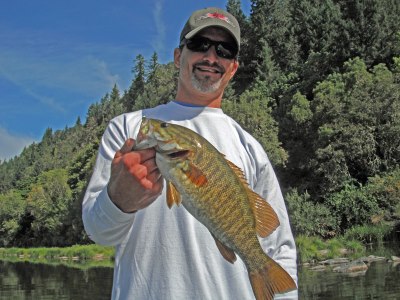 Shad fishing is also quite good some years.
Into the forks, the North Umpqua can be fair to excellent for spring Chinook and summer steelhead, and there also is good trout fishing and a popular fly-fishing area.
The South Umpqua is most popularly fished for hatchery winter steelhead and smallmouth bass.
For a more complete overview of opportunities here, see: Umpqua River Fishing.
Fishing in Neighboring Counties
Lane County (west): To the north, excellent salmon fishing and good winter steelheading in the Siuslaw River system, along with very good coastal lakes for trout and bass.
Lane County (east): To the north, wide variety of river and lake fishing for trout, summer steelhead, spring Chinook, largemouth bass and crappie within easy drive of Eugene.
Klamath County: To the east, on the dry side of the Cascades, this large county includes Odell and Crescent lakes on the north side and many trophy trout and plentiful kokanee.
Jackson County: To the southeast, the upper Rogue River drainage has excellent salmon, steelhead and trout fishing in the river and the basin's many lakes and reservoirs, along with some nice bass and warmwater fisheries.
Josephine County: To the south, the middle Rogue River is a pipeline of salmon and steelhead, and Lake Selmac is a largemouth bass fishing hot spot.
Coos County: To the southwest, excellent salmon and steelhead fishing in the Coos and Coquille bays and river systems, and a first-class warmwater destination in Tenmile Lakes.
Curry County: To the southwest (short shared boundary), this South Coast county includes the lower Rogue River and bay's great salmon fishery, although with the Chetco, Elk and Sixes rivers' productive salmon and steelhead runs.
More Fishing Resources:
In addition to other sources, the following websites were very helpful while compiling these county fishing pages, and the information there is valuable to all Oregon anglers.
For current regulations, trout stocking, weekly angling reports and more, find links on the Oregon Department of Fish and Wildlife's Fishing Resources Page.
For boating information about these waters, see the Oregon State Marine Board's launch locator map.
Return to Best Fishing in Oregon page
Oregon Resources
ODFW Weekly Fishing Report
ODFW Trout Stocking Schedule
Oregon Fishing Regulations
National Weather Service