If you want to catch a trout weighing 20 pounds in Oregon, you have an outside shot with a big brown, rainbow or bull trout.
Your odds would be a bit better hitting that mark with a steelhead (sea-going rainbow trout).
But if you want to catch a trout weighing twice that much in Oregon, you really have just one choice: the lake trout, also known as the Mackinaw.
Oregon's state record for lake trout is 40.5 pounds, taken at Odell Lake in the 1980s.
Lake trout prefer especially deep and cold lakes with abundant forage fish to fill their bellies.
Only a handful of Oregon lakes have been planted with these oversized natives of the upper Midwest and Canada.
Most anglers use downriggers and troll deep with large plugs (stickbaits) that resemble food on the lake trout's menu, such as kokanee, rainbow trout and other smaller fish.
Other methods, including vertical jigging with bright metal jigs, also can take lakers.
This article has information about Oregon's five best Mackinaw lakes. Harvest regulations vary lake to lake, so check before fishing.
Odell Lake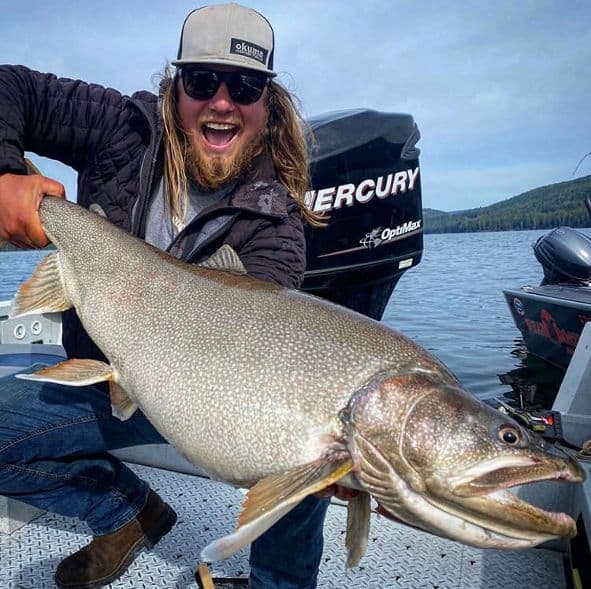 Jim Kielblock, longtime owner of Shelter Cove Resort & Marina, believes the state record lake trout caught some three decades ago isn't the biggest fish ever to lurk in this large lake with depths of close to 300 feet.
In fact, Kielblock said that a more recent angler photographed and then released a Mackinaw that he thinks would have set a new record had it been officially weighed.
"There's (another) state record in this lake," Kielblock said. "We have such a great kokanee population, and they feed on kokanee."
The lake also boasts good populations of rainbow trout and whitefish, but Odell's fantastic population of decent-sized kokanee provides the easiest pickins for these giant mackinaw, which are members of the char branch of the trout family tree.
Odell Lake is open for fishing from late April through the end of October.
For detailed information about this fishery, read:
Odell Lake Trout (Mackinaw) Fishing Tips
Crescent Lake
Crescent Lake is another good-sized Central Oregon lake, located just south of Odell Lake a few miles off Highway 58, easily reached from Eugene and Bend.
This is one of two other lakes in Oregon that may have the ability to produce a state record-sized Mackinaw. Crescent's largest known laker topped 36 pounds.
Unlike Odell, Crescent is open all year and can produce lake trout in the winter, when boat access is best at the resort.
Crescent also is known for its brown trout and kokanee fishing, as well as having rainbow trout.
For detailed information about this fishery, read:
Crescent Lake Trout (Mackinaw) Fishing Tips
Cultus Lake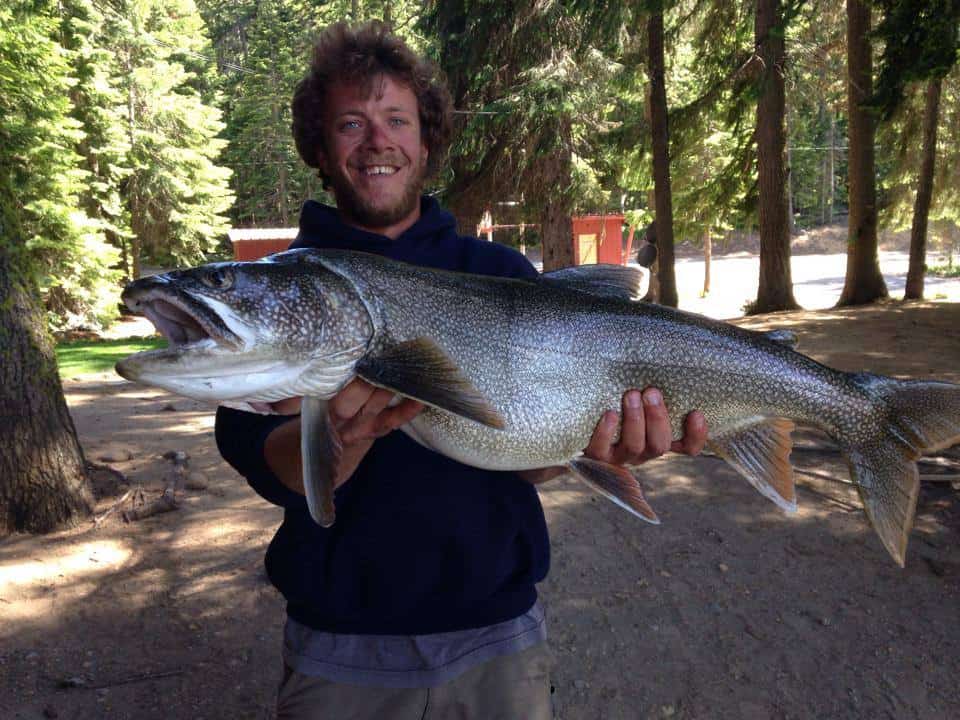 This is a smaller lake than its fellow Central Oregon lake trout fisheries.
Its Mackinaw follow suit and aren't typically as large as Odell and Crescent lake lunkers, and it doesn't get as much attention from trophy seekers. However, Cultus has produced lake trout in excess of 20 pounds and the next one out of here may surprise you.
Also known as Big Cultus, the lake is open for fishing year-round but tends to ice over.
When the road is passable, Cultus is reached off the Cascade Lakes Highway, northwest of Crane Prairie Reservoir and within an easy drive of Bend.
Cultus also has rainbow and some brook trout, as well as whitefish.
More: Fishing at Big and Little Cultus Lakes
Wallowa Lake
One of northeastern Oregon's favorite fishing destinations is more often fished for its world record-breaking kokanee and generously stocked rainbow trout, but it has some huge lake trout in water that reaches 250 to 300 feet below the surface.
Anglers who learn the fishery have at least a shot at lake trout topping 30 pounds, and fish in the upper half of the 30s have been landed, although Mackinaw aren't as abundant here as they are in Odell Lake.
Fishing is open year-round at Wallowa Lake, which is accessible most months of the year, although occasional ice and frigid conditions can discourage fishing in the depths of winter.
For detailed information about this fishery, read:
Wallowa Lake Trout (Mackinaw) Fishing Tips
Fourmile Lake
This high-mountain lake in the southern Cascade Mountains between Medford and Klamath Falls is Oregon's newest lake trout fishery.
The Oregon Department of Fish and Wildlife has planted Fourmile with Mackinaw several times beginning in 1999.
ODFW biologist Roger Smith doesn't expect Fourmile lake trout to challenge the state record because it is a smaller water body with fewer forage fish than at Odell.
Nevertheless, lake trout at Fourmile are available in sizes topping 10 pounds.
One reason the lakers were planted is that Fourmile traditionally had a large population of undersized and lightly-fished kokanee, which have become the major prey source for the mackinaw.
The lake trout have cut the koke population way down, so now there are larger kokanee but relatively few, so fishing for them is tough.
The lake is popularly fished for lots of stocked rainbow trout and also has self-sustaining brook trout that are tougher to catch.
At more than 5,700 feet in elevation, the season here can be a little short.
Although Fourmile Lake is open for fishing year-round by regulation, in reality snow typically blocks traditional vehicle access far into spring.
Typical vehicle access to Fourmile most often open by sometime in June, but following rough winters snow can cover the road until early July.
Return to our Best Trout Fishing in Oregon page
Oregon Resources
ODFW Weekly Fishing Report
ODFW Trout Stocking Schedule
Oregon Fishing Regulations
National Weather Service