Fishing inside the hollowed crater of a dormant volcano has a certain appeal, but Oregon's Crater Lake is more of a scenic wonder than a fishing destination.
Sure, you are allowed to fish it where you can get to the water (including Wizard Island if you take the boat tour).
And you don't even need a license to fish here.
You might even catch something: rainbow trout and kokanee (landlocked sockeye salmon) have been able to self-populate this pristine lake long after stocking programs ended.
But when it comes to fishing in Oregon, there are many far better options, and this article will attempt to steer you to some of the state's best fishing waters within a reasonable drive in any direction from the national park.
We'll focus mostly on types of fishing that are best from late spring into early fall, when most people visit Crater Lake.
For more about the best fishing near the state's top tourist destinations, try Fishing Near the Seven Wonders of Oregon.
Several of the rivers within a reasonable drive of the park are listed on our Best Fly Fishing Rivers in Oregon page.
If you prefer lake fishing for trout, you'll find some of these nearby waters on our lists of Oregon's very best rainbow trout, brown trout and lake trout (mackinaw) fishing lakes.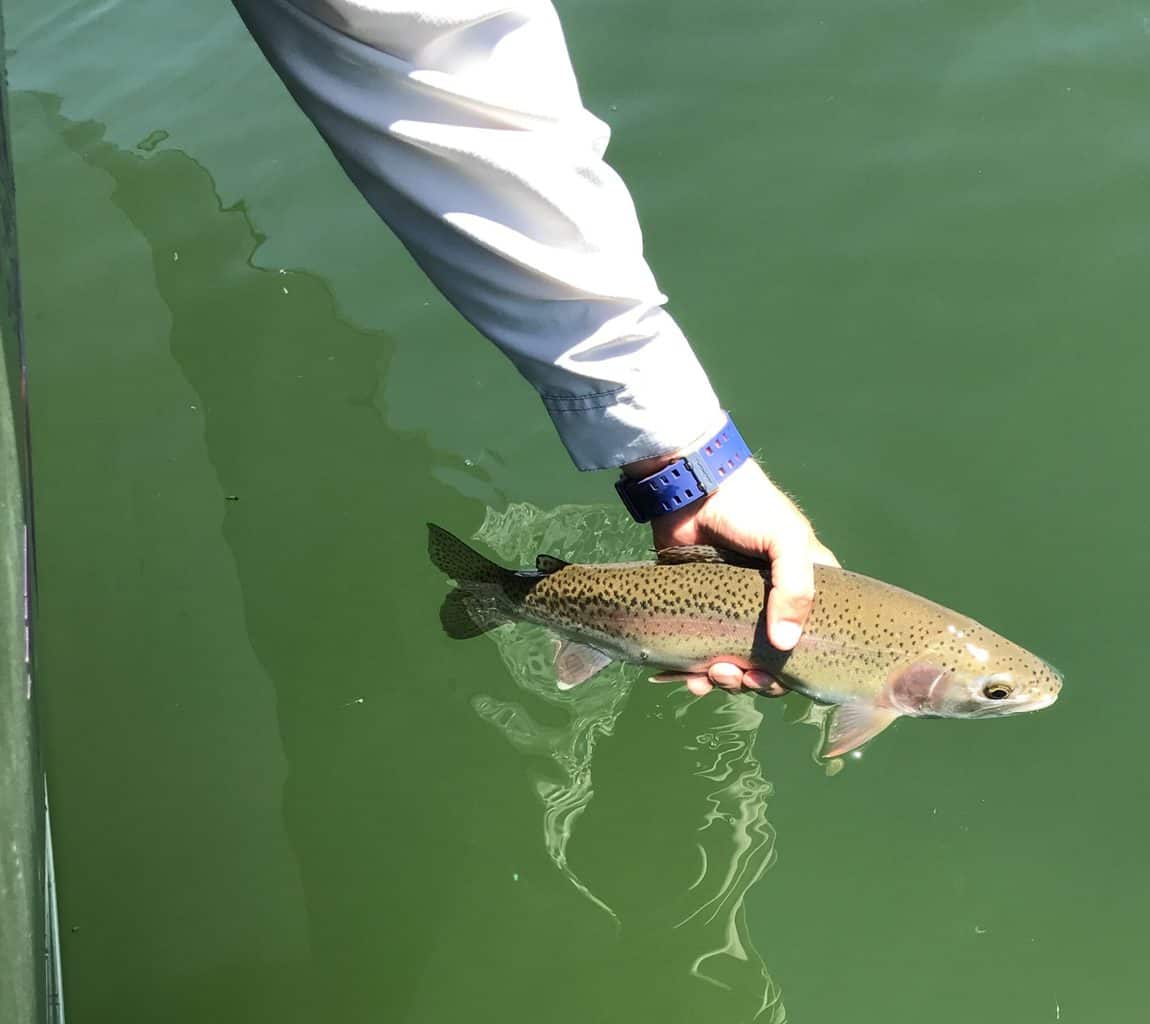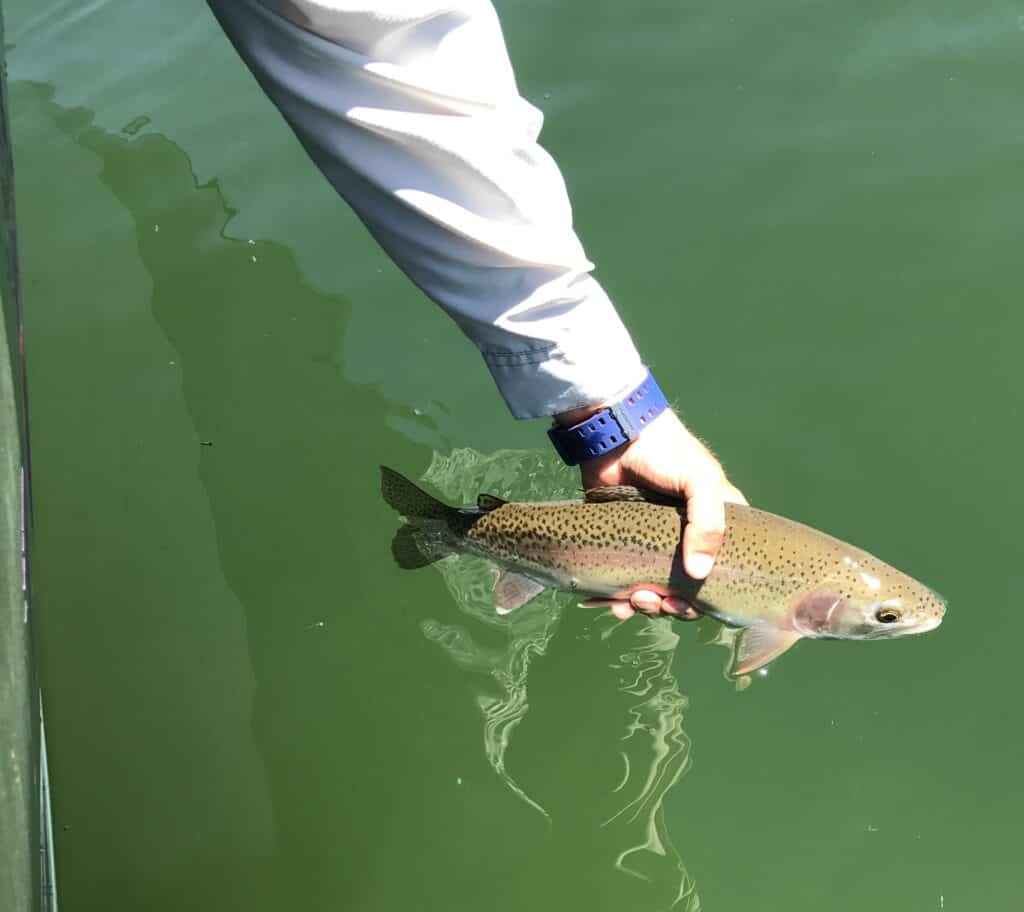 To the northwest
(Toward Roseburg, Umpqua River drainage)
A trip down the North Fork Umpqua Highway (138) toward Roseburg is a gateway to some of the best rainbow trout, salmon and smallmouth bass fishing in Oregon.
Here are a few great spots:
Diamond Lake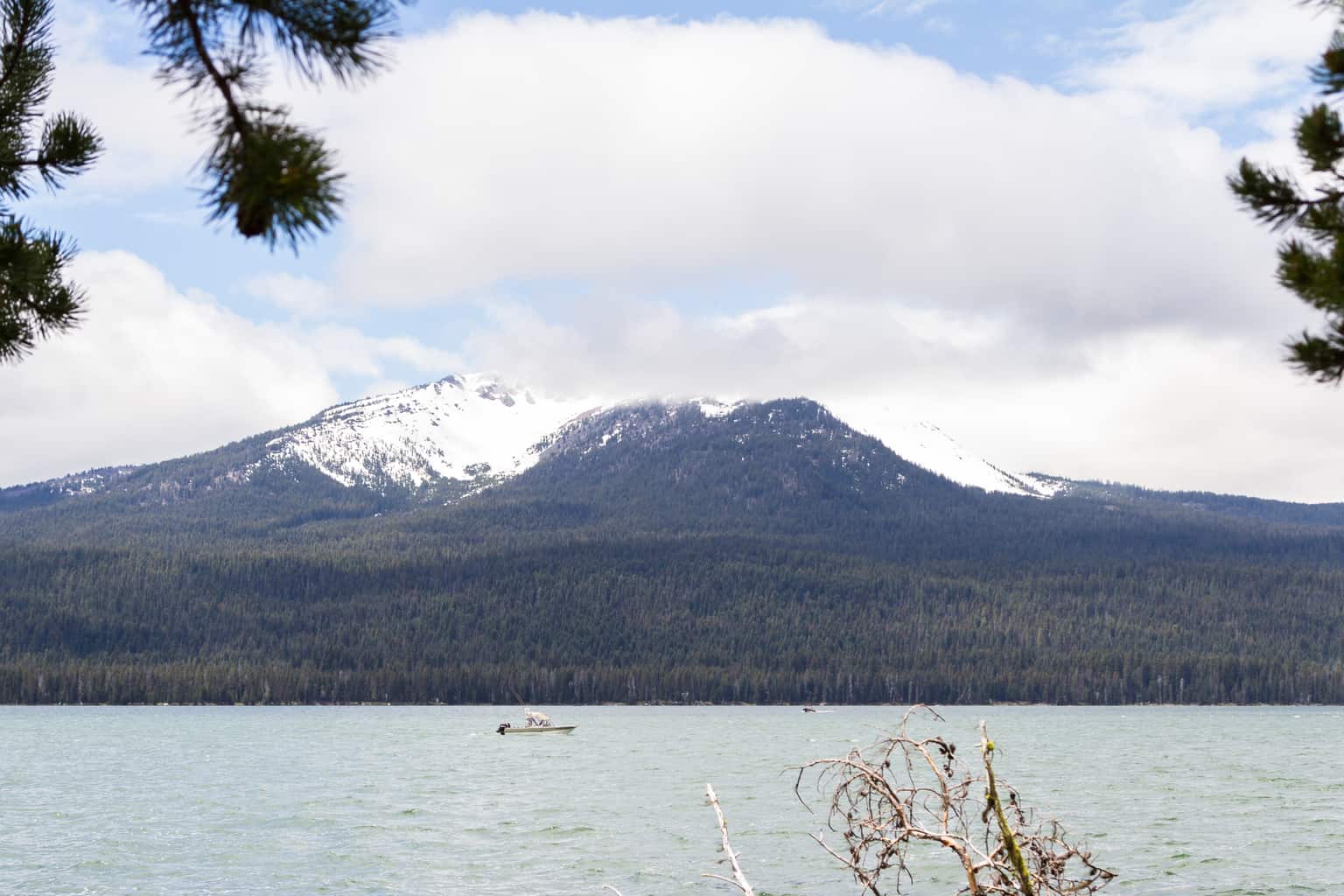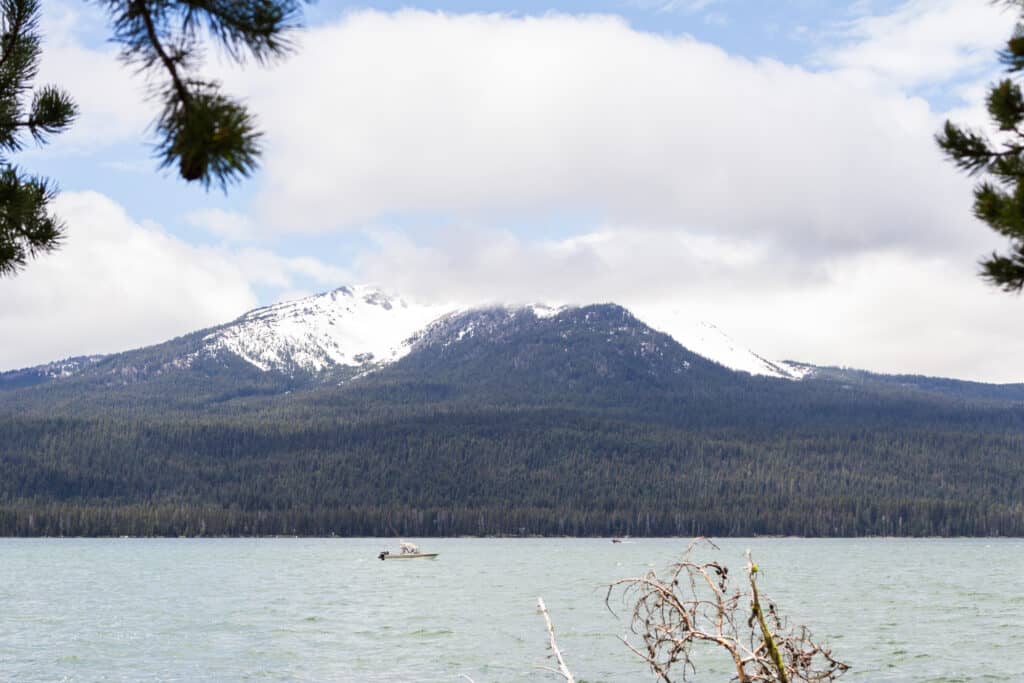 Just north of Crater Lake is this rainbow trout factory of the first order.
Its bug-filled waters (and skies; bring mosquito repellent) are capable of turning skinny fingerling trout into broad-shouldered brutes in quick fashion.
We have detailed information about fishing this gem in this article about Diamond Lake trout fishing.
Lemolo Lake
Like brown trout?
This reservoir can produce some really nice hookjawed-German browns to go along with stocked rainbows and kokanee.
For more info about trophy brown trout fishing in Oregon, click here.
More: Lemolo Lake Fishing.
North Umpqua River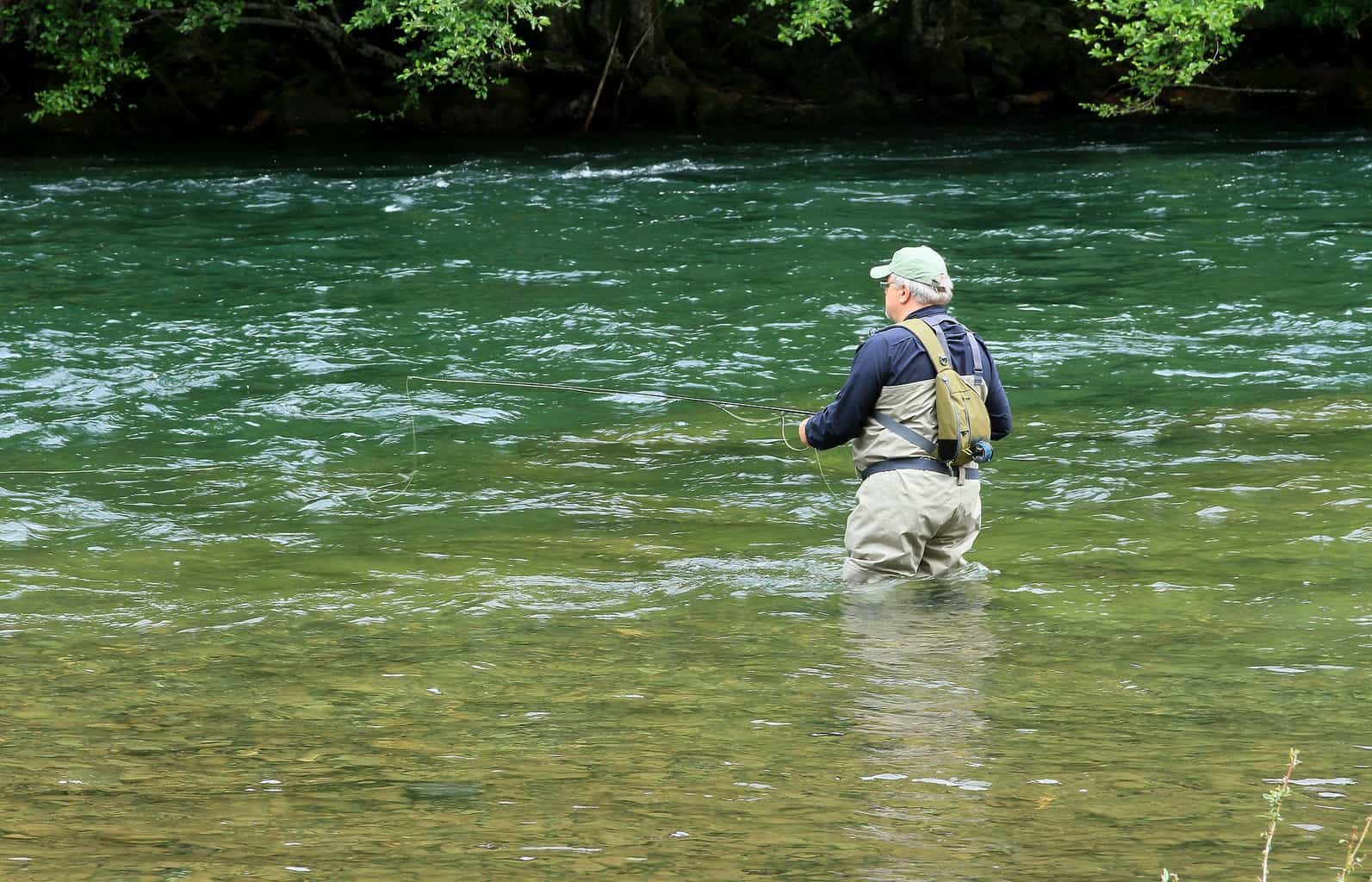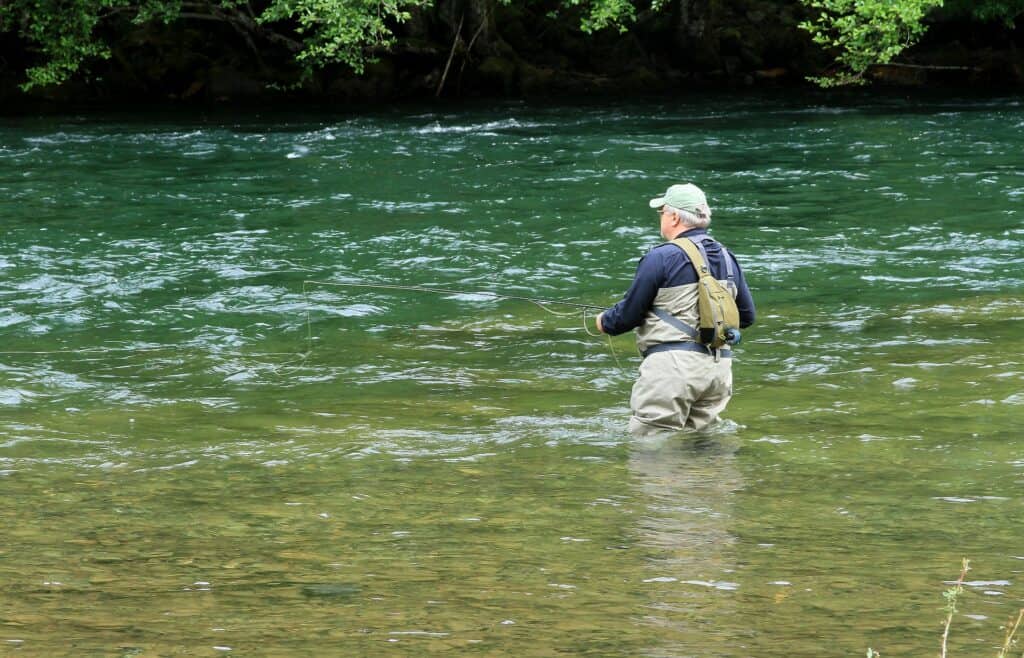 A really beautiful river with good populations of rainbow and seasonal runs of steelhead and salmon.
Note that this river is catch-and-release for its wild trout, but you can harvest hatchery-reared (fin-clipped) steelhead and coho salmon, plus Chinook salmon.
The spring Chinook salmon can be a pretty good fishery in May and June during decent run years.
Summer steelhead provide fair action during the warm months.
Note that there is a long fly fishing-only section above Rock Creek, about a mile upstream from Idleyld Park.
Umpqua River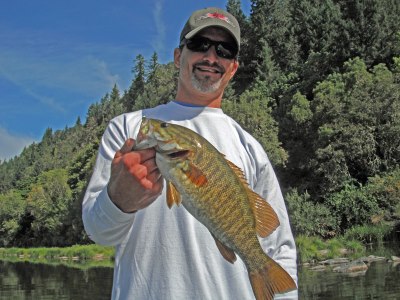 At either end of the peak tourism season, the mainstem Umpqua River has very good runs of spring Chinook and fall Chinook.
However, the easiest fishery to access here during the summer months is the incredible smallmouth bass angling, found throughout the mainstem from the forks near Roseburg down to tidewater.
The South Fork that runs through Roseburg also has good smallmouth numbers.
More here about catching those Umpqua bass in spring or summer.
More: Umpqua River Fishing.
More: We've got a much more detailed list of very good fishing spots here in Douglas County. Also check out the very highest-rated fishing waters in a larger area that includes both Douglas and Coos counties here.
To the southwest
(Toward Medford, Rogue River area)
Heading down the Crater Lake Highway (62) toward Medford brings you into the famous Rogue River Country, home to one of the West Coast's best salmon and steelhead rivers and plenty more great fisheries.
Rogue River
The upper end of this fantastic fishing river is divided by the dam that forms Lost Creek Reservoir.
Above the reservoir, the stream is generously stocked throughout the summer with hatchery-reared rainbow trout you can keep and eat. This is a good spot for some pretty easy fishing with the family.
Downriver past the reservoir, the hatchery-reared contingent of the river's salmon and steelhead are mostly headed toward the Cole Rivers Hatchery just below the dam.
This area offers really good fishing for spring Chinook salmon in late spring to early summer (roughly May to July) and steelhead are available here throughout the year, with often very good catches of summer steelhead from June well into the fall.
There are pretty good numbers of trout below the dam as well, but most are wild rainbows and cutthroats that must be released unharmed.
Also read our overview of Rogue River fishing.
Lost Creek Lake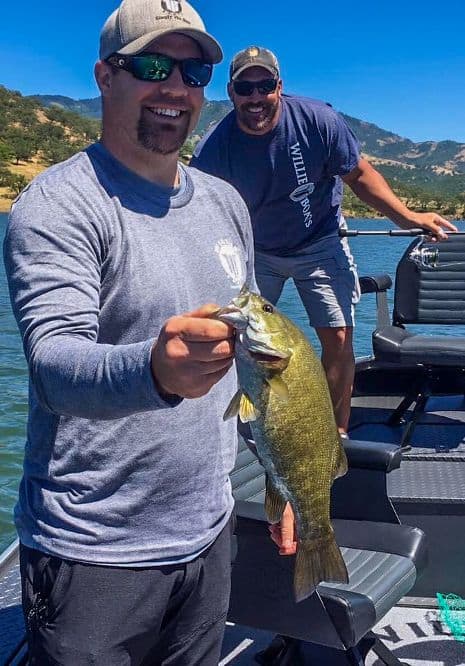 This is quite a large reservoir with a variety of fishing options.
Stocked rainbow trout are the target of many anglers and may be fished all year long, even in the winter, although spring and early summer is typically most popular and productive.
If you go when it's hot, focus your fishing for trout (and landlocked salmon) in the deeper water.
Or switch to bass fishing. There are some largemouths and the smallmouth bass fishing is good enough that tournaments have been held here.
There are some other warmwater species as well.
See: Fishing at Lost Creek Lake.
More: The above only scratches the surface of the great places to fish toward the southwest. Click Jackson County for more. For this region we also recommend Best Fishing Lakes and Reservoirs in Southwest Oregon and Best Fishing Rivers in Southwest Oregon.
To the northeast
(toward Bend, Deschutes River drainage)
To your north toward Bend and Sunriver, not far off Highways 97 and 58, is arguably Oregon's largest cluster of excellent fishing lakes.
To give you an idea, the state records for brown, lake and brook trout all come from the upper Deschutes River drainage, and the numbers of rainbow trout and kokanee salmon are legendary.
Paulina and East Lakes
We know you Crater Lake fans like lakes in the tops of old volcanoes, but if you want to catch fish there, these two gems inside the Newberry Crater east of La Pine are just the ticket.
Both lakes have trophy brown trout, good-sized kokanee and plentiful stocked rainbows.
These two lakes, and the next few we'll mention as well, are among the best fishing lakes south of Bend.
Also see Paulina Lake Fishing and East Lake Fishing.
Odell and Crescent Lakes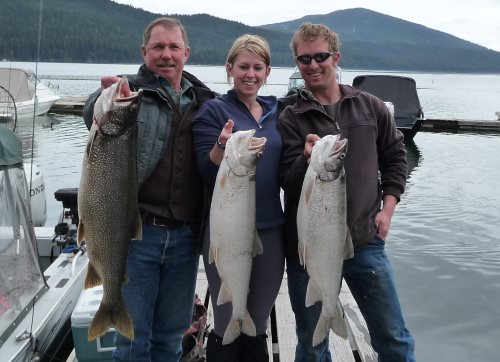 Odell Lake is a bucket-list destination in northern Klamath County where you potentially catch a 40-pound lake trout (Mackinaw) and a 25-fish limit of kokanee.
Nearby Crescent Lake also can be very good for big macks, browns, rainbows and kokanee.
Crane Prairie Reservoir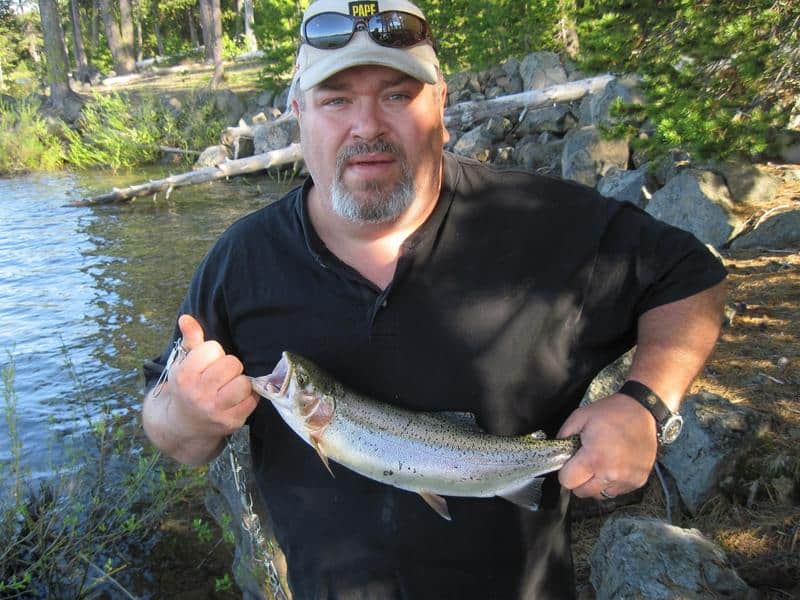 Are trophy rainbows your target? Like Diamond Lake, this is among the best rainbow trout lakes in Oregon.
Crane Prairie also has brookies, kokanee and a surprisingly good largemouth bass fishery.
Nearby Lava Lake, North and South Twin lakes and several others also have very good rainbow fishing.
See: Fishing at Crane Prairie Reservoir.
Wickiup Reservoir
This large reservoir combines the potential for jumbo-sized kokanee with trophy brown trout.
Throw in some bass like its neighbor, Crane Prairie, and a rarer rainbow trout to complete the picture.
Deschutes and Fall Rivers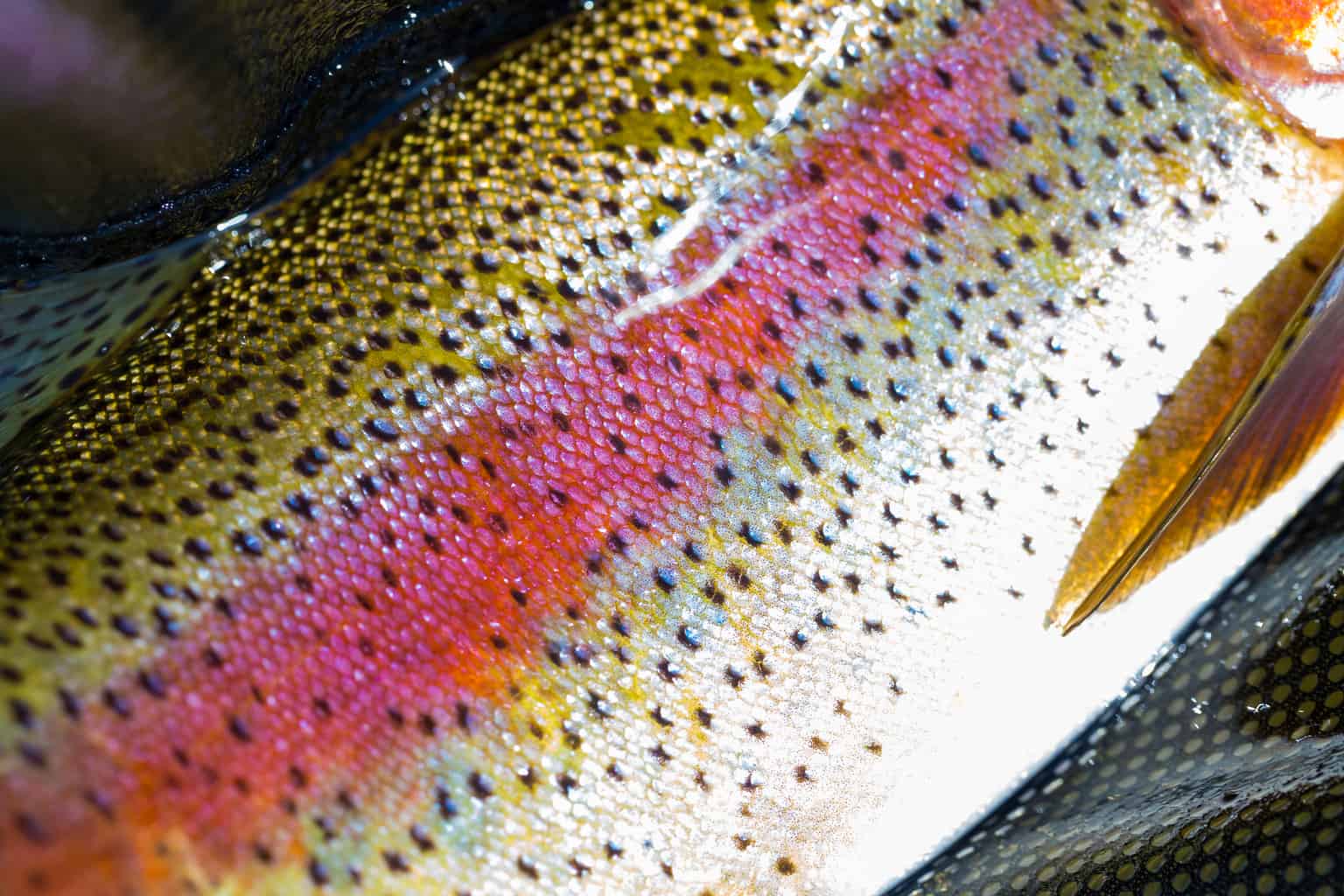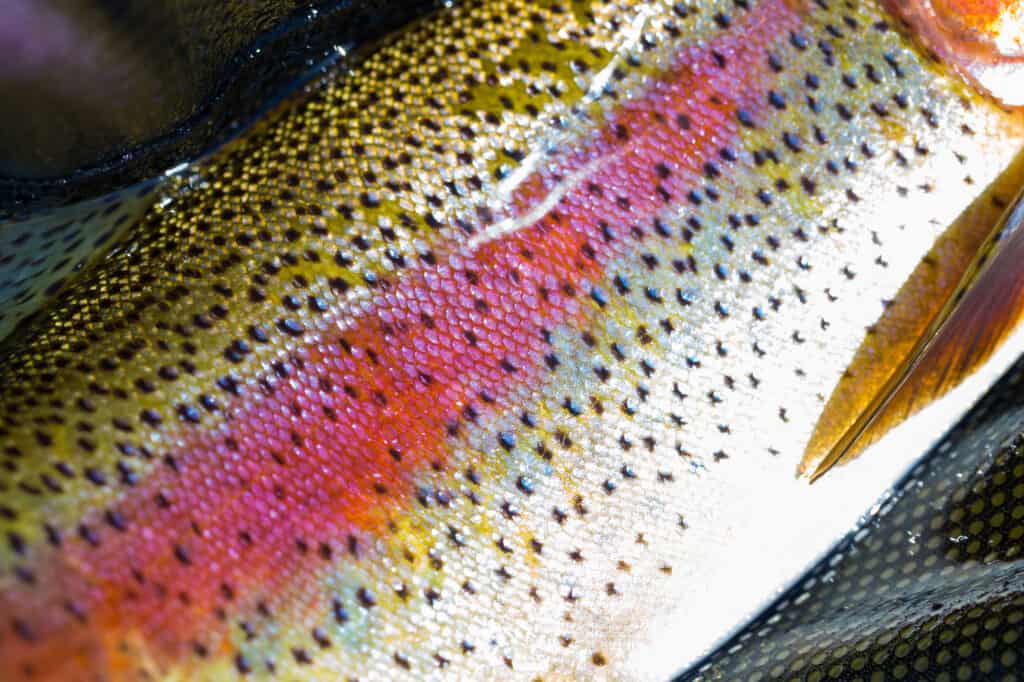 The upper Deschutes in the area south of Bend isn't as famous as it becomes in its lower 100 miles.
Nevertheless, it's quite a good fishery for good-sized brown trout, scrappy native redband rainbows and, in the upper reaches above Crane Prairie, plenty of brook trout (the state record comes from that section).
Fall River near Sunriver is a charming and accessible stream regulated for fly-fishing with both wild and stocked rainbow trout.
See: Best Fishing Rivers in Central Oregon as well as Deschutes River Fishing and Fall River Fishing.
More: There's almost countless more places to fish in Deschutes County, or find out more about Crescent and Odell lakes among the best waters of Klamath County. Those county articles include links to further details about fishing in the region.
For this region we also recommend Best Fishing Lakes and Reservoirs (south of Bend) and Best Fishing Rivers in Central Oregon.
To the east and southeast
(Klamath County and Klamath Falls area)
This is the actual home county of Crater Lake. And while we've included a few Klamath County waters in the Deschutes River system discussed above, where they fall into Central Oregon's fishing territory, there's plenty more fishing action in this large county bordering the eastern slope of the Cascades.
Williamson and Wood Rivers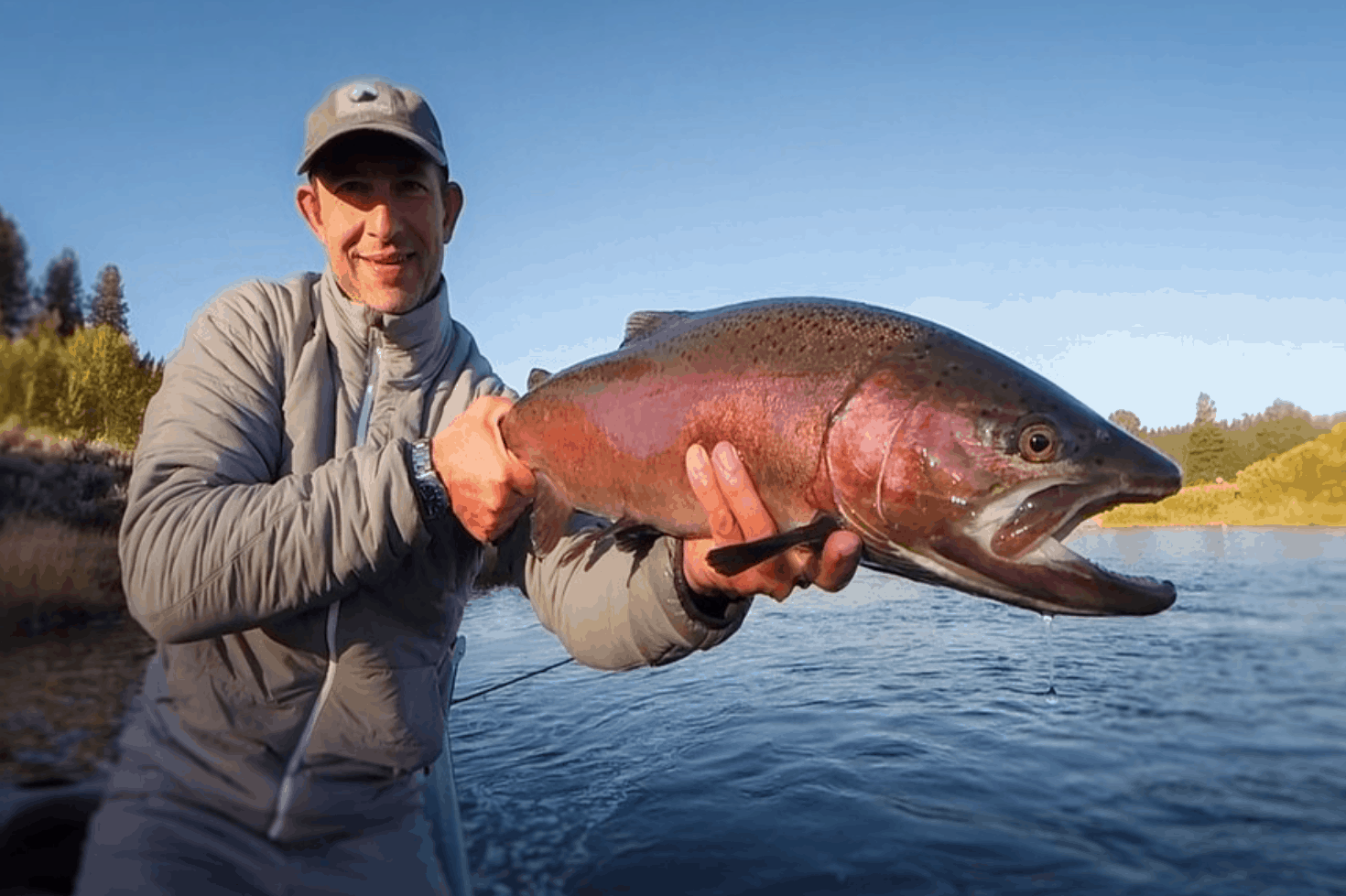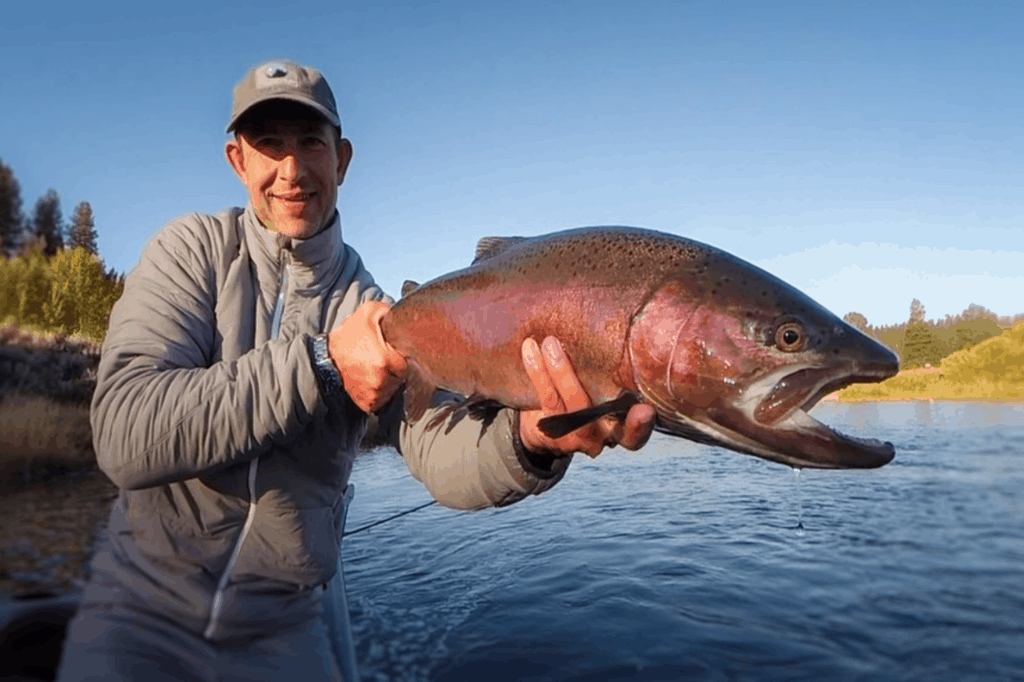 These rivers feed into the the massive Klamath and Agency lakes (see below) and offer fishing for some of the largest native rainbow trout in the world.
These big redbands migrate up these tributaries to spawn and often are caught in summer and early fall.
These can be tricky streams to fish but are nonetheless popular with fly anglers seeking trophy-sized catches.
The Williamson is best known for the redsides but these big fish are well distributed.
The systems also have brown trout, which is excellent in the Wood.
The upper sections of these rivers also have brook trout.
Major tributaries that also offer good fishing include the Sprague and Sycan rivers.
See: Best Fishing in the Klamath Basin for more details.
Also get some great detailed information in our expert articles, Fishing the Williamson River and Fishing the Wood River.
Upper Klamath and Agency Lakes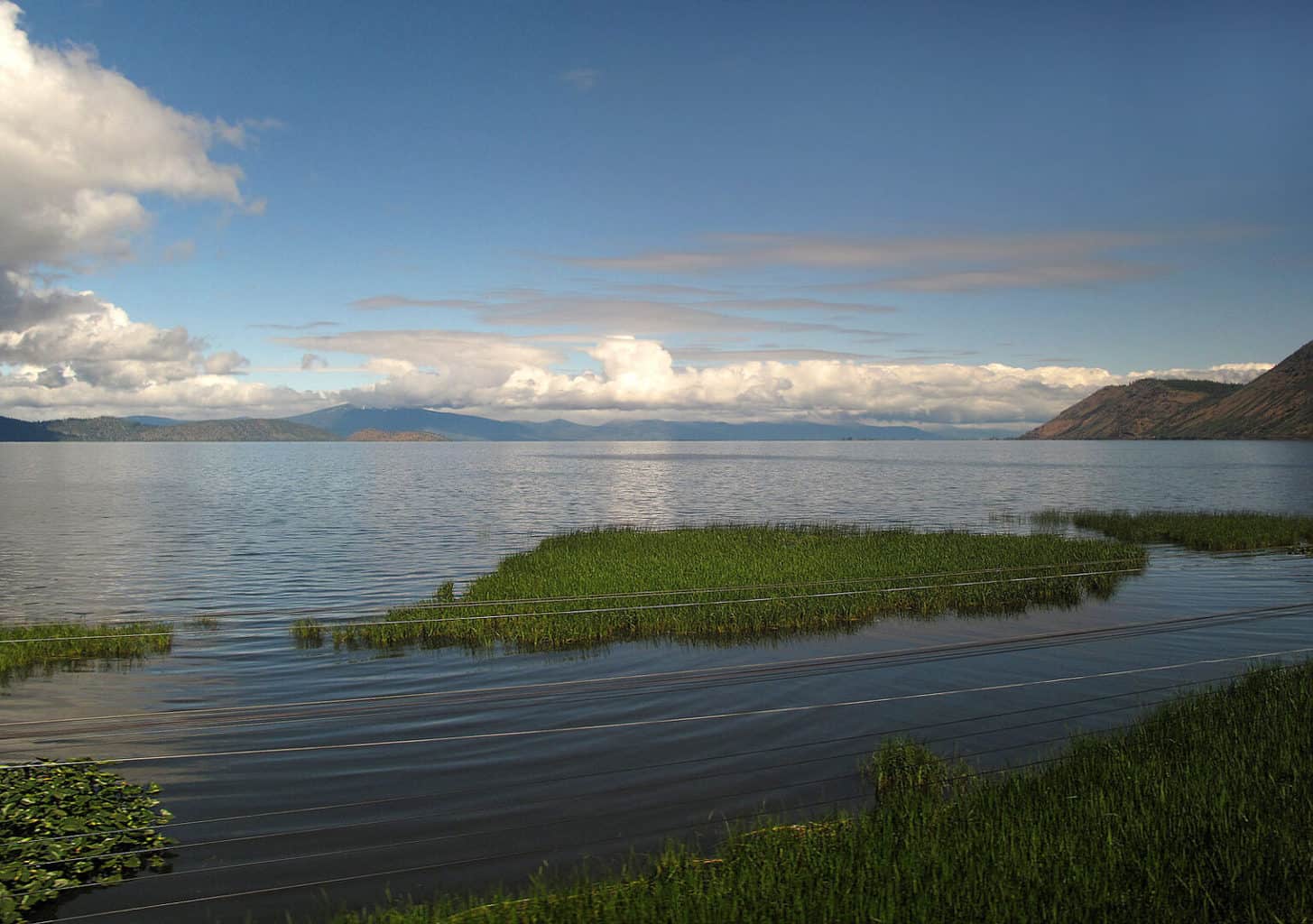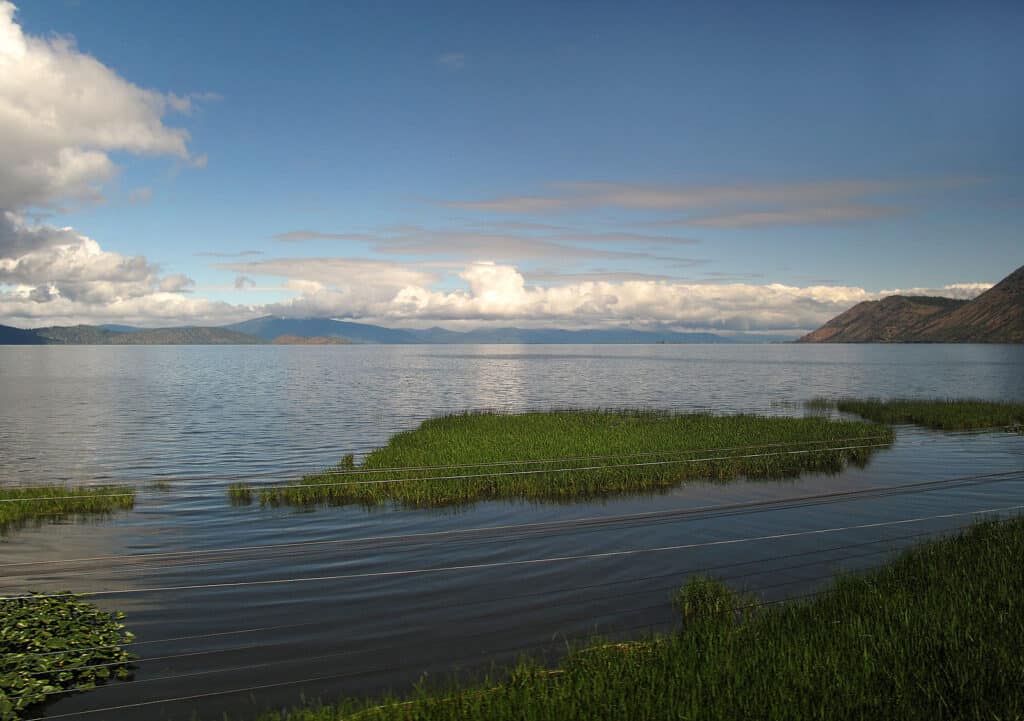 These lakes, really connected into one large system, are gigantic and rich, producing the volume of food necessary to grow salmon-sized trout.
Trout are well-distributed during the colder months, including on the south end near Klamath Falls and the Link River.
During the hot summers, most of the lake is inhospitable for trout and many retreat into tributaries or seek cooler water on the north end, particularly at springs, river mouths and in Pelican Bay.
Trout can be caught by conventional and fly methods.
For details on the latter (with seasonal and location hints for all trout angling), see: Fly Fishing Upper Klamath Lake
Miller Lake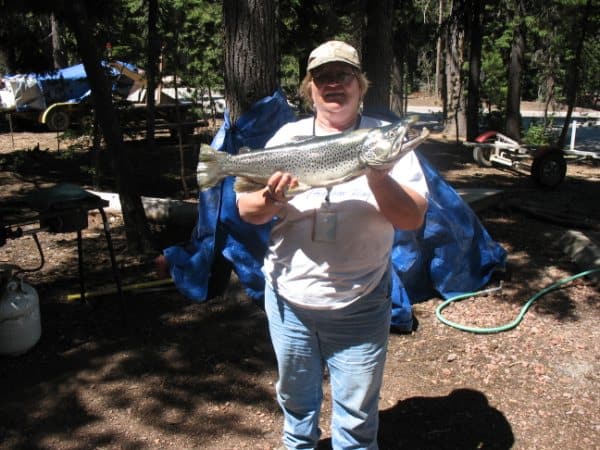 This lake is actually a bit northeast of Crater Lake but reached turning west from Highway 97 near the community of Chemult, about midway between Bend and Klamath Falls.
Miller has some of Oregon's best fishing for monster brown trout. A fair number of anglers expect Oregon's next record to be caught here.
If you'd like more info on these big trout, read our article Miller Lake Brown Trout Fishing.
Miller also has a very reliable rainbow trout fishery during the summer months, thanks to hatchery plantings. See our article about Miller Lake Rainbow Trout Fishing.
There also are good numbers of kokanee here, but they tend to run to small for many anglers to get excited about.
Miller is a high-elevation lake that in heavy snowfall years can be inaccessible with typical vehicles well into June and every once in awhile not until the Fourth of July.
More: Find more recommended places to fish in this direction in our Klamath County and Best Fishing in the Klamath Basin articles.
For boating information about these waters, see the Oregon State Marine Board's launch locator map.
Return to Best Fishing in Oregon page
Oregon Resources
ODFW Weekly Fishing Report
ODFW Trout Stocking Schedule
Oregon Fishing Regulations
National Weather Service