Oregon is loaded with great rainbow trout fishing. And I mean loaded.
Rainbow trout (both stocked and wild) are sought by more anglers than any other fish in the state, and appeal to the rank beginner and seasoned expert alike. So it's risky to try to single some of them out, but we're doing it anyway.
Now, this article isn't claiming that handful of lakes and reservoirs listed below are always the best in the state on any given day, or the best choices for all anglers.
Nevertheless, this page contains a sampling of Oregon's better stillwater destinations for rainbow trout year in and year out.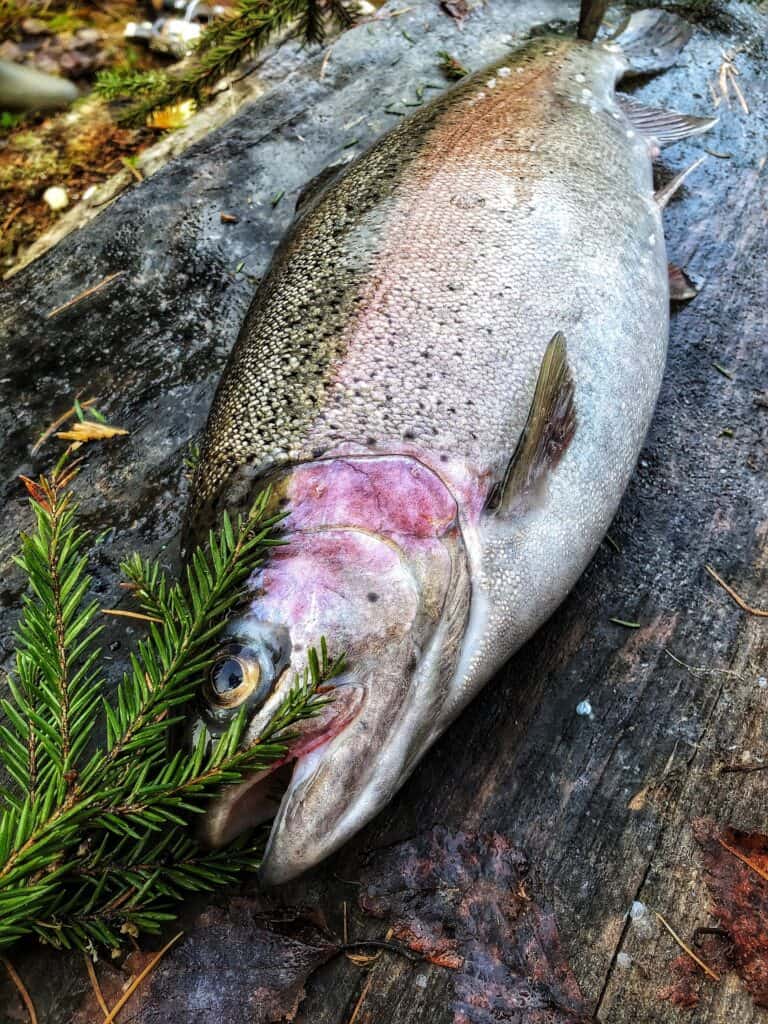 Our choices:
Have quality fisheries for a variety of angler
Represent different areas of the state and have good access
Are close to plenty of other fishing options, so there's almost always a Plan B.
Here are some of the best spots to catch rainbow trout in Oregon, listed alphabetically:
Crane Prairie Reservoir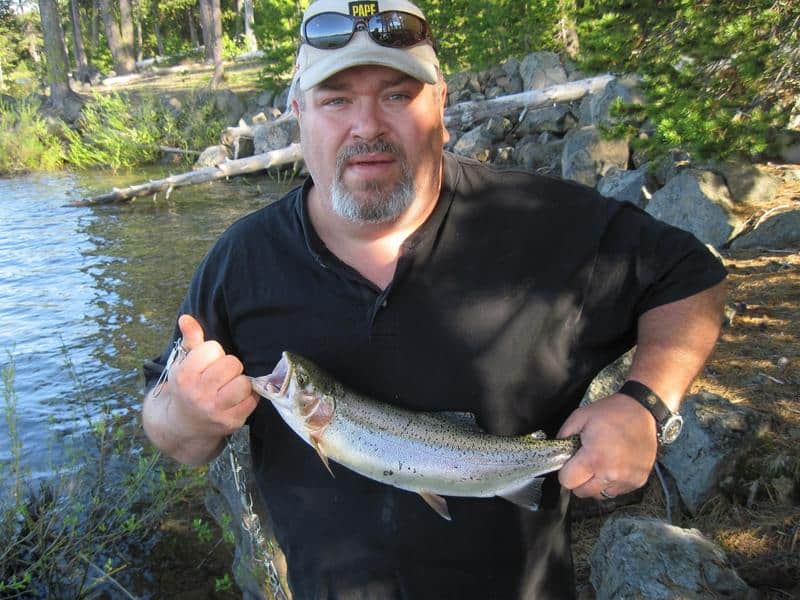 When the upper Deschutes River was dammed to form Crane Prairie, the trees in the basin were left standing. Now, years later, those wooden skeletons are the first link in a famously rich food chain.
Crane Prairie is stocked with rainbow trout, which grow quickly in the insect-rich waters and fill out like footballs. Locally, the fat trout are known as "Cranebows."
Fly fishing is particularly popular on the reservoir, and fish move between the shallower water in the tree stands and the cooler channels. However, bait and lures also can be very effective here.
Crane Prairie has had its ups and downs, and invasive warmwater species have taken a toll, but in recent years the trout fishing has once again been superb.
Although Cranebows are king, Crane Prairie also has fisheries for brook trout, kokanee and largemouth bass.
Nearby: Central Oregon, especially the Century Drive area around Crane Prairie, is almost embarrassingly rich with fishing options.
Crane Prairie isn't a slam dunk, by any means, but there are excellent fishing lakes in every direction that include some of the state's very best spots for brown trout, lake trout and kokanee.
And the upper Deschutes River is good for native redside rainbows, brook trout (mostly above the reservoir) and brown trout (below the reservoir).
More: Fishing at Crane Prairie Reservoir
Detroit Lake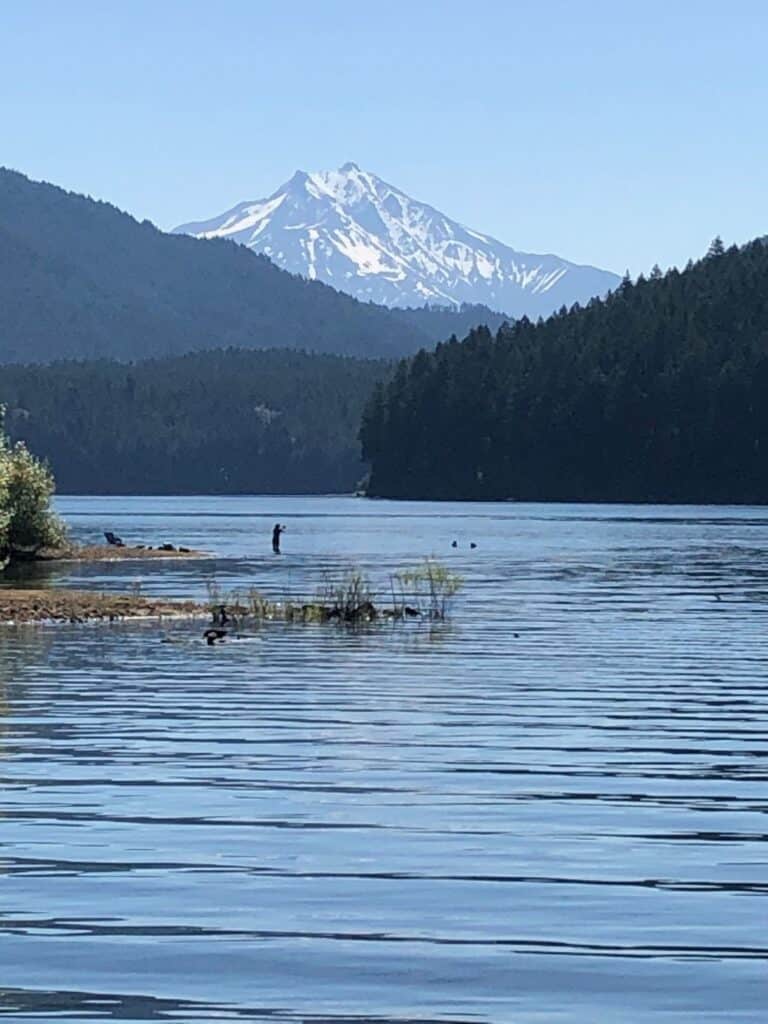 This large reservoir at the town of Detroit on the North Santiam River east of Salem typically receives more keeper-sized stocked trout than anywhere in Oregon.
It also is one of the busiest summer camping destinations and is popular with the Jet Ski crowd. But despite its heavy use, trout fishing here is generally good and, in the spring, quite excellent.
As the reservoir warms, stick to the cooler Santiam Arm or fish deeper in the main lake. Getting up early will help anglers avoid the ruckus that comes with the heat of day.
Detroit Lake also has fair fisheries for kokanee and other land-locked salmon.
Nearby: The North Santiam River is good for stocked trout above the reservoir and has nice runs of summer steelhead and spring Chinook salmon below the dams.
Drive higher into the mountains past Breitenbush and you'll find Olallie Lake at the center of a bunch of high-mountain trout lakes.
While Detroit Lake is accessible and fishable year-round, other fisheries are seasonal due to regulations and, in the case of higher-elevation, roads that can remain blocked by snow snow well into spring and sometimes early summer.
More: Fishing at Detroit Lake
Diamond Lake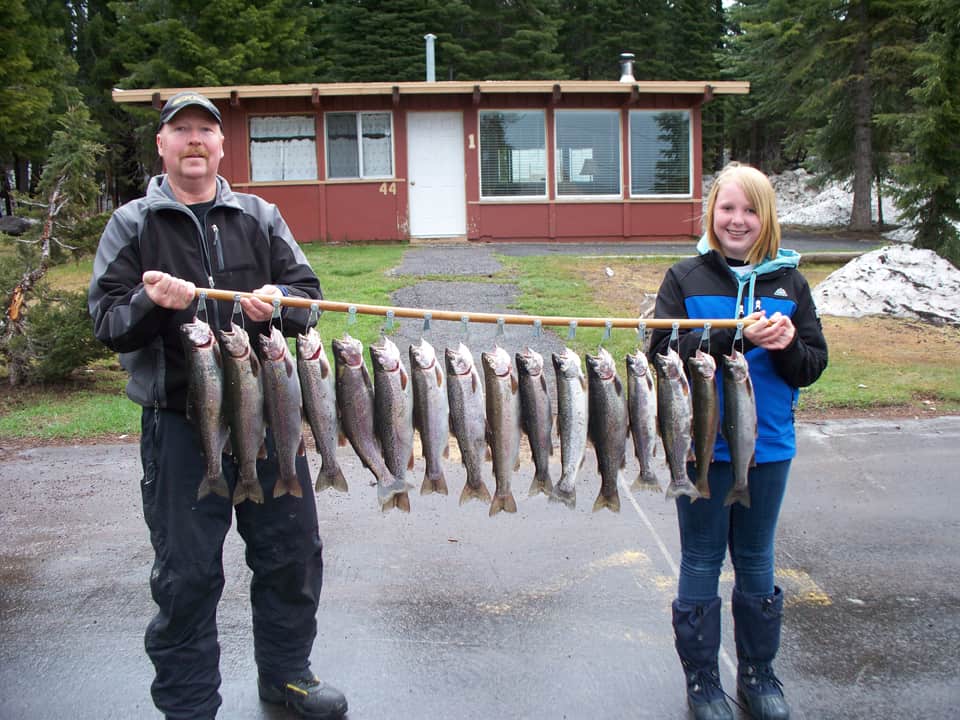 This is another spot that can be loved to death, but its waters are so loaded with insect life that its trout population holds up to high angling pressure.
In fact, the fishing here is typically so good that the Oregon Department of Fish and Wildlife previously had a larger trout limit, although a rule simplification process has returned the daily bag to five trout (only one may be over 20 inches, and trout that size are in relative abundance).
At this writing, you must release tiger and brown trout.
Following treatment the lake has bounced back from another tui chub infestation and once again is quickly turning stocked fingerling trout into monster rainbows in an impressively quick fashion.
All types of trout fishing methods are popular here. Berkley PowerBait or nightcrawlers account for plenty of fish, trolling bait and lures is very effective, and fly anglers can have a heyday for trout cruising the weedy shallows.
Diamond Lake is located just north of Crater Lake and can be reached from both the west and east sides.
Nearby: Lemolo Lake is one of the state's better brown trout fisheries. So are Miller Lake to the east (with a roundabout drive to get there) and several lakes in central Oregon.
The North Umpqua River is renowned for trout and summer steelhead, with part of that river designated strictly for fly fishing.
For detailed information about this fishery, read:
Diamond Lake Rainbow Trout Fishing Tips
Upper Klamath Lake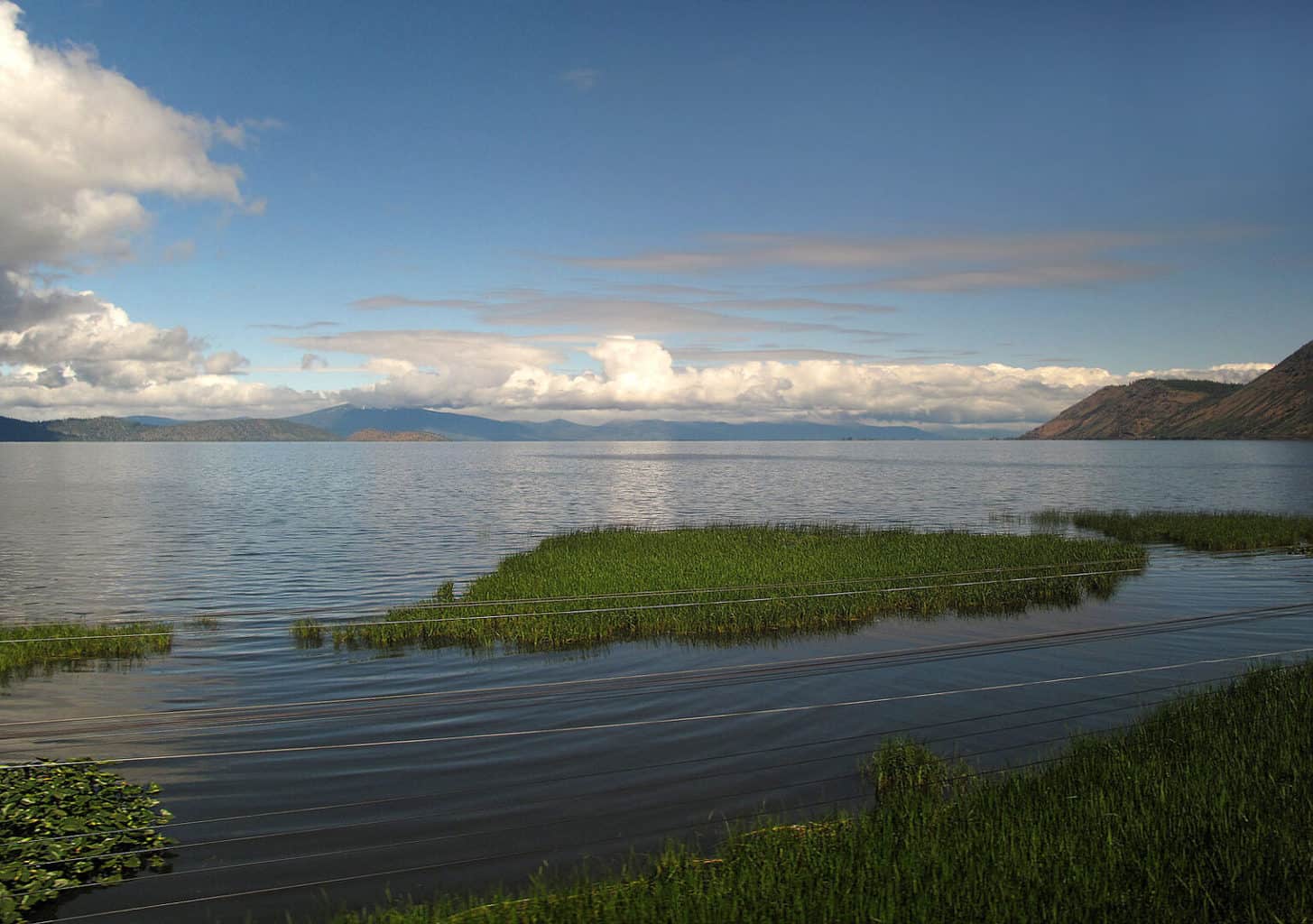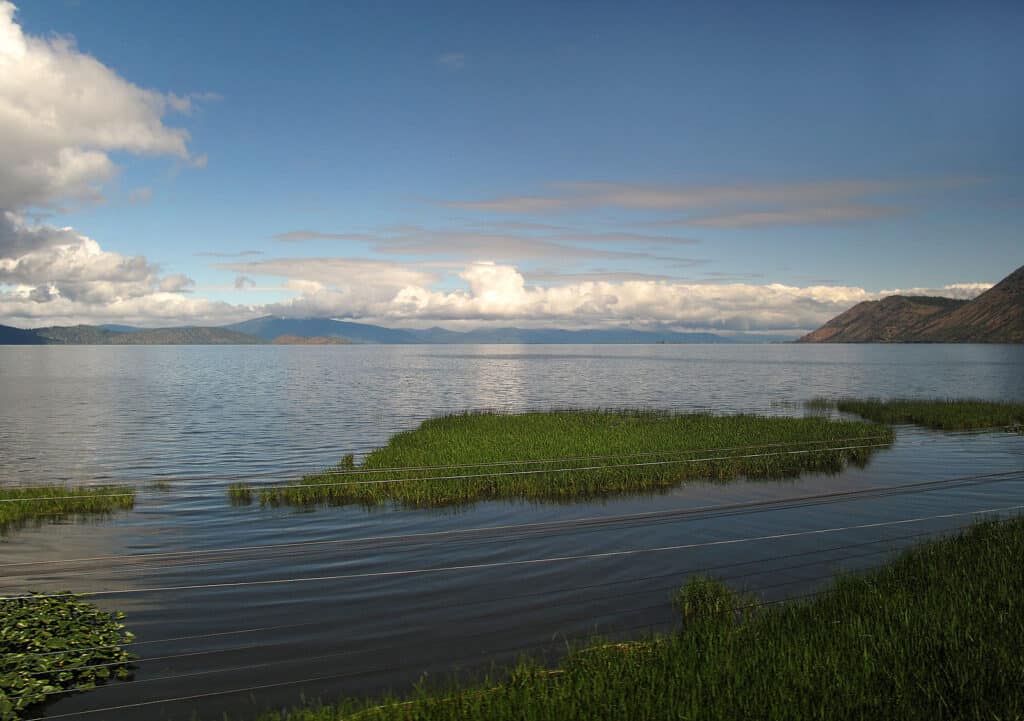 One of Oregon's largest natural lakes also has some of the largest native rainbow trout in the world, a variety locally known as redbands.
The lake is not stocked, and the limit is just one of these amazing fish per day, but that shouldn't stop anglers who wish to catch truly large rainbows, some pushing or exceeding 20 pounds.
Although huge, Klamath Lake and the adjoining Agency Lake are very shallow. During much of the year, big trout cruise throughout the lakes south to Klamath Falls in search of insects and small fish.
When the water warms during the summer, and turns soupy with algae, the trout seek out cooler water near springs, off tributary mouths and in Pelican Bay, all located in the northern portion of the lake and adjoining Agency Lake.
Fly fishing for Upper Klamath Lake redband trout can be very good during the summer, when fish are concentrated.
At other times of the year, trolling lures or fishing with bait will produce good results.
Nearby: The Williamson River and Wood River, both major tributaries of Upper Klamath Lake, and smaller streams that flow into those rivers, can have very good fishing.
Those big redbands often move into the Williamson and other rivers during summer and early fall.
The Wood, in particular, has a very good brown trout population as well.
Wallowa Lake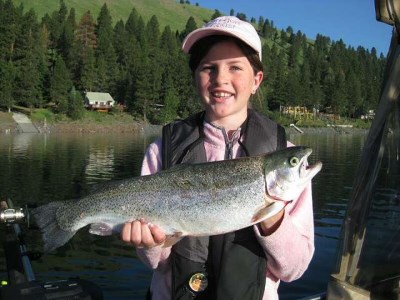 This good-sized natural lake near Joseph is often considered the crown jewel of northeastern Oregon fishing spots.
Wallowa Lake, a popular camping destination, is generously stocked with rainbow trout each year, and sometimes the plantings include extra-large brood trout.
Stocked trout also winter over and grow to respectable size. The lake is fishable most of the year, with the exception of the occasional ice-over in the dead of winter.
All fishing methods will work, although plunking bait from shore or boats and trolling lures or bait account for most catches.
Wallowa Lake also has produced the world's largest kokanee and has some of Oregon's largest lake trout (mackinaw).
Nearby: The stunning Wallowa Mountains and Eagle Cap Wilderness offer many small lakes with good trout fishing. Many of these spots can only be reached by trail.
The Wallowa River has excellent trout fishing in spring and summer, and it produces some of the state's highest success rates for steelhead, especially in late winter and the first weeks of spring.
The Snake River, Imnaha River and Oxbox and Hells Canyon reservoirs are within reasonable reach and offer a variety of cold- and warmwater fisheries.
For detailed information about this fishery, read:
Wallowa Lake Rainbow Trout Fishing Tips
More Useful Information
New to trout fishing? Try this article: Trout Fishing: Basic How-To Techniques and Tips.
Return to the Trout Fishing in Oregon page
Oregon Resources
ODFW Weekly Fishing Report
ODFW Trout Stocking Schedule
Oregon Fishing Regulations
National Weather Service