Editor's Note: The 2020 wildfire season impacted some of the areas around this location. Detroit Lake itself appears to have weathered the damage and is accommodating anglers. Still, we suggest you check carefully before planning a trip, especially if staying overnight.
Detroit Lake is one of the most consistent places in Oregon to catch rainbow trout, thanks in very large measure to the literal truckloads of hatchery fish the Oregon Department of Fish and Wildlife dumps into this large reservoir an hour east of Salem.
In recent seasons, Detroit Lake also has increasingly become one of the very best kokanee lakes around, and in some serious kokanee anglers' opinions it has overtaken Green Peter Reservoir as the best kokanee fishing spot anywhere in Western Oregon.
This large impoundment, also known as Detroit Reservoir, straddling the line between Marion and Linn counties, is most easily reached from Highway 22 and is located in the Cascade Mountains near the midpoint between Salem and Sisters (near Bend).
Highway 22 follows the north shoreline, the most developed side of the lake, which includes the lakeside town of Detroit, a big state campground, marinas and the Mongold Day Use Area, where many anglers launch their boats. (There is a required daily fee or annual state pass.)
Detroit Lake is the last stop for tens of thousands of nice-sized trout every year, making it among the most heavily stocked waters in the state. (Thanks to its reliable catches, the reservoir is on our list of top rainbow trout fishing lakes in Oregon.)
And for those willing to learn its ways, Detroit Lake also can offer fair to good fishing for nice-sized kokanee (a freshwater sockeye salmon).
Detroit Lake, a flood-control, power-generation and water-supply reservoir on the North Santiam River, is close enough for a day trip for the majority of Oregonians and also offers several overnight options, making it one of the most-visited lakes in the entire state.
Among the destinations is a huge campground (nearly 300 spots) at the state park, as well as smaller campgrounds and day-use areas, and even a boat-in campground on the upper end of Piety Island, which rises high from the middle of the lake.
The Detroit Lake community hosts a popular fishing derby around the middle of May each year, when the fishing is usually exceptionally good.
To say the least, Detroit is popular with anglers and non-anglers alike. If you prefer solitude, this might not be your favorite place on a hot July weekend. There tends to be a good bit of horsepower on the water when summer is in full swing.
There is plenty of room for boaters, including at the two marinas with boat rentals near the town of Detroit, and options for bank fishing as well.
If you want to sound cool among the Detroit Lake regulars, call the lake "Motown" after that other decidedly more urban Detroit that Michiganders might argue is more famous.
Here's a look at Detroit Lake's fishing opportunities.
Detroit Lake Rainbow Trout Fishing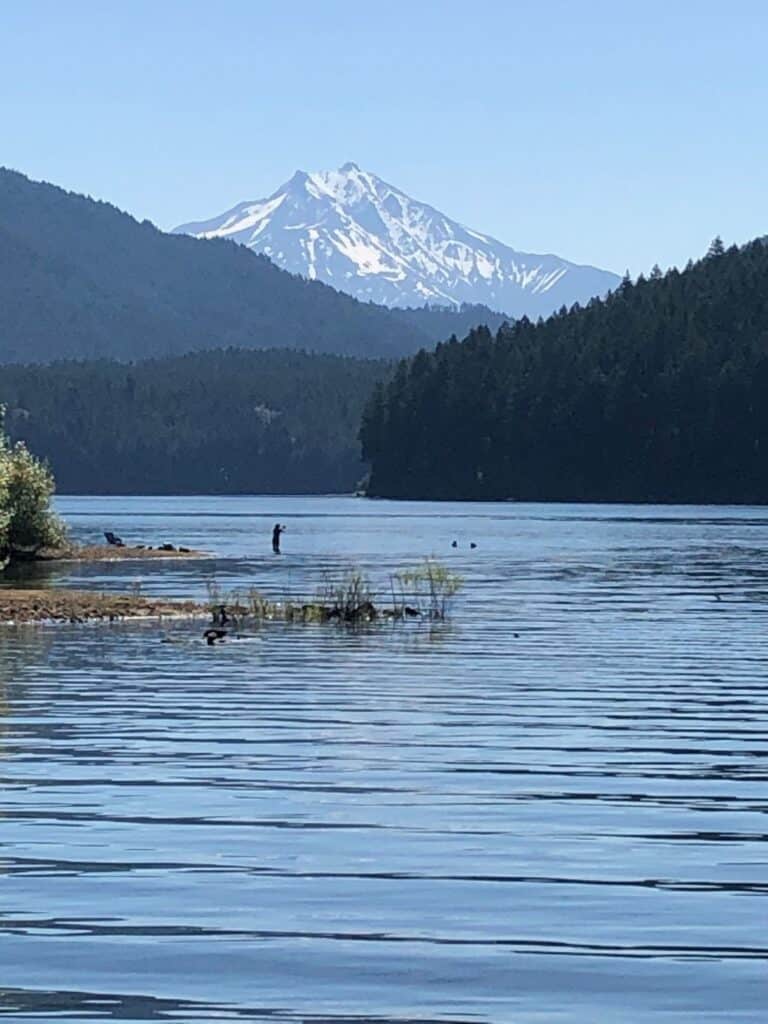 Rainbows are the bread and butter for angling at Detroit Lake, by some measures accounting for most of the effort and probably more than 80 percent of the catch.
When to Fish for Trout at Detroit Lake
This is a year-round fishery, but picking up a limit tends to be easiest in the spring, when the reservoir is near its seasonal high water mark – and the stocking is intense.
For much of April and May, Detroit is stocked with about 10,000 trout more weeks than not. The stocking continues into the early part of summer, but at a reduced rate.
At our most recent check, the majority of trout on the stocking schedule were ODFW's chunky "trophy" trout rather than the smaller legals often planted, so come prepared for battle.
ODFW also often will stock another couple of batches of rainbow trout up here in the early fall, likely in September and/or October, and fishing at Detroit Lake that time of year can be quite good and the weather pleasant.
Fall and even winter catches can be quite good here, so watch for breaks in the weather and give it a shot.
Do expect the water level to be down after a long summer of withdrawals and heading into the flood-control season, with low water continuing into the winter months. In truly poor water years, there can be limits to boat access.
Where to Catch Trout at Detroit Lake
Detroit is beloved by boaters, who often troll lures or bait and lure combinations, often behind flashers or dodgers to attract fish.
Trolling is common along both sides of Piety Island near the reservoir's middle and along the drop-offs on both sides between the island and the boating deadline near the dam.
Trout will tend to be relatively shallow during cool months in spring and fall but will run deeper during the hot months.
A fish finder will come in handy. More dispersed fish in open water at moderate depths often will be trout, while schools of fish marked in deeper water may be kokanee.
Another place to focus your trout fishing is in the river arms, particularly in the North Santiam Arm at the southeast end of the lake.
The incoming streams bring cold water from high in the Cascade Mountains and this also is frankly where many of the reservoir's trout are planted during the hotter months.
The North Santiam Arm is good for boaters but also offers one of the better opportunities for bank fishing during the warm season. Bait fishing is common in this area.
Bank Fishing at Detroit Lake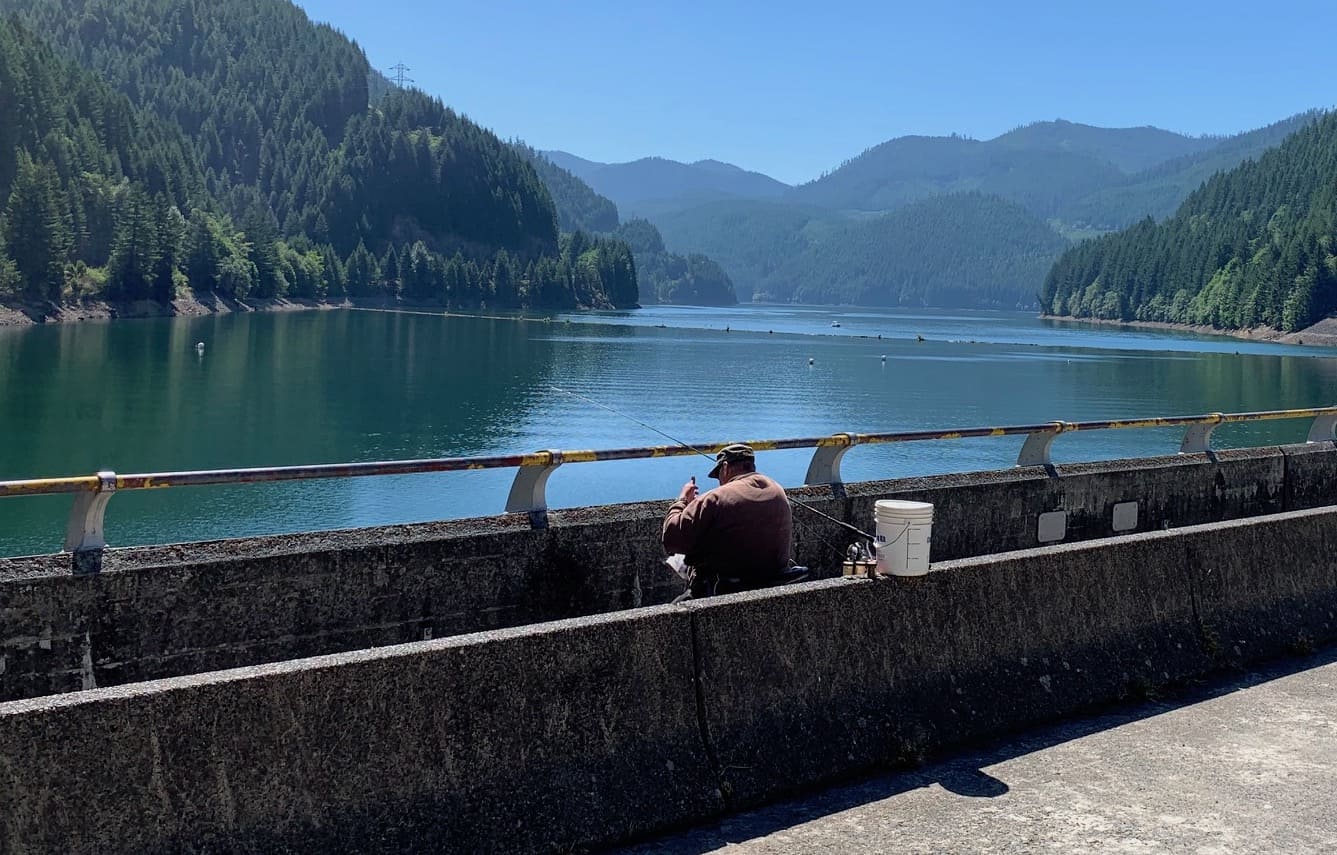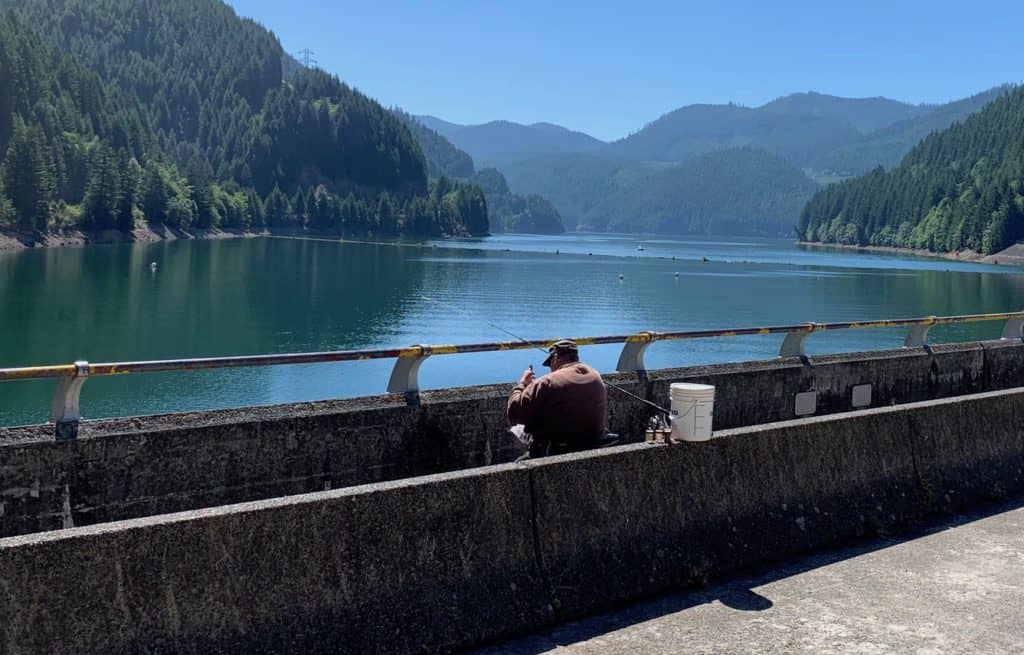 Bait-fishing is also the best approach for bank anglers fishing off the dam, where deep water is accessible and decent catches can be had even during the heat of summer or the chill of winter.
You might occasionally catch native cutthroat trout in the river and creek arms or elsewhere in the reservoir, as they sometimes drop down from the streams.
The Breitenbush Arm also can be good at times, and during the low water of late fall through winter the narrowed arm around the bridge into Detroit can be a great place to intercept trout on the prowl.
Some reports have mentioned non-native brook trout being caught on occasion, as they also are present in some of the higher tributary streams.
How to Catch Trout
Quite a few Detroit Lake anglers are new to the sport. If that's you, or you need some brushing up, start with our article Trout Fishing: Basic How-To Techniques and Tips.
Detroit Lake Kokanee
These landlocked sockeye salmon (better known as kokanee) have been stocked as fingerlings in Detroit Lake for some years now.
On top of the plantings, frequent kokanee anglers are reporting that more and more of their catch have the unclipped fins of kokanee that spawned naturally in tributary streams.
For sometime the kokanee have offered the reservoir's second-best fishing opportunity, but kokanee specialists might argue that these feisty, tasty salmon are now the best fishery at the popular reservoir.
Anglers are now allowed to keep five additional kokanee as part of their five trout and kokanee bag limit, giving anglers an opportunity to keep as many as 10 kokanee or a mixed daily bag with no more than five trout.
And while these silvery pan-sized salmon still aren't as numerous at Detroit Lake as they are at Green Peter Reservoir on the South Santiam River, those in the know do very well on "kokes" at Detroit, and in fact often catching significantly fatter fish here than the smaller class of kokanee typically caught to the south at Green Peter.
Kokanee are most often associated with deep, cold water, although in cooler months they can be found near the surface.
While spring and summer are the most popular times to catch kokanee, those in the know will also target these cold-loving fish in the middle of winter and sometimes do very well.
How to Catch Detroit Lake Kokanee
Kokanee are mostly caught by boaters, who most often troll for them.
When kokanee are running deep, as they especially do during the summer, lead-core line or several ounces of weight will be required, at a minimum.
These fish can often be down at 80 to 100 feet below the surface during the middle of summer, and many regular kokanee anglers employ downriggers to reach them.
During the winter and earlier spring, kokanee are likely to be a fair bit closer to the surface at times, often in 40 feet or less.
This is a good time to catch them without downriggers. Quite a few anglers will long-line them, maybe with a bit of weight, when they're not too deep.
You may have to work a bit at finding a depth that does the job.
Most anglers use a set of flashers or a dodger to attract fish to their offering. Small, brightly colored spinners, spoons and hootchies are typical trolling lures, and anglers often tip the hook with a kernel of shoe-peg corn or another bait.
Jigging for kokanee also can be productive and a quicker way to catch a limit, if you've pinpointed a school and can drop the jig and work it effectively right in the zone.
Warm colors like bright or fluorescent pinks and oranges are often good bets at Detroit Lake when fishing with hootchies, spinners and other lures, as well as for the dodgers or other attractors.
I'd also keep some chartreuse handy, and the Wonder Bread fishing design seems to have become a go-to option in recent years, especially for early season catches.
Many anglers will match the colors of the lure and attractor, such as use a dodger with pink if you're using a pink hootchie.
Kokanee are where you find them, but once you do, you should be in good shape.
Try trolling in deeper water off either side of Piety Island or troll out from either shoreline over deep water, heading down toward the dam.
A good starting point would be to troll off the south shore from the southeastern side of Piety Island (out from the private Sportsmen's Club) down to the Blowout Creek Arm. At times turning up into the arm itself will be very good.
If those areas aren't panning out, try fishing farther west down toward the dam and off (and even into) the Kinney Creek Arm area.
If the south side isn't happening, maybe circle around to the north side (the Highway 22) looping back up toward the boat ramp.
There are enough kokanee here these days that you should be finding schools, especially with electronics. Once you find a productive school, keep working it.
But if you're just not having any luck or don't have a fish finder, look for concentrations of boats, especially if there are some nets out, and troll around those areas.
A fish finder will be very handy when chasing kokanee. Watch the screen for schools of fish to target the most productive areas and depths, which may change quite a bit between trips.
Note that Kokanee Power of Oregon has worked with ODFW to help make Detroit a kokanee fishing powerhouse closer to the state's main population centers. They are collecting catch data on their website to help key players understand the Detroit fishery better.
How to Catch Kokanee
To learn more about this type of angling, start with our easy guide, Kokanee Fishing: Simple Techniques and Tips.
You'll also increase your all-around knowledge by reading our Best Kokanee Fishing in Oregon page and check out the detailed techniques used at Green Peter Reservoir, Odell Lake and some of the other best-known waters for this type of fishing.
Detroit Lake Chinook Salmon
Chinook salmon also are present in Detroit Lake and in the old days you could harvest them, but the ODFW no longer allows anglers to target this species as efforts are underway to reintroduce migratory Chinook salmon in the North Santiam River system above the reservoir.
Know your salmon and release Chinook if you catch them incidentally while fishing for trout or kokanee, as they will likely strike the same types of lures and bait as their cold water cousins.
The Chinooks can come in various sizes but most frequently caught as youngsters while fishing for kokanee and trout.
Chinook are easiest to distinguish by their black gums, and also by having spots across the back and dorsal area where kokanee do not. Kokanee also have a more prominently forked tail.
Check out ODFW's fish identification page for more.
Detroit Lake Bass and Catfish
Bullhead catfish are very numerous at Detroit Lake, especially near shore in warmer water, including off from campground and day-use areas.
Most anglers consider bullheads a nuisance because they tend to over-populate a water and reduce productivity for more desired fish like Detroit's trout and salmon by eating up much of the forage.
On the bright side, bullheads are easy and fun to catch for new anglers, and some people enjoy eating catfish.
And while many of these bullheads aren't big enough to make more than fish nuggets, you can keep as many as you want and trout anglers might thank you for it.
To catch them, simply fish on the bottom with a worm, piece of nightcrawler, cut fish or shrimp or other bait. If you don't catch fish pretty quickly, try another spot or even closer to shore.
Interested in catfish? See Best Catfish Fishing in Oregon as well as Catfish Fishing: Simple Techniques and Tips.
There also are some reports that largemouth bass and sunfish are occasionally caught at Detroit Lake, but there are far better spots to catch warmwater fish.
Find more fishing spots in Marion County
Find more fishing spots in Linn County
Resources
ODFW trout stocking schedule
ODFW weekly recreation report and regulation updates
ODFW annual fishing regulations
National Weather Service forecasts