Editor's Note: The 2020 wildfire season impacted this location for an uncertain period. At least some campgrounds are currently closed. ODFW does have the stream on its current trout-stocking schedule. Check carefully before planning a fishing trip.
The Breitenbush River near the town of Detroit Lake is a great summer retreat to catch keeper trout in the summer.
This major tributary of the upper North Fork Santiam River and feeds into Detroit Lake, about an hour east of Salem.
Breitenbush River Trout Fishing
The biggest attraction for anglers here are the hatchery rainbow trout planted at several of the easier access points above the reservoir.
Good bets for stocking are at the campgrounds, such as Cleator Bend and Breitenbush. There are a few bridges in this same stretch that are likely stocking sites.
Trout stocking typically occurs here beginning in late May or early June and continuing nearly every week into late July or early August.
There also are wild cutthroat trout available in this river system. At this writing, the limit is five trout of any kind as long as they are at least 8 inches in length.
How to Catch Breitenbush River Trout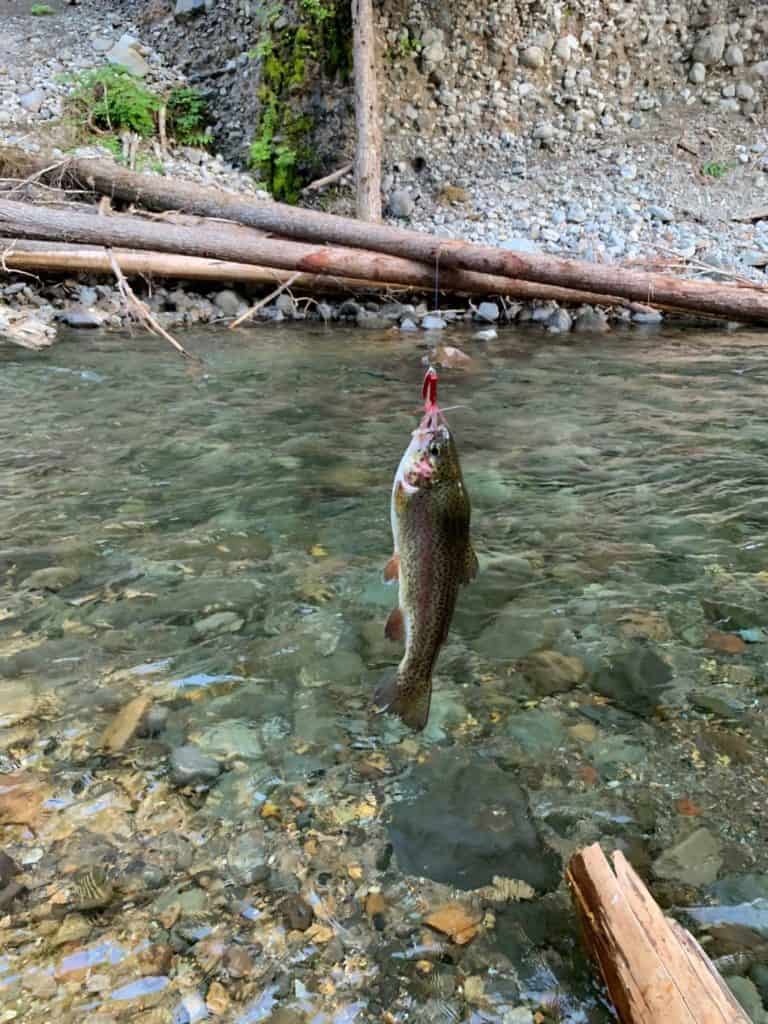 Bait fishing is allowed here, and lures and flies were definitely catching fish when we've been there.
A deep red Rooster Tail attracted vicious strikes from some of the fish that had managed to survive a while after stocking and moved into holding spots away from the nearest dump site, such as in pocket water and under steep banks.
See our article Trout Fishing: Basic Tips and Techniques if you are new to this type of fishing or need a refresher.
Besides the stocking schedule linked below, also use the regulations link to check rules before fishing.
Remember that stocking schedules and sites have a way of changing, but if you're up there after there have been some plantings, you should be able to find fish.
The Breitenbush and its North Fork are accessible (sometimes with some steep hiking involved) from Forest Service Road 46, one of the routes used to get to Olallie Lake and numerous other high mountain lakes in the region.
Breitenbush Camping and Supplies
As mentioned above, many campgrounds in this area were severely impacted by wildfires and may be closed. Check ahead.
There is ample camping on the Breitenbush, including Breitenbush Campground, where we have stayed and which has excellent sites right along the stream.
Cleator Bend is another close by option, and there is some unimproved camping available in this general area, upstream several miles from Detroit. See Willamette National Forest for other camping and recreation info.
Breitenbush Hot Springs, at a retreat center managed as a business, are another attraction here.
Most things you'd need including fishing equipment and licenses, groceries, gas and restaurants and motels are located in the small city of Detroit.
A short drive away, the North Fork Santiam above Detroit Reservoir also is planted with rainbows during the same season. It's accessible from Highway 22.
Find more fishing spots in Marion County
Resources
ODFW trout stocking schedule
ODFW weekly recreation report and regulation updates
ODFW annual fishing regulations
National Weather Service forecasts