Editor's Note: The 2020 wildfire season continue to impact this location in 2023. The resort survived and has reopened seasonally. At least some public campgrounds were heavily damaged. Definitely check ahead for the latest information before planning a trip. Also check the resort's website for directions because some usual routes were impacted.
Olallie Lake is a trout-fishing jewel high in the Cascade Mountains north of majestic Mount Jefferson.
The nearly 200-acre lake offers seasonally excellent fishing for rainbow and some brook trout.
Olallie is the centerpiece of the Olallie Lake National Scenic Area, a collection of more than 200 mountain lakes and ponds.
It is located near the crest of the Cascades in the southern part of the Mt. Hood National Forest and sitting along the western boundary of the Warm Springs Indian Reservation. The Pacific Crest Trail skirts the shoreline.
Olallie Lake is in Jefferson County and regulated within the Oregon Department of Fish and Wildlife's Central Zone, sitting literally across the road from the west side but eventually draining toward the Deschutes River.
But given that it's within the Mt. Hood National Forest and certainly much easier to reach from the western side of the mountains, it's stocked by hatchery crews in the Willamette Zone who also plant places like the upper Santiam River and Detroit Lake.
Olallie Lake has at times in the past shown up in ODFW's weekly recreation report, so if you don't find it in the Central Zone listing try the Willamette Zone.
When to Fish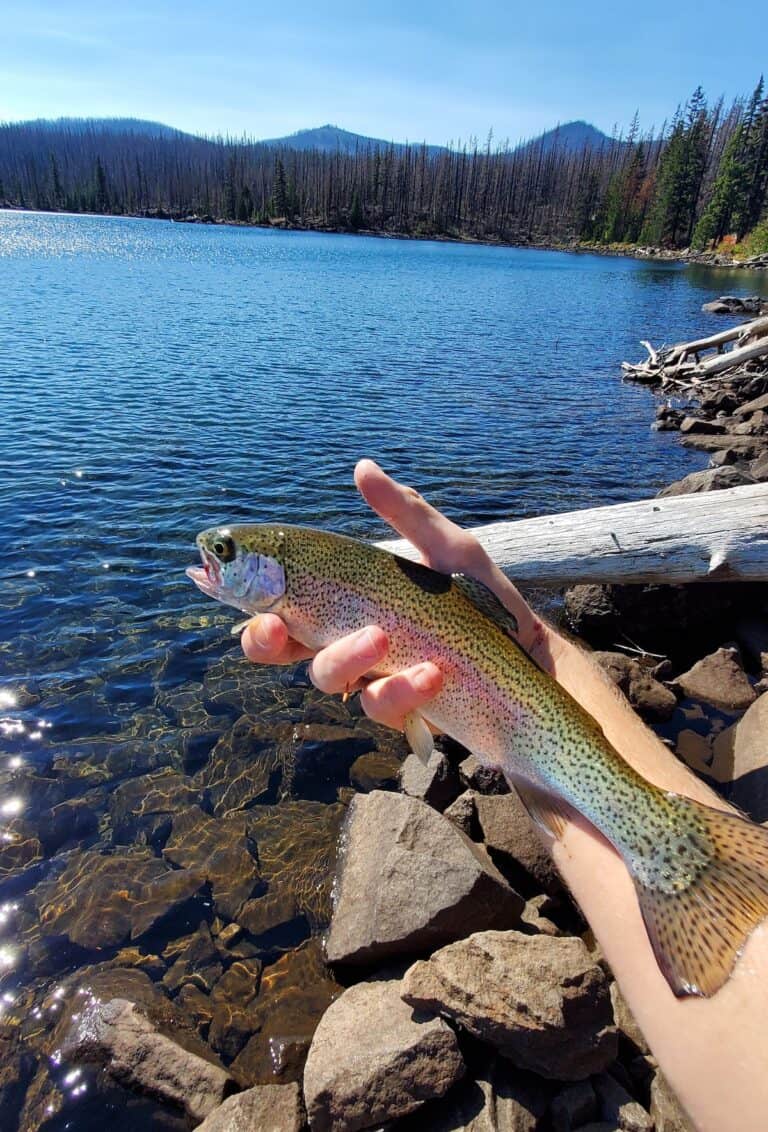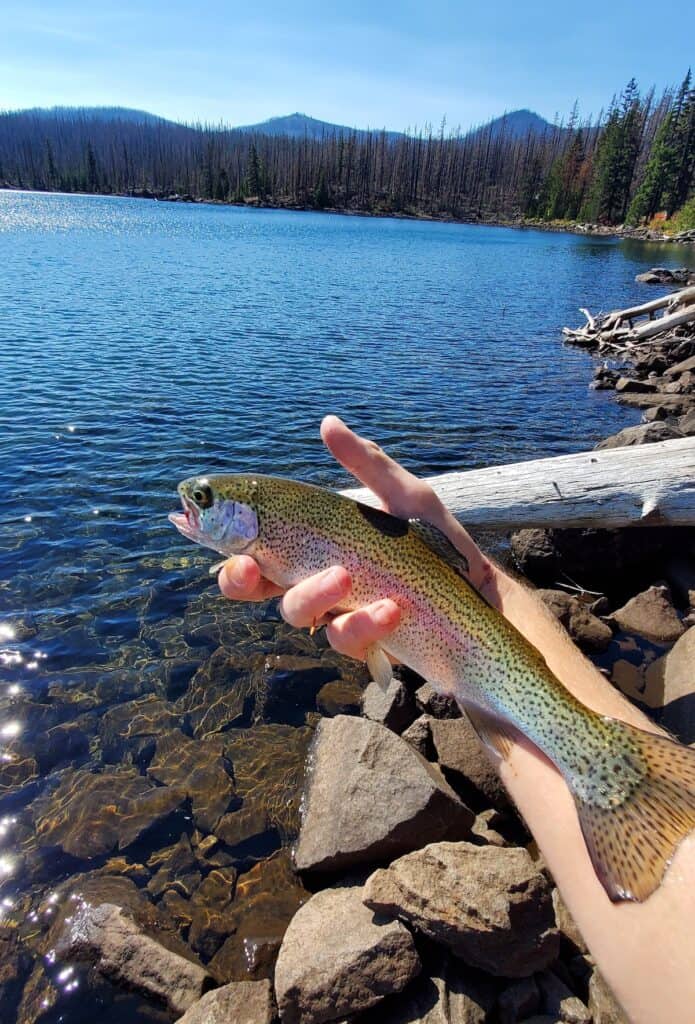 The best time to fish Olallie Lake usually begins in late spring and stretches into at least the first part of summer.
To be more specific, trout fishing will greatly improve here once the stocking trucks begin to appear. The first delivery might be in the latter part of May or in June.
If you really want to pinpoint your visit in advance, maybe plan your trip for late June, when access is likely to be good and the lake is likely to be quite full of trout.
However, with the lake being about 5,000 feet in elevation in the snowy Cascades, winters can hang on into June on a fairly regular basis and access for anglers and hatchery trucks alike may be blocked farther into June during heavy snowfall years.
It's best to check out the ODFW's weekly recreation report and stocking schedules to best time your trip.
Generally, most of the stocking occurs at Olallie by the end of June and fishing should hold up well into July.
While most of the trout stocked at Olallie are the legal-sized rainbows planted in most areas, some of the fish are likely to be chunky "trophy" size trout raised to a larger size before release.
It's also not uncommon for ODFW to plant giant broodstock rainbows that reach the size of salmon or steelhead and can create quite a surprise. (This is from personal experience, as long ago this website editor caught one of the Olallie brooders, which at that point was the largest trout of his career.)
It's likely there will be a period during the late summer when success rates fall and limits are tougher to come by than in June.
Fishing is likely to pick up a bit when the chill of fall hits in September and October and the surviving trout instinctually try to fatten up for the long winter ahead.
While the stocked rainbows make up the bulk of the catch, there also are a very modest number of Eastern brook trout here year-round, as well as in many of the surrounding lakes in the Olallie area.
These brookies are more of an incidental catch here, not as much of a target fishery.
Where to Fish
Olallie has good bank access in many places, but a good third of the lake is shallow (under 10 feet), so try to find a steeper bank area to reach fish when they are holding deeper.
Very generally speaking, the southeastern parts of the lake around Peninsula Campground run a bit shallow while there is deeper water closer to shore in much of the north side.
Having a small watercraft here will improve your odds of finding and catching trout, but definitely note that no motors are allowed to protect the water quality (also used for drinking water).
Kayaks, canoes, float tubes and other human-powered craft are great here, but leave the motors at home.
Trout may feed near where tributary streams enter lakes, especially later in the season.
How to Catch Trout
Bank anglers most often employ bait-fishing techniques for stocked trout, and that will certainly work here. PowerBait, nightcrawlers, salmon eggs and other baits will get the job done.
Try a fairly light main line and leaders in the clear mountain water for more bites, but be ready to gently fight one of the bigger trout here.
Bank anglers also can cast lures and flies to catch Olallie trout.
Boat anglers can use those same methods but often will turn to trolling, one of the best ways to cover more water and put lots of trout on a stringer if you're looking for dinner.
Try trolling lures or bait (or combinations) around the lake, farther out than bank casters are reaching. You may or may not need a little extra weight to reach the fish, but it shouldn't be much in this generally shallow lake.
Slow-trolling sinking flies (such as streamers or nymphs) always seems to put rainbow trout (and possibly one of those brookies) in the boat or float tube.
Again, you might need just a little split shot to get that fly to more fish, so it's worth experimenting with depths until you find the sweet spot.
If you're new to trout fishing or brushing up, check out our article on effective trout-fishing techniques.
Camping and Cabins
Note: This section will be updated once it's determined what camping and other lodging will be available following significant wildfire damage in 2020. For now, definitely check ahead before planning a trip.
Olallie is home to the somewhat rustic Olallie Lake Resort, which has cabins for overnighters as well as rents rowboats and sells supplies to any visitors.
There also are multiple Forest Service campgrounds at Olallie Lake. They are primitive, without running water or electricity or *gasp* internet.
The largest campground is Peninsula Campground, literally located on a peninsula that juts into the southern end of the lake, where you can launch your small boat and have bank access (although fairly shallow water).
Also check out Olallie Meadow Campground and Paul Dennis Campground on the lake, and plenty of other camping opportunities in the region, including both drive-in and hike-in options at other lakes.
You can make reservations at the resort beginning January 1 for the coming season, but the Forest Service campgrounds (including a rustic campground cabin) here are first come, first served and are fairly popular during the high season.
Note that, due to the drinking water issue that also relates to the boat motor ban, swimming isn't allowed in Olallie Lake. However, the resort website notes that Head Lake, just across the road from the resort but in a westside drainage, is popular with swimmers.
A good number of other lakes in the area also permit swimming. Day hiking and overnight backpacking are popular in this area, with Olallie Lake serving as a hub of activity.
The name Olallie, by the way, also is affixed to the butte that stands watch over the area, just east of the lake. The native Chinook word means "berries," and the Cascades are known to original peoples and newer arrivals for their summertime bounty of huckleberries.
How to get to Olallie Lake
Note: Some routes described below may not be available. See notes above.
Reaching Olallie is about a two-hour, 20-minute drive from Portland heading generally southeast as you drive up Highway 224 along the upper Clackamas River and then pick up Skyline Road into the Olallie Lake Scenic Area.
From the Salem area, it will take a similar time driving there (albeit on generally rougher roads in the National Forest section) by heading east via Highway 22.
From there you'll take Breitenbush Road up the Breitenbush River from Detroit and then picking up Forest Service roads to the Olallie area. (Or you can take a little bit more time and swing around and pick up Highway 224 to Skyline Road.)
2023 Olallie Lake Trout Stocking
| | |
| --- | --- |
| 2023 Stocking | Total |
| May 15 – 19 | 55* |
| May 29 – Jun. 2 | 9,335 |
| Jun. 5 – 9 | 125* |
| Jun. 19 – 23 | 125* |
*These stocking dates are trophy-sized rainbows.
Stocked fish are legal-sized rainbow trout unless otherwise noted. Stocking schedules are subject to change for a variety of reasons. The ODFW Weekly Fishing Report linked under Oregon Resources below may provide updated information.
Find more fishing spots in Jefferson County
Find more fishing spots in (nearby) Marion County
Oregon Resources
ODFW Weekly Fishing Report
ODFW Trout Stocking Schedule
Oregon Fishing Regulations
National Weather Service