Note: Parts of the Clackamas River drainage (mostly upriver from Estacada) were impacted by the terrible 2020 fire season. These may include boat access sites. We recommend that you check for the latest access and fishing conditions before planning a trip into this area.
The Clackamas River's headwaters are high in the Cascade Mountains, but some of its most prized fishing options are a short drive from Portland.
This article serves as a simple overview for the major game fish available in "the Clack."
Follow the link suggestions below for additional details about the types of fishing found in this river.
Salmon Fishing
The most anticipated salmon run here is often the arrival of spring Chinook, and this fishery is good enough to attract professional guides and close to home for many other anglers.
Spring Chinook Fishing
The first few springers will sneak up from the Willamette and into the Clackamas in the late winter months, but you'll have a better chance at catching one of these incredibly tasty salmon in May and June, when they arrive in force.
The Clackamas is open to hatchery salmon fishing all year below River Mill Dam near Estacada, and catches are made throughout this lower section to the mouth.
During low-run years (unfortunately common at our last update), ODFW may close the river to salmon fishing.
There is a lot of private property, but seek out a number of parks, bridges and other public bank access.
Boaters can fish long sections, thanks to a number of launches spaced at regular intervals throughout the lower sections.
The Clackamas is on our list of Best Spring Chinook Fishing Near Portland.
In the fall, Chinook are present but this is not a major harvest fishery.
Coho Salmon Fishing
However, coho salmon at times can offer a spirited, if short-lived, fishing opportunity in the late summer and early fall.
You might see a few of these coho show up in late August, but September is likely to be the time when the most bright silvers are present.
The lower river sections are better for this, as most of these fish turn up toward the federal hatchery on Eagle Creek.
You might be interested in: Best Coho Salmon Fishing Near Portland.
Additionally, if you're still learning to catch these big fish, take a read through our Salmon Fishing: Simple Techniques and Tips article.
Steelhead Fishing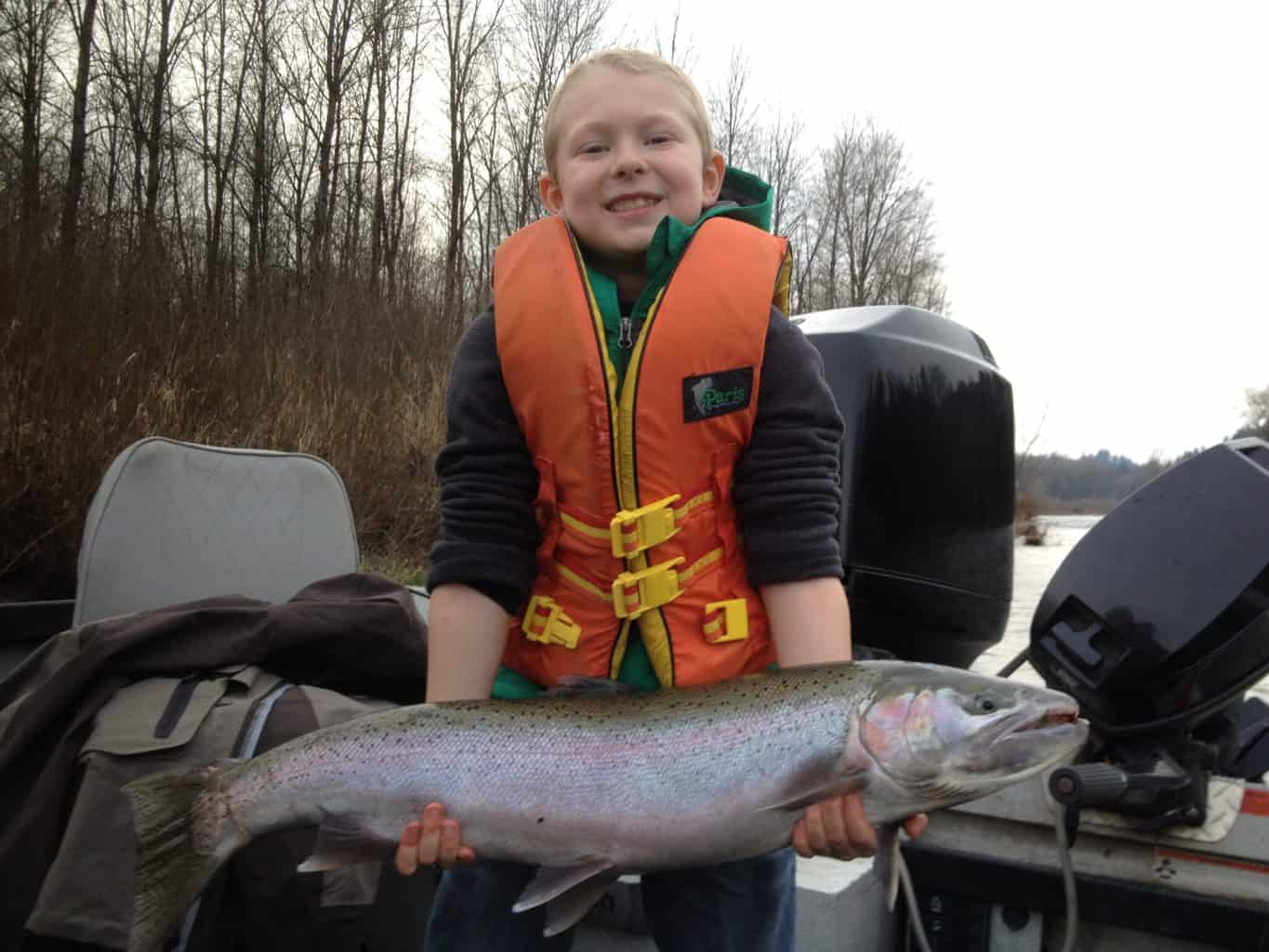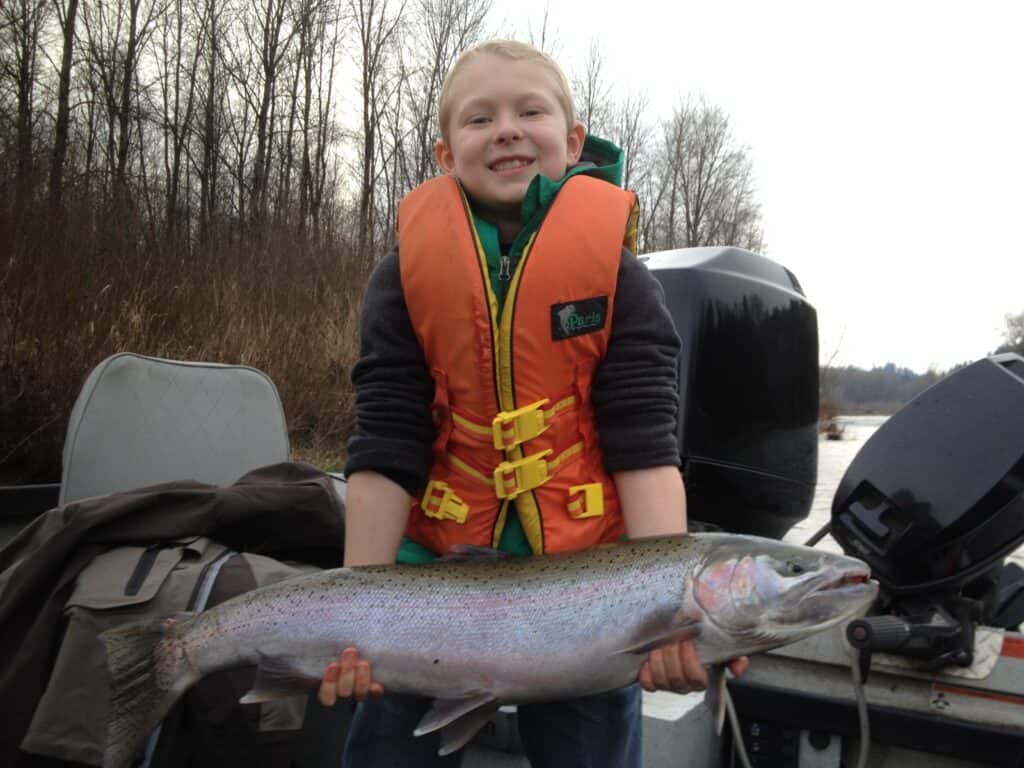 The Clackamas is a fantastic steelhead river with strong runs of both winter and summer fish.
The winter run starts out sometime around the Thanksgiving to Christmas holidays, but odds will be more in your favor after turning the calendar page.
When to Catch Winter Steelhead
In other words, mid- to late-winter is the time to fish for winter steelhead on the Clackamas.
In particular, catch rates are often best here in March, when there is a mix of hatchery fish (keepers) and wild steelhead (catch and release).
The winter run is well distributed throughout the lower river, from the mouth up to River Mill Dam.
For sheer numbers, the lowest section from Carver down to the mouth is often the best-producing stretch overall, especially for boat anglers who have the best access.
There are some but limited bank access points here on the lower river, and you might focus at a few public parks.
When to Catch Summer Steelhead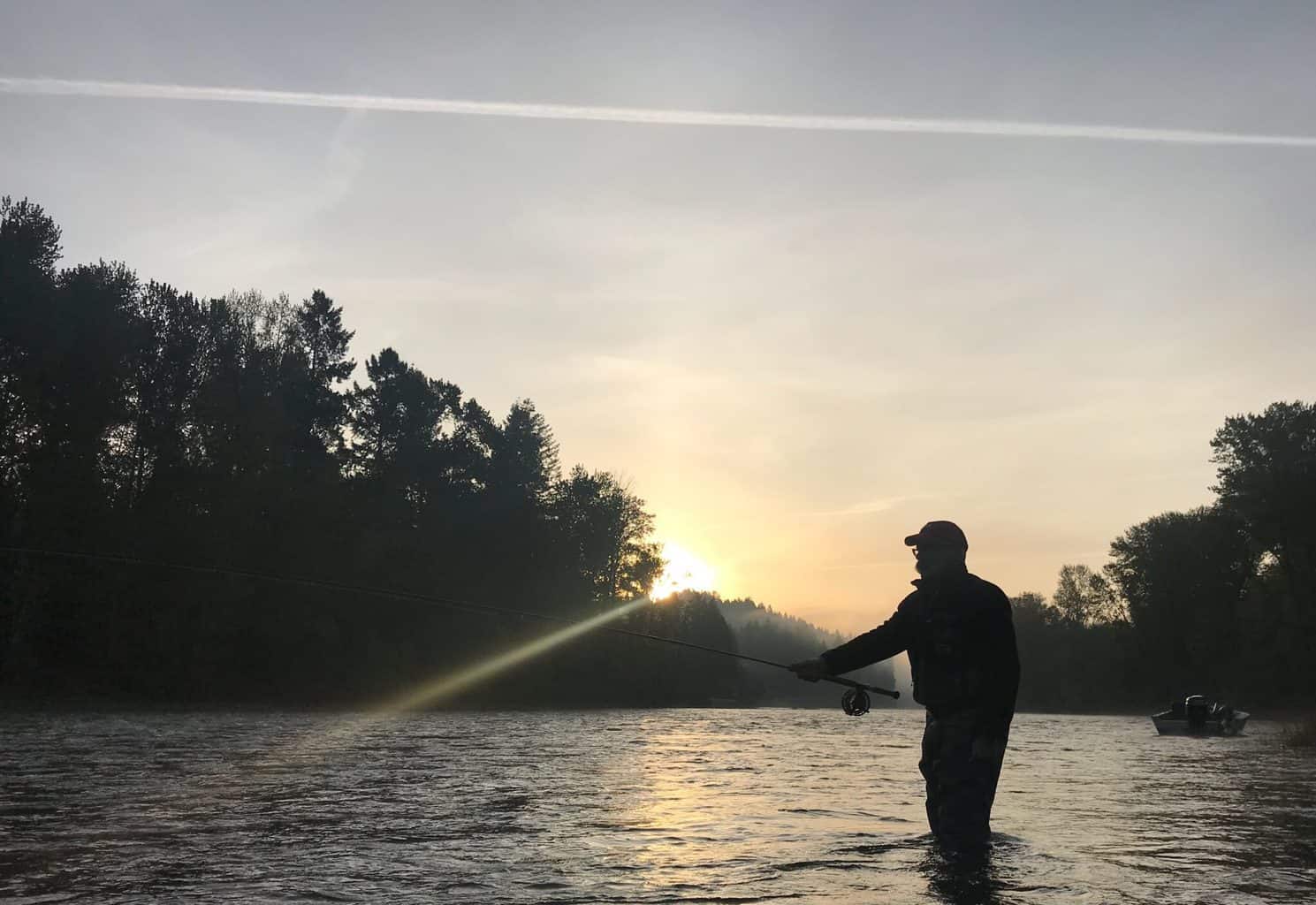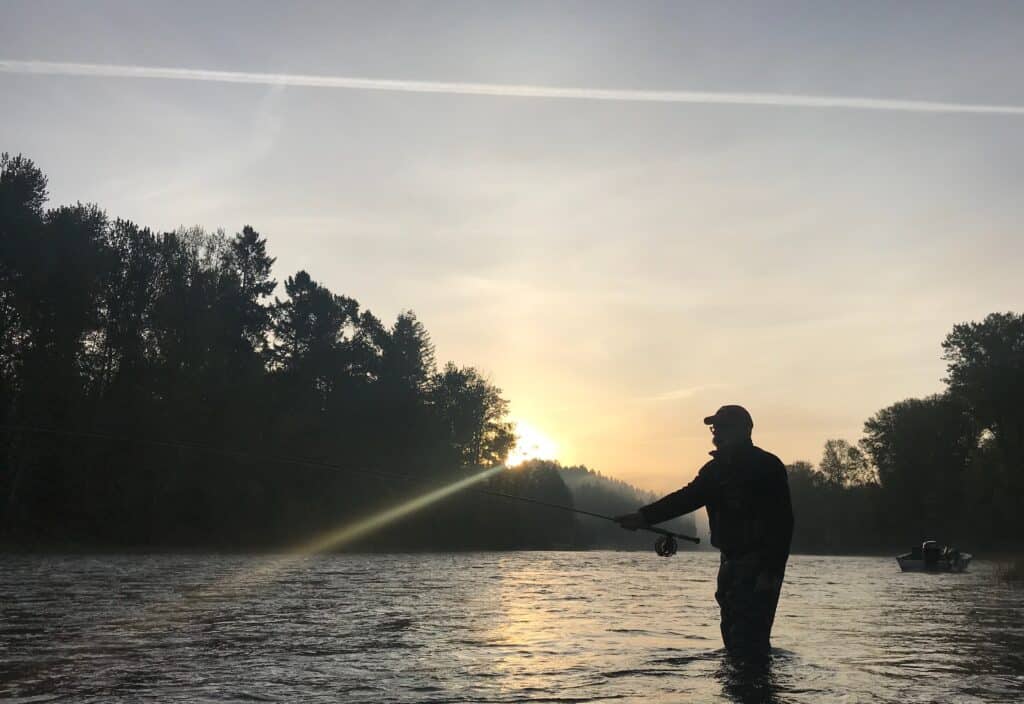 The summer run arrives on the heels of the winter fish in early spring, but numbers are better into late spring through summer.
July is often a peak month for summer steelhead fishing on the Clackamas, before the water gets a little warm and these fish get finickier.
As with winter fish, these summers are caught throughout the lower river, so fish water where you feel successful.
However, unlike winter fish, summer-runs are caught in greater numbers in the higher sections of this river, closer to River Mill Dam in the vicinity of Estacada and Milo McIver State Park.
Not surprisingly, the Clackamas is featured in our Best Winter Steelhead Fishing Near Portland and Best Summer Steelhead Fishing Near Portland.
Learn more: Clackamas River Steelhead Fishing as well as our Steelhead Fishing: Simple Techniques and Tips.
Trout Fishing
Unlike salmon and steelhead, we'll point you farther upstream for most of the Clackamas River's trout fishing.
There are wild trout in the lower river, but often not in impressive numbers.
The only trout you can keep down there are hatchery ones with a healed-over clipped adipose fin. If you catch one of those, there's a good chance it's actually a juvenile hatchery steelhead.
The Clackamas River system above the Faraday Diversion Dam (Cazadero) and North Fork Reservoir once had a nice fishery for hatchery summer steelhead but today are off-limits to all salmon and steelhead fishing, where wild runs are being restored.
However, there can be excellent trout fishing in the upper river basin, particularly in the tributaries.
While old-timers may remember when these upriver areas were generously planted with hatchery rainbows at campgrounds and day-use areas, today only some of the lakes and reservoirs in the region are stocked.
Best Trout Fishing
If you'd like to keep your catch, point your vehicle to the Oak Grove Fork between Harriet Lake and Timothy Lake, a stream section without salmon and steelhead.
There are roughly 9 to 10 stream miles between these two reservoirs where you can keep up to two trout (rainbows and cutthroat) at least 8 inches long, which potentially could include stocked trout moving out of a reservoir.
Regulations also allow you to keep as many non-native brook and brown trout as you want, with no size limits.
Some brown trout move out of Harriet and into the Oak Grove Fork above, and they can reach good size.
Many anglers are more apt to practice catch and release with the browns than the brookies. The latter tend to take over streams and don't grow as large.
This part of the Oak Grove Fork is followed by National Forest Road 57. It can take some hiking to reach the best waters.
To reach this area, you can take Ripplebrook Road or NF 57 near Ripplebrook Ranger Station and reach the area above Harriet in about 15 minutes or so.
The full drive to this area is about an hour and a half from Portland following the Clackamas River upstream through Estacada.
You also can follow the Oak Grove Fork downstream from Timothy Lake, which can also be reached off Highway 26 near Clear Lake.
The Clackamas River and all tributaries above Cazadero are restricted to fishing with artificial flies and lures. Fly fishing can be excellent in the Oak Grove Fork and elsewhere up here.
The remainder of the upper Clackamas system, including forks and the Collowash River system, have the potential for some nice catch-and-release trout fishing, now that the stockers are no longer present and angling pressure is far reduced.
Try exploring some of these smaller streams in the upper basins.
Release native bull trout unharmed.
Besides the higher mountain lakes on the Oak Grove Fork mentioned above, three reservoirs on the main river near Estacada are stocked with hatchery rainbow trout and at times offer a decent chance at catching your limit.
Those reservoirs are North Fork Reservoir, Estacada Lake and Faraday Lake.
Grab a whole lot of easy trout fishing tips and techniques in this article.
Oregon Resources
ODFW Weekly Fishing Report
ODFW Trout Stocking Schedule
Oregon Fishing Regulations
National Weather Service