Most years, "the Clack" is the Portland metropolitan area's leading river in terms of the number of hatchery steelhead taken home.
In a typical year, between the winter and summer runs, Clackamas River steelheaders take home 4,000 or more hatchery-born fish, based on Oregon Department of Fish and Wildlife records.
In recent years, catches for both steelhead runs have been down, but these things tend to swing back up and there are a few signs that the runs might be on the upswing.
The lower Clackamas River (from the mouth at the Willamette River up to Cazadero Dam above Estacada) is open year-round for fin-clipped steelhead.
And you have a reasonable shot at those hatchery-reared steelies any month of the year.
Statistically, your best odds are anytime during in the first half of the year, with winter run catches typically peaking in March and the summer run usually at its best in late May through June.
Winter Steelhead
The Clackamas has an extra-long winter run, and seasonal (fall to spring) catches of 2,000 to 3,000 winter-run fish are pretty typical.
Exceptional years have produced more than 5,000 winter steelhead, while some recent years have been well under 2,000 tagged fish.
The first winter steelhead to enter the Clackamas, starting in November and December, with the highest catches typically coming from January to early April.
The earlier-arriving winter steelhead here generally are bound for a federal hatchery on Eagle Creek. This early run starts in late fall and peaks from the holidays into January.
There will sometimes be a lull in the catch in February, until numbers build for the second hatchery-based winter run, which uses a wild broodstock for parents.
That late run brings excellent winter steelhead fishing, with winter steelhead catches usually peaking in March but holding up strong through April and into early May, about when summer steelhead first appear.
Besides the hatchery on Eagle Creek, additional hatchery-bred winter fish raised by the state are released near Dog and Foster creeks on the mainstem. These include later-running fish.
Early in the season, anglers should focus their attention below Eagle Creek to go after the early run. (Eagle Creek itself has a fine winter steelhead fishery.)
The mouth of the creek at Bonnie Lure State Recreation Area (off Dowty Road near the community of Eagle Creek) is a popular (and often crowded) spot to intercept fish preparing to run into the smaller stream.
Another popular lower-river access point is at the mouth of Clear Creek, on the south side at Carver, which can be a little better than much of the lower river when flows are on the high side.
Other lower river access points include High Rocks (Gladstone) and Riverside Park (Clackamas).
By mid-winter, steelhead will be found in good numbers throughout the lower river up to the Estacada area.
One of the best places to get at them is Milo McIver State Park, where ODFW's Clackamas Hatchery is located and where a good portion of late-returning smolts are released.
McIver is off Springwater Road, across the river and just downstream from Estacada, and offers a ton of riverfront access after paying your park fee.
There also is access below River Mill Dam, just upstream near Estacada.
Summer Steelhead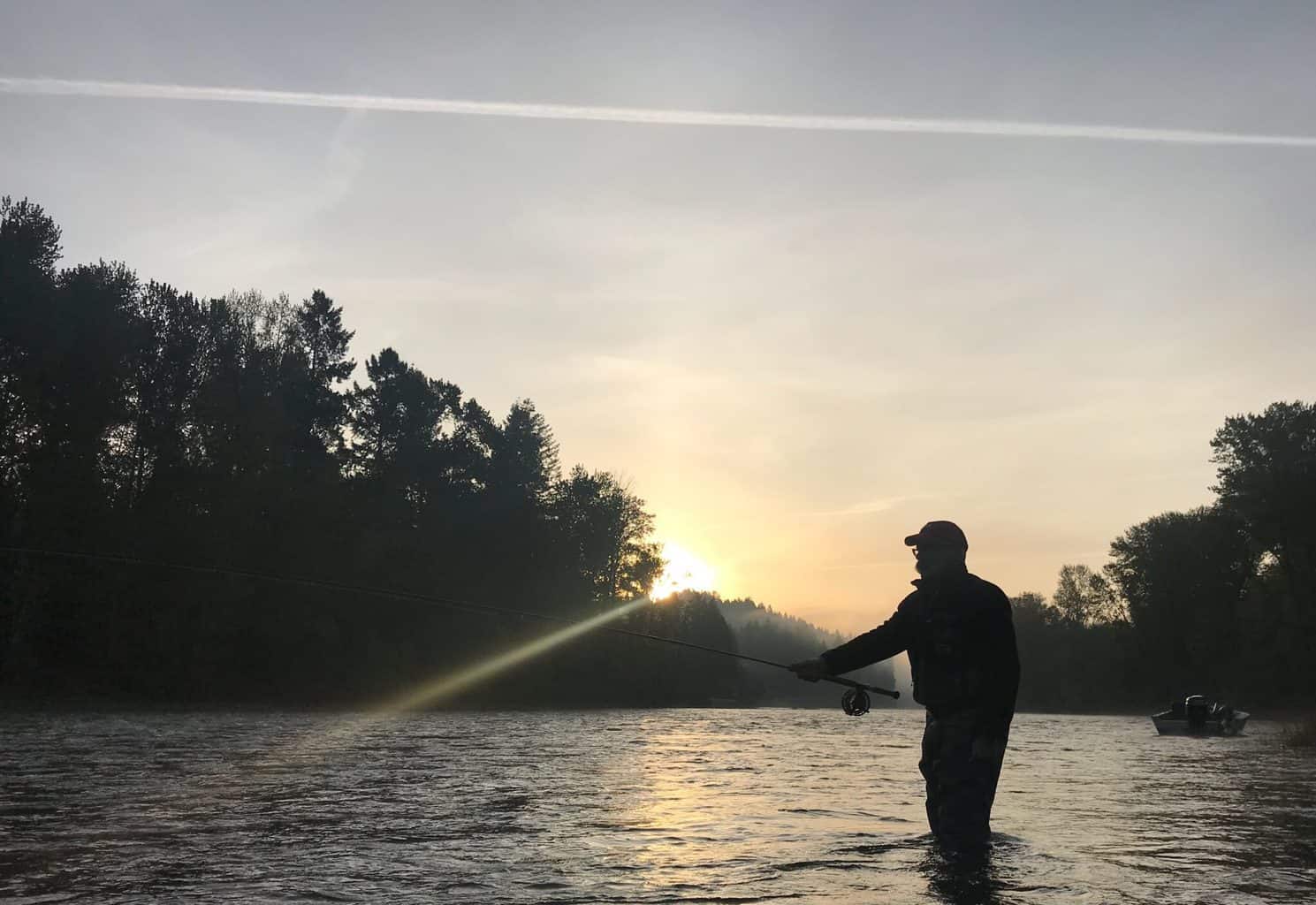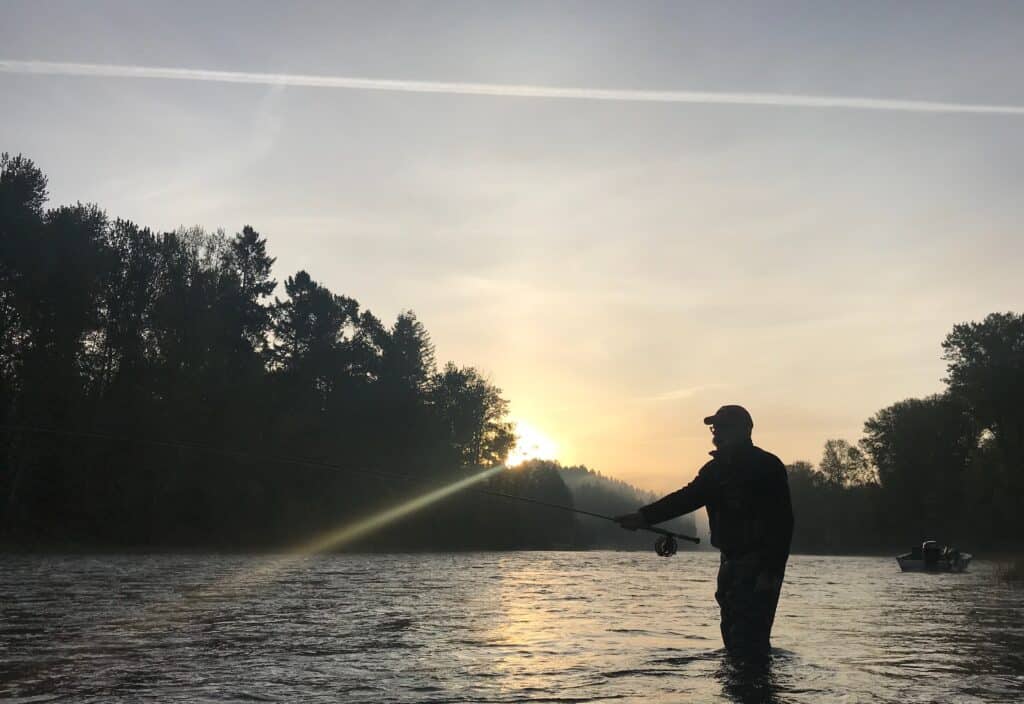 For many years, this run accounted for a steady 2,000 to 2,500 steelhead harvested by sport anglers, although as mentioned it also has seen catches fall in some recent tougher years.
The first several dozen summer steelhead show up in the catch here in March, when fishing often is at a peak for winter steelhead and anglers also are gearing up for the river's spring chinook fishery.
Summer steelhead catches (as well as springer catches) pick up in April and peak from May through July.
By late summer and fall, many anglers are targeting other runs, and spring Chinook are dark, but summer steelhead fishing can be worthwhile on the Clackamas right into its popular fall coho run.
Best Water Conditions
The Clackamas draws from a large basin in the northern Oregon Cascades.
The river holds up well with modest rainfall and fishes when smaller streams are too low, but it can take some time to recover after a heavy rainfall.
For ideal conditions for fall through spring fishing, look for the river height to be around 10 to 13 feet at the Estacada gauge.
It will drop below that for much of the summer, but fishing is still worthwhile for summer-runs.
Low conditions are tough on jet boats and summer lows can be difficult for drift boaters as well. Rafters go down all summer, but most of those have other goals besides fishing.
Bank and Boat Access
The areas near the tributaries often can offer good fishing.
Try the mouths of Eagle Creek, Dog Creek (McIver State Park) and Clear Creek (Carver), which also are go-to spots when the big Clackamas is high and mud-colored.
There are additional spots to fish at High Rocks (Gladstone), Riverside Park (Clackamas) and River Mill Dam (Estacada).
Boat launching and take-out spots are at Feldheimer's Road and the following parks: McIver, Barton, Carver, Riverside and Clackamette.
Return to Oregon Steelhead Fishing page
Oregon Resources
ODFW Weekly Fishing Report
ODFW Trout Stocking Schedule
Oregon Fishing Regulations
National Weather Service