Note: At the last update in early 2023, the lake still was accessible only by driving in from the Highway 26 side past Timothy Lake and down the Oak Grove Fork. The route up the main Clackamas River beyond Promontory Park remained closed. Definitely check ahead for access, fishing, and camping information before planning a trip here. Here's PGE's update page.
This is a small but popular reservoir for trout fishing in the upper Clackamas River drainage, about an hour and a half's drive from Portland.
Also called Lake Harriet, this pretty spot is located about 15 minutes from the Ripplebrook Ranger Station on the Oak Grove Fork of the Clackamas River.
More to the point for anglers, it is well-stocked with hatchery rainbow trout from mid-spring (usually by April and definitely by May) and periodically until just before Labor Day.
Rainbow trout fishing will be best within a week or two after the hatchery truck unloads.
Harriet frequently receives trophy-sized hatchery rainbow trout, so don't be too surprised if you hook into something large.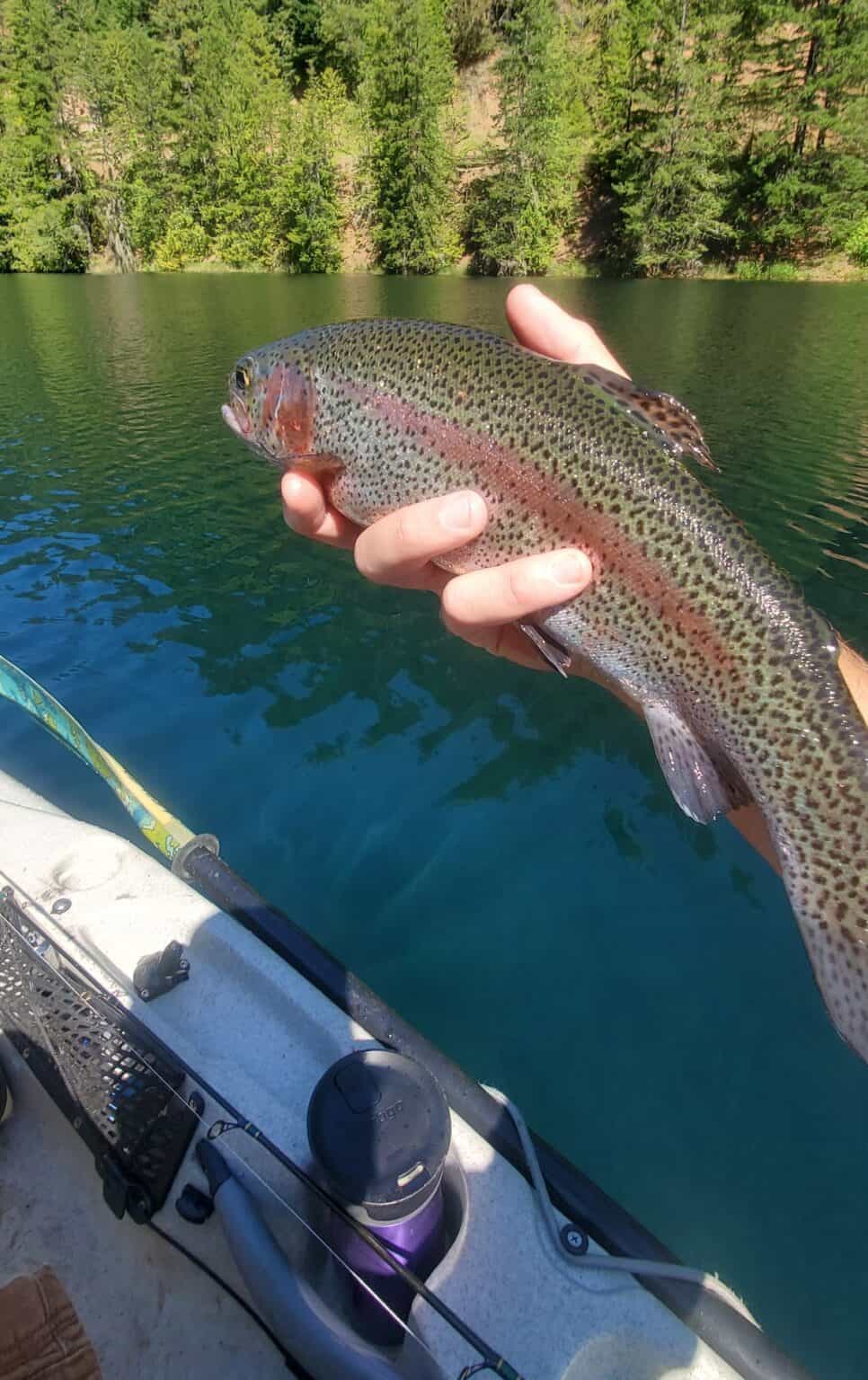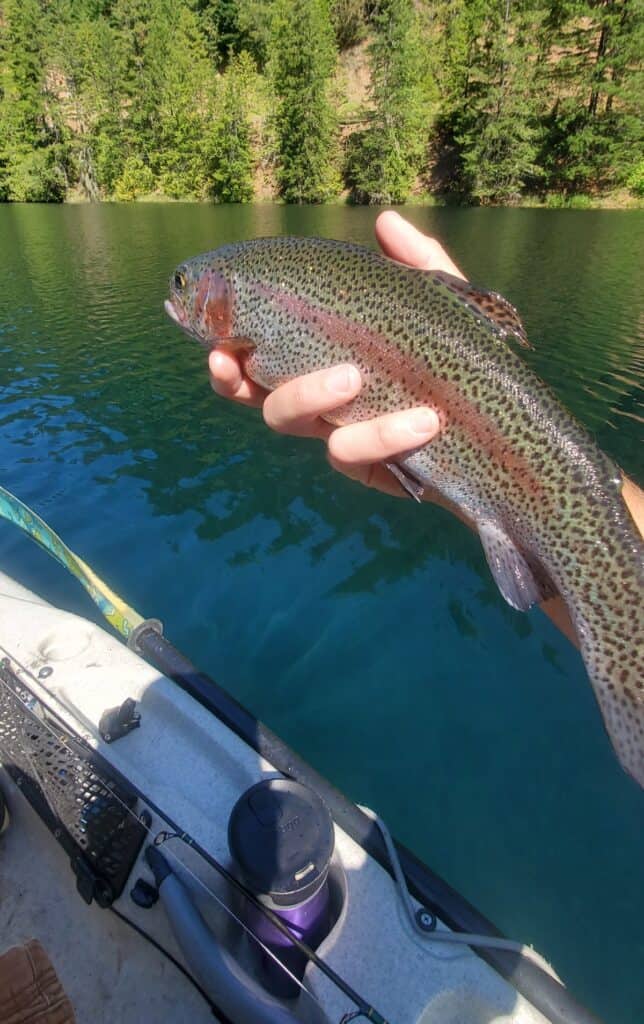 Speaking of large, Harriet also is known as perhaps the closest place to Portland where you might catch a trophy-sized brown trout.
These non-native fish were first stocked in the area early in the last century and now are self-sustaining in the reservoir, where they move in and out from the Oak Grove Fork above.
Most browns here are modest in size but wily lunkers are present.
For more on where to catch lunker browns, read Best Trophy Brown Trout Fishing Lakes in Oregon.
You may also find some brook trout, another non-native species, in Harriet. These fish tend to run smaller and are more prevalent upstream in the Oak Grove Fork.
In rivers in this zone, you can keep both of these nonnative species in any number or size, but lake regulations aren't so generous and they count along with other species in the trout bag limit.
The usual approaches will catch trout at Harriet, including baits such as salmon eggs and PowerBait and lures such as Mepps and Rooster Tail spinners.
If you need more details on how to catch trout, start with our article Trout Fishing: Basic How-To Techniques and Tips.
Brown trout often eat smaller fish, so lures that imitate their prey should work here as they do elsewhere.
Regular Harriet anglers on Oregon Fishing Forum also report success using flies, such as hare's ear nymphs and woolly buggers.
2023 Harriet Lake Trout Stocking
| | |
| --- | --- |
| 2023 Stocking | Total |
| Apr. 10 – 14 | 2,721* |
| May 15 – 19 | 125* |
| May 22 – 26 | 2,000 |
| May 29 – Jun. 2 | 3,460* |
| Jul. 17 – 21 | 2,665 |
| Aug. 28 – Sep. 1 | 2,167* |
*These stocking dates include 55 – 667 trophy-sized rainbows.
Stocked fish are legal-sized rainbow trout unless otherwise noted. Stocking schedules are subject to change for a variety of reasons. The ODFW Weekly Fishing Report linked under Oregon Resources below may provide updated information.
Learn about other nearby trout fishing: Timothy Lake Fishing, North Fork Reservoir Trout Fishing, Small Fry Lake Trout Fishing, Clackamas River Fishing.
Find more fishing spots in Clackamas County
Oregon Resources
ODFW Weekly Fishing Report
ODFW Trout Stocking Schedule
Oregon Fishing Regulations
National Weather Service