Jefferson County sits along a productive stretch of the Deschutes River, including some of its most famous waters for fly fishing for native redside rainbow trout.
Just upriver is the beloved Lake Billy Chinook, teeming with kokanee and big bull trout.
The county has many other angling opportunities, including lakes stocked with trout in the high mountains and high desert, plus some fairly good warmwater angling.
With this article, our aim is simply to introduce some of your best options for fishing throughout Jefferson County.
If you're looking for detail, click the links related to your interests. You'll find them within the article and at the bottom of this page.
The counties surrounding Jefferson County also are loaded with great fishing, so click the county links below to explore nearby opportunities.
The waters listed in this article are regulated under the Oregon Department of Fish and Wildlife's Central Zone.
Incorporated cities in Jefferson County include Culver, Madras and Metolius. Uncorporated areas include Ashwood, Camp Sherman, Crooked River Ranch, Grizzly, Horse Heaven and Warm Springs.
Listed alphabetically, here are some of the best fishing spots in Jefferson County:
Crooked River
A small section of Crooked River loops through Jefferson County near Crooked River Ranch before flowing into Lake Billy Chinook below Opal Springs.
Overall, the Crooked River below Prineville Reservoir is a top-notch fishery for native redside rainbows, particularly lauded for its very high fish-per-mile. Some of the best fishing is upstream in Crook County, right below the reservoir.
It's a good place for novice fly anglers as well as those with top skills to get plenty of action for average-sized trout.
It's on our list of best Central Oregon fishing rivers.
More: Crooked River Fishing.
Deschutes River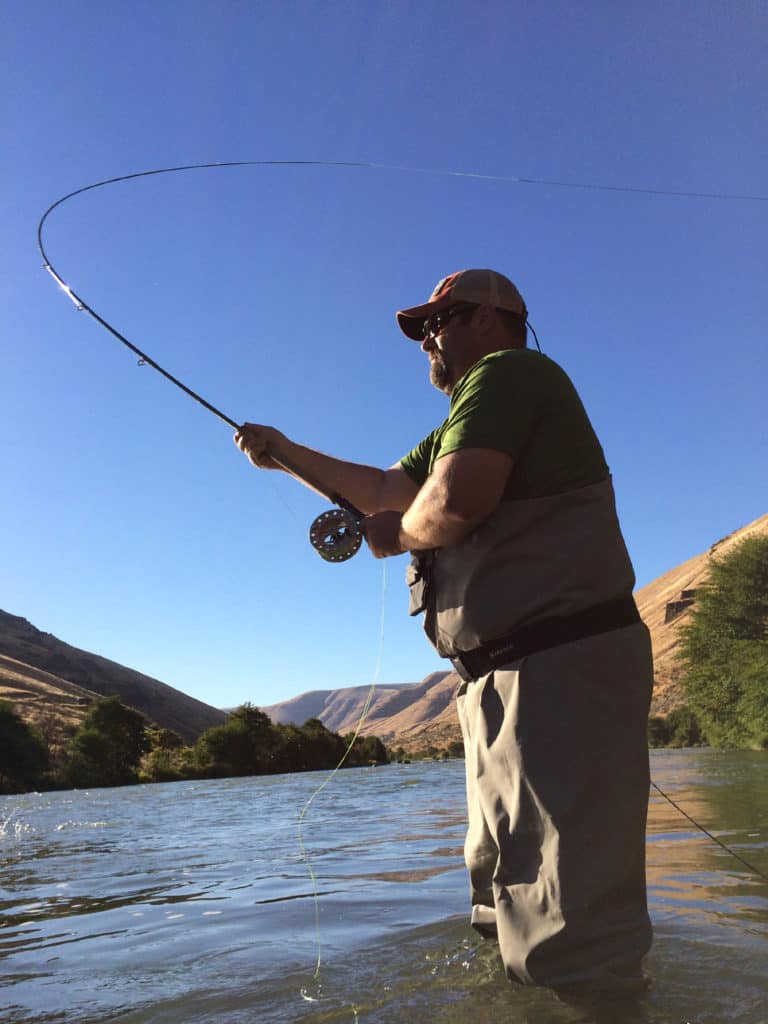 The Deschutes below Pelton Dam is one of the country's best-known fly fishing waters.
The Jefferson County stretch includes many hallowed waters, including the famous Mecca area near Warm Springs. This area borders the Warm Springs Indian Reservation and is open to seasonal trout fishing from late April through the end of October.
Only artificial flies and lures may be used, and you can't fish from a boat but can use one to access some of the better spots along the river.
Trout fishing can be great at times throughout the season.
The salmonfly and stonefly hatches that come in mid- to late spring are the best-known.
See this article for suggestions to fish that hatch.
The Deschutes also gets a run of summer steelhead, particularly hatchery-marked fish you can keep. The first decent numbers start to get up toward Pelton Dam in September, with October probably a better bet.
This is a somewhat smaller fishery compared to the late-summer bonanza down near the river's mouth.
See this article for regional summer steelheading info.
The Deschutes River above Lake Billy Chinook isn't as famous, but it's worth exploring for native redside rainbow trout and introduced brown trout.
Whitefish can ease the winter doldrums in this year-round fishing area.
Overall, the Deschutes is on our list of best Central Oregon fishing streams and best fly fishing rivers in Oregon.
For an overview of this great river, a good place to start is: Deschutes River Fishing.
Haystack Reservoir
This is a good-sized water between Redmond and Madras, just east of Highway 97. This lake is seasonally stocked with rainbow trout and also has a modest number of brown trout, but it can really suffer from irrigation draw-downs as the season goes on.
It's best fished in the early season when it's still cool, particularly after it's stocked (usually April).
There also are kokanee that on occasion provide a good fishery, as well as some warmwater fishing for crappie, largemouth bass and brown bullhead catfish.
More: Haystack Reservoir Fishing.
Horseshoe Lake
This aptly named lake in the Olallie Lake National Scenic Area high in the Cascade Mountains east of Salem and just west of the Warm Springs Indian Reservation is a very nice place to catch trout.
It is likely to be stocked with hatchery rainbows in the early summer and also is home to self-sustaining brook trout.
It is located south of Olallie Lake on Skyline Road.
Jefferson County Pond
This small pond west of the county fairgrounds in Madras is seasonally stocked with trout but is only open to youth (17 and under) and those with a disabled angler permit.
Expect it to be stocked a couple times in mid- to late spring.
John Day River
Northeast Jefferson County borders just a small stretch of the John Day River, beyond Horse Heaven, within a much larger area well-populated with smallmouth bass.
For details about the excellent bass fishing in the John Day, read our spring and summer articles.
Summer steelhead also make a run up the John Day, usually in best numbers in the fall. Most are wild and must be released, with an occasional hatchery stray for the barbecue.
Lake Billy Chinook
This large reservoir (a.k.a. Round Butte) on the Deschutes River is a hugely popular destination for anglers and water-sport lovers of all stripes.
This reservoir collects the waters of three great Central Oregon rivers: the Deschutes, Crooked and Metolius.
When it comes to fishing, the most popular quarries are often abundant kokanee and trophy-sized bull trout.
Gone are the days of 25-kokanee limits here, but these land-locked sockeye still command lots of attention.
See this article for details on Lake Billy kokes, and our Oregon Kokanee Fishing page for links to a bunch of kokanee info.
This is hands-down the best place to catch native bull trout in Oregon, and the only place to keep one if it's over 24 inches. But many trophy hunters snap a picture and let these monsters go, preferring kokanee for dinner.
The Metolius Arm is often best for these brutes after its March 1 opener because they go back and forth from that river's cold, clear waters.
There also are some native redband trout and naturally producing non-natives including brown trout and smallmouth bass.
The smallish smallmouths can be easy to catch for shore anglers, including near the state park, while the other species are mostly caught from boats.
Note that there are seasonal closures on the Metolius Arm, which is in Warm Springs Indian Reservation jurisdiction and also requires a tribal fishing permit.
The remainder of the reservoir is open all year with only state licensing requirements.
Cove Palisades State Park and a resort are busy places in summer.
This water is on our list of best fishing lakes north of Bend.
More: Lake Billy Chinook Fishing.
Lake Simtustus
This is a seven-mile-long reservoir on the Deschutes River immediately below Lake Billy Chinook.
Simtustus has a variety of fish species, with the most common catch being the rainbow trout sometimes stocked around late April and a couple more times during the summer.
There are some bull trout here that drop down from Lake Billy Chinook but they must be released if caught.
You might also find some kokanee, brown trout and bass here.
Simtustus borders the Warm Springs Indian Reservation, and a tribal permit is required to fish here along with your state license.
Access is primarily at Pelton Park northwest of Madras, and most fish are caught by boats launched there.
More: Lake Simtustus Fishing.
Metolius Pond
This small pond at a former hatchery site in Camp Sherman was opened in 2018 as a new youth fishing pond.
It is seasonally stocked with rainbow trout. Check the weekly recreation report to make sure it's open and fishing well.
Use Southwest Camp Sherman Road and then Old Fish Hatchery Road on the southwest edge of the community to access the site on a spring creek on the west side of the Metolius River.
The pond is open to anglers who are age 17 and younger. Adults with a special angling permit for people with disabilities also may fish legally here.
Metolius River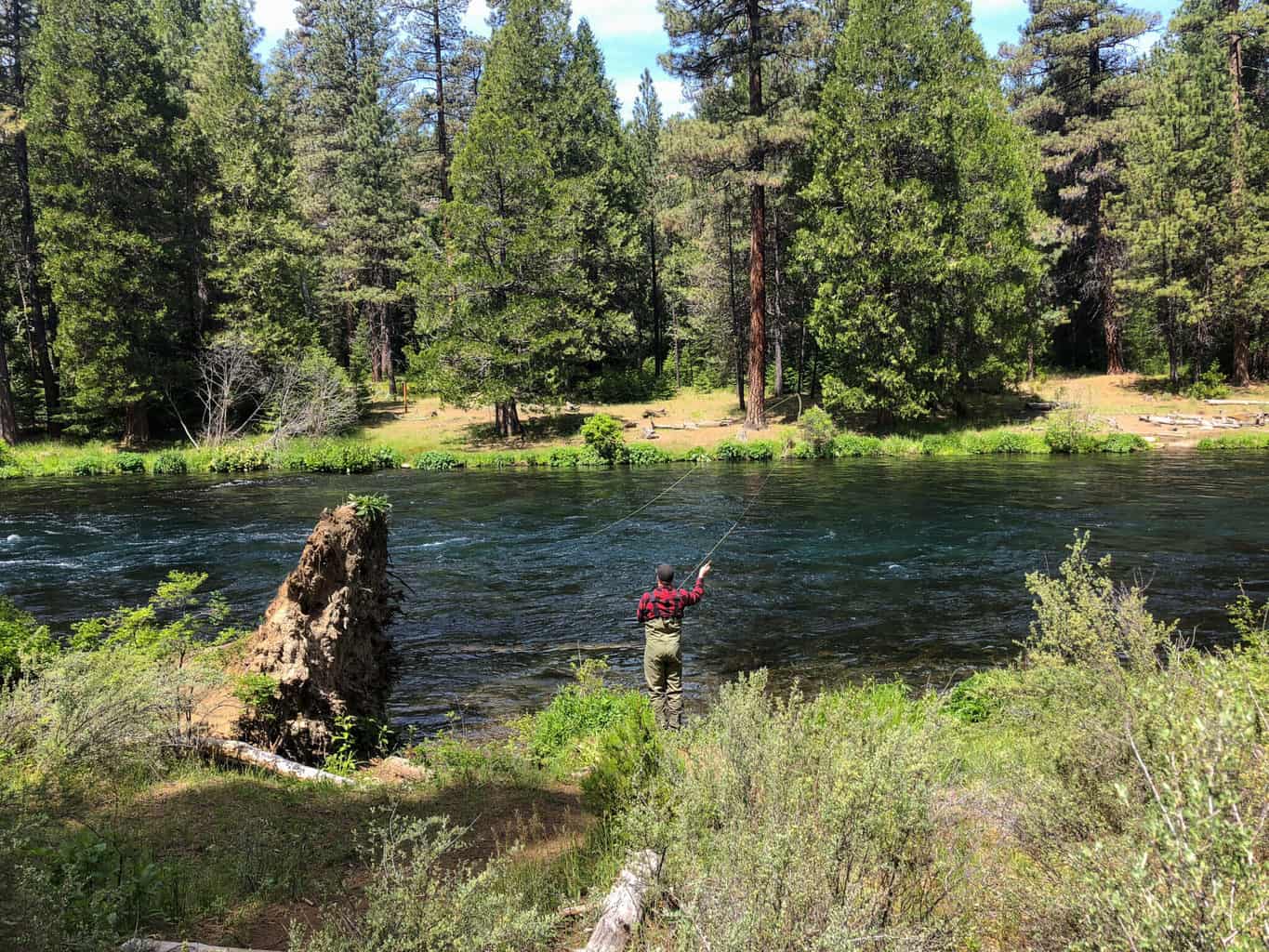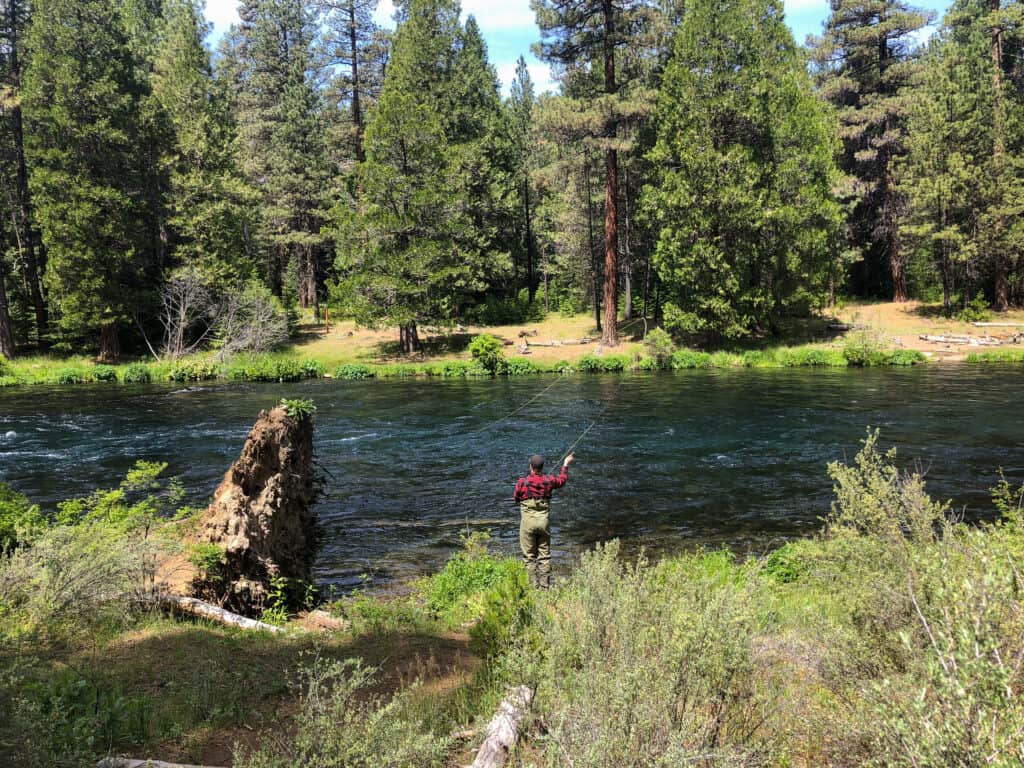 This is a catch-and-release fly angler's dream in a beautiful setting of Ponderosa pines.
The major quarry here are native redband rainbow trout after a stocking program was discontinued years ago.
You also can purposefully target bull trout, which reach large size, but these and all fish must be released unharmed throughout the Metolius, and no other fishing methods besides fly fishing are allowed.
You also can't fish from a floating device, so it's pretty restrictive.
The river is open to year-round fishing below Allingham Bridge and seasonally above the bridge, including the popular Camp Sherman area where many people stay.
Be sure to read the regulations carefully, including the state's definition of fly fishing.
Camp Sherman is located northwest of Sisters. Follow the signs north near Black Butte Ranch.
This stream joins the Deschutes and Crooked on our list of best Central Oregon fishing rivers.
More: Metolius River Fishing.
Olallie Lake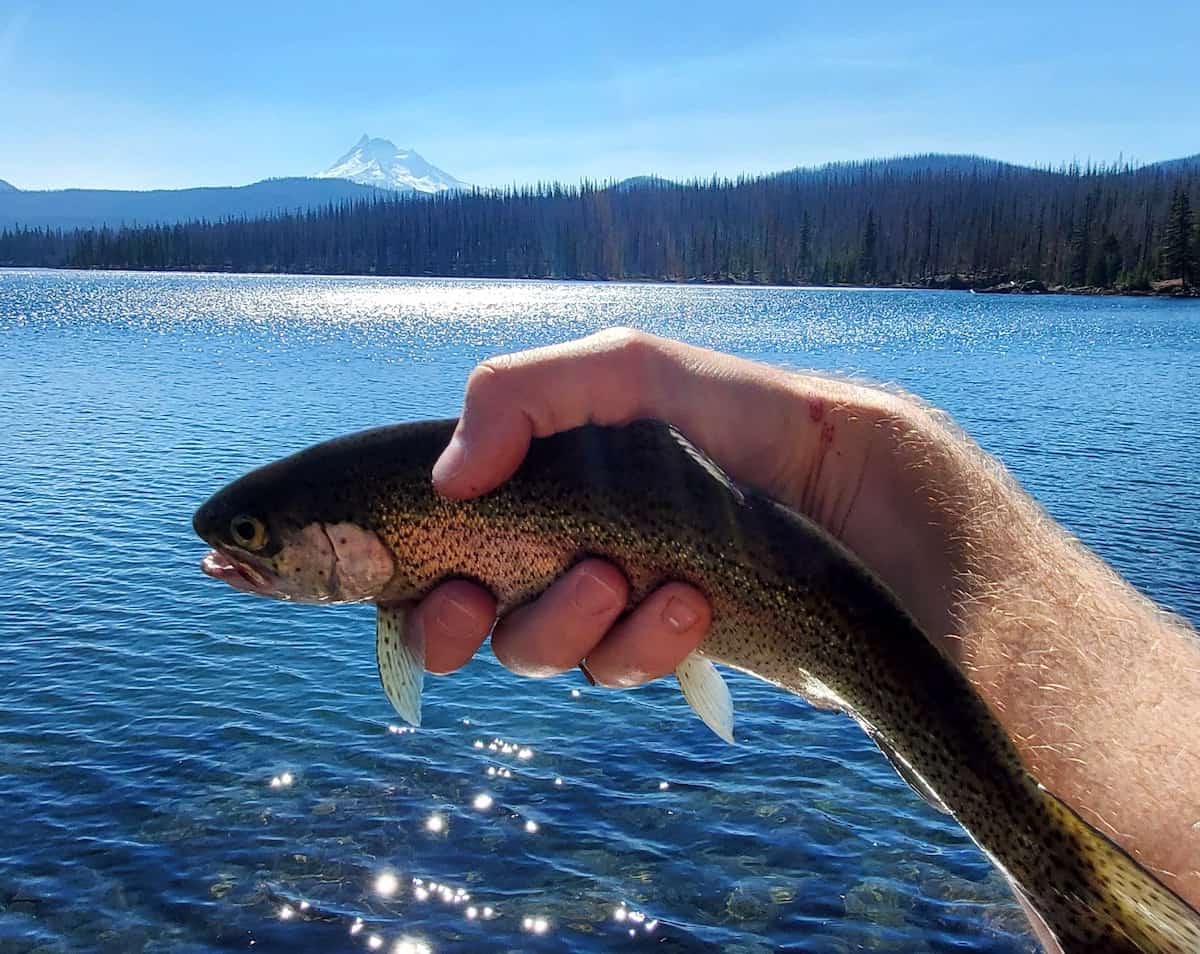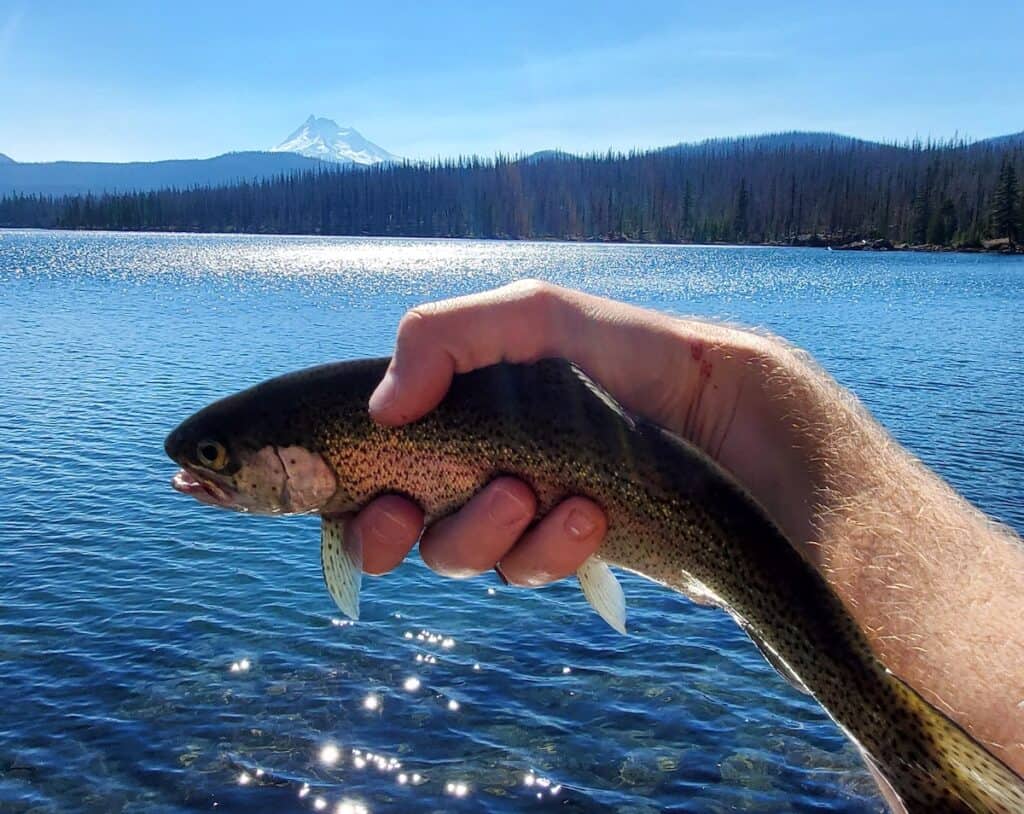 This popular high-mountain fishing lake is the largest of more than 200 lakes in a scenic area on the north side of Mount Jefferson, near the summit of the Cascade Mountains and along the boundary of the Warm Springs Indian Reservation.
Olallie is typically well stocked during the late spring and early summer, and often gets a batch of trophy-sized hatchery fish to go along with large numbers of pan-sized trout.
(Check the North Willamette stocking schedule for this one.)
Stocking truck and angler access may be delayed during particularly heavy snow years, so it's best to find updated information, potentially in ODFW's weekly recreation report.
Bank and boat access is good, and there is a resort and several campgrounds. Hikers also can fish surrounding lakes.
Olallie is on our list of best fishing lakes north of Bend.
More: Olallie Lake Fishing.
Suttle Lake
This is a popular vacation destination along Highway 126 just 14 miles northwest of Sisters and even closer to Black Butte Ranch is most often fished for kokanee but also has a fair brown trout fishery.
Every few years, kokanee fishing here swings from hot to cold, but when it's hot it's very good and can justify its 25-kokanee limit (no size restrictions).
Read our guest expert's detailed information on Suttle Lake kokanee fishing.
Also take note that Suttle Lake brown trout can reach respectable size as well.
There are a few rainbows but it's not stocked.
There is a nice resort and several camping options.
While you'll find bank access, a boat is a huge advantage for these species.
See: Suttle Lake Fishing.
Whychus Creek
This stream flows through the Sisters area in Deschutes County and then into a canyon before joining the Deschutes River in Jefferson County, south of Lake Billy Chinook.
Whychus provides small-stream angling, mostly for smallish wild rainbow trout.
It can be a fun spot to poke around while in the area to fish popular Metolius River or Suttle Lake.
Current regulations allow seasonal fishing with artificial flies and lures, and some harvest. Trout over 20 inches are considered steelhead and must be released. Check for the latest rules before fishing.
(Note: This creek was previously known as Squaw Creek and is still listed as such on some maps. It is spelled Wychus in some references but Whychus in the ODFW regulations.)
Fishing in Neighboring Counties
Wasco County: To the north, a great section of the lower Deschutes River for trout and steelhead fishing, plus some very fine salmon, smallmouth bass and walleye fishing in the Columbia River.
Wheeler County: To the east, excellent access to the fantastic smallmouth bass fishing in the John Day River.
Crook County: To the southeast, includes the versatile Prineville Reservoir, very popular for crappie, bass and trout fishing, and the trout-filled waters of the Crooked River.
Deschutes County: To the south, one of the most-loaded counties in terms of fishing destinations, including lakes famed for trout and kokanee fishing along with some very good trout streams.
Linn County: To the southwest, superb spring chinook and summer steelhead fishing in the Santiam River system, and fantastic kokanee angling at Green Peter Reservoir.
Marion County: To the northwest, includes the always-popular Detroit Lake as well as trout, steelhead and salmon in the Willamette Valley and North Santiam River basin.
More Fishing Resources:
In addition to other sources, the following websites were very helpful while compiling these county fishing pages, and the information there is valuable to all Oregon anglers.
For current regulations, trout stocking, weekly angling reports and more, find links on the Oregon Department of Fish and Wildlife's Fishing Resources Page.
For boating information about these waters, see the Oregon State Marine Board's launch locator map.
Oregon Resources
ODFW Weekly Fishing Report
ODFW Trout Stocking Schedule
Oregon Fishing Regulations
National Weather Service