Not everything that's fishy in Marion County comes out of the Capitol building in Salem. This mid-Willamette Valley area plays hosts to some exceptionally good fishing, especially for trout, steelhead and salmon.
Some of the favorite destinations here include the North Fork of the Santiam River, which has good numbers of trout, summer steelhead and spring Chinook salmon, and Detroit Lake, one of the top destinations in western Oregon for stocked rainbow trout and kokanee salmon.
This article is intended as an introduction to some of the better fishing places in Marion County.
For additional information about the waters here and within a reasonable drive, follow the links included both within and at the bottom of this article. The county links below will take you to similar articles for neighboring areas.
The county shares some of the North Fork Santiam (including Detroit Lake) with Linn County to the south.
These waters are regulated under the Oregon Department of Fish and Wildlife's Willamette Zone. Fishing for salmon, steelhead and sturgeon in this area requires a Columbia River endorsement as well as the usual license and tag.
Incorporated cities in Marion County include Aumsville, Aurora, Detroit, Donald, Gervais, Hubbard, Jefferson, Keizer, Mt. Angel, St. Paul, Salem, Scotts Mills, Silverton, Stayton, Sublimity, Turner, Woodburn and parts of the North Fork Santiam cities of Gates, Idanha and Mill City.
Besides having the state capital, the county also is home to the very popular Champoeg and Silver Creek Falls state parks.
Listed alphabetically, here are some of the best fishing spots in Marion County:
Big Cliff Reservoir
This is the re-regulating reservoir directly below Detroit Lake, on the border with Linn County.
Big Cliff has a fairly modest fishery for rainbow trout and kokanee, which have come down from a growing population in Detroit Lake.
There is an access road off Highway 22 a little more than a mile below Detroit Dam. There is some bank and primitive boat access.
Breitenbush River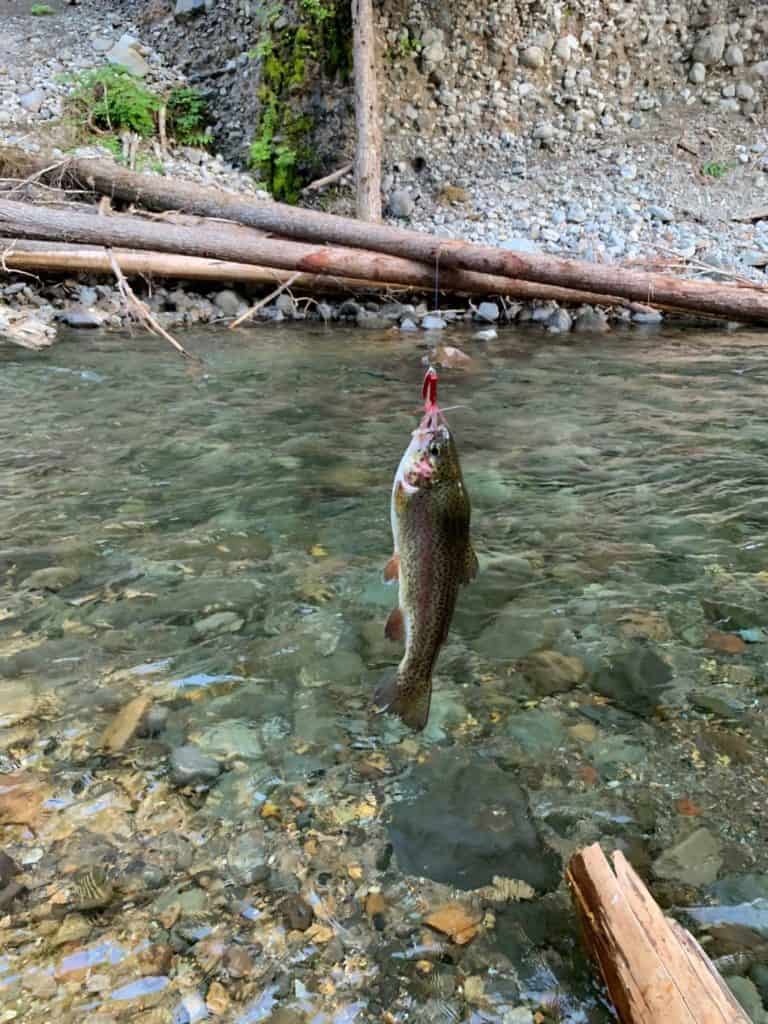 This tributary of Detroit Lake is well-stocked with hatchery rainbow trout from late May into the middle of summer.
Look for fish to be planted at access points along Breitenbush Road, such as bridges and campgrounds in the lower nine miles, between the reservoir and the hot springs.
More: Breitenbush River Fishing.
Detroit Lake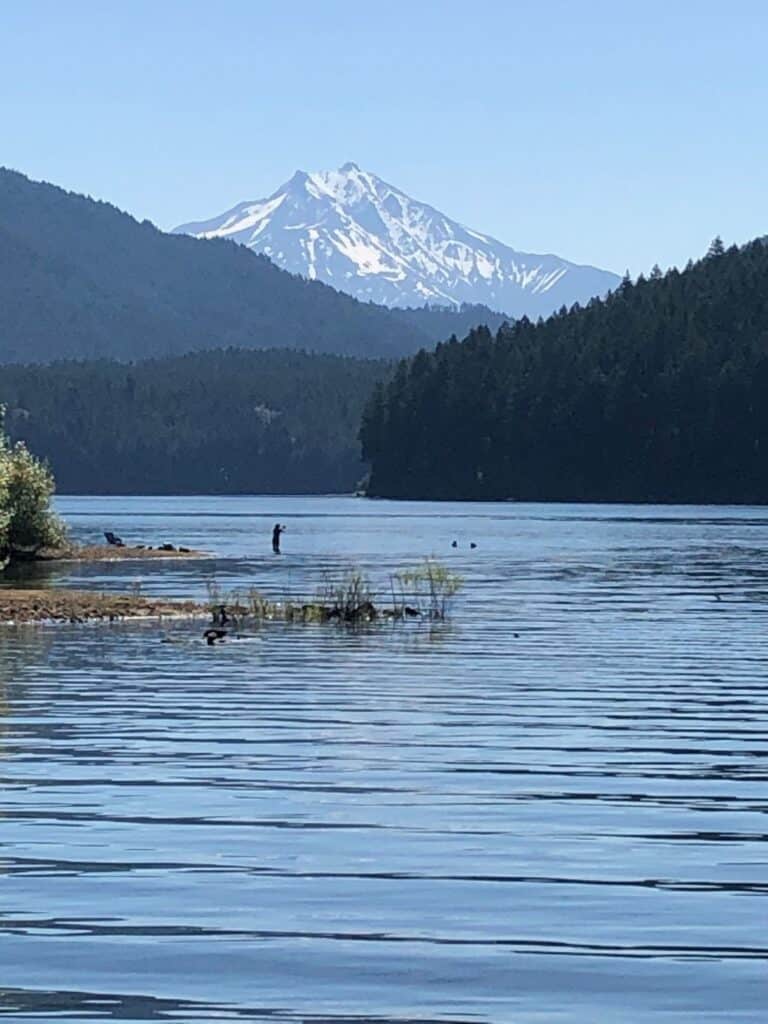 This large reservoir (shared with Linn County) on the North Santiam River is one of Oregon's most heavily stocked trout fisheries and also one of western Oregon's best kokanee fisheries.
Trout fishing is best during the stocking periods but they can be caught here year-round.
We have Detroit listed among Oregon's best rainbow trout lakes.
Kokanee fishing seems to get better every year. They are fished year-round, with late winter through late summer often the best half of the year.
There also Chinook salmon, but they must be released. There are plenty of bullhead catfish and a few other warmwater fish in here.
Most people access Detroit Lake from Highway 22 on the Marion County side of the line, which also includes the giant Detroit Lake State Park, the community of Detroit and the major marina facilities.
There is less-crowded camping and fishing access from the Linn County side as well.
More: Detroit Lake Fishing.
Marion Lake
Large for a hike-in lake, this high-mountain spot off the Santiam Pass route can offer quite good fishing for anglers willing to hike a few miles in and back.
The lake offers some stocked and wild trout, including rainbows, a few cutthroats and non-native brook trout.
Fly fishing is a good bet here, but casting lures and still-fishing with bait also are ways to back some of its tasty trout.
To reach the trailhead, take Marion Creek Road a little over five miles up from Highway 22. You'll need to be in decent hiking shape as the loop trail is a good five miles on your feet, with a loop at the lake end.
Mill Creek
This stream headwaters in the Cascade Mountain foothills east of Stayton and Sublimity and flows into the Willamette River in Salem.
It is not stocked but its mainstem and tributaries are open for modest harvest of wild trout seasonally, currently from late May through October. You can fish for trout on a catch-and-release basis the rest of the year.
Mill Creek passes through a fair bit of private property but you can find bits of access in a number of spots.
Mission Lake
This 40-acre water in Willamette Mission State Park north of Keizer has fair fishing for a variety of warmwater fish including bass, sunfish, crappie and bullhead catfish.
Pudding River
This river flows into the lower Molalla River in Clackamas County, between Canby and Wilsonville, but most of its length is in Marion County or at least shared with Clackamas County.
The Pudding is a slow-moving stream in its lower sections, more suited to the same bass and panfish species found in the Willamette River.
The mainstem and many tributary sections are closed to harvesting trout, in part to help protect spawning grounds for anadromous fish, namely steelhead.
However, several of its tributaries are open to modest trout harvests in their upper sections, above barriers that prevent steelhead migrations.
Three places to check out are Abiqua Creek above Abiqua Falls, Butte Creek above Butte Creek Falls, and Silver Creek above Silver Creek (Silverton) Reservoir.
Most trout in these river systems are native cutthroat trout. There might be some rainbows in there as well.
Know that all of these streams currently are restricted to using only artificial flies and lures. A reminder that soft plastic lures are regulated as bait and may not be used in these streams, even for bass and panfish.
St. Louis Ponds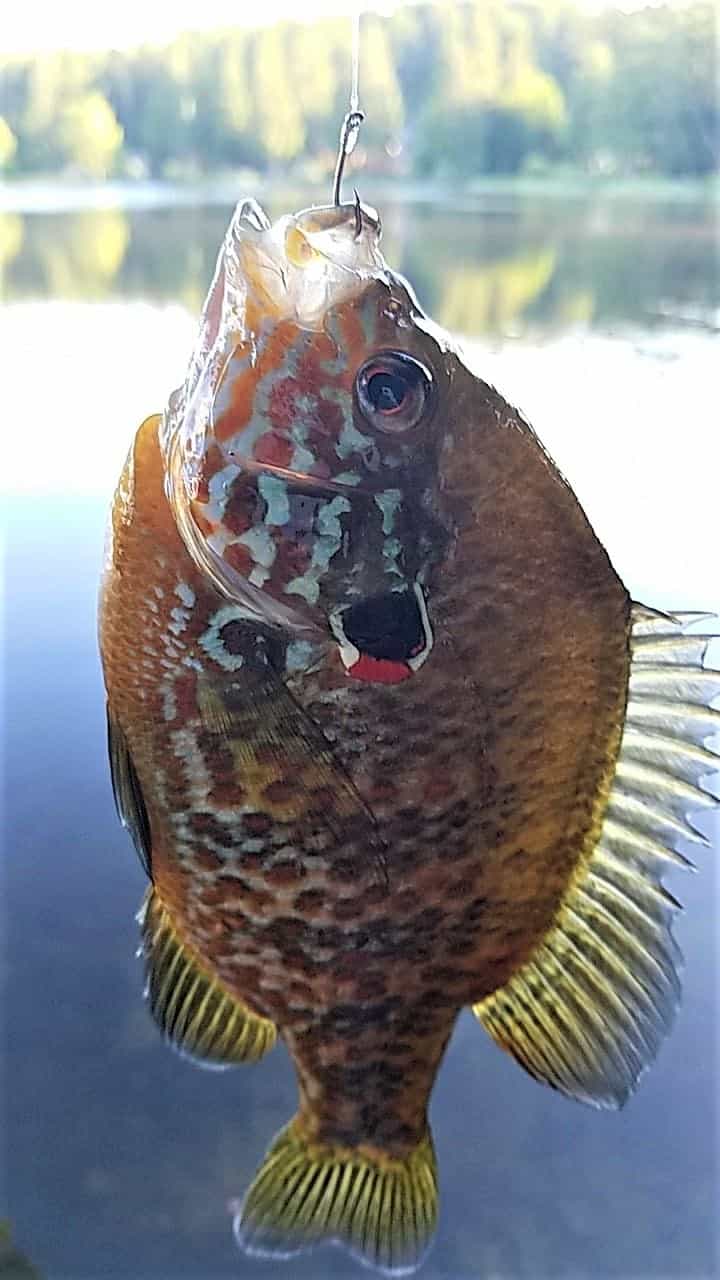 This complex of seven oddly shaped artificial ponds is popular with anglers for its wide variety of warmwater fish and periodic plantings of hatchery rainbow trout during the cool season.
Typically ODFW stocks the pond closest to the parking lot starting in mid-winter and continuing through much of spring before halting trout plants during warm weather. Stocking might also occur in early fall.
Besides trout, the ponds contain multiple species of crappie, sunfish, catfish (including channels) and largemouth bass.
There are restricted limits on several species.
Recently fixed up, with nice picnic facilities, this is a great place to take kids and inexperienced or disabled anglers.
Read: Fishing at St. Louis Ponds.
Santiam River
The mainstem Santiam (shared with Linn County) isn't as popular for fishing as its two main forks, but the salmon and steelhead all pass through here and a fair number of summer steelhead are caught in late spring and early summer.
Smaller numbers of spring Chinook salmon and winter steelhead also are taken.
There can be good fishing for smallmouth bass in the lower river during the summer.
Also read: Santiam River Fishing.
Santiam River, North Fork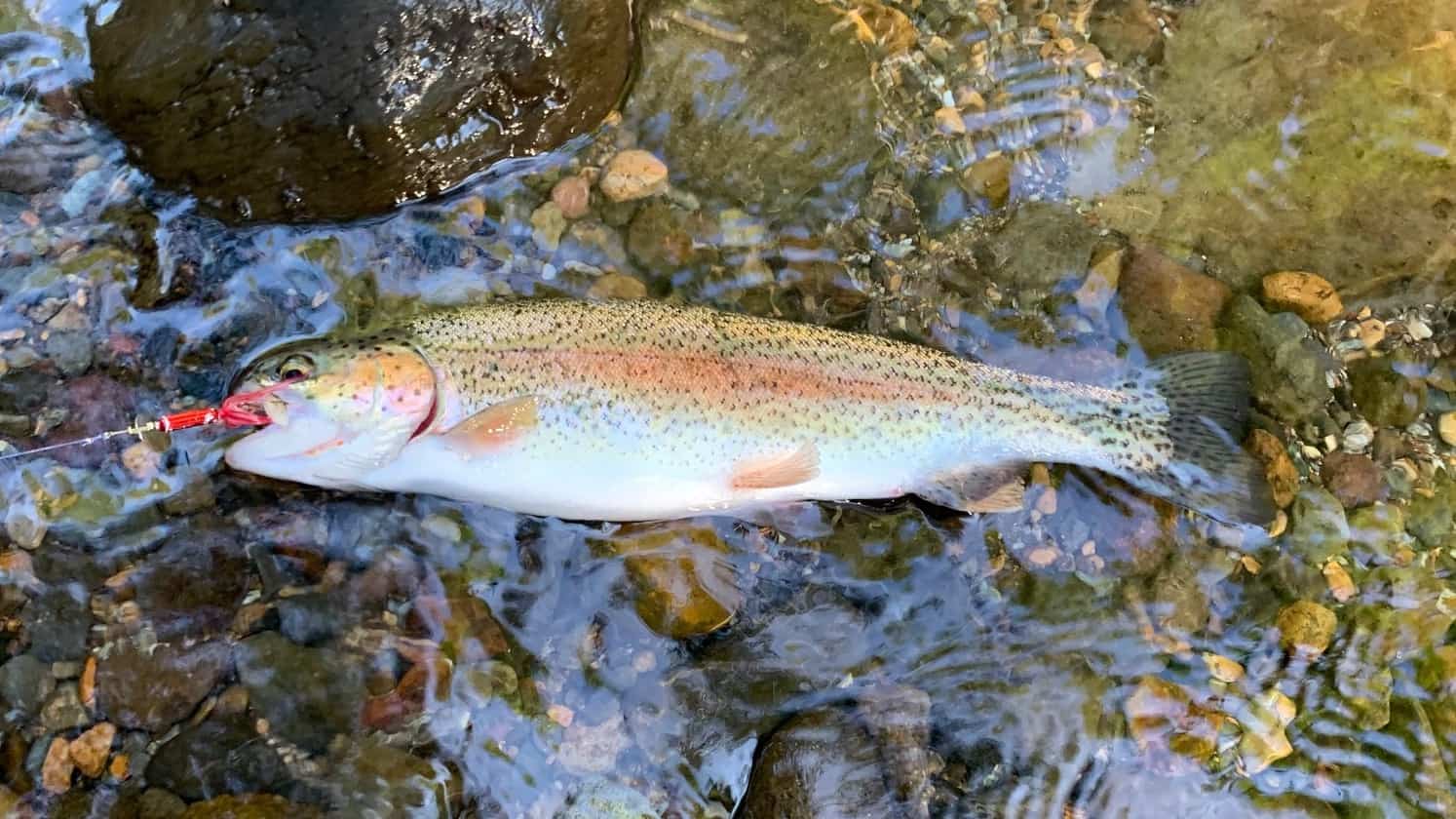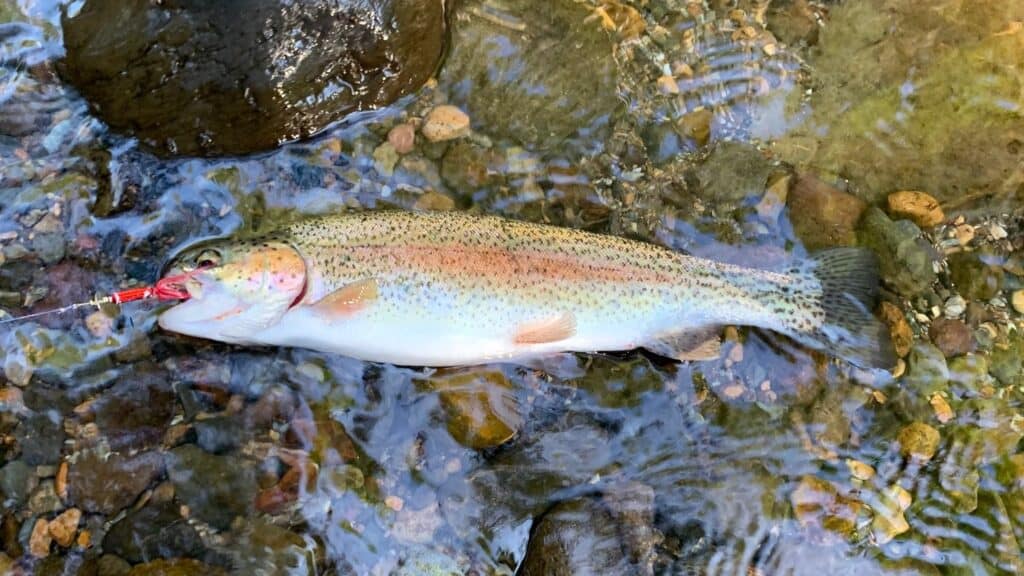 The lower river below Big Cliff Dam is one of the Willamette Valley's favorite salmon and steelhead rivers.
Summer steelhead are the biggest fishery, with an extra generous bag limit. It gets started about May and peaks in late spring to early summer, with opportunities continuing into fall.
The Little North Fork, a tributary that enters near Mehama, also produces some summer steelies. Read more about the valley's best steelhead fisheries here.
The North Fork also has a fairly good spring Chinook fishery.
There are much smaller fisheries for coho salmon and winter steelhead.
The river below the dam also has a pretty good but relatively unheralded fishery for mostly wild trout (must be fin-clipped to keep here). Fly anglers do well here.
The river above Detroit Lake is regularly stocked with hatchery rainbow trout from late spring into the first half of summer.
The stocking occurs from the Idanha area upstream at least 15 miles to around Downing Creek at bridges, campgrounds and other spots with easy truck and angler access to the stream.
Also read: Santiam River Fishing.
Silver Creek Reservoir
This small reservoir (65 acres), also known as Silverton Reservoir, serves as nearby Silverton's water supply and is occasionally stocked with good numbers of hatchery rainbow trout.
Watch the ODFW's recreation report (follow the link below) for recent plantings for the best shot at them.
There also are bullhead catfish.
To reach the reservoir, take Highway 214 toward Silver Creek Falls State Park a couple miles out of Silverton, then turn onto Silver Lake Drive to the park, where there is access for bank angling and small boats (no gas motors).
Read: Silver Creek Reservoir Fishing.
Turner Lake
This former borrow pit is a relatively new seasonal trout fishery with a modest year-round population of warm-water fish such as bass and bluegill.
Recently, ODFW has made the lake a regular stop for its trout stocking trucks, with good numbers of trout delivered one or more times in the late winter or spring.
It may also be stocked again in the fall, so keep an eye on stocking schedules and the weekly fishing report.
The artificial lake is located on the north side of the Turner community, which in turn is nine miles southeast of Salem.
It is partially surrounded by private residences, but there is bank and boat access on the southwestern bank just off Turner Road SE. You can use an electric motor or human-powered watercraft, which will help you reach more fish, but gas motors are prohibited.
Walling Pond
The Walling family allows anglers to fish in this former gravel pit for the rainbow trout regularly planted by ODFW.
Like nearby Walter Wirth Lake, this 8-acre pond is regularly stocked from fall through spring, although with fewer fish than the larger Wirth.
There also are largemouth bass and bullhead catfish.
Read: Fishing at Walter Wirth Lake and Walling Pond.
Walter Wirth Lake
Editor's Note: At last check, ODFW has suspended trout stocking at this pond due to a large encampment of homeless people in the park. We suggest you either avoid the area or at least check ahead with ODFW's weekly fishing report (linked below) for updated information.
This 20-acre pond on the southwest side of the I-5 and Highway 22 interchange, in Cascades Gateway City Park, is popularly fished for trout stocked here in good numbers from fall through spring.
This is one of the valley's best winter trout fisheries, getting fish even when many other waters have little going on. Some larger fish also are planted.
It also has a diverse population of bass and panfish.
In the same park, just north of Walter Wirth, 7-acre Bluegill Lake isn't stocked with trout but has a moderate fishery for typical warmwater species.
Click here for more on Walter Wirth.
Willamette River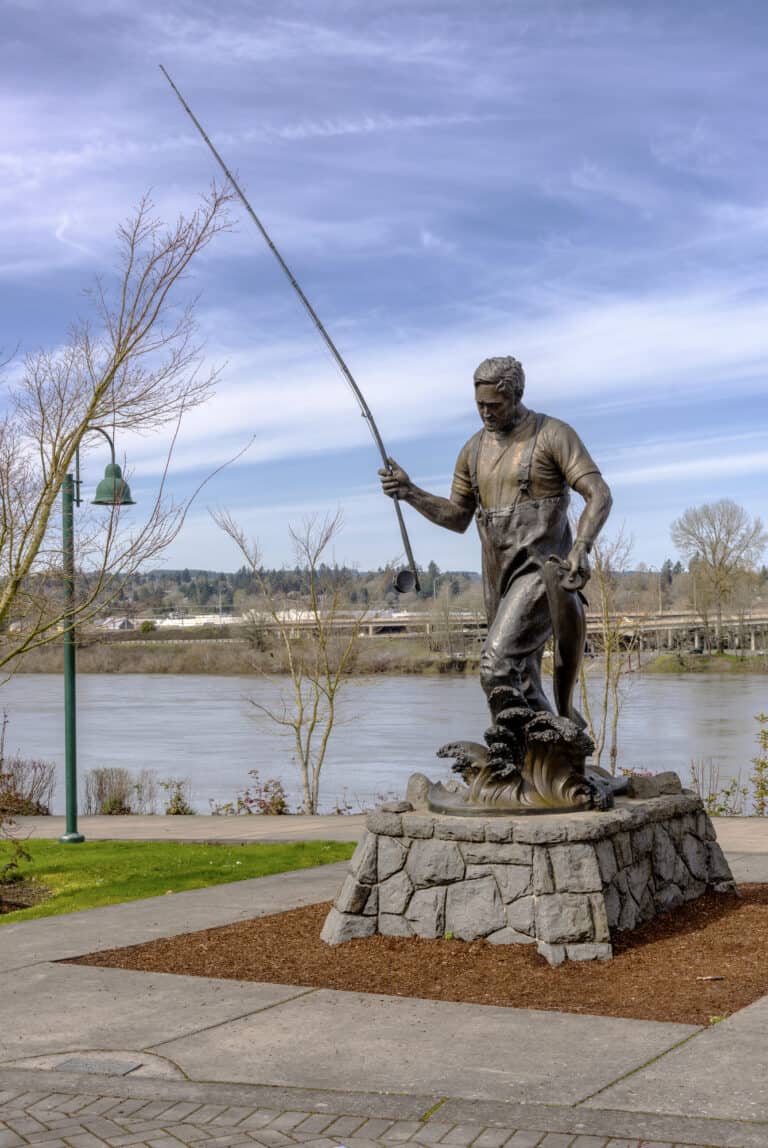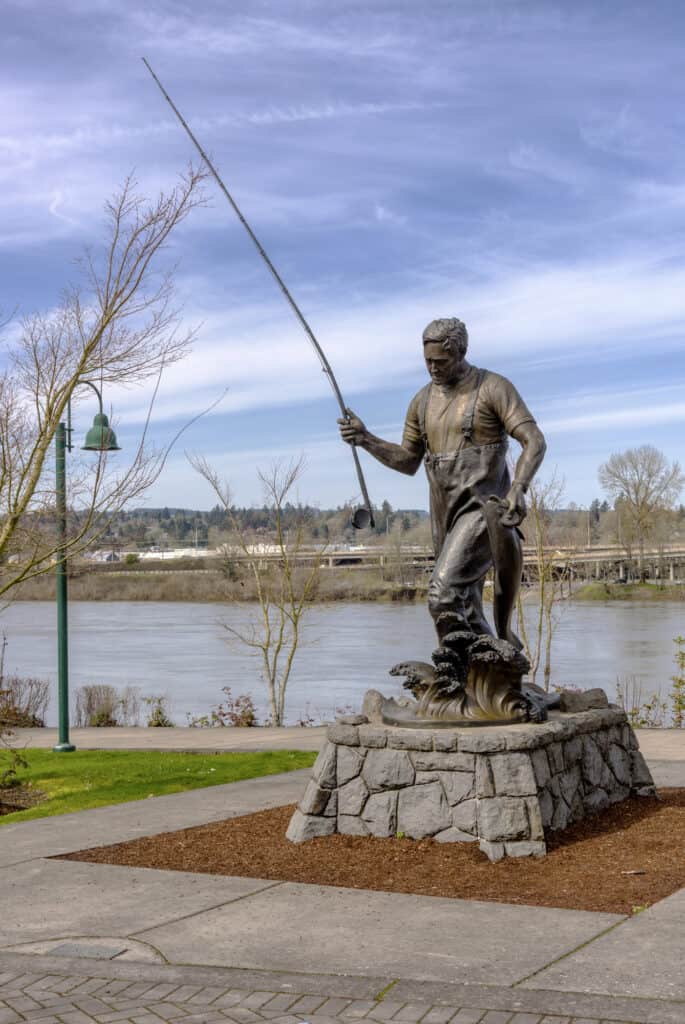 This part of the Willamette River is often fished for warmwater species, including smallmouth bass, largemouth bass and panfish including crappie.
Smallmouth often favor rocky structure and will hold in current, while the largemouth bass and other species are often in backwater areas such as the sloughs around Salem's Minto-Brown Island Park.
Salmon and steelhead can be caught in this section, especially spring Chinook salmon and summer steelhead passing through from mid-spring into early summer.
Near the mouth of the Santiam River is a good spot because many salmon and steelhead turn there.
Also look for coho salmon to congregate at the Santiam mouth in late September and October, with many of those silvers turning up the Santiam.
There is a launch nearby in Buena Vista (Polk County).
To learn more about fishing opportunities in western Oregon's biggest river, start with Willamette River Fishing.
Wilsonville Pond
This is a 6-acre warmwater fishery located just west of I-5 south of Wilsonville.
There are largemouth bass and bluegill in the pond, and if you're lucky you could land a large channel catfish.
Note the special limits for bass and channel cats.
There are a couple of small parking areas along Boones Ferry Road, reached from the north at the Charbonneau exit or from the south via Arndt Road.
Woodburn Pond
This is a warmwater fishery located just I-5 on the north side of Woodburn.
Fishing here is for largemouth bass, bluegill, crappie and the occasional channel catfish.
Note the restrictive limits for both bass and channel catfish.
From Crosby Road just east of I-5, turn north on Edwin Road to reach the 14-acre pond.
Aquatic weeds can be a warm-season problem.
Fishing in Neighboring Counties
Clackamas County: To the north, excellent salmon and steelhead fishing in the Clackamas and lower Willamette rivers, plus lots of trout, smallmouth bass, shad and more.
Wasco County: To the northeast, includes fantastic sections of the Deschutes River's great trout and summer steelhead fisheries plus some excellent Columbia River salmon, sturgeon, smallmouth bass and walleye water.
Jefferson County: To the southeast, includes Lake Billy Chinook's great kokanee and bull trout fisheries plus trout meccas like the Deschutes (part) and Metolius rivers.
Linn County: To the south, great Willamette Valley salmon and steelhead fishing, plenty of trout and some of Oregon's best kokanee fishing at Green Peter Reservoir.
Polk County: To the west, small streams with wild cutthroat trout and one with stocked rainbows.
Yamhill County: To the northwest, ponds well-stocked with rainbow trout and smallmouth bass and other warmwater fish in the Yamhill and Willamette rivers.
More Fishing Resources:
In addition to other sources, the following websites were very helpful while compiling these county fishing pages, and the information there is valuable to all Oregon anglers.
For current regulations, trout stocking, weekly angling reports and more, find links on the Oregon Department of Fish and Wildlife's Fishing Resources Page.
For boating information about these waters, see the Oregon State Marine Board's launch locator map.
Return to Best Fishing in Oregon page
Oregon Resources
ODFW Weekly Fishing Report
ODFW Trout Stocking Schedule
Oregon Fishing Regulations
National Weather Service