Clackamas County stretches from the wealthy suburbs of Lake Oswego and West Linn at low elevation to the summit of Mount Hood, Oregon's tallest mountain. In between are plenty of great fishing rivers and lakes.
Some of the favorite destinations here include the Clackamas River watershed's excellent salmon, steelhead and trout fisheries, plus productive sections of the Willamette and Sandy rivers.
The goal of this article is to introduce anglers to some of the better fishing spots in Clackamas County.
For more details, follow the links you will find within this article and at the bottom of this page that will take you to more detailed articles on our website. Included below are links to the best fishing spots in neighboring counties.
The waters listed below are regulated under the Oregon Department of Fish and Wildlife's Willamette Zone.
Note that you'll need a Columbia River endorsement (in addition to the appropriate license and tag) to fish for salmon, steelhead and sturgeon in the rivers.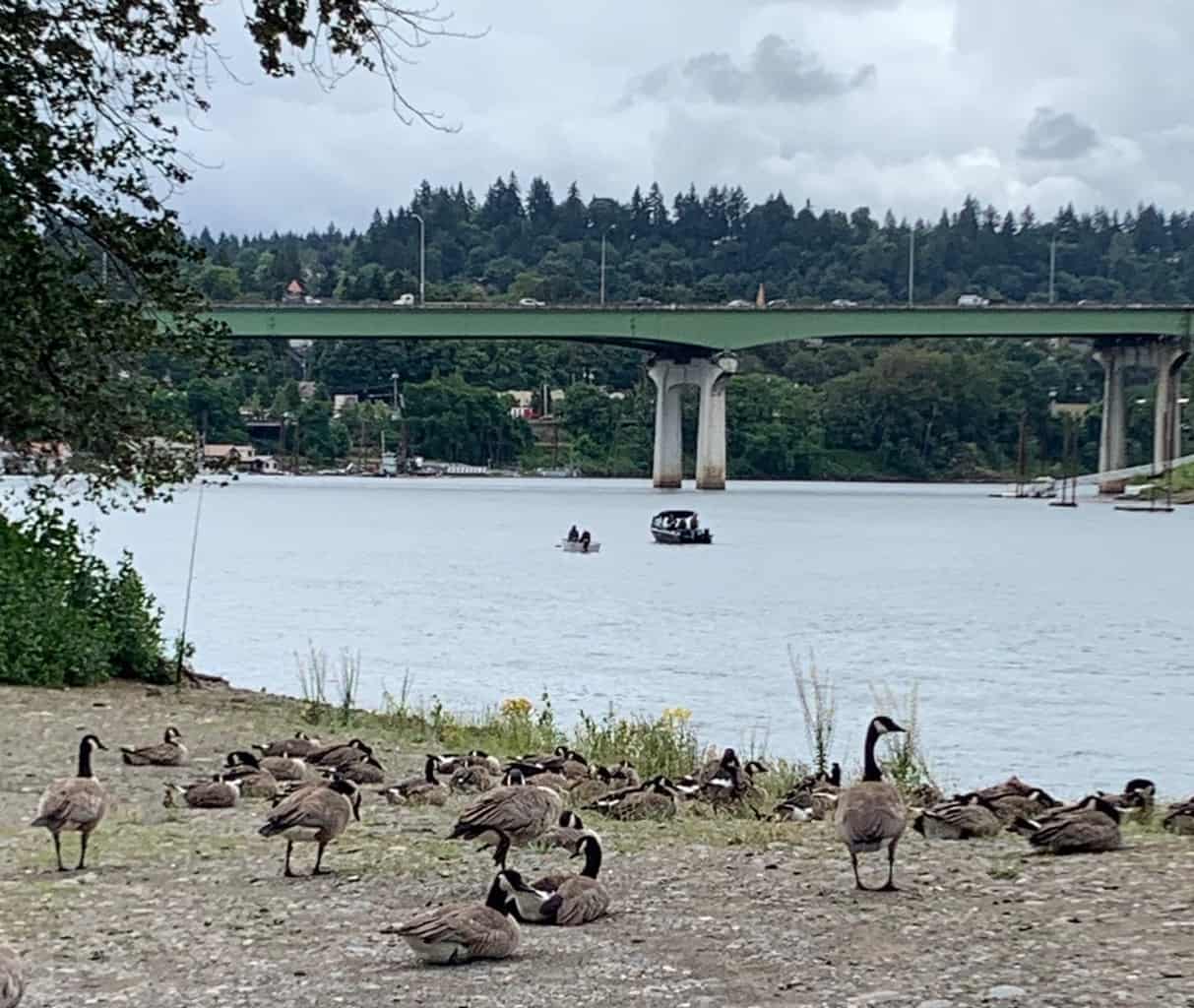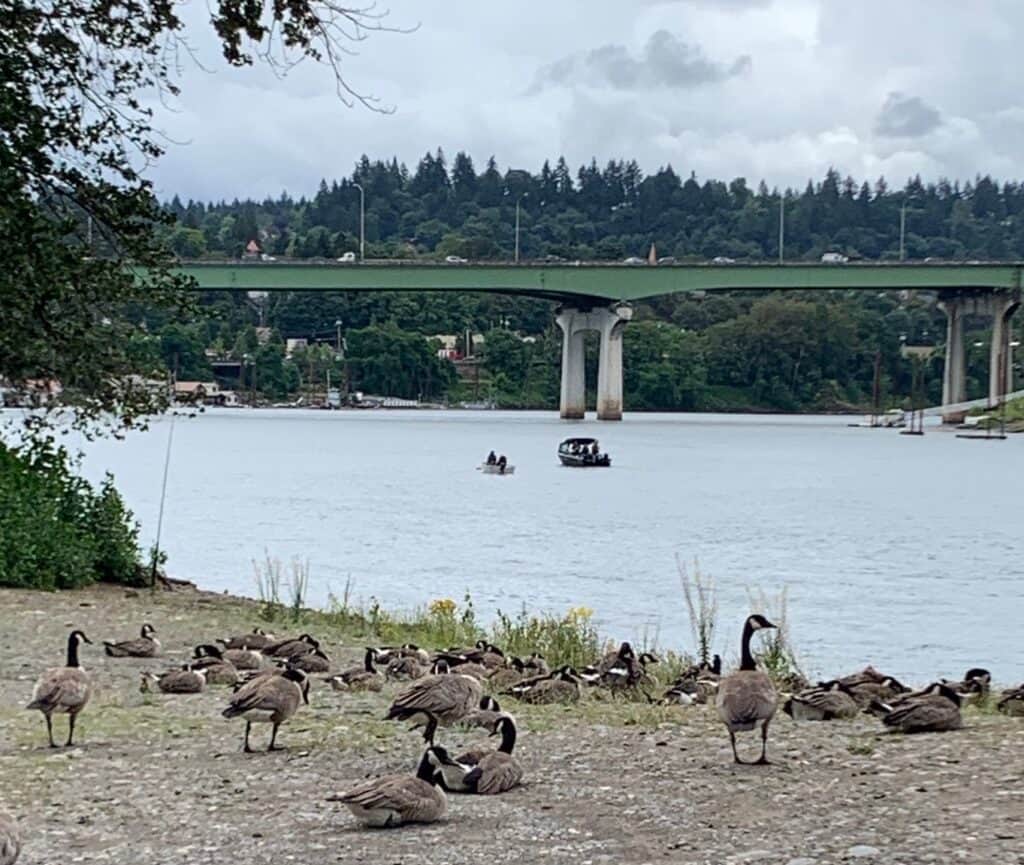 Incorporated cities in Clackamas County are Barlow, Canby, Damascus, Estacada, Gladstone, Happy Valley, Johnson City, Lake Oswego, Milwaukie, Molalla, Oregon City, Rivergrove, Sandy, West Linn, most of Wilsonville and part of Tualatin.
Unincorporated communities and notable areas here include Barton, Boring, Brightwood, Bull Run, Carver, Charbonneau, Clackamas, Eagle Creek, Government Camp, Marylhurst, Oak Grove, Rhododendron, Ripplebrook and Sunnyside.
If you live in any of those areas, these are among the closest fishing spots to your home, but also check out the Fishing in Neighboring Counties section at the bottom of this article for more great places to catch fish near you.
Listed alphabetically, here are some of the best fishing spots in Clackamas County:
Canby Pond
This 1-acre pond in Canby City Park is open for young anglers (age 17 or under) or anyone with a disability who possesses a special ODFW permit.
The pond is stocked with hatchery rainbow trout, typically in March and April, and also has some warmwater fish.
This is a great place for a family picnic when the kids want to go fishing.
See: Canby Pond Fishing.
Clackamas River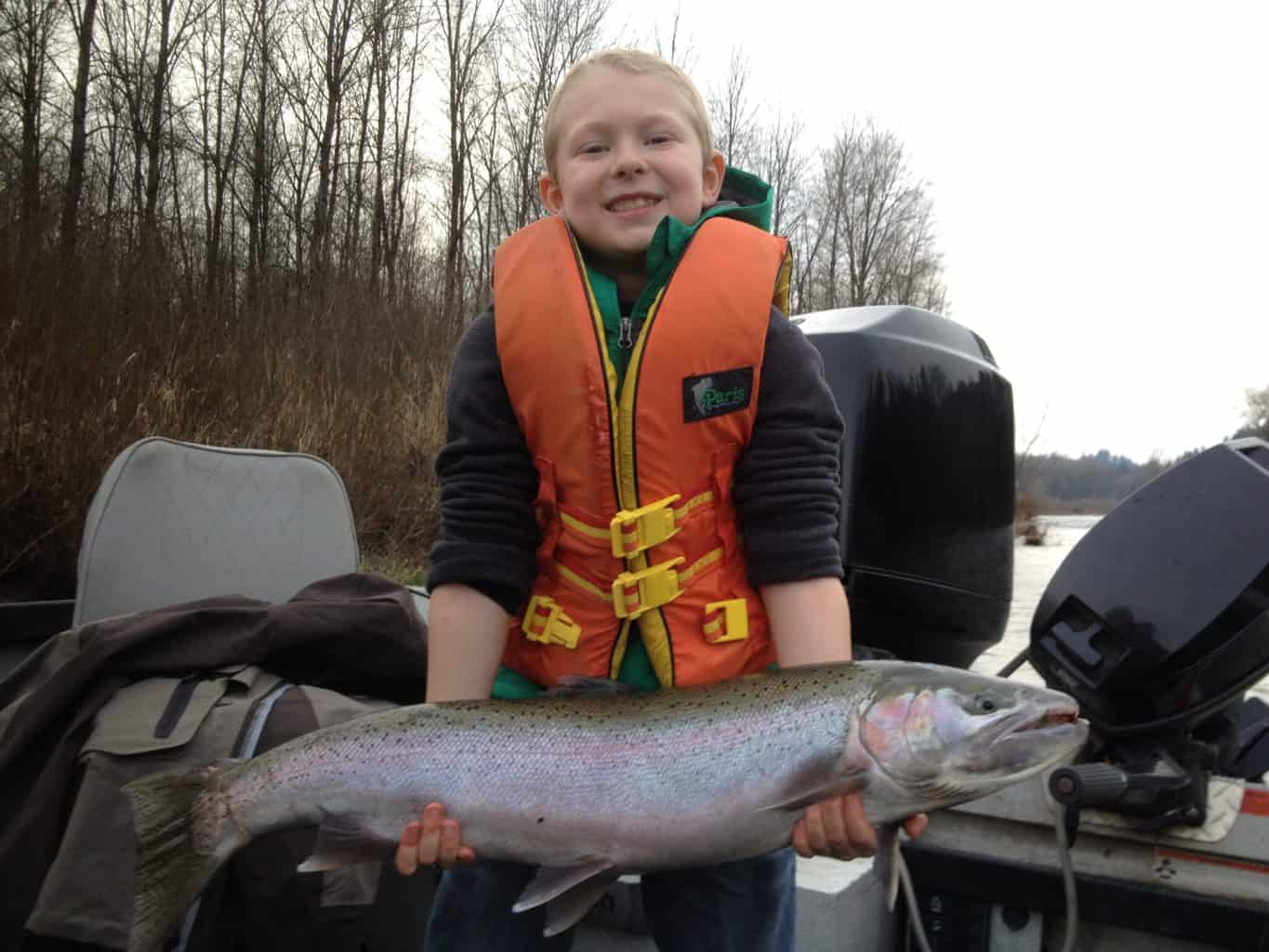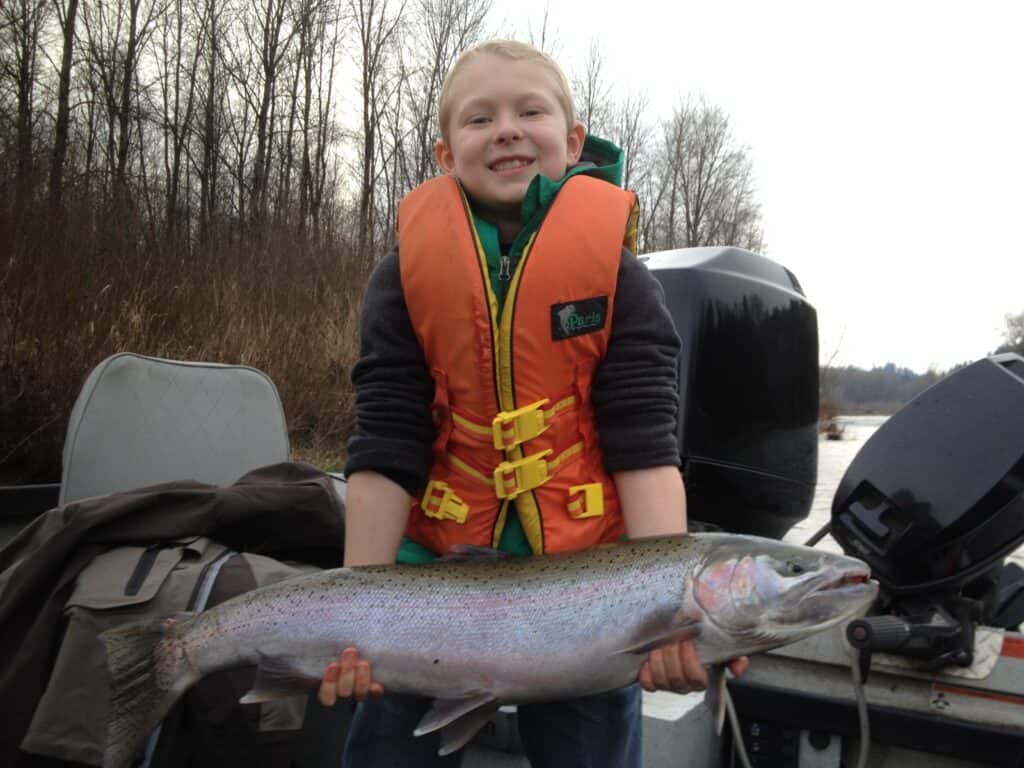 The lower end of the river, below the hydroelectric dams near Estacada, is one of the Portland area's primary fisheries for steelhead and also has a good spring Chinook salmon run.
The two major steelhead runs are good enough here to land on our Best Winter Steelhead Fishing Near Portland and Best Summer Steelhead Fishing Near Portland listings.
You also can learn more about when and where to fish these runs with Clackamas River Steelhead Fishing.
Spring Chinook fishing typically starts ramping up in May and peaks in June. If you want to know more details about where to catch springers in the Portland area, click here.
There are smaller fisheries for fall coho and fall Chinook salmon.
Trout are no longer stocked in the Clackamas and its tributaries, but there are good options for catch and release fishing for native cutthroat and rainbow trout, and catch and keep fishing for non-native brook trout (and the occasional brown trout) in the upper system, such as the Oak Grove Fork.
For our full overview of this great river, read Clackamas River Fishing.
The "Clack" is one of the Portland area's top fishing spots.
Eagle Creek
This tributary of the lower Clackamas River has fair and occasionally very good fishing for hatchery winter steelhead from about December to February.
This is on our list of go-to small winter steelhead fishing streams when big rivers like the Clackamas are too high to fish.
Bank access spots include Bonnie Lure or Eagle Fern parks, or you can hike in to fish below the hatchery deadline.
Eagle Creek also has often modest fisheries for spring Chinook salmon and fall coho salmon, both hatchery produced runs.
Check the regulations for several special fishing rules on Eagle Creek.
Estacada Lake
The lowest of three Clackamas River hydroelectric reservoirs is at Estacada and is primarily fished for rainbow trout that are stocked for the late May opener and through late summer.
Salmon and steelhead (adults and smolts) also pass through.
Boat and bank access (including an ADA-accessible platform) are in the lower reservoir in Milo McIver State Park, reached from South River Lake Road.
Read: Estacada Lake Fishing.
Faraday Lake
This is the smallest (25 acres) of the Clackamas River reservoirs in the Estacada area. Like the others, it is primarily fished for stocked rainbow trout.
This water (unlike Estacada or North Fork reservoirs) is open year-round, but fishing will be best during the stocking season, usually May to August or September.
Read: Faraday Lake Trout Fishing.
Harriet Lake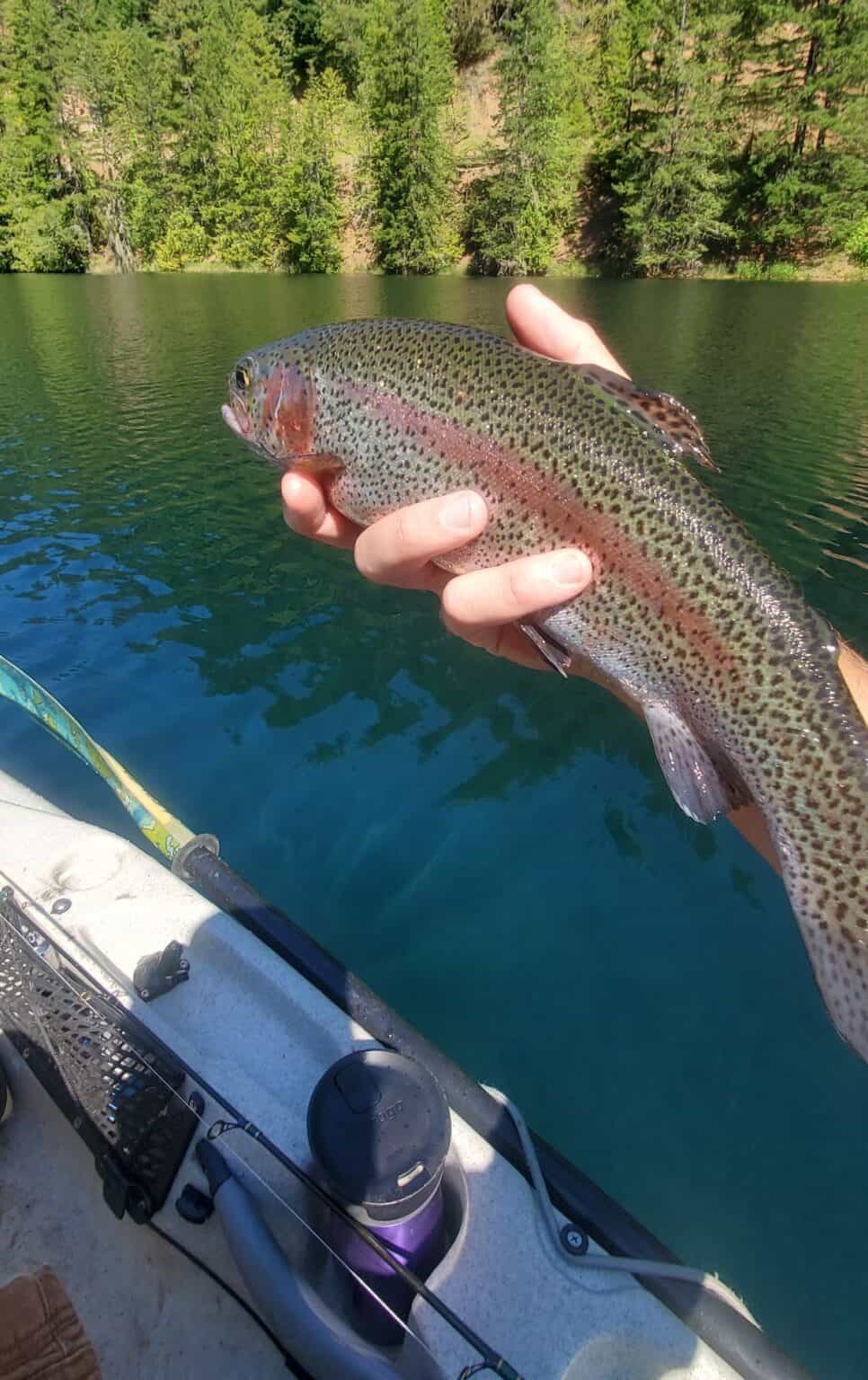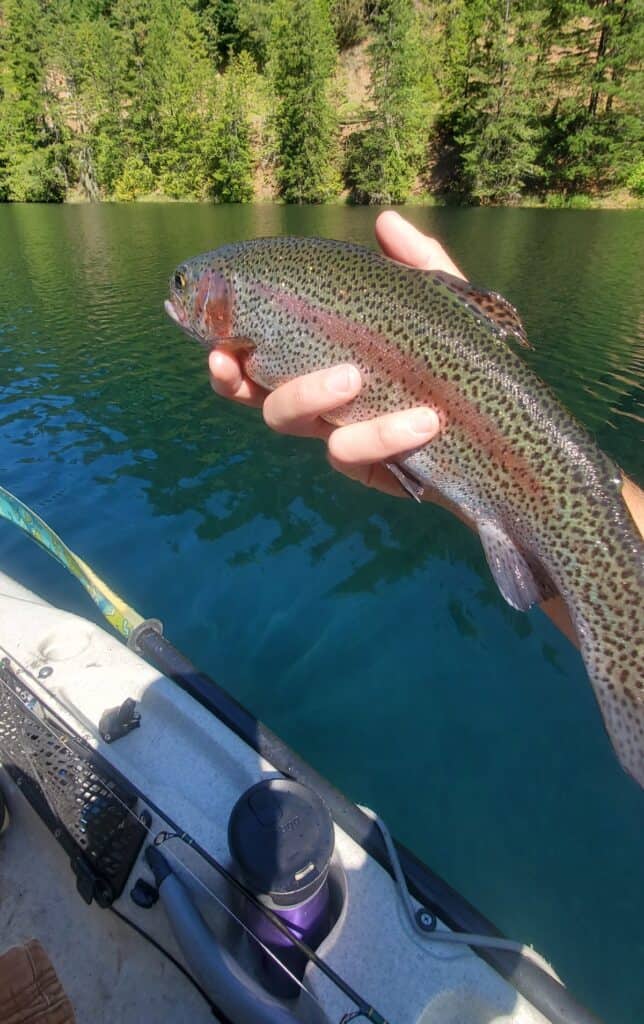 This is a small reservoir on the Oak Grove Fork of the Clackamas River, about a 45-minute drive upriver from the Estacada area.
Harriet Lake is very well stocked with rainbow trout from mid-spring to late summer, including some trophy-sized fish.
There also are brown trout and brook trout in the reservoir (and in the Oak Grove Fork upstream), and the browns have the potential to be trophy-sized fish.
Read: Harriet Lake Trout Fishing.
Mirror Lake
This is a pleasant hike-in lake a little west of Government Camp with spectacular views of Mount Hood and good numbers of willing rainbow trout.
Mirror Lake is on the small side but is among Oregon's nice little discoveries for fly fishing in high mountain lakes.
Molalla River
This good-sized Willamette River tributary flowing through the cities of Molalla and Canby is primarily managed for wild fish, but it can be quite good for catch-and-release winter steelhead (with an occasional fin-clipped stray available to keep) during the late winter.
Note the short season (July and August) when any steelhead can be kept, which at that time of year primarily would be hatchery strays from other rivers with hatchery summer steelhead runs.
Some years there also is a modest spring Chinook salmon harvest, which occurs primarily when bait-fishing is allowed from mid-May to mid-July.
North Fork Reservoir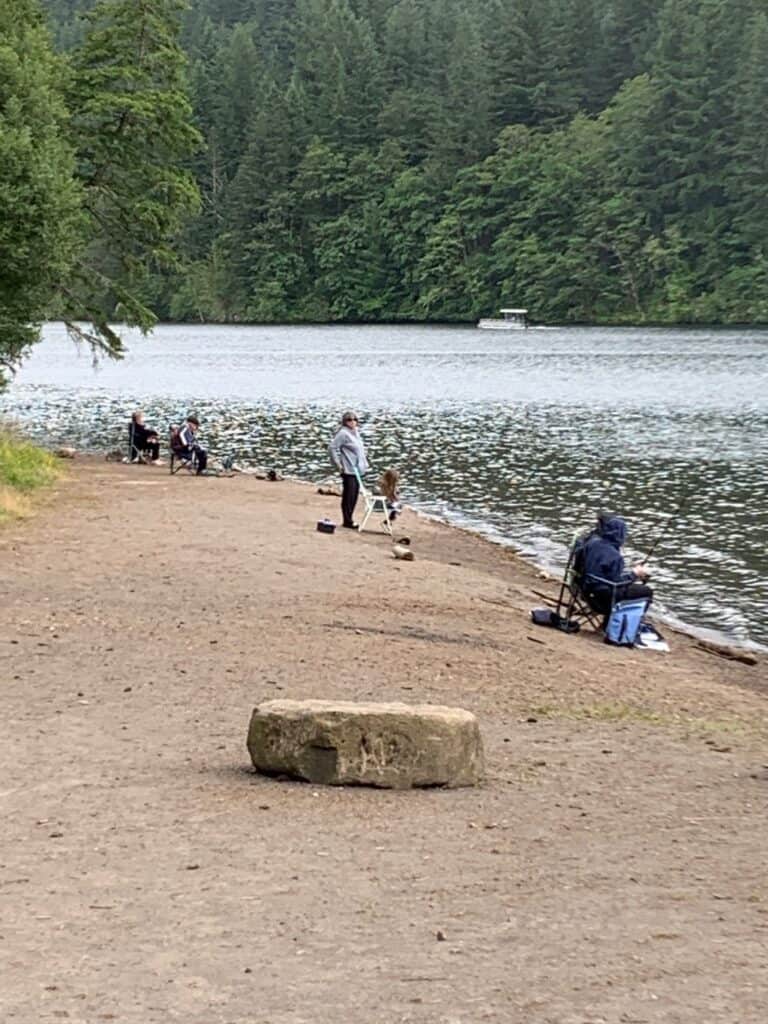 During the hot summer months, this 350-acre Clackamas River reservoir just past Estacada is the most heavily stocked trout fishery in the northern Willamette Valley.
Fishing starts the fourth Saturday of May and continues with good catches pretty close to the closure at the end of October.
Bank access spots include stocking areas near the Faraday boat ramp, the North Fork Clackamas parking area (look for the bridge) and especially in the upper reservoir around PGE's Promontory Park.
Small Fry Lake is also in the park, and Estacada and Faraday lakes are just down river near Estacada, and all provide additional opportunities to catch stocked trout; see separate entries on this page.
More: Trout Fishing at North Fork Reservoir
Pudding River
This river flows into the lower Molalla River in Clackamas County, between Canby and Wilsonville, although much of its length is in Marion County.
The Pudding is a slow-moving stream in its lower sections, more suited to the same bass and panfish species found in the Willamette River.
The mainstem and many tributary sections are closed to harvesting trout, in part to help protect spawning grounds for anadromous fish, namely steelhead.
However, several of its tributaries are open to modest trout harvests in their upper sections, above barriers that prevent steelhead migrations.
One of those tributaries is Butte Creek, which forms the boundary between Clackamas and Marion counties and which has harvest opportunities for wild trout in its upper reaches above Butte Creek Falls.
The section of Butte Creek above the falls flows through a fair bit of Santiam State Forest, making access relatively unrestricted with some access from Wilson Road.
You can find more Pudding tributary fishing options a little farther south in our Marion County article linked below.
Most trout in these river systems are native cutthroat trout. There might be some rainbows in there as well.
Know that all of these streams currently are restricted to using only artificial flies and lures. A reminder that soft plastic lures are regulated as bait and may not be used in these streams, even for bass and panfish.
Sandy River (upper)
The cold and frequently silty Sandy River is a very popular river for steelhead and salmon fishing.
The Clackamas County section includes popular spots near the city of Sandy, including Dodge Park and near the Sandy Hatchery.
The winter steelhead run is one of the best around Portland, with fish coming in by December but offering even better fishing in late winter.
A decent summer run of hatchery-marked steelhead is typically putting out most of its catch around May and June.
Sandy River spring Chinook salmon fishing is popular from May through July, with many of the fish taken upstream from Revenue Bridge to the mouth of the Salmon River by July.
There is a fair fishery for coho salmon in the fall, usually peaking in October, with many anglers keying below the hatchery deadline for these returning silvers.
The Sandy is on our Portland area lists for best overall fishing spots, summer steelhead fishing, winter steelhead fishing, spring Chinook fishing and coho salmon fishing.
For an overview of different fisheries here, try Sandy River Fishing.
Shorty's Pond
This 4-acre pond in Ivor Davies Nature Park in city of Molalla at times has been stocked with hatchery trout and hosted family fishing events, but watch ODFW's stocking schedule.
Walk in from the trail near the football stadium.
Bear Creek can also be fished for hatchery trout above the pond.
Small Fry Lake
This is really a small pond within PGE's Promontory Park, adjacent to North Fork Reservoir just up the Clackamas River from Estacada.
The pond is regularly stocked with hatchery trout during the season and is regulated for young anglers (17 and under).
More: Small Fry Lake Fishing
Timber Lake
This is a smallish lake located in the Ripplebrook area of the upper Clackamas River, about a half hour drive up Highway 224 east of Estacada.
The pond is occasionally stocked with rainbow trout and will provide excellent bank fishing shortly after those plantings.
Shorty's pond is located just west of the old Ripplebrook Ranger Station on the north side of the Road. Take Timber Lane into the complex on the north side of the highway.
Timothy Lake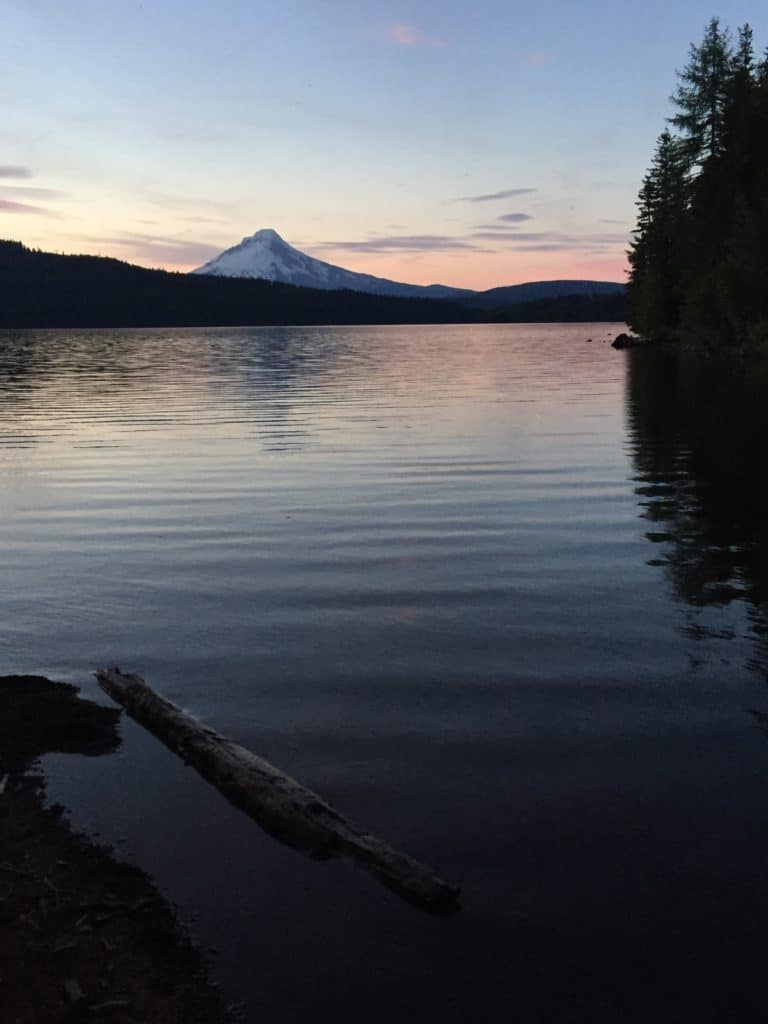 This is a good-sized reservoir, also known as Timothy Meadows, in the upper Clackamas River drainage south of Mount Hood.
There are multiple fisheries here, with the most common catch being the many thousands of rainbow trout stocked here during the spring and early summer.
Timothy also has a reproducing population of brook trout (no size or number limits on those non-natives).
And then there are the schools of kokanee, which have a 25-fish limit but tend to run small here and attract less attention than better known kokanee fishing lakes in Oregon.
There is excellent boat and bank access, including ADA access.
Read: Timothy Lake Fishing.
Trillium Lake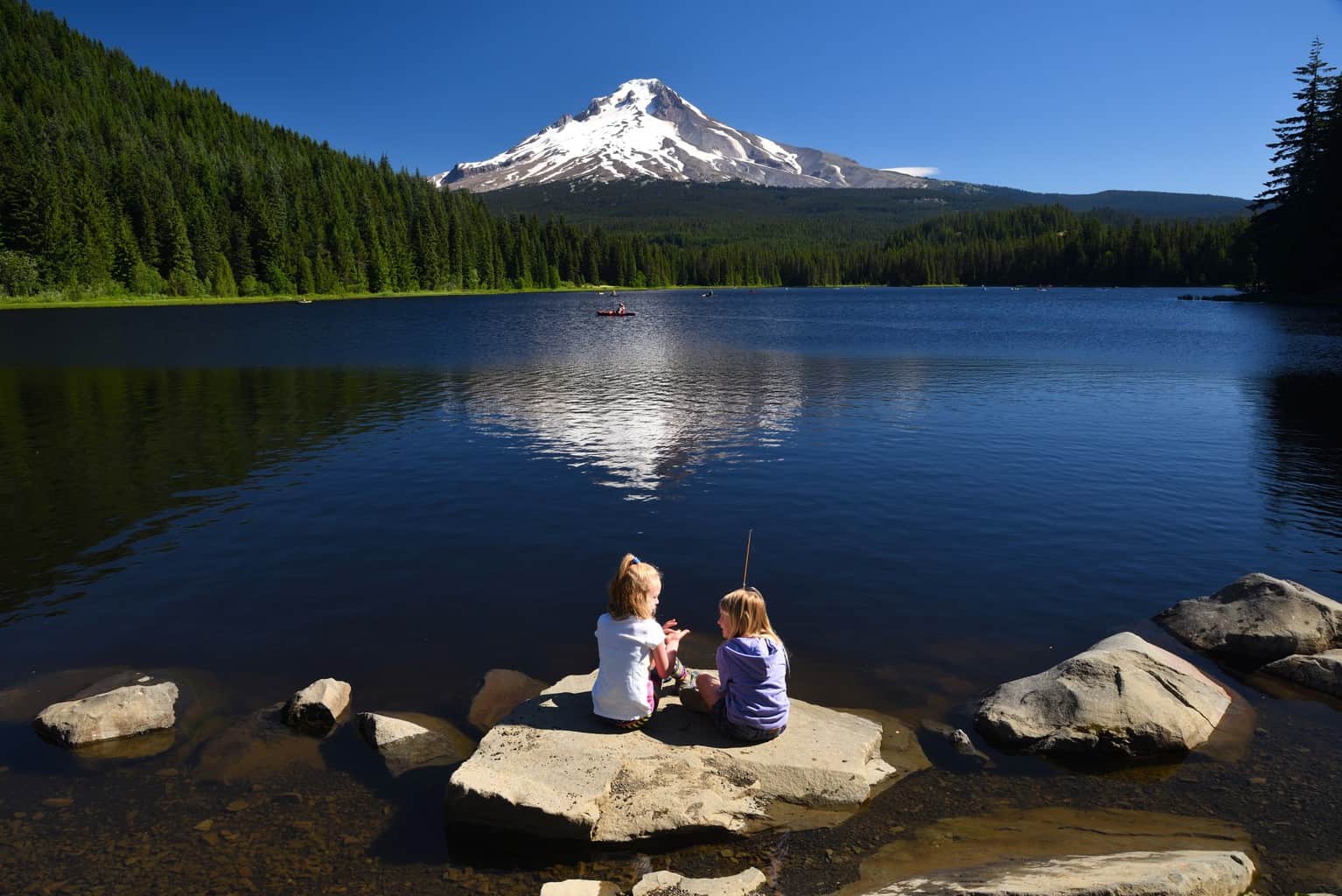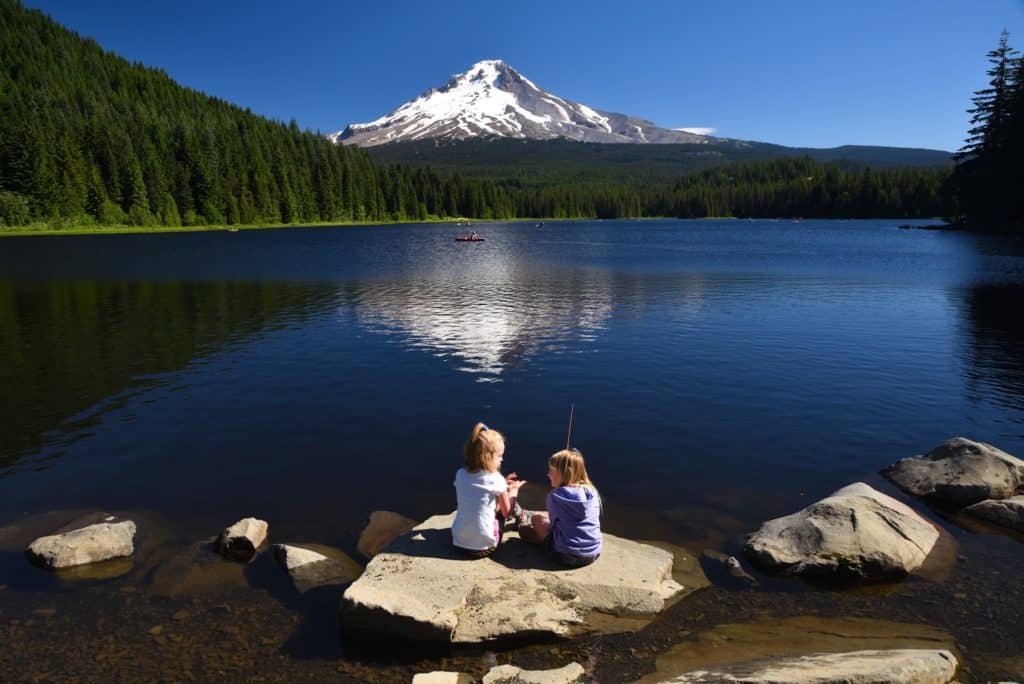 A very pretty and popular spot reflecting nearby Mount Hood.
Anglers who come to this 60-acre lake are attracted by abundant rainbow trout periodically stocked starting in late spring or early summer.
In addition to pan-sized trout, ODFW plants a fair number of trophy trout here.
Trillium Lake is located southeast of Government Camp, not far off Highway 26.
Read: Trillium Lake Fishing.
Willamette River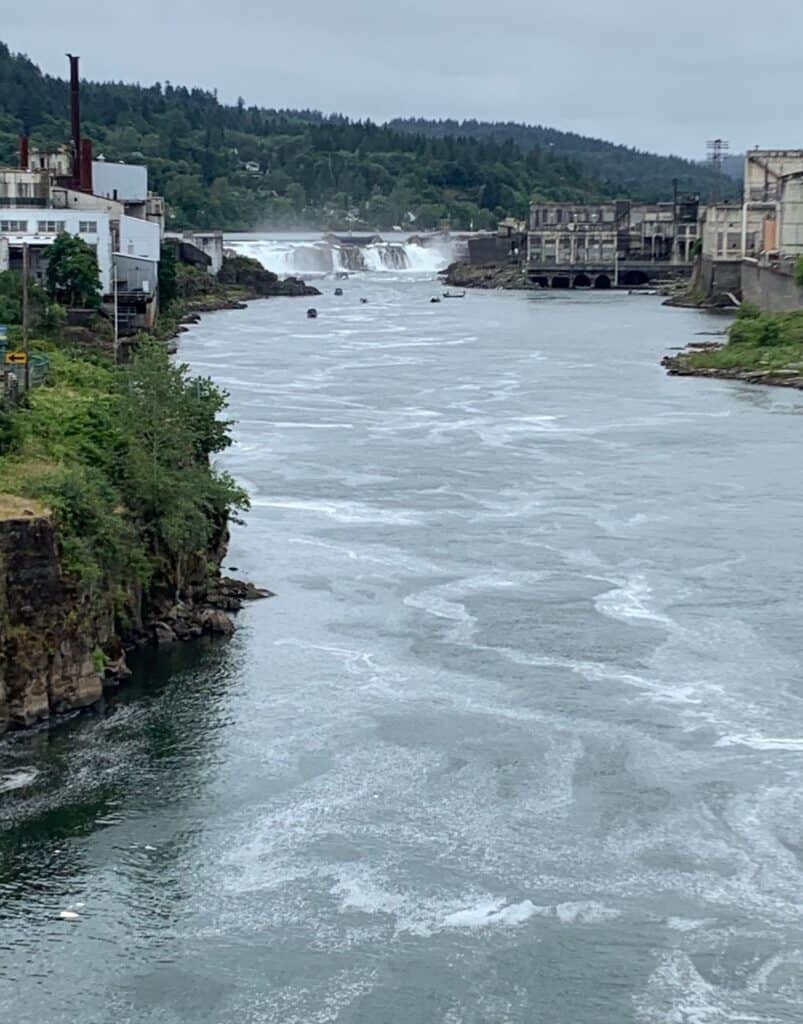 Clackamas County's stretch of this long river is one of the best fishing sections on this large river.
The most anticipated fishery is for spring Chinook salmon, which will see anglers trying their luck as early as February. But catches will be far better once spring truly hits in late February into May, with April often the peak month.
The area from Willamette Falls down to Milwaukie is among the best for these tasty and hard-fighting salmon.
Learn more about Portland-area springer fishing here.
Other salmon runs are less popularly fished, although some anglers have luck catching coho salmon off the mouth of the Tualatin River in the West Linn area above the falls.
Anglers plunking near the mouth of the Clackamas River (including Meldrum Bar) welcome salmon but often have more success with steelhead.
The river below the falls and at the Clackamas mouth is very good for shad fishing from late May through June.
Smallmouth bass angling can be quite productive both above and below the falls around rocky structure.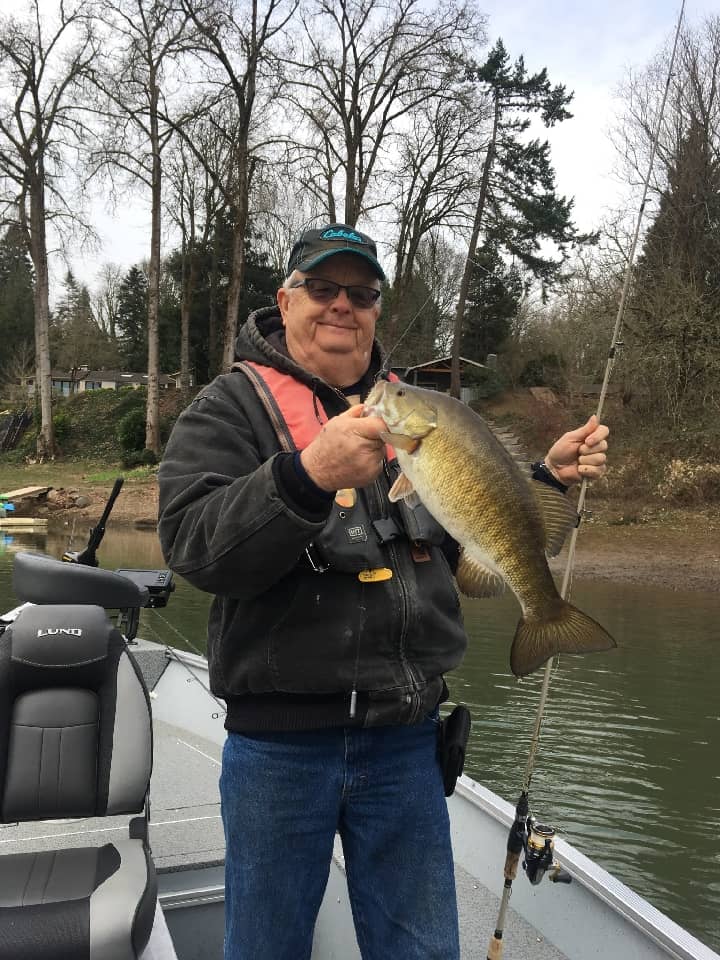 Other warmwater fish include crappie, which favor pilings and similar structure.
Sturgeon are currently fished mostly catch and release below the falls, but make note of a seasonal closure (May through August) from the falls down to the railroad bridge at Lake Oswego to protect spawning. There is a keeper sturgeon fishery above the falls but finding them is tough.
Shad fishing is a real hoot starting around Mother's Day and continuing until after Father's Day. Boaters anchor up in moving water for several miles below Willamette Falls, and bank anglers do well near the mouth of the Clackamas River, including Clackamette Park.
This part of the river help make the lower Willamette one of the Portland area's best fishing spots.
For a full river overview, check out Willamette River Fishing.
Fishing in Neighboring Counties
Multnomah County: To the north, great access to productive sections of the Columbia and Willamette rivers for salmon, sturgeon and warmwater fish.
Hood River County: To the northeast, Columbia River salmon and keeper sturgeon plus salmon and steelhead in Hood River and some nice mountain trout fishing.
Wasco County: To the east, includes fantastic sections of the Deschutes River's great trout and summer steelhead fisheries plus some excellent Columbia River salmon, sturgeon, smallmouth bass and walleye water.
Marion County: To the south, very good salmon and steelhead fishing in the North Santiam River, plus excellent trout spots including mega-popular Detroit Lake.
Yamhill County: To the west, some nice off-season fishing for stocked trout, some wild cutthroat streams, and opportunities for bass and panfish.
Washington County: To the northwest, includes excellent fishing for stocked trout and smallmouth bass in Henry Hagg Lake, plus suburban trout and warmwater ponds and native cutthroat streams.
Oregon Resources
ODFW Weekly Fishing Report
ODFW Trout Stocking Schedule
Oregon Fishing Regulations
National Weather Service
For boating information about these waters, see the Oregon State Marine Board's launch locator map.