Oregon is home to some of the most productive fly fishing lakes in the Pacific Northwest, but that's not necessarily a well-known fact.
Among fly fishermen, Oregon is best known for its wealth of productive rivers – the Deschutes and the Metolius, just to name a couple. (See our full list of the great ones at Best Fly Fishing Rivers in Oregon.)
However, there are plenty of lakes in Oregon that offer exciting fly fishing for big trout, often with a chance for much more solitude than you'd find on many of the popular rivers in the state.
The lakes on the list that follows are just a few of the many thousands of worthwhile fly fishing lakes in Oregon.
We're breaking Oregon down into three simple regions for this article: Western Oregon, Central Oregon and Eastern Oregon – in large part due to the fact that most of Oregon's most productive fly fishing lakes are located east of the Cascades.
Let's jump right into our list of some of our favorite fly fishing lakes in Oregon!
Central Oregon's Best: Upper Klamath Lake
Central Oregon is, without a doubt, Oregon's hotspot when it comes to fly fishing lakes.
The high desert setting is perfect for shallow lakes and prolific bug hatches, and the lakes in this region often produce some of the biggest trout in Oregon.
And when it comes to big trout, Upper Klamath Lake deserves the crown.
Though Upper Klamath would traditionally be considered to be part of Southern Oregon (and is managed as part of the Oregon Department of Fish and Wildlife's Southeast Zone).
However, for our purposes with this article, it fits into the Central Oregon region based on its geographic location just east of the Cascades and due south of Bend. It's also a match for the way we broke down the state into thirds for this article.
Upper Klamath Lake, fed by the Williamson River (another spot offering massive trout), offers fly fishermen one of the most unique experiences in Oregon.
The lake is huge but shallow, and serves as a feeding ground for giant fish from the Williamson and other tributaries that hang out in the lake during the spring and the fall, when the weather is cooler.
You'll need a boat to effectively fish Upper Klamath, but if you've got one, try stripping streamers – or slowly trolling them.
The trout in Upper Klamath are aggressive and will attack streamers, but nymphs and assorted dry flies can occasionally take fish as well.
Located just a couple hours south of Bend and on the northern edge of Klamath Falls, Upper Klamath Lake is an accessible location that consistently produces some of the biggest trout in Oregon.
More: Fishing Upper Klamath and Agency Lakes
More Great Fly Fishing Lakes In Central Oregon
Hosmer Lake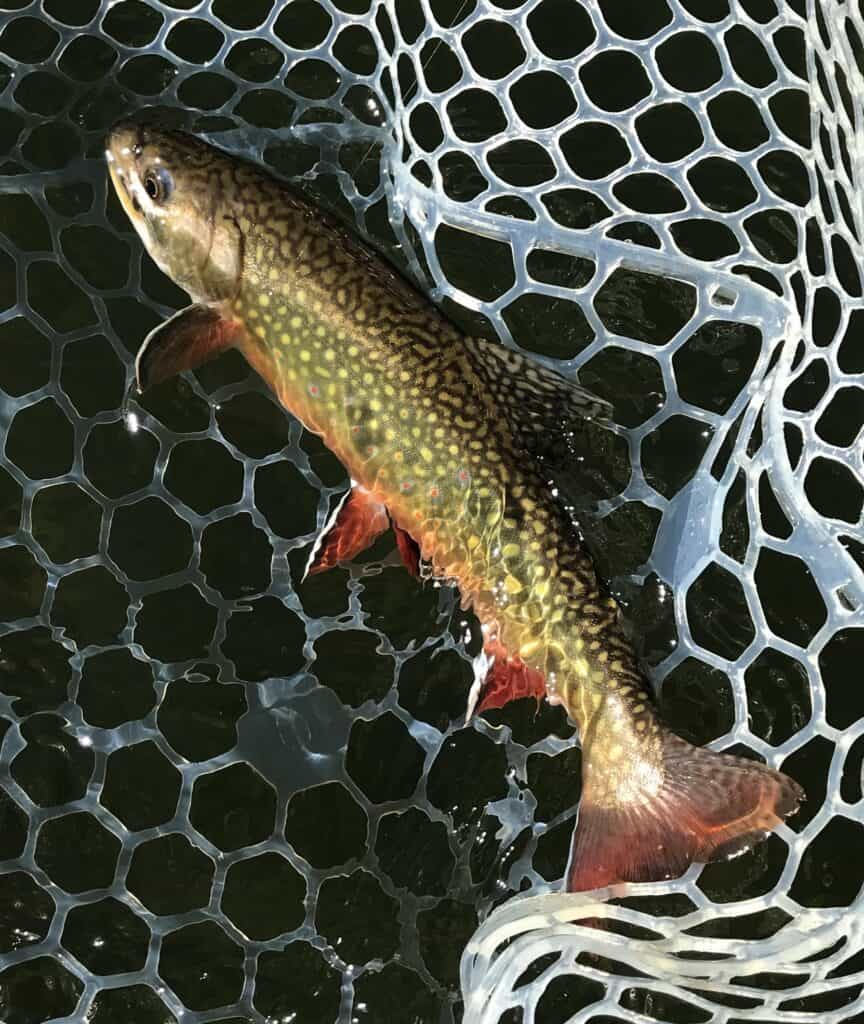 Hosmer Lake has been popular with fly fishermen in Oregon for decades.
The lake used to be one of the only lakes in Oregon that had (artificially planted) Atlantic salmon, which made it somewhat of an icon for fly fishermen who wanted to target the uncommon species.
Though the Atlantic program has since been stopped, Hosmer remains a popular and productive lake for brook, rainbow and cutthroat trout.
In fact, some anglers would likely contest that Hosmer, not Upper Klamath, is the best fly fishing lake in Central Oregon.
Hosmer is also among a small number of Central Oregon lakes regulated strictly for fly fishing.
Hosmer gets crowded with kayakers and stand-up paddle boarders during the dog days of summer, but it hits its peak with fly fishermen during the late spring and again in early fall, when the summer crowds are gone and the fish are happily rising to all sorts of hatches.
More: Hosmer Lake Fly Fishing
Crane Prairie Reservoir
Home to the legendary "Cranebow" strain of trout that also are planted in Hosmer Lake (among other lakes), Crane Prairie Reservoir is a favorite among Central Oregon fly fishermen.
The setting is jaw-dropping, and the fishing can be equally good at times.
The lake has struggled with toxic algae blooms from time to time, and fishing has tapered off somewhat during those periods.
However, Crane Prairie remains a great choice for fly fishermen looking to catch some feisty rainbow trout.
Streamers are the method of choice here for the larger trout, but midges and caddis can be quite productive on the surface. If neither of those work for you, try stripping a scud pattern.
Conventional fishing techniques also are allowed at Crane Prairie, which also has some largemouth bass, brook trout, kokanee and other fish species, but the big rainbows are the stars of this show.
More: Crane Prairie Reservoir Fishing
East Lake
East Lake can be one of Central Oregon's trickier lakes to figure out, but it also can provide some of the best fly fishing in the state when fishing is good.
Callibaetis and chironomids comprise the majority of the dry fly hatches on East Lake, while streamers and small nymphs are good under the surface.
Brown trout, rainbow trout and kokanee call East Lake home, and the trout can grow to more than 20 inches long.
Like most lakes, East Lake is best fly fished from a float tube or pontoon.
East Lake is located in the Newberry Crater along with Paulina Lake, an easy drive southeast of Bend.
More: East Lake Fishing
Davis Lake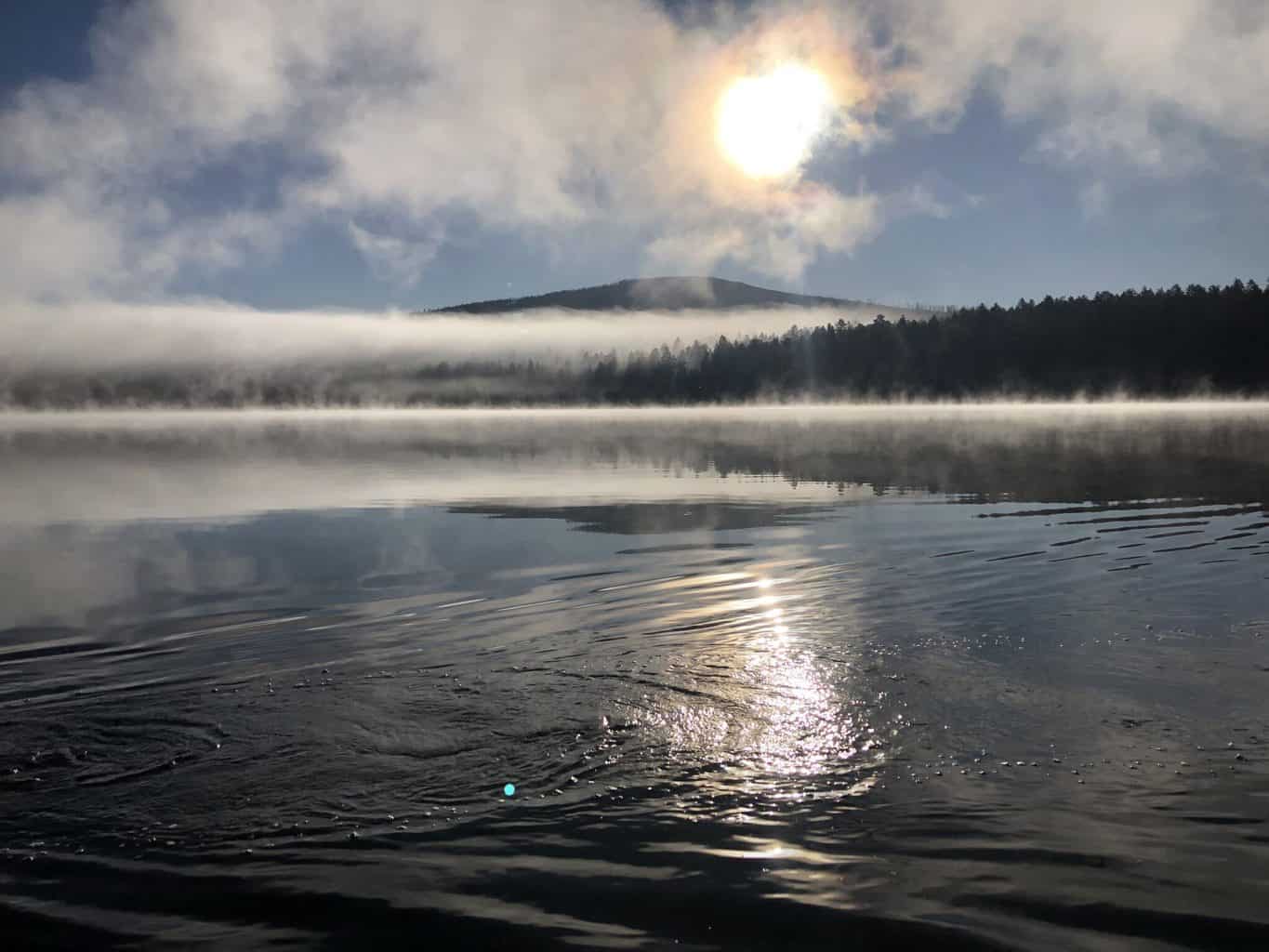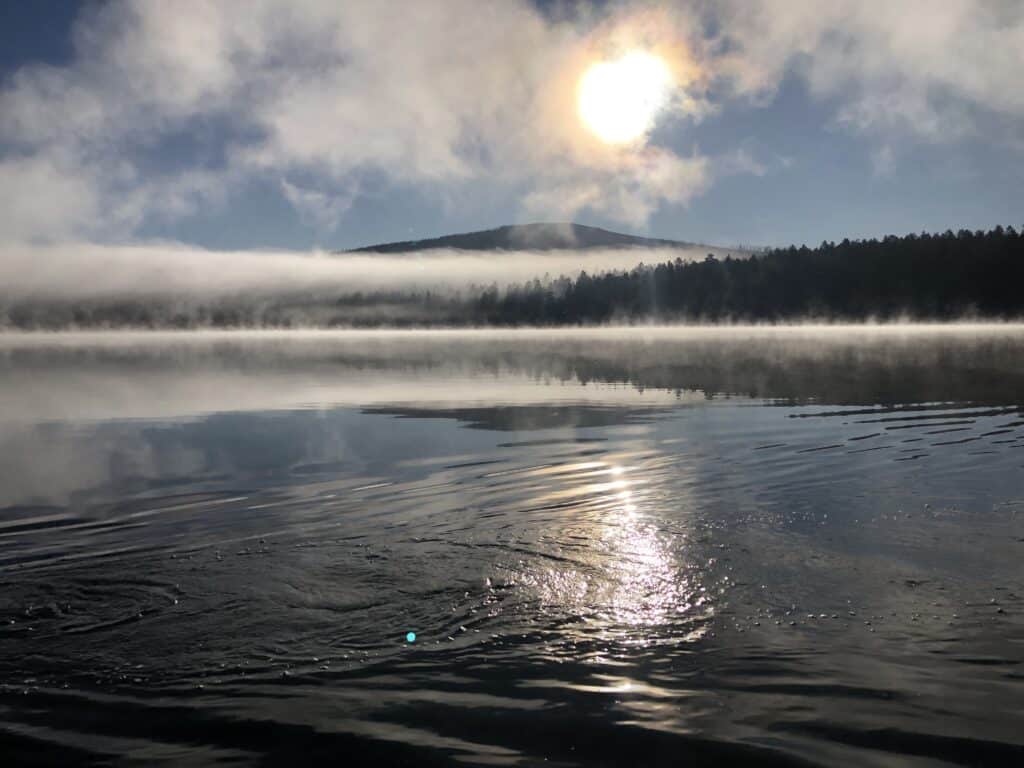 Once perhaps the best trophy trout lake in Oregon, Davis Lake's trout fishing has declined since the illegal introduction of largemouth bass.
The lake remains regulated for fly fishing-only, and there are still some large rainbows to be found – including some up to almost 15 pounds.
Much of the fishing on Davis these days, however, revolves around the growing largemouth bass fishery. Streamers and poppers are great patterns to catch some of the aggressive bass in the lake.
If you're looking to target the giant rainbows that still call the lake home, try fishing leeches, callibaetis and dragon fly patterns.
Davis Lake is best fished by a boat, but low water levels in the dog days of summer can provide some wading access as well.
More: Davis Lake Fishing
Eastern Oregon's Best: Wallowa Lake
Wallowa Lake lies in the far northeast corner of Oregon, and provides anglers some of the best fly fishing for trout and kokanee in the state.
The lake is big, but if you're just targeting trout, there is wading access near where the Wallowa River dumps into the lake at the south end.
Trout will cruise along the shorelines of the lake, and you can catch them on a variety of dry fly patterns as well as streamers.
These fish get a lot of attention, so you'll need to be stealthy with your approach, making sure to switch flies often until you find something that works.
If you can get access to a boat, kayak, or float tube – some are available for rent on the lake – you'll be able to better target the trout and kokanee that call the lake home.
Trout are present all around the lake, and the kokanee are typically found in the lower depths of the lake, making them tough to target unless you have a quickly-sinking line.
The lake isn't near any big cities or towns, but it's a popular vacation destination, and there is plenty of lodging in the nearby towns of Joseph and Enterprise (as well as near the lake itself).
More: Wallowa Lake Rainbow Trout Fishing and Wallowa Lake Kokanee Fishing.
More Great Fly Fishing Lakes in Eastern Oregon
Eagle Cap Wilderness (Assorted High Lakes)
In addition to being one of the most beautiful regions in Oregon, the Eagle Cap Wilderness also provides some of the most remote fly fishing in the state.
There are so many excellent lakes in this high alpine region we couldn't possibly name them all, but a few of the most popular are: Aneroid, Ice, Razz, Frazier, Francis and Prospect.
There are, quite literally, hundreds of lakes in the Eagle Cap Wilderness, many that offer great fly fishing.
If you're a fan of backpacking and fly fishing, the Eagle Cap Wilderness is a perfect spot to explore for a few days (or weeks)!
Fish Lake (Steens Mountains)
Mann Lake used to be the crown jewel of the Steens region, as it was stocked full of giant Lahontan Cutthroat trout and the unpredictable weather ensured that fishing at Mann was always an adventure.
However, a recent drought wiped out the entire cutthroat population at Mann, and many fly fishermen don't venture out to the remote Steens region anymore.
Now, though, Fish Lake takes the spot for the most productive fly fishing in the vast area, and it's a massively overlooked lake that is full of big trout.
Fish Lake is located on the Steens Mountain Loop road, and there are camping options available on the lake. Bring a float tube or pontoon if you can, but there is also extensive bank access.
Western Oregon's Best: Lost Lake
Just off of Highway 26 on the way to the coast, this Lost Lake is a small lake that provides excellent fly fishing opportunities for both trout as well as occasionally recycled hatchery steelhead.
Don't expect solitude at Lost Lake, as its easy bank access and the opportunity for recycled steelhead draws plenty of anglers, but it can be a great opportunity to catch numerous trout.
The trout in Lost are mostly stocked rainbows and aren't very picky – streamers, attractor nymphs, and a wide assortment of dry flies will do the trick here.
Boats are allowed on Lost Lake, and can be a good choice to get away from the pressure from other anglers along the shoreline.
It can be difficult to get lake-planted steelhead to bite on anything, but slowly stripped streamers will occasionally provoke the steelhead enough to get a take.
Editor's Note: Don't confuse this lake with Oregon's eight or so other Lost lakes, including the very popular Lost Lake near Mount Hood.
More Great Fly Fishing Lakes in Western Oregon
Mirror Lake
Mirror Lake is a great spot to fly fish, but not for big trout or solitude, as the lake provides neither of these things.
However, it's an incredibly picturesque lake and has plenty of bank access; it's a good spot to go if you want a couple hours of early-morning dry fly fishing before the packs of tourists arrive later in the day.
The lake is located about a mile from Government Camp, and there is a short hike required to reach the top.
Make sure you arrive early – or late – if you want to fish here, as the lake is packed with people from the late morning through the afternoon.
Henry Hagg Lake
Traditionally more popular with conventional anglers than fly fishermen, Henry Hagg Lake is one of the best fly fishing lakes near the Portland metro area.
Fly fishing is good on Henry Hagg in the creek arms of the lake as well as near the dam.
Stripping nymphs (think copper john-style nymphs) and streamers will catch plenty of bass, while the evening hours can offer exciting dry-fly fishing for trout.
It helps immensely to have a boat on Hagg Lake, but there is extensive bank access if you don't have access to watercraft.
More: Hagg Lake Trout Fishing and Hagg Lake Bass and Panfish Fishing
Trillium Lake
Trillium is one of the most popular lakes near Mount Hood.
It's picturesque and offers great fishing opportunities – fly fishermen prefer to fish Trillium in the early summer and early fall, when the crowds of tourists aren't around but the fish are still rising to dry flies.
Unlike nearby Mirror Lake, Trillium has plenty of large trout and can be a great spot to go if you're looking for some rainbow trout bigger than 15 or 16 inches.
There also are brook trout here that often run a bit smaller than the rainbows.
More: Trillium Lake Fishing
Gold Lake
Gold Lake is nestled in one of the lesser-known fly fishing regions of Oregon – just a few minutes past Oakridge, Gold Lake is neighbors with Salt Creek and the Middle Fork of the Willamette River, both of which are underrated fly fishing destinations.
Gold Lake is regulated for fly fishing only, and it can be excellent for big brook and rainbow trout.
The rainbows typically grow larger than the brook trout in Gold Lake, and are taken on a variety of midge patterns on the surface and streamers fished deep.
The lake is a modest 100 acres, but it is still much more productive when fished by a float tube, pontoon, kayak or drift boat (without a motor).
All rainbow trout must be released here, but you can keep any of the more numerous brookies if you want trout for dinner.
Linton Lake
A lake that's often frustrating and occasionally very productive, Linton Lake holds some of the biggest brown trout in Oregon – up to 10 pounds or more.
It's located southwest of Sisters, on the old McKenzie Pass Highway (242) that's somewhat of a scenic route to Eugene.
There is a two-mile hike required to get up to the lake, and Linton is a great place to camp.
This lake is best fished by float tube, particularly during the early season when high water levels can make shoreline access virtually inaccessible.
You might also catch brook trout here.
Linton isn't a very well-known spot, and there is no trail around the lake; if you're on foot, you'll be doing a lot of route-finding and bushwhacking as you make your way around the lake.
Conclusion
Oregon has thousands of top-notch fly fishing lakes; the geographic diversity of the state allows for a wide variety of productive waters.
From the shallow, trophy trout lakes of Central Oregon to the tucked-away mountain pools in Eastern Oregon, there's something for just about everyone.
Oregon Resources
ODFW Weekly Fishing Report
ODFW Trout Stocking Schedule
Oregon Fishing Regulations
National Weather Service
Carter Reschke is a freelance writer based in Oregon. Passionate about the outdoors, Carter is a fly fishing aficionado and spends his days on the river when he's not writing.