Paulina Lake has produced Oregon's record German brown trout and routinely gives up excellent catches of large kokanee and rainbow trout.
The natural lake shares the Newberry Crater, an extinct volcano in Central Oregon, with the similar-sized East Lake, which has the same three primary gamefish.
Located a little more than an hour southeast of Bend, Paulina a deep and good-sized lake at more than 1,500 acres.
This is truly the high country, sitting at over 6,300 feet in elevation. Winter doesn't typically loosen its grip until well into spring (and even early summer during the harshest years), often blocking the roads to typical vehicles.
The lake is open to fishing year-round, but early access to the lake around the time of ice-out, when fishing can be good for the trophies, is typically left for those with the ability and gumption to make a cross-country trek.
There is a gate at the snow park on Forest Service Road 21 (a.k.a. Paulina-East Lake Road) that is typically closed during the winter season, so snowmobiles or snowshoes are a good bet at those times of the year.
Brown Trout Fishing
Ronald Lane caught a 28-pound, 5-ounce monster at Paulina Lake in 2002 to claim the state record, and the lake has produced a fair number of other browns over the 20-pound mark.
Paulina continues to be one of a handful of Oregon lakes capable of growing a brown trout that could one day eclipse that record. (Here's where you'll find Oregon's trophy brown trout lakes.)
Brown trout feed mostly on other fish, and the big ones like a big meal.
Lane used an A.C. Plug to fool his, and various crankbaits and swimsuits that look like smaller trout, kokanee and chubs are a decent way to go.
Spinners including Rooster Tails also account for good catches.
Cast or troll these lures near where brown trout might come out of the depths and into the shallows on their hunts.
Fly fishing also can result in hooking up with a monster brown, with large streamers and other patterns that mimic small fish among the top choices for the biggest fish.
Brown trout feed most voraciously at night.
Fishing is legal here beginning an hour before sunrise until an hour after sunset, so plan to fish in the lowest light early and late for your best odds at a catching a monster brown, especially during the warmer months.
That said, brown trout will come out of the ice-out conditions hungry and looking for a meal, and at that time of year especially you might find them eager enough to slam a lure during the warmer daytime.
Rainbow Trout Fishing
The other big trout fishery here is for rainbows, which are planted by the Oregon Department of Fish and Wildlife in good numbers during the summer.
Fishing is often best for them following the plants in June and July.
Late summer often sees a lull in trout fishing, but things generally pick up again as cooler weather arrives in the early fall and fish naturally try to fatten up before the harsh winter ahead.
There also are wild rainbow trout in Paulina and East lakes, but you must release these unharmed.
The fishing methods that catch trout just about anywhere will certainly work here.
Bank anglers will often have the most success by still-fishing fishing with baits, including more natural choices such as nightcrawlers and salmon eggs as well as the ubiquitous Berkley PowerBait.
Of course, boat anglers also use these still-fishing techniques with great success and can reach more fishing spots.
You may do well fishing a sinking type of bait under a bobber when the water is cooler and trout are feeding closer to shore and near the surface.
However, finding deeper holes and fishing on or just off the bottom is likely to pay off during the hotter weather of mid- and late summer.
Casting lures from the bank or shore also will hook trout. Heavier spinners and spoons designed for casting are top choices.
Boaters have a big advantage not just in reaching more fish but also in being able to deploy very effective trolling techniques.
Trout anglers focusing on rainbows have several good tactics to try.
Many will bag their limits by using an attractor such as a dodger or set of lake trolls (a.k.a. pop gear) ahead of their lure or bait.
Good trolling lures to run behind an attractor come in all sorts, from spinners of the Wedding Ring type, to wobbling spoons, to small squid-like hootchies.
Many anglers will tip their lure with a small bit of bait, such as a piece of worm or a prepared bait.
You also can simply fish a nightcrawler or other bait on a hook trailing your attractor.
I also like to simply troll with a lure, especially if the fish aren't running deep. Rooster Tails, a wobbling spoon like a Little Cleo or Dick Nite, or a very slow-trolled sinking fly like a woolly bugger.
Fly fishing can be good for rainbow trout here, especially around shallow weed beds where rainbows feed on aquatic insects.
Kokanee Fishing
Kokanee also tend to run larger here than in most Oregon waters.
In fact, one of these land-locked sockeye salmon previously held a state record before Wallowa Lake had a rash of jumbo-sized kokanee catches that eclipsed state and world records several years back.
Paulina Lake is considered one of Oregon's best kokanee lakes.
The kokanee respond well to trolled lures and sometimes to jigs.
Kokanee are mostly a boat fishery, and a fish finder will serve you well in looking for schools.
The lake is up to 250 feet deep and kokanee will often be in fairly deep water, especially during the warm summer months.
Trolling is by far the most popular way to catch kokanee.
The set-up is similar to what we described earlier for rainbow trout fishing, including the pop gear to attract these feisty little sockeye salmon to your lure.
As with trout, many anglers will tip their lure hook with a piece of bait, such as white shoe-peg corn, maggot or a jarred bait. Many kokanee anglers swear that adding scent also improves their catch rates.
You may need to fish a fair bit deeper for summertime kokanee than you will for trout, which makes both a fish finder and down riggers really handy.
On the bright side, kokanee can sometimes be found in very large schools, and keying on a school can lead to limits.
If you can pinpoint a nice school of kokanee on your electronics, vertical jigging and even bait fishing are also effective methods for those who know what they're doing.
Learn more about the best ways to catch kokanee salmon.
Fishing Regulations
The wild fish have an intact adipose fin (top of fish just in front of the tail). Those fins are removed and heal over on the hatchery reared fish planted here.
Both trout species and the kokanee all count toward your five-fish limit, and only one of those can be more than 20 inches long.
Browns of that size are not uncommon in the lake, and rainbows and kokanee can reach that length in these rich waters.
Carefully read regional and specific fishing regulations for Paulina Lake and really anywhere you go before actually casting. We link you to those at the bottom of this article.
Camping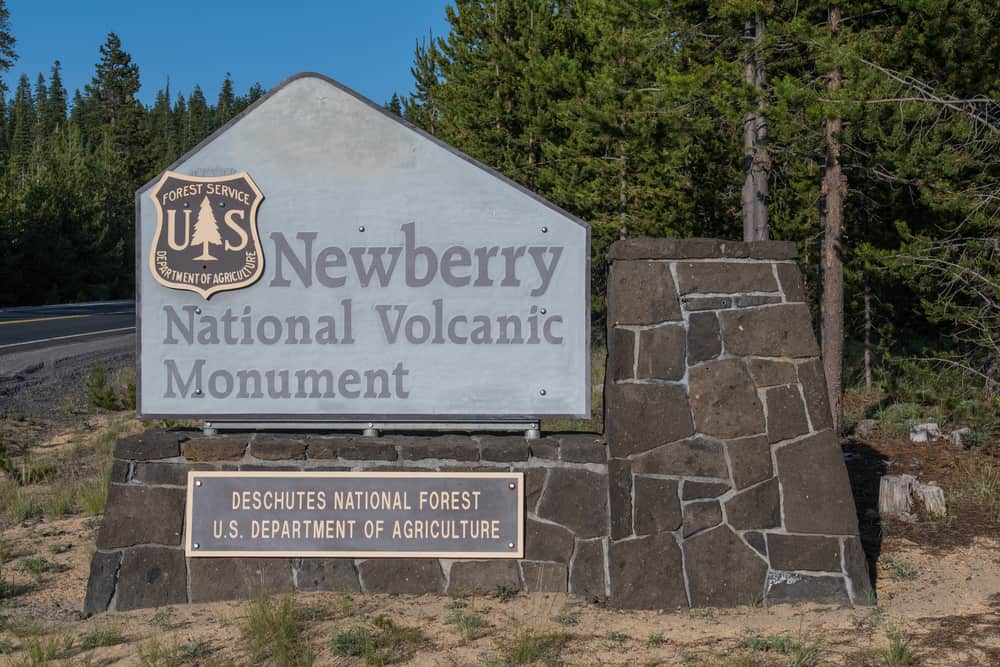 Paulina Lake Lodge offers cabin rentals, boat rentals and moorage, a store with fishing tackle and other essentials and a restaurant among its amenities.
The U.S. Forest Service offers camping at Paulina Lake Campground near the resort and Little Crater Campground on the east shoreline. Group campsites also are available.
Paulina Lake is located about 15 miles east of Highway 97 at La Pine, the closest town. Figure driving a little more than an hour from Bend.
2023 Paulina Lake Trout Stocking
| | |
| --- | --- |
| 2023 Stocking | Total |
| Jun. 19 – 23 | 2,500 |
| Jul. 10 – 14 | 2,500 |
Stocked fish are legal-sized rainbow trout unless otherwise noted. Stocking schedules are subject to change for a variety of reasons. The ODFW Weekly Fishing Report linked under Oregon Resources below may provide updated information.
Find more fishing spots in Deschutes County
Oregon Resources
ODFW Weekly Fishing Report
ODFW Trout Stocking Schedule
Oregon Fishing Regulations
National Weather Service