When anglers think of Central Oregon, the picture that forms of mountain lakes and streams teeming with trout and kokanee probably looks a lot of like Deschutes County.
Deschutes is one of Oregon's very top destinations for fishing adventures, in large part because of its rich array of lakes loaded with many species of trout, including rainbows, browns, brooks and Mackinaw (lake trout).
There also are lots of kokanee (land-locked sockeye salmon) as well as some surprisingly good fishing for largemouth bass.
No one article could fully cover the wealth of fishing opportunities in Deschutes County. Our aim with this page is to simply introduce readers to many of the better fishing options.
You can either browse through the list alphabetically, or take advantage of the table of contents to jump straight to waters you want to check out. (A few of the links contain more than one spot.)
Deschutes County Fishing
We've included here some of the most famous waters, some of which aren't always easy to master.
We've also included some fishing spots that are well-suited for beginners and anyone who wants to enjoy the simply pleasures of a few hours of fishing.
If you need more information, follow your interests through the links located within many of the articles to get more detailed information about specific fishing spots.
And while Deschutes County has plenty to offer, you also will find a wealth of other opportunities in neighboring areas by following the county links below.
Additionally, an impressive half-dozen of these lakes are included in our roundup of best fishing lakes south of Bend.
Note that some waters in Deschutes County are open year-round, while others are seasonal. To check these and other regulations, see the Oregon Department of Fish and Wildlife's Central Zone for the waters in this article.
Incorporated cities in Deschutes County are Bend, La Pine, Redmond and Sisters. Unincorporated communities include Alfalfa, Brothers, Hampton, Terrebonne, Three Rivers and Tumalo.
Popular attractions include the Deschutes National Forest, Smith Rock State Park, High Desert Museum and Newberry National Volcanic Monument (including Newberry Crater and Lava Lands), among many others.
Besides the cities, vacationers also flock to Sunriver, Black Butte Ranch, Mount Bachelor and other resort areas.
Smith Rock near Terrebonne is among Travel Oregon's Seven Wonders of Oregon.
Listed alphabetically, here are some of the best fishing spots in Deschutes County:
Bend Pine Nursery Pond
This is a small pond in Pine Nursery Park, reached off Northeast Purcell Boulevard.
The pond of about 2 acres is moderately stocked with hatchery rainbow trout in the early spring and often will get a smaller batch heading into fall. Check the stocking schedule linked at the bottom of this page to pinpoint the best times to fish.
Note that this pond has a reduced trout limit of two per day.
Trout fishing will be slow to non-existent in the heat of the year here, but there are some warm water fish to catch.
Bluegill are self-sustaining and can be fun to catch when the weather is good. You might be able to score on a few largemouth bass here as well.
The pond is just north of the parking lot, in amongst ballfields, pickle ball, dog park and disc golf.
Cascade Lakes Area Ponds
Amid all the high-profile lakes along the Cascades Highway area southwest of Bend are a couple of stocked ponds where the fishing can be far simpler. Plunk some bait, throw some lures and catch enough fish for supper.
Century and Sprague ponds, both former gravel pits, are both located roughly between Crane Prairie and Cultus lakes.
They are each stocked with roughly 300 fish several times in the late spring to early summer. See the stocking schedule link below for seasonal details.
Crane Prairie Reservoir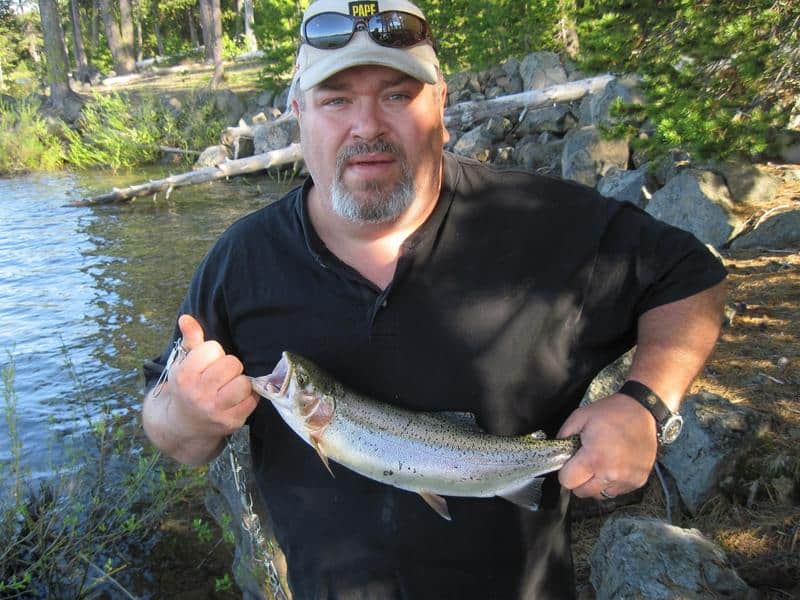 This is one of Oregon's most famous reservoirs, where "crane-bow" rainbow trout grow big among flooded trees and old river channels.
The rainbows are the big show in this reservoir of about 4,100 acres, popular with fly, hardware and bait anglers alike.
The reservoir also has a pretty good population of brook trout common in the upper Deschutes River system, and they also can reach respectable size though not as large and the rainbows.
At times, the reservoir's kokanee population can produce good catches and sometimes large specimens of this land-locked sockeye salmon.
The reservoir also has an illegally stocked population of largemouth bass, which are a pretty good fishery here.
You might also catch some crappie, sunfish and bullhead catfish, all of lesser interest to most CP anglers.
There is a resort and plenty of services. A boat is really handy here, where there are somewhat limited bank fishing areas.
Fishing has fallen off at Crane Prairie at times, but at this writing the trout angling has been impressive.
This reservoir earned a spot in our Best Rainbow Trout Fishing Lakes in Oregon and Best Largemouth Bass Fishing in Central and Eastern Oregon articles.
More: Fishing at Crane Prairie Reservoir.
Crooked River
Part of this literally crooked river loops through Deschutes County near Smith Rock State Park just east of Terrebonne.
The Crooked is an excellent stream for native redband rainbow trout, with large numbers of typical-sized fish and the occasional big one.
There also are whitefish.
This is a good spot to try out fly angling with a great chance for success, although other angling methods are allowed.
The Crooked is on our list of best fishing rivers in Central Oregon.
More: Crooked River Fishing.
Cultus Lake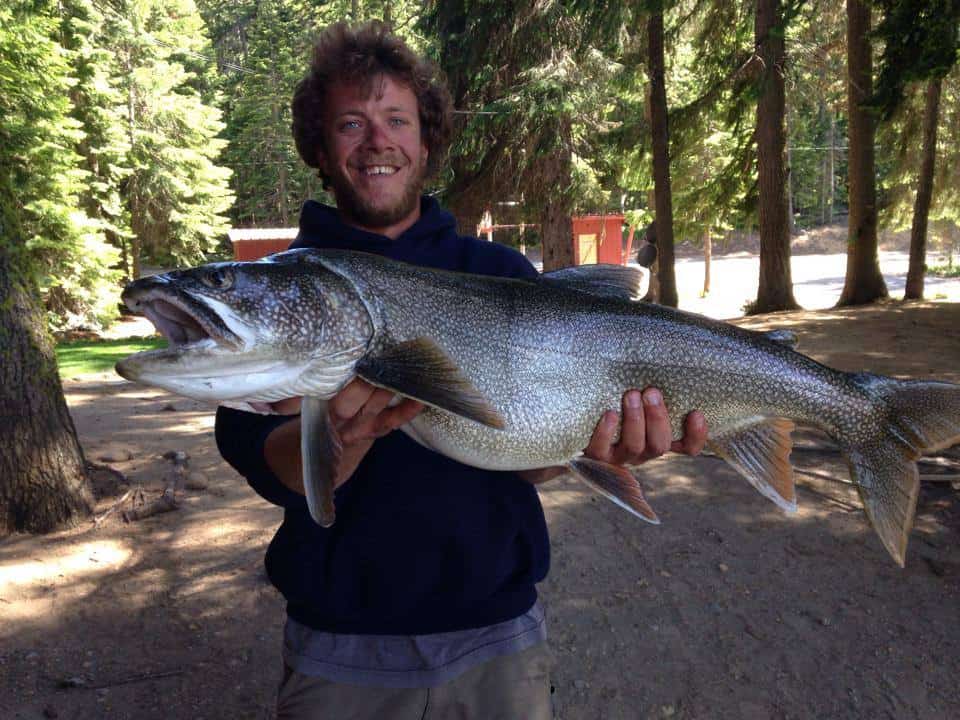 Also known as Big Cultus Lake, this is a nice spot off Cascade Lakes Highway southwest of Bend and east of Sunriver (in the vicinity of Crane Prairie Reservoir).
Cultus is the best spot within Deschutes County to catch a lunker lake trout (Mackinaw), and some dandies in the upper teens have been coming out of here recently.
See our top choices for lake trout in Oregon, including nearby Odell and Crescent lakes in Klamath County. There is a limit of one lake trout per day.
Easier to catch are the hatchery rainbow trout typically planted here a couple of times each summer.
There is a resort, camping and lots of boating here. Nearby Little Cultus Lake also has some trout opportunities.
See: Fishing at Big and Little Cultus Lakes.
Davis Lake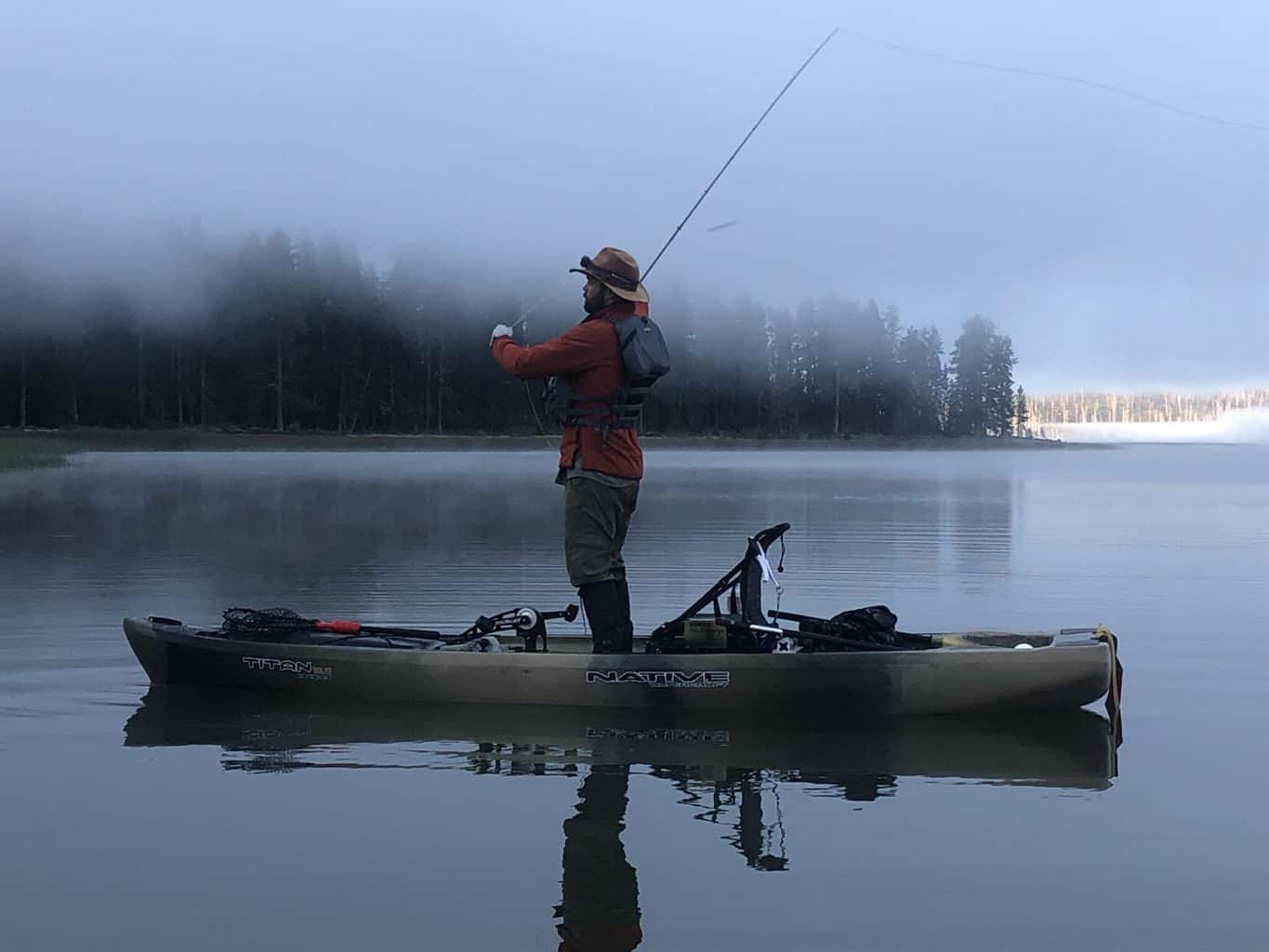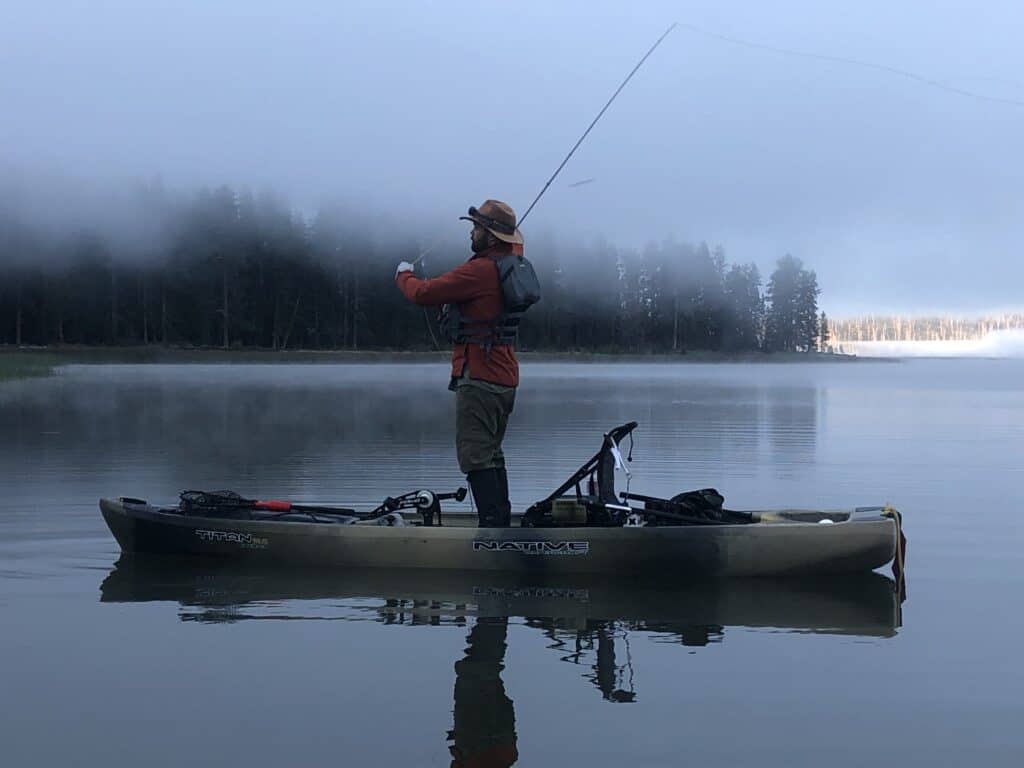 This is quite a large lake (shared with Klamath County) that at one time was a really great rainbow trout fishery set aside for fly angling only.
The trout are still there, and at times it still can be very good, but overall the trout fishery has fallen off somewhat after the illegal introduction of largemouth bass here.
For more about the trout fishing from a local fly-fishing guide, read this article.
And, frankly, if you're handy with a fly rod, this lake now holds one of Oregon's best populations of largemouth bass, which reach fairly decent size despite the mountain climate and are somewhat under-fished due to the fly-only regs.
We tapped the same expert for tips on catching these mean greenies on feathers at Davis, so click here for that.
This lake also is included in our Best Largemouth Bass Fishing in Central and Eastern Oregon.
See: Davis Lake Fishing.
Deer Lake
A Cascade Mountains lake known for good brook and cutthroat trout fishing in the early season (when mosquitoes are probably thick).
Deer Lake is also sometimes stocked with keeper-sized hatchery trout in the mid-summer, which should bring a second round of good fishing for several weeks.
Deer Lake is located roughly between Cultus and Little Cultus lakes. Reach it by taking Forest Road 640 up from Little Cultus.
Deschutes River, Upper
Deschutes County contains the upper drainage of the fantastic Deschutes River. And while the lower river is more famous, there's plenty of fishing up here.
The county's section of river has native redband rainbow trout throughout, and sections also contain two species of non-native trout.
Brown trout are commonly caught anywhere below Crane Prairie Reservoir (including in Wickiup Reservoir), while brook trout also inhabit the smaller river above Crane Prairie. (The state record brookie comes from that upper river.)
ODFW has at times stocked some hatchery rainbows at selected spots upstream from Benham Falls to Wickiup Reservoir, a stretch that includes Sunriver, but check the agency's stocking schedule below.
Bait fishing is no longer allowed in the river anywhere within Deschutes County.
Note that bag limits only include two trout, except for native redband rainbows which must be released in the river from Benham Falls up to the source at Little Lava Lake.
Rainbows over 20 inches are considered steelhead below Benham and must be released in this part of the Deschutes.
Bull trout also must be released in the Deschutes.
The lower Deschutes is on our list of best Central Oregon fishing streams, but this upper section is worthy of some exploration as well.
Note that there are different seasons depending on the section of river you fish within Deschutes County. At this writing, the river is open all year below Benham Falls and seasonally above it. Definitely check the regs carefully.
The Little Deschutes River has some angling opportunity as well, and another tributary, Fall River, has its own listing on this page.
You also may be interested in Best Fly Fishing Rivers in Oregon.
For an overview of this fishery: Deschutes River Fishing.
Devils Lake
This is a regularly stocked lake within easy reach east of Bend right alongside the north end of Cascade Lakes Highway, in the vicinity of Sparks Lake.
The stocking truck tends to stop here roughly once a month starting in about early June and continuing through mid-summer, making it a good warm-season place to reliably catch rainbow trout for anglers of any skill.
See: Fishing at Devils Lake Near Bend.
East Lake
One of two similar lakes (with Paulina Lake) located in a stunning setting inside Newberry Crater, East Lake offers a multitude of fishing opportunities.
East is generously stocked with rainbow trout that make up a good part of the catch. (Read more about East Lake rainbow trout fishing.)
There also are good numbers of kokanee here that at times provide excellent fishing. Read more about East Lake kokanee fishing.
Trophy hunters look to the brown trout, as this is one of Oregon's few waters thought to be able to challenge neighbor Paulina Lake's state record brown.
Read more about East Lake brown trout fishing, as well as our article about the best brown trout lakes in Oregon.
East also is a tremendous fly-fishing lake, focused on bug-rich shallows. The primary targets for fly anglers are the rainbows.
All rainbows without a clipped fin (hatchery marking) must be released.
There's a health advisory about eating the fish here, due to naturally occurring mercury, which has less impact on recently planted rainbows.
There is a resort, camping and plenty of amenities, but check conditions before heading up close to the late-April opener. This is high country, and lingering snow can affect access.
See: East Lake Fishing.
Elk Lake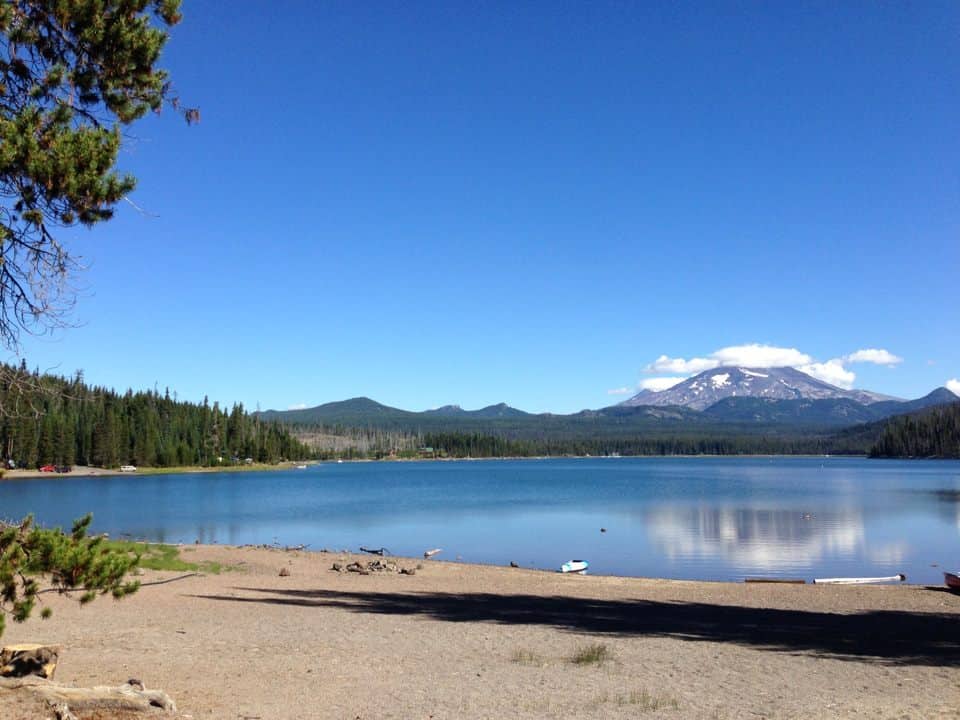 This lake on the northern Cascade Lakes Highway is closer to Bend than some better-known fisheries.
In the summer, it's more popular with recreational water sport types, but it does have a large population of kokanee, which unfortunately run on the small side. But you can keep 25 of these land-locked sockeye salmon without regard to size in this lake.
Boat anglers focus kokanee fishing on deep water.
Trout anglers mostly target the introduced brook trout, which tend to be easier to catch in the spring and again in the fall as they move near shore.
There's a resort and public camping.
See: Fishing at Elk Lake.
Fall River
This is a fly-fishing only stream but one that offers the chance to bring two trout home for dinner, thanks in part to a regular stocking program in the upper section, where there is a fish hatchery.
Expect fish plants from April into August.
There also are wild rainbows and naturally reproducing brown trout.
The river currently is open all year, but check the regulations for updates regarding season, limits and other rules.
Get there on South Century Drive just southwest of Three Rivers and Sunriver.
This stream is on our list of best Central Oregon fishing rivers.
Also see: Fall River Fishing.
Fireman's Pond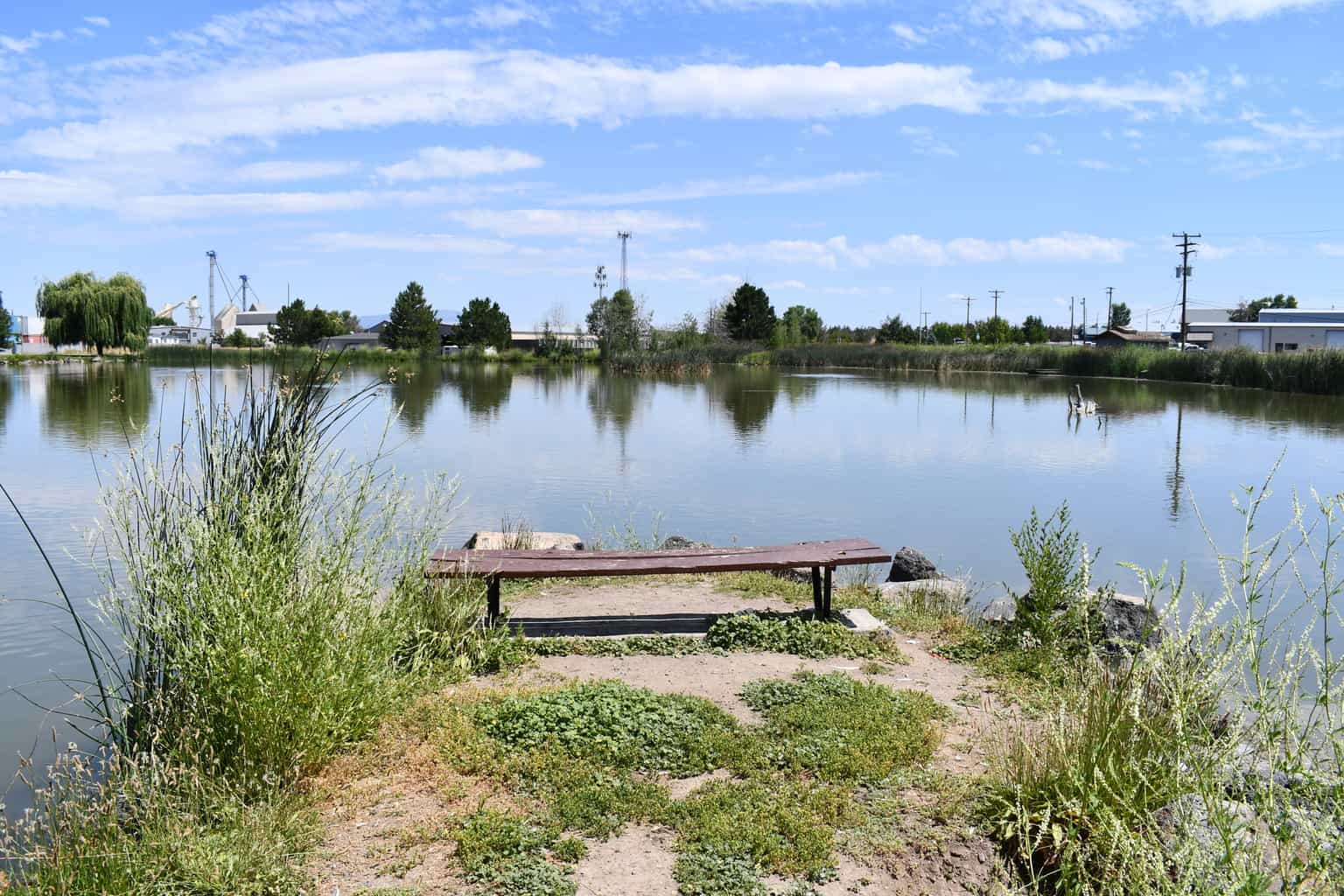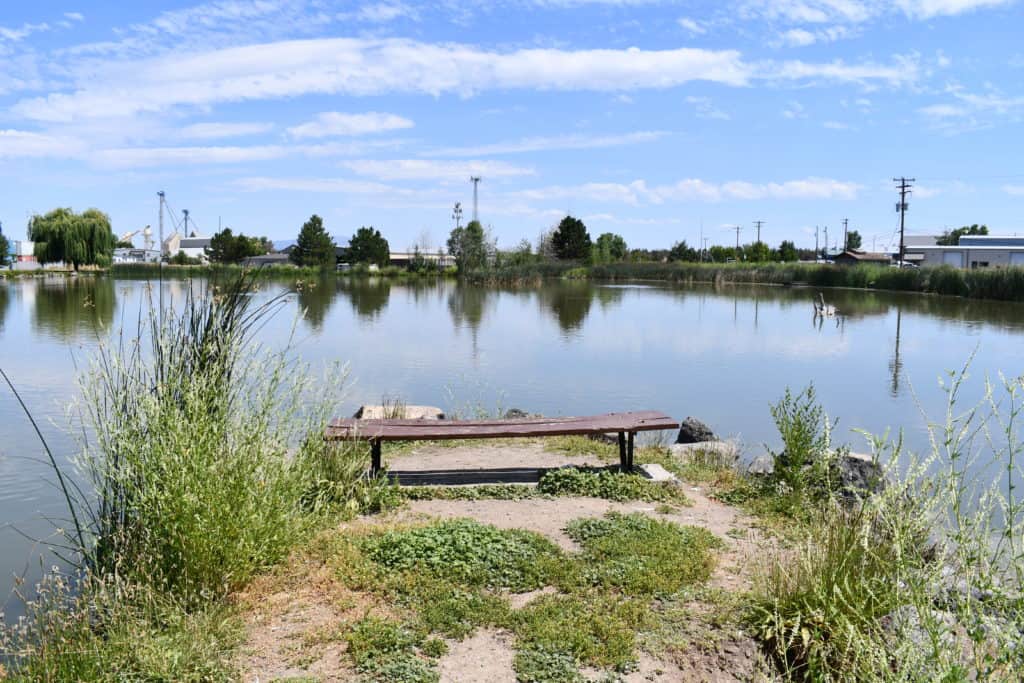 This small (about 1 acre) and easily accessed pond in Redmond for young anglers (13 and under) usually gets a modest stocking of rainbow trout during the spring and also is fun for kids to fish for sunfish.
Young anglers might also catch bass, crappie and bullhead catfish.
The pond is located in a city park along Lake Avenue on the east side of Highway 97.
See: Fishing at Fireman's Pond.
Hosmer Lake
This lake on the north end of the Cascade Lakes region, southwest of Bend, is a fly angling destination.
In fact, fly fishing is the only type of angling allowed at Hosmer, and additionally you must use barbless hooks.
Once known as the place in Oregon to catch introduced Atlantic salmon, ODFW has switched its stocking regimen to rainbow and cutthroat trout, which supplement the self-reproducing Eastern brook trout.
The clear lake, much of which is shallow, is made up of two large lobes connected by a narrow channel.
All fishing here is catch and release, even for the non-native brookies.
More: Fly Fishing at Hosmer Lake
Irish and Taylor Lakes
This pair of high-country lakes near the crest of the Cascade Range is occasionally stocked with hatchery trout in the summer, when other lakes tend to start slowing down, and also is known for self-sustaining brook trout.
Don't bring your motor boat but a float tube, kayak or similar hand-powered craft could improve your catch.
The area is roughly midway between Waldo and Cultus lakes. It takes some doing to get there, and you may need a high-clearance vehicle for the last several miles even after the snow melts.
Waldo Lake Road (NF-600) passes between the lakes and also accesses the primitive Irish & Taylor Campground. The Pacific Crest Trail passes along the west shores of both lakes.
Note: There is another Taylor Lake near The Dalles within the Central Oregon zone that also is stocked (in fact, quite a bit in the cool seasons) with hatchery rainbow trout. The Taylor Lake next to Irish Lake is listed in the stocking schedule under "Bend."
Lava Lakes, Big and Little
Big and Little Lava lakes are popular trout fisheries on the north end of the Cascade Lakes Highway, just south of Hosmer and Elk lakes.
Big Lava is the best producer for rainbow trout, which are generously stocked here.
Big Lava's naturally productive waters teeming with insects are good for trout growth and also make fly angling a favorite choice, although the bait-plunkers and trollers do very well here as well.
You might catch a brookie at Big Lava, but your chances for that are probably better at nearby Little Lava Lake, which is the headwaters of the Deschutes River.
Little Lava also is stocked with rainbow trout regularly during the high season. There are campgrounds and boat and bank fishing access at both lakes, and a resort at the bigger lake.
See: Fishing at Lava and Little Lava Lakes
Paulina Lake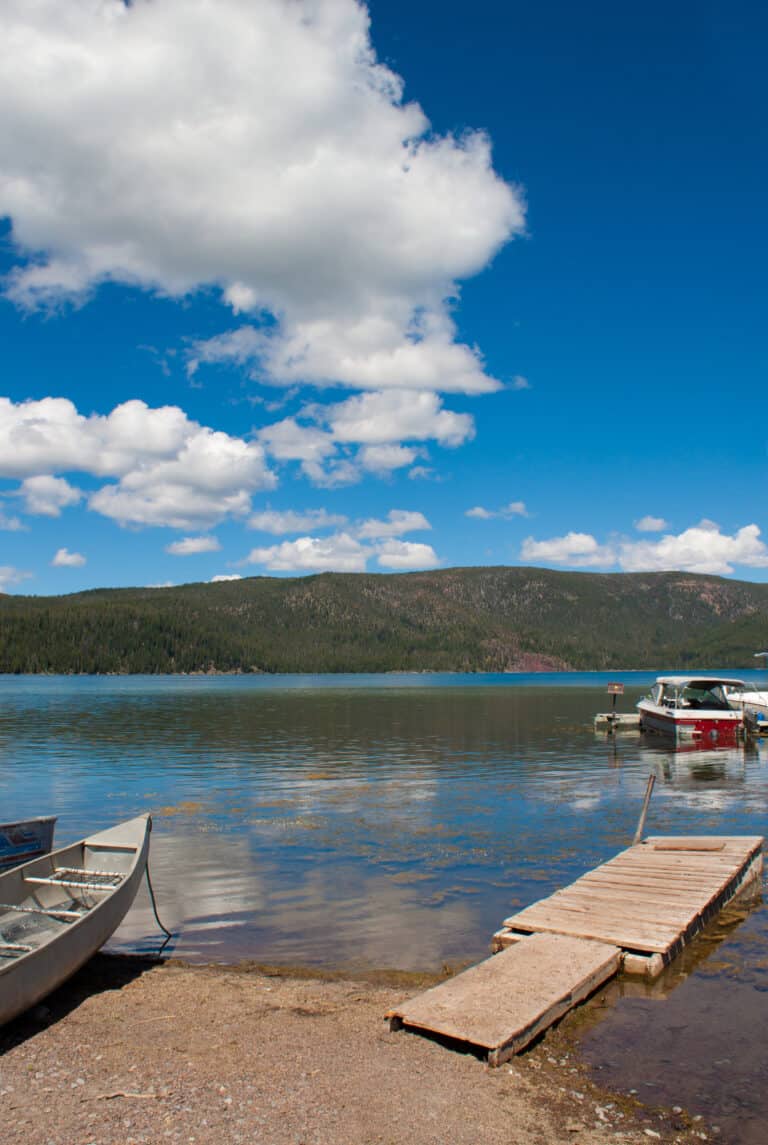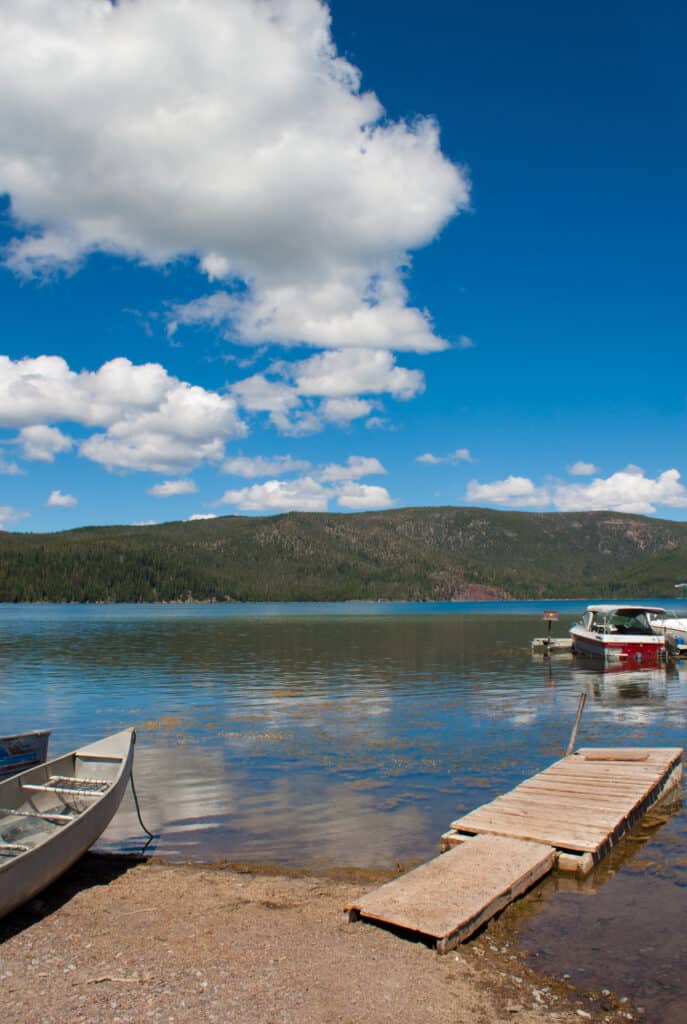 Sitting west of East Lake in Newberry Crater south of Bend, Paulina has long been a favorite destination for anglers who chase trout and land-locked salmon.
Paulina grows them big, especially the brown trout. The lake produced the state-record brown trout (28 pounds, 5 ounces) in 2002. For all state records, click here.
For more on the topic, read about the best brown trout fishing in Oregon.
The kokanee grow quite large at Paulina and fishing for these freshwater sockeye salmon can be excellent. They are counted in the trout limit along with the browns and rainbows.
Rainbow trout fishing is reliably good, augmented with a big planting or two usually done in late spring and early summer. Only those stocker rainbows, marked with a clipped fin, may be kept. Wild ones must be released unharmed.
Snow can limit access even after the late April opener here. As with East Lake, there also is a resort here, additional camping and plenty of angler amenities.
See: Paulina Lake Fishing
Reynolds Pond
This 12-acre "oasis" located just south of the Alfalfa community, about a half hour east of downtown Bend, offers primarily warm water fishing with bass, bullhead catfish and panfish.
Reynolds Pond is managed by the U.S. Bureau of Land Management (BLM) and is open all year.
Fishing will be best once the water starts warming a bit in spring and catches should continue to be decent into mid-fall.
Motorized boats are not allowed, but you can carry a kayak, float tube or similar human-power watercraft to the pond and launch.
Primitive camping is allowed.
Shevlin Park Youth Pond
Shevlin Pond in Shevlin Park just west of Bend (along Tumalo Creek) is set aside for anglers no older than 17 and is regularly stocked, especially in mid to late spring.
Watch the ODFW's trout stocking schedule (linked below) to find the best times to fish for trout, which is soon after a planting.
Stocking usually begins here about March and continues periodically through much of the spring and summer.
Some of the trout here stocked at times will be larger trophy-sized rainbows, and the rest will be typical legal-sized trout.
As with Pine Nursery Pond, Shevlin has a reduced trout bag of two fish per day.
To get here, take Northwest Newport Avenue west until a traffic circle where Northwest Shevlin Park Road continues northwest out of town. You'll cross Tumalo Creek and head into the park.
Sparks Lake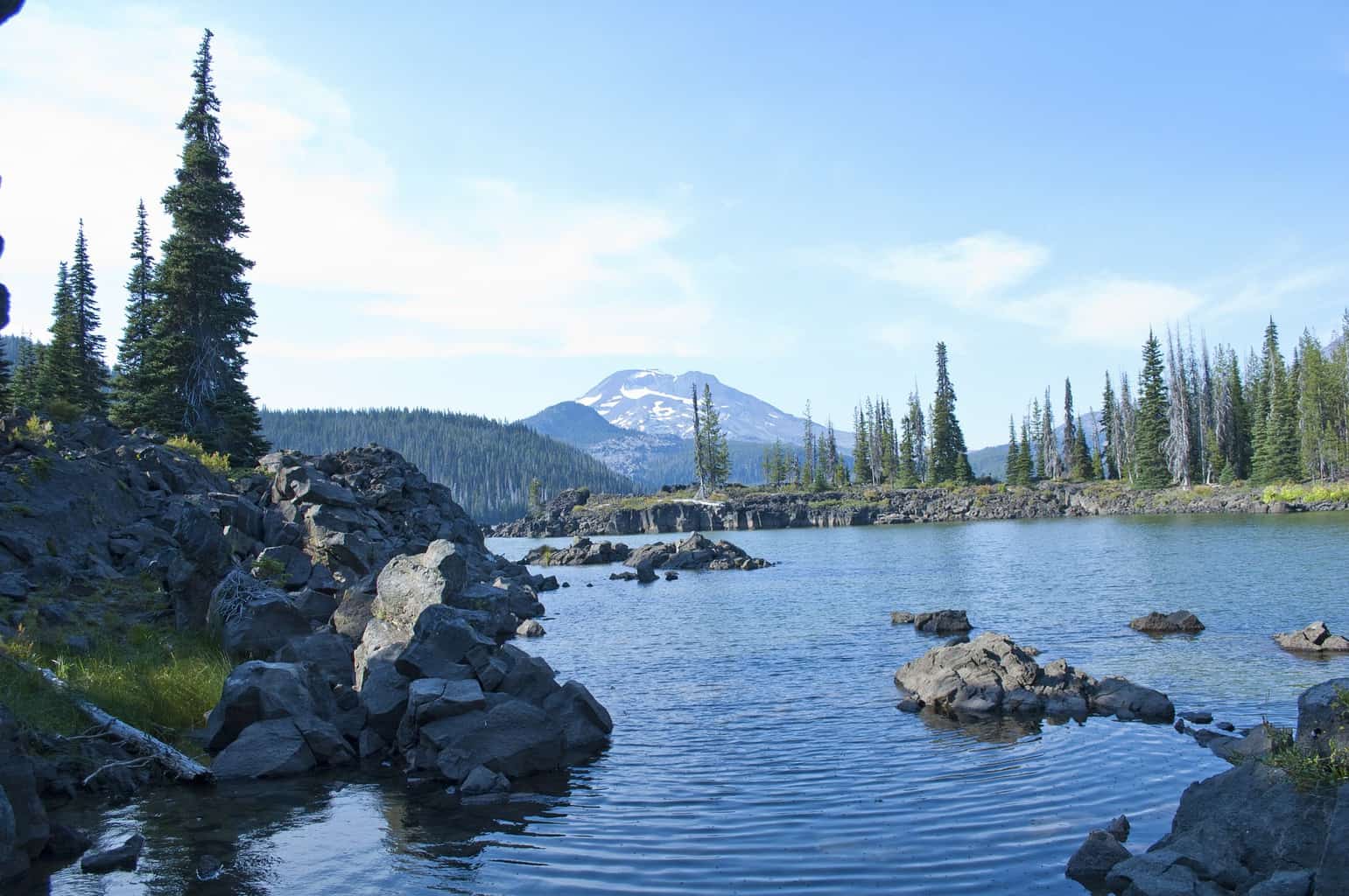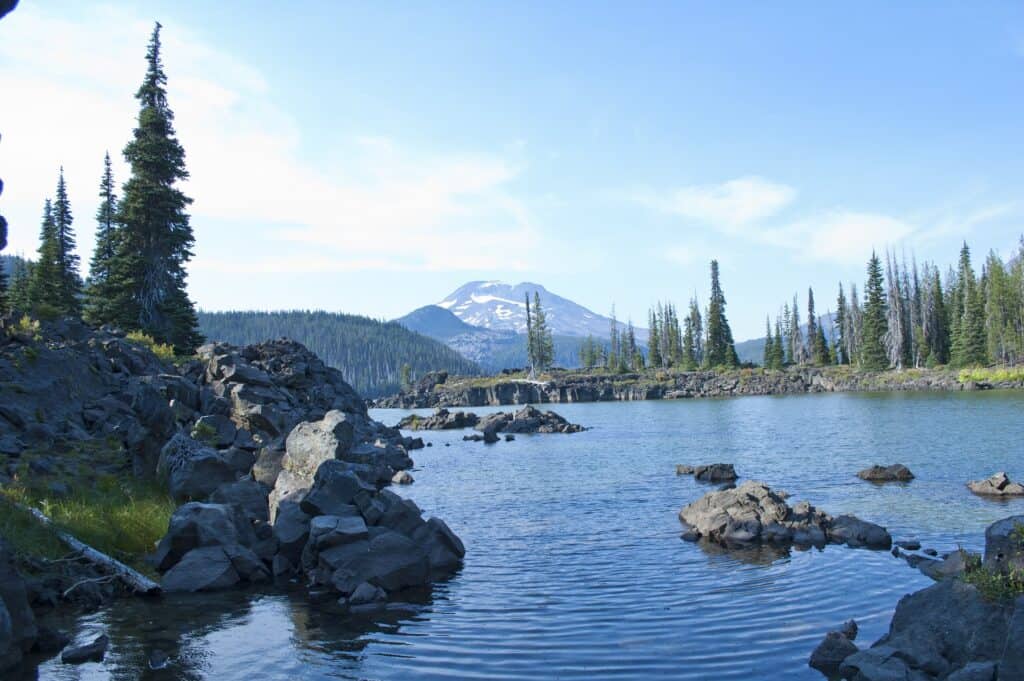 This is a fly-fishing-only lake (use barbless hooks) on the north end of the Cascade Lakes Highway, easily reached east of Bend after snowmelt.
The quarries here are good-sized cutthroat trout ODFW plants annually and smaller brook trout that naturally reproduce.
Three Creek Lake
This well-stocked high-mountain lake south of Sisters is a popular spot to get your trout on.
If snow conditions allow, it could be stocked with rainbow trout by late spring, but sometime in late June or early July is often when it's planted so plan your trip accordingly. There are some brook trout as well.
Catches are typically good until at least mid-summer.
It's often called Three Creeks Lake (plurally, but there's just one Three Creek).
And while it's not that far west from Bend as the eagle flies, it is easiest to reach from Sisters at the northeast foot of Broken Top.
See: Fishing at Three Creek Lake.
Todd Lake
This high-elevation lake off the Cascade Lakes Scenic Highway west of Bend is fairly lightly fished for its decent Eastern brook trout population.
Fly fishing is popular here.
Fishing early after ice-out in the late spring or early summer and again in the fall are good bets for better fishing, but you'll likely never have an issue finding plenty of room to fish on this 45-acre lake.
Twin Lakes, North and South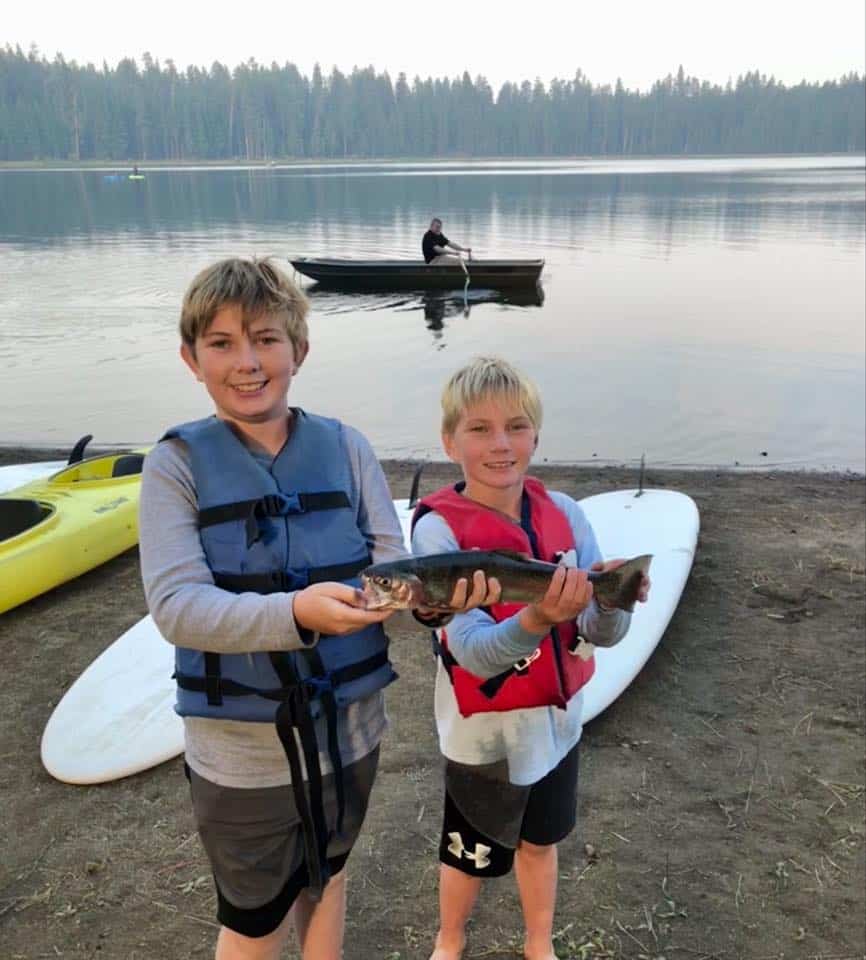 As the name suggests, these two round lakes are nearly identical. Anglers like them because they are typically well-stocked with rainbow trout, especially in the spring.
Recent stocking schedules show the lakes also could get another stocking in about September, and some of the trout in these plantings are likely to be the larger "trophy" rainbows reared to a larger size before release.
Both lakes have suffered somewhat from an overpopulation of illegally planted brown bullhead catfish in the past and have been treated to remove them.
However, a recent check with the resort found that there are currently a modest number of bullheads back in South Twin, though not enough to seem to have impacted the fishing. Keep all the bullheads you want.
There are good facilities here, including Twin Lakes Resort on South Twin.
The lakes are easy to reach taking Century Drive west from the Sunriver area. They are between Wickiup and Crane Prairie reservoirs.
See: Fishing at North and South Twin Lakes.
Whychus Creek
This stream flows through the Sisters area of Deschutes County and then into a canyon before joining the Deschutes River in Jefferson County, south of Lake Billy Chinook.
Whychus provides small-stream angling, mostly for smallish wild rainbow trout. It can be a fun spot to poke around while in the area to fish popular Metolius River or Suttle Lake.
Current regulations allow seasonal fishing with artificial flies and lures, and some harvest. Trout over 20 inches are considered steelhead and must be released.
Check for the latest rules before fishing.
Note: This creek was previously known as Squaw Creek and is still listed as such on some maps. It is spelled Wychus in some references but Whychus in the ODFW regulations.
Wickiup Reservoir
This large (10,000 acres) and often shallow reservoir on the Deschutes River southwest of Bend and Sunriver is most popularly fished for its abundant kokanee and big brown trout.
The kokanee can be a little difficult to catch at Wickiup, but anglers who are dialed in can do well here. And the reservoir puts out some really good-sized kokanee.
Read specific tips for the Wickiup kokanee fishery in this article, and find out about other Central Oregon kokanee lakes here.
The reservoir's German brown trout grow fat feeding on all those kokanee and other fish found in the reservoir, making this one of Oregon's best places to catch a true wall-hanger of a brownie.
For more on the state's brown trout fisheries, try this article.
There is a pretty small population of rainbow trout here, usually caught incidentally. There is not a rainbow stocking program at Wickiup at this writing.
Largemouth bass fishing can be very good, which is why we've included it in our article, Best Largemouth Bass Fishing in Central and Eastern Oregon.
There also is an abundant population of bullhead catfish. Too many, in fact. Keep all those you want.
Wickiup's fishing is periodically hurt by drought conditions. Camping is available, with supplies across the road at South Twin Lake.
Fishing in Neighboring Counties
Jefferson County: To the north, a popular section of the lower Deschutes River for trout fishing and the hugely popular Lake Billy Chinook.
Crook County: To the northeast, includes the versatile Prineville Reservoir, very popular for crappie, bass and trout fishing, and the trout-filled waters of the Crooked River.
Harney County: To the extreme southeast, rich desert lakes with rainbow and Lahontan cutthroat trout, plus a couple of premier trout streams.
Lake County: To the southeast, Oregon's only hybrid white bass, a couple of productive trout streams and, when there's water, one of the state's best crappie factories.
Klamath County: To the south, a large county chock full of fishing, including some of the state's best lakes for trophy trout of multiple species and plentiful kokanee.
Lane County (east): to the west, plenty of trout, salmon, steelhead, bass and more. Oh, my!
Linn County: To the northwest, superb spring chinook and summer steelhead fishing in the Santiam River system, and fantastic kokanee angling at Green Peter Reservoir.
More Fishing Resources:
In addition to other sources, the following websites were very helpful while compiling these county fishing pages, and the information there is valuable to all Oregon anglers.
For current regulations, trout stocking, weekly angling reports and more, find links on the Oregon Department of Fish and Wildlife's Fishing Resources Page.
For boating information about these waters, see the Oregon State Marine Board's launch locator map.
Return to Best Fishing in Oregon page
Oregon Resources
ODFW Weekly Fishing Report
ODFW Trout Stocking Schedule
Oregon Fishing Regulations
National Weather Service