Elk Lake doesn't have the same reputation as many nearby lakes in Central Oregon, but this 250-acre lake can be a surprisingly good trout fishery. And you might be the only one actually fishing there.
Elk Lake, located west of Mount Bachelor on Oregon's famous Cascade Lakes Highway, is most productively fished for brook trout.
The Oregon Department of Fish and Wildlife doesn't stock this lake with rainbow trout, but it has put some cutthroat trout here in addition to the brook trout, and there is a healthy population of typically small kokanee here as well.
The lake is heavily used, but not so much by anglers. There is a resort and several campgrounds as well as day-use areas, but most of those people are coming for the swimming, windsurfing, sailboating, stand-up paddle-boarding and similar pursuits.
Note that water skiing and jet-skiing aren't on that list because Elk Lake allows motors but has a 10 mph speed limit.
Anglers are likely to fare better by starting early or fishing at sunset, avoiding some of the crowds and often-windy conditions found at Elk Lake.
You'll find plentiful spots to launch your boat here, and boat fishing improves your ability to catch trout and is almost a must for catching kokanee, especially during the hot season when kokanee are in the deepest parts of the lake well off shore.
Trout Fishing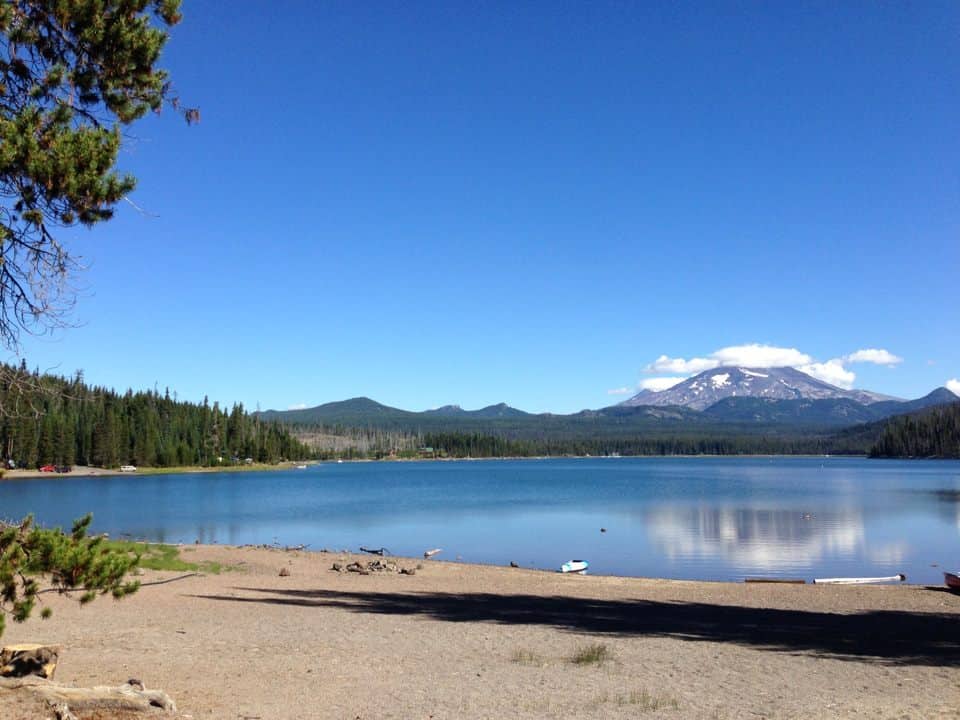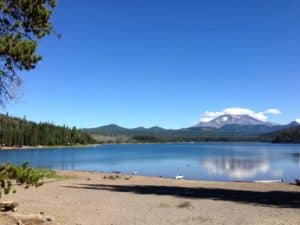 Brook trout are eager biters on bait, lures and flies. You might do very well here early in the mornings, before the lake gets busy with other activities.
At nearly 4,900 feet in elevation, it stays pretty cold up here well into spring. The best fishing could get going in May, but June might be a safer bet for planning.
Mid-summer can see a lull in trout-fishing success and a rise in other activities, but it's still worth a shot.
In the fall after the hot-weather fans have abandoned the place, brook trout often move in close to shore where you can catch them to 18 or 20 inches.
Use similar approaches for the cutthroat trout when you find them in decent numbers, but they are typically a secondary trout catch here.
Kokanee Fishing
The kokanee don't get a ton of attention here compared to lakes where these landlocked sockeye salmon run larger, like Odell Lake and Wickiup Reservoir. The numbers aren't the problem here, but those you do catch tend to often run under 10 inches.
To make up for that, perhaps, ODFW allows anglers to keep 25 kokanee of any size in addition to the traditional trout limit.
These are tasty fish cooked with your favorite trout and salmon recipes. We've been known to pack a portable smoker and pre-made brine to lakes with lots of kokanee and smoke them right there in camp.
Trolling small spinners, spoons and hootchies is the most common way to catch kokanee, although skilled jig anglers can pop out a limit even faster. A few anglers still-fish with bait, but this is more common for catching trout.
While the trout are often patrolling the shorelines in shallow and intermediate depths for insects, cold-loving kokanee (plankton feeders) are more commonly found in deeper water, especially during the hot season.
The primary kokanee hole at Elk Lake is straight out from Point Campground on the southwest side of the lake. This is where you'll find the lake's deepest water, up to 65 feet.
Kokanee will be fairly far down there by mid-summer, but this tendency will tend to concentrate them for easier catching at Elk, so if you have down riggers or enough weight, you might do well in hot weather once you locate the kokanee schools.
Camping and Cabins
You have several choices if you plan to stay overnight at Elk Lake, which is a stunning spot with views of the Three Sisters and Mount Bachelor.
This picturesque lake offers sweeping views of Central Oregon's Three Sisters mountains to the north as well as Mt. Bachelor to the east.
Besides Point Campground there also is Elk Lake Campground on the northwest side of the lake. Both are just off the Cascade Lakes Highway.
Little Fawn Campground offers group camping on the southeast shore, reached from Forest Road 4625 on the eastern shore of the lake. There are a couple of day-use areas as well.
Elk Lake Resort on the northwest shore off the highway offers several accommodation types, including cabins and traditional camping and "glamping" sites, as well as other services such as a small restaurant and a marina.
Elk Lake is located 32 miles west of Bend, about a 40-minute drive, or slightly less if you're staying in Sunriver. It will take you almost four hours to get here from Portland but just over two hours from Eugene.
Oregon Resources
ODFW Weekly Fishing Report
ODFW Trout Stocking Schedule
Oregon Fishing Regulations
National Weather Service