The Lava Lakes are some of the most popular lakes in Central Oregon, due to both their jaw-dropping setting and productive trout fishing.
Little Lava Lake, the smaller of the two, is best known for being the headwaters of the Deschutes River – and the Upper Deschutes River, right below Little Lava Lake, is a very popular spot for fly fishermen.
However, the bigger Lava Lake (sometimes called Big Lava Lake) is by far the most popular for conventional and fly anglers alike.
Both lakes are best fished during the summer season, and they are best fished by boat.
Trout Fishing at Lava Lakes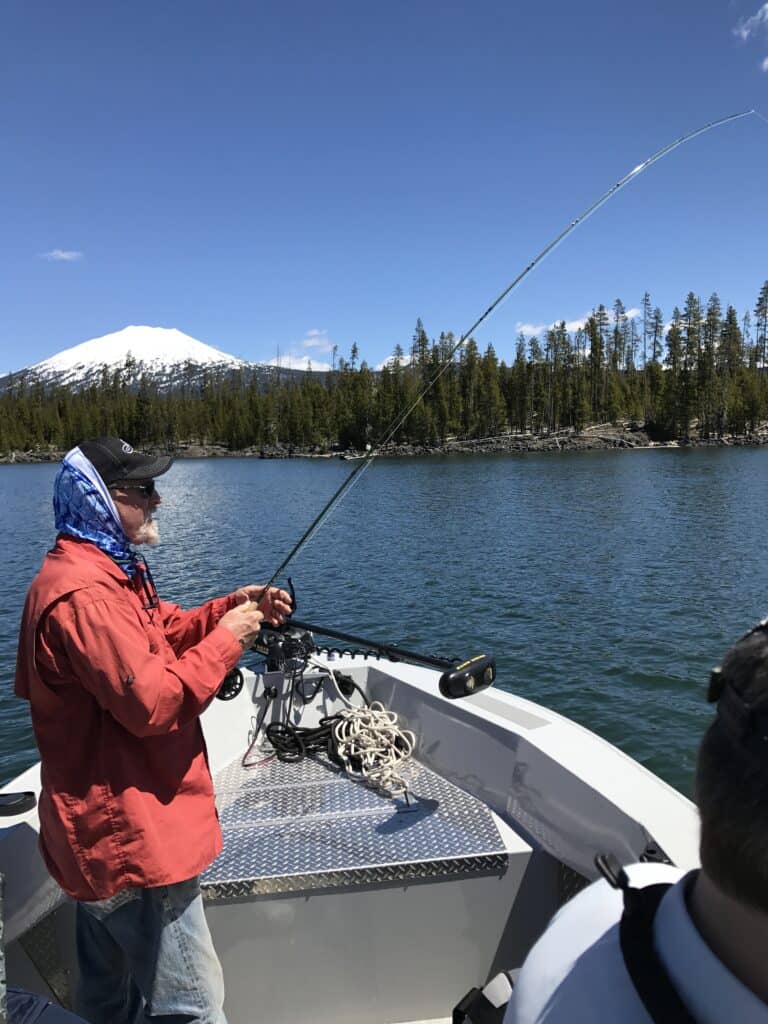 One of the big advantages of Lava Lakes is that it are both less crowded than their more famous neighbors, Wickiup and Crane Prairie Reservoirs.
Because of this, the Lava Lakes are a great place for anglers who want some peaceful, productive fishing, including both conventional bait and lure fishing and fly fishing.
Rainbow trout are stocked in both lakes, which makes for fun fishing throughout the summer even for the most inexperienced of fishermen.
Trout are typically stocked as youngsters at Big Lava (so we don't have a schedule for them), while some catchable-sized rainbows are planted at Little Lava.
Veteran anglers seek out the more wily holdover trout, fish that have survived the winter and have grown to be larger but also more wary.
Conventional fisherman do well on PowerBait doughs and eggs throughout the summer, and this is the easiest way for many anglers to catch trout.
Casting lures such as spinners is a good way to target aggressive trout after they've been stocked.
If you have a boat, you can reach more fish here. Conventional anglers often turn to trolling lures, bait or a combination of the two.
Fly fishermen catch numerous fish in the early season on leech and streamer patterns, but transition to typical Central Oregon chironomid and callibaetis patterns as the season wears on.
For some suggestions on how best to catch trout, read our guide at Trout Fishing: Basic How-To Techniques and Tips.
Lava Lake is by far the most popular spot for fishermen, but it can get windy at times during the season – when it does, look to Little Lava Lake as an excellent alternative.
2023 Big Lava Lake Trout Stocking
| | |
| --- | --- |
| Jun. 19 – 23 | 7,350 |
| Jun. 26 -30 | 750 |
Stocked fish are legal-sized rainbow trout unless otherwise noted. Stocking schedules are subject to change for a variety of reasons. The ODFW Weekly Fishing Report linked under Oregon Resources below may provide updated information.
Fishing at Little Lava Lake
Little Lava Lake is only about one-third the size of Lava Lake, but it can often be just as productive.
This lake also is shallower than Lava Lake, with an average depth of 8 feet in comparison to Lava Lake's 20. It is also significantly less windy, which makes it a great alternative when things get choppy on the main lake.
While in Lava Lake fly fishermen often opt for a sinking line while fishing leeches, it's possible to be very successful fishing a floating line and weighted fly on Little Lava.
This lake fishes similarly to nearby Hosmer Lake; so think shallow and stealthy.
Little Lava Lake is home to brook trout in addition to stocked rainbows. In fact, the trout population on the Upper Deschutes below Little Lava Lake is made up almost entirely of brook trout (with some native redsides as well).
The rainbow and brook trout in Little Lava Lake can grow to be very large, and some fly fishermen prefer this lake to the bigger Lava Lake due to its depth, prolific hatches, and large fish.
2023 Little Lava Lake Trout Stocking
| | |
| --- | --- |
| 2023 Stocking | Total |
| Jun. 12 – 16 | 1,250 |
| Jul. 17 – 21 | 1,250 |
Stocked fish are legal-sized rainbow trout unless otherwise noted. Stocking schedules are subject to change for a variety of reasons. The ODFW Weekly Fishing Report linked under Oregon Resources below may provide updated information.
When To Fish at Lava Lakes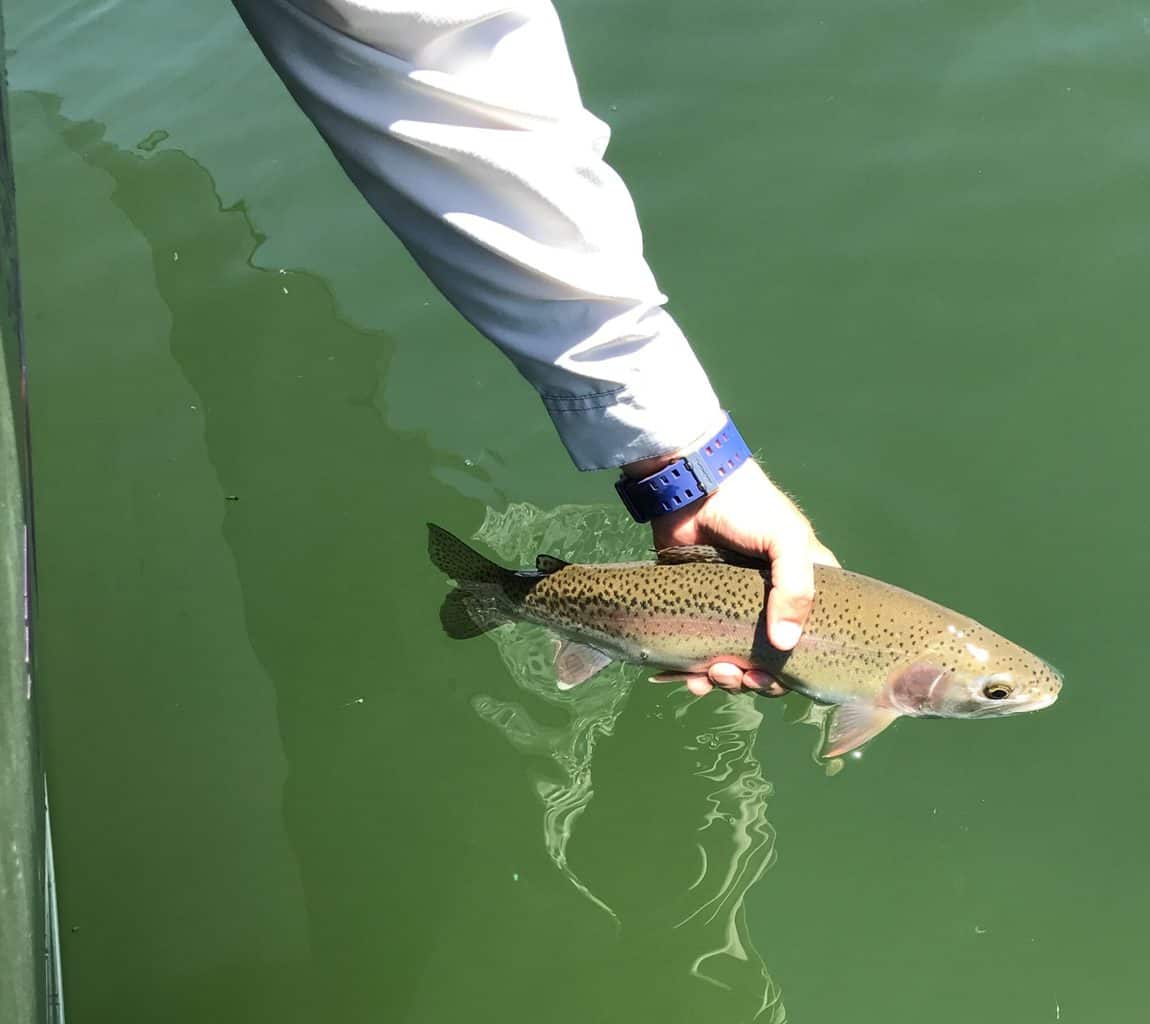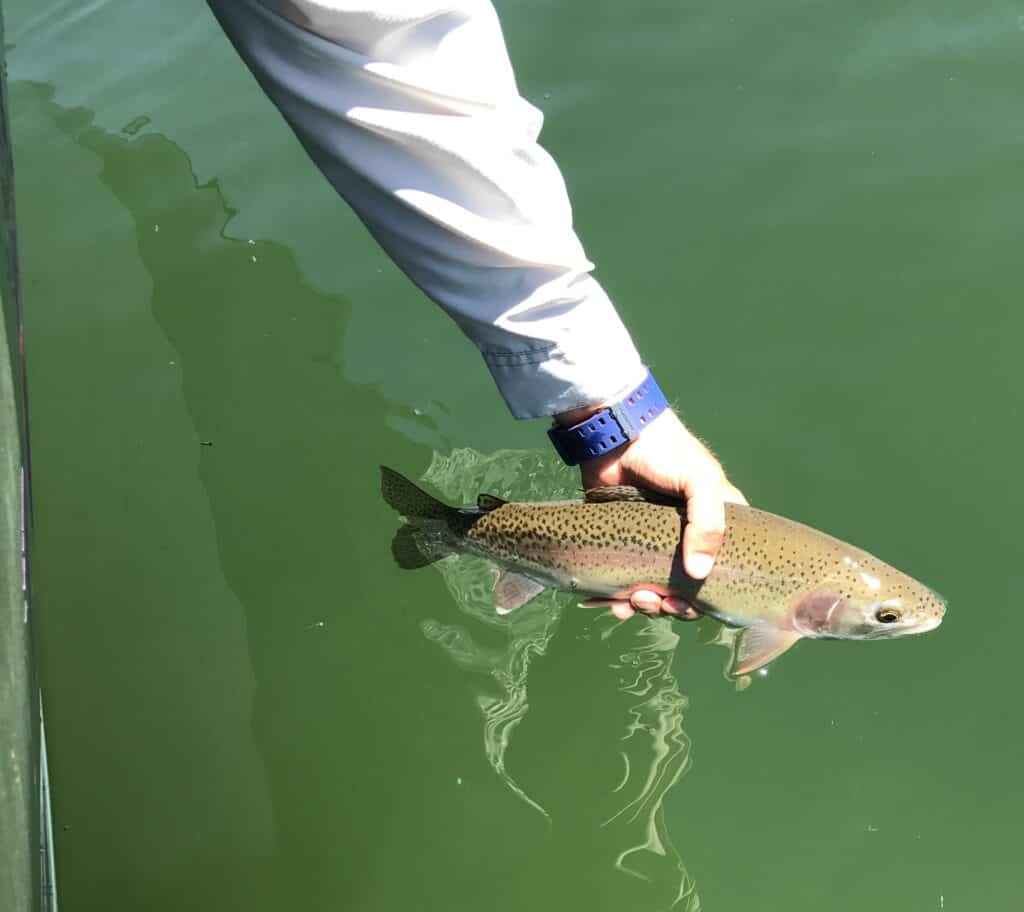 Though these lakes are technically open all year, they are – like many other high-elevation lakes – virtually inaccessible until April or May each year.
The lakes don't get quite the number of paddleboarders and kayakers as nearby Hosmer Lake does, so they're usually a good option through the summer months.
However, the lakes tend to be most productive in the early season, until about July. The cooler water temperatures and weather help contribute to this productivity, as well as freshly stocked trout from ODFW.
Fall is another great time to fish the Lava Lakes, as the trout will be feeding aggressively as they prepare for winter.
Snow typically arrives in late October or November, after which the lakes will be difficult to access and fish until the spring. The road to the lakes is officially closed from December through March.
Where Are The Lava Lakes?
The Lava Lakes are in a convenient location if you're in Central Oregon, located just west of Mount Bachelor and just south of both Hosmer and Elk lakes.
The drive from Bend is about 45 minutes, and you'll be taking the Cascades Lakes National Scenic Byway for most of the drive.
If you're coming from Portland, Salem, or Eugene, the quickest route to the Lava Lakes runs through Oakridge on Highway 58 before taking a turn north on the Cascade Lakes National Scenic Byway until you arrive at the lakes.
The U.S. Forest Service offers camping at Lava Lake Campground and Little Lava Lake Campground, a short distance apart at the two lakes. There are boat launches at both campgrounds.
The Lava Lakes offer refreshing, peaceful spring, summer, and fall fishing for rainbow and brook trout.
If you're looking for a relaxing day of fun fishing, there's hardly a better place to go in Central Oregon!
Oregon Resources
ODFW Weekly Fishing Report
ODFW Trout Stocking Schedule
Oregon Fishing Regulations
National Weather Service
Carter Reschke is a freelance writer based in Oregon. Passionate about the outdoors, Carter is a fly fishing aficionado and spends his days on the river when he's not writing.