Hosmer Lake is a fly fishing paradise in Central Oregon.
Located just beyond the west slopes of Mount Bachelor, Hosmer Lake offers a picturesque setting for catching numerous brook and rainbow trout.
At a modest 200 acres, Hosmer Lake isn't the biggest lake in Central Oregon, but it is one of the best lakes for fly fishermen.
The lake's average depth of 3 feet makes it a perfect spot for chironomids, callibaetis, and caddis to call home. And trout are happy to call those insects dinner.
Please note that Hosmer has some special regulations to help maintain its fairly unique character. (Always double-check the rules before fishing.)
For one, this is among a handful of Central Oregon lakes where you can only use fly fishing gear.
Even more uncommon in this region, fishing at Hosmer is entirely catch-and-release, even for non-native brook trout, which is part of the reason Hosmer grows big trout.
Because all fish are released, you also need to use barbless hooks.
Between the scenic setting and prolific hatches, Hosmer Lake is truly one of Central Oregon's gems.
Rainbow Trout Fishing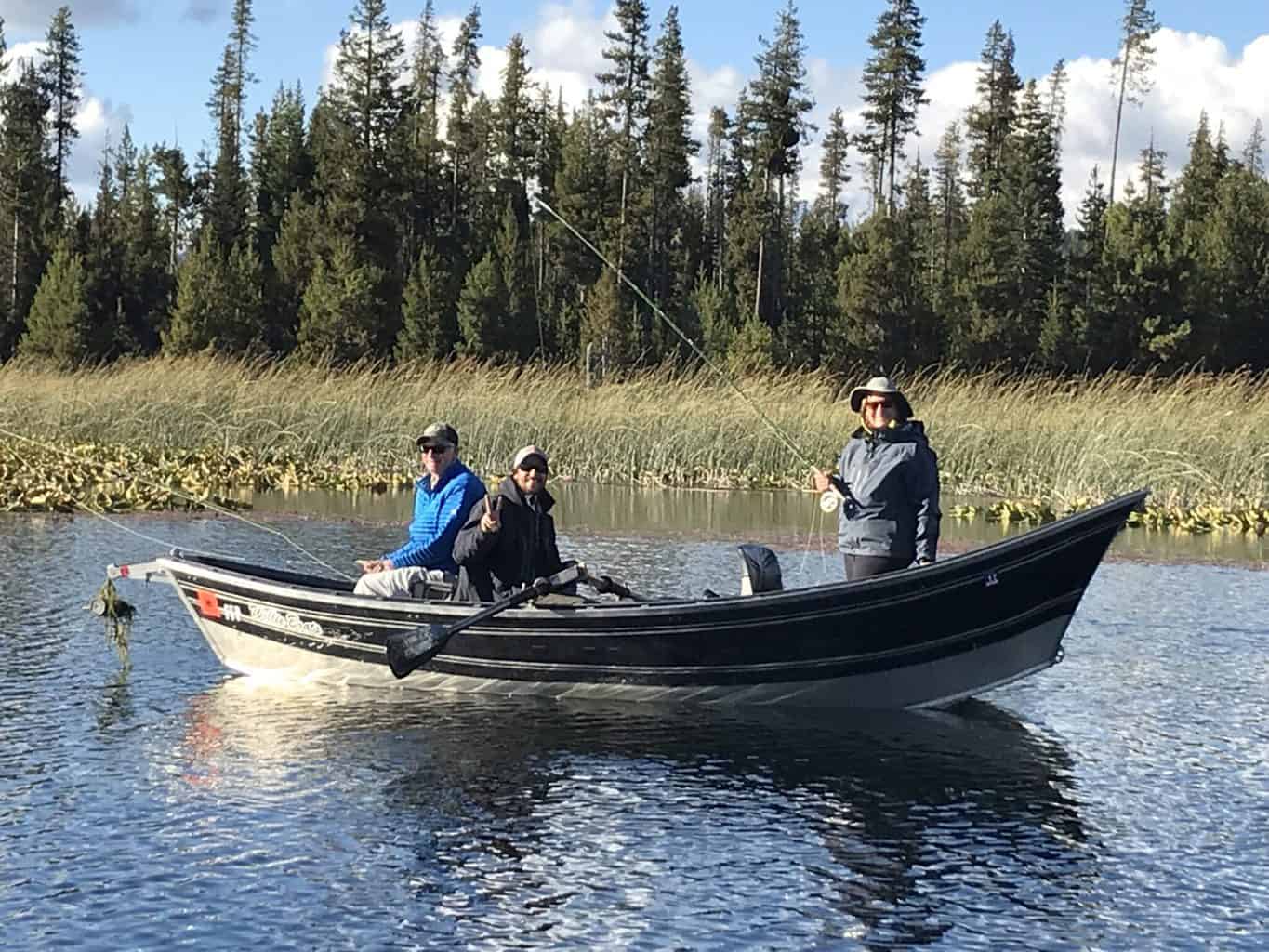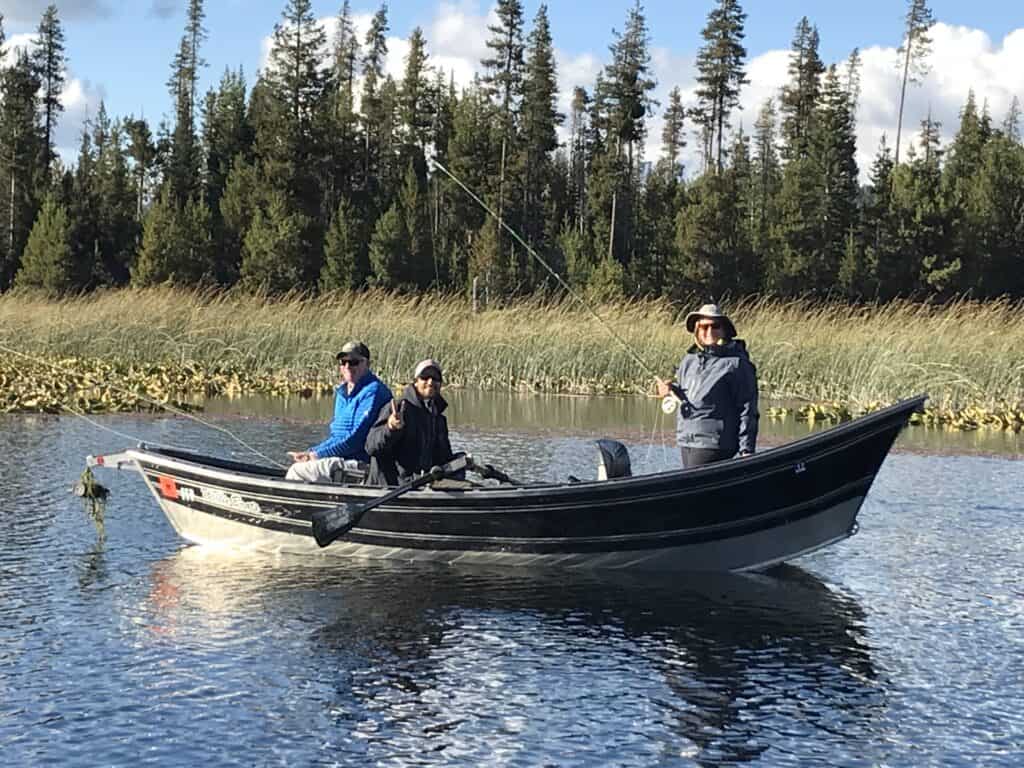 Hosmer Lake is perhaps best known around Oregon for its once-thriving population of non-native Atlantic salmon.
The lake was in the unique position of being one of the only lakes in the Pacific Northwest that had these fish, and certainly was Oregon's main destination for these East Coast transplants.
In 2015, however, the Oregon Department of Fish and Wildlife (ODFW) ended the long-standing Atlantic salmon stocking program, and the fish are no longer planted in the lake.
Now, ODFW stocks Hosmer with an abundance of native Central Oregon rainbow trout, derived from the Crane Prairie stock of fish. The lake is also stocked with cutthroat trout.
Rainbow trout are the most common catch at Hosmer, and they're eager to bite on a number of tactics.
The lake's shallow waters make it perfect for nymphs gently stripped along the shoreline, and chironomid and baetis patterns typically excel for anglers.
On the surface, caddis and smaller baetis patterns steal the show. Dry fly fishing comes and goes on Hosmer, with the most productive windows typically being in the early morning and the late evening.
Cutthroat Trout Fishing
Cutthroat trout, while not always as prevalent as rainbows, are quite common in Hosmer Lake.
Most fly anglers prefer to target the aggressive cutthroat in the lake through a variety of leech patterns – the lake has a healthy leech population.
Olive, tan, and black wooly buggers are a staple if you're looking to catch cutthroat in Hosmer.
Some of these trout grow to be quite large, and though they don't fight quite as hard as the rainbows or brook trout, they're a fun fish to catch.
Brook Trout Fishing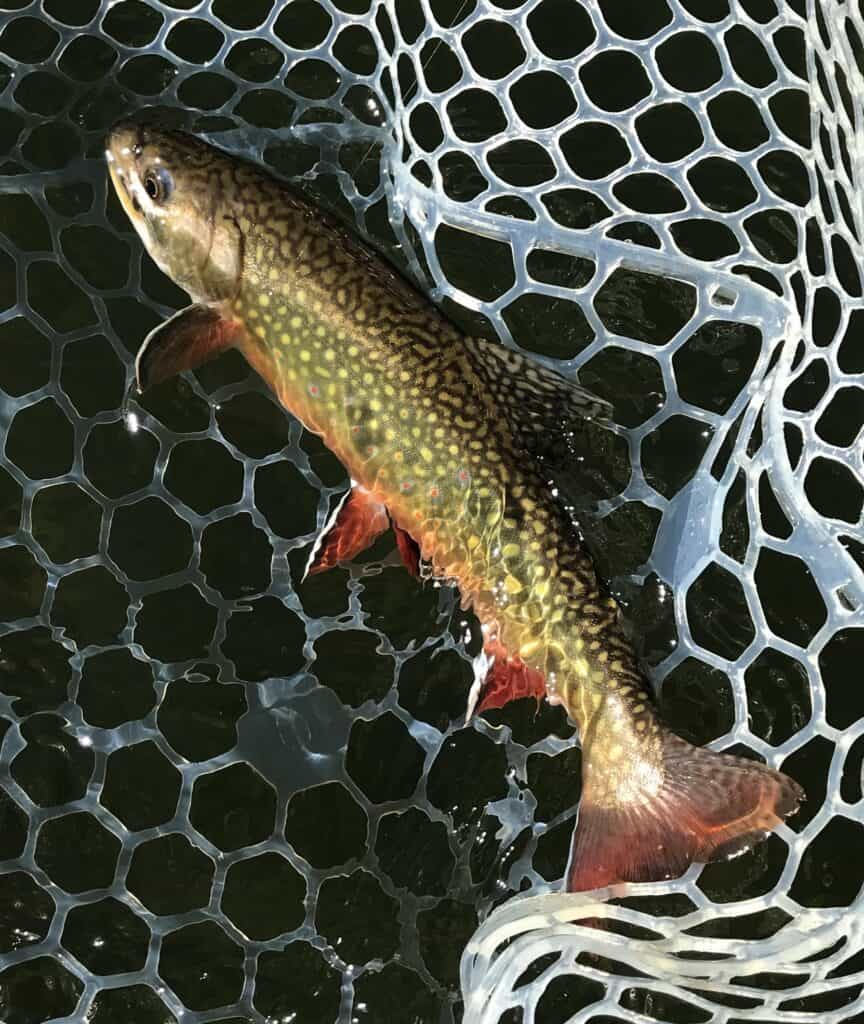 There are some very large brook trout in Hosmer lake, and they are notoriously difficult to catch.
These brutes hang out in the channels and arms of the lake, far from most recreational activity, and they're considered the most difficult fish to catch in the lake.
A stealthy presentation is a must if you want a chance at catching the fabled Hosmer Lake brook trout, but if you get everything just right, you'll be rewarded.
Brook trout are the rarest catch on Hosmer Lake (and this is in part due to the changing ecosystem with the exit of Atlantic salmon), so it's very exciting if you do hook into one.
When to Fish
Hosmer Lake is open all year, but it is inaccessible until mid- or late spring, depending on the snow year.
Beginning in about May, the road becomes accessible and fishing is great on Hosmer until the mid- to late fall, when cold and snow start to make themselves a daily occurrence.
Much to the dismay of many fly fishermen, Hosmer Lake also is very popular amongst Central Oregon locals for kayaking and stand-up paddleboarding.
All of this activity spooks fish and can make fly fishing during the dog days of summer a formidable task, and many fishermen avoid the lake from late June through late August.
If you do decide to head to Hosmer during the summer, opt for fishing in the early morning and late evening hours, when most kayakers and paddleboarders aren't around. The fish will be more eager to bite, and you'll have a lot more water to work with as well.
More Information
It's worth noting that you'll have a tough time fishing Hosmer Lake if you don't have a float tube, pontoon, or drift boat.
Much of the lake's waters are virtually inaccessible from the shore, and you'll have a much better day if you have some sort of watercraft to bring to the lake.
Hosmer Lake is just east of Elk Lake, off the Cascade Lakes National Scenic Byway, a little more than an hour's drive southwest of Bend and about four hours from Portland.
Hosmer Lake is one of Central Oregon's gems.
Productive rainbow, cutthroat and brook trout fishing right next to one of Oregon's most popular mountains is about all a fly fisherman could ask for.
Get out there and catch some fish!
More information:Trout Fishing: How-To Techniques and Tips
Oregon Resources
ODFW Weekly Fishing Report
ODFW Trout Stocking Schedule
Oregon Fishing Regulations
National Weather Service
Carter Reschke is a freelance writer based in Oregon. Passionate about the outdoors, Carter is a fly fishing aficionado and spends his days on the river when he's not writing.