Source: Fishing in Oregon: The Complete Oregon Fishing Guide (11th Edition) by Madelynne Diness Sheehan
Also see:
Best Fishing in Oregon's Central Zone (North Lakes and Reservoirs)
Best Fishing in Oregon's Central Zone (Rivers)
The Central Zone includes all waters draining into the Columbia River from Bonneville Dam up to and including the Deschutes River.
The following are among the best fishing lakes and reservoirs that are south of Bend in the Central Zone:
Crane Prairie Reservoir
This large, rich reservoir on the upper Deschutes River grew famous for quickly growing huge rainbow trout that some locals call "cranebows." It also contains brook trout, largemouth bass, crappie and kokanee.
Timber left standing when the area was flooded provides excellent cover and propels a food chain rich with insects. Fly fishing and conventional methods are both popular for the trout.
Illegally introduced bass, crappie, bluegill and bullhead catfish provide some newer fisheries but also reduce the lake's productivity.
Illegally introduced tui chub and three-spine stickleback also interrupt the food chain, but even with all that the trout fishing has been very good in recent seasons.
More: Crane Prairie Reservoir Fishing
East Lake
This rich lake in the Newberry Crater offers four major game species and some of central Oregon's best high-mountain lake fly fishing.
East is heavily planted with rainbow trout, which make up much of the catch for both conventional and fly anglers. (Release rainbows if they aren't fin-clipped.)
The brown trout can be quite large, topping 20 pounds, although neighboring Paulina boasts the state record.
Regulations requires release of all browns over 16 inches, which could help produce some true catch-and-release trophies for those ready to snap a photo.
Along with Hosmer, Atlantic trout have at one time been planted in East, but the programs have ended.
Finally, East Lake also has a good population of kokanee.
There is a health advisory due to high levels of naturally occurring mercury (from hot springs), but recently stocked rainbows and resident kokanee have low accumulations ane are unlikely to pose a risk.
More: East Lake Fishing
Also see:
East Lake brown trout fishing
East Lake kokanee fishing
East Lake rainbow trout fishing
Hosmer Lake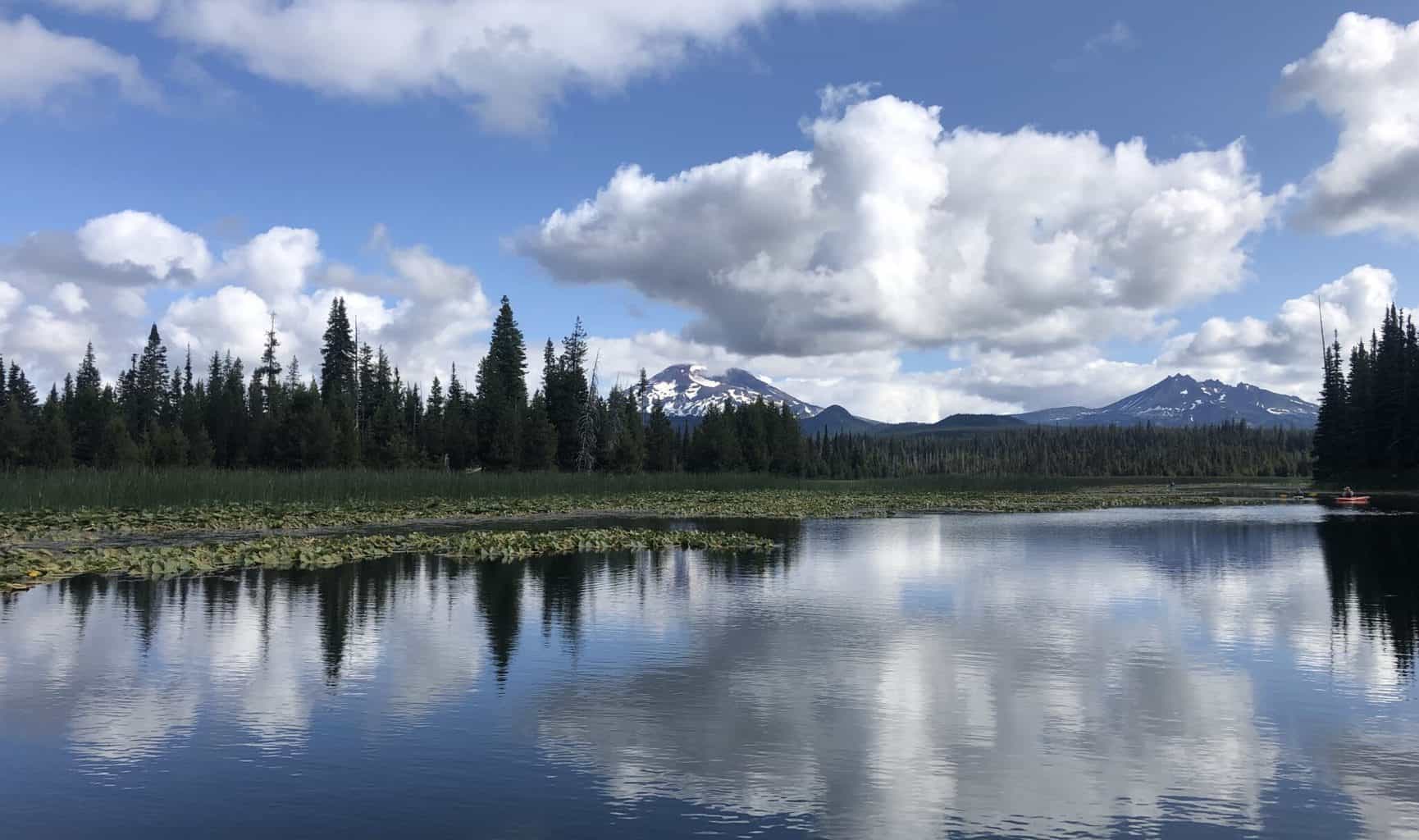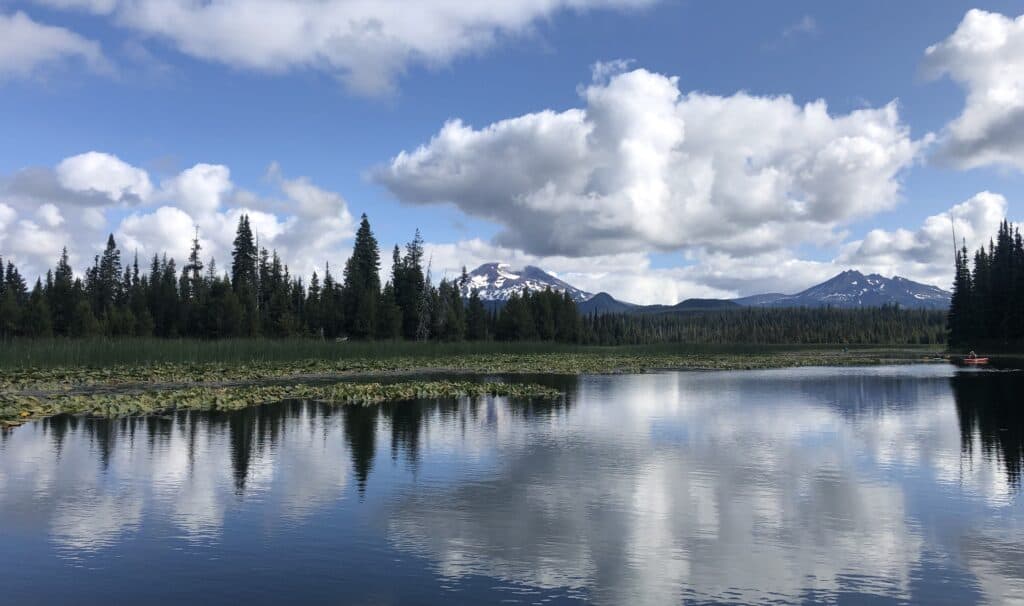 Hosmer is another very rich, fly fishing-only lake in central Oregon, southwest of Bend and west of Sunriver.
The lake is known for having some of the largest brook trout caught in Oregon and previously also was the best place in Oregon to catch Atlantic salmon.
Stocking of the Atlantics has ended and now the lake sports the same big rainbows found in Crane Prairie plus stocked cutthroat trout and self-sustaining brook trout.
Hosmer consists of two large pools connected by a long channel, and the shallow lake is thick with submerged weeds and water lilies. Current regulations here require release for all species.
More: Fly Fishing at Hosmer Lake
Lava Lake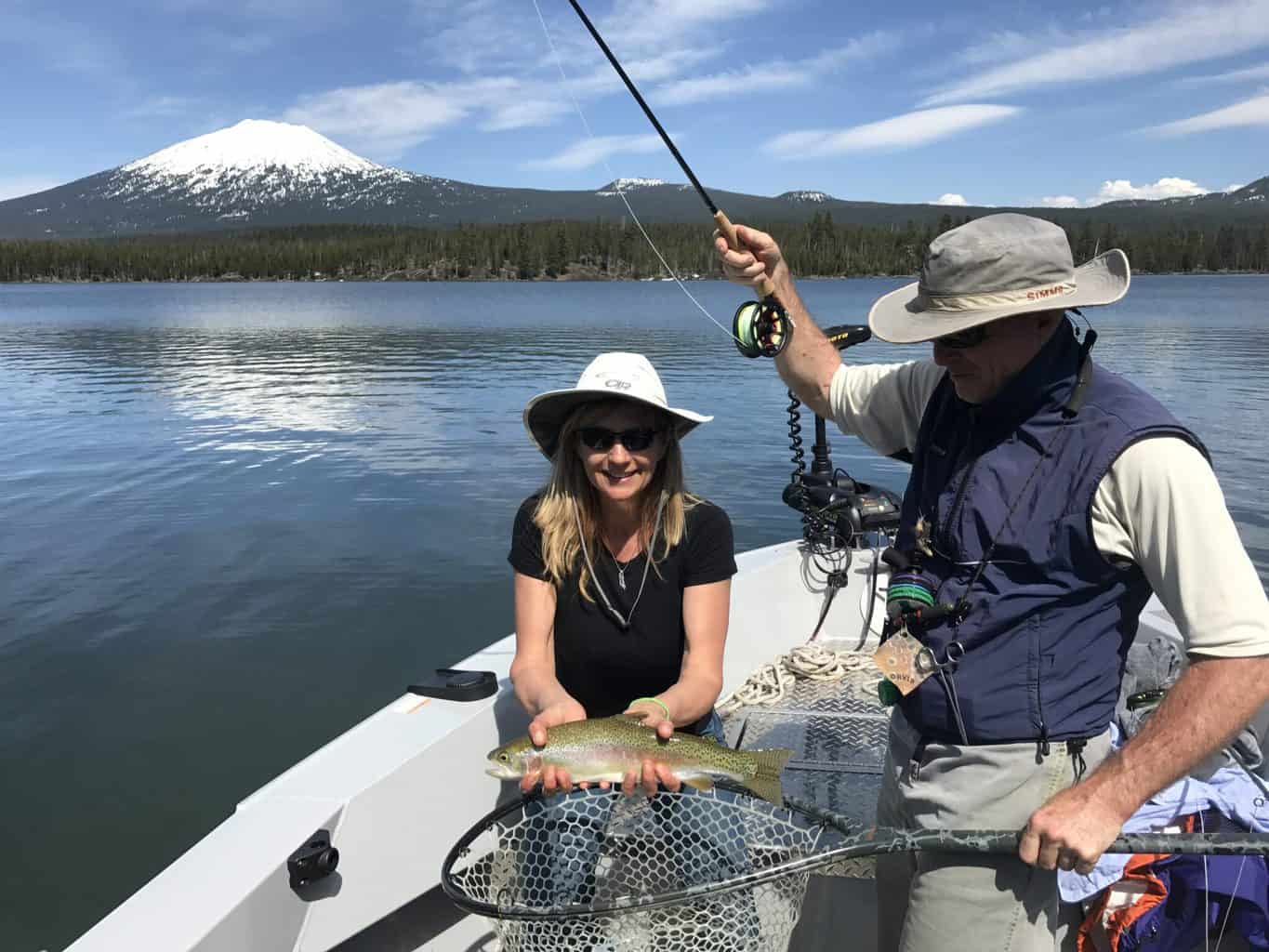 This lake, also known as Big Lava Lake (as Little Lava Lake is right next to it), is an easy drive just off the Cascade Lakes Highway south of Bend.
Lava Lake is primarily a rainbow trout fishery, and it can produce fish in both good numbers and sizes.
Decent-sized brook trout are also present in fishable numbers. (The state record brookie came from the nearby upper Deschutes River.)
Bait fishing, trolling and fly fishing are all popular and effective at Lava Lake.
More: Fishing at Lava Lakes
Odell Lake
One of Oregon's largest and deepest natural lakes, Odell is well known for its huge schools of kokanee and the huge mackinaw (lake trout) that gobble them to reach state record size.
The lake, near Willamette Pass, is a reasonable drive from either Eugene or Bend.
The kokanee, or landlocked sockeye salmon, are tasty and so plentiful that skilled anglers regularly reach the 25-kokanee limit when the bite is on.
Odell's kokanee aren't as large as in some lakes, but the fishing here is almost always worthwhile.
Jigging and trolling are both popular methods. Fish for kokanee at shallow depths in the early season and down deep in the summer.
Lake trout are commonly caught between 10 and 20 pounds, gorging themselves on the kokanee, and the state record of 40.5 pounds was landed here in 1984.
Rainbow trout are a good third option here but don't attract nearly as many anglers as the other fish, even though fishing for them can be quite good along the shallow shoreline shelves.
Rainbows and whitefish can be caught from shore, although bank access is limited mostly to campground areas.
Incidentally caught bull trout must be released unharmed.
A boat is needed to catch kokanee and lake trout.
Odell Lake also is known for strong afternoon winds, so most anglers get on the lake early. The west end offers the best shelter.
More:
Odell Lake Kokanee Fishing Tips
Odell Lake Mackinaw (Lake Trout) Fishing
Odell Lake Rainbow Trout Fishing
Paulina Lake
This is a big and very productive lake in the crater of a dormant volcano in the Paulina Mountains southeast of Bend and east of La Pine.
Paulina has popular fisheries for big brown trout, healthy schools of kokanee that run bigger here than in many lakes, and abundant rainbow trout.
The state record brown, a 28-plus pounder caught here in 2002, is one of the largest browns ever landed on the West Coast.
Fishing for browns can be very good in the late spring and early summer, after an ice-out that comes late at 6,350 feet in elevation.
Kokanee and rainbow trout are caught all summer, and rainbows make a good fishery until bad weather returns in the fall.
Paulina shares high-elevation Newberry Crater with East Lake, which also has brown and rainbow trout and kokanee fisheries.
More: Paulina Lake Fishing.
Wickiup Reservoir
Another large and productive reservoir, west of La Pine and next to popular South and North Twin lakes, Wickiup is best known for big brown trout and kokanee.
Much of the lake is shallow, with deeper river channels and fluctuating water levels, making it somewhat difficult to master.
Kokanee grow to nice size and often are caught in as little as 10 feet of water in spring before retreating to deeper channels for summer.
Brown trout grow very large, producing a past state record 26-pounder, and are often caught in submerged river channels. In the fall, browns assemble off Gull Point and in the Deschutes channel at the northwest end of the lake before they spawn, often gorging on the kokanee that also gather for their own spawning run.
Wickiup also has a smaller population of rainbow trout, as well as illegally introduced largemouth bass and brown bullhead catfish.
More:
Kokanee Fishing Tricks and Tips for Wickiup Reservoir
Editor's note
Davis Lake was included among the top trout-fishing lakes of south-central Oregon in the past, but since the 1990s it also has become a largemouth bass fishery after an illegal introduction.
This water is managed for trophy trout and only fly fishing with barbless hooks is allowed.
The trout fishery has suffered from low-water years and invasive bass. But there are still some large trout, which are often caught in shallow water early in the season and deeper water and the Odell Creek arm as summer heats up.
For those wanting to chase largemouth with a fly, this is one of the best places in Oregon.
Bass fishing can be excellent in May and June. Early bass fishing can be good on the east side of the lake and near the natural lava dam. Later, look for them around structure, including tules and lily pads.
See an overview of this fishery here: Davis Lake Fishing.
More:
Davis Lake Fly Fishing for Bass
Davis Lake Fly Fishing for Rainbow Trout
Find more places to fish in all 36 Oregon counties
Return to Best Fishing in Oregon page
Oregon Resources
ODFW Weekly Fishing Report
ODFW Trout Stocking Schedule
Oregon Fishing Regulations
National Weather Service