A fishing trip to Lost Lake is like stepping into a postcard, with Mount Hood majestically reflected on its pristine waters sometimes broken only by the dimpling of trout picking flies off the surface.
Your editor has camped up here a fair bit and sampled its fishing personally.
You might catch three kinds of trout and possibly even a land-locked salmon in this alpine beauty, which is on our list of the best fishing lakes in north-central Oregon.
Trout Fishing
The Oregon Department of Fish and Wildlife stocks Lost Lake with good numbers of hatchery-raised rainbow trout each year, particularly in the late spring and early summer.
The stocked rainbows make up the bulk of the catch here, especially during the prime stocking times in late spring and early summer.
Recently, ODFW has planted more than 20,000 trout here in a season, particularly in May and June soon after access opens up in this high-mountain setting.
While the bulk of those fish will be pan-sized legals, the state also tens to put larger trophy trout and even a handful of giant brood trout into the lake.
However, fair trout fishing is available into the late summer and early fall, although limits will be far tougher to come by.
Both bank and boat fishing are popular at this 245-acre lake.
Bank access is excellent, with a good trail ringing the entire lake. You'll see the most bank fishing near the large camping and day-use areas on both sides of the lodge nearby boat ramp.
Most bank anglers still-fish with baits including natural and prepared baits, from nightcrawlers to PowerBait.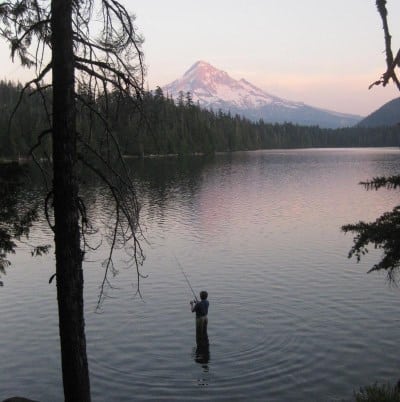 You also will see fly anglers wade out on the shallow shelf areas to get out of the heavy shoreline trees and within range of feeding trout.
Boat anglers can't use motors here, but reaching fish in a kayak, canoe or rowboat is easy in this size of lake. You can launch your own craft or rent one from the resort. A float tube also works well when the water is flat.
Boat anglers can use a variety of approaches, including bait-fishing and trolling with lures or flies.
Fly anglers also use boats to reach productive weed beds in shallow areas located primarily on the west side near an inlet creek and on the south end near the horse camp, where there's another small tributary.
If you need to brush up on your trout-fishing skills, read our Trout Fishing: Basic How-To Techniques and Tips.
While rainbows make up a good part of the catch, there also is a good population of Eastern brook trout and also a modest number of German brown trout.
These non-native species aren't stocked here but have naturalized after arriving and reproduce on their own.
Brook Trout
The brookies love clear, high-country lakes and are fairly frequently caught. Brook trout are primarily insect eaters and often caught using natural baits and artificial flies.
Brook trout often aren't large, but a few are pretty good size and all are feisty and tasty.
Brown Trout
The brown trout aren't incredibly numerous here.
Browns can grow to good size here, but not as large as in some of the larger lakes south of Bend that have more forage fish. (See: Best Trophy Brown Trout Lakes in Oregon.)
Because brown trout like to feed on smaller fish, trolling or casting lures and flies that mimic minnows and young trout are often the best bet.
Browns also feed most aggressively at night and in low light, so hit the lake early and late (within legal hours) for the best results.
Kokanee
There also are kokanee (land-locked sockeye salmon) in Lost Lake.
This isn't a big fishery here, and in multiple visits I haven't seen many people chasing them, but I've been told if you can find the schools you can pick them up trolling lures or with jigs.
Kokanee often run deep. A fish finder is helpful. The deepest parts of the lake are more than 160 feet deep. Find easy access to info about more reliable kokanee fisheries here: Best Kokanee Fishing in Oregon.
More information: Kokanee Fishing: Simple Tips and Techniques
Camping and Access
Lost Lake sits at over 3,100 feet on the northwest flanks of Mount Hood.
It's technically open for fishing all year under typical zone regulations, but keep in mind that winter hits pretty hard here and the snow gets deep, impeding access.
Lost Lake Resort and Campground are open seasonally from mid-spring through early fall, the times you'd want to be fishing anyway.
Don't expect Lost Lake to be "lost." This is one of Oregon's favorite camping spots, and campgrounds run pretty close to capacity all summer (make reservations early), as well as some other lodging options, that bring hundreds of people to the lake throughout the summer.
You can buy basic supplies (including fishing licenses and tackle) at the resort store, in addition to simple cold and hot foods.
There are good day-use areas, but plan to stake out your spot early if you come up on a weekend day because prime lakeside spots fill quickly.
Give yourself roughly two hours to drive to Lost Lake from the Portland area.
The fastest route for most metro-area residents is taking Interstate 84 east to Hood River and then driving southwest to the lake, passing through fruit orchards and active timber harvest areas before entering dense evergreen forests that surround the lake.
You can also come over from the south on Highway 26 in the Mt. Hood Village/Rhododendron area, traveling through the Mt. Hood National Forest, but personal experience shows the roads and signage aren't as good.
2023 Lost Lake Trout Stocking
| | |
| --- | --- |
| 2023 Stocking | Total |
| May 8 – 12 | 2,800* |
| May 15 – 19 | 2,800* |
| May 22 – 26 | 2,800* |
| May 29 – Jun. 32 | 2,800* |
| Jun. 5 – 9 | 2,800* |
*These stocking dates include 400 trophy-sized rainbows.
Stocked fish are legal-sized rainbow trout unless otherwise noted. Stocking schedules are subject to change for a variety of reasons. The ODFW Weekly Fishing Report linked under Oregon Resources below may provide updated information.
Find more fishing spots in Hood River County
Oregon Resources
ODFW Weekly Fishing Report
ODFW Trout Stocking Schedule
Oregon Fishing Regulations
National Weather Service