This is one of the most picturesque spots in Oregon's northern Cascade Mountains because the natural rhododendron-rimmed lake perfectly reflects nearby Mount Hood.
It's also pretty if you like trout fishing, because the Oregon Department of Fish and Wildlife stocks the lake generously beginning in May and occurring periodically throughout the summer.
Trillium is just a bit over 60 acres in size and is easily accessed from the bank or a small boat.
Trillium Lake is actually a small reservoir, created by the Oregon Department of Fish and Wildlife with the damming of the far-less poetically named Mud Creek.
On average it's a shallow lake with a maximum depth of just over 20 feet closer to the dam at the southern end. The upper lake where Mud Creek enters is very shallow.
There is a boat ramp and a fishing dock at Trillium Lake Campground (U.S. Forest Service) on the east bank, a very nice place to spend a few days. If you're planning a camping and fishing trip with kids, this is a spot to consider.
There also is a nice day use area nearby with boat launching and other amenities.
Know that boat motors may not be used at Trillium Lake, but it's a great spot for that float tube, pontoon boat, kayak or canoe.
Rainbow Trout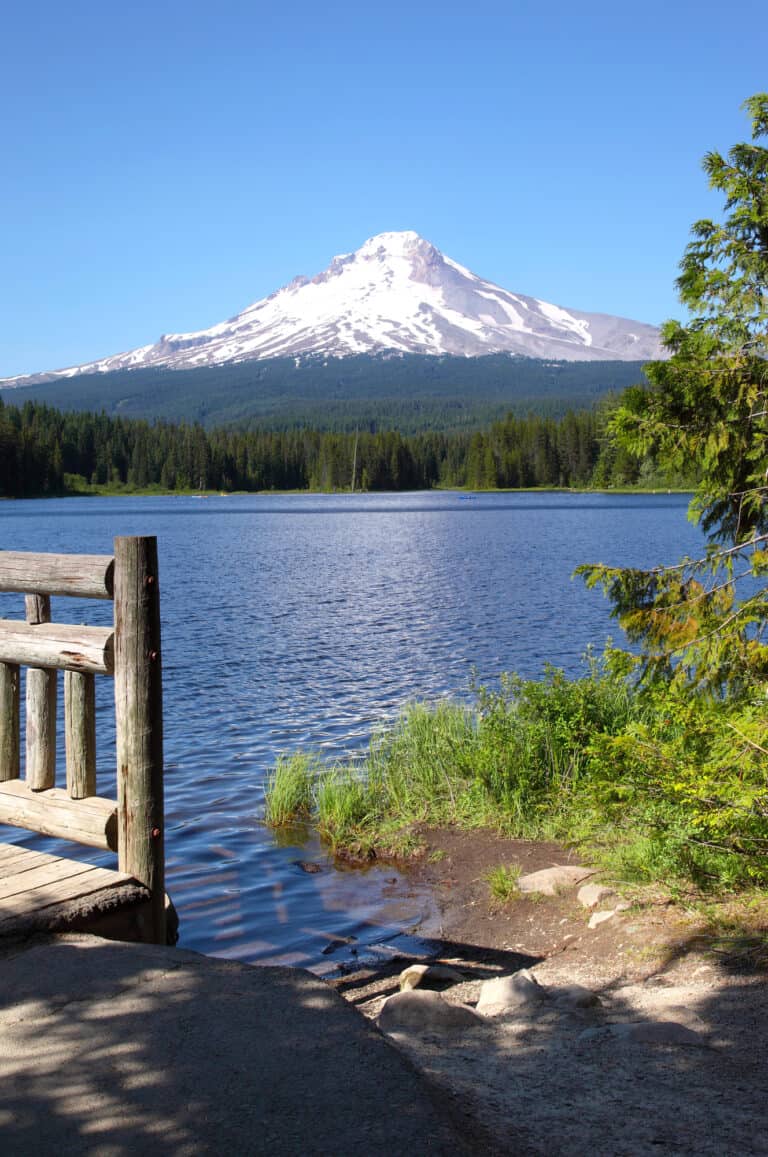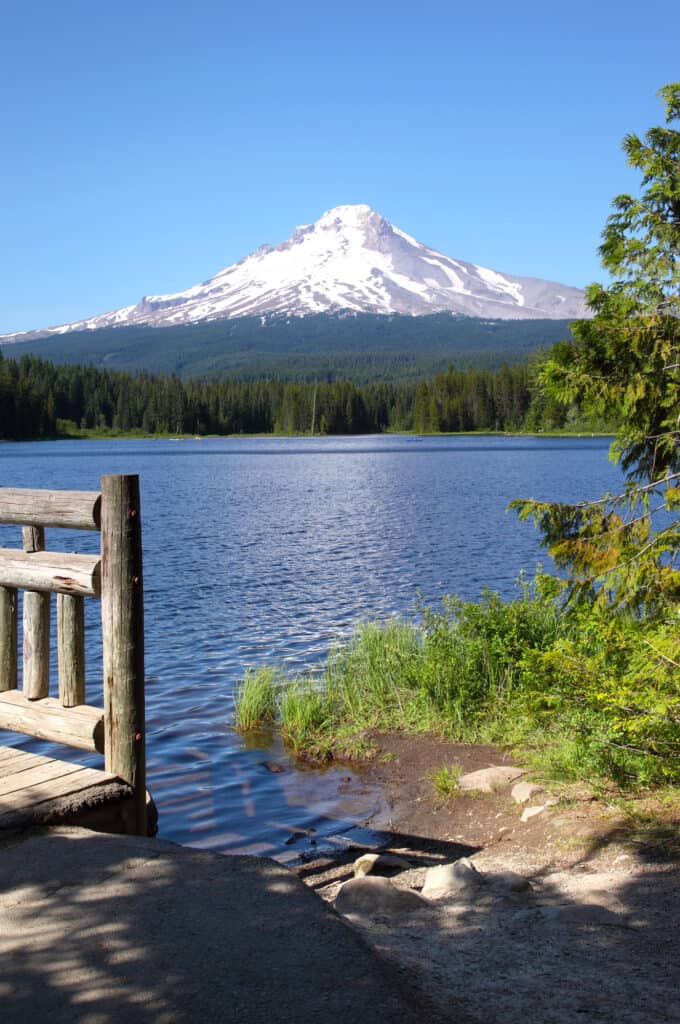 It's common for ODFW to plant several thousand rainbow trout here at once.
Most of those hatchery fish will be pan-sized legals, but the agency often will throw in some good-sized trophy rainbows.
The ODFW may even drop off a couple dozen giant brood trout at some point, so watch that rod closely because brooders can be the size of a steelhead. We're talking 10-pounders, maybe larger.
The usual trout-fishing tactics will work here.
Bait fishing is always effective for stocked trout, with natural baits such as nightcrawlers and salmon eggs or artificial choices including doughs like PowerBait.
Casting or trolling lures and flies can produce as well. In fact, this is one of the spots featured in our Best Fly Fishing Lakes in Oregon.
You might need just a bit of weight to get your offering down to the fish if they are holding in deeper water, especially while slowly trolling a fly.
For more about catching trout, read our article Trout Fishing: Basic How-To Techniques and Tips.
Fishing will be best soon after it is stocked, so use the links below for current information.
Brook Trout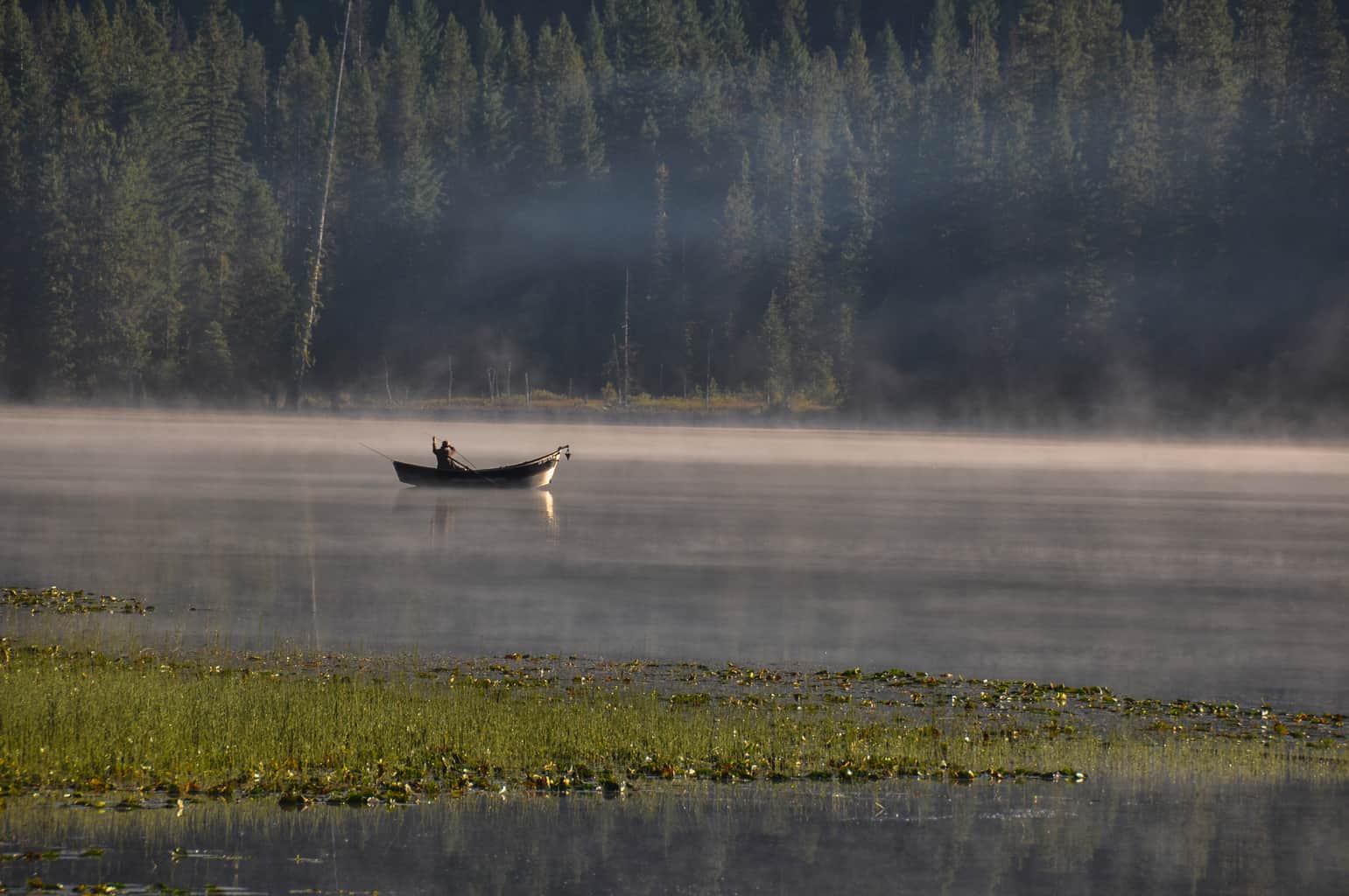 Anglers have reported (including on Oregon Fishing Forum) that Trillium can have pretty good brook trout fishing at times, with some mentioning that the edges of the lake's lily pads are a good spot to find them.
There are plenty of lily pads on the west side of the lake, across from the campground and day use areas.
Brookies are a non-native fish that reproduce naturally in many of Oregon's high-mountain lakes and streams.
Brook trout are primarily insect eaters, so natural baits may outperform doughs baits, cheeses and other prepared baits.
Generally, though, they can be caught using the same methods as the rainbows and are particularly agreeable to fly fishing, either with traditional fly rod and reel or spin-casting with a fly under a clear bubble.
Slowly trolling flies just off the edge of those lily pads, with your line well behind your boat or float tube, also can work well.
Trillium Lake Ice Fishing
Trillium Lake is open all year but primarily fished during the non-snowy seasons.
However, the access road off the highway is often closed to vehicles in the winter. Undaunted ice anglers are known to strap on the snow shows and hike in for some ice fishing for the rainbows and brook trout in the lake.
See our article on Best Ice Fishing in Oregon for some more info on this hard-water sport.
Trillium Lake Location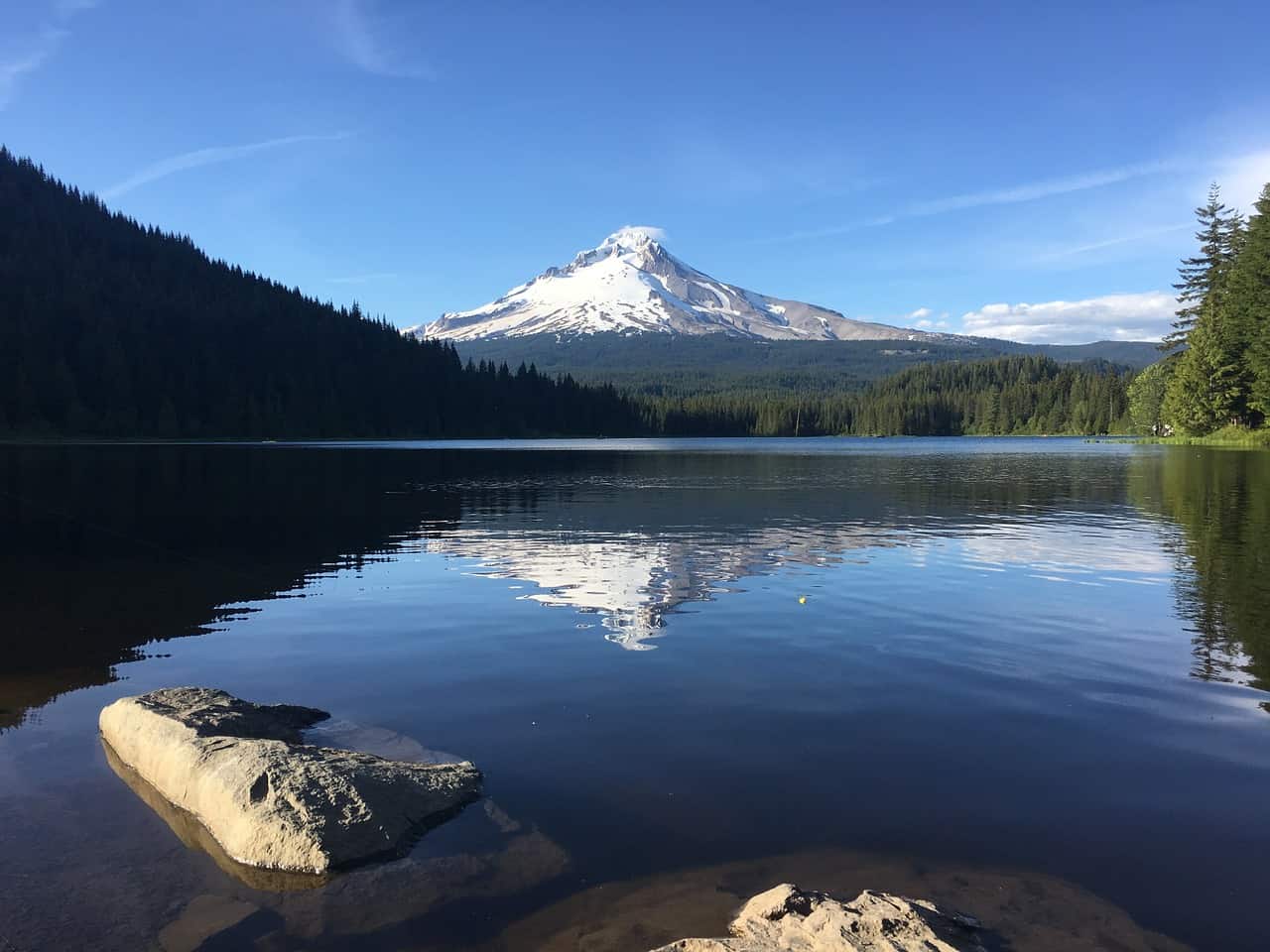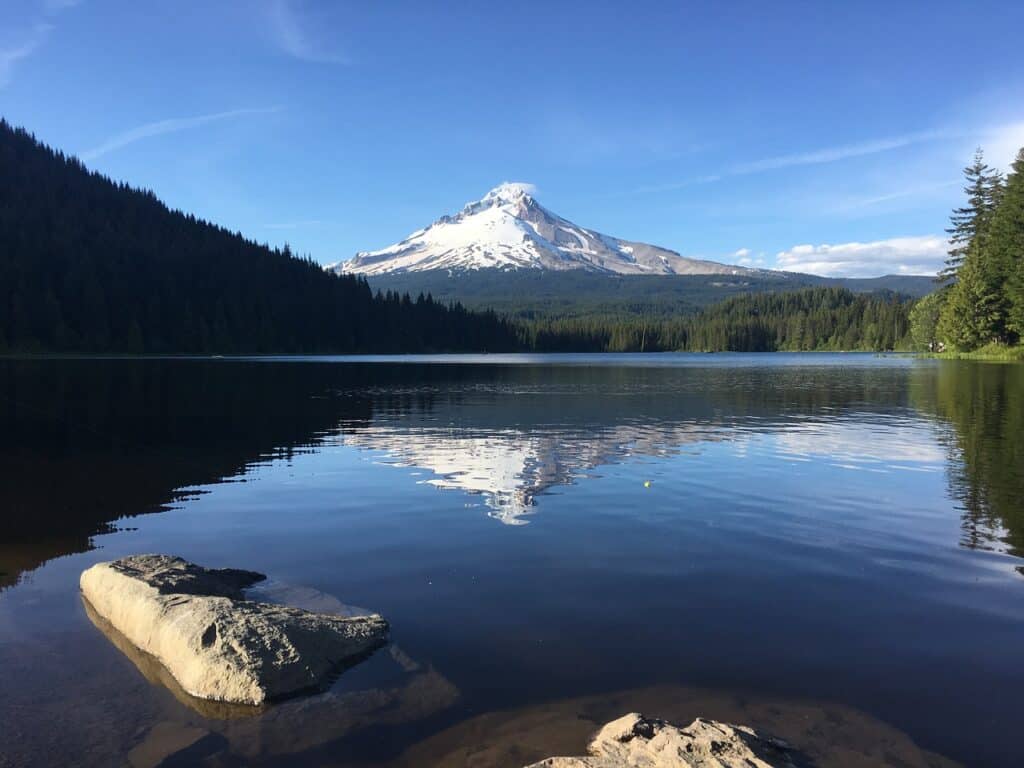 Trillium Lake sits at 3,600 feet in elevation on the moister west side of the Cascades, so there is often plenty of wintertime snow.
The lake's fishing can get off to a slower start in the spring but holdover trout, including the brookies, will come into spring hungry.
Trillium Lake is located a little more than an hour and a half from Portland, heading out U.S. 26, and about four miles from Government Camp.
Two miles or so southeast of Government Camp, take Forest Service Road 2656 (Trillium Lake Road) south to the lake.
2024 Trillium Lake Trout Stocking
| Date Range | Total |
| --- | --- |
| May 13-17 | 3,202* |
| May 20-24 | 3,202* |
| Jun 10-14 | 3,202* |
| Aug 26-30 | 3,133* |
*These stocking dates include 133 – 167 trophy-sized rainbows. Each of the May and June dates is also scheduled to include about 35 extra-large brood trout.
Stocked fish are legal-sized rainbow trout unless otherwise noted. Stocking schedules are subject to change for a variety of reasons. The ODFW Weekly Fishing Report linked under Oregon Resources below may provide updated information.
Learn about other nearby trout fishing: Timothy Lake Fishing, Harriet Lake Trout Fishing, North Fork Reservoir Trout Fishing, Small Fry Lake Trout Fishing, Clackamas River Fishing.
Find more fishing spots in Clackamas County
Oregon Resources
ODFW Weekly Fishing Report
ODFW Trout Stocking Schedule
Oregon Fishing Regulations
National Weather Service