Multnomah County is Oregon's most urban county, but even within the city of Portland there are places to catch salmon, steelhead, sturgeon and other popular game fish.
Multnomah County is long and narrow, stretched out along the south bank of the Columbia River from Sauvie Island upstream into the Columbia River Gorge.
The county's waterways also include the lower Willamette and Sandy rivers and lowland lakes with good trout and warmwater fishing.
This article introduces some key fishing spots in Multnomah County and also acts as a doorway into articles with additional information.
Follow the links both within and at the bottom of this article. The county links below will lead you to fishing spots in nearby areas.
The waters in this county are regulated under the Oregon Department of Fish and Wildlife's Willamette Zone, except for the main river and certain backwaters or tributary mouths that fall into the Columbia River Zone.
Incorporated cities in Multnomah County are Fairview, Gresham, Maywood Park, Portland, Troutdale, Wood Village and small parts of Lake Oswego and Milwaukie.
Unincorporated areas include Bonneville, Bridal Veil, Corbett, Dodson, Dunthorpe, Springdale and the former Vanport City.
Portland is home to Portland State University, the University of Portland and several professional sports teams, including the NBA's Trail Blazers and MLS's Timbers.
Listed alphabetically, here are some of the best fishing spots in Multnomah County:
Benson Lake
This 40-acre lake in Benson State Park (just west of Multnomah Falls) is very popular with trout anglers after the stocking truck visits, usually several times from March into about June.
There also is a year-round population of typical warmwater species like largemouth bass, crappie and bullhead catfish.
Neighboring Hartman Pond has similar angling opportunities.
For more: Fishing at Benson Lake and Hartman Pond.
Blue Lake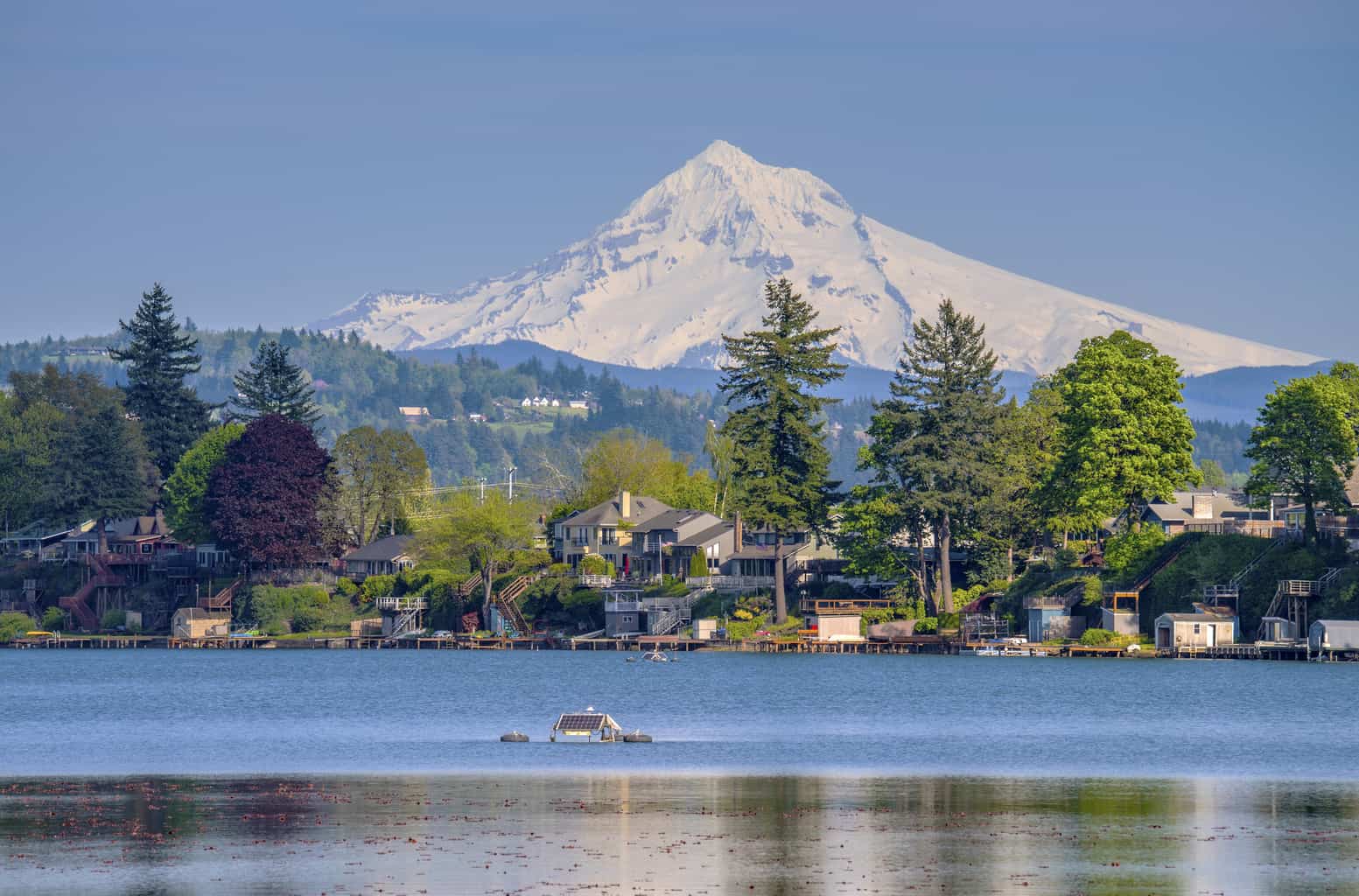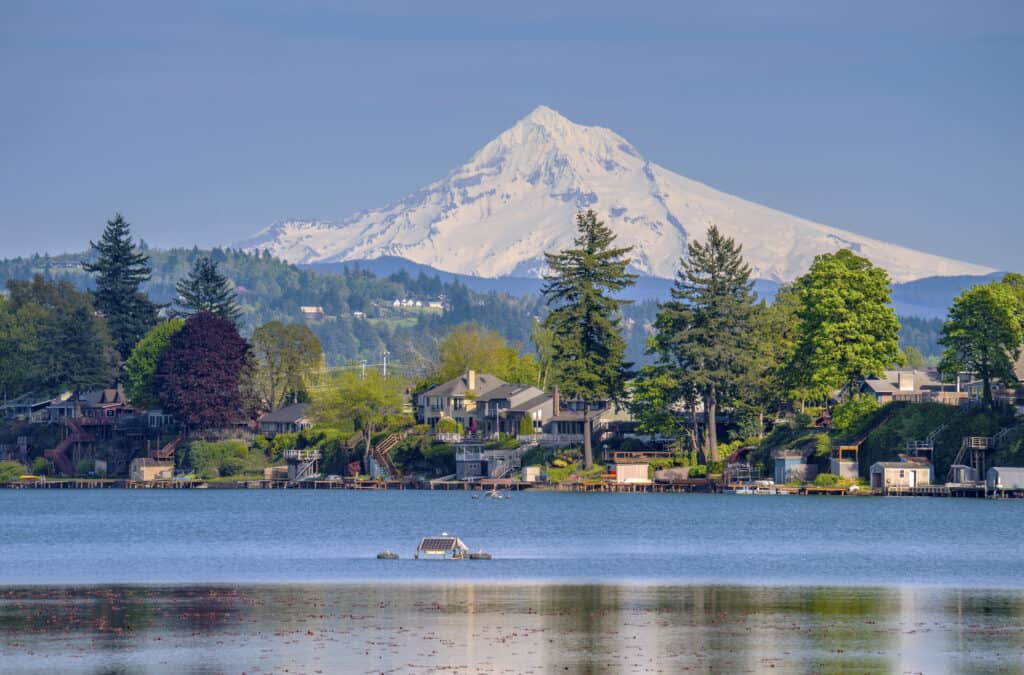 Popular for the many amenities at Metro's Blue Lake Regional Park, this lake in Fairview is most popularly fished in late winter to mid-spring following periodic plantings of hatchery rainbow trout at the park.
Otherwise, the lake has a fair population of warmwater fish species including largemouth bass, crappie, bluegill and bullhead catfish.
At times carp have overrun the place.
Bank access is available at the park (the rest of the lake is surrounded by homes), including a fishing pier that's great for kids and anglers with disabilities.
For more information, see Fishing Blue Lake in Fairview.
Columbia River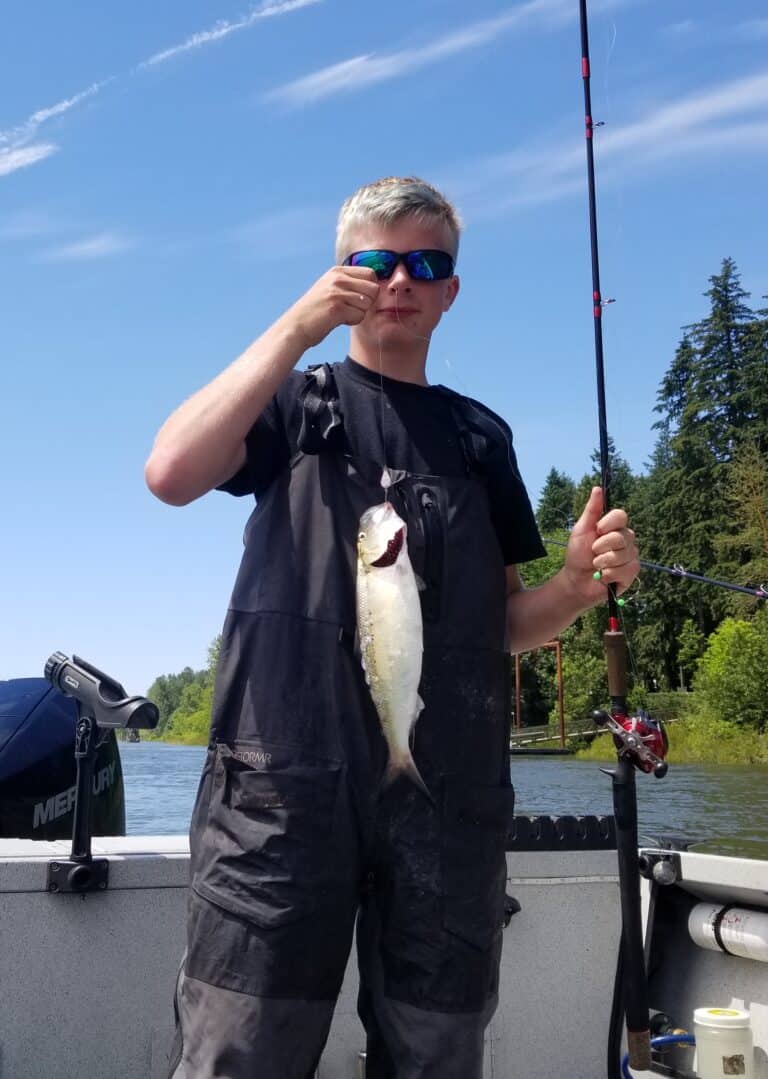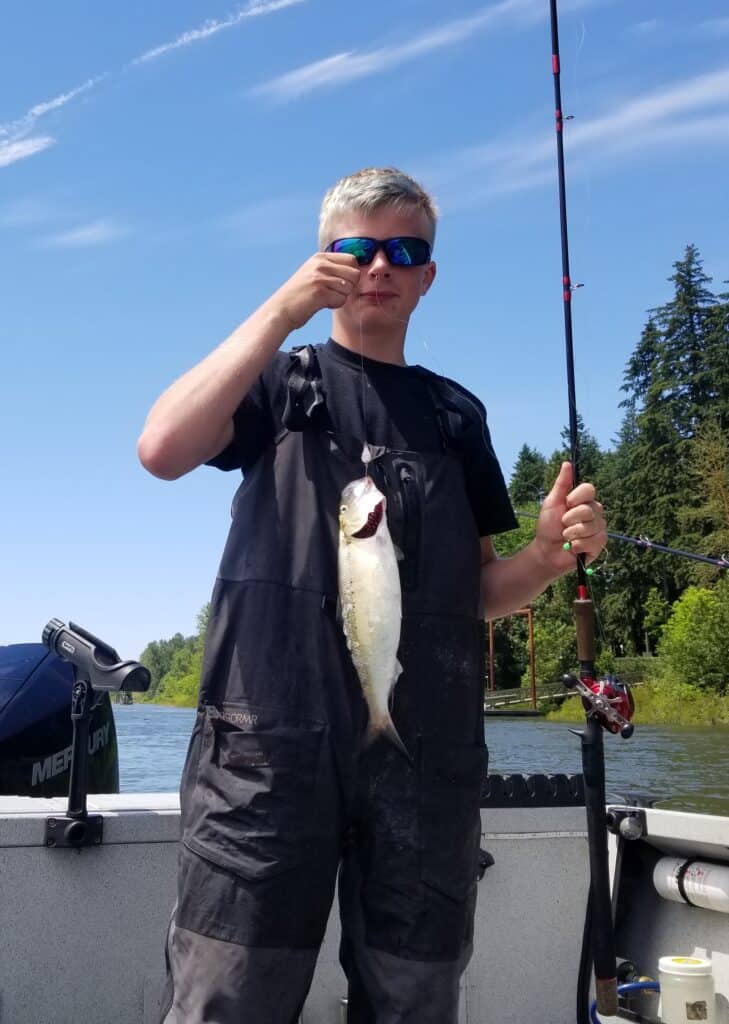 The county's stretch of the Columbia River has something for just about every angler.
Salmon pass through in good numbers, with the spring Chinook and fall Chinook runs most popular. A summer run produces fewer fish but some big ones.
Coho and sockeye are smaller salmon fisheries.
Summer steelhead pass through in very good numbers, especially in July and August.
Columbia sturgeon fishing can be very good near the mouth of the Willamette River and other spots in this stretch.
Smallmouth bass fishing is excellent around rocky structures.
Walleye are in the river in good numbers, but take time to find their favorite hangouts, including shelves, islands and other structure off east Portland, Troutdale and into the gorge.
To locate crappie, find pilings or structure, including in backwater areas.
Warmwater anglers will want to explore sloughs around Government Island (I-205 area), Gary Island (above the Sandy River mouth) and Rooster Rock.
Shad migrate upriver in huge numbers in late spring and are really fun to catch.
There is a sport reward program for northern pikeminnows in the big river.
Read our full article spotlighting some of the best fishing on the lower river.
Also, for a broad look at angling opportunities throughout the river, read Columbia River Fishing.
Columbia Slough
This long, slow-moving backwater runs parallel to the Columbia River along much of the populated part of the county from Fairview down to Portland.
It is popularly fished for crappie as well as bass, bullhead catfish and yellow perch.
While many people eat their catch, we recommend you review state consumption guidelines posted in ODFW's annual fishing regulations booklet and online. Generally speaking, this polluted waterway produces fish that are high in toxins.
Delta Park Ponds
These ponds located just west of Interstate 5 in North Portland offer a variety of warmwater fishing, including lots of bullhead catfish and carp.
You'll also find fair fishing for largemouth bass and bluegill. Bank access is good.
Haldeman Pond
This is a two-acre pond just on the Multnomah County side of Sauvie Island, which is stocked seasonally with rainbow trout and has fair fishing for warmwater species.
Look for trout to be stocked in mid-spring, around April and possibly May.
Trout fishing is best soon after plantings but fades quickly as summer heats up the water.
Crappie, largemouth bass and bullhead catfish are commonly caught here and elsewhere on Sauvie Island, where you'll need a wildlife area parking permit available where you buy fishing licenses.
The pond is located in the interior of the island (on the southwest side of Sturgeon Lake) and reached from Oak Island Road off Reeder Road.
Hartman Pond
Located next to Benson Lake in Benson State Park (a half mile from Multnomah Falls), this 23-acre pond is popularly fished for both species of bass, panfish including crappie, as well as a short period when stocked trout are available.
You also might catch a nice channel catfish periodically planted here.
Trout stocking typically occurs around mid-spring, so check the ODFW schedule for best trout fishing.
By summer, this water is pretty warm for trout but fishing for bass, crappie and catfish is good.
There is pretty good bank access (including ADA) and you can put a small boat or float tube in to reach more areas.
Get more info on fishing at Hartman Pond.
Mt. Hood Pond
This small pond on the main campus of Mt. Hood Community College in Gresham is very popular after it is stocked with trout, which occurs periodically from early fall into mid-spring.
It also has a modest warmwater fishery, including crappie, bluegill and bullhead catfish.
Please note: For the months of April through August, this pond is only open to anglers who are age 17 or younger or anglers any age who have a state-issued disabled fishing permit.
Fall and winter fishing is good for trout following plantings and open to all anglers.
Access is excellent and on-campus parking is available near the pond, off Kane Road between the main academic building and the athletic facilities.
Read: Fishing at Mt. Hood Pond.
Multnomah Channel (upper)
This arm of the Willamette River, which forms Sauvie Island, offers several productive fisheries.
People get most excited when the hatchery spring Chinook salmon start running through here in late winter, with best salmon catches likely from late March into May (expect April to be good).
Other salmon and steelhead are rarer catches here, but warmwater enthusiasts will find bass, crappie and yellow perch.
Smallmouth bass don't mind the current, but look for largemouth in backwater areas.
Crappie key on pilings and other structure.
Walleye are fairly plentiful in the channel, including near the head, but you'll have to work to learn their holding areas.
Sturgeon fishing can be good in deeper holes.
Shad pass through but are more commonly caught in the lower channel (Columbia County). Read more about this varied fishery in our guide to fishing the Willamette River and Multnomah Channel.
Salish Ponds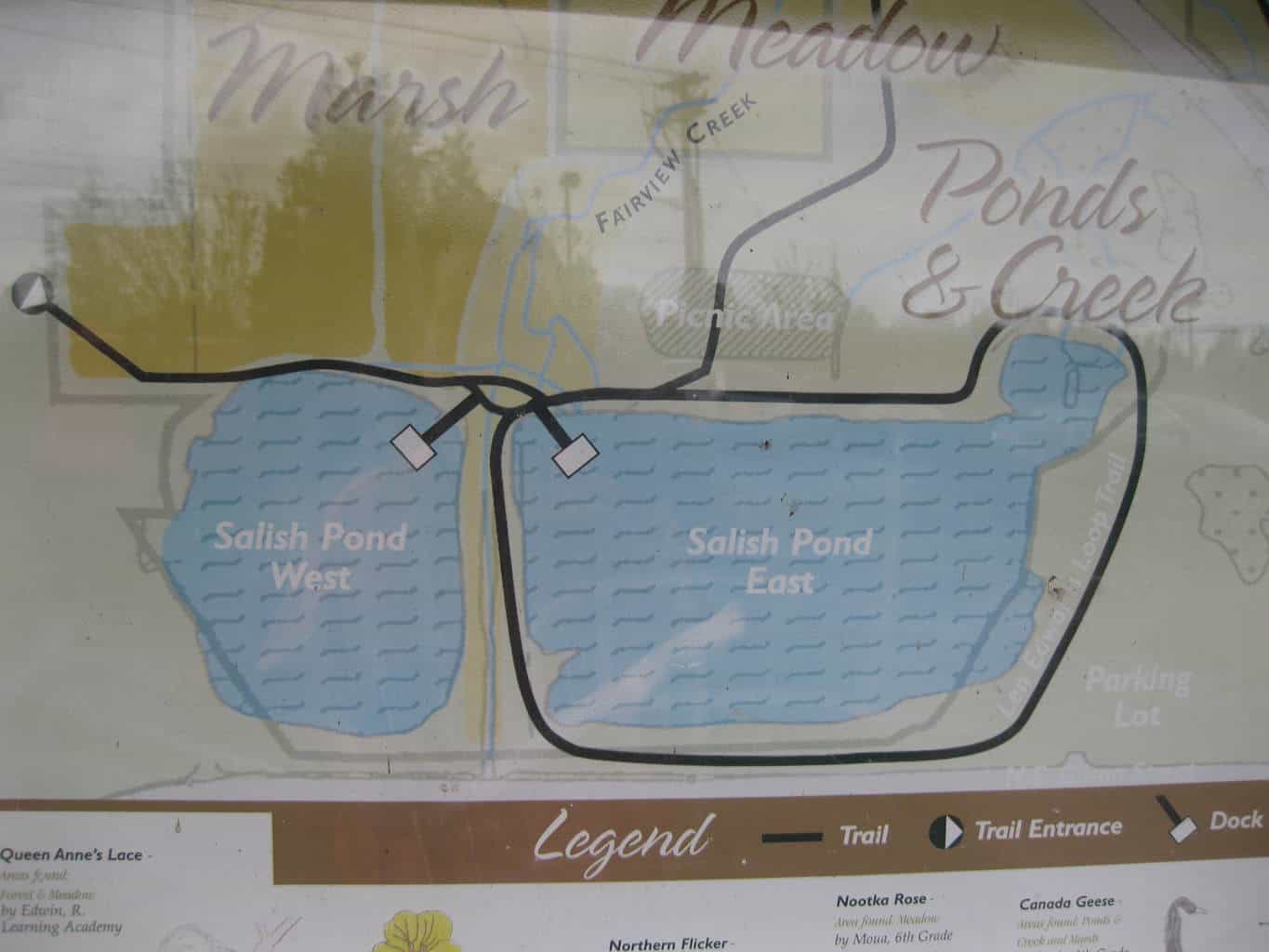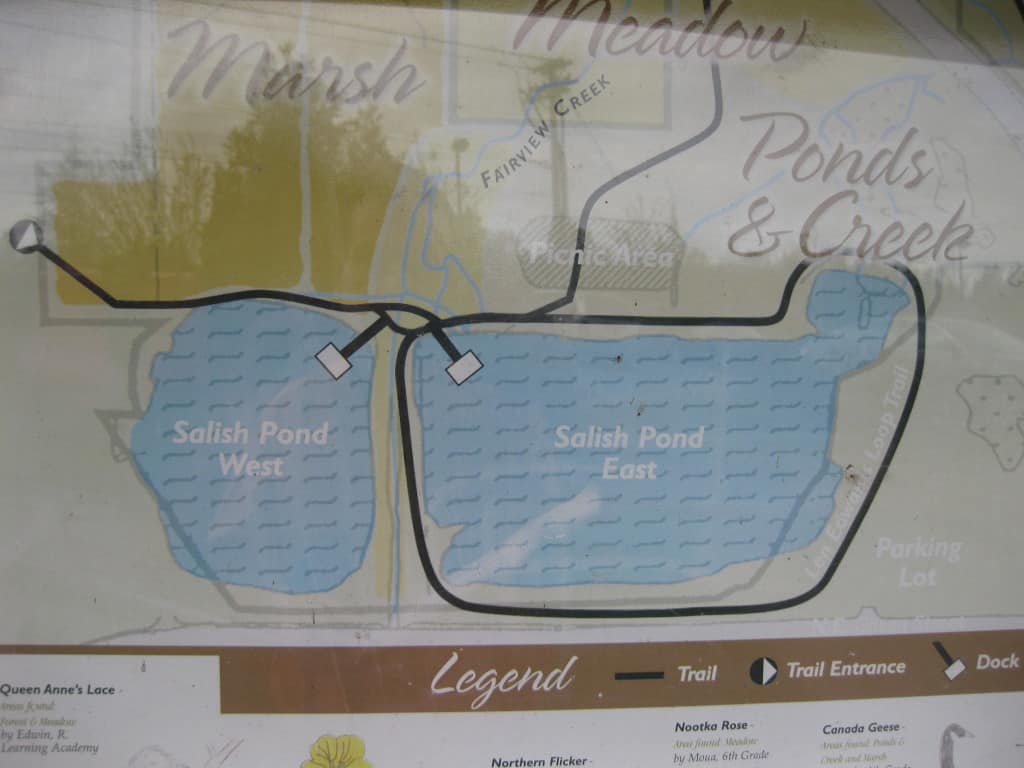 These two ponds located along Northeast Glisan Street in Fairview (near Gresham and Troutdale) historically have offered both trout and warmwater fishing.
Seasonal trout stocking in the smaller (but deeper) west pond has occurred some years but has been fairly consistent recently during cool months.
It can be good fishing but the fun ends quickly as the small pond tends to get fished out quickly.
The larger east pond is managed for warmwater species such as largemouth bass, crappie and bullhead catfish.
Read: Fishing at Salish Ponds.
Sandy River (lower)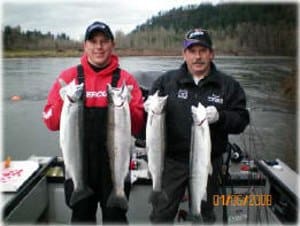 This stream drains down from the glaciers on Mount Hood, and its cold waters are ideal for steelhead and salmon.
The lower section in Multnomah County is fished for spring Chinook and steelhead, most of which arrive in May and June, but these fish tend to make a quick run into the upper basin in Clackamas County.
There's a modest catch of the hatchery coho salmon that pass through in late September to October on their way upriver to the Sandy Hatchery, but fall Chinook fishing is of little interest to anglers.
Winter steelhead are a major attraction here, with good catches running from December into early spring.
The Sandy gets a periodic run of smelt, which occasionally results in the opening of a special sport fishery in the late winter.
Watch the ODFW website to see if future dipping is allowed.
Lower river access is good around Troutdale and Gresham, including at Lewis and Clark, Dabney and Oxbow parks, among other places. Check out the parks for boat launches.
The Sandy is on our Portland area lists for best overall fishing spots, summer steelhead fishing, winter steelhead fishing, spring Chinook fishing and coho salmon fishing.
For an overview that will lead you to all kinds of good info on this river, check out Sandy River Fishing.
Smith and Bybee Lakes
These shallow, connected lakes located south of Marine Drive in upper North Portland have fair angling for the broad variety of warmwater fish found in the Columbia River area, including largemouth bass, panfish and bullhead catfish.
Carp fans will find them here.
Bank access is limited, but a canoe, kayak or similar hand-powered craft is good for exploring fishing spots.
Willamette River (lower)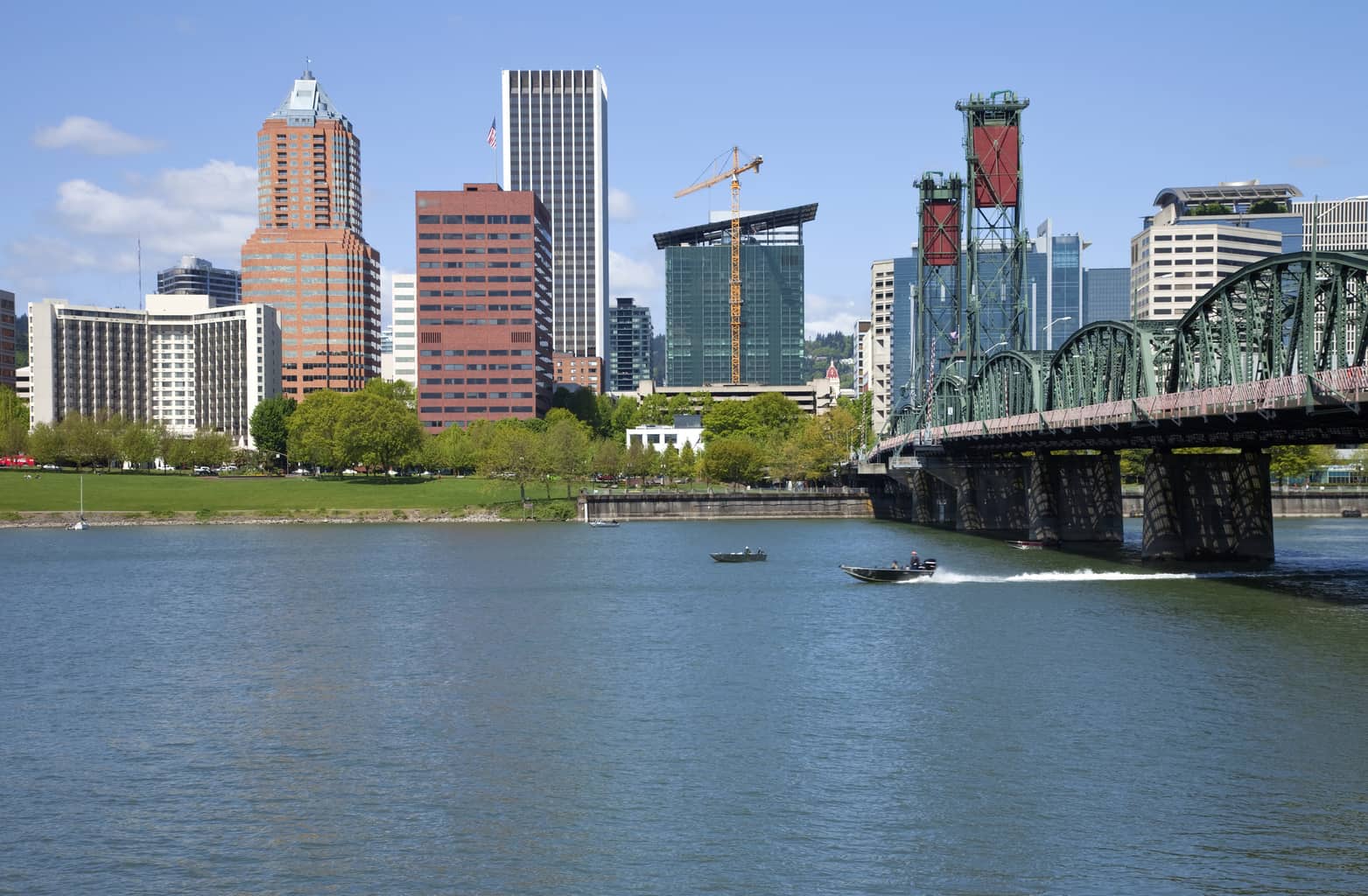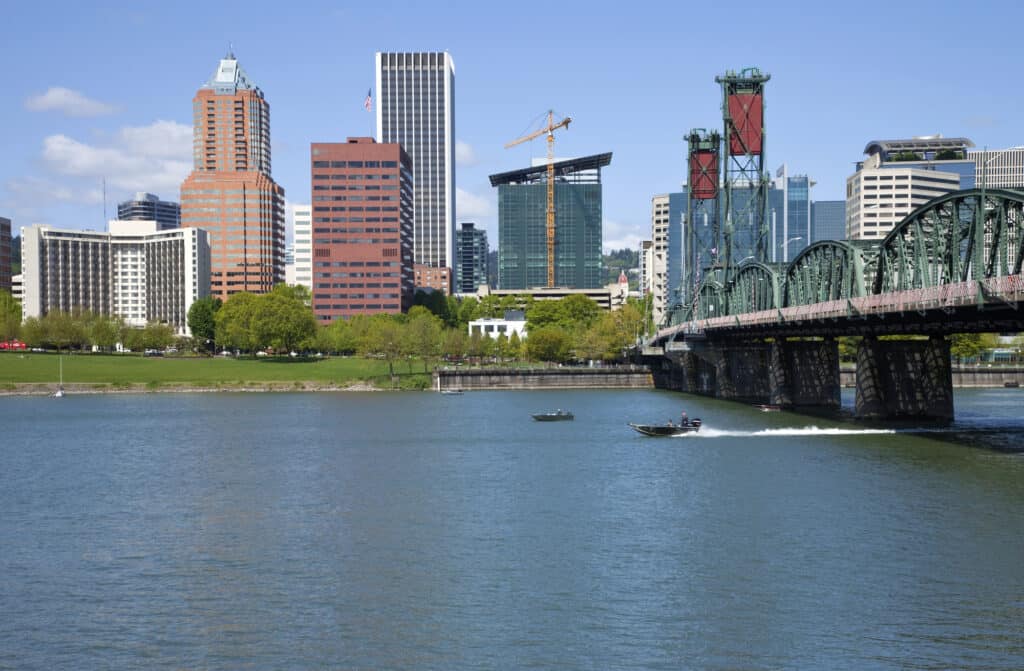 The lower end of this big river system passes through Multnomah County and joins the Columbia River at Portland.
That stretch offers up some excellent fishing for spring Chinook salmon from late March into April and May.
Sturgeon fishing also can be phenomenally good in the lower river during the colder months, although at the latest update this species is available only for catch and release angling.
The Portland Harbor area offers some very good fishing for smallmouth bass, which like the rip rap and other rocky structures.
Crappie are another frequent catch, particularly around pilings and docks, and can grow quite large here.
Other warmwater species also are available, including largemouth bass in quiet areas.
Note that Oregon health officials recommend limiting consumption of year-round resident fish including bass, panfish and catfish due to industrial toxins and mercury.
Salmon and steelhead passing through the river aren't believed to accumulate significant amounts of these substances.
Read a more complete overview in Willamette River and Multnomah Channel Fishing.
And with so many fishing options, the lower Willamette is among the best fishing spots in the Portland area.
Fishing in Neighboring Counties
Hood River County: To the east, Access to the Columbia River Gorge's excellent salmon, steelhead, sturgeon, shad and bass fishing, plus some nice mountain trout lakes.
Clackamas County: To the south, very good trout, salmon and steelhead fishing in the Clackamas River basin, plus the productive stretch of Willamette River near the falls.
Washington County: To the west, includes excellent fishing for stocked trout and smallmouth bass in Henry Hagg Lake, plus suburban trout and warmwater ponds and native cutthroat streams.
Columbia County: To the northwest, plenty of access to the Columbia River's salmon, steelhead and sturgeon, plus excellent bass and panfish angling.
More Fishing Resources:
In addition to other sources, the following websites were very helpful while compiling these county fishing pages, and the information there is valuable to all Oregon anglers.
For current regulations, trout stocking, weekly angling reports and more, find links on the Oregon Department of Fish and Wildlife's Fishing Resources Page.
For boating information about these waters, see the Oregon State Marine Board's launch locator map.
Return to Best Fishing in Oregon page
Oregon Resources
ODFW Weekly Fishing Report
ODFW Trout Stocking Schedule
Oregon Fishing Regulations
National Weather Service