Columbia County borders the massive Columbia River between the north Oregon coast and Portland.
While much of the angling here is focused on the Columbia River's runs of salmon and steelhead, plus its other fish species, there also are spots to catch trout and warmwater fish such as bass and crappie.
This article is intended as a brief introduction to some of the better places for anglers to get to know better.
Also on this page, you will find links to more detailed information for some key fisheries. The links are located in the body of the article and at the end.
Also, if you fish in this part of Oregon, check out the links to neighboring counties, which have an abundance of angling opportunities.
For regulations, look to the Columbia River, Northwest and Willamette zones, depending on which area you are fishing.
Columbia County's incorporated cities are Clatskanie, Columbia City, Prescott, Rainier, St. Helens, Scappoose and Vernonia. Unincorporated communities and points of interest include Deer Island, Goble, Mist, Port Westward and Warren.
Listed alphabetically, here are some of the best fishing spots in Columbia County:
Columbia River
The big river borders Columbia County from the middle of Sauvie Island downriver to nearly Westport.
The stretch has some very good fishing for both spring and fall Chinook salmon and summer steelhead, with smaller fisheries for winter steelhead and other salmon runs.
Spring Chinook are typically present in decent numbers from March into June, but watch carefully for frequent closures and re-openings based on run size and catches.
There's also a summer run often open for fishing for big salmon, and then the fall Chinook numbers build in August, although September is often the hot month in the lower river.
There are lots of good spots, with the river below the Cowlitz mouth (Washington side) among the busiest, with good access from the public launch in Rainier. Other good launches are in the Scappoose, St. Helens, Goble and Clatskanie areas.
The summer steelhead fishing can be good from June into August, either from boats or beaches, including access at Jones Beach near Clatskanie, Dibblee and Prescott beaches near Rainier, and Sauvie Island beaches off Reeder Road.
In season, you'd have a shot at salmon from these spots as well.
Bass and panfish are available in the mainstem and also in sloughs found around the lowlands along the river.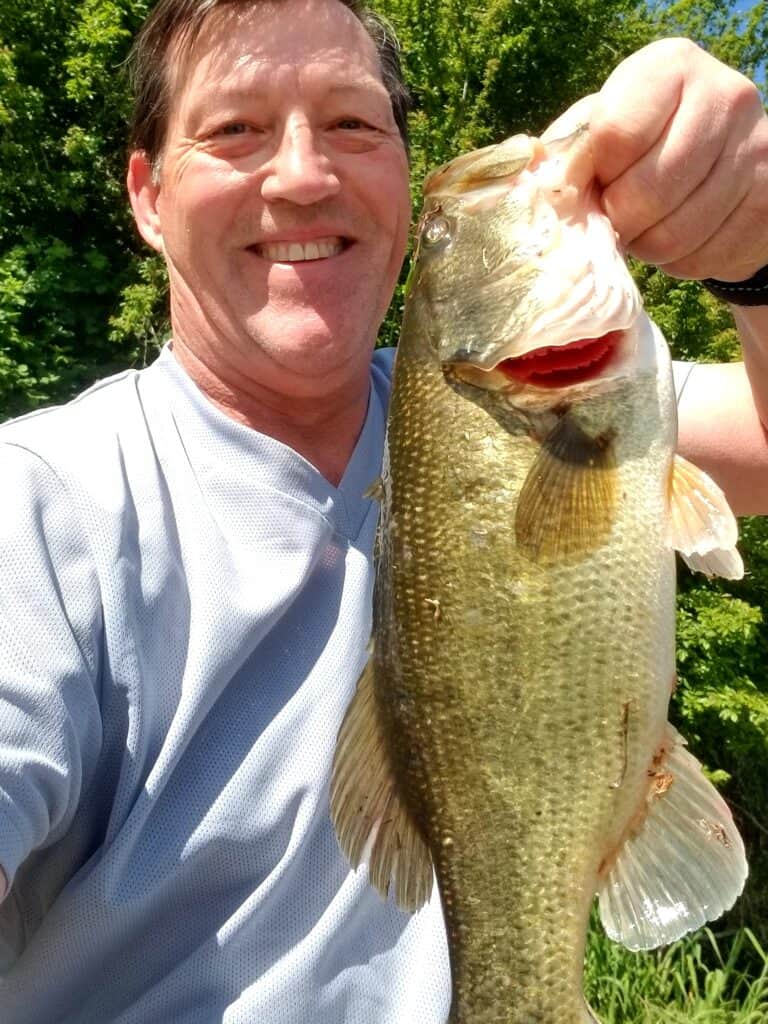 There are some nice sturgeon fishing holes in this area, primarily reached by boat.
Take a gander at this article for more discussion of the lower Columbia River's best fishing options.
Or to get the biggest picture of the big river's angling opportunities, read Columbia River Fishing.
Multnomah Channel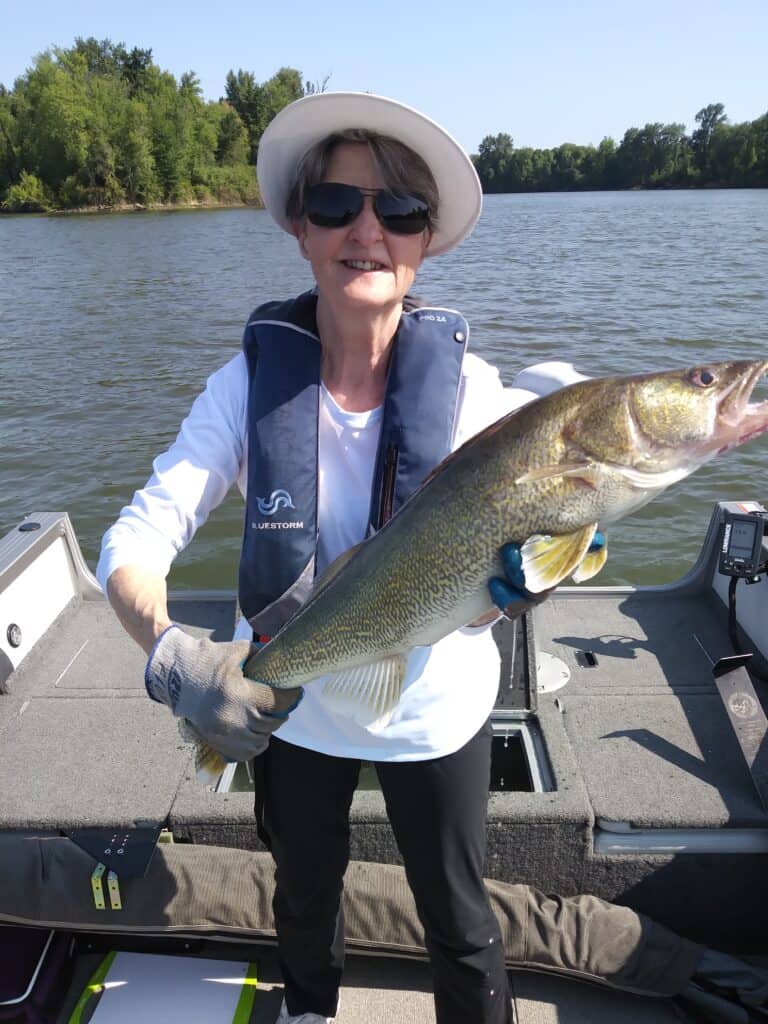 The channel, also known as Willamette Slough, is a fish-filled leg that splits off from the Willamette River at Portland and forms Sauvie Island before joining the Columbia River near St. Helens. The lower section is in Columbia County.
The busiest fishery here is the annual return of spring Chinook salmon bound for the Willamette River. This is a good place to intercept them, especially if you have a small boat.
People start after springers in earnest in March, but April and May (and sometimes early June) will produce more fish in Multnomah Channel.
The channel also has a variety of warmwater fishing, including both common species of bass as well as crappie, yellow perch and walleye. Duck into sloughs such as Santosh for additional bass and panfish water.
Sturgeon and shad fishing also can be good here.
Boat launches that access Columbia County's part of the channel include off Johnson's Landing Road near Scappoose, Scappoose Bay near St. Helens, downtown St. Helens and on Sauvie Island near McNary Lakes.
With all these good fisheries, the channel ranks among the Portland area's best fishing waters. Also check out Willamette River and Multnomah Channel Fishing.
Recreation Lake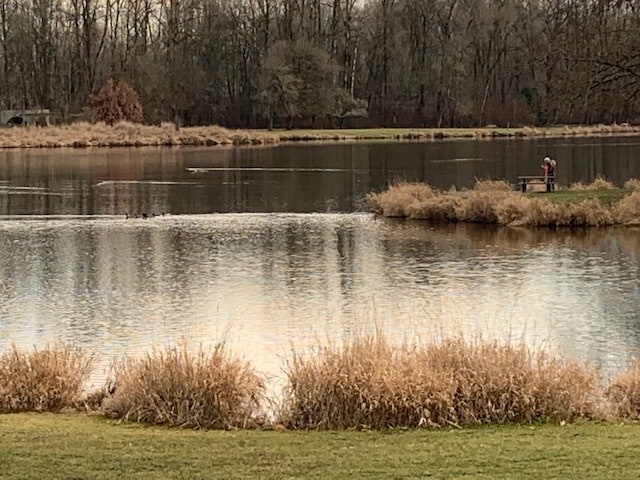 The main pond, commonly known as Trojan Pond after PGE's former nuclear power plant at this site, is popularly fished in early and mid-spring, when it is heavily planted with hatchery rainbow trout.
Also present here, in more modest numbers, are common lower Columbia warmwater fish such as largemouth bass, crappie, yellow perch, sunfish and bullhead catfish.
The main pond is in a pleasant park setting along Highway 30 about a 20-minute drive north of St. Helens and maybe five minutes by car from Rainier.
See: Fishing at Recreation Lake (Trojan Pond).
Salmonberry Lake
This lake is only three acres, but it at times has received a good dose of stocked rainbow trout in the middle of spring, when fishing will be very good. Definitely check the trout stocking link below to see when (or if) trout will be delivered.
There also are sunfish here.
Salmonberry Lake is located about 10 miles northwest of St. Helens out Pittsburg Road, and at this writing ODFW says anglers must walk about the last third mile.
Sauvie Island lakes and sloughs
The state wildlife area is loaded with lots of shallow waters with good populations of crappie and other panfish, as well as fair fishing for largemouth bass.
Spots to explore include McNary Lakes and the Gilbert River.
This area is reached by car from the Sauvie Island Bridge on the Multnomah County (south) end of the island. You'll need a wildlife area parking permit.
Scappoose Bay
We'll list this separately because it is a very large backwater along the Columbia River near St. Helens, popularly fished for largemouth bass and various panfish species.
Scappoose Bay also a major boat access point to Multnomah Channel and the mainstem Columbia River, and a popular spot for kayaks and other small watercraft.
Vernonia Lake
This good-sized pond (45 acres), located on the east end of Vernonia in the Coast Range hills, has popular fisheries for stocked trout and resident bass and panfish.
This is a nice spot with excellent public access from bank, and some anglers put in float tubes or portable boats (no gas motors allowed).
The trout are stocked several times around March and April and typically will be gone by summer.
However, this is a good spot to hone bass-fishing skills during warm months, with OK numbers of fish including larger largemouths lurking among lily pads and other cover.
There also can be pretty good crappie fishing, and kids like fishing for plentiful bluegills close to shoreline trails.
Note the special bass and crappie limits.
The pond is just off Highway 47 between Highway 26 (Sunset Highway) and Clatskanie.
See: Vernonia Pond Fishing.
Fishing in Neighboring Counties
Multnomah County: To the east, Oregon's most urban county still has plenty of places to catch salmon, steelhead, sturgeon, trout and bass.
Washington County: To the south, including Hagg Lake's record smallmouth bass and suburban ponds packed with stocker trout.
Tillamook County: To the southwest, loaded with coastal salmon and steelhead fisheries, excellent crabbing and clamming and many other angling opportunities.
Clatsop County: To the west, includes the fish-filled mouth of the mighty Columbia River, small-stream steelhead and lots of coastal lakes loaded with trout and bass.
More Fishing Resources:
In addition to other sources, the following websites were very helpful while compiling these county fishing pages, and the information there is valuable to all Oregon anglers.
For current regulations, trout stocking, weekly angling reports and more, find links on the Oregon Department of Fish and Wildlife's Fishing Resources Page.
For boating information about these waters, see the Oregon State Marine Board's launch locator map.
Return to Best Fishing in Oregon page
Oregon Resources
ODFW Weekly Fishing Report
ODFW Trout Stocking Schedule
Oregon Fishing Regulations
National Weather Service