Source: Todd Harrington
Also see:
Umpqua River Smallmouth Bass Fishing (Spring)
Southwestern Oregon's beautiful Umpqua River is one of a handful of places in Oregon where a determined angler can land 100 or more smallmouth bass on a pleasant summer day.
The smallmouth bass fishing here ranks as world-class, but the Umpqua River and its tributaries also boast some of Oregon's best runs of salmon, steelhead and shad, has some excellent trout and sturgeon fishing, and even has one of the state's few striped bass fisheries.
The mainstem Umpqua near Elkton is an easy drive from Roseburg and about an hour southwest of Eugene.
Fishing Regulations
The Umpqua, in ODFW's Southwest Zone, is open for bass angling all year. You can use natural bait in the main river but not in tributaries (except in the tidewater zone).
Beginning in 2016, ODFW removed all size and number limits for bass on both the mainstem and South Umpqua. Fishing guide Todd Harrington is among many anglers who practice catch-and-release, with some of those bass topping 20 inches.
Consult the current Oregon Sport Fishing Regulations booklet for various bag limits and angling rules for other species.
When to Catch Bass
Once the water temperatures get into the 70s, the Umpqua's impressive populations of bass go on a binge and are available in just about every piece of water.
This feeding frenzy usually occurs by about mid-June, but a warm spring can bring the feverish bite on a few weeks earlier.
"As long as it's hot, it's fairly consistent," Harrington said. "The fish will go nuts until it starts to cool off in September."
Harrington has noticed slower bassing around the full moon – which he attributes to the fact that the bass feed more at night thanks to better lighting, and therefore are stuffed by morning. Even on those days, fishing picks up again by afternoon.
Summer's best bass fishing holds up well nearly all summer, but around the end of August and certainly by Labor Day, the river's smallmouth start schooling up.
They remain willing biters into the fall, but they flock to certain areas and are more difficult to find. When that happens, cover water quickly until you locate the schools.
Where to Catch Bass
In the spring and fall, it can be harder to find bass because they prefer specific locations.
In the summer season, this won't be a problem.
Harrington finds bass shallow and deep and in current and calm water.
About the only place you won't find smallmouth in the Umpqua during warm weather is in backwater areas choked with moss.
Often, Harrington will find larger bass in deep pools through the morning, but those big fish often move into the flats to feed in the afternoons, especially when the wind puts a ripple on the surface.
The mainstem Umpqua has smallmouth from the tidal zones to the forks near Roseburg, and there also are bass in the South Fork.
Access points are readily available at parks, boat ramps, bridges and other public lands.
How to Catch Bass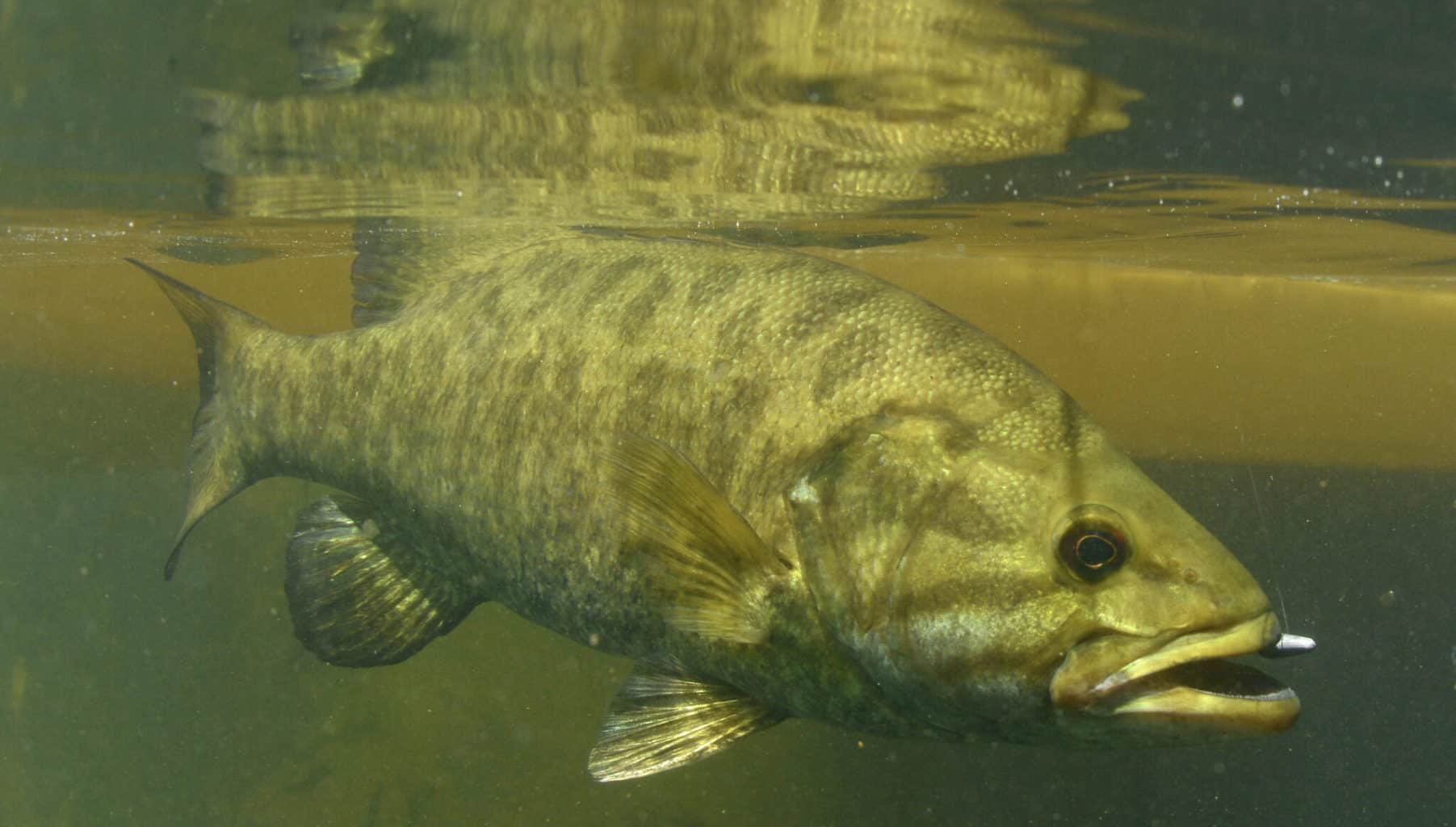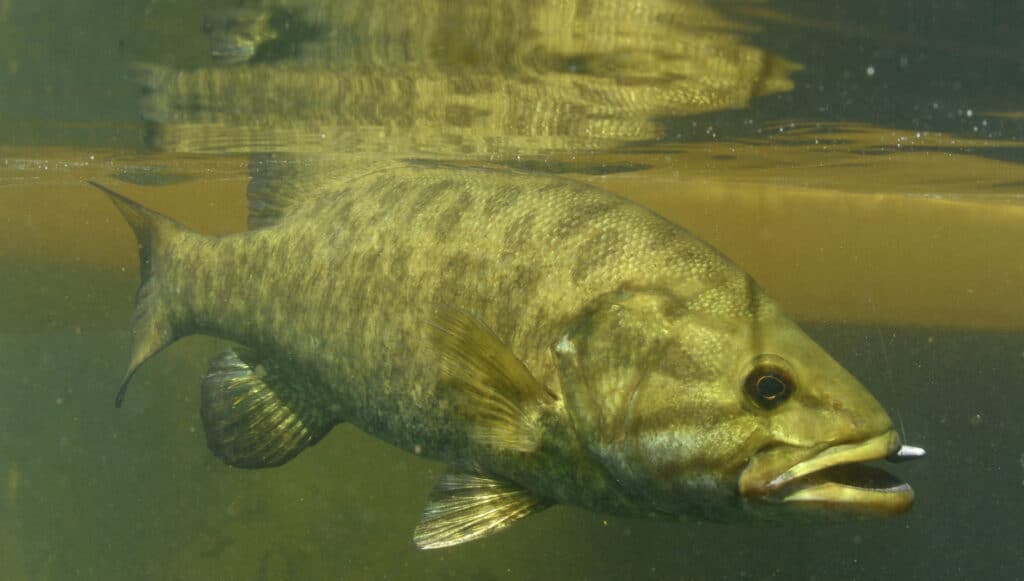 A 4-inch plastic worm will catch smallmouth bass all summer long, but when that water warms, Harrington said a curly tail will draw the most strikes.
His "go-to" choice in this type of lure is a 4-inch Ripple Tail worm by Outlaw Baits. In the warmest weather, he prefers purple hues as well as the bluegill and green pumpkin patterns.
There are times when other colors will do more business, so Harrington advises anglers to carry some other colors and be flexible. "If you're not getting bit and you're fishing in the summer, change colors," he said.
Other soft lures that Harrington often uses during summer months include straight-tailed Herb Reed's Slug-Gos and Bass Assassins, in 3- to 5-inch lengths. White is a reliable color and easiest for you to see.
Use these soft plastics with a light-action rod and 6-pound test and you're in for plenty of action. You'll probably get more action with the smaller lure but attract some bigger fish with the longer version.
To fish the shallow flats, where bigger bass will hunt from the deeper grooves, Harrington typically ties on a spinnerbait.
The trick here is to reel the lure very quickly through that shallow water so it doesn't hang or pick up moss off the shallow rock bottom.
Harrington really burns it – slowing down only enough to keep that lure under the surface. "You cannot reel faster than the fish can swim."
Harrington's favorite spinnerbaits have on one or two willow-leaf blades and stronger titanium arms to help withstand the abuse rocks and current bring. Terminator Fishing Lures makes a good one.
"You can use any color as long as it's white," Harrington advises for spinnerbait fishing, only half-joking. If he uses another color, it's usually another light color like Terminator's shad patterns or a pink.
Gary Yamamoto's Senkos and similar soft plastics in about 5-inch sizes or buzz baits also are good choices bigger bass.
The buzz baits work best during the dog days of summer – later July and into August. Churn them across the surface to make lots of noise. White is a great color. Harrington likes the Strike King brand.
"You'll get your most ferocious strikes on those buzz baits," he said.
Other surface lures such as poppers and the Zara Puppy (a 3-inch version of Heddon's Zara Spook lure) are effective and fun for summer smallmouth.
And Harrington has found that flies also are another big fish lure. Harrington often will tie on a rubber-legged Girdle Bug, especially in a bright color such as bubblegum or chartreuse, so he can see it.
Bass will spit out a fly quickly, so strike as soon as it disappears from view.
While fishing flies or other lures, if you're in a boat keep an eye in the water behind you. Like no other place Harrington knows, bass in the Umpqua love boats and will follow them.
He frequently will scan the water just behind the boat and simply flip his fly or other lure at big fish trailing him.
If All Else Fails
There aren't many times when the bass fishing slows during the summer on the Umpqua, although it sometimes occurs when a cold front moves through.
This is when Harrington looks for deep pools and turns to the drop-shotting technique, which isn't his favorite form of bass fishing because it's more labor intensive.
But it almost always works.
To drop shot, select small, soft plastics. A 3-inch Senko is ideal. Pull the line 12 to 18 inches through the hook eye to leave a long tag end when you tie up.
You can buy special drop-shot lead weights, but pinching on and eighth to a fourth ounce of standard lead shot to the end of that tag line works just fine.
Simply cast in and let your weight settle to the bottom, keeping the lure just above the rocks and sand. Jig it lightly, and when you feel the strike use a medium hook set and reel in immediately.
It shouldn't take long.
"Those fish just cannot help themselves" and fall for drop-shotting almost every time. "It's phenomenal when the fishing's slow."
More bass spots: Oregon Bass and Warmwater Fishing
Oregon Resources
ODFW Weekly Fishing Report
ODFW Trout Stocking Schedule
Oregon Fishing Regulations
National Weather Service
Guide Todd Harrington has guided on the Umpqua River since 1998, primarily through his Living Waters Guide Service. Harrington offers catch-and-release trips for smallmouth bass from March through November and also guides clients after salmon, steelhead, sturgeon, shad and striped bass.