The largest lake on the central Oregon coast is also one of the region's best fishing lakes, especially for warmwater fish including largemouth bass.
It also is one of the few lakes in Oregon where you can keep a wild coho salmon in season.
Siltcoos Lake is a sprawling 3,164 acres located between Florence and Reedsport in the wonderful dune country of the central coastline.
Largemouth Bass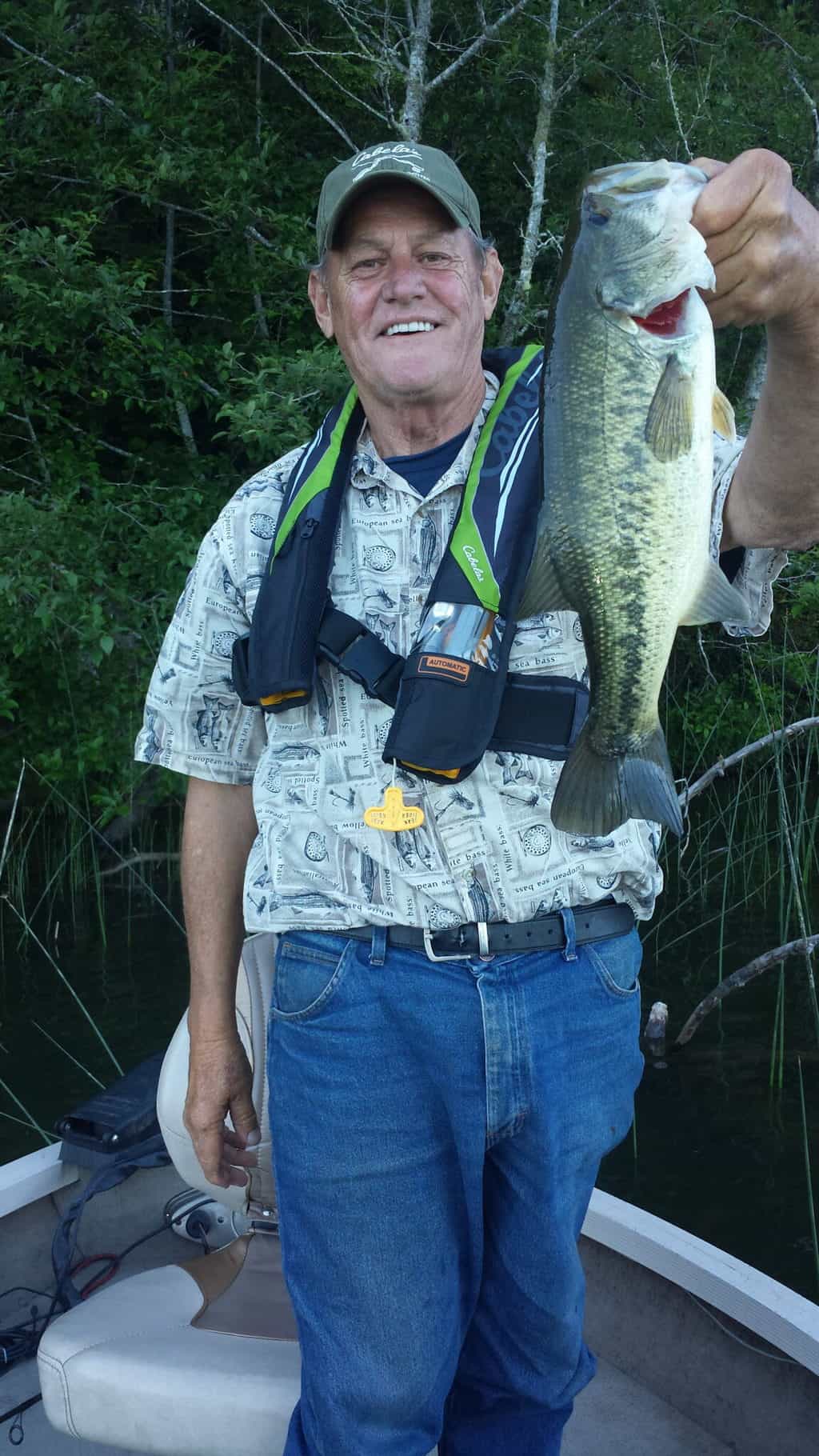 Siltcoos is one of the most celebrated largemouth bass fisheries in Oregon and is among those mentioned in our article, Best Largemouth Bass Fishing in Western Oregon.
You'll find tons of good bass cover all over the lake here, including fallen trees, drop-offs, points, islands and numerous coves and several longer creek arms.
There also are some docks, especially where there are a fair number of private homes along the banks on the west and north sides of the lake, many clustered around the communities of Dunes City and North Beach.
Bass will often move up into the shallower water during the spring, when they spawn just off shore, and they can be aggressive then. They often will stage a bit more off shore at other times.
Soft plastics fished in a variety of styles will work well here, as will crank baits and swim baits that mimic the smaller fish, crayfish and frogs that bass feed on.
For more ways to catch bass, read our Bass Fishing: Simple How-To Techniques and Tips.
Crappie
Crappie also like to hang out around structure and may be found in shallower water during the spring. Sunken trees and pilings are good places to start.
Small crappie jigs are the tried-and-true lure for catching these fish.
Bring a variety of jigs as some days fish seem to key on white or yellow shades while at other times darker colors seem to be the best bet.
Our feeling is it seldom hurts to put a tidbit of bait on the hook, although if you find you're catching too many small sunfish or perch you might back off until you get into a school of crappie.
Crappie Nibbles are about the easiest to deal with in the heat of a good crappie bite, though some anglers prefer natural baits like a pinch of nightcrawler or a mealworm.
Very small crankbaits, swimbaits, spinners and other lures also can catch crappie, and we'll often troll a minnow imitating lure around a bit as a search bait, and then switch over to jigs once we find the crappie.
The takeaway: If your lure looks like a small minnow, it has crappie potential.
For more about this type of fishing, we suggest you read Crappie Fishing: Simple How-To Techniques and Tips and also the Best Crappie Fishing Spots in Western Oregon.
Also, the lake is known to have good populations of less-pursued species including yellow perch, sunfish and bullhead catfish. (Click the links for how-to guides to catch each species.)
Trout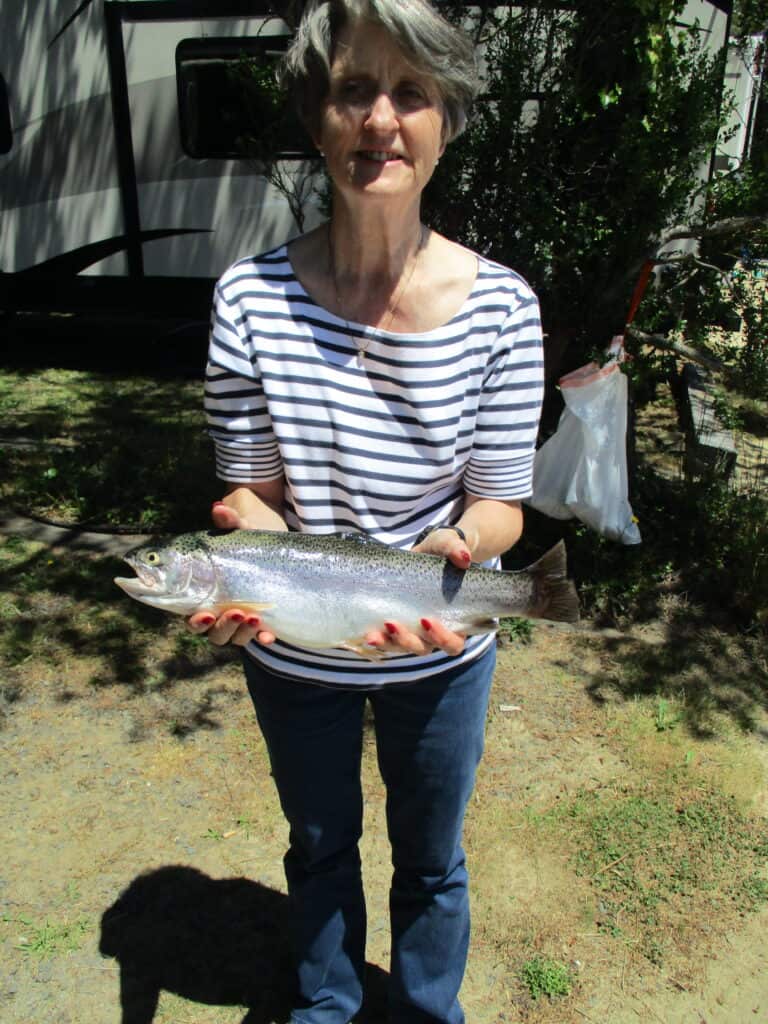 Trout are not the primary quarry for anglers here, but the Oregon Department of Fish and Wildlife does stock a modest number of rainbow trout here.
Look for those plantings to take place in late winter or early spring (March and April are good times to check the stocking schedule linked below).
Also, ODFW's trout plantings here often are their larger "trophy" trout grown to a larger size before release.
Native cutthroat trout also live in the lake and its tributary streams and may be kept as part of your daily trout limit.
If you're deliberately targeting trout here, trolling small lures or bait behind a set of flashers is a good way to bring these fish to the hook while covering lots of water.
Flat-line trolling a small wobbling lure like a Flatfish or a mid-weight spinner like a Rooster Tail also can be very good and, speaking from preference, is a little nicer to fight than pulling against all that hardware. But only if it's catching fish.
If you have a good spot, bait-fishing with nightcrawlers, salmon eggs or PowerBait is nearly always a top method for catching trout.
Casting spinners, spoons or flies are other active ways to hook into trout, especially if you know they are in the area.
Learn more about the best fishing techniques, baits and lures to catch more trout and also check out the Best Rainbow Trout Fishing Lakes in Oregon.
Coho Salmon
The coho salmon fishery here opens in October and runs through December.
Fishing for these fish is usually not productive until significant rainfall draws in these large fish, which most often happens in November.
There are a modest number of coho caught and kept here, but it's a fairly unique opportunity.
Boaters catch most of the adult coho, often by trolling wobbling lures in the creek channels the salmon use to return to their home streams.
The only other coastal lakes in Oregon that allow anglers to keep wild adult coho salmon are nearby Tahkenitch Lake and also Tenmile Lakes south of Reedsport.
What you can't keep here are the young coho salmon that rear in the lake, which some anglers might mistake for either trout or for kokanee, the latter being a landlocked sockeye salmon not found here but are elsewhere in Oregon.
Know your trout and salmon!
Interested in catching more coho, Chinook and other salmon? Check out Salmon Fishing: Simple Techniques and Tips.
Also go over to our Best Salmon Fishing in Oregon page to get a line on the best places to catch them throughout the state.
Where to Fish
A good place to start is at Westlake County Park on the more developed west side of the lake, just a few blocks off Highway 101. Ada Park is on the less-developed east side.
Because bank access is somewhat limited, both by private property and thick brush, a boat is really useful at Siltcoos. Others types of boating also are popular here, so getting on the water early can be beneficial.
The lake is just over 10 minutes south of Florence and only 15 or so miles north of Reedsport, on the boundary of Lane and Douglas counties.
The area is full of coastal lakes with a wide variety of angling opportunities, including Cleawox Lake, Woahink Lake and others.
2023 Siltcoos Lake Trout Stocking
| | |
| --- | --- |
| 2023 Stocking | Total |
| Mar. 13 – 17 | 1,332 |
| Apr. 17 – Apr. 21 | 1,332 |
Stocked fish are legal-sized rainbow trout unless otherwise noted. Stocking schedules are subject to change for a variety of reasons. The ODFW Weekly Fishing Report linked under Oregon Resources below may provide updated information.
Fishing in Siltcoos Lagoon
It would be useful to note that there is also a tiny water body known as Siltcoos Lagoon, a former loop of the Siltcoos River that drains the big lake into the Pacific Ocean.
Siltcoos Lagoon is located west of Siltcoos Lake and west of Highway 101, on the road to Siltcoos Beach.
Siltcoos Lagoon only has a modest warmwater fishery (reportedly a few bass and crappie), but it has seasonal trout fishing because ODFW stocks the lagoon from February into May most years.
The state can plant a total of a couple hundred or more trout here, in fairly small batches. At last check, the numbers stocked weren't large, but the trout themselves were the trophy-sized version.
Find the stocking schedule for this waterway in the links below.
Siltcoos Lagoon has a nice fishing dock and there is camping here and nearby.
Find more fishing spots in western Lane County
Find more fishing spots in Douglas County
Oregon Resources
ODFW Weekly Fishing Report
ODFW Trout Stocking Schedule
Oregon Fishing Regulations
National Weather Service