The part of Lane County from the western slopes of the Coast Range mountains to the Oregon Dunes National Recreation Area is a land of many fishing options, most of them within an easy drive of the charming coastal city of Florence.
The most popular fisheries are centered around the area's many small and several large fishing lakes, which boast good fishing for trout, bass, panfish and even salmon, as well as in the Siuslaw River system, among the state's best for fall Chinook salmon fishing and no slouch for winter steelhead.
Because Lane County is so huge and stretches across two major fishing zones from the saltwater to the summit of the Cascade Mountains, we've divided it into two articles.
This article focuses on the part of the county regulated under the Oregon Department of Fish and Wildlife's Northwest Zone.
For the eastern section that includes the Eugene-Springfield area in the Willamette Valley and the upper reaches of the Willamette and McKenzie river systems in the high country, click here.
Florence is about 60 miles west of Eugene via Highway 126, although some waters listed here are even closer to the southern valley's major population center.
Within this article and also at the end are lots of links to various resources to get the most out of fishing in western Lane County and elsewhere in Oregon, including neighboring counties.
The Oregon Department of Fish and Wildlife regulates waters in this area primarily under the Northwest and Marine zones.
Besides the cities of Florence and Dunes City, western Lane County includes unincorporated areas such as Ada, Blachly, Cushman, Deadwood, Heceta Beach, Mapleton, Searose Beach, Swisshome, Walton and Westlake.
Besides angling, it's a popular place with destinations including the Oregon Dunes, Sea Lion Caves and Heceta Head Lighthouse.
Listed alphabetically, here are some of the best fishing spots in western Lane County:
Alder, Buck and Dune Lakes
These are a trio of small dune-country lakes located north of Florence.
The trio of lakes are lined up on the east side of Highway 101, a half to one mile north of Sutton Lake.
They are typically stocked with hatchery rainbow trout, often on the same days, a handful of times during the late winter through spring months.
Alder tends to get the largest and most frequent doses of stocked trout, followed by Dune. Plantings in Buck Lake are more modest.
Cleawox Lake
This is a nice all-around fishery, generously stocked during the spring months with hatchery rainbow trout (including some big ones) and a fair spot to try for largemouth bass.
The lake also is planted with fingerling trout that grow to keeper size.
There also are the other assortment of panfish, perch and bullhead catfish here.
At 87 acres, this is a mid-sized lake just off Highway 101 south of Florence.
You'll find good bank and boat access, especially at Jessie M. Honeyman Memorial State Park.
Bank angling for trout is often quite good from the fishing docks or right off the dunes on the west side.
See: Cleawox Lake Fishing.
Cummins Creek
This stream offers a pretty decent wild winter steelhead fishery in the Cummins Creek Wilderness area's old growth forest of Sitka spruce and Douglas fir trees.
The wild fish must be released, but the very rare hatchery stray (with clipped and healed adipose fin) may be kept.
Honestly, don't count on dinner but do count on stunning scenery and the potential for a fantastic battle.
At this writing, fishing is only open here December through March.
Access is from Cummins Creek Road off Highway 101, at the very north edge of Lane County, about four miles south of Yachats.
Erhart, Georgia and North Georgia Lakes
This tiny trio of lakes south of Florence is fished primarily for the trout stocked here periodically each spring.
They only get 150-200 keeper trout at a time, but these waterways are no more than a couple hundred feet across and are easily fished from shore or float tube.
The are located near the east side of Highway 101, about a mile south of Dunes City.
It's a change of pace from its massive neighbor, Siltcoos Lake.
Hult Reservoir
Also known as Horton Pond, this 64-acre lake not far from Triangle Lake is primarily managed as a warmwater fishery, with pretty good fishing for largemouth bass, sunfish and bullhead catfish.
Hult Reservoir can be reached from Highway 36, either from the Mapleton area or from the Junction City area.
There is an ADA fishing platform, and non-motorized boats are allowed.
Mercer Lake
Though not as well known as Siltcoos Lake to the south, this good-sized lake (341 acres) north of Florence at times is even a better option for largemouth bass anglers on the mid-coast and is planted with hatchery rainbow trout during the spring.
Mercer Lake also has good quantities of yellow perch and bullhead catfish, plus sunfish.
Get there are Mercer Lake Road, about a mile east of Highway 101 and near Sutton Lake.
There is a county park and also a private resort on the lake. Mercer is best fished by boat.
Just south (between Mercer and Munsel lakes), is a string of lakes that includes Clear and Collard, which have the same warmwater species but not as much access.
See: Mercer Lake Fishing.
Munsel Lake
This 101-acre lake is very close to Florence and has excellent late winter and spring fishing for stocked rainbow trout, including some larger fish.
At last check, ODFW was planning to stock about 12,000 trout from early February to early May. The stocking plan includes a modest number of trophy trout.
Munsel also has fair fishing opportunities for warmwater fishing, including bass, sunfish and yellow perch.
Use Munsel Lake Road north of Florence to get to Munsel Landing County Park.
There is ADA access but overall limited bank-fishing spots. You can launch a boat to reach more fishing spots.
Siltcoos Lake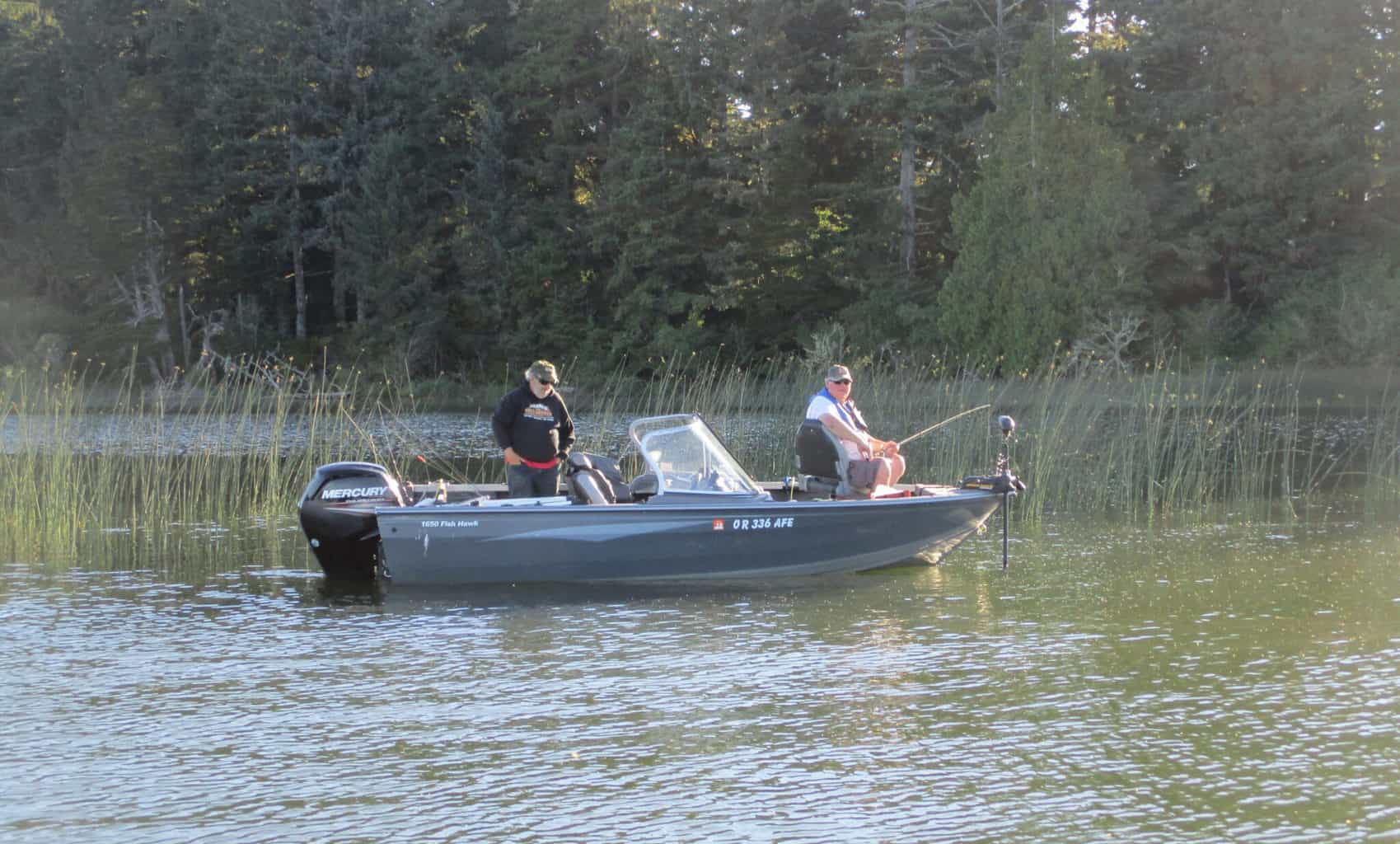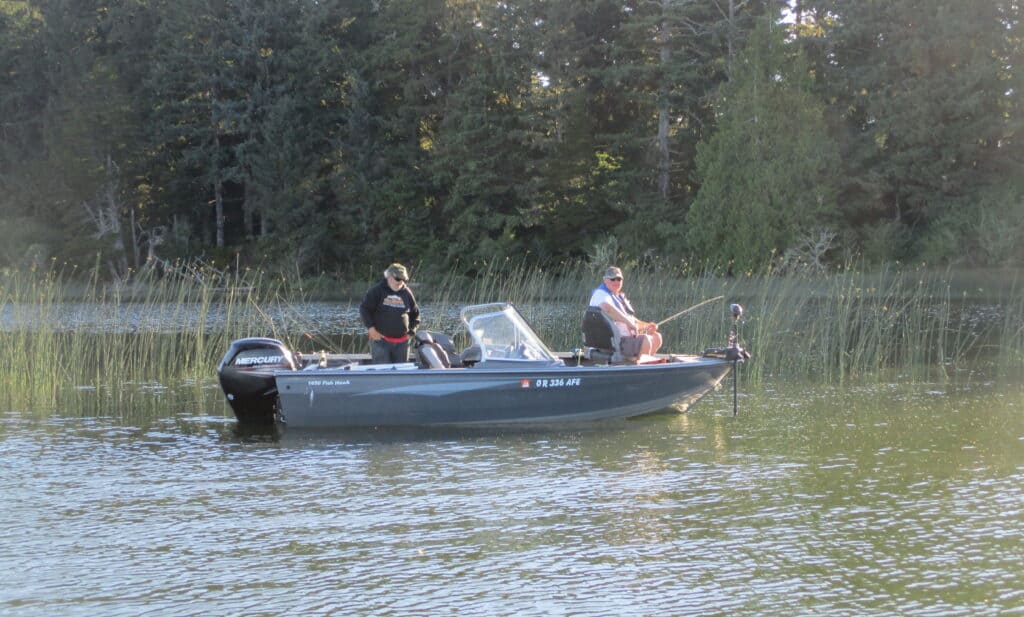 The biggest lake on Oregon's coast (shared with Douglas County) also has some of its most diverse fishing opportunities.
For starters, this is typically the best place in the state to catch and keep wild coho salmon in a lake setting (Tahkenitch Lake and Tenmile Lakes are other options).
Fishing is best for coho when heavy fall rains draw them from the ocean up Siltcoos River and into the lake, usually peaking in November.
Siltcoos also has a healthy number of wild cutthroat trout, supplemented each spring by relatively modest numbers (for such a large water body) of good-sized hatchery rainbow trout. (Don't confuse the very silvery young coho for trout; they look a bit like kokanee but must be released.)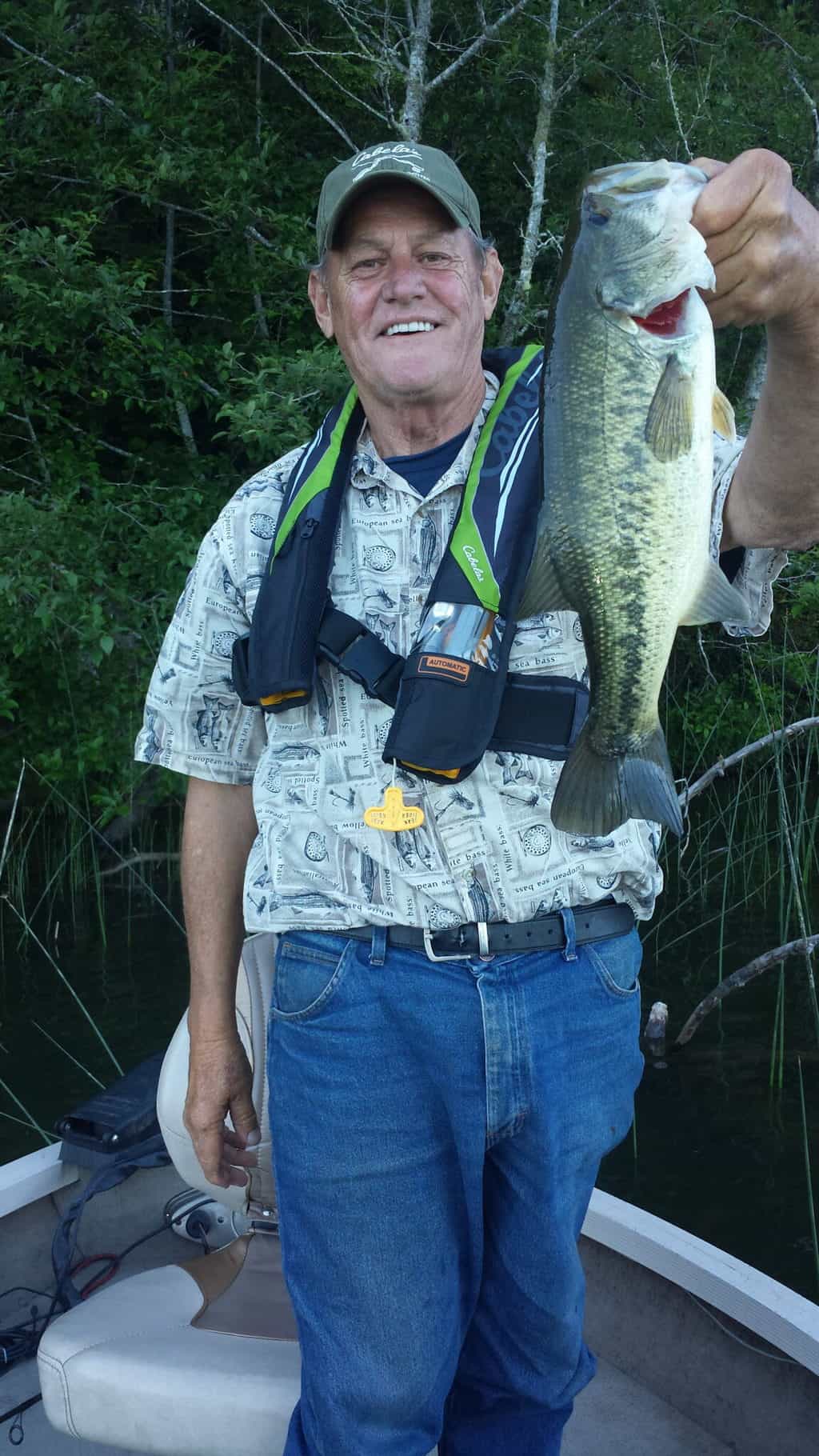 Largemouth bass fishing can fluctuate over the years here, but it's always worthwhile for bucketmouths.
You also can catch crappie, sunfish, bullhead catfish and yellow perch.
With limited places to get within casting distance along the bank, a boat is a huge advantage here.
To the west you'll find Siltcoos Lagoon, an old, horseshoe-shaped channel of the outflowing Siltcoos River, which is quite small but has better bank access and also is stocked with trout in the spring.
The river below the lake produces some coho salmon for bank angers and the occasional winter steelhead.
See: Siltcoos Lake Fishing.
Siuslaw Bay and River
The Siuslaw River system, which flows into the Pacific Ocean at Florence, is a real powerhouse producer during the fall Chinook season.
The first Chinook salmon come in August, but this fishery really soars in September and October. Find details here.
When coho salmon run predictions are favorable, wild "silvers" also may be kept here and can provide a good secondary fishery in the fall. But this is occasional rather than reliable, so definitely check for regulation updates.
Winter steelhead fishing is also pretty good in the Siuslaw and lower Lake Creek. Look for more on that fishery here.
The river and its tributaries also can be very good for native cutthroat trout, including resident trout and sea-run cutthroat that return to the river in the late summer or early fall.
Crabbing can be quite good in the lower bay, and there are spots with pretty good bay clams.
The bay also has modest opportunities for rockfish and other species along the jetties, and sturgeon and striped bass are occasionally caught farther up.
There's a typically small shad run fished just above tidewater.
Sutton Lake
This coastal lake of a little over 100 acres, comprised of two main bodies connected by a narrow channel, is in a mixed residential area along Highway 101 a short drive north of Florence.
Sutton Lake provides a variety of fishing opportunities.
It is usually stocked with rainbow trout by mid-spring, and often has received larger hatchery fish. You might also catch a native cutthroat trout here.
Release juvenile coho; they are not kokanee.
Warmwater fishing can be good for plentiful yellow perch and bullhead catfish, along with some largemouth bass and sunfish.
Tenmile Creek
This Tenmile Creek is on the north end of Lane County's coastline, near Searose Beach, not the one that drains Tenmile Lakes in Coos County.
There is a good run of wild winter steelhead that can be fished catch-and-release from December through March, but ODFW catch reports also show a modest harvest of winter steelhead some years.
They must have a clipped adipose fin (identifying them as hatchery strays) to keep legally.
This stream is now closed during trout season.
Triangle Lake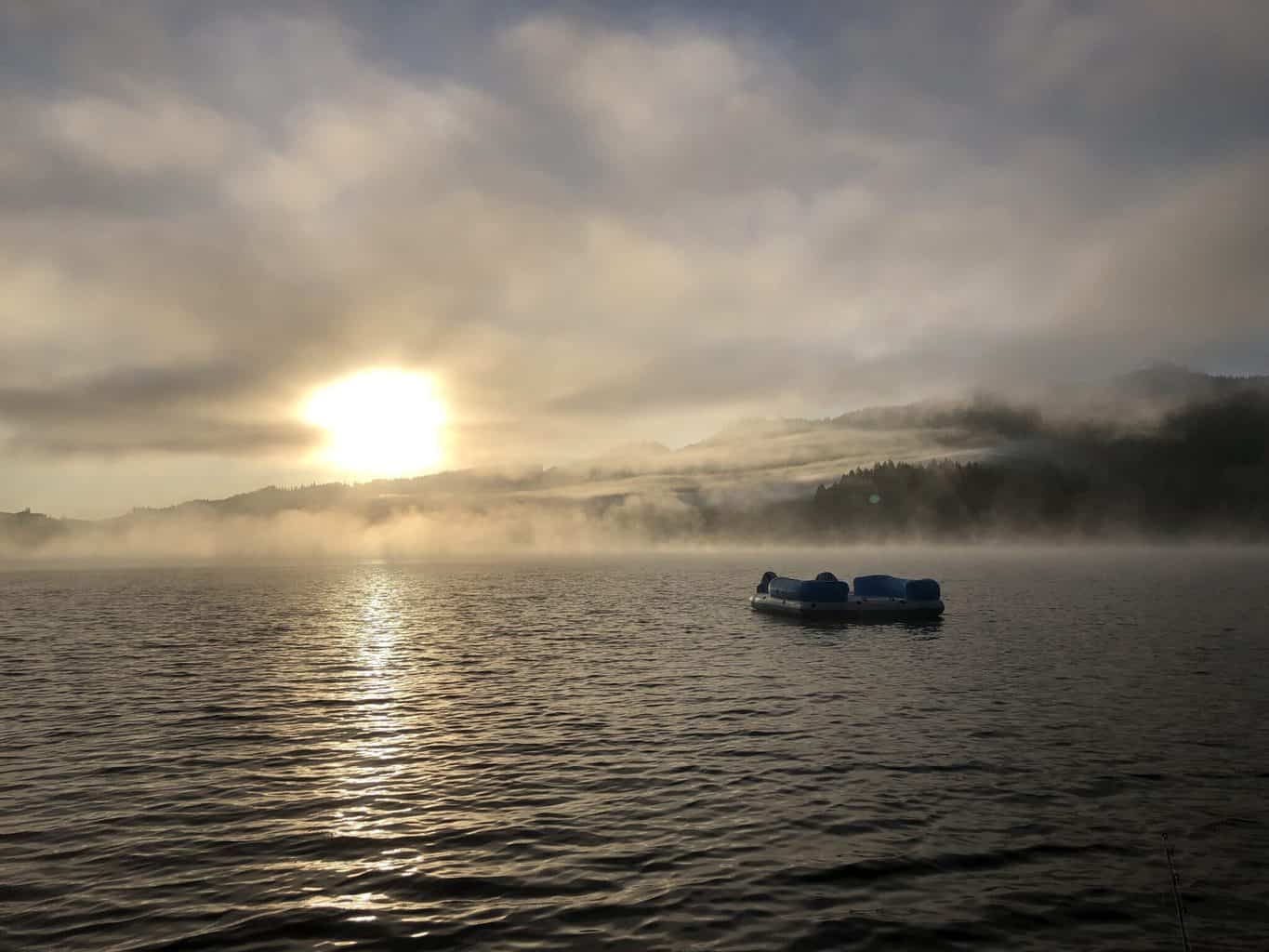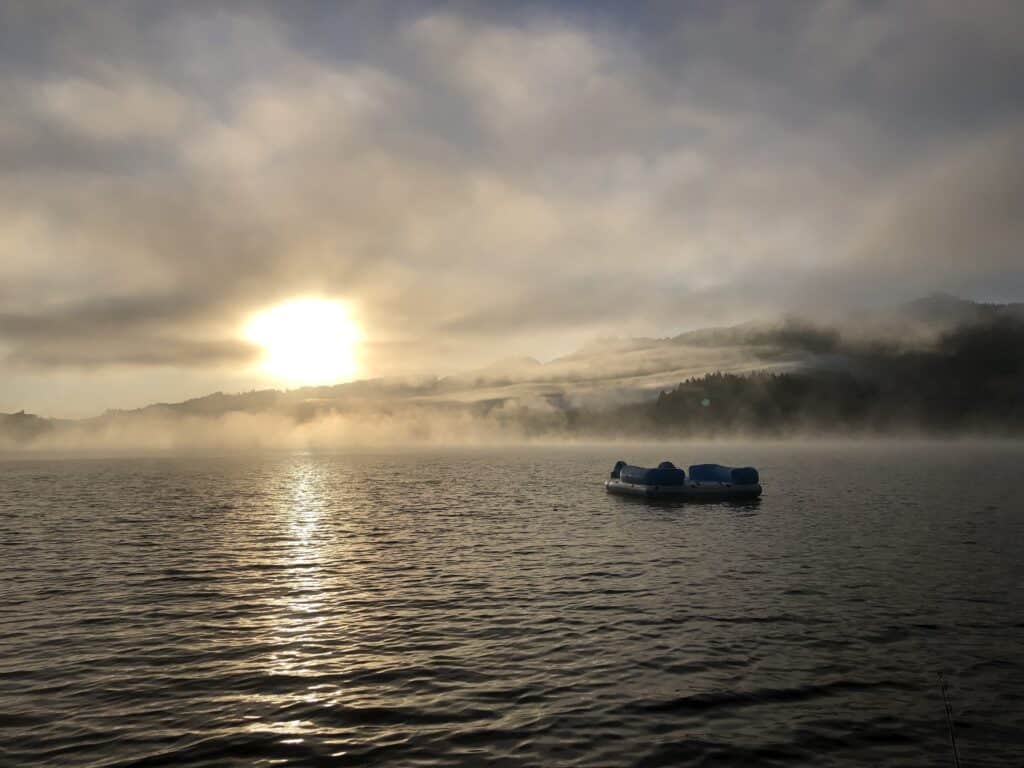 A scenic lake of nearly 300 acres, with lots of homes and private docks, has a mixture of warm- and cold-water fishing opportunities.
Boat fishing is better and bank access is primarily limited to a park.
Triangle Lake can provide a fun challenge for largemouth bass anglers working various types of cover, and kids will have fun pulling in plentiful bluegill and bullhead catfish.
On the coldwater side, there are some trout and kokanee, but beware you don't confuse the kokes (landlocked sockeye salmon) with the juvenile coho salmon that also rear in the lake.
The kokes you can keep don't have spots, while coho do.
Triangle Lake (both the lake and community) are along Highway 36 on Lake Creek.
See: Triangle Lake Fishing.
Woahink Lake
This is quite a large lake (820 acres) located south of Florence, just north of Siltcoos Lake.
Woahink Lake is often noted for its yellow perch fishing, although it's not always as good these days as in years past.
You might also come up with largemouth bass, bullhead and various panfish in addition to modest numbers of rainbow trout planted here during the spring months.
Juvenile coho rear in the lake and can reach 8-12 inches, but they must be released. These small salmon are sometimes mistaken as kokanee, which aren't present here.
Bank fishing is limited; bring a boat.
Like Cleawox, it borders Honeyman state park.
See: Woahink Lake Fishing.
Fishing in Neighboring Counties
Lincoln County: To the north, excellent coastal river fishing for salmon and steelhead, along with some good options for stocked trout.
Benton County: To the northeast, a small county that includes the excellent steelhead fishing of North Fork Alsea River.
Lane County (East): The remainder of this county has the famous McKenzie River plus plenty more trout, spring chinook, summer steelhead and largemouth bass.
Douglas County: To the south, a variety of great fisheries from coast to Cascades, including the versatile Umpqua River and incomparable Diamond Lake.
More Fishing Resources:
In addition to other sources, the following websites were very helpful while compiling these county fishing pages, and the information there is valuable to all Oregon anglers.
For current regulations, trout stocking, weekly angling reports and more, find links on the Oregon Department of Fish and Wildlife's Fishing Resources page.
For boating information about these waters, see the Oregon State Marine Board's launch locator map.
Return to Best Fishing in Oregon page
Oregon Resources
ODFW Weekly Fishing Report
ODFW Trout Stocking Schedule
Oregon Fishing Regulations
National Weather Service