The world-famous Rogue River stands out as the best winter steelhead destination on Oregon's South Coast, but several shorter streams also offer excellent fishing for these hard-fighting fish.
Please note that beginning in 2023, the Oregon Department of Fish and Wildlife has instituted a new winter steelhead validation and a wild steelhead harvest card in addition to existing requirements. So be sure to brush up on the regs.
The following rivers (listed north to south) are among the best:
Sixes River Winter Steelhead Fishing
This river enters the Pacific Ocean north of Cape Blanco and boasts an excellent wild steelhead run, which may be harvested under guidelines that currently allow one per day and five per season.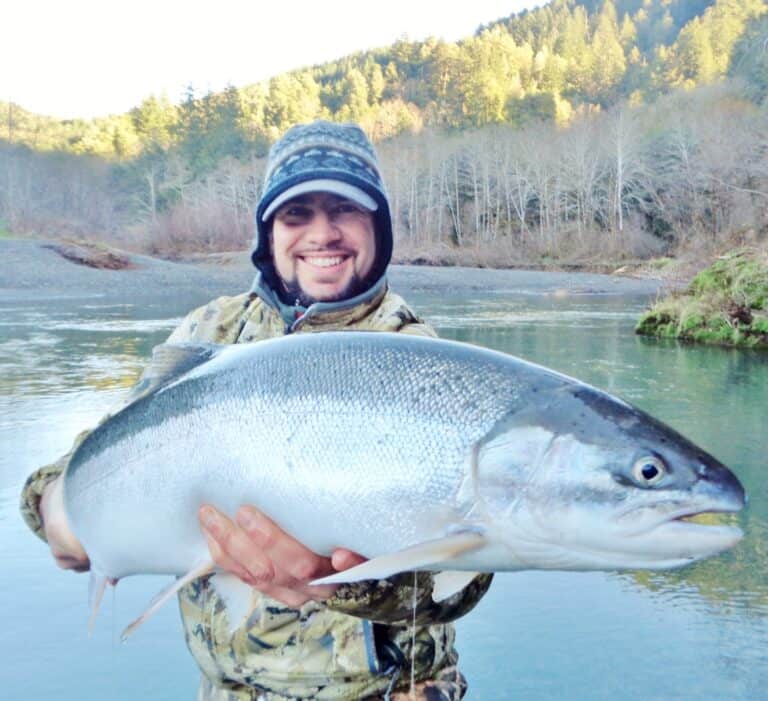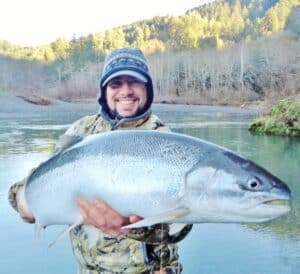 The downside of the Sixes is that it can muddy after a decent rain and be slow to clear.
Look for bank and boat access at several public park sites.
More: Sixes River Fishing.
Elk River Winter Steelhead Fishing
This river just south of the Sixes, between Cape Blanco and Port Orford, also has a very good wild steelhead run with harvest opportunities. It also tends to drop into shape faster than its neighbor.
The Elk flows through a lot of private property and therefore has relatively few bank fishing options, but boat angling is popular.
Both shore and boat launch access is available at the Elk River Hatchery and nine miles downriver at Ironhead, both properties managed by ODFW.
Call the hatchery (541-332-0405) for river height and clarity information.
More: Elk River Salmon and Steelhead Fishing.
Rogue River Winter Steelhead Fishing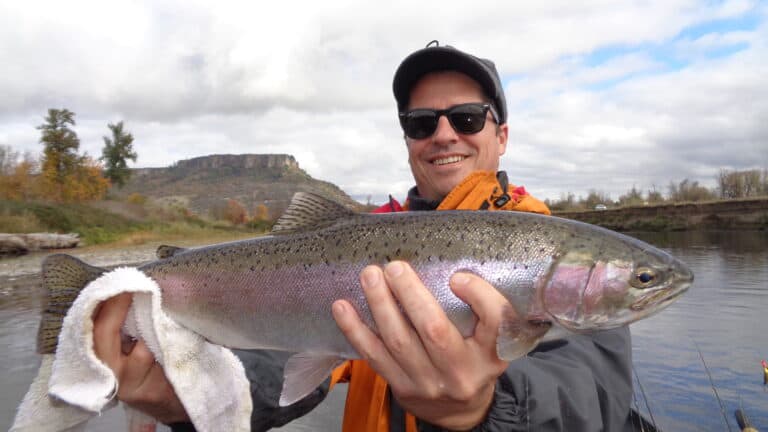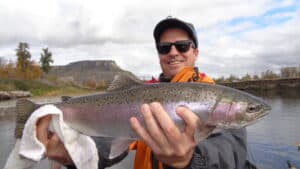 Most winter steelhead harvested from the Rogue come from the many miles of river from about Gold Hill (near Interstate 5 between Grants Pass and Medford) downriver to Elephant Rock in the lower river near Gold Beach.
Gold Hill is near the former site of Gold Ray Dam, which has been removed.
In that long lower river area, in years with decent runs, anglers will bring home some 2,000 to 3,000 winter steelhead.
Lower river fishing gets going in earnest in the middle of December and the best catches are often in the latter half of January. However, good angling can be found as late as early April.
Public access to prime gravel bars for bank anglers is very good for the lower 15 miles.
Boats can be launched from those gravel bars as well as ramps at the Port of Gold Beach and from Quosatana and Lobster Creek campgrounds.
In the Grants Pass area, the middle Rogue's steelhead first arrive in late December and fishing for them peaks in February and March.
Public access in the middle section is easy to find at more than 20 parks and recreation areas. There are plenty of boat launches as well.
Above the former Gold Ray Dam site, the river produces fewer winter steelhead overall, but fishing the right areas here can be quite good in March and early April.
We suggest you try between the hatchery and the Highway 62 Bridge, or at Casey State Park, Rogue Elk Park and Touvelle State Park. (These areas also are excellent in late summer and fall for summer steelhead.)
Limited and seasonal harvest of wild fish has been allowed in the Rogue River, but consult current regulations for details.
Also, read our thorough overview of Rogue River fishing opportunities.
Illinois and Applegate River Winter Steelhead Fishing
The Rogue River has some very good tributaries.
The Illinois River heads near the California border and joins the Rogue near Agness. ODFW has allowed a limited harvest of wild steelhead (with adipose fin unclipped) on a section of this river. See regulations for details and updates.
Access to the Illinois is tough due to private property in the Illinois Valley and rugged country where it flows through the canyon downstream.
Anglers trade extra effort down there for a chance to catch large fish in unspoiled conditions. The river is closed to angling above Pomeroy Dam.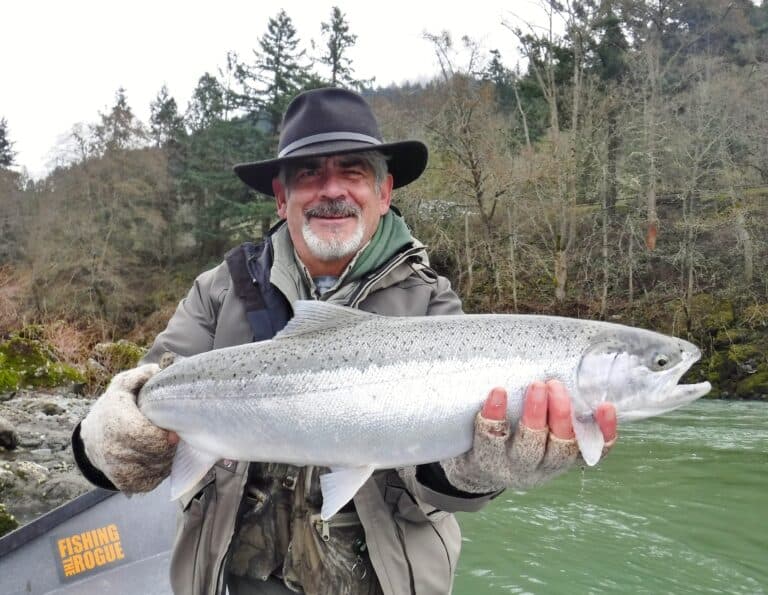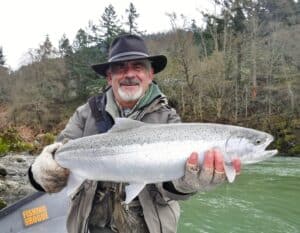 Another tributary of the Rogue to consider for winter steelhead fishing is the Applegate River, which flows into the Rogue just west of Grants Pass.
Fish start arriving in the Applegate in fishable numbers into January but angling peaks from mid-February to its seasonal closure March 31.
Steelhead (as well as resident trout) must have a clipped fin to keep in the Applegate, which is open upstream to Applegate Dam (which forms Applegate Reservoir).
There is a lot of private property along the river, but anglers will find spots at Cantrall Buckley and Fish Hatchery parks.
Chetco River Winter Steelhead Fishing
The Chetco is the only river on the South Coast besides the Rogue with a hatchery winter steelhead program, which uses wild broodstock steelhead netted from the river.
The Chetco's steelhead harvest often tops 1,200, and a few years in the past decade more than 2,400 have been taken, according to ODFW.
Hatchery smolt releases occur at Social Security Bar, about three miles upriver from Highway 101 near Brookings and Harbor.
Most marked steelhead are caught in the lower eight miles, with the best fishing often from the mouth of the North Fork Chetco upstream to Loeb State Park.
Fishing is good from December until about mid-March. A healthy wild run also returns at that time and may be kept in limited numbers.
Ron Buntrock of Fishing with the Boss Guide Service said that many anglers want to side-drift with bait these days but that "old school" fishermen working plugs in tailout sections catch plenty of fish.
More: Chetco River Fishing.
For additional coverage of steelhead fishing in Oregon, try the following articles:
Return to Oregon Steelhead Fishing page
Oregon Resources
ODFW Weekly Fishing Report
ODFW Trout Stocking Schedule
Oregon Fishing Regulations
National Weather Service
One source for this article was the Oregon Department of Fish and Wildlife's steelhead fishing flyer.