Southern Oregon's Elk River is a really good fall Chinook salmon fishing river that at times can also produce nice catches of wild winter steelhead and cutthroat trout.
The Elk enters the Pacific Ocean on the far southern coast, in Curry County just north of the coastal town of Port Orford and south of Cape Blanco State Park. Its near twin, the Sixes River just north of Cape Blanco, has similar fishing opportunities.
Guide Charlie "Steelhead" Brown of Fishing the Rogue said that south coast anglers would do well to keep the Elk on their list of options because it clears faster than most rivers in the area, which means it's often fishable when other rivers are blown out of shape.
Chinook Salmon Fishing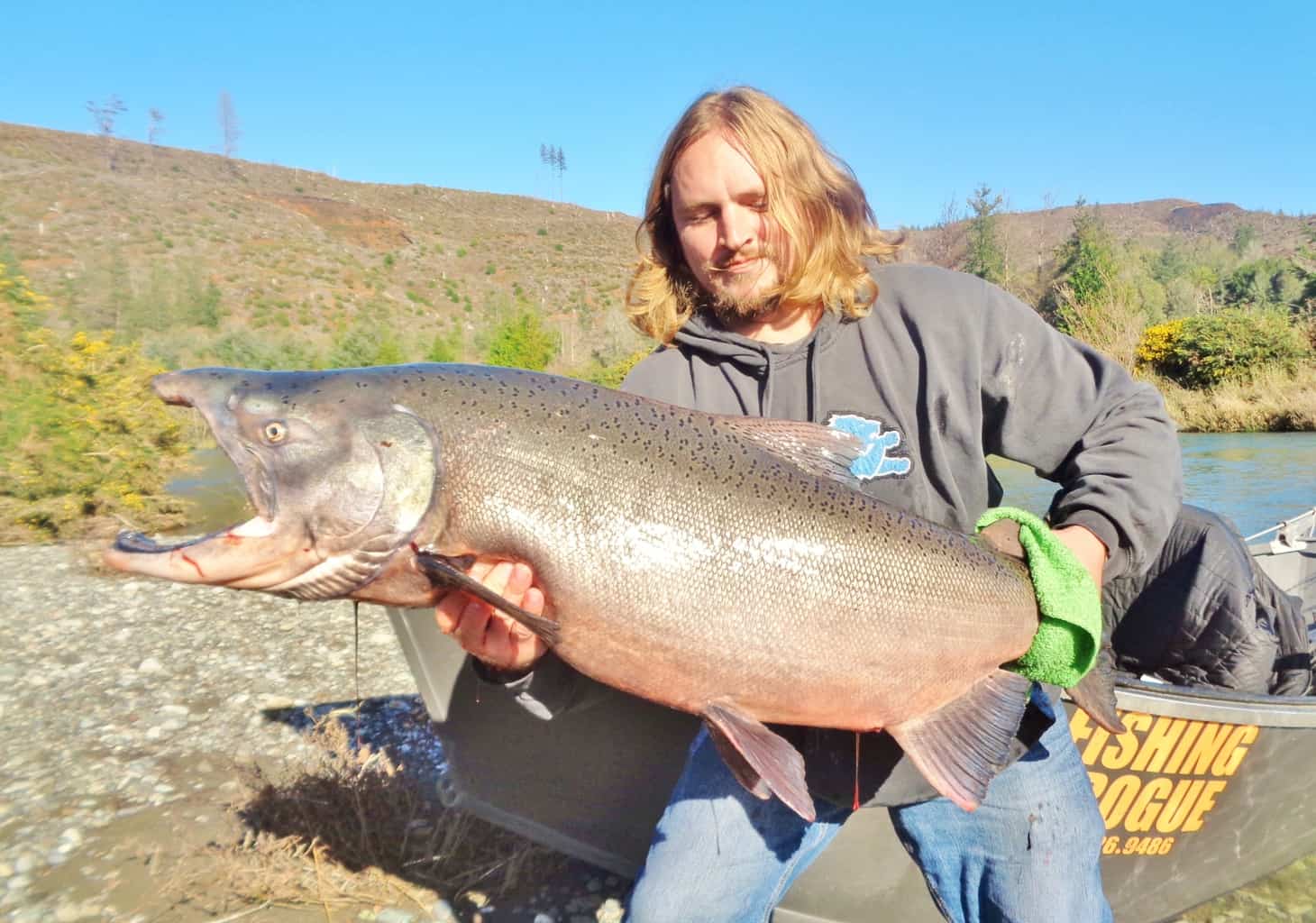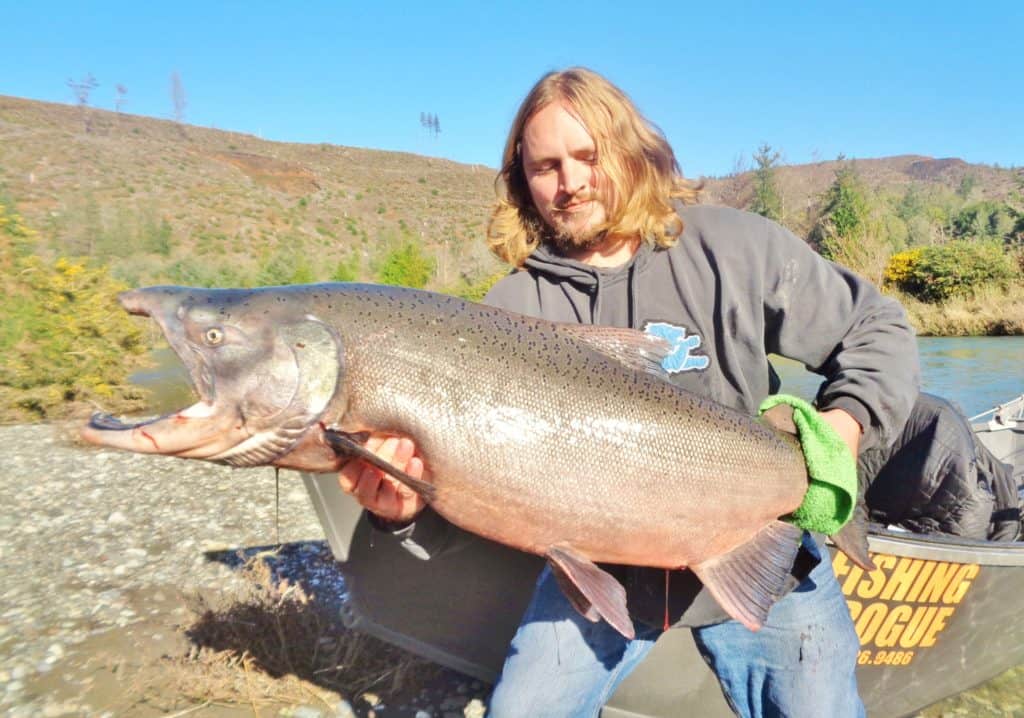 It's not uncommon for the Elk to produce a couple thousand Chinook in a season, an impressive number for a fairly small river.
In fact, the Elk's famously late Chinook runs can produce more big salmon some years than the Chetco River, and it even has out-fished the lowest reaches of the Rogue River.
It's on our list of Best Fall Chinook Fishing Rivers in Southwest Oregon.
These big fall kings include wild fish and broodstock hatched at the Elk River Salmon Hatchery, located 7.5 miles up Elk River Road from Highway 101.
The Elk River, like the Sixes and several other South Coast streams, typically plugs with sand during the drier summer months, and the salmon must wait until heavier fall rains allow the river to cut a deeper channel through the summer sand bars to make access possible for fish that can be 30 pounds or more.
Rivers with those duned-up mouths tend to have later runs of salmon, as the Elk River certainly does.
Catches here might get started in October when many Oregon rivers are peaking.
However, anglers who know this river will tell you (as will Oregon Department of Fish and Wildlife catch records) that the most Chinook are harvested during November, when many Oregon coastal salmon rivers are on the decline.
In fact, catches here tend to hold up not only through the holidays in December but anglers will keep at it after New Year's because January salmon fishing has real potential here.
Note that ODFW on occasion will call for temporary closures, especially during salmon season. One reason this might occur is during extremely dry stretches that lower river levels and hamper migration, which puts the fish at risk.
Always check with ODFW for regulations updates, which are often listed in the weekly recreation report, temporary regulations and possibly a news release. You'll find links below that will get you to more information.
Where to Fish for Salmon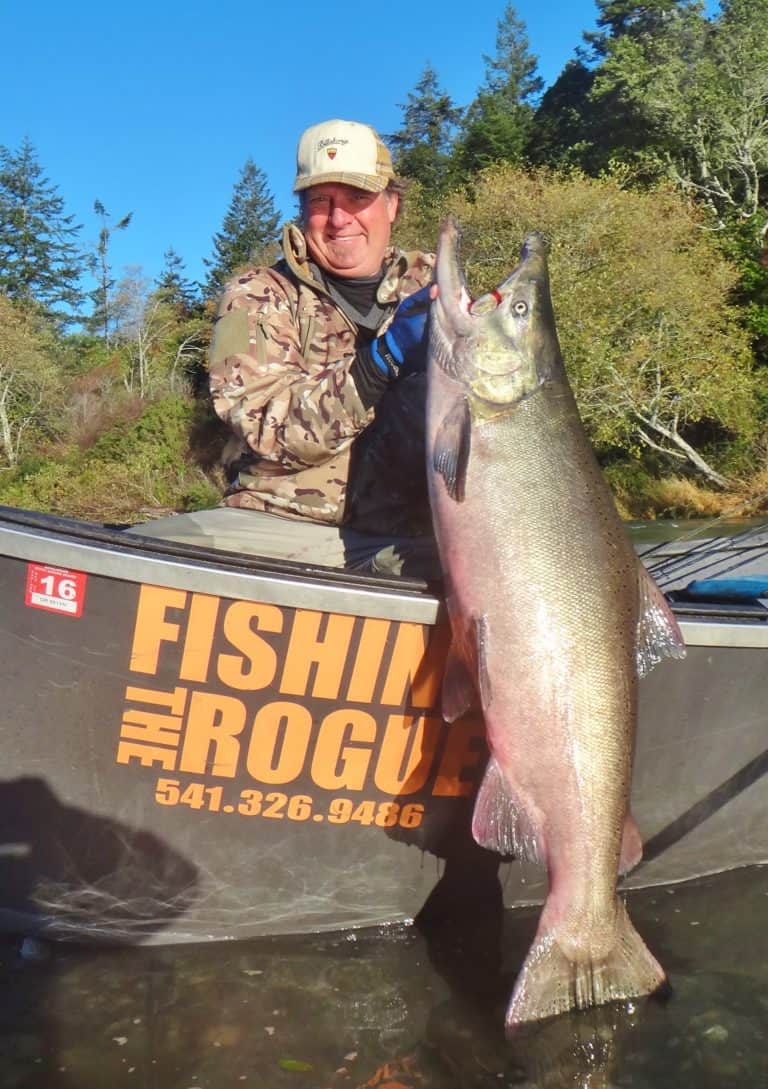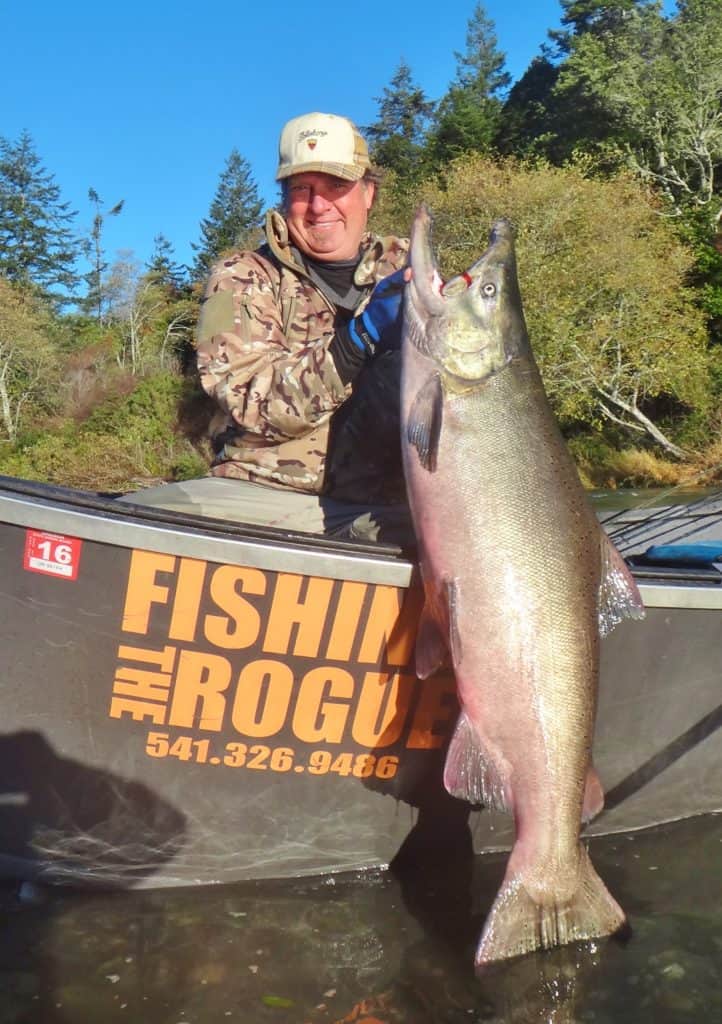 Due to a lot of private property, bank access is limited on the Elk.
Some places to reach the bank include under Highway 101, a little upriver at the public Ironhead access and farther upriver at the hatchery.
Oregon beaches also are public, so anglers can walk to the mouth and fish for Chinook just entering the river.
Pay close attention to separate ocean-fishing rules, which are something of a moving target but posted on the ODFW website; if the ocean is open for salmon fish, anglers will occasionally catch Chinook casting into the surf.
The Elk River really shines for drift boaters who typically put in at the hatchery and get ideal access to many of the most productive reaches of the river down to the Elk River RV Park or Ironhead.
Bank anglers use typical tactics including fishing bait off the bottom or below a bobber or casting lures such as spinners and spoons.
Many boat anglers will use lead back-bouncing or diver techniques or run plugs such as Kwikfish or FlatFish behind their drift boats to ease their offerings into prime holding water.
Steelhead Fishing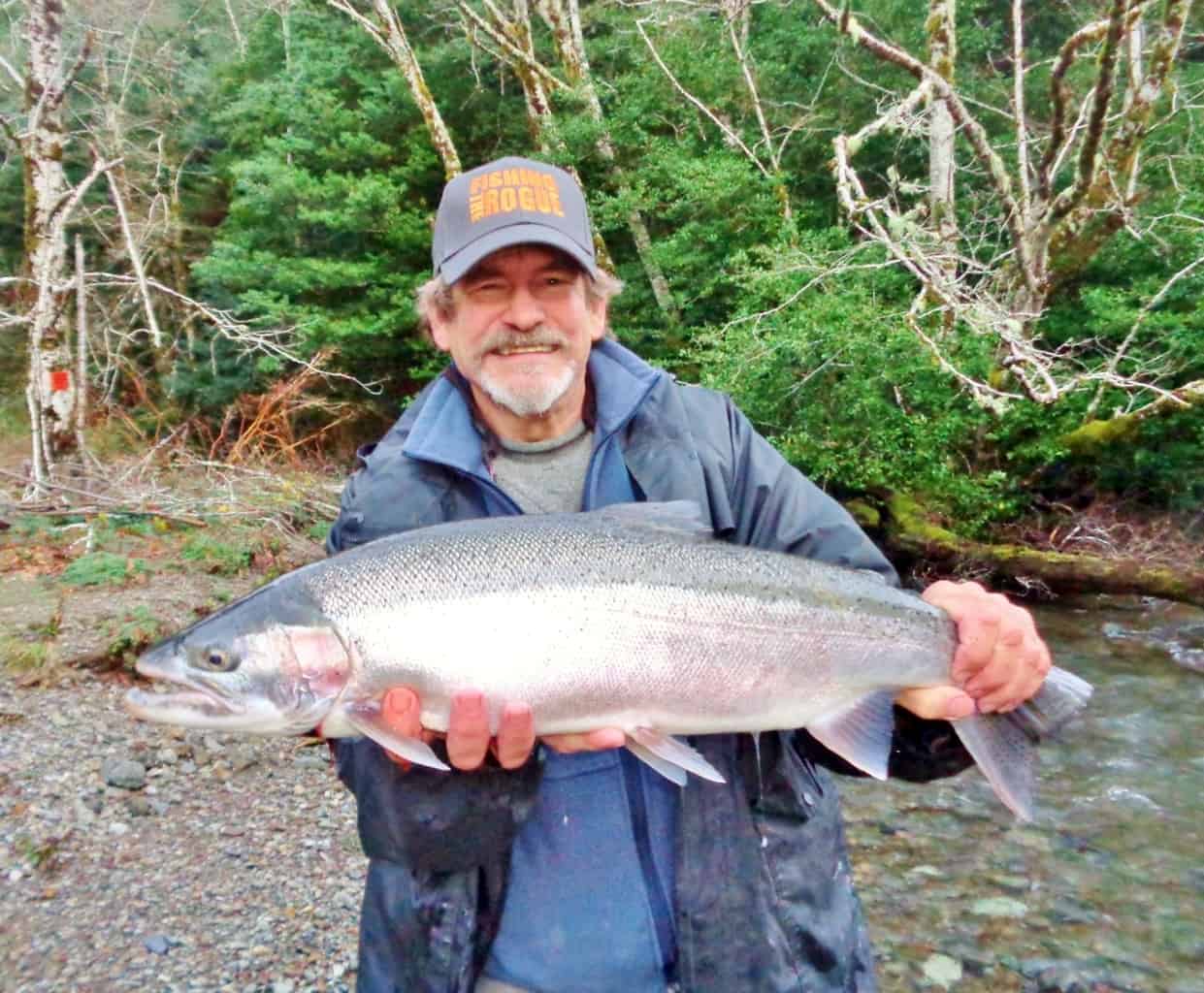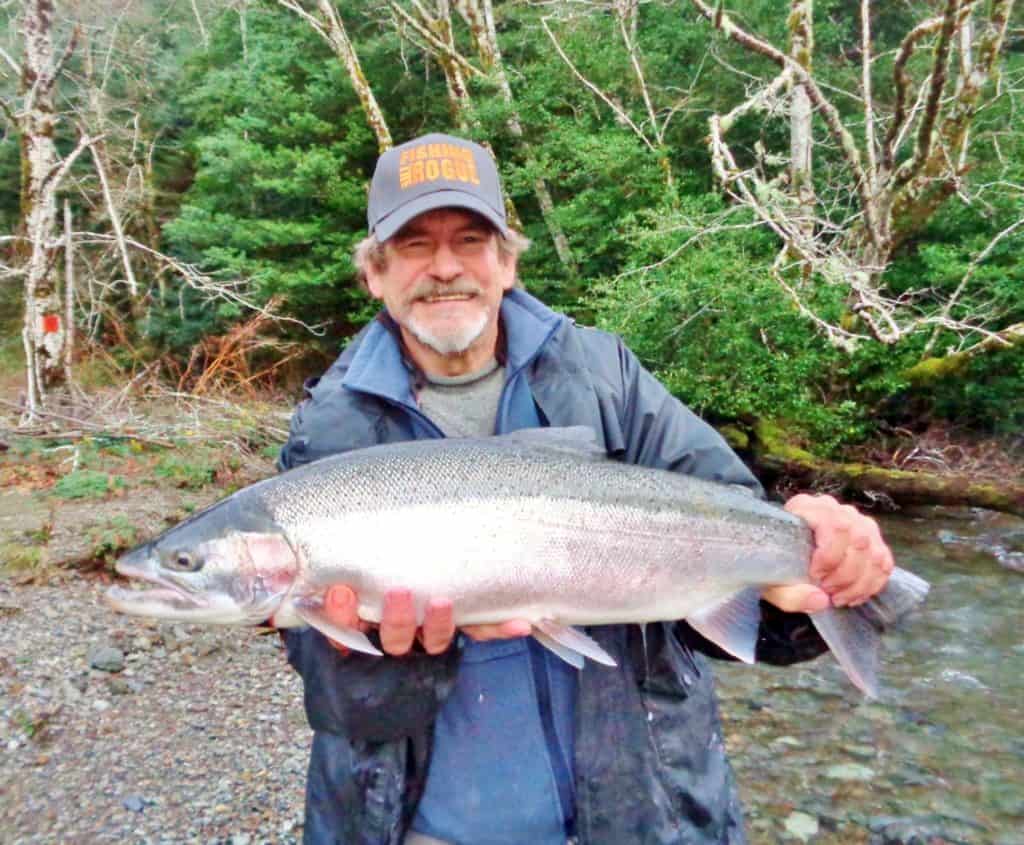 The primary winter steelhead run here is wild, but the Elk is one of a handful of Oregon coastal streams where anglers have a modest daily and seasonal bag limit for wild steelhead. Always check for current regulations before fishing.
Also, steelhead are raised in the hatchery on the Elk River for release into other systems, but some of those fish remember their original homes and stray back to the Elk instead.
That tendency provides an opportunity to bag fin-clipped steelhead as well, guide Charlie Brown said.
The steelhead here overlap with the Chinook runs, often first appearing in December when salmon anglers are still out in reasonable force on the Elk.
Steelhead fishing, however, is more likely to peak in mid- to late winter. Some years the most will be harvested in January, but February and March will be better other seasons.
Steelhead often work their way into the higher reaches of river systems, but note that at this writing the upper deadline for legal steelhead and salmon fishing is at Bald Mountain Creek (Bear Creek), a couple of miles upriver from the hatchery.
Wild steelhead in general, and certainly the Elk steelhead among them, often run especially large and put up a tremendous battle. Anglers use a variety of bait, lures and flies to draw them into a strike.
Read more about Winter Steelhead Fishing on the South Coast.
Cutthroat Trout Fishing
Like other Oregon coastal rivers and creeks, the Elk can be quite good for cutthroat trout fishing, although these pan-sized fish tend to draw fewer anglers than their bigger cousins.
The Elk has both searun and resident cutthroat, with the opportunity to take two home for dinner.
The searuns act a bit like steelhead, spending a portion of their lives in saltwater, where they feed on shrimp and other forage without ranging as far or as long as bigger fish.
They return to the river in the mid- to late summer larger and more silvery than other cutthroat, and they will hit lures and flies.
Bait also is effective, but note seasonal closures barring bait fishing above the tidewater sections of streams.
Resident cutthroat that don't venture out to see are more commonly caught higher up in river sections and tributaries, where fishing in the cooler waters soon after the spring opener or just before the end of the season in the fall can be excellent.
Always check regulations for which areas are open or closed to fishing for trout or other species.
Find more fishing spots in Curry County
Oregon Resources
ODFW Weekly Fishing Report
ODFW Trout Stocking Schedule
Oregon Fishing Regulations
National Weather Service