This article covers the incredible number of fishing opportunities available in central and eastern Lane County, from the east side of the Coast Range through Eugene and the Willamette Valley and into the Cascade Range high country.
Eugene, the county seat, is the southern Willamette Valley's largest city and home to the University of Oregon.
But within a short drive (and even right in the city) are numerous rivers, lakes and reservoirs with some of the best fishing the state has to offer.
Since the county is so large and divided between two of the Oregon Department of Fish and Wildlife's fishing zones, we covered the coastal waters separately in Fishing Near Florence, Oregon.
This article will briefly introduce more than 20 waters where you can catch a variety of fish species in this part of the county.
Also on this page, look for numerous links within the body of the article and at the bottom of the page that will take you to relevant fishing information on this site and elsewhere.
The waters in this part of Lane County are regulated under ODFW's Willamette Zone. You'll need a Columbia River endorsement to fish for salmon and steelhead here, in addition to regular license and tag requirements.
For anglers who eat their catch, check out the fish consumption advisory in the Oregon Department of Fish and Wildlife's annual regulations regarding Cottage Grove and Dorena Reservoirs and the mainstem and Coast Fork of the Willamette River.
The buildup of naturally occurring mercury in fish is most pronounced on year-round residents like the warmwater species and thought to be minimal on recently stocked rainbow trout or migratory salmon and steelhead.
Incorporated cities in this part of Lane County include Coburg, Cottage Grove, Creswell, Eugene, Junction City, Lowell, Oakridge, Springfield, Veneta and Westfir.
Unincorporated areas include Blue River, Crow, Dexter, Elmira, Finn Rock, Goshen, Leaburg, Lorane, Marcola, McCredie Springs, McKenzie Bridge, Pleasant Hill, Vida and Walterville.
Listed alphabetically, here are some of the best fishing spots in central and eastern Lane County:
Alton Baker Canoe Canal
The canal that meanders through Eugene's Alton Baker Park is one of the most consistently stocked bodies of water in Oregon, thanks to a steady supply of cool water from the Willamette that allows hatchery trout to survive here anytime of the year.
The canal is stocked about 10 months out of the year in several locations within Alton Baker Park.
Watch for special family fishing events, usually scheduled in the spring.
Get more detailed information in Fishing the Alton Baker Canoe Canal.
Blue River and Blue River Reservoir
These are part of a tributary entering the McKenzie River at the community of Blue River.
To get there, stay on McKenzie Highway a few more miles to the east of the small community and take Forest Service Road 15 (a.k.a. Blue River Reservoir Road or Old Scout Road).
This road will take you along the side of the reservoir for stillwater access and then will provide all the access you'll need to upper Blue River, which is stocked in a five-mile section from the reservoir upstream to Quentin Creek.
Stocking of legal trout (with some larger 12-inch fish in the mix) will occur in the reservoir and creek in mid-spring to early summer.
More: Fishing in Blue River and Blue River Reservoir
Cottage Grove Ponds
The main pond in a group of six small ponds, now formally named Row River Nature Park, is generously stocked with rainbow trout during late winter and early spring.
Also in the ponds are resident bass, panfish and bullhead catfish, all of which bite best in warm months as the trout fishing fades.
To get there, take Row River Road (the route to Dorena Reservoir). About a mile east of Interstate 5, just east of Cottage Grove, look for the truck scales along the roadside.
The ponds are located behind the scales. Take the path north from there to access the ponds.
The pond with a dock is the only one stocked with legal and some larger rainbow trout.
Family fishing days are often scheduled here.
See: Fishing at Row River Nature Park (Cottage Grove Pond).
Cottage Grove Reservoir
This 1,150-acre impoundment on the Coast Fork Willamette River about 10 miles south of Cottage Grove is one of the better trophy largemouth bass lakes in western Oregon and also popularly fished for stocked rainbow trout.
There also are other warmwater fish, such as bullhead catfish and sunfish, along with some of those very good-sized largemouth bass, among other warmwater fish.
For the details, read: Cottage Grove Reservoir Fishing.
Creswell Ponds
There is one pond stocked with hatchery rainbow trout within a cluster of shallow ponds in Garden Lake Park, located just east of Interstate 5 at Creswell. It is typically stocked from about February to April.
The ponds also support some bass, sunfish and bullhead catfish that will bite through the summer after the trout are gone.
You reach the pond on Frontage Road (Melton Road) that parallels I-5.
This main pond, also known as Garden Lake, has an accessible fishing dock and is encircled by a dirt path.
Delta Ponds
This complex of ponds, totaling 200 acres, is located in a city park along Delta Highway and Goodpasture Island Road on the north side of Eugene.
This spot isn't as good as it used to be, but there's ample bank access, willing sunfish and some largemouth bass, crappie and bullhead catfish.
Empire Park and Jessen ponds are a couple smaller park ponds in Eugene with similar types of fishing.
Dexter Reservoir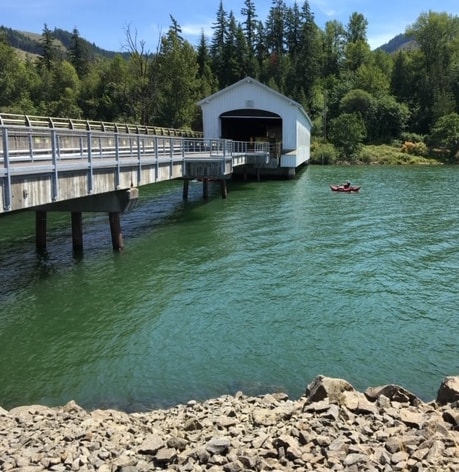 As you head east on Highway 58, this is the first reservoir you'll spot, immediately below the far-larger Lookout Point Reservoir upstream on the Middle Fork Willamette River.
Expect Dexter Reservoir to be stocked with trout in the spring, perhaps late April.
It's also a good option in the fall, typically getting a large planting of trout in late September to provide a nice fishery into the colder months.
The best trout fishing often is where the water squeezes through openings in the causeway, near the covered bridge.
Dexter also has bass and northern pikeminnows.
Read more: Dexter Reservoir Fishing.
Dorena Reservoir
This is a reasonably large reservoir (over 1,800 acres) often fished for trophy largemouth bass and for year-round fishing for stocked rainbow trout.
The largemouth fishing is productive enough that there are a few good-sized bass tournaments held here in late spring or early summer.
Trout fishing is best after fish are stocked in early spring and in the fall, but you can catch at least some all year.
There also are crappie, sunfish and bullhead catfish.
It is located near Cottage Grove, less than a 10-minute drive from I-5 out Row River Road.
Get the details: Dorena Reservoir Fishing.
Fall Creek and Fall Creek Reservoir
This is a close-in stream and reservoir near the community of Lowell, just 15 miles southeast of Springfield.
Fall Creek itself is regularly stocked starting from mid- to late spring with trout.
You may also fish the reservoir for stocked trout, especially early in the year. Stocked or wild trout also can drop down from the creek.
Landlocked salmon, if caught here, would count toward the trout limit.
Previously, there were some bass and other warmwater fish here, but recent changes to the reservoir draw-down regimen seems to have greatly reduced or possibly eliminated these fish from the reservoir.
Get full information at Fall Creek and Fall Creek Reservoir Fishing.
Fern Ridge Reservoir
At full pool, this 9,000-acre reservoir just west of Eugene is the largest in the Willamette Valley, and it has one of the most diverse warmwater fisheries around.
Much of the reservoir is shallow and loaded with cover, including lily pads and other aquatic vegetation, flooded snags, bridge pillars and lots of channels and flats.
You will find Fern Ridge Reservoir in our article about best crappie fishing in western Oregon.
It's also quite a decent largemouth bass spot and has plenty of bluegill, bullhead catfish and carp.
Kirk Pond right below the dam offers some of the same types of warmwater fishing in a much smaller package.
Get the details at Fern Ridge Reservoir Fishing.
Gold Lake
This is an excellent fly fishing-only lake high in the Cascades between Willamette Pass and Waldo Lake.
Gold Lake has modest numbers of rainbows to impressive sizes and lots of smaller brook trout.
You must release the rainbows but are free to keep as many of the invasive brookies as you want to eat.
The lake is open seasonally.
This lake is among our recommendations for Oregon's best fly fishing lakes.
Hills Creek
This small stream is the secondary tributary to Hills Creek Reservoir outside of Oakridge.
Hills Creek is no longer stocked with hatchery rainbow trout, as of our last check,, but biologists suggest anglers can expect a decent fishery for wild cutthroat and rainbow trout to replace a mostly hatchery show.
We have more details in our Fishing in Hills Creek article.
Hills Creek Reservoir
This large reservoir near Oakridge can be a very good lake fishery for hatchery-produced rainbow trout, which are now planted both as fingerlings and legal-sized trout.
The lake also currently is planted with fingerling hatchery spring Chinook salmon that grow to fair size.
Hills Creek Reservoir also has some surprisingly good fishing for crappie and largemouth bass for those who know where to look for them.
Both bank and boat access are excellent at the reservoir.
For the details, read Hills Creek Reservoir Fishing.
Junction City Pond
This 8-acre pond is most popularly fished for the large number of hatchery rainbow trout planted here during the winter and spring months.
Some of the trout can be quite large, and there also are occasional batches of surplus hatchery steelhead dropped in for added angling excitement.
The pond also holds sunfish, bullhead catfish and largemouth bass.
This is a well-used spot with excellent year-round access.
For additional details, read see Junction City Pond Fishing.
Leaburg Lake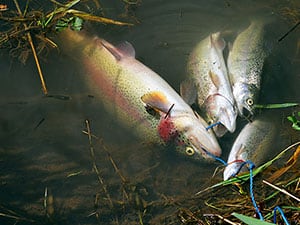 This is a small reservoir near the community of the same name on the McKenzie River east of Springfield.
Like the river, Leaburg is generously stocked with hatchery rainbow trout from late April to mid-summer.
Bank access is excellent.
See: Leaburg Lake Fishing.
Linton Lake
This lake is off the old McKenzie Pass Highway, that winding, lava strewn road between the McKenzie River and the Sisters area.
Linton requires a bit of a hike to reach and probably a bit of bush-whacking once you get there, but once there you'll find brown trout to very good size, potentially as large as 10 pounds or so.
There also are some brook trout.
Conventional and fly fishing approaches will work here.
Long Tom River
In Lane County, this is a tale of two streams. The upper river above Fern Ridge Reservoir is open to year-round trout fishing, but modest harvest is seasonal only and bait fishing is now prohibited.
The river below Fern Ridge and down into Benton County is primarily a warmwater fishery with most of the same species you'd find in the reservoir.
Lookout Point Reservoir
This hasn't been a go-to fishery, but lately anglers have taken some note of a growing walleye population.
Lookout Point is a very large reservoir, prominent along Highway 58 between Eugene and Oakridge (immediately above Dexter Reservoir).
It is not stocked like Dexter, but wild trout drop in from the Middle Fork Willamette River.
There also are some largemouth bass, panfish and bullhead catfish that can reach good size.
See: Fishing at Lookout Point Reservoir.
McKenzie River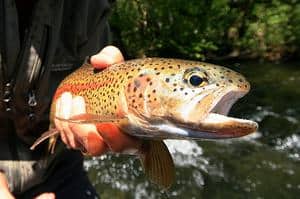 On anyone's list of top fly-fishing rivers in western Oregon, the McKenzie would be at or near the top.
The McKenzie River has excellent fishing for native redside rainbow trout (and some cutthroat, too).
The middle section of river also is one of the most heavily planted streams in Oregon, for those who want to bring home fish for dinner. (Wild trout must be released.)
Besides all those trout, the McKenzie has annual runs of summer steelhead and spring Chinook salmon, which may be retained if they have a clipped fin.
For a load of details on these fisheries, please read McKenzie River Fishing.
For information about fishing the far upper reaches of the McKenzie, including its high-mountain reservoirs and lakes, see our article about Linn County's fishing spots.
Mohawk River
This tributary of the lower McKenzie River is managed as a wild trout stream, currently with opportunity for modest harvests in the mainstem and tributaries.
The Mohawk River is not open for salmon and steelhead.
Marcola Road follows much of the river through a valley and then Mohawk River Road parallels the upper reaches, which are more forested. There's quite a bit of private property.
Salmon Creek
This easily accessible creek near Oakridge isn't a salmon fishing destination, as the name might suggest, but does provide a very nice stream fishery for trout that you should check out.
We have a full article on Salmon Creek trout fishing.
Salt Creek
This is the stream you drive along while traveling on Highway 58 east of Oakridge.
This creek is no longer stocked with hatchery rainbows but has some harvest opportunity for native trout as well as for naturally reproducing (non-native) brook trout.
See our Salt Creek Fishing article for more details.
Waldo Lake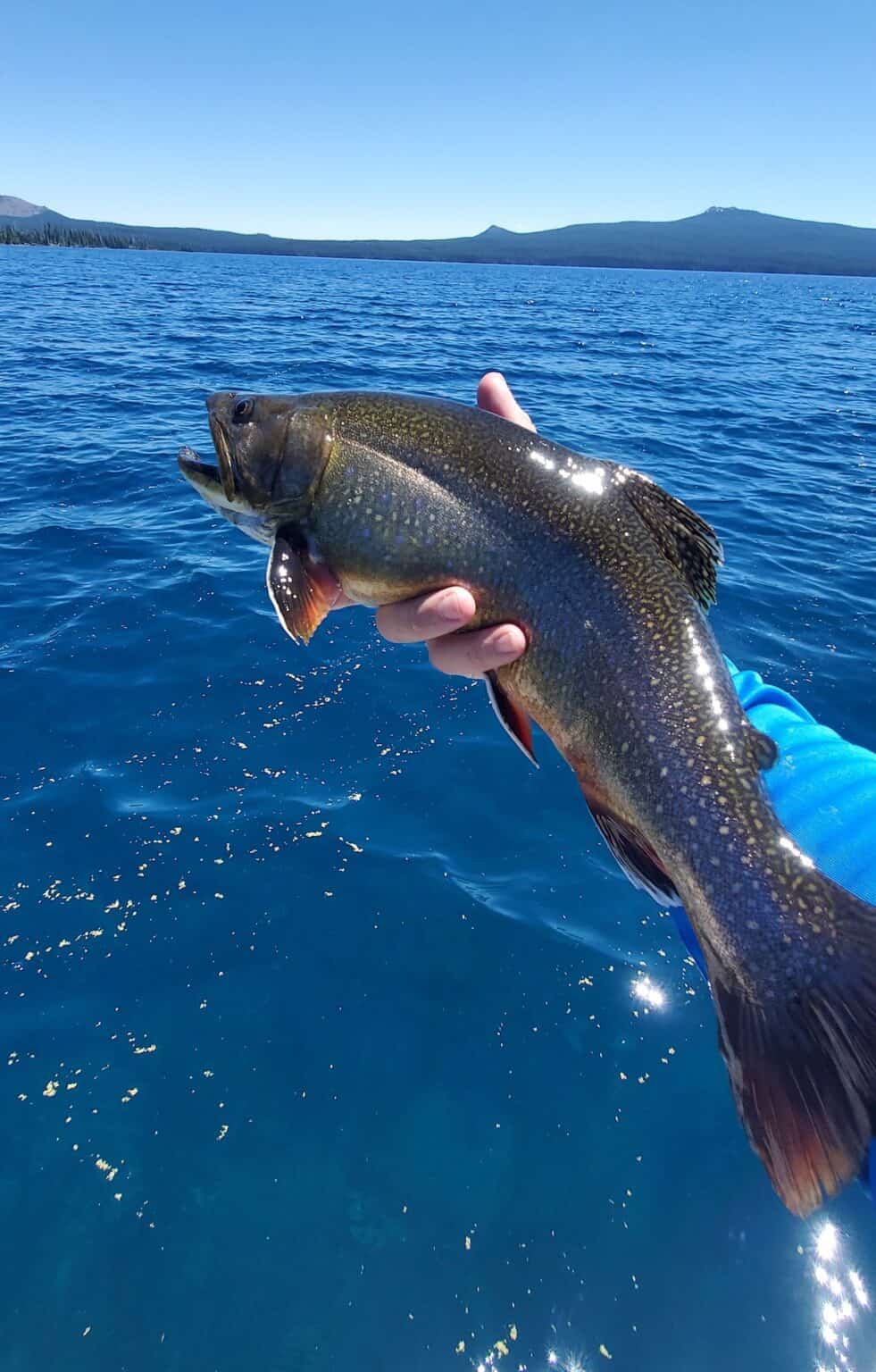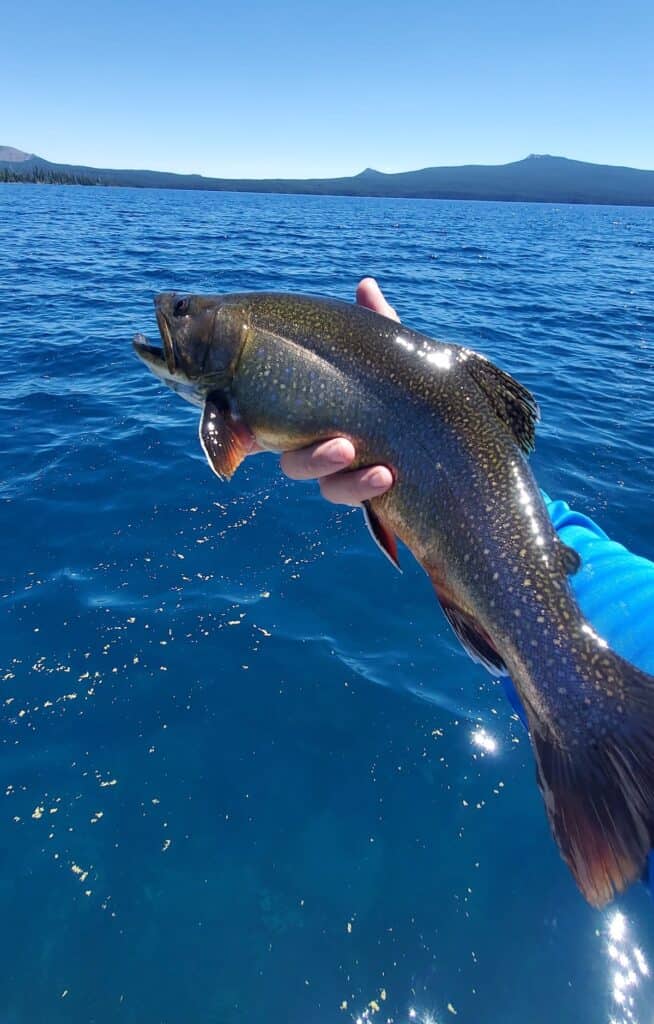 This is a massive natural Cascade Mountain lake high in the upper Willamette River system, but its mosquitoes often bite far better than its fish.
The lake is too pure to support a fish population that matches its size, and so it's a tough place to catch the spread-out kokanee and trout (mostly brookies) it holds.
Consider visiting in October, after the first freeze returns to the high country, when the mosquitoes are gone and you might find fish clustered near shore, although the kokes won't be in eating condition.
More: Waldo Lake Fishing.
Willamette River (mainstem)
This Lane County section of river becomes more of a trout fishery compared to lower in the valley where it is primarily fished for bass and panfish.
There are good numbers of cutthroat and redside rainbow trout here, although access can be spotty and nearby McKenzie River is more popular.
The mainstem also hosts runs of spring Chinook salmon and summer steelhead headed toward the major tributaries. They come through in the highest numbers in May and June.
A good number of the steelhead also linger in the Eugene area, where they can be targeted through summer.
Read our overview of Willamette River Fishing.
Willamette River, Coast Fork
This stream and its major tributary, the Row River, flow down from the hills of southern Lane County, filling Cottage Grove and Dorena Reservoirs along the way, and then joins the Middle Fork near Goshen just outside Eugene – Springfield.
The Coast Fork has a newish run of spring Chinook salmon (so far with modest catch reports) and also has harvest opportunities for both hatchery and wild trout.
We have much more information in our article about fishing in the Coast Fork Willamette River.
Willamette River, Middle Fork
A stream of several fishing faces, with an excellent opportunity to catch and keep hatchery-produced spring Chinook salmon and summer steelhead in the lower river a short drive from Eugene.
The river's middle and upper stretches are managed primarily for catch-and-release fishing of wild rainbow and cutthroat trout and can be quite good.
See Middle Fork Willamette River Fishing for the big picture.
Winberry Creek
A small stream with pretty good fishing for wild cutthroat trout, with a modest harvest allowed.
Winberry Creek is not stocked like nearby Fall Creek and gets less angling pressure. Bait fishing is allowed seasonally.
The creek is a tributary of Fall Creek Reservoir northeast of Lowell. It is followed by Winberry Creek Road above the reservoir.
Fishing in Neighboring Counties
Lincoln County: To the northwest, offers a wide variety of salmon, trout and steelhead fishing options, plus excellent ocean fishing, crabbing and clamming.
Benton County: To the north, variety of wild and stocked rainbow trout and warmwater fish in the valley, plus the upper Alsea River's excellent winter steelhead run.
Linn County: To the northeast, home of great salmon and steelhead runs into the South Santiam River and some of Oregon's best kokanee fishing in Green Peter Reservoir.
Deschutes County: To the east, some of the state's favorite trophy trout and land-locked salmon fishing destinations, plus surprisingly good largemouth bass angling.
Klamath County: To the southeast, top-rate kokanee and big trout relatively close at Odell and Crescent lakes, plus huge wild rainbows and browns farther south.
Douglas County: To the south, a wide variety of excellent fisheries in the Umpqua River system, plus the incredible rainbow trout factory that is Diamond Lake.
Lane County (west): To the west, the coastal portion of this county includes the Siuslaw River's excellent salmon and steelhead streams and coastal lakes packed with stocked trout and resident bass and panfish.
More Fishing Resources:
In addition to other sources, the following websites were very helpful while compiling these county fishing pages, and the information there is valuable to all Oregon anglers.
For current regulations, trout stocking, weekly angling reports and more, find links on the Oregon Department of Fish and Wildlife's Fishing Resources Page.
For boating information about these waters, see the Oregon State Marine Board's launch locator map.
Return to Best Fishing in Oregon page
Oregon Resources
ODFW Weekly Fishing Report
ODFW Trout Stocking Schedule
Oregon Fishing Regulations
National Weather Service