Lincoln County on Oregon's central coastline is a favorite destination for tourists bound for the beach and bay towns of Newport, Lincoln City, Depoe Bay, Waldport and Yachats.
There will be more than just kites on the end of your line if you cast into some of this area's fantastic rivers, lakes and bays, especially for salmon, steelhead and trout.
And while the waters listed below are primarily included in this article for their excellent rod-and-reel opportunities, we will note here that several locations (especially Yaquina Bay) are among the best places to go for Oregon crabbing and clamming.
This is also a great place to note that two central coast port cities — Newport and Depoe Bay — are among Oregon's best access points to some great fishing offshore for salmon, halibut, albacore tuna, lingcod, rockfish and other gamefish.
Please see this article about Oregon's recreational fishing ports.
Lincoln County is an easy drive west of Salem, Corvallis and Albany and just a few hours from Portland.
Within the description of significant fishing areas in this county, as well as at the bottom of this article, watch for links to more resources about fishing in Lincoln County and elsewhere in Oregon, including neighboring counties.
For regulations in this area, look to the Oregon Department of Fish and Wildlife's Northwest and Marine zones.
The incorporated cities of Lincoln County include Depoe Bay, Lincoln City, Newport, Siletz, Toledo, Waldport and Yachats.
Additional communities and destination areas here include Agate Beach, Beverly Beach, Eddyville, Gleneden Beach, Kernville, Logsden, Neotsu, Otter Rock, Roads End, Rose Lodge, Seal Rock, South Beach, Tidewater and Yaquina.
Listed alphabetically, here are some of the best fishing spots in Lincoln County:
Alsea River and Bay
If you are an angler visiting the south county during the beach tourism "off season," this is a great river system to get to know for its excellent fall Chinook salmon and winter steelhead fishing.
Chinook salmon fishing in the Alsea system is best in September and October, with most catches coming from the bay near Waldport and up into the river's tidewater area before the big rains hit.
When rains entice salmon upriver, the lower sections of the river itself are best for salmon.
If the wild coho run forecasts are quite good, ODFW may announce a limited season. These announcements are often made in August and take effect in September.
Alsea River steelhead fishing is far better in the free-flowing river above the tidewater.
Fish the lower mainstem in Lincoln County as fish move through and also when the forks, which are primarily in Benton County, are too low for good angling.
The Alsea River also has native cutthroat trout, and the bay has shellfishing.
Big Creek Reservoirs 1 and 2
These two smallish reservoirs are located on the north side of Newport, in the Agate Beach area, accessed by turning east from Highway 101.
These small reservoirs are very popularly fished for the truckloads of hatchery rainbow trout planted here during cooler months.
Both reservoirs are stocked from late winter and throughout the spring months. At this writing, Reservoir 2 (the upper one) gets more fish.
Both waters also receive generous numbers of larger trout during the prime season.
There is a small warmwater fishery here, with the most common catches being sunfish and bullhead catfish.
See: Fishing at Big Creek Reservoirs 1 and 2.
Big Elk Creek
This tributary of the lower Yaquina River previously hosted a modest hatchery program for winter steelhead and now is one of the few streams in Northwest Oregon that allow anglers to bag a modest number of wild winter steelhead.
The other is Salmon River north of Lincoln City.
See both streams listed under Best Small Winter Steelhead Streams in Northwest Oregon.
Devils Lake
This popular Lincoln City landmark is a good-sized lake (680 acres) ringed with private homes and several public parks, and put to good use for a variety of water uses.
For angling, the busiest time of year is early spring, when the lake is stocked with hatchery rainbow trout.
Devils Lake also has a moderate fishery for the spectrum of warmwater fish species found in many coastal waterways, including largemouth bass, crappie, sunfish, yellow perch and bullhead catfish.
Grass carp must be released.
See: Devil's Lake Fishing.
Eckman Lake
This lake, most popular after being stocked with trout, is separated from the lower Alsea River by Highway 34 (Alsea Highway).
Eckman Lake is located just a couple miles east of Waldport, and good access can be found at W.B. Nelson State Recreation Site (park).
Trout stocking is during the spring. There may be a family fishing event planned here in the spring.
Once the water warms, another option is chasing after this old slough's resident population of largemouth bass and bullhead catfish that inhabit its 45 acres.
Olalla Reservoir
This is a moderate-sized reservoir (about 100 acres) located just 10 miles east of Newport and very close to Toledo.
Olalla is most popular after it is stocked with hatchery rainbow trout, which occurs periodically in late winter and all spring.
This is also a regular spot for special fishing events planned around those fish plants, based at the park.
Besides trout fishing, there is a modest fishery featuring the lake's resident populations of largemouth bass, yellow perch, sunfish and bullhead catfish.
See: Olalla Reservoir Fishing.
Salmon River
This is a smaller stream located along the northern boundary of Lincoln County, the creek you follow when taking Highway 18 to Lincoln City.
But don't let its size fool you, because the Salmon River and its estuary (shared with Tillamook County) is an excellent producer of big Chinook salmon every fall, thanks to both hatchery and wild runs.
This fishery tends to get going on the early side, with catches starting in late August and peak fishing often in September or early October. Find more information here.
This is also the northernmost coastal stream in Oregon that allows modest retention of wild winter steelhead.
See: Best Small Steelhead Streams in Northwest Oregon.
Siletz River and Bay
This is a good-sized river flowing into its bay at the northern end of Lincoln City (near Salishan) with excellent fishing for steelhead all year long and for Chinook salmon during the fall.
Two seasonal runs of steelhead arrive in roughly equal numbers but at opposite ends of the calendar.
The Siletz has its place among the Oregon Coast's best summer steelhead rivers, and its winter run also produces good catches during the cold months.
Check out this Siletz River steelhead fishing article for specifics.
Chinook salmon fishing will start in the bay and long tidewater in August, with better catches likely in September and October. Focus on the lower system until major fall rains hit.
Check this article for more info.
The river and tidal zones also can be very good for cutthroat trout, including searuns.
The bay itself has some modest shellfishing, and a few non-salmon fishing opportunities, but no jetty fishery.
Thissel Pond
This is a small pond in the Alsea River drainage that gets regular plantings of hatchery trout during the spring season.
Thissel Pond is located alongside East Fall Creek Road (714), just a couple miles north of Highway 34, maybe a half mile before the Oregon Hatchery Research Center.
Figure about a 45-minute drive from Waldport and more like an hour from Corvallis.
Yachats River
The lower stretch of this stream at Yachats has a moderate Chinook salmon fishery, with your best chances in October or November.
There also is a modest winter steelhead run that is mostly catch-and-release … you only can keep them if a fin-clipped hatchery stray takes a wrong turn into this stream, where they are not planted.
Yaquina Bay and River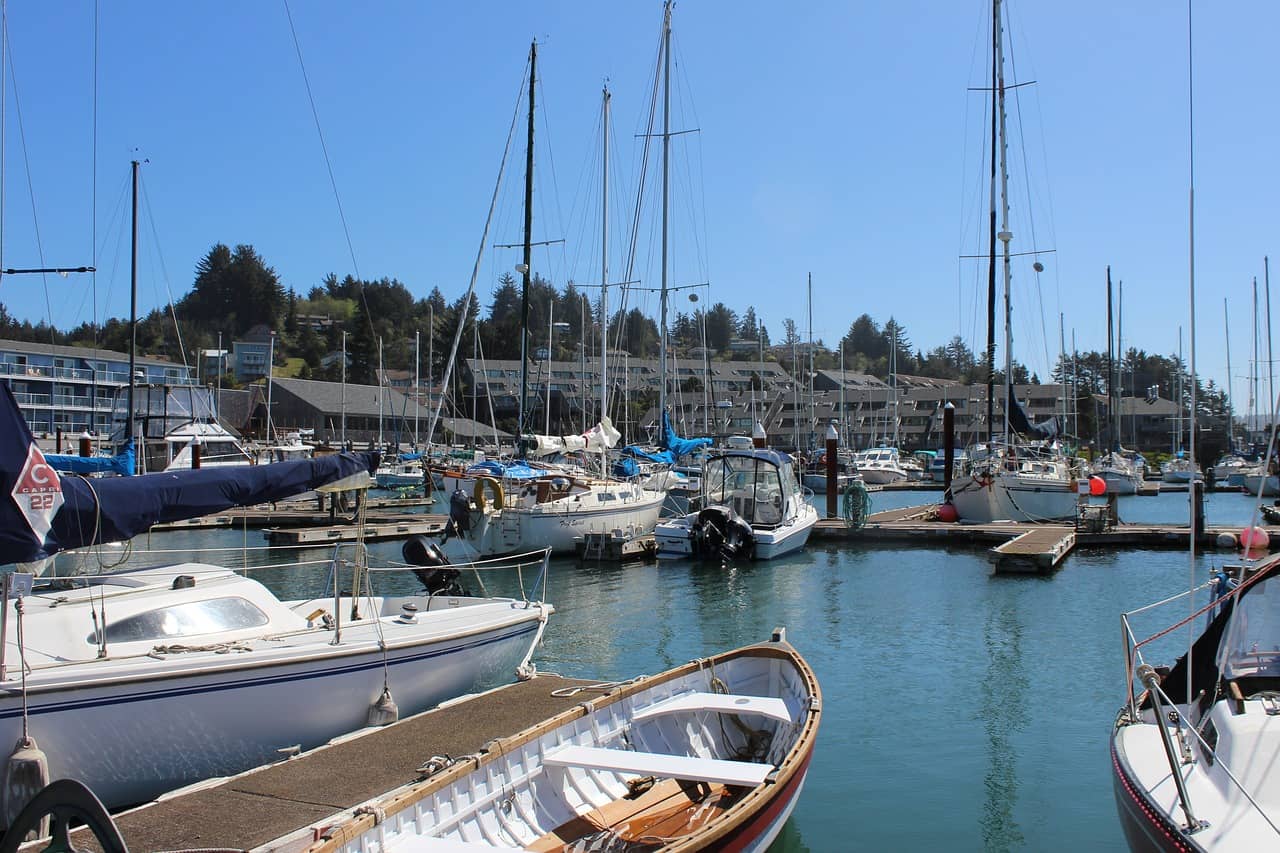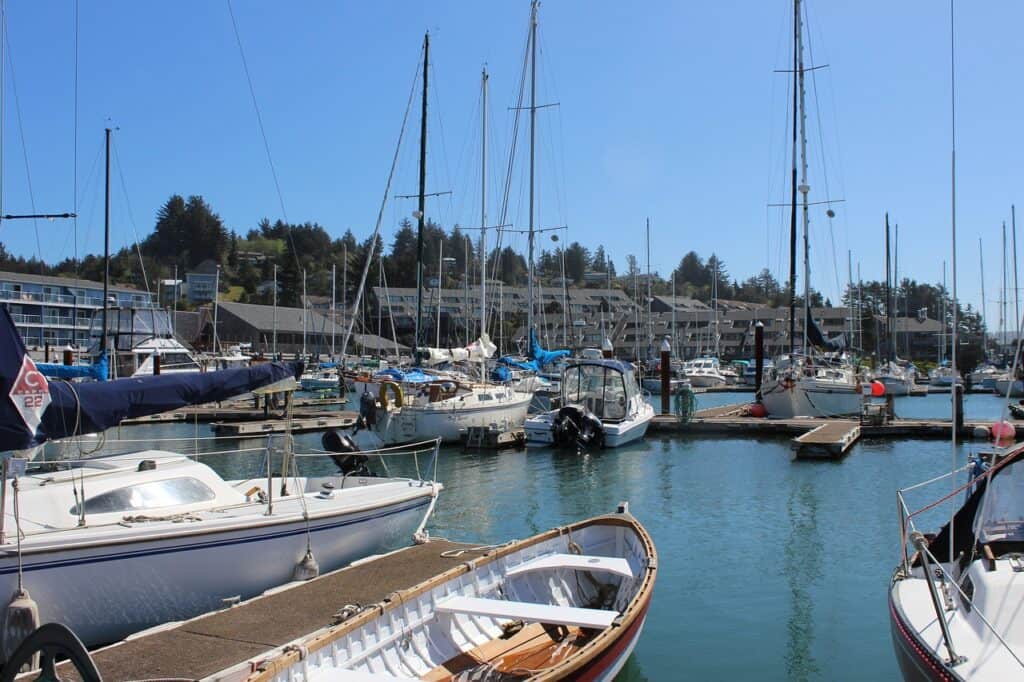 Yaquina Bay at Newport is one of Oregon's best all-around fishing bays.
There is year-round fishing (but watch the weather and waves) from the jetties and elsewhere in the bay for perch, greenling, flounder and rockfish, with the occasional bonus of a large lingcod (especially late winter and early spring) around the jetty.
Salmon angling is primarily in the late summer and early fall, when Chinook are primarily caught in the bay and tidewater areas. Limited retention of wild coho salmon may be allowed in years of abundance (usually announced by the end of August).
Those tidewater areas can also produce sturgeon.
A really fun fishery is the annual herring run into the boat basin areas in late winter.
Perch fishing can be especially good during a springtime spawning run into the bay.
Crabbing and clamming is simply excellent here.
Yaquina Bay and nearby Depoe Bay also provide excellent access to offshore fisheries and each hosts charter-fishing companies.
See the separate listing in this article for Big Elk Creek, a tributary of the lower Yaquina River.
Fishing in Neighboring Counties
Tillamook County: To the north, with its salmon-rich Tillamook, Nestucca and Nehalem systems and lots of steelhead, trout and shellfish.
Polk County: To the northeast, small county with one of the north valley's few stocked trout streams.
Benton County: To the southeast, another small county that includes the excellent steelhead fishing of North Fork Alsea River and Willamette Valley fisheries.
Lane County (west): To the south, excellent salmon and steelhead fishing in the Siuslaw River system, plus numerous coastal lakes loaded with trout and warmwater fish.
More Fishing Resources:
In addition to other sources, the following websites were very helpful while compiling these county fishing pages, and the information there is valuable to all Oregon anglers.
For current regulations, trout stocking, weekly angling reports and more, find links on the Oregon Department of Fish and Wildlife's Fishing Resources Page.
For boating information about these waters, see the Oregon State Marine Board's launch locator map.
Return to Best Fishing in Oregon page
Oregon Resources
ODFW Weekly Fishing Report
ODFW Trout Stocking Schedule
Oregon Fishing Regulations
National Weather Service