Waldo Lake is one of the largest of Oregon's high-mountain lakes, located far up in the Willamette River drainage east of Eugene.
While pristine and beautiful, and a wondrous place to take a kayak or other motor-less boat, it often is considered just a so-so fishery.
Don't tell that to Duncan Stephens, who recently launched his kayak to land several nice trout at Waldo Lake, including a lake trout that most fishing resources will suggest aren't even in the lake.
Waldo Lake is better known for its brook trout and also has some kokanee that are often widely scattered and hard to find, although the lake trout might do a better job of locating them than we land-lubbers.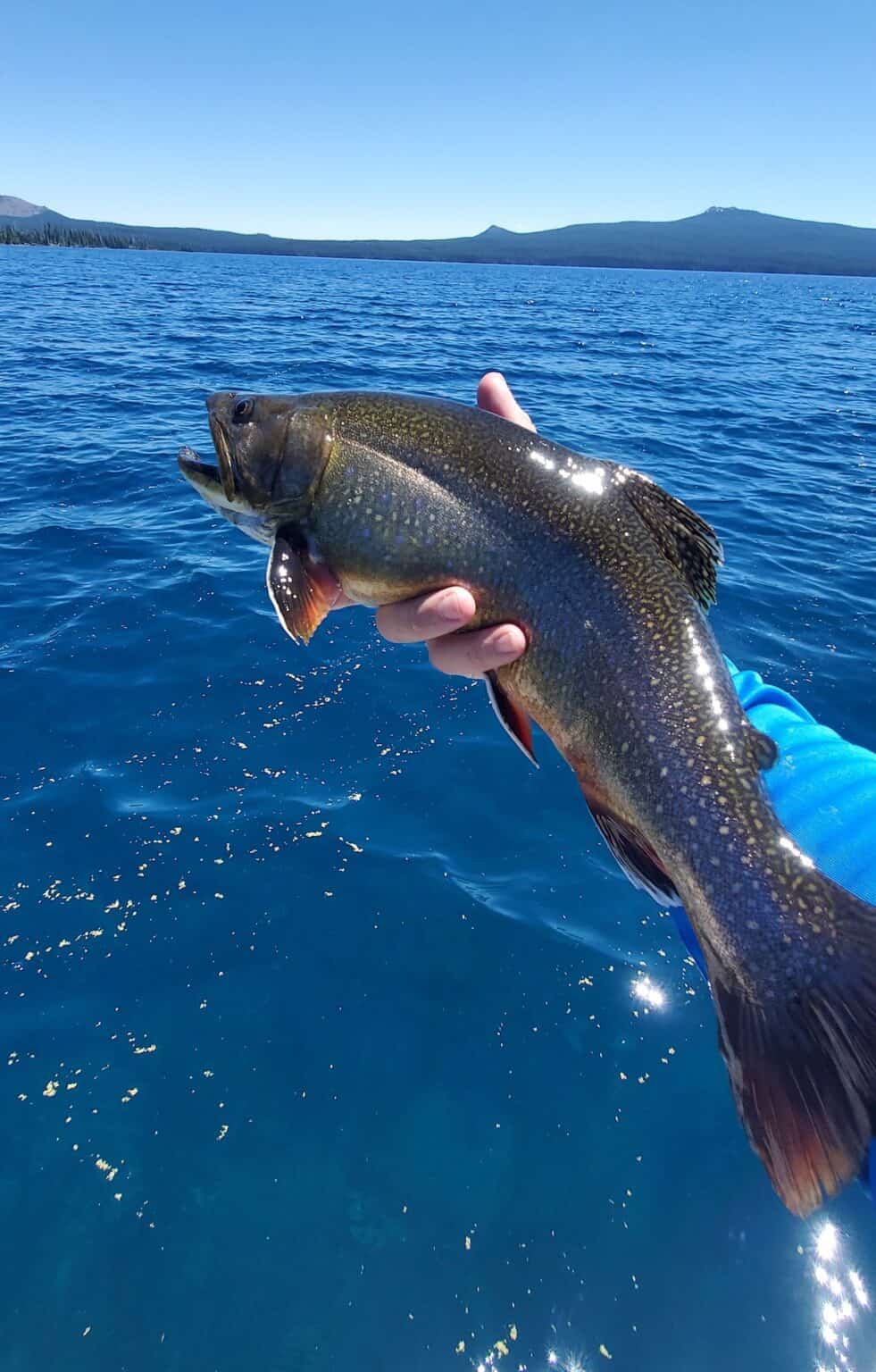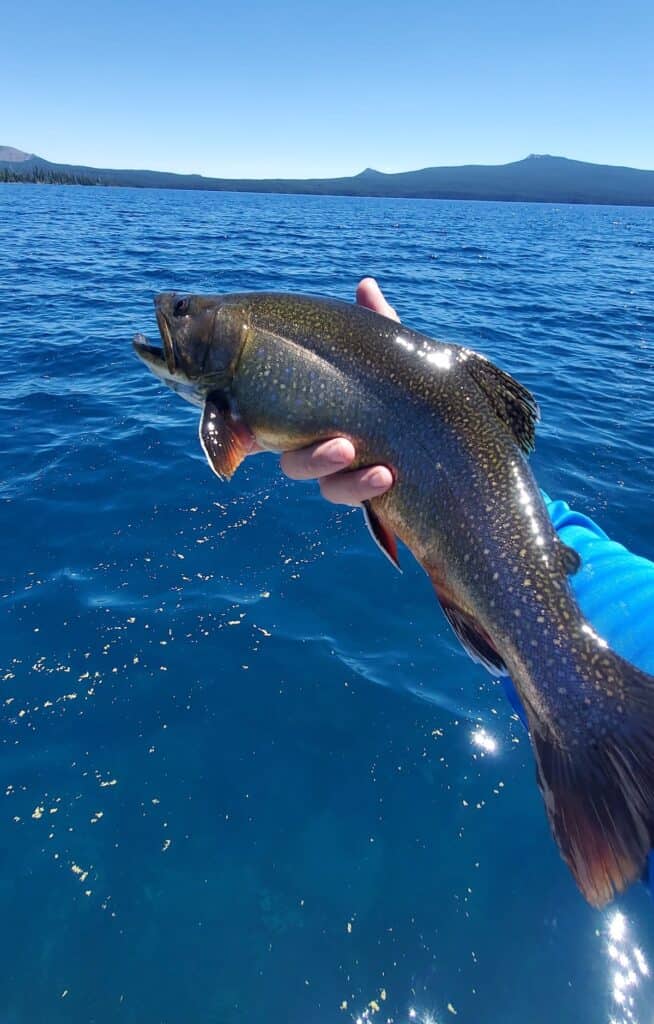 Waldo Lake is famous for its crystalline waters, although the very fact that the water is that clear points to it having fewer nutrients than some of the best fishing lakes in the region, including Odell Lake not far to the south.
Odell Lake is among the best lake trout (mackinaw) fishing lakes in Oregon, but if you want to catch one in a more remote setting that's off the radar, and even from a kayak, perhaps Waldo Lake will be your next go-to spot?
Waldo Lake is located at over 5,400 feet in altitude and is the second-largest Cascade Mountain lake to Crater Lake, another pristine lake better known for non-fishing recreation.
At that altitude, winter is long here and hangs on well into spring or even early summer some years.
Kayakers love the place but often huge the shorelines, lest they get caught in the middle if the wind picks up across the wide lake.
The primarily gamefish in Waldo are brook trout and kokanee (land-locked sockeye salmon). Both are naturally reproducing and are widely dispersed and difficult to find in this 6,700-acre water.
Not only is its surface vast, in some spots the lake is more than 400 feet deep.
Finding kokanee can be a huge challenge. These are schooling fish, so if you find their depth and general location, you might be able to key in on them, but good luck finding them!
Trolling is probably your best bet to cover territory.
You can use an electric motor here (gas motors are prohibited to protect water quality), or you might try trolling by paddling your canoe or kayak to cover more water. A fish finder could give you a better shot at locating fish.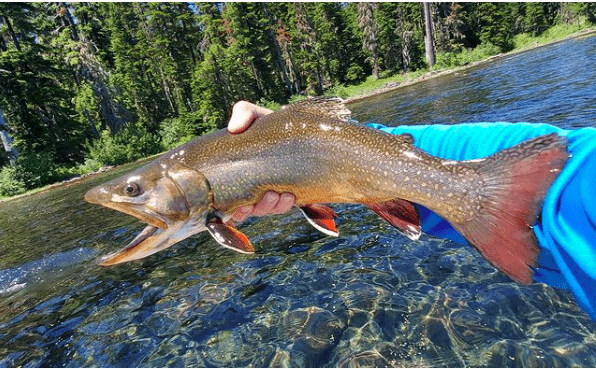 Brook trout also are spread all over the lake, but they tend to move into areas where streams come in, sometimes to feed all year but especially during the early fall to spawn.
It was near shore that Stephens, owner of custom fishing rod maker Stumptown Rods, found both the brookies and that surprise lake trout.
He was fishing one of his rods with a 1/32-ounce Fin Spin lure tipped with a bit of nightcrawler, both in shallow water and deeper along drop-offs.
Around October, the mountains will be really cold but the brook trout may be aggressively feeding and defending territory near creek mouths. Try lures and natural baits.
One more advantage of coming during the fall, after freezing weather has returned to the high Cascades, is that Waldo is legendary for its swarms of mosquitoes during the warmer months but the voracious insects will be gone by October.
You might also find kokanee schooled up near creek mouths in the early fall, waiting for their spawning runs.
However, while these small salmon might be aggressive as they prepare to spawn, they aren't as tasty as their bodies change near the end of their lifespans.
There are a couple of day-use areas and camping available, especially on the east side of the lake accessed by Forest Service roads.
It's a little more than an hour and a half driving to Waldo Lake from Eugene. Take Highway 58 nearly 60 miles to the southeast, well beyond Oakridge, and then turn off at Forest Road 5897 to reach the lake in another 25 minutes or so.
Return to Oregon Trout Fishing page
Find more fishing spots in eastern Lane County
Oregon Resources
ODFW Weekly Fishing Report
ODFW Trout Stocking Schedule
Oregon Fishing Regulations
National Weather Service