Prineville Reservoir is Central Oregon's best all-around fishery for a variety of bass and panfish.
The large reservoir, covering 3,000 acres at full pool in the spring, can be very good for both smallmouth and largemouth bass in impressive sizes, and it can simply be awesome for crappie when larger classes of these tasty fish cycle around.
Add to that a nice fishery for larger-than-average bullhead catfish and this reservoir is a fish fry waiting to happen.
But wait … Prineville Reservoir isn't only a warmwater angler's paradise, it consistently produces reliable (and sometimes very good) catches of rainbow trout that are stocked as youngsters but grow fat in its fertile waters.
Prineville Reservoir is located south of the city of Prineville.
Bowman Dam impounds the rich waters of Crooked River to provide flood control and a water supply for agriculture and drinking.
The reservoir is typically full or close to it by the end of the wet season in spring (except during drought years), and then the level drops as the water is used and storage space is required for controlling floods for the coming fall and winter.
By the way, those regulated water releases helped create one of Oregon's better tailrace fisheries in the Crooked River below Bowman. See Crooked River Fishing for more on that.
This article will take a look at each of the major gamefish species in sprawling Prineville Reservoir and finishes off with additional information you can use to plan a trip to this bucket list destination, which at times can rival Oregon's best all-around bass and panfish waters such as Brownlee Reservoir on the eastern border to Tenmile Lakes on the southwestern coast.
In fact, elsewhere on this website we have Prineville Reservoir listed as an honorable mention in Best Smallmouth Bass Fishing in Central and Eastern Oregon, Best Largemouth Bass Fishing in Central and Eastern Oregon, and Best Crappie Bass Fishing in Central and Eastern Oregon.
We also list Prineville Reservoir as a primary spot for bullheads in Best Catfish Fishing Spots in Oregon.
It was also a no-brainer for our run-down of Central Oregon's Best Fishing Lakes and Reservoirs North of Bend.
Bass Fishing
Biologists have employed stricter retention limits on bass at Prineville Reservoir to help create a better trophy fishery, where most anglers catch and release these fish to fight another day.
Currently, regulations allow anglers to keep just one bass (either species) that is over 15 inches (and five total bass) per day. (As with any fishing regulations, always check for current limits and other rules.)
Smallmouth bass are the more abundant of the two bass species at Prineville, so if you want to keep bass for eating, harvesting a few modest-sized smallmouths theoretically would make a smaller impact on the reservoir's trophy fishery.
That said, we'd point out that crappie and trout are common at Prineville and probably tastier.
Smallmouths can be found throughout the reservoir, wherever you find the rocky habitat they prefer.
You might find them in water 10 to 25 feet deep fairly close to the bank, except probably shallower during the spawning period in the spring and sometimes when feeding, especially in lower light conditions.
However, smallmouth tend to be more prevalent in the lower half of the reservoir, from Jasper Point (near the resort site) west to the dam. Find boulders, shelves, and other rocky structures and you'll likely find smallmouths waiting to pounce on your lure.
The Oregon Department of Fish and Wildlife (ODFW) also suggests looking for smallmouths around tributary streams, including the long mouth of Bear Creek in the southwest part of the reservoir.
A good number of the smallmouth bass here are on the small side, with the majority under a pound, but there are some larger of these bronzebacks to be found.
Nevertheless, if you're looking for Prineville Reservoir's largest bass, you might want to focus on largemouths, which are often at least 2 pounds and can be quite a bit larger.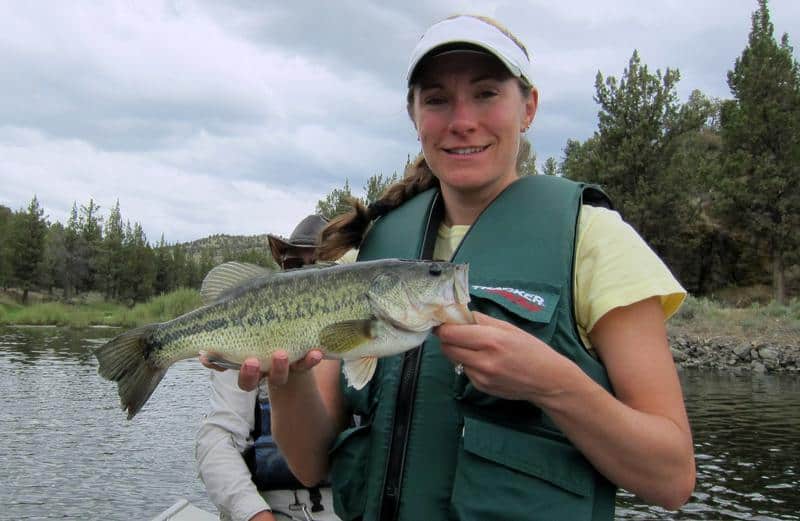 For these "bucketmouths," focus your attention on shallower water found in abundance in the upper reservoir, including the willows along the north side access road and in the backs of coves where smaller tributaries enter.
If you find logs, sunken branches and brush and similar cover, you're likely to find largemouths.
Specifically, largemouth bass will often be in shallower water than the smallmouths, often close in to shore in spots less than 10 feet deep.
Largemouth bass can be found in the best numbers in the upper reservoir in or near cover provided by floating logs and submerged trees and brush.
Good locations include the shoreline willows along the north side access road in the 5 mph zone, and at the back of coves such as Sanford and Deer Creeks. Largemouth will typically be found in less than 10 feet of water.
Both species of bass will respond well to lures that imitate their major prey species, which include crayfish and smaller fish such as fingerling trout planted here and other small fish such as younger crappie and other panfish.
Soft plastic lures including worms and grubs can be deadly here. Fish these fairly slowly near the bottom.
Other effective lures including crankbaits, spinners, spinnerbaits and sometimes topwater lures.
More information: Bass Fishing: Simple How-To Techniques and Tips
Crappie Fishing
Crappie fishing tends to be cyclical here, but it's almost always worth your while.
When it's very good, anglers will catch good-sized "slab" crappie in excellent numbers.
Between those cycles of abundance, crappie are less abundant but still plentiful enough to catch in good numbers when you figure out where to find these schooling fish.
To find crappie, start by scanning the shoreline for likely looking structures, as crappie are very structure oriented.
The best structure at Prineville includes willows in the upper reservoir (when submerged in higher water), rocky points and small outcroppings, any kind of sunken branches or trees, and under any kind of manmade structures like boat docks and log rafts.
ODFW also has placed some juniper structures to improve fish cover, and crappie will often stage around those. Locations of these submerged junipers include the mouth of Bear Creek in the lower reservoir and also along the south shoreline above Sanford Creek in the far upper reservoir.
Crappie are often found in shallower water, 5-10 feet in depth, although they will move deeper at times once they are done spawning.
ODFW and others also suggest that crappie often seem to prefer holding off areas where the shoreline rock comes into the reservoir at an angle rather than a straight drop-off.
Once you find the right depth and preferred structure, you should be able to locate schools of willing biters.
Most anglers use fairly light gear for crappie, with 4- or 6-pound test line. Crappie jigs (soft plastic or sometimes feather and other material) are the most common type of crappie lure.
Jigs can be fished below a bobber, allowing you to cast out toward likely spots. Use a longish leader, up to 5 feet, to reach good crappie-holding depth.
Twitch the jig every so often or reel slight in to give it just a little action, imagining it's a small minnow sitting below your float.
You can also retrieve it slowly, often with a few bounces or twitches along the way.
Jigs also can be fished without a bobber, often dropped straight down into likely looking water and twitched. This is most effective when crappie are deep but also can be a good tactic when reaching with a longer rod into willows or other structures.
Favorite jig colors and styles vary widely, with success on any one seeming to wax and wane from day to day, so bring a reasonable supply with different types of tails and in a variety of colors.
Once you find one that crappie can't resist, keep going with it.
Some anglers like to tip their jig hooks with a bit of natural bait or a prepared bait, such as a Berkley Crappie Nibble. Some anglers also will add a split shot to the leader just above the jig, if they need a little more weight.
Crappie can also be caught with other minnow-sized lures, including small spinners and tiny crankbaits. Sometimes trolling these lures will help anglers locate the crappie schools, and then they switch to jigs for faster catching.
More information: Crappie Fishing: Simple How-To Techniques and Tips
Bullhead Catfish Fishing
Let's face it: Bullhead catfish aren't Oregon's favorite gamefish. In many places they are considered a "trash fish," and they can pose a serious problem to the food chain in some waters.
That said, bullheads seem to reach a nice balance in the fish population in some waters, including Prineville Reservoir.
Bullheads grow to good size here and like most catfish are tasty when caught in relatively clean water.
Bullheads also are spunky fighters and fun and easy to catch for anglers who might be stymied by other species.
Finally, of all the fish species at Prineville, bullheads are often the easiest to catch from shore near your campsite.
Bullhead catfish are widely distributed in Prineville Reservoir. They do like to forage on a sandy or silty lake bottom, as opposed to the jagged rocks that crappie and smallmouth bass often prefer.
Some of the top places to catch catfish in numbers here are along the shore of the upper reservoir and at the upper end of coves or bays.
You can use whatever rod and reel you've been using for bass, crappie and trout at Prineville. It's not complicated.
For any catfish, bait-fishing along the bottom is most effective. Like bait-fishing for trout, a sliding sinker on your main line above a swivel is a great set-up that allows the fish to take the bait without immediately feeling weight.
You don't need a long leader for catfish. They aren't shy; any leader 12 inches or more is fine.
The most important thing is using good bait. Live nightcrawlers or garden worms and dead cut-up fish or grocery store prawns or chicken livers are all excellent.
Some anglers will use unwanted leftovers from cleaning crappie, trout or other fish to catch catfish.
You also can buy dough baits prepared especially for catfish. These are often in the category known as "stink baits" because, well, they reek.
But prepared baits do bring in the catfish, which rely more on their keen sense of smell than their beady little eyes to find their next meal.
Simply cast into likely looking water and wait for catfish to come to you. Catfish will bite all day long and all year, but summertime fishing is often best in lower light conditions of early morning and then again evening into the night.
When the weather turns cool in the fall, afternoon fishing seems to be best for catfish.
More information: Catfish Fishing: Simple How-To Techniques and Tips
Trout Fishing
We've spent a lot of time talking about bass and panfish fishing, but you should know that Prineville Reservoir can be a very good destination if like the bulk of Oregonians, trout are your favorite gamefish.
ODFW stocks this reservoir with tens of thousands of juvenile hatchery rainbow trout, and those fish (the ones that don't get swallowed by big bass) quickly grow into trout that are not only legal but can be quite large.
Trout well into the teens for length are pretty attainable in these waters.
ODFW also sometimes stocks some already legal trout into the mix.
Rainbow trout bite well on natural baits such as nightcrawlers and prepared baits such as PowerBait. This approach is typically the favorite approach for bank anglers.
Boaters will have a better shot at these fish, especially the widely dispersed trout that have mostly grown up here.
Usually trolling lures, bait or a combination of the two is a good approach to try to find these fish, which unlike recently stocked legals are not as concentrated.
Many trout are caught in the main body of the lake. Extra weight or a downriver and flashers or gang trolls fished in deeper water might be your ticket during the slower summer months.
While those rainbow trout are by far the majority of the trout catch here, some reports indicate that there may also be a relatively small number of cutthroat trout in the reservoir. There aren't enough to target but perhaps one will show up in your catch.
For some more specific details of how to catch rainbow trout, read our article, Trout Fishing: Basic How-To Techniques and Tips.
Where to Fish
With 3,000 acres and lots of coves and open water, Prineville Reservoir has no shortage of places to fish.
As with many places, a boat will enable you to reach fish just about anywhere in this reservoir, which winds around for a good 15 miles from the big Bowman Dam along Highway 27 upstream to where the Crooked River flows in, almost to Highway 380 (Paulina Highway) southeast of Prineville.
That said, you can catch any of Prineville Reservoir's gamefish species from the bank as well.
Some spots to find good bank fishing access include the west end at the dam, the south side accessed from Salt Creek Road (especially at the end of the road), and on the north bank along the roads to the main and Jasper Point areas of Prineville State Park.
You also can reach the narrow upper reservoir from an unimproved road branching off the Post-Paulina Highway and following the northeast side of the reservoir.
Boat anglers can get to all of those coves and various cover where bass and panfish lay in wait and those large open waters where you might score trout.
You can launch at a very good ramps located near the south end of the dam at the Powder House Cove day-use and both areas of the state park.
Jasper Point is a nice spot for boats with small motors or paddles when you are fishing the upper parts of the reservoir, with both overnight and day-use access.
There's also a dirt ramp on the south side, off Salt Creek Road, for a more secluded experience.
Know that the reservoir also is very popular for other water sports, including power-boating, paddling and swimming.
The upper reservoir beyond Jasper Point has reduced boating speed limits so is often the place to go for quiet fishing.
If fishing the larger main reservoir, think about starting early or fishing late to avoid some of the hubbub.
When to Fish
Prineville Reservoir is open all year long, and you literally can catch plenty of fish any month of the year.
But if we had to pick one time of year to show up at this high desert hot spot, we'd choose late spring, especially in May when the bass and crappie fishing tends to get really good and other fish are biting as well.
It may start a little earlier, but by mid-May you can pretty well figure that bass and crappie will be aggressively biting in the shallow waters, when the water level is often near full (except during heavy drought periods).
This golden period while these fish are spawning could continue into early June.
Trout will still be active in the cool water before dropping into a summer lull, and bullhead catfish are pretty agreeable most of the year.
There is sometimes a drop in success into June as bass and crappie enter a less-aggressive post-spawn period. Warmwater fishing often then comes back to life fairly well from late summer into early fall.
Late September and through October tend to be another great time to come here. All species of fish are biting to put on pounds before winter, the weather is still often pleasant and frankly there aren't as many people around.
For trout, cooler weather is best, especially in the fall and spring months. Catfish will also be biting, but other warmwater fish get a little tougher.
Trout anglers will also fish Prineville through the winter, and the cooler periods also tend to be bank anglers' best chance to get into good numbers of trout here.
During nice winter periods, anglers also launch boats and land decent numbers of trout.
On fairly rare occasions, it's cold enough here for the reservoir to freeze over enough to make ice-fishing possible, with trout, crappie and perhaps other species in the catch.
Please make sure conditions are safe before venturing out onto ice.
Camping
The two developed sections of the Prineville Reservoir State Park offer lots of camping opportunities, with developed sites and amenities at both the Prineville Reservoir Campground near the middle of the lake and the Jasper Point Campground in the upper section.
You also can camp in primative sites along the reservoir's 34 miles of shoreline.
Many longtime anglers will be familiar with the longtime Prineville Reservoir Resort for its availability of RV camping, small motel, cafe, store, moorage facilities and boat rentals. However, at our most recent update (2019), the owners of the resort had closed it down.
We hope to provide an update when available.
How to Get to Prineville Reservoir
Prineville Reservoir is located 16 miles south of the city of Prineville, or about 25 minutes driving mostly on Juniper Canyon Road.
The majority of people head to the state parks on the north side of the reservoir. Going through Prineville, it's a little over an hour's drive to the reservoir from Bend and a bit over three hours driving from the Portland, Salem and Eugene areas.
The Powder House Cove area near the dam is the fastest place to reach on the reservoir from the Bend area, less than an hour's drive by skipping Prineville and instead heading east through the community of Alfalfa and then picking up Highway 27 to the reservoir.
Or from Prineville head south on Highway 27 past the dam rather than using Juniper Canyon.
Find more fishing spots in Crook County
Oregon Resources
ODFW Weekly Fishing Report
ODFW Trout Stocking Schedule
Oregon Fishing Regulations
National Weather Service