Largemouth bass might grow larger in places with warmer year-round weather, but several of the rich waters east of Oregon's Cascade Mountain range produce abundant and nice-sized bucketmouths.
Here are some favorite spots to try for largemouths in central and eastern Oregon:
Crane Prairie Reservoir
Yes, one of Oregon's favorite fly-fishing lakes for trout also happens to be one of the region's most prolific bass spots.
This is a large reservoir on the upper Deschutes River in Central Oregon, where timber was left standing what became large flats of dead snags.
Combine those with aquatic weeds and all the insects and small fish nourished in this rich environment, and you have some pretty plum bass water.
Largemouth bass aren't quite as common here as they were a few years ago, but they still are abundant around woody structure and vegetation.
Crane Prairie opens for fishing late in April and the season runs through October.
More: Fishing at Crane Prairie Reservoir
Davis Lake
This large natural lake no longer ranks among the elite rainbow trout waters (though it's still fairly good) in Central Oregon, in part because illegally introduced largemouth bass have done so well here.
In fact, Oregon Department of Fish and Wildlife warmwater fish biologist Terry Shrader rates Davis as the best largemouth water east of the Cascades and right on par with coastal Tenmile Lakes, often considered western Oregon's best largemouth bass fishery.
Shrader said Davis not only has high numbers of bass, many of those are in the 3- to 5-pound range, with fish to 8 pounds possible. Davis is three miles long, and nearly as wide, but nearly all of that is very shallow and much of it is weedy.
It warms quickly to bring good fishing by mid-spring and has tons of soft structure that largemouth bass prefer, plus that habitat supports insects and smaller fish for food.
Since bass are a relatively new arrival, it might be that they will eat their food supply too far down and then turn to feasting on each other, Shrader said.
There's another catch here: Davis Lake is set aside for fly-fishing only, but there are some very effective flies to take bass.
For strategies from a local expert, see: Davis Lake Fly Fishing for Bass.
Also see our overview article: Davis Lake Fishing.
McKay Reservoir
This is a large, shallow reservoir just south of Pendleton that can produce very good fishing for largemouth bass as well as large bullhead catfish and nice populations of crappie and small yellow perch.
In the mid-1980s, this reservoir produced Oregon's first state record largemouth over 11 pounds, although the current state fishing record caught in western Oregon tops 12 pounds.
While still good, McKay's bass fishing fluctuates somewhat due to water levels that vary with irrigation needs. It is periodically restocked to keep the bass population viable, Shrader said.
Note that McKay is part of a wildlife refuge and is closed to fishing from October through February, when it's overrun with waterfowl.
Wickiup Reservoir
Better known for large kokanee and larger brown trout, Wickiup also has some wickedly good bass fishing at times.
This is a huge but shallow reservoir on the Deschutes River, downstream from Crane Prairie Reservoir.
The trees here were cut before the area was flooded, but all those stumps plus acquatic vegetation provide excellent cover.
Look for the most bass to be in shallower water away from cold-water sources like the Deschutes River inlet, especially in the spring. As the reservoir is drawn down during the summer, bass will move down into the old river channels.
Like its neighbor Crane Prairie, Wickiup also opens in late April and closes after Oct. 31.
More Largemouth Bass Fisheries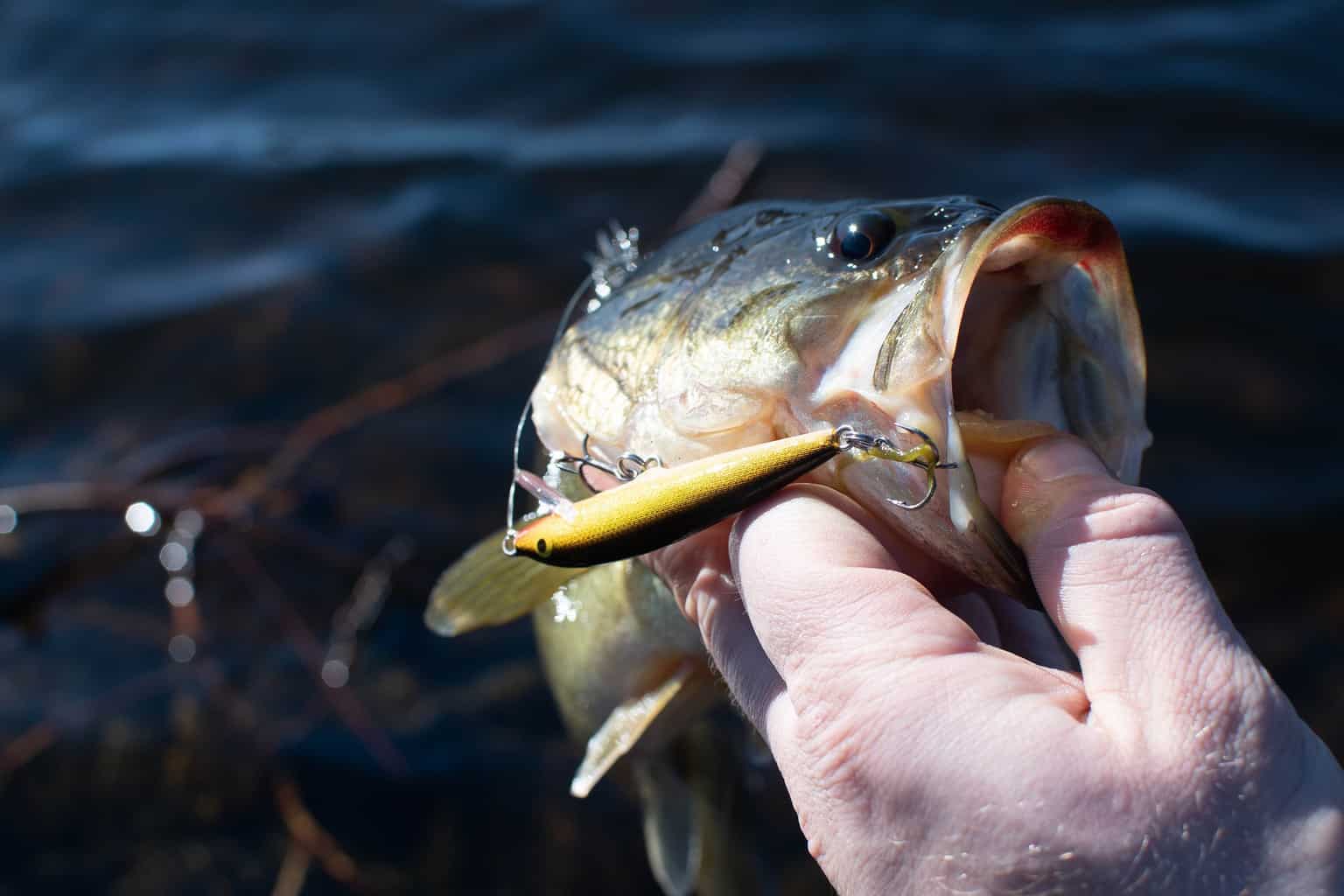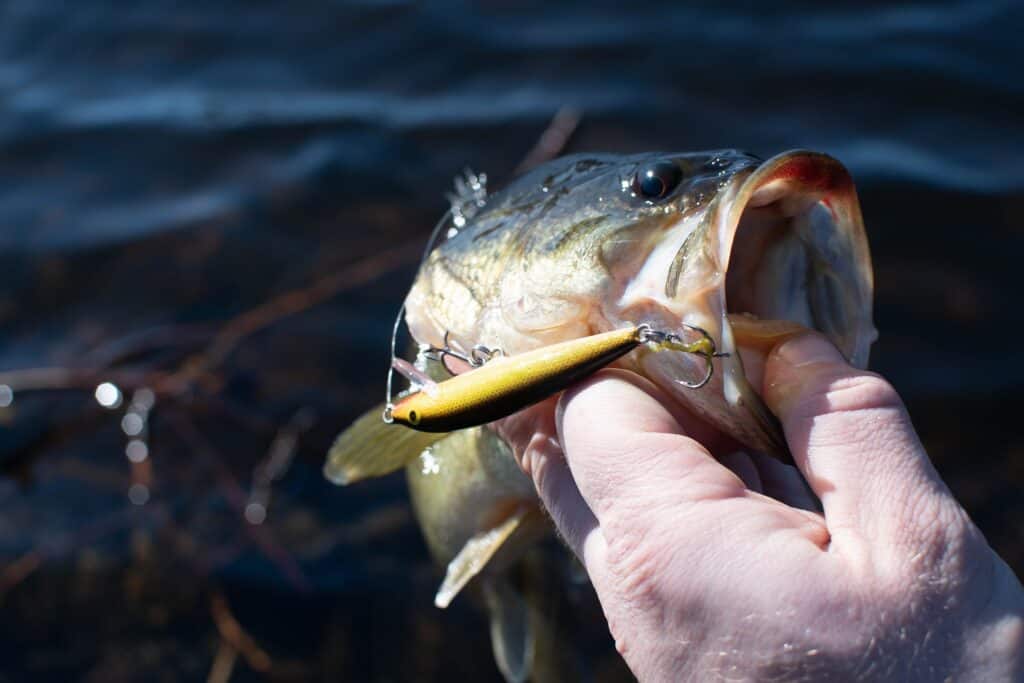 Brownlee Reservoir
Largemouth bass aren't the main fishery here, but shallow coves and backwaters with vegetation and structure can yield some nice surprises in smallmouth country.
More: Brownlee Reservoir Fishing
Columbia River
Another spot with more smallmouths than largemouths, but sloughs and backwaters with vegetation and woody structure still produce decent largemouth fishing.
More: Columbia River Fishing
Owyhee Reservoir
Also also known for its abundance of smallmouth bass, crappie and channel catfish, this huge but remote southeastern Oregon reservoir probably harbors far-eastern Oregon's best population of largemouth bass. In fact, tournament winners here usually focus on the heavier big-mouths.
More: Owyhee Reservoir Fishing
Prineville Reservoir
Historically a very good largemouth bass fishery, the population here has suffered with the rise of smallmouth bass (which are over-abundant but small here).
However, stricter regulations and ODFW plants of new recruits are resulting in better fishing.
More: Fishing at Prineville Reservoir.
Willow Creek Reservoir
Some years back, this spot near Heppner in northeastern Oregon might've made the "best" list above, but its bass population gets hammered by irrigation draw-downs and it now falls under the state's only catch-and-release regulations for largemouths.
Return to Oregon Bass and Warmwater Fishing page
Oregon Resources
ODFW Weekly Fishing Report
ODFW Trout Stocking Schedule
Oregon Fishing Regulations
National Weather Service