Also see:
Henry Hagg Lake Rainbow Trout Fishing
Henry Hagg Lake, a reservoir used for water supply and flood control in the low foothills a few miles southwest of Forest Grove, has long been a popular rainbow trout-fishing spot close to the Portland area.
It's also a fishery with great variety, holding some of the state's bigger bullhead catfish (producing the current state record) and undersized but incredibly numerous yellow perch, along with good numbers of bluegill, crappie and the occasional native cutthroat trout. (We'll cover more of the panfish opportunities farther down in this article.)
These days, however, some of the most serious anglers here are after bass.
The reason is obvious: Hagg's smallmouth broke the state mark five times in a row since the 1990s, including the current record, set in 2005 with a bronzeback weighing nearly 8 pounds, 2 ounces.
The smallies rule here, but the lake also produces some very nice largemouth bass, which often will hit the same lures and baits used for smallmouth and may even hit bigger numbers on the scales.
Fishing Regulations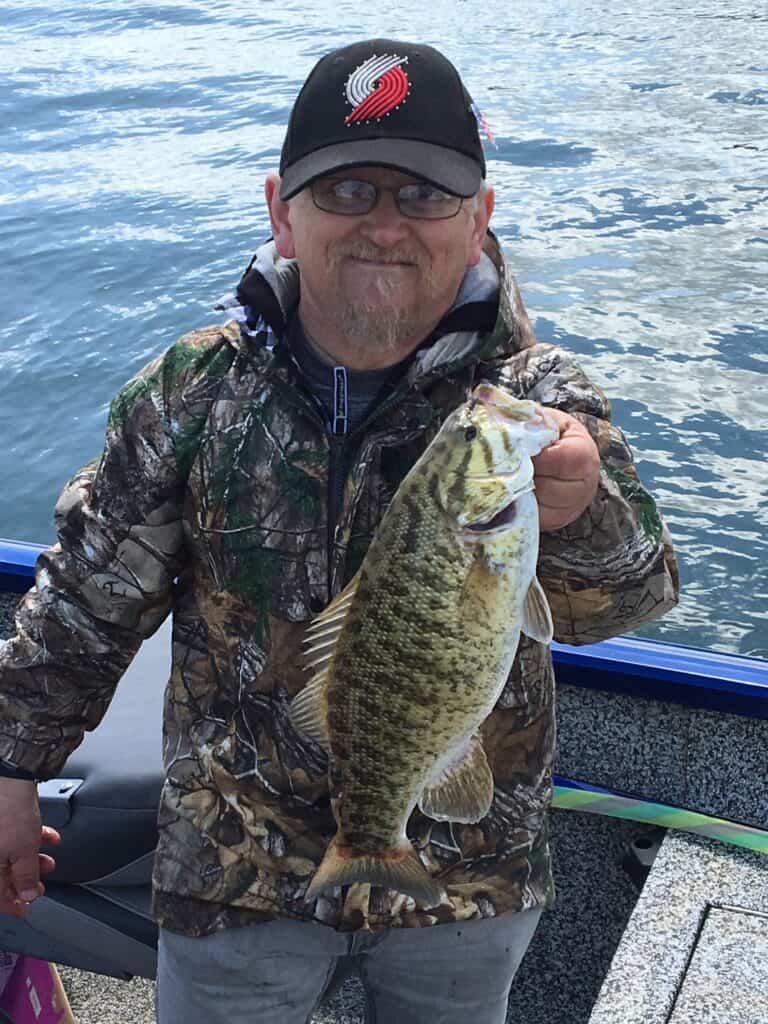 Hagg Lake, in Scoggins Valley Park (managed by Washington County), transitioned to year-round fishing in late 2015.
Also, the bag limit for bass at Hagg is just one per day.
The trout limit is the usual five per day, with an 8-inch minimum and only one allowed over 20 inches.
There are no bag limits for the perch, bluegill, and bullheads, but there is a special limit of 25 crappie per day with no size restrictions. Check with ODFW for possible regulation changes.
There is a no-wake zone in the upper half of the lake; in hot weather, water sports are popular from a buoy line at mid-lake down to the dam.
Best Time to Fish for Hagg Lake Bass
The best bass fishing begins at Hagg Lake when the water reaches 58 degrees and the bass start going into spawning mode.
During a warm spring, the bass fishing can turn on in April, but May is more consistent.
A second spawning season typically comes in August or early September, drawing fish back to shallow areas. Between those two periods, bass run deeper.
Where to Catch Hagg Lake Bass
Hagg Lake bass, both the smallmouth and the largemouth, tend to gather in the creek arms during the main spawning period in mid-spring and also when some bass return to nesting areas in late summer.
These best fishing places include Scoggins and Tanner creeks in the upper lake and Sain Creek on the west side near Boat Ramp C.
There also are several smaller coves around Hagg that provide bassy habitat.
During the dog days of summer, the most common place to catch bass is in deeper water near the rock-face dam.
How to Catch Hagg Lake Bass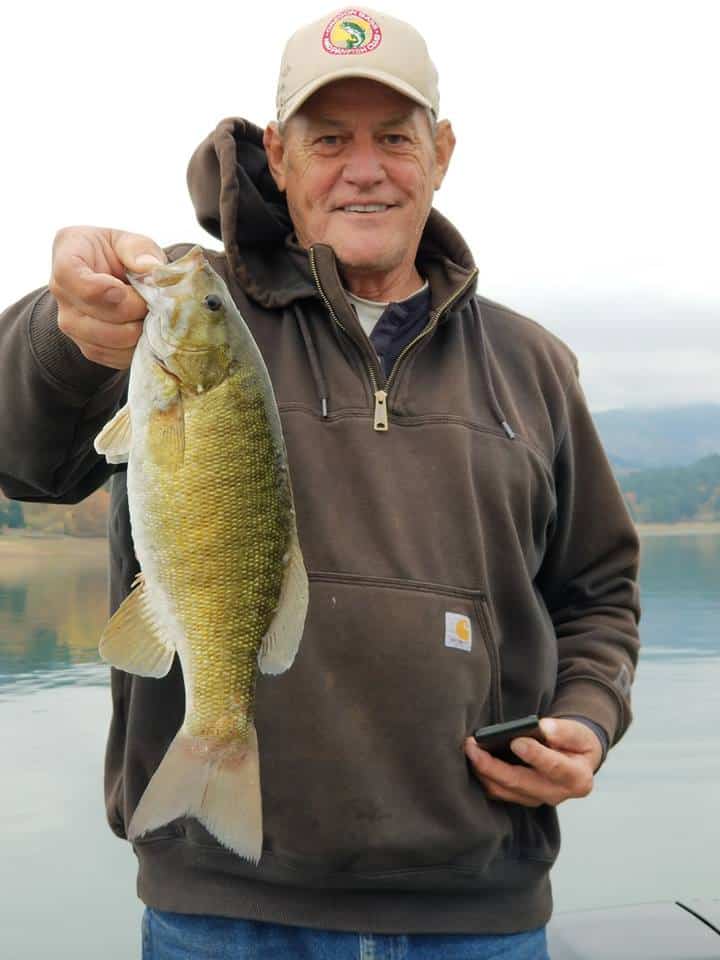 Throwing crankbaits, such as Rapala plugs, is a popular way to catch Hagg Lake's bass, which feed heavily on smaller fish.
Try small to mid-sized lures in color patterns with greens, pumpkinseed, rainbow trout and various black and silver shades to mimic the reservoir's large variety of forage.
Also, soft plastic baits such as Gary Yamamoto's Senko Worms or YUM Baits work very well, typically using an erratic retrieve.
Good colors for soft plastics include purple, pumpkinseed, watermelon and salt and pepper.
Bait anglers catch plenty of bass with natural nightcrawlers, often first pumping them up with air and floating them off the bottom.
Please note that still-fishing with bait might lead to more fish swallowing your hook and causing fatal injuries, so anglers intent on releasing their catch (including many bass anglers) ought to think twice about fishing with bait.
In the summer, those same lure and bait techniques will work near Scoggins Dam, where the bass congregate in cooler water and ambush prey along the rocks.
Another effective choice for cast-and-retrieve fishing along the dam are spinnerbaits; Wahoo! brand has been a lake favorite for many.
When the water temperature starts to fall off again into the mid-60s or so, it's time to head back to the creek arms for a possible second round of spawning and aggressive eating.
No matter the method or season, try adding an attractant, even on nightcrawlers. Berkley's Gulp Alive spray and Mike's Lunker Lotion, in bass formulas, not only smell like dinner but help mask an angler's scent.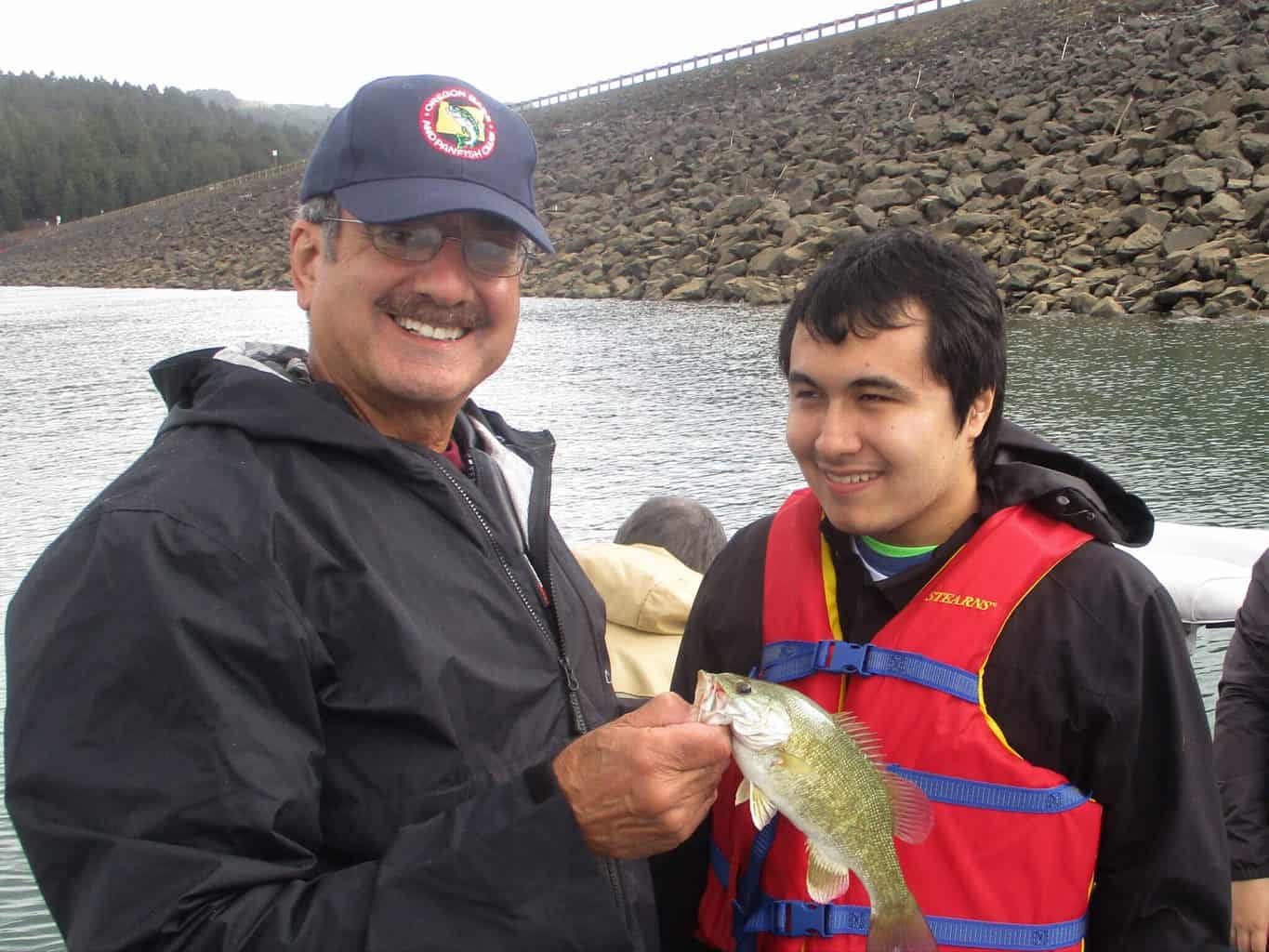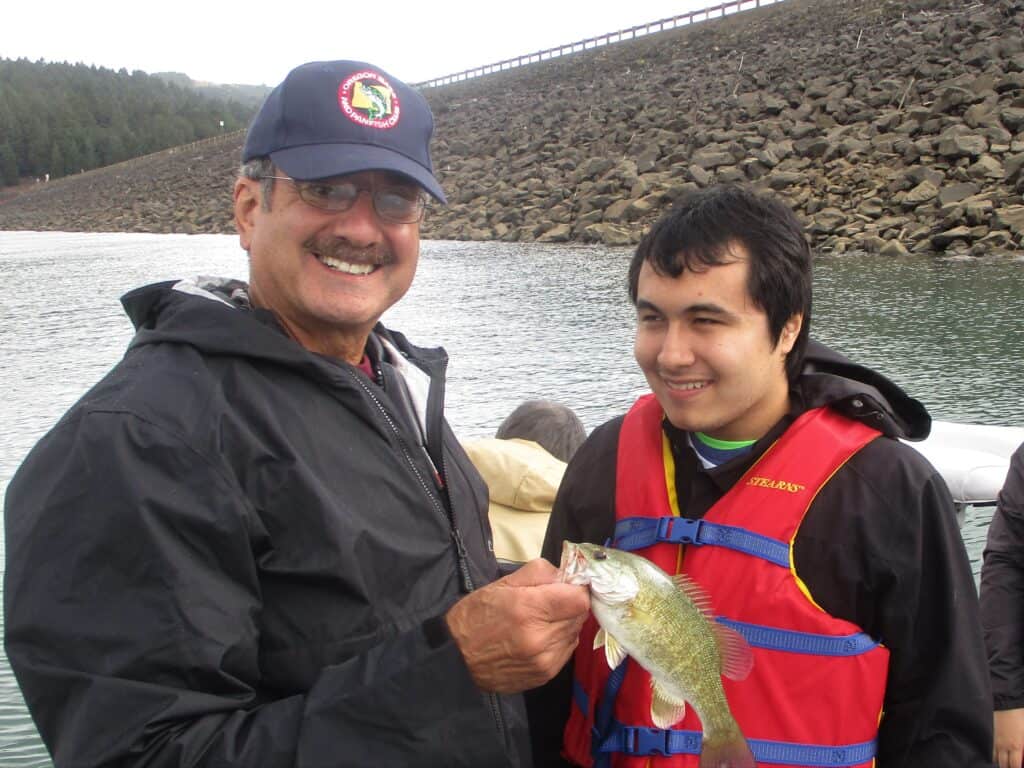 A Local Tip for Hagg Lake Bass
Trollers aren't just trout fishermen at Hagg. Try pulling a mid- to deep-diving plug just out from the rocks of Scoggins Dam.
Rapalas are popular for trolling for bass. Another lake favorite is Berkley's Frenzy crankbaits, particularly in a rainbow trout pattern.
Also see: Best Bass Fishing Near Portland and Best Smallmouth Bass Fishing in Western Oregon.
Panfish Fishing
Crappie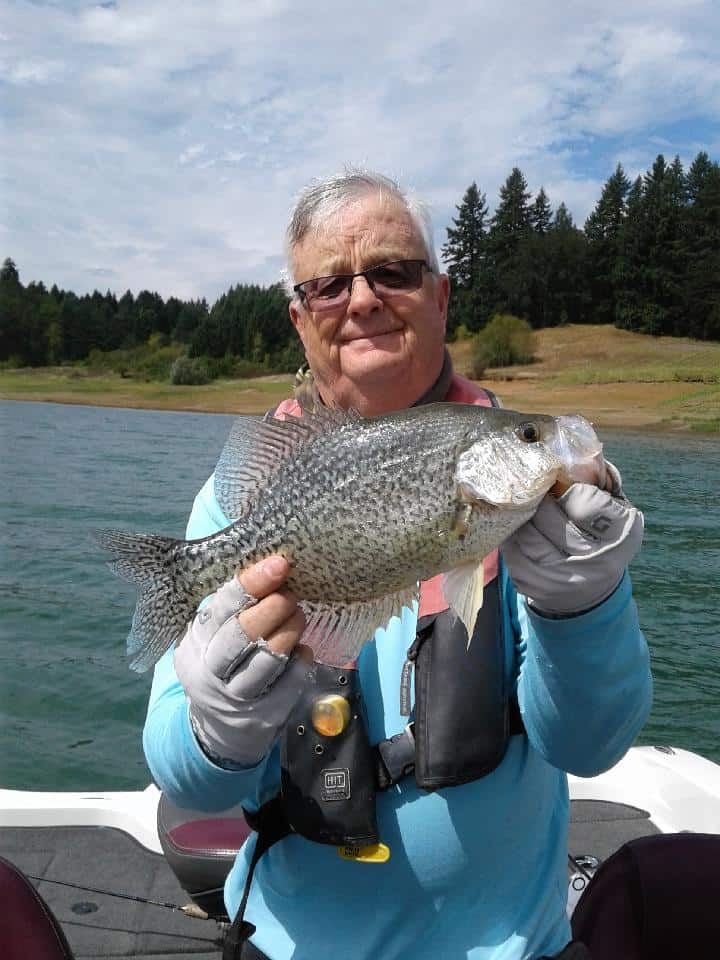 Crappie are present in good but not outrageous numbers at Hagg Lake.
Crappie are a schooling fish, so where you catch the first one, you have a good chance of catching more.
Where you often will find crappie is around sunken structures.
The Oregon Bass & Panfish Club has sunk "spider block" structures in several parts of the lake, at different depths to help provide structure annual water fluctuations. These are concrete blocks with spider-like plastic structures sticking up.
There also are some fallen trees, where crappie will sit in and beneath the branches and trunks. They may also hold off docks, rocks and other structures.
A fish finder can be helpful in finding where fish might hold.
The most popular crappie lures are small soft plastic or feather jigs that look like small minnows, which are a crappie's favorite meal. They sometimes hit other lures such as extra-small crankbaits, spinners and others, and also will bite on bait sometimes.
Bluegill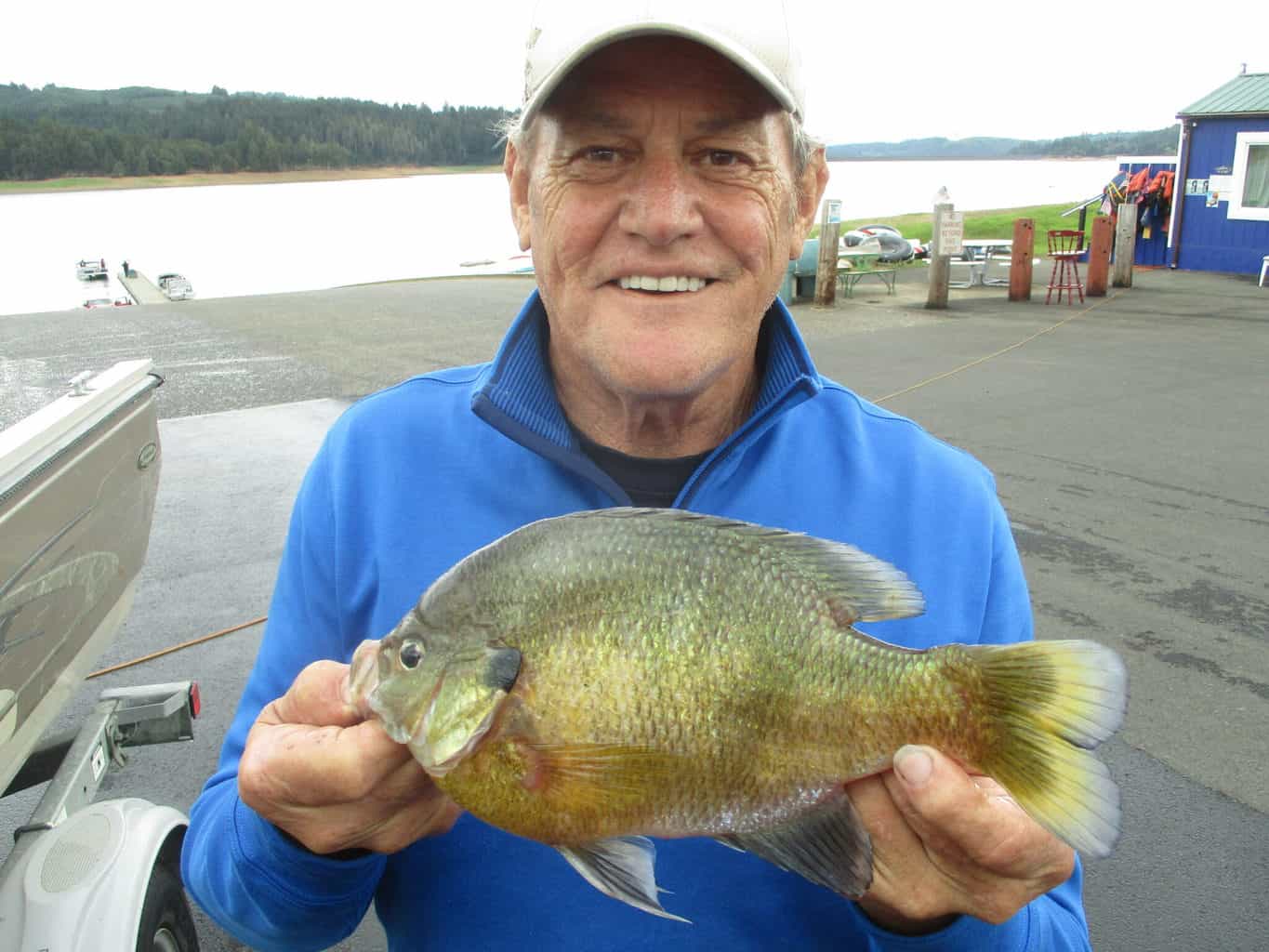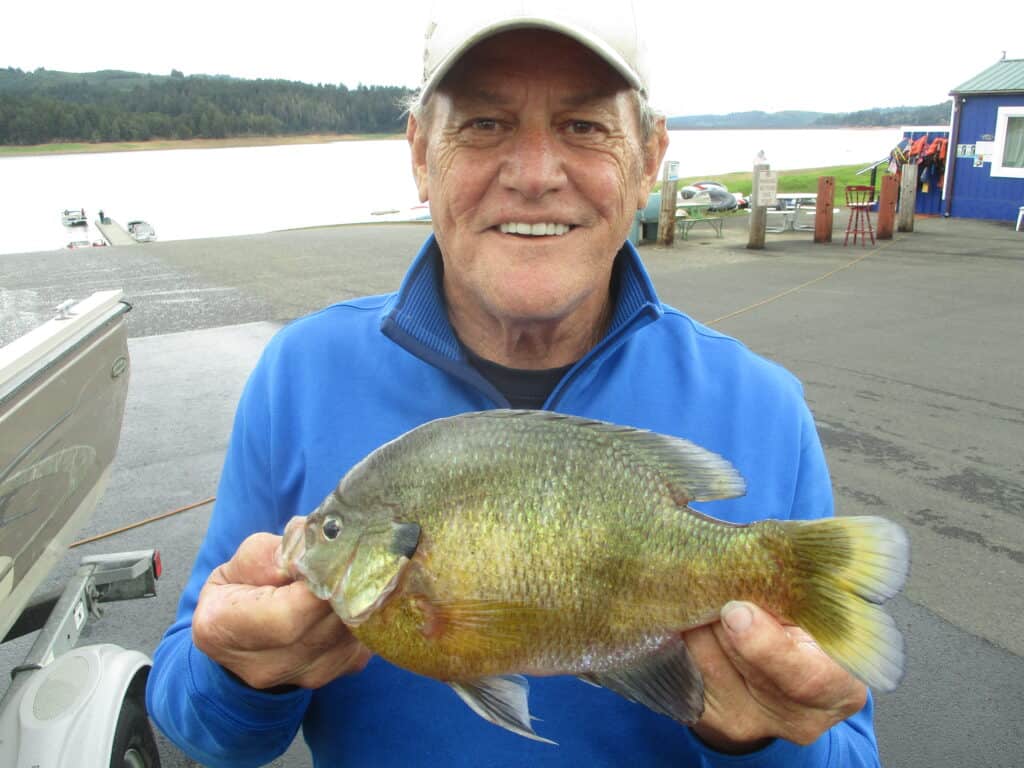 Bluegill, a very common sunfish, aren't always the most appreciated fish in Oregon, but they can be a lot of fun because they are willing biters and surprisingly good fighters.
Most bluegill at Hagg Lake run small, but there are some big ones.
Bluegill feed largely on insects and worms. A red worm, piece of night crawler, mealworm or cricket will definitely catch bluegill. So will an artificial fly and some small spinners and lures.
Many anglers fish bait or even flies under a bobber, because these fish are usually in shallow water and often very close to shore. We've had a lot of success catching bluegill at Hagg just off the weed lines in several of Hagg Lake's coves.
Yellow Perch
This is another under-appreciated fish at Hagg Lake, where they have been known to run thick but often on the small side.
Still, there are some perch to filleting size and these are some of the tastiest small fish you can catch. And unlike the crappie and bass, there are no limits on them!
Perch are often easily caught from the bank once you find the schools.
A simple still-fishing rig with a worm on a small hook is usually the ticket for these fish.
Don't be afraid to fish in a spot only 10 minutes or so and then move down the bank if you don't get a bite. Basically, if the perch are there, they will bite. If not, go find them.
Boaters have an advantage in finding schools of perch and parking over them to catch a bundle of them.
A fish finder will help in your quest, but another approach is to drift a worm across the water, especially if there is a light breeze (which is common up here).
Bullhead Catfish
Do you know a lot of people who fish for bullhead catfish on purpose? Neither do we.
Yet bullheads are fun to catch, good fighters and better eating than you might have been told when they are caught out of relatively clean water like in Hagg Lake.
At Hagg Lake, bullheads are probably more often caught incidentally by anglers using bait to catch trout, perch or other fish.
In fact, Hagg Lake can grow big bullheads and produced the current state record fish, which actually was caught by a crappie angler.
Bullheads are found on the bottom of the reservoir. They are well-dispersed, but the coves are a pretty good starting point.
Try fishing them at different depths until you find them. They might be surprisingly shallow, particularly during low light conditions early and late.
Like other catfish, bullheads are most easily caught on bait including worms, cut fish or prepared baits.
Hagg Lake Sturgeon?
Believe it or not, several anglers have been surprised to spot sturgeon cruising the shallows of Hagg Lake, especially along the face of the dam where the depth drops off quickly.
If you doubt it, search up several videos posted on YouTube over the years.
By some accounts, someone dropped a few smaller sturgeon into the lake decades ago, and by now at least one of them caught on video appears to be in the 5-foot range.
There are bound to be plenty of injured trout and other fish to support a few sturgeon.
And by the way, all sturgeon must be released unharmed in the Willamette Zone unless there is a special rule allowing harvest, which is not the case at Hagg Lake.
Acknowledgements
We got some help on this article from Cherri Klaumann, who with her husband has owned Lake Stop Grocery since 1974. Located on Old Highway 47 on the way to the reservoir, the store carries bait and tackle for all species of Hagg Lake fish, in addition to food, beverages and other supplies.
We also got help from members of the Oregon Bass & Panfish Club.
Find more fishing spots in Washington County
Oregon Resources
ODFW Weekly Fishing Report
ODFW Trout Stocking Schedule
Oregon Fishing Regulations
National Weather Service