Whiskeytown Lake is a premier California location for kokanee salmon fishing.
There are also significant populations of spotted, largemouth and smallmouth bass, along with bluegill and a few catfish, at this Northern California hot spot.
The area around Mt. Shasta offers everything an outdoor enthusiast could dream of on a trip to Shasta County. Whiskeytown Lake is no exception.
This reservoir is crystal clear, with incredible views of the mountains all around. Hiking trails take you into hidden mountain creeks and incredible waterfalls.
There's even a ghost town. It's a little difficult to access, though, since it's at the bottom of the lake.
In 1962, Whiskeytown Lake was created on top of the remains of the old mining town of Whiskeytown.
There are definitely old folk tales about the lake and the town that are sure to make for great campfire stores after a good day of catching fish … and the stories likely will keep the youngsters in their sleeping bags all night long to rest up for another day of reeling in salmon and trout.
With all the activities in the area, Whiskeytown Lake is absolutely worth planning an extended stay at one of the campgrounds or cabins in the area.
The area is managed by the National Park Service, so any reservations go through the NPS. Check with them to stay current with any fishing regulations as well.
Whiskeytown Kokanee Salmon Fishing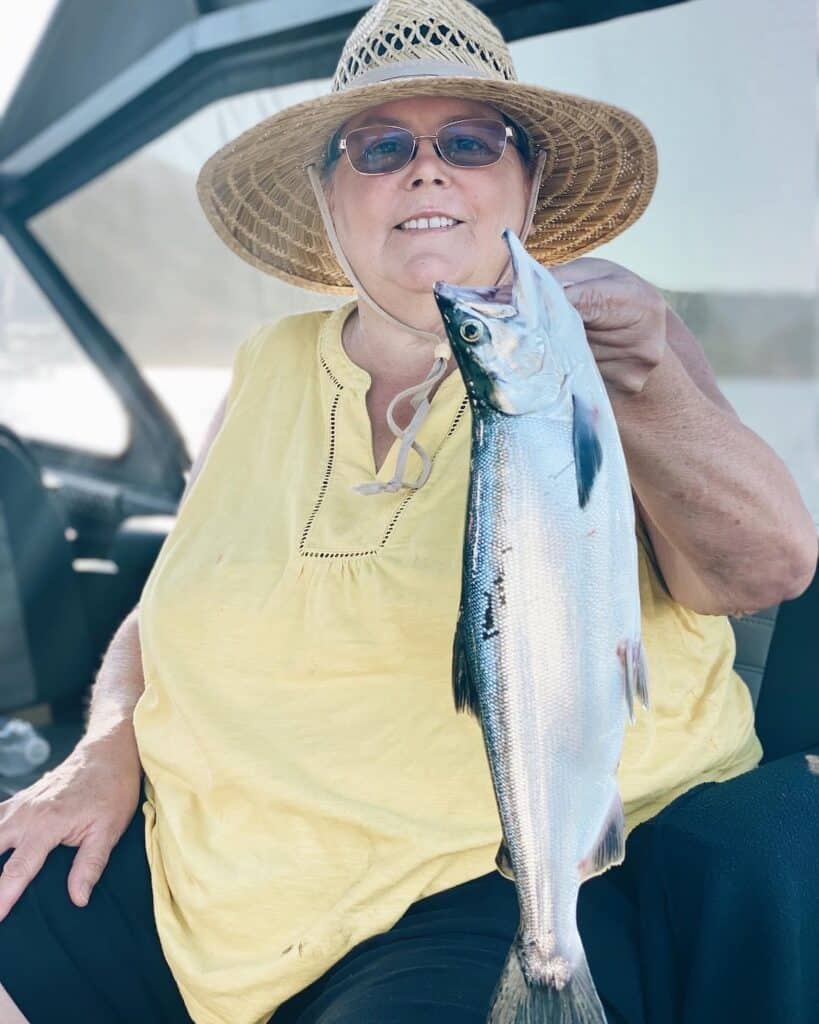 Kokanee fishing is the main draw at Whiskeytown Lake. The lake brings anglers from across California searching for 17- to 19-inch landlocked sockeye salmon. The crystal-clear water means the fish are incredibly delicious.
The best area to target these kokes is between the Highway 299 bridge and Oak Bottom, though there are several great places around the lake where the action can be hot whenever the schools of fish move in.
In the spring, try trolling between 20 and 35 feet deep. Use Wedding Ring-style spinners and micro hoochies in orange or champagne pink tipped with corn, running behind a dodger to attract the fish and give extra action to the lure.
Alex Ross of The Trinity Guide prefers Paulina Peak Tackle for spinners and hoochies, and he typically trolls them at 1.2 to 1.4 mph.
Once the water warms up around July, search for kokanee in the 50- to 80-foot range. Down-riggers sure come in handy at those depths, though lead-core line or hefty weight are alternatives. Hoochies should still work, still tipped with corn.
Fall fishing can be great, but note that Whiskeytown kokanee spawn between September and November.
For you, that means you've got fish moving into pre-spawn throughout the fall months, making the entire fall a bit tricky. The salmon here reproduce naturally. They may only stock young kokanee after a poor spawn to keep the fishery going.
Winter fishing can be good for kokanee and does turn up a few bigger kokes, though the catch rate will be lower.
Rainbow Trout Fishing
Rainbows aren't as common at Whiskeytown as they used to be, although fishing guide Alex Ross catches some nice ones in the cool spring weather before the lake turns over.
They show up around the powerhouse and by the Oak Bottom Marina in fair numbers.
Clear Creek in the narrow upper northwestern end of the reservoir attracts a decent number of rainbows due to its cold inflow of water. Float a nightcrawler or some PowerBait in the incoming current, and you may do well.
Rainbows also hold around the right side of the nearby powerhouse, so try some garlic-scented PowerBait floating in the current when the powerhouse is running.
Try trolling with spoons, spinners and Rapala minnows if you're out on a boat. These lures work throughout the year at varying depths.
The Rapalas may also bring in a few browns for your efforts because they feed aggressively on smaller fish. Add a bit of nightcrawler to the hook for some added incentive.
Brown Trout Fishing
Brown trout may have been a bigger draw in the old days, but today Ross never sees browns caught among the thousands of fish landed on his boat each year.
Brook Trout Fishing
Whiskeytown Lake's brook trout fishing also is a thing of the past since the state of California stopped stocking brookies there.
Bass Fishing
All three kinds of black bass that are widely found across California are at Whiskeytown Lake, and these closely related species can be caught with somewhat similar techniques.
Largemouth Bass
Whiskeytown Lake largemouth bass like to hold under the usual fallen trees and docks where you'll find them in many lakes.
"Whiskeytown Lake is largely ignored, but people catch really big largemouth there," Ross said.
Soft plastics on drop-shot setups should score some big fish. They spook easily, so give them room. Low-light conditions are the best.
The best areas are the northern end of the lake as well as along the western shoreline.
The coves near Whiskey Creek, Brandy Creek and Oak Bottom are full of largemouth. Whether they see you coming or not is the question. If you're sneaky, you're in for a great time.
Spotted Bass
Spots are present at Whiskeytown, but they aren't as big of a fishery here as they are at nearby Lake Shasta. They are big because they don't like to get caught. They make you work for every nibble.
Once you get that first hookup, you'll see why you spent so much time getting to know the lay of the land. It can be challenging to fish due to the extreme clarity. The bass see you coming.
The bass here are finicky. Whiskeytown Lake is more of a quality-over-quantity type lake. Once you land your first 5-pound plus spotted bass, you'll agree that this reservoir deserves its honorable mention rating on our list of best spotted bass fisheries in the state (see below under Catch More Bass to link to the full lists).
Spinnerbaits, Senkos and swimbaits do an excellent job of sparking interest in the spots here, but if it's been a rough day, switch up to a Ned rig. Fish it off the rocks in 20-feet of water at an angle from the shore, and you should find them.
The bite remains pretty steady throughout the year here, without significant upticks before or after the spawn for spotted bass. The largemouth are a bit different, as are the smallmouth, but the spots stay pretty steadily standoffish.
Smallmouth Bass
Smallies are around in good numbers. Catching 30 in a day isn't unheard of. Catching five keepers is a bit trickier. You might pull in 20 with one or two in the 2-pound range.
Target points and rocky drop-offs. Senkos work, as do Ned rigs on windy or otherwise uncooperative days.
Keep at it, and you'll find them. A little deeper down in the same areas, you'll find the spotted bass holding if they want to play along.
Bluegill
Bluegill are aggressive and readily available at Whiskeytown Lake.
You can see them from the bank. They can see you, too.
Use a bit of a nightcrawler or other proven bluegill fishing tactics and stay as far back from the bank as you can, and you should be able to fill a bucket pretty quick. If you get too close, they'll likely scatter for a while.
Catfish
There are channel catfish and, of course, bullheads in Whiskeytown Lake, although it's not a big destination for catfishing, Ross said.
If you are targeting catfish, May through October are your months.
An hour before sunrise until an hour after sundown are the fishable hours here, so put on some of the stinkiest bait you can find and sit back, especially in early morning or evening hours.
The channel cats should taste nice and clean. Even the bullheads are pretty good eating here, if you're into it, or if nothing else they'll taste like the best food your cat back home has ever had.
Find the best baits and strategies in our Catfish Fishing: Simple How-To Techniques and Tips and then point your GPS or map app toward the Best Catfish Fishing Lakes and Rivers in California.
Planning Your Trip
Also known as Whiskeytown Reservoir, this is among the premier fishing lakes in Northern California, yet it is a quick 10-mile drive from Redding, so it's not too far from anything you might need.
There is no shortage of things to do here, from water skiing to hiking. Watch out for bears and bring bug spray, and everything else should be good to go.
Whiskeytown Lake also is close to other great fisheries, including the much larger Shasta Lake and Trinity Lake, plus the Trinity River and Sacramento River.
Boat and Shore Access
There are three boat launches and two marinas at Whiskeytown Lake.
The boat launch has a fishing pier that's ADA-approved and is in a cove with some great trout and bass populations.
Shore access is good around most of the lake, though some areas do charge fees to get in. It's in the park, so there are entrance fees as well.
Where to Stay
There are several campgrounds at Whiskeytown Lake, ranging from full RV hookups to tent sites.
The campgrounds around the lake are well-maintained and can be reserved, which you should definitely do before heading out.
While the lake doesn't have cabin rentals or lodges, there are several available nearby at Shasta or in Redding.
Plenty of hotels and other rentals also can be found in the area, so if that's more your style, you should be able to find something that works for you.
Be sure to check with the California Department of Fish and Wildlife for the current regulations before you go and make sure you are aware that bears are a possibility. Don't leave your food or ketchup-covered toddlers out at night.
Acknowledgment
Thanks to Alex Ross of The Trinity Guide Co. for helping us make this article as accurate and helpful as possible.