There's no better place in the world to go fishing for trophy largemouth bass than Southern California.
Want proof? Of the 25 biggest bass ever caught, 21 of them have been caught in California.
Northern largemouth bass started to thrive in SoCal right immediately upon their introduction in the late 1800s, but the arrival of Florida strain largemouth half a century later truly set the fishing world on fire.
Florida largemouths, introduced to California in 1959, grow bigger and faster than their northern cousins, routinely breaking the 10-pound mark and, on occasion, even exceeding 20 pounds.
Most of those bruisers hail from the lakes we're about to explore here today, and some came within a hair's breadth of breaking the world record, caught by George Perry on a small Georgia lake in 1932.
There was a period of time in the late '80s and early '90s when it seemed like that record would be toppled at any moment.
Those 20-pounders were being caught at an alarming rate, suddenly throwing a national spotlight on places like Castaic Lake and the man-made reservoirs of San Diego County.
There followed a flurry of anglers looking to break the 22-pound, 4-ounce record. Many have come close, and many more are still hopeful.
This article focuses on the best largemouth bass fishing lakes and reservoirs near Los Angeles, San Diego, and the rest of Southern California.
To find the best bass lakes in the remaining two thirds of the Golden State, including amazing fisheries like Clear Lake, the California Delta area and at least a dozen more, read the Best Largemouth Bass Lakes in Northern California.
That said, there's a very good chance that the next world record largemouth bass is hooked in one of the following Southern California lakes.
Castaic Lake
There's no way to talk about bass fishing in California without talking about Castaic Lake. For trophy bass fishermen, this lake a short drive north of Los Angeles is essentially the Holy Grail.
Between February 1990 and March 1991, four bass weighing more than 20 pounds were pulled from Castaic, including Bob Crupi's still-supreme 22-pound, 0.5-ounce state record.
Lake Castaic was already known as a big bass lake, but that 13-month span really put it on the map.
At present, six of the 25 biggest bass of all time have come from Castaic Lake. Though the pace of 20-pounders has slowed, a lot of people still consider this to be the lake where the next world record will be caught.
If you think you're the one to catch that fish, here's what you need to know.
Castaic Lake is essentially two lakes. There's the Upper Lake, which is often simply called Castaic Lake, or the Main Lake. And then below the dam there's the Lower Lake, also known as the Lagoon.
Both are packed with bass. If your time is limited, head to the Lagoon. It's much smaller, and you can cover a lot of water more easily.
That being said, the Upper Lake is where many of the real giants tend to be found.
Note the direction of the wind when you arrive at the Main Lake.
It tends to blow southward, pushing nutrients and phytoplankton toward the dam. Schools of baitfish follow, and bass are seldom far behind.
Government Cove, a sheltered area just northeast of the dam, is a favorite spot. The waters just off Suicide Point and Sharon's Rest are also popular areas.
The state stocks the lake frequently with rainbow trout. And when they do, there's a good chance the biggest bass in Lake Castaic will be in the general vicinity.
Slow-rolling big swimbaits in less than 15 feet of water is a favorite tactic.
While trout-imitating swimbaits are the lure of choice for many here, Lake Castaic also has a lot of shad. Crankbaits and soft plastic jerkbaits that resemble shad are effective.
Overall, March is the best time to be on the water if you're after trophy largemouths. Most of the biggest bass from Castaic have been caught in late winter or very early spring.
When the fish are being more selective, as they often are, small finesse soft plastics such as straight-tailed worms can tempt wary bites. Try one on a drop-shot rig when bass head deeper in late spring and summer.
Another thing to be aware of: The current state record largemouth bass was caught within a few feet of Upper Castaic Lake's main boat ramp.
So, if you're launching there, take the time to make a few obligatory casts. You never know.
More: Castaic Lake Fishing
Lake Casitas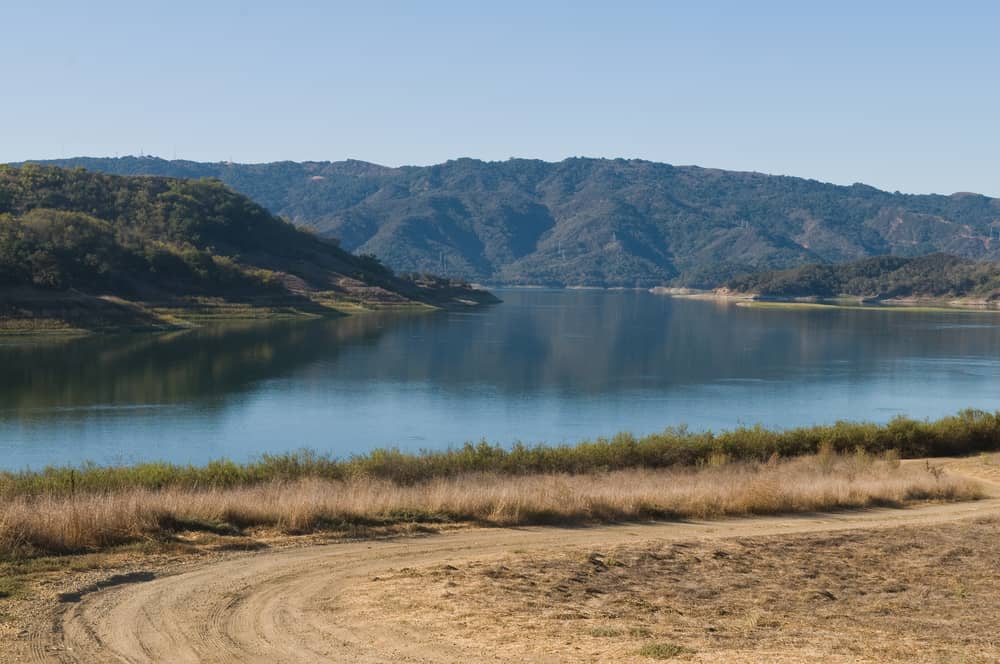 Lake Casitas has been one of California's hottest bass lakes for quite a few years now, and there a couple ways to approach fishing here.
Firstly, there are great numbers of small to medium-sized largemouth bass at Lake Casitas, located in the hills of Ventura County.
You can have a great day here chasing 5-pounders until your arms get sore. These are by far the easiest bass to catch. They haven't learned yet.
But there are also trophy bass here. The lake record of 21 pounds, 3.5 ounces has stood since 1980, but the lake has given up multiple bass that fell just short of the 20-pound mark in the decades since.
The trouble is, these big old gals learn a thing or two by the time they reach that size. They've seen some things. Many of them have been caught before, and they're wary.
Oversized trout swimbaits are generally the ticket to a trophy bass at Casitas Lake, but you could go hours just waiting for that one epic strike.
Casitas Lake has an area of about 1,100 acres at full pool, with numerous coves and points. They all have potential, but some of those coves are closed off from February through May to protect bass while they spawn.
The Coyote Creek area is known for big bass, and point-hopping is a popular approach. Look for rocky points with steep drop-offs.
The waters around the lake's main island are also productive for bass.
If you're not exclusively fishing for trophies, have a selection of soft plastic creature baits handy, as well as wacky worms and maybe a buzzbait or two.
Another thing to know before you go: The water at Casitas Lake is gin-clear in the summertime. Using low-visibility line is a must.
More: Lake Casitas Fishing
Dixon Lake
Dixon Lake was virtually unknown until 2001 when seemingly out of nowhere, this small Escondido lake started kicking out 20-pound bass seemingly one after another.
Officially, three of the 25 biggest bass ever caught have come from Dixon Lake, all since the turn of the millennium.
Unofficially, the story is even better.
Angler Mac Weakley reeled in a largemouth weighing a staggering 25-pound, 1-ounce at Dixon Lake in 2006. But there was a problem—the fish was foul-hooked, and therefore ineligible for the record books.
A flood of anglers showed up at Dixon Lake within days, trying to catch the record fish fair and square, but to no avail.
The monster bass, nicknamed 'Dottie' for its distinctive jaw marking, was found floating dead two years later.
But while this now-legendary bass may have gone to the great beyond, Dixon Lake remains a top contender to produce the next world record.
At just 72 acres, Dixon Lake might be a surprisingly small lake to yield world-record bass, but there isn't always a connection between big water and big fish.
Dixon offers prime bass habitat and an abundance of forage, and up until it started making headlines, the lake flew mostly under the radar.
Dixon Lake has a lot of vegetation, and fishing with swimbaits along weed edges is often a productive pattern. The lake is stocked heavily with rainbow trout, so come armed with trout-pattern swimbaits.
Finesse plastics are good choices too, especially in summer when bass move a little deeper. A small straight-tailed worm on a drop-shot rig is often a great choice.
Take some time to cast a wacky worm or creature bait under a few boat docks, too. The aptly named Boat Dock Cove is a great area to fish, and bass often seek shelter beneath the docks.
Record-class bass aside, Dixon Lake also has an abundance of medium-sized bass, and you have a solid shot at hooking up with a 10-pounder.
More: Dixon Lake Fishing
Lake Miramar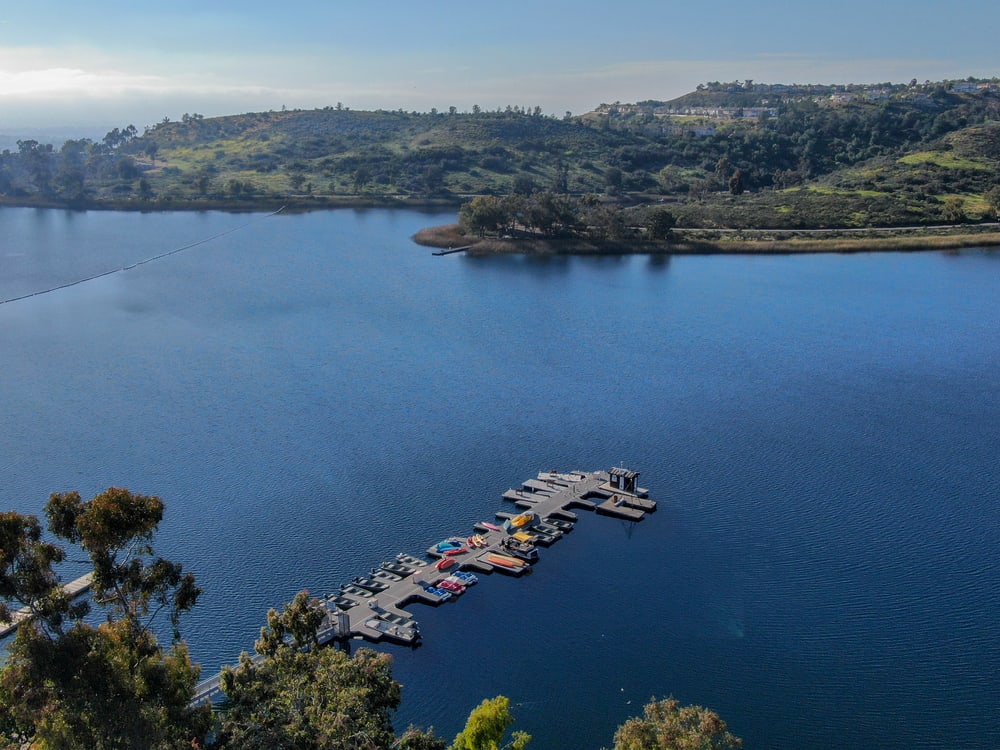 Lake Miramar is a man-made reservoir that spans 162 acres in the San Diego suburbs. It has the distinction of being the birthplace of California's first 20-pound bass, which was pulled from the lake in 1972.
This lake still has a reputation as a big bass factory. Five of the 25 biggest bass ever caught have come from Lake Miramar, and it's one of your best bets to hook up with a 15-pounder.
One of the biggest obstacles here is the clarity of the water. On an average day, you can expect at least 20 feet of visibility, which makes bass particularly skittish. Wary bass don't bite easily.
That makes ultra-realistic swimbaits the go-to lure for most anglers who come here in search of giants.
Like a lot of SoCal lakes, rainbow trout have been stocked extensively at Miramar Lake, and they're the preferred forage of the biggest bass.
The one time of year when visibility might work to your advantage is the spring spawn, when bass head to the shallows and sight fishing becomes a reliable tactic.
Tossing light-colored soft plastics during the spawn can lead to some of the biggest bass of the year. Just be sure to release spawning bass so they can continue to replenish the population.
Finesse plastics on drop-shot or split-shot rigs may also be effective later in spring when bass move into post-spawn patterns.
Various soft plastics can also be rigged on darter heads, which is a favorite option among many local fishermen.
Most also choose to use light, low-visibility fluorocarbon lines to combat bass' ability to see their lure coming a mile away.
More: Lake Miramar Fishing
Lake Murray
Several of California's best bass fishing lakes are the relatively small, man-made reservoirs in and around San Diego. These San Diego County Lakes offer limitless big bass potential, and Lake Murray is one of the best among them.
At just 171 acres, little Lake Murray would be easy to overlook. But this diminutive lake produces plenty of chunky largemouths that tip the scales in the teens.
Finding them is the trouble, as Lake Murray is doesn't have the abundance of prime bass cover that some other lakes doo. The water here is deep and clear, but the bottom is almost featureless.
Other than a few gently-sloping points, the bottom is mostly flat and gravelly, with little to attract bass save for the occasional modest rock pile or weed bed. There are a handful on man-made fish structures around the lake, but that's about it.
With so little to go on, the best approach is usually to cover a lot of water quickly to find fish. That means keep moving and use lures that you can work at a pretty good clip. Crankbaits are ideal for that purpose.
Like most San Diego bass lakes, Lake Murray is stocked regularly with rainbow trout, and they're a major forage for the biggest bass, so don't leave home without a couple swimbaits.
But Lake Murray bass dine heavily on crawfish too, and therefore dragging a jig along the bottom can be highly effective. Any patch of rocks can harbor crawfish and the bass that love to eat them.
Lake Murray is located within Mission Trails Regional Park, which provides boat launch facilities and abundant shore access, making this one of the best lakes in Southern California for bank fishing.
It's definitely a popular place on warm spring and summer weekends. If you're interested in catching bass from shore, springtime is your best bet.
More: Lake Murray Fishing
Lake Isabella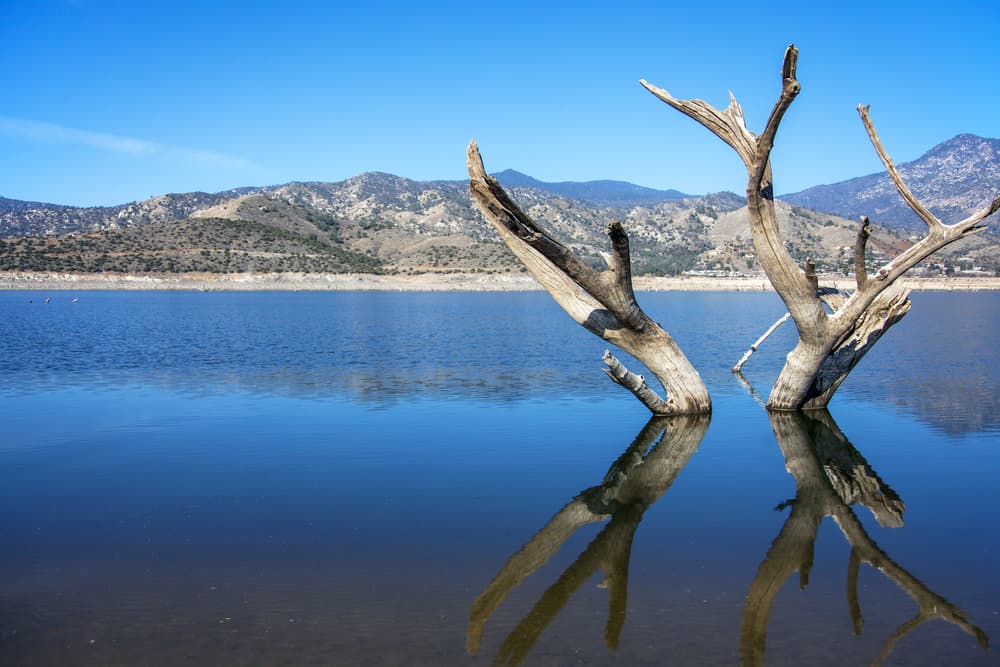 Surrounded by the rugged slopes of the Southern Sierra Nevada, Lake Isabella is a picturesque destination that happens to be the home of some of California's biggest bass.
This 11,000-acre Kern County reservoir was built in the 1950s and is located in the high desert of Sequoia National Forest.
It's hard to imagine a more beautiful fishing destination. But as lovely as the scenery is, Lake Isabella has a reputation for sending anglers home frustrated.
The fish here can be tough to catch, which has resulted in many fishermen turning their attention elsewhere. Don't let that deter you.
Lake Isabella has produced some major bass over the years, including an 18-pound, 14-ounce lake record. The secret often lies in targeting the right cover.
Bass have a lot of great habitat to choose from in Lake Isabella, including rocks, brush and submerged timber.
Flooded willow trees are some of the most reliable bass cover, and fish often strike crankbaits and spinnerbaits thrown to them.
Jigs and crawfish-imitating soft plastics are great here too, but it's best to rig them Texas-style to get them through weeds and brush unscathed.
Oftentimes the best tactic at Lake Isabella is to cast your bait right into the thickest, most intimidating brush and weeds you can find. Heavy line is often necessary to pull baits and bass through thick, tangled cover.
Rocky Point is a popular bass fishing spot, and the French Gulch area can also be productive.
More: Lake Isabella Fishing
Honorable Mentions
The problem with finding the best bass lake in Southern California—if you can call it a problem—is that there are simply too many great lakes to choose from.
There's no place on Earth with so many trophy bass in a concentrated area.
While the aforementioned lakes are inarguably the cream of the crop, there are dozens of other destinations where one can reliably catch big bass, and lots of them.
Don't overlook these honorable mentions; they just might surprise you!
Lake Havasu
Although sometimes outshined by its great striped bass fishing, and these days competing with an exploding population of smallmouth bass, Lake Havasu remains one of the country's top largemouth bass lakes.
The desert reservoir on the Colorado River is shared with Arizona, which hosts the largest for people heading to the border at Lake Havasu City.
Largemouth bass are still the prime target for tournament and recreational bassers alike, and big fish can be had for those who work at it.
The reservoir's clear waters can present a challenge for line-wary bigger bass, so quicker crankbaits or spinnerbaits can sometimes work by drawing reaction strikes before the fish have time to contemplate the line.
Some anglers also will switch to lighter lines to raise the numbers of strikes while finesse fishing with soft plastics, but of course that comes with the risk of breaking off a big fish.
Not surprisingly, Lake Havasu also is among the best bass fishing lakes in Arizona.
More: Lake Havasu Fishing
Diamond Valley Lake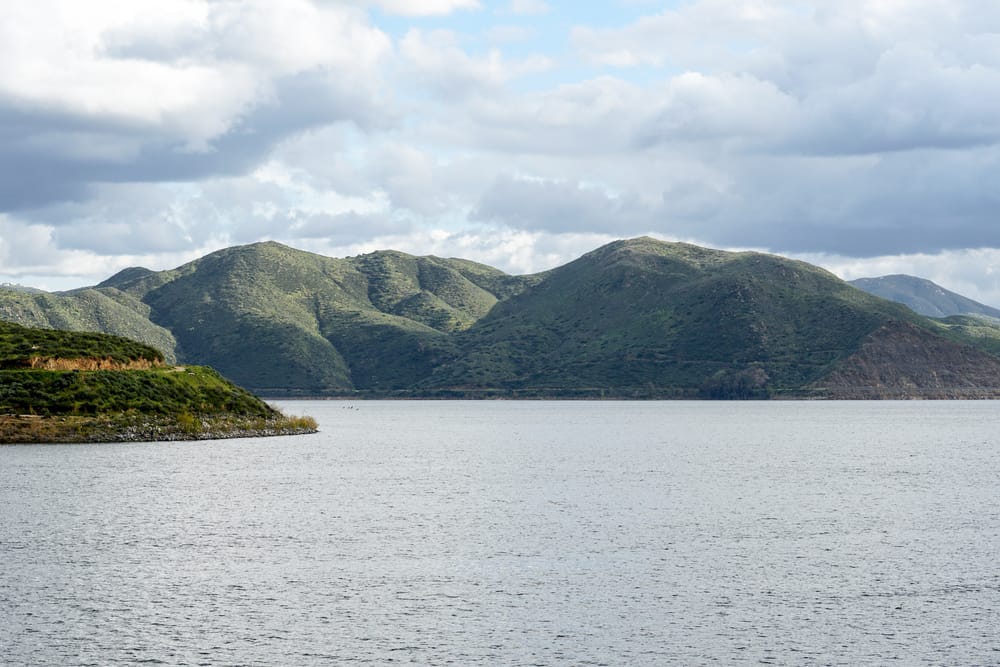 One of Southern California's largest reservoirs, Diamond Valley Lake was only filled for the first time in 2003, which makes it young by lake standards.
But already the lake's potential as a trophy bass fishery has been made clear.
Largemouths over 16 pounds have been brought to the boat at Diamond Valley Lake, and it's fair to say that those fish will continue to grow.
Fishing the points is a tried-and-true tactic at this Hemet-area reservoir.
Keep an eye on the wind and look for points where there's a chop on the water. Bigger bass are more likely to move up the point toward shallow water in these conditions.
Trout have been extensively stocked at Diamond Valley, so it's no surprise that swimbaits tend to get the call for big bass.
Nevertheless, small finesse soft plastics are great too, especially if you're after numbers of bass during the summer months.
More: Diamond Valley Lake Fishing
El Capitan Reservoir
El Cap, as it's known to locals, has been around a while.
This San Diego County reservoir was built in 1935 and was among the first lakes to receive plantings of Florida Largemouth bass when they arrived in California a couple decades later.
With a surface area of a little over 1,500 acres when full, El Capitan Reservoir has numerous shallow coves and deep, steeply sloped main lake points that hold bass throughout much of the year.
Motorized boats are heavily restricted here, which makes this a favorite among canoe and kayak fishermen.
Ten-pounders are reasonably common here, and El Cap yields a lot of 4- to 7-pound largemouth bass.
Shad-colored soft jerkbaits are often effective, along with trout-patterned swimbaits.
Floating frogs can provoke thrilling surface strikes in weedy parts of the lake.
During the spawn, many anglers use buzzbaits and ripbaits to draw reaction bites.
The far northern end of El Capitan's long, narrow main arm is a popular area to fish.
More: El Capitan Reservoir Fishing
Lake Cuyamaca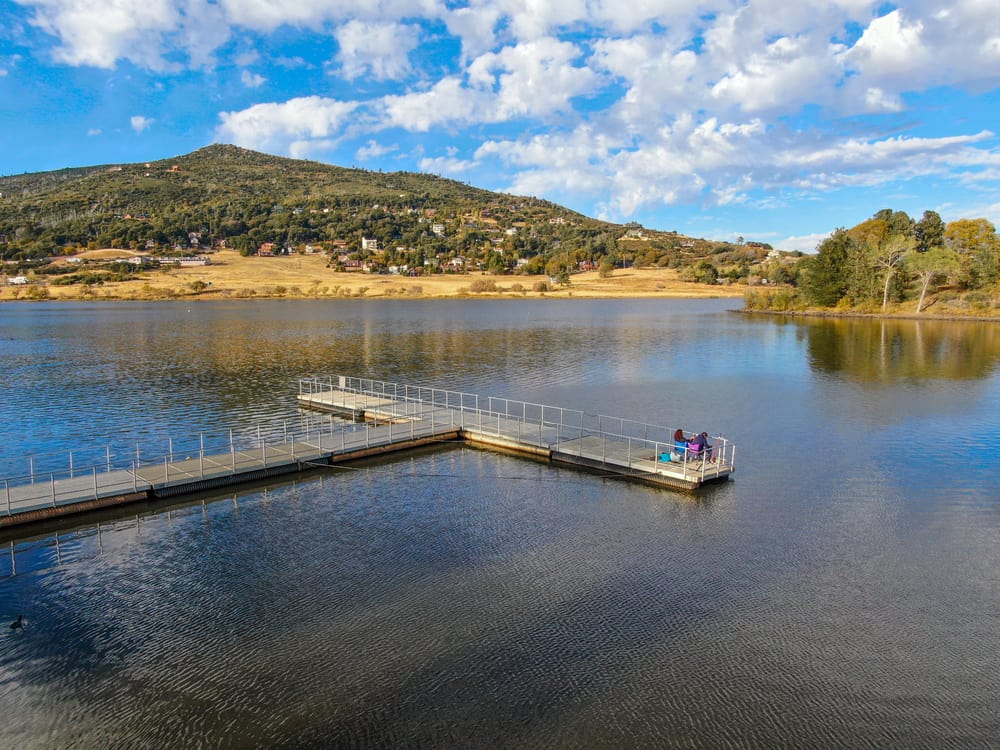 San Diego County's 110-acre Lake Cuyamaca has fallen under the radar for bass fishing.
And in fairness, this is not one of the state's best trophy bass waters.
But this small lake is packed with 7- to 10-pound largemouths, and it receives little fishing pressure compared to other lakes on this list.
So, if what you want is a relaxing day on the water hauling in loads of really solid bass, but little chance of breaking any records, this is a fantastic destination.
Lake Cuyamaca also has the distinction of being California's first bass lake.
Northern strain largemouths were originally introduced here in 1891, so you have a real shot at catching bass that are the direct descendants of the state's very first largemouths.
More: Lake Cuyamaca Fishing
Lake Perris
Lake Perris, often referred to as Perris Lake or Perris Reservoir, offers a solid largemouth bass fishery, with a lake record weighing 17 pounds, 6 ounces.
This 2,348-acre lake was the first place in California to receive stocks of Alabama spotted bass back in 1974, and its early reputation was more as a trophy spot lake than a largemouth lake.
However, it's the lunker largemouths that bring bass anglers to this Riverside County reservoir these days, and the spots have said Au revoir to Perris. (Note: Head north and there are some very good spotted bass fishing lakes in California.)
The area around Alessandro Island and the east end of Lake Perris offers some of the best largemouth bass fishing, with dark-colored soft plastics being the lure of choice for most local anglers.
More: Lake Perris Fishing
San Vicente Reservoir
Yet another San Diego County lake with lots of big bass potential, San Vicente Reservoir was built in 1943.
But the lake essentially doubled in size in 2016 when its dam was raised, and the quality of its fishing has notably spiked in the years since with the increase in habitat.
Trees and brush along the shore weren't cut back when the lake was enlarged, so you can cast a line just about anywhere and catch bass from submerged trees, brush and boulders.
Water levels are prone to fluctuation, so be ready to shift gears as conditions dictate. When the lake is full, life is good for bass and bass fishermen alike.
San Vicente Reservoir isn't producing trophy largemouths quite yet, at least the last we checked.
But the fish here seem to be growing, and at the moment, you can practically throw anything in your tacklebox and catch a 2- to 4-pound bass.
More: San Vicente Reservoir Fishing
Otay Lake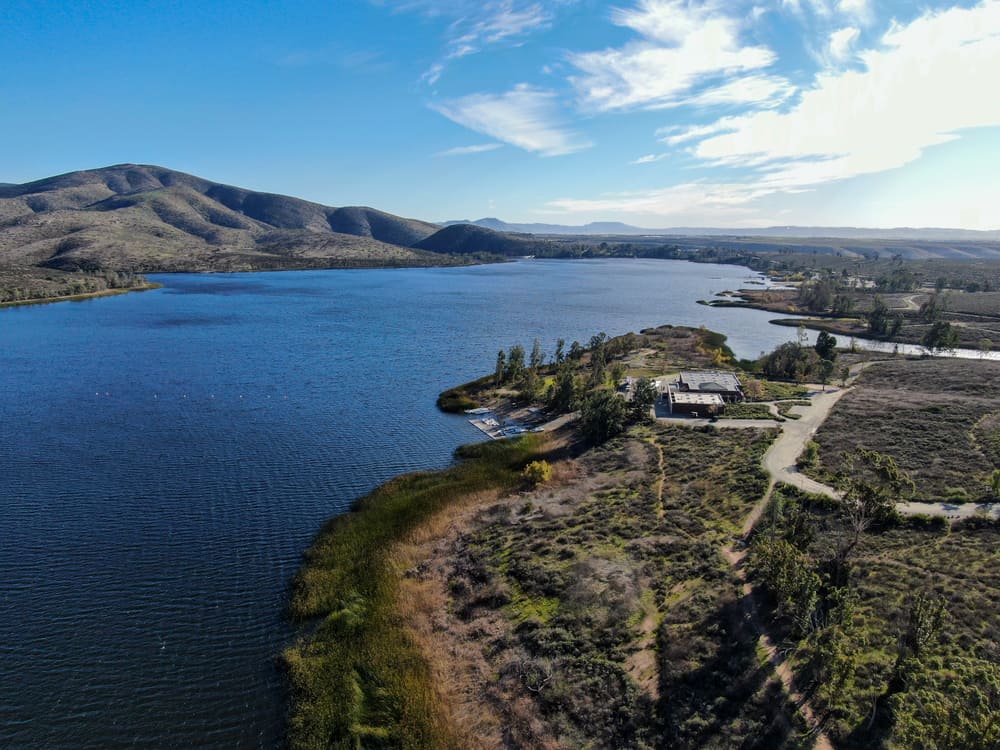 What many San Diego locals refer to as Otay Lake is actually two connected lakes: Upper Otay Lake and Lower Otay Lake.
Upper Otay Lake, by far the smaller of the two at a dainty 20 acres, was actually used as a bass hatchery when the first Florida Strain largemouths were brought west in 1959.
There are still big bass in there, but these days most anglers focus on 1,100-acre Lower Otay Lake.
Lower Otay produces consistent catches of hefty bass in the 5- to 10-pound range.
Trout imitations are often the most effective baits, and there's usually a solid topwater bite in summer, especially in the far back end of the Harvey Arm.
More: Otay Lake Fishing
How to Catch More Bass
Read up on the best bass fishing techniques and tips.