When you get right down to it, largemouth bass have no business being anywhere near California.
The first largemouth bass to arrive in the Golden State were transplants, northern strain largemouths brought over from a small lake in Illinois in 1891.
As it turned out, these bass thrived in California's warm, weedy natural lakes, as well as in the deep, clear reservoirs that would be built over the next half-century
But the introduction of Florida strain largemouths in 1959 was the real game changer.
The Florida bass took off, outgrowing their relatives back east, and creating one of America's great fishing opportunities.
These days, catches of 10-pound-plus largemouths in California are commonplace.
There's a very good chance that when the next world record largemouth is caught, it's going to be caught in California.
In fact, largemouth bass fishing is so incredibly good in so many places in California, we had to divide the state in two just to cover it for you.
This article reveals the best largemouth bass fishing spots in Northern California, while we have a separate article covering the best largemouth bass lakes in Southern California.
Spring through early summer is generally the best time for bass fishing in much of California.
In most of these Northern California lakes, largemouths spawn sometime between March and May (or when water temps are around the 60-degree mark).
The methods used to catch them are as varied as the lakes you'll see listed here. Many anglers swear by oversized swimbaits that mimic the juvenile trout and salmon that California bass get fat on.
But many switch to tiny finesse soft plastics when fishing pressure drives even the biggest bass to be picky. That can happen a lot on NorCal lakes, especially as summer wears on.
Bottom line: Bring a variety of baits, and be ready for anything.
Any one of these Northern Califoirnia bass lakes on our list has the potential to send you home with a 10-pounder or better, or more likely a photo of the huge bucketmouth you released to fight again and perhaps grow into the next world record.
Clear Lake
No discussion of Northern California bass lakes is complete without including Clear Lake, which also frequently enters the conversation when the best bass lakes in the world are discussed.
This is the type of lake that routinely gives up double-digit bass and earns nicknames like "Bass Capital of the West."
Nestled in Lake County about two hours north of San Francisco, Clear Lake is among California's largest freshwater lakes, with a surface area spanning 68 square miles.
And while a lot of Northern California's best bass lakes are man-made reservoirs, this one is a natural lake.
Unlike most of those deep, cold reservoirs, Clear Lake is warm and relatively shallow. It's just 59 feet at its deepest point, and these warm, nutrient-rich waters are the perfect place for Florida strain largemouths to flourish.
Ten-pounders are fairly common at Clear Lake, and there may be no other lake in Northern California that cranks out more 3- to 7-pound bass.
The lake record, a 17.52-pound beast caught by Jerry Basgal, has stood since 1990, but a bigger bass could easily be out there.
In 2019, three bass weighing 12, 14 and 16 pounds were caught within a span of two weeks in early spring.
While several lakes in Southern California have produced 20-pound largemouths, if any lake in northern California can get into world record territory, it's probably going to be Clear Lake.
One of the great things about Clear Lake is that its bass are often in relatively shallow water—think 10 feet or less—in easy-to-reach areas.
The lake has an abundance of tules growing along the shore, and bass love to shelter in them.
Bass often seek shade under docks and shoreline trees as well.
Pitching soft jerkbaits under docks and around cover is a favorite tactic.
Spinnerbaits are popular too, and unweighted wacky worms almost always draw strikes as they settle to the bottom.
The area around the Clear Lake State Park on the western shore is a prime fishing spot, and the narrow part of the lake just off Shag Rocks is a perennial favorite.
That said, this is a huge lake with a lot of water, and there are countless great spots.
More: Clear Lake Fishing
California Delta
The California Delta, often referred to simply as the Delta—or the Sacramento–San Joaquin River Delta, if you'd like to be proper—is like a vast aquatic playground for anglers in search of big bass.
Largemouths, smallmouth and spotted bass all call the Delta home, along with some of California's biggest striped bass.
But largemouth bass are the most abundant species, inhabiting weedy backwaters and coves throughout the delta.
Bass have a lot of forage to choose from here, ranging from shad and smelt to bluegill and crawfish, so a wide range or lures can be effective.
Wacky worms and Texas rigged soft plastics tend to be favorites.
The biggest bass ever caught in the Delta tipped the scales at 18.62 pounds, and it fell for a wacky-rigged Senko.
Viewed from above, the Delta looks imposing. It's a twisting, labyrinthine maze of waterways that all come together right around the confluence of the Sacramento and San Joaquin rivers just east of the Bay Area. And it's true, one can get lost in there if they aren't careful.
If you're new to the Delta, Brannan Island is a great place to start. There's a state recreation area there with a ten-lane boat ramp and campground, with miles of prime fishing water nearby.
One thing to keep in mind when fishing the California Delta is that its patterns are heavily influenced by the tides.
Bass love to hunt among the vast tule beds that grow along the banks at high tide. When the tide goes out, they often retreat to the shade beneath nearby mats of weeds.
Fishing under and around boat docks is also a reliable approach in the Delta.
More: Fishing the Sacramento and San Joaquin River Delta
New Melones Lake
New Melones Lake grabbed headlines when Keith Bryan caught a new world record spotted bass there in 2014.
That 10.48-pound fish has since been unseated in the record books, but New Melones Lake continues to have a reputation as one of California's best trophy spotted bass lakes.
That's all well and good, but you definitely don't want to sleep on New Melones' largemouth bass. This 13,000-acre reservoir has produced plenty of big largemouths over the years.
It's also the type of lake where you can easily catch 30 or 40 bass in the 2- to 3-pound range if you're so inclined.
New Melones Lake is a long, Y-shaped reservoir a little more than an hour east of Stockton.
The Angels Creek Arm, which forms the western branch of the "Y," is considered by many to be the best area for bass fishing.
Working your way up and down points in the Angels Creek Arm is often effective but be prepared to try different depths.
Bass often follow schools of baitfish, and they can sometimes be down as deep as 70 feet, though around 20 to 30 feet is more typical.
The area around the Mormon Creek inlet and the main lake islands can provide some great fishing too.
Be ready with finesse plastics, especially straight-tailed worms, on drop shot rigs.
Another tactic worth trying is a variation on the wacky rig known as a Neko Rig, which involves inserting a nail weight into one end of the worm and letting it free-fall.
More: New Melones Lake Fishing
Lake Camanche
With its deep, clear water and boulder-strewn bottom, Lake Camanche northeast of Stockton is as well known for trout fishing as it is for bass. Roughly 60,000 pounds of trout are stocked in the lake every year.
A lot of those trout are good catching size. And a lot of the smaller ones end up in the bellies of big largemouth bass.
Lake Camanche, also known as Camanche Lake or Camanche Reservoir, spans 7,700 acres when full, which is a decent-sized lake, but not huge by California standards. You can cover a lot of water here in a relatively short time.
Some of the most productive spots on Camanche Lake tend to be main lake points with lots of rocky cover. Bass use rock piles and reefs as hunting grounds, along with brush and timber.
You can usually bag a solid limit of big largemouths by "point-hopping," working jigs along each point until you find fish. Expect a few spotted bass mixed in too.
Big trout-imitating swimbaits have accounted for some of the biggest bass ever caught at Camanche Lake. But for numbers, your best bets are jigs and soft plastics fished near bottom around rocky cover. Deep-diving crankbaits are often effective too.
Lake Camanche has been giving up a lot of big fish in recent years. In 2019, bass weighing 14.71 pounds and 15.01 pounds were caught just a few months apart.
Of course, neither came close to unseating Kevin Miranda's 18.17-pound lake record, caught on a deep-diving crankbait in 2015. Rest assured, there are still giants out there.
More: Lake Camanche Fishing
Don Pedro Reservoir
A 13,000-acre reservoir with 160 miles of shoreline, Don Pedro is a popular bass fishing lake in Tuolumne County about an hour east of Modesto.
It's a long, twisting lake with an abundance of feeder creeks and coves that harbor big bass.
Florida largemouths were introduced in 1982, and they've done very well here. Also known as Don Pedro Lake, the reservoir is known for being one of the likeliest places in Northern California to catch a bass over 15 pounds.
Don Pedro Reservoir also has a reputation for being a tough lake to fish. It's not a lake that commonly provides non-stop action and 50-fish days.
But there are trophy bass out there, as the 18-pound, 9-ounce lake record will attest. That fish was caught by Rod Martin on April 9, 2003, and if you're looking for similar results, the month of April is a pretty good time to plan your visit.
Fishing during that spring spawn period is often the key to success at Don Pedro. That's when the biggest bass—usually scattered throughout the lake—head to predictable shallow-water haunts to pair up and reproduce.
To find these monsters, confine your search to creeks and coves. The Big Creek, Rogers Creek and Woods Creek inlets are usually productive around the spawn, along with Moccasin Point and the Moccasin Creek Arm.
Bass this time of year are often easy to provoke into a reaction strike by using aggressive fishing techniques.
Come to Don Pedro armed with spinnerbaits, ripbaits and lipless cranks.
More: Don Pedro Reservoir Fishing
Lake Berryessa
Surrounded by the wine country of Napa County, Lake Berryessa is one of Northern California's great multispecies fisheries.
Largemouth, smallmouth and spotted bass are all abundant here, and you may very well catch all three on back-to-back casts.
The biggest of the bunch will no doubt be a largemouth though. Lake Berryessa has given up its share of double-digit largemouth bass over the years, including a lake record over 17 pounds.
Spring is prime time for bass fishing at Berryessa.
During the month of May, you can usually find largemouths in various stages of pre-spawn, spawn and post-spawn depending on what part of the lake you're on.
Big bass head toward the backs of coves this time of year, often in surprisingly shallow water. It's possible to find 10-pound bass in as little as three feet of water during the spawn.
Markley Cove and Paradise Cove are perennial favorite largemouth spots.
Casting Carolina-rigged soft plastics like worms and creature baits around brush, weed beds and timber is a popular and productive tactic.
By summer, bass tend to move deeper toward main-lake points.
They get fat gobbling up kokanee salmon and small trout, and you can catch big bass using hefty swimbaits that imitate this forage.
But Lake Berryessa gets quite a bit of boat traffic and fishing pressure, so you may have better luck using smaller, more subtle presentations, especially as the heat of summer wears on.
Finesse worms on drop-shot rigs seem to net more big bass on this lake than just about anything else.
Crankbaits can do the job when bass are actively hunting in deeper water, and there's often a solid topwater bite in coves on calm days around sundown.
More: Lake Berryessa Fishing
Folsom Lake
Folsom Lake near Sacramento is one of those lakes that comes up time and time again in discussions about California's top bass lakes.
With 75 miles of shoreline and spanning over 11,500 acres at full pool, Folsom is a big lake, but not quite as intimidating as some of Northern California's other giants.
The quality of the fishing has risen and fallen many times over the years, especially during seasons of drought when lake levels have fallen drastically, leaving bass unable to spawn.
But Folsom Lake has been on the rebound for some time. The lake has a reputation as a reliable place to fill a limit of 5-pound-plus largemouths, with a solid shot at hooking up with a 10-pounder, especially in spring.
Expect a mixed bag of largemouths and spotted bass most days, along with opportunities for smallmouths and cold water favorites such as landlocked Chinook salmon and rainbow trout.
The South Fork is generally considered to be the best part of the lake for largemouth bass, especially the New York Creek Cove area. The cove is a prime spawning site, and big bass inhabit nearby parts of the South Fork year-round.
Unfortunately, this is not a well-kept secret. You can expect the South Fork to be packed with bass boats on a prime spring weekend.
If you're looking for a more secluded site, head to the North Fork, where areas like Anderson Island and the boulder-strewn bottom of Granite Bay often yield hefty bass, and these spots are a bit farther off the beaten path.
Ripbaits are popular among local anglers targeting pre-spawn and post-spawn bass in springtime. These lures often trigger vicious reaction strikes.
Soft plastic lizards and creature baits are effective as well.
In summer, when bass move a little deeper and aren't quite as cooperative, try one of these lures on a Carolina rig.
More: Folsom Lake Fishing
Lake Sonoma
Lake Sonoma may sit in the shadows of nearby Clear Lake, but this also is among Northern California's best bass lakes, especially for anyone who isn't especially interested in trophies, and just wants to spend a day on the water chasing fat, happy largemouths.
Granted, there are definitely 10-pound-plus bass in Lake Sonoma. The lake record stands at 15.75 pounds. But where the lake really shines is producing great numbers of fish in the 5-pound class.
When the U.S. Army Corps of Engineers created Lake Sonoma, they left most of its timber standing. Bass anglers should be grateful for that, because a lot of that timber is still there, and it provides perfect cover for bass.
You'll find whole forests of submerged trees in the backs of Lake Sonoma's coves and creek arms, often with some of its branches visible above the surface. This is where you'll find the fish.
Start by probing the outer limbs before working your way in farther. Use caution not to ding your trolling motor on the branches.
Spinnerbaits are great for exploring Lake Sonoma's woody cover because they resist snags fairly effectively. Buzzbaits and deep-diving crankbaits are good too, along with weedless spoons and jigs.
Whatever you cast, bring extra lures and expect to lose a few. You're more than likely to be rewarded for your efforts with some big bass.
The Dry Creek, Cherry Creek, Warm Springs and Yorty Creek Arms are prime bass fishing areas.
There's great fishing as early as February, as bass start to shake of the winter doldrums and head toward spawning grounds. Action often continues well into summer.
At a mere 2,700 acres, Lake Sonoma is one of the smallest lakes that makes our list. But its diminutive size makes it relatively easy to explore and figure out its patterns quickly.
More: Lake Sonoma Fishing
Honorable Mentions
In a state like California, you'll never run out of places to fish.
There are plenty of largemouth lakes that, while not quite good enough to make best-of-the-best status, are still more than worthy of your time and attention.
Many of these lakes are great places for numbers of fish, even if they're less likely to yield record-class bass.
Shasta Lake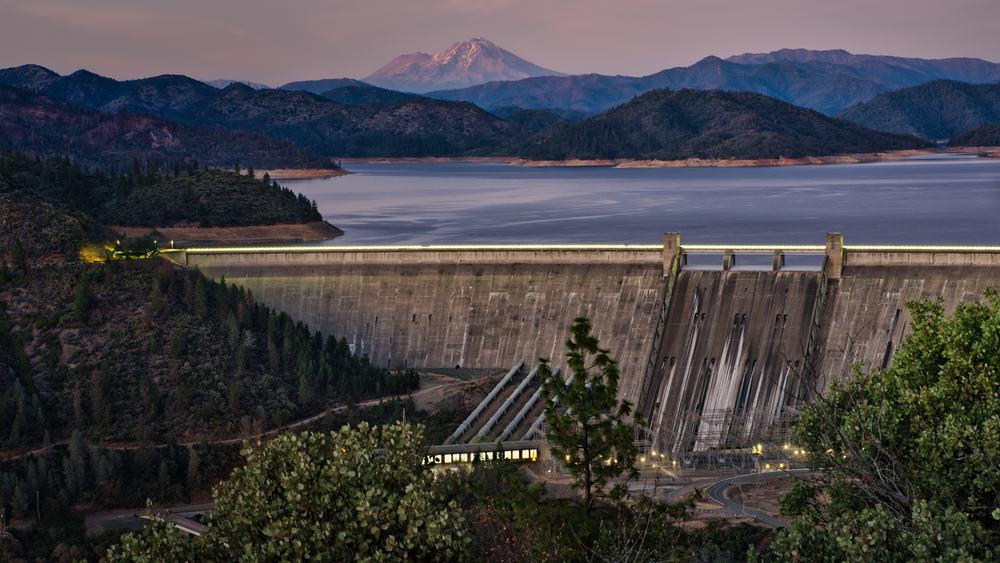 Shasta Lake is California's largest man-made lake. With 365 miles of shoreline and a 30,000-acre surface area, it has a lot of water to cover, and a lot of big bass.
That being said, largemouth bass aren't generally the stars of the show here.
Shasta is famous for being one of California's best smallmouth bass lakes, and spotted bass have proliferated to the point that they're much more common than largemouths.
Still, there are plenty of bucketmouths to go around, and anglers still find good numbers of them in the Pitt River arm in particular. Pitching jigs to submerged timber is the tactic of choice.
Overall, Shasta Lake is one of the best places in the state to catch all three species of black bass on the same day, and that alone makes it worth the trip.
More: Shasta Lake Fishing
Lake Oroville
Lake Oroville is California's second-largest reservoir, and it's a great bass lake. Unfortunately, the largemouth fishery has suffered a bit since the introduction of spotted bass.
But Oroville is still a solid largemouth lake too; they're just nowhere near as common as spots. It's also in your best interest to focus on numbers, and not worry too much about size.
Few lakes crank out 2- to 5-pound bass quite like Lake Oroville does. Catching 50 bass in a day is common, usually a mixed bag of largemouths and spots, with the occasional smallmouth thrown in.
Focusing on the banks is a good tactic, especially in springtime. The North, South and Middle Forks of the lake all offer prime bass habitat.
Wacky worms and finesse soft plastics are usually your best bet, but you can also provoke reaction strikes using crankbaits and spinnerbaits at times.
More: Lake Oroville Fishing
Pardee Lake
A relatively modest-sized reservoir at a bit over 2,000 acres when full, Pardee Lake is easy to overlook compared to many of the giant bass lakes in Northern California, including nearby Camanche Lake. But doing so would be to overlook a lot of big bass. 
The lake supports abundant crawfish and is regularly stocked with trout. Big bass feed heavily on both, which make jigs and trout-imitating swimbaits the lures of choice.
One of the great recurring patterns at Pardee Lake is fishing with trout-pattern swimbaits along the bank near boat launch sites. These are the areas where the Department of Fish and Wildlife release trout for stocking, and big bass know it.
Pardee Lake's greatest claim to fame is that it's home to California's current smallmouth bass record, a 9.82-pounder caught by Harold Hardin in 2007. Expect a few fat smallies in your catch.
More: Pardee Lake Fishing
Lake McClure
Another lake that's mostly known for its spotted bass fishing, Lake McClure also supports healthy populations of largemouth bass. The 7,000-acre lake has plenty of prime habitat that provides opportunities to catch both species.
The lake is fed by the clear waters of the Merced River, which originates in Yosemite National Park. Some of the best bass fishing is in the Merced River Arm, which is long and narrow, with lots of rocky points that hold fish.
Trophy bass are rare here, so think of McClure as a numbers lake. The action can be fast and furious for 3- and 4-pound fish in late spring and early summer.
Soft plastics are almost always effective. Finesse plastics tend to be gobbled up by spotted bass, so if you're after largemouths, go up a size or two and toss bulky grubs, wacky worms and creature baits.
More: Lake McClure Fishing
Lake Amador
At 400 acres, Lake Amador is just a little guy by California standards. But this small lake in Amador County harbors some big fish.
The lake's claim to fame is that it's stocked with more pounds of trout per acre than any other lake in California.
As fun as it may be to hit the water and chase rainbows, let's not forget about the big bass that also like to load up on trout.
Lake Amador produces surprising number of big bass for its size. Some reports suggest that the lake isn't what it once was for bass fishing, but you can catch a mess of hefty largemouths if you hit it on the right day.
The spring spawn is your best bet, when largemouths are reliably shallow and strike readily on soft plastics and crankbaits.
There's also a solid topwater bite here on calm mornings and evenings.
More: Lake Amador Fishing
Lake San Antonio
A long, narrow lake with lots of small inlets and coves.
Lake San Antonio, located off the beaten path in the hills about an hour north of San Luis Obispo and sometimes in the shadows of bigger Lake Nacimiento, is a great fishing lake that goes unnoticed far too often.
While the lake record is a modest 9 pounds, there are good numbers of largemouths here to keep you busy.
The area along the north shore of the lake, opposite Cemetery Cove, offers prime largemouth fishing opportunities, with lots of rocky points and drop-offs that hold fish.
Bring an assortment of baits and be ready to switch it up, as the bass will let you know what they want. Crankbaits are a great way to cover a lot of water in a hurry, but soft plastic worms are often the bait of choice.
The lake harbors big stripers too, which locals catch by trolling between South Shore and Harris Creek.
More: Lake San Antonio Fishing
How to Catch Largemouth Bass
Now that you know where to look, we also suggest that you read through our simple guide to the best bass fishing techniques and tips, with suggestions that work great for largemouths, smallmouths, spots and other black bass species.