California has earned a reputation as one of the best states in America for bass fishing.
But when you hear a fisherman gushing about the great bass fishing in California, it's usually largemouth bass they're talking about.
While you don't often hear much about California's smallmouth bass population, you can rest assured that these fish are out there.
Smallmouth bass thrive in a handful of California lakes. Anywhere you find them, smallmouths are some of the toughest fish you're likely to tangle with.
Much like their large-mouthed brethren, smallmouth bass are not native to California. Both species were transplanted here in the late 19th century.
In smallmouths' case, the first batch was taken from New York's Lake Champlain in 1874 and introduced in California's Napa River.
But while largemouth bass thrive in warm climates and now flourish in lakes all over the state, smallies are a different story.
Smallmouth bass prefer cool, clear water and rocky habitat—characteristics that are hard to come by in Southern California's warm, weedy bass lakes.
Most of the California lakes in which smallmouths thrive are located in the northern part of the state.
Smallmouth bass are easy to identify by their bronze color (often with dark stripes or bars along their sides) and mouths that don't extend past the middle of the eye.
Though they don't get quite as big as largemouth bass, smallmouths commonly reach five pounds or more. Pound for pound, they pretty much always out-fight largemouths.
Wherever you go in search of smallmouth bass, look for them around rocky habitat, including gravel beds, rock piles, reefs, rocky shorelines and drop-offs.
Some of the most effective lures for smallmouth bass include soft stickbaits, tube jigs, jerkbaits, curly-tail grubs and crankbaits. (When you're finished with this article, check out our simple guide for catching more bass linked below.)
Trinity Lake
Home to a former state record smallmouth weighing a hefty 9.1 pounds, Trinity Lake deserves a spot on anyone's list of great California bass lakes.
And although Trinity's smallmouth crown has since been stolen by another lake on this list, it's still among the handful of lakes where the next record smallmouth is likely to be caught.
Trinity Lake is a long, narrow reservoir along the Trinity River in Northern California, and it spans about 17,000 acres when it's full. Of course, fluctuating water levels in recent years mean that it's seldom full.
Those changes in water level can make Trinity Lake a challenging place to fish, as depths and habitats are prone to drastic change. But there's no doubt that Trinity Lake is one of California's undisputed champion smallmouth lakes.
The lake offers an abundance of rocky points and riprap shorelines, which are prime targets for bass fishermen, especially in spring when smallmouths migrate to these areas to spawn.
The flats in the north end of the lake also have a lot of smallmouth potential.
Crawfish-imitating jigs and soft plastics are the lure of choice for many who fish Trinity Lake regularly.
Ply shallow rocky structure with these lures in spring, and work nearby creek channels and drop-offs with drop-shot rigged plastics in summer.
More: Trinity Lake Fishing
Shasta Lake
A sprawling lake with four major arms, Shasta Lake is one of California's all-around best fishing lakes.
Largemouth, smallmouth and spotted bass are abundant in the reservoir, also commonly known as Lake Shasta, and anglers flock to the lake in search of all three.
Shasta Lake is located due east of Trinity Lake, and the two bodies of water have a lot in common. That includes deep, clear, cool water with lots of prime smallmouth habitat.
Smallmouth fishing at Shasta Lake is more a numbers game, but don't write off your chances of connecting with a trophy bass.
Shasta harbors plenty of bass weighing 3 pounds and up, and a handful of 5 to 6 pound monsters turn up every year.
At 30,000 acres, Shasta Lake is California's largest reservoir and also is known statewide for excellent fishing for trout and landlocked salmon.
That's a lot of water to cover, but you can narrow your search quite a bit by focusing on the most likely bass spots. Gravel banks and rocky points are often key smallmouth areas, along with flooded stump fields.
Running spinnerbaits and crawfish-patterned crankbaits slow and steady across rocky points is a good tactic on Shasta Lake. Jigs and soft plastics often score too.
You may even have luck with topwater lures, but when fishing this way the bass on the end of your line will just as likely be a largemouth or "spot" instead of a smallmouth.
More: Shasta Lake Fishing
Pardee Reservoir
Pardee Reservoir is the southernmost lake on our list, and also has the distinction of being California's current smallmouth bass state record holder.
The lake gave up a 9-pound, 13-ounce behemoth that has stood as the undisputed champ since 2007.
It's not even the first record smallmouth that's come from this crystal-clear reservoir in the Sierra Nevada foothills.
A handful of smallies in the 8-pound class, including at least one previous state record, have been pulled from Pardee Reservoir over the years.
Most of them of them have been caught in the Mokelumne Arm of the lake, where shallow, boulder-strewn habitat provides the perfect place for big smallmouths to ambush their prey.
Pardee Reservoir spans a little over 2,000 acres. Like a lot of California lakes, its size varies greatly as lake levels fluctuate.
The lake has crystal clear water and more than 40 miles of shoreline, with an abundance of the types of rocky habitat smallmouths love.
The clarity of the water makes subtle presentations a good choice.
Drop-shot rigs with soft plastics in crawdad or shad colors have accounted for a lot of big bass here.
But some of the biggest smallmouths in Pardee Reservoir, including the current record, have fallen for hefty swimbaits.
Lake Almanor
The first thing one is struck by at Lake Almanor isn't the fishing. It's the scenery. Surrounded by pristine conifer forests and offering a splendid view of Mount Lassen, it's one of California's most beautiful lakes.
It's also deep and clean, with a high elevation and northerly latitude that keeps its water cool enough for smallmouth bass to flourish. And flourish they do.
Lake Almanor abounds with 2- to 3-pound smallmouths, with enough trophy-caliber five-pounders to keep things plenty interesting.
As with many lakes, the spring spawn finds these fish bunched up in shallow water, but Lake Almanor is also one of California's best year-round smallmouth fisheries.
Thanks to the cool waters fed by the Feather River, Lake Almanor stays pleasantly chilled even in summer. And with an abundance of mid-depth stump fields and rock piles in 10 to 25 feet of water, smallmouths are seldom hard to find.
Smelt and crawfish are the main forage species here, so any baits that imitate them and dive deep enough to bump off the stumps and boulders can be effective.
When in doubt, a 4-inch wacky worm dead-sticked on bottom seldom fails to tempt a strike.
More: Lake Almanor Fishing
Lake Havasu/Colorado River
Not all that long ago, this fishery wouldn't have made our smallmouth fishing list.
But bronze back populations have been building here and have reached the point where the smallmouth bass fishing at times can far exceed Lake Havasu's world renowned largemouth bass angling.
In fact, recent top finishers in some of the big bass tournaments here have claimed those top spots by starting their days chasing the big largemouths but switching over to smallmouths and adding a few 5-pounders to fill out their five-fish bags and put them into the money.
Lake Havasu and other stretches of the Colorado River have tons of the rocky structure that smallmouth bass need to thrive. Look for points, drop-offs, humps and similar hard cover, and you should be in business.
Soft plastics fished in a variety of presentations will almost always catch smallmouths, as will crankbaits, soft jigs and various lures imitating bluegill, shad or other baitfish.
Lake Havasu's water can be quite clear, meaning longer casts and lighter presentations (and perhaps line) may help fool the wilier bass. If it's warm, the small and mid-sized bass will almost always be in attack mode.
More: Lake Havasu Fishing
Honorable Mentions
While the aforementioned lakes may be the best destinations for smallmouth bass fishing in California, they're far from the only ones. These bronze beauties inhabit quite a few lakes, rivers and reservoirs in California,
These other waters might not have quite the same trophy fishing potential, but they're still great place to spend a day chasing smallmouths!
Lake Berryessa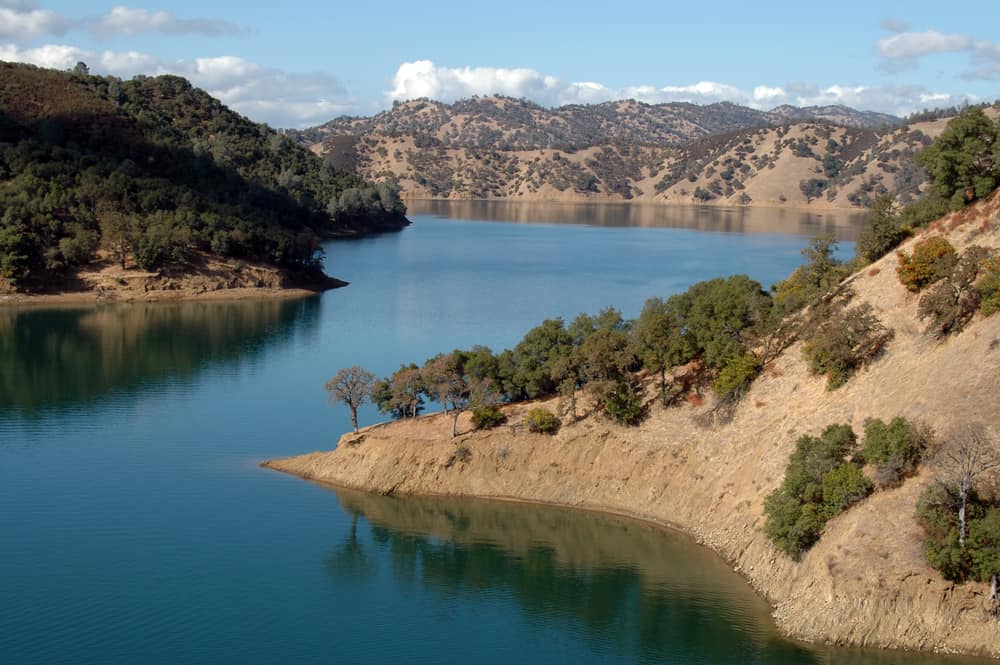 Lake Berryessa's reputation as a smallmouth lake seems to ebb and flow. Some years, it tops all the "best of California bass fishing" lists. Other years, it gets left off completely.
The general consensus at Lake Berryessa seems to be that the smallmouths stocked here by the California Department of Fish & Wildlife haven't quite caught on the way largemouth bass have.
But there's no doubt that there are decent numbers of smallmouths in the lake, including plenty or respectable 12- to 16-inch fish.
The area of the lake know as the Narrows is probably your best bet for smallmouths.
Look for downed trees along the lake's steeply-sloped shoreline, and try working spinnerbaits and surface lures above the branches of the submerged timber.
It's often possible to catch largemouths and smallmouths on back-to-back casts.
More: Lake Berryessa Fishing
Folsom Lake
A quick drive from Sacramento, Folsom Lake offers great multi-species action, with opportunities to catch largemouth, smallmouth and spotted bass.
It's a vast lake, spanning 11,500 acres at full pool, with a lot of great fishing water.
Lake surveys by the California Department of Fish and Wildlife back in the '90s showed smallmouths to be the most abundant of the three bass species. That ratio seems to have shifted in favor of spotted bass in recent years, but there are still a lot of smallies in this lake.
For those in search of big smallmouths, the best area is above Rattlesnake Bar, where the North Fork of the American River empties into the lake.
Four-inch wacky worms seem to be the most productive lure choice here, along with finesse soft plastics on drop-shot rigs.
More: Folsom Lake Fishing
Russian River
Cutting a crooked path through Sonoma and Mendocino counties in Northern California, the Russian River is a reliable place to catch your fill of smallies on a warm summer day.
No one seems to know exactly how smallmouths got into the Russian River; only that they thrive here now.
To be fair, the Russian River isn't a place where you're likely to catch trophy bass. But the river harbors an abundance of smallmouths in the 1- and 2-pound range, and they provide a lot of fun for the anglers who chase them.
Casting soft plastic worms and creature baits around rocks and boulders is a great way to catch Russian River smallmouths. Roostertail spinners are fish-catchers too, and some folks even fly fish for bass here.
Pyramid Lake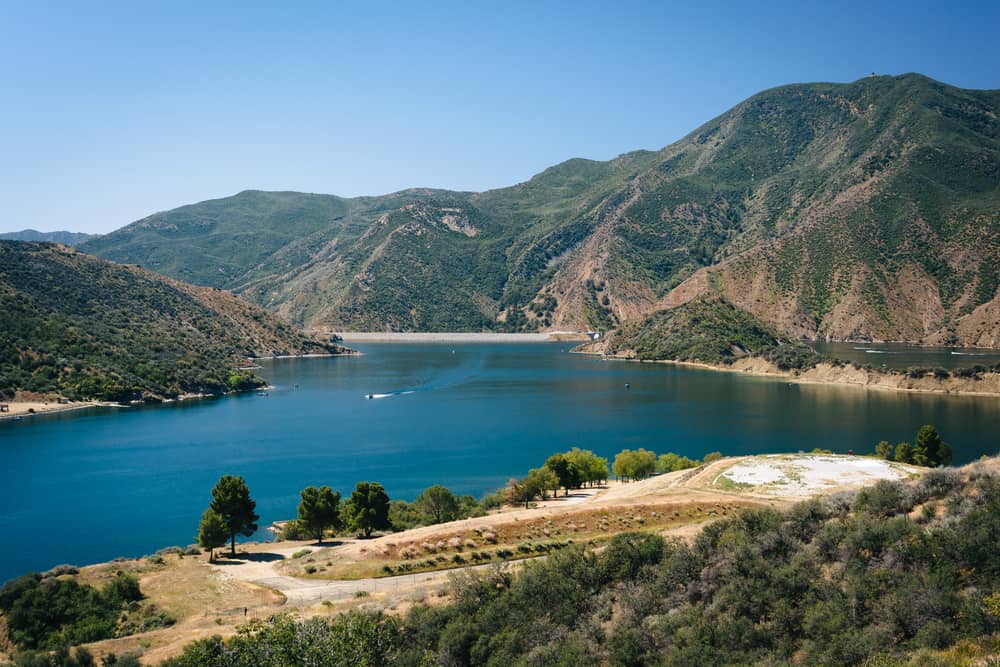 Sitting near the famous Grapevine section of Interstate 5 north of Los Angeles, Pyramid Lake has a reputation as being one of the southernmost California lakes where you can catch a bass fishing "grand slam" of largemouth bass, smallmouth bass and spotted bass.
That being said, smallmouth are nowhere near as abundant as largemouth bass in this 1,300-acre reservoir. But the lake's great depth—over 700 feet in places—allows it to stay cool enough to support a decent smallmouth population.
A lake record smallmouth weighing 5.23 pounds was caught during a tournament on Pyramid Lake in 2013, and local anglers suspect that there are more giants out there.
The lake also is one of the places to catch striped bass and rainbow trout within a decent drive from Los Angeles.
New Bullards Bar Reservoir
The reputation of New Bullards Bar Reservoir as a great fishing lake rests mostly on its excellent spotted bass fishery.
A handful of record-contender spots have been pulled from the reservoir in recent years, but there are smallmouths to be found too, if you know where to look.
Most anglers consider upper portion of the lake, where the North Yuba River empties into it, to be the best area to catch this reservoir's relatively modest numbers of smallmouths.
Indeed there's a good chance that smallmouths are more common in the river than in the lake itself. Try fishing close to rocky structure in the river inlet area with finesse soft plastics like tube jigs and straight-tail worms.
More: New Bullards Bar Reservoir Fishing
Sacramento River
The Sacramento River meanders across 400 miles of Northern California before merging with the San Joaquin River and flowing into San Francisco Bay. It's the longest river in the state.
The upper portion of the Sacramento River is one of three waterways that feed Lake Shasta, one of the best smallmouth lakes in the state.
The upper Sacramento River above and below the lake offer some great fishing opportunities, especially for trout, but the best smallmouth fishing is much farther downstream.
Where the Sacramento and San Joaquin Rivers meet, they form a vast network of interconnected waterways known as the California Delta.
The Delta is more famous for its largemouth bass and is in fact on our list of the best largemouth bass fishing places in Northern California.
But you'll also find smallmouths in these miles of slow-moving streams lined with docks, rocky banks and overhanging trees, all of which provide prime bass habitat.
More: Fishing the Sacramento and San Joaquin River Delta
How to Catch Smallmouth Bass
Now that you know where to catch smallmouth bass in California, take a look at our simple guide on the best bass fishing techniques and tips that will catch these hard-fighting fish.