Few states can offer a greater wealth of fishing options than California.
Yet even in a state with such an incredible abundance of fishing options, Trinity Lake is one that should catch your angler's eye.
Nestled in the heart of Trinity National Forest in Northern California, Trinity Lake spans nearly 17,000 acres at full pool and boasts 145 miles of shoreline. That's a lot of prime water in which anglers pursue bass, trout and landlocked salmon.
Like many of California's major reservoirs, Trinity Lake was conceived as a source of irrigation water and hydroelectric power in the mid-20th century.
The lake was born with the completion of the Trinity Dam in 1961, and it was completely filled with water from the Trinity River within three years.
Trinity lake is deep and cold, with a long, meandering shoreline characterized by an abundance of small arms, inlets and points.
These are all factors that have helped its fish populations thrive, and the lake has produced current or past state records for several of its more common fish species.
Bass Fishing
Both largemouth and smallmouth bass are common in Trinity Lake, and while largemouth bass attain greater size—often 10 pounds or more—this is one of the few lakes in the state where smallmouths reign supreme.
There are relatively few trophy smallmouth bass lakes in California, and Trinity has always been considered one of the very best.
The lake was home to the state record smallmouth for 31 year thanks to a 9 lb.1 oz. smallie caught by Tim Brady in 1976.
The lake lost its smallmouth bass crown in 2007, but some suspect that the next state-record fish could very well come from Trinity Lake.
Smallmouths in the 3- to 5-pound class are fairly common, and it's not rare to catch a limit of both smallmouth and largemouth bass on a good day.
Where to Fish for Bass
The upper end of Trinity Lake—which is to say, the end farthest from the dam—is often considered to be the best area, especially for smallmouth bass.
The gravelly flats in the upper lake are prime spawning grounds, and nearby rocky shorelines and drop-offs are prime fish-holding targets.
But don't write off the rest of the lake. Areas all over the main Trinity Arm can be productive, especially the area known as Trinity Center.
Coves and points throughout the lake have potential.
Bass also use the old creek channels in the lake as travel routes between these prime hunting grounds.
Smallmouths in particular gravitate to any area with rocky cover, especially around points and coves where easy access to both deep and shallow water is available.
For largemouth bass, look for aquatic vegetation, brush or fallen trees.
Largemouths prefer to wait around the edges of weeds and woody cover, where they ambush their prey.
When to Fish for Bass
Bass at Trinity Lake get moving by late winter or early spring, as they head toward shallow water preparing to spawn.
This early time frame is a great window of opportunity, and along with the post-spawn period several weeks to a month later, it provides the year's best bass fishing.
Overall, the period from March to June is the best time for bass fishing at Trinity Lake.
Summer can be good too, but fish tend to move deeper, and bite most readily around dawn and dusk.
Bass return to shallow hunting grounds in fall to fatten up before winter.
Bass Tips & Tactics
Crawfish are a major part of the smallmouth bass diet at Trinity Lake. Consequently, any lure that imitates crawfish has potential to draw strikes.
Working crawfish-imitating jigs along the bottom in rocky cover is a tried-and-true tactic.
And of course, bass routinely fall for dead-sticked wacky worms at Trinity Lake, just as they seem to do nearly everywhere. Simply hook your wacky worm through the middle, and let it settle slowly to the bottom.
Largemouth bass gobble up 6-inch worms, but smallmouth bass seem to prefer daintier 4- and 5-inch worms.
A variation of the wacky worm technique, known as a neko rig, is also highly effective at Trinity Lake. This technique involves inserting a nail weight into one end of the worm to give it a unique flutter as it falls.
As bass head deeper in summer, soft plastics on drop shot rigs are the go-to method to catch them. A wide variety of plastic baits, including straight-tail worms and creature baits, are effective on a drop-shot rig.
Largemouth bass often fall for hefty swimbaits that imitate the lake's trout and kokanee salmon, both of which are forage fish for big largemouths.
These Trinity bass tips will put you ahead of the game, and we suggest you read through our easy to read article on bass fishing techniques for more bass-catching ideas.
Trout Fishing
Many anglers who visit Trinity Lake do so in pursuit of bass. But this lake also offers excellent trout fishing for those in the know, and a lot of locals consider these fish to be Trinity Lake's best-kept secret.
Rainbow trout are most common, in large part because the California Department of Fish and Wildlife stocks them each year. A few big browns may still appear in catches, but they aren't at all common and even some experienced Trinity Lake anglers have never hooked one.
The best rainbow trout fishing is in the Stuart Fork area on the southwestern side of the reservoir, where hatchery rainbows are planted and often hang out. There is good bank fishing in this area as well as boat opportunities from a couple of launches.
Trout also disperse throughout the lake, making them hard to find in the main lake, but at certain times their movements are more predictable.
Trout often congregate around the mouths of tributaries in spring and summer, providing great opportunities for fishing.
The lower end of the lake, closest to the dam, can be another spot to find rainbow trout. Finding fish can be tricky but trolling near the surface in open water near the mouth of a cove or tributary tends to be the most effective way to find fish.
Spoons are the go-to trolling lures in most situations, but squid rigs like Mack's Wiggle Hoochie can also do wonders, often leading to a mixed bag of rainbow trout and kokanee salmon.
Keep an eye on your trolling speed. Between 1 and 1.5 mph is usually best, allowing lures to move naturally while staying close to the surface when trout are running shallow.
Casting with spinners can be effective too, and shore fishermen catch their fair share of trout near the mouths of the Stuarts Fork and Swift Creek arms.
Even fly fishing can be effective, as trout feed on insects at the surface of the lake in summer.
Be sure to read up on the simplest and most effective trout fishing tips.
Salmon Fishing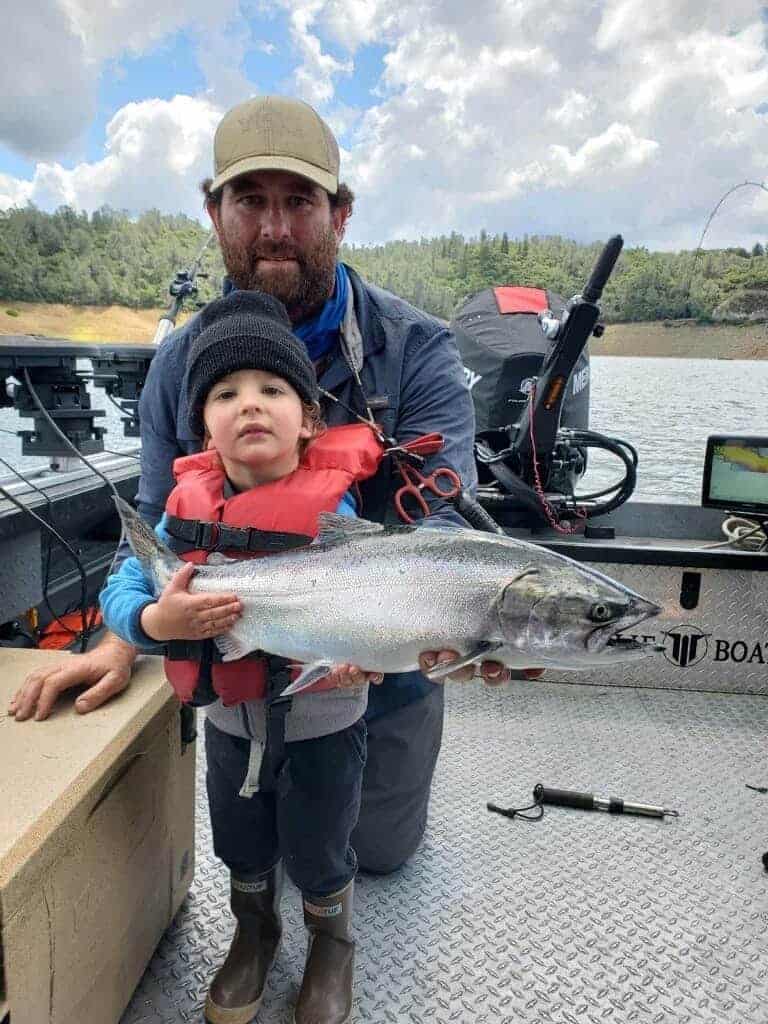 Kokanee salmon—a landlocked form of sockeye salmon—are abundant in Trinity Lake. These silver-sided fish inhabit the lake in great numbers, usually feeding in open water.
With exceptions, Trinity Lake is often known for having millions of stunted kokanee, often under 10 inches. Unfortunately, in recent years, kokanee are back to being even more overcrowded and running even smaller, said veteran guide Alex Ross.
Kokanee bite readily on spoons, and these pan-sized salmon are prized table fare when you can find them big enough to bother.
Trolling spoons on open water is usually effective for kokanee salmon, and many local anglers place a kernel of sweet corn on the hooks of each spoon or lure for extra attraction.
In addition to kokanee, Trinity Lake is also home to Chinook salmon, also known as king salmon.
They were planted here by the California Department of Fish and Wildlife in the late '90s to help keep kokanee populations in check.
Through continued stocking, kings remain in the lake. However, it would be a stretch to call them abundant, but there are some real monsters out there, and this is one of the best lakes in California to catch landlocked Chinook.
Trinity Lake holds California's record for landlocked Chinook salmon, with a 20-pound, 15-ounce fish that was caught near the dam in 2013.
Trolling is effective for Chinook salmon as well as kokanee.
Keep in mind that these larger salmon often feed on small kokanee, so larger silver spoons or other fish-imitating lures are often a good bet.
The challenge with fishing for both species of salmon is finding them. These fish can often seem to be almost anywhere, or nowhere.
Unfortunately, at last check with Ross, the vast numbers of undersized kokanee seem to have made the well-fed Chinook extremely hard to catch.
Your best bet is to troll several lures at various depths in open water, particularly in the lower end of the lake closer to the dam. Salmon can be within a few feet of the surface, or they could be as deep as 70 feet.
If you're still learning the ropes when it comes to landlocked salmon, be sure to read through our simple guides covering the best kokanee fishing techniques and how to catch salmon.
Other Fish Species
Trinity Lake is home to a significant bluegill population.
While these fish aren't as sought-after by anglers as the bigger game fish, they're great fun to catch, especially for kids.
You'll find bluegill in Trinity Lake around boat docks, brush piles and vegetation in relatively shallow water through much of the year, especially from late spring through summer, and they bite readily on small jigs and small natural baits.
Read our guide to fishing for bluegill and other sunfish.
Channel catfish are also fairly common, and grow to impressive sizes.
Some fishermen pursue channel cats by casting or drifting natural baits like chicken livers and cut shad on bottom, especially deep holes near woody cover. Night fishing can be most productive.
Trinity Lake also harbors an abundance of bullhead catfish.
While these catfish are smaller in size than channel cats and seldom targeted by anglers, they put up a good fight on light tackle, and they are easy to catch using nightcrawlers and other natural baits.
California's state record bullhead (4 pounds, 8 ounces) was caught in Trinity Lake in 1993.
Here are some more tips for catching all kinds of catfish.
Planning Your Trip
Trinity Lake is not only a great fishing lake, but it's one of California's most picturesque bodies of water.
The mountain range that surrounds the lake, known as the Trinity Alps, is truly breathtaking.
Perhaps for this reason, the lake receives a lot of attention from pleasure boaters, jet skiers and the houseboat crowd, especially during summer.
Even so, fishing pressure at Trinity Lake is somewhat lighter than other major lakes in the area, such as nearby Shasta Lake and Whiskeytown Lake.
During summer especially, try to get on the water as early in the day as you can to beat the crowds.
If you are staying a few days, you also have time to fish the Trinity River above the reservoir for trout and smallmouth bass or below Lewiston Dam for steelhead and salmon.
Where is Trinity Lake?
Depending on which part of the massive lake you're going to, Trinity Lake is between one and two hours from Redding, which is the nearest city of size.
It's more than three hours driving from Sacramento and four hours or more from much of the Bay Area.
Bank and Boat Access
Several marinas and launch sites provide boat access to Trinity Lake.
Trinity Alps Marina, Trinity Center Marina and Trinity Lake Resort and Marina are all popular places to launch, dock or rent a boat.
The lake is encircled by Trinity National Forest, and the U.S. Forest Service operates several public boat access sites around the lake. These sites provide free boat launch facilities and, in some cases, excellent shore fishing.
The Fairview Public Boat Ramp is a great launch site near the dam, its location making it an ideal starting point for trout and salmon excursions.
Many bass fishermen prefer to launch at the Trinity Center Public Boat Ramp, closer to the head of the lake.
Lake Levels
Water levels at Trinity Lake are prone to much fluctuation, with low-water conditions especially common by late summer and early fall but possible in other seasons during prolonged drought conditions.
Lake levels can affect the best fishing locations and tactics, but it also has an impact on lake access, especially for boaters. Some of Trinity's launch ramps can be difficult to use when the water is especially low.
It's in your best interest to call ahead and check on water levels before making the trip. The Weaverville Ranger Station in Shasta-Trinity National Forest usually has up-to-date info on water levels and lake accessibility.
Accommodations
The U.S. Forest Service operates several campgrounds around the shoreline of Trinity Lake, with hundreds of campsites for tents and RVs.
The Minersville Campground, Alpine View Campground and Clark Springs Campground all have shore access and boat launch facilities in or near the campground.
Cabins are available at Trinity Lake Resort and Marina and at Pinewood Cove Resort.
Acknowledgment
Thanks to Alex Ross of The Trinity Guide Co. for helping us make this article as accurate and helpful as possible.