Picture your dream vision of a fishing stream, way up in the mountains. Chances are, what you're imagining looks an awful lot like the Trinity River.
Alex Ross of The Trinity Guide considers the Trinity River to be California's best steelhead fishing river.
From its origins high in the rugged Trinity Alps, California's Trinity River tumbles through 165 miles of the Klamath Mountains and Coast Ranges.
Along the way, its flow is regulated by Trinity Dam (which holds back the massive 16,000-acre Trinity Lake) and the Lewiston Dam, which creates the much smaller Lewiston Lake immediately downstream.
In the end, the Trinity River merges with the Klamath River. It's the largest tributary of the Klamath, and for salmon and steelhead anglers it is one of the great, sometimes underrated fishing rivers on the West Coast.
Every year, the Klamath River hosts epic runs of Chinook salmon and steelhead, but many of these fish don't ultimately spawn there. Instead, they head up into tributaries like the Trinity River.
The Lewiston Fish Hatchery—located on the Trinity River just downstream from the Lewiston Dam—is where many of these returning fish were born.
Brown trout, while not native, were heavily stocked in many California rivers up until the 1970s, and there's still a modest population of self-sustaining browns both above and below the dam. Populations have declined over the years, but there are still 15-pounders in there, Ross said.
In the far upper portion of the river above Trinity Lake, there's also a healthy native rainbow trout population supplemented with seasonal plantings of hatchery rainbows, along with some feisty smallmouth bass.
Year-round fishing opportunities exist in the Trinity River, and it's also a popular whitewater stream.
Almost the entire Trinity River is designated as a National Wild & Scenic River, and much of it traverses the picturesque landscape of Trinity National Forest and Six Rivers National Forest.
With an abundance of easy access points, most of the Trinity River is within reach of bank anglers who wade its productive waters.
Drift boats also are popular, including among the fishing guides who work this river, and boats make it possible to fish the entire 110 river miles from the Lewiston Dam down to where the Trinity empties into the Klamath River.
Steelhead Fishing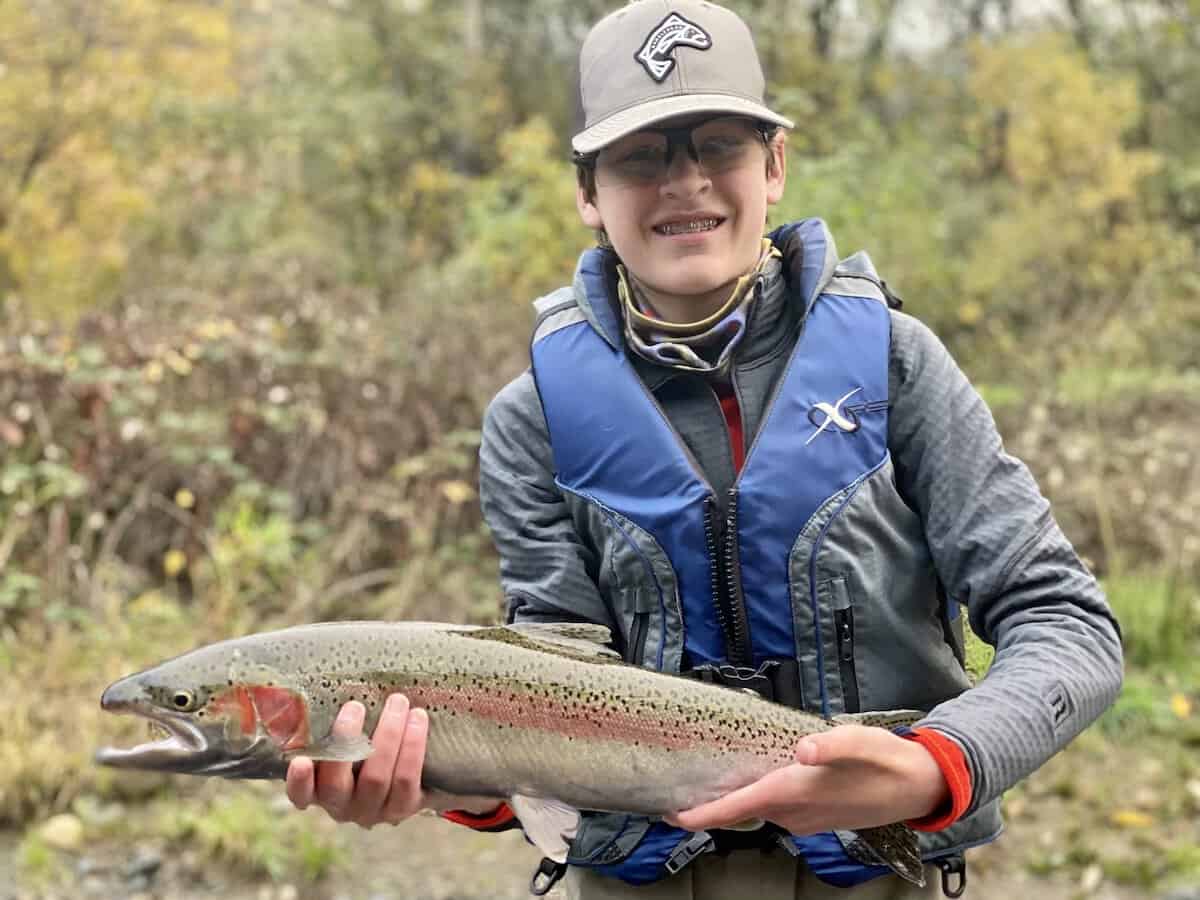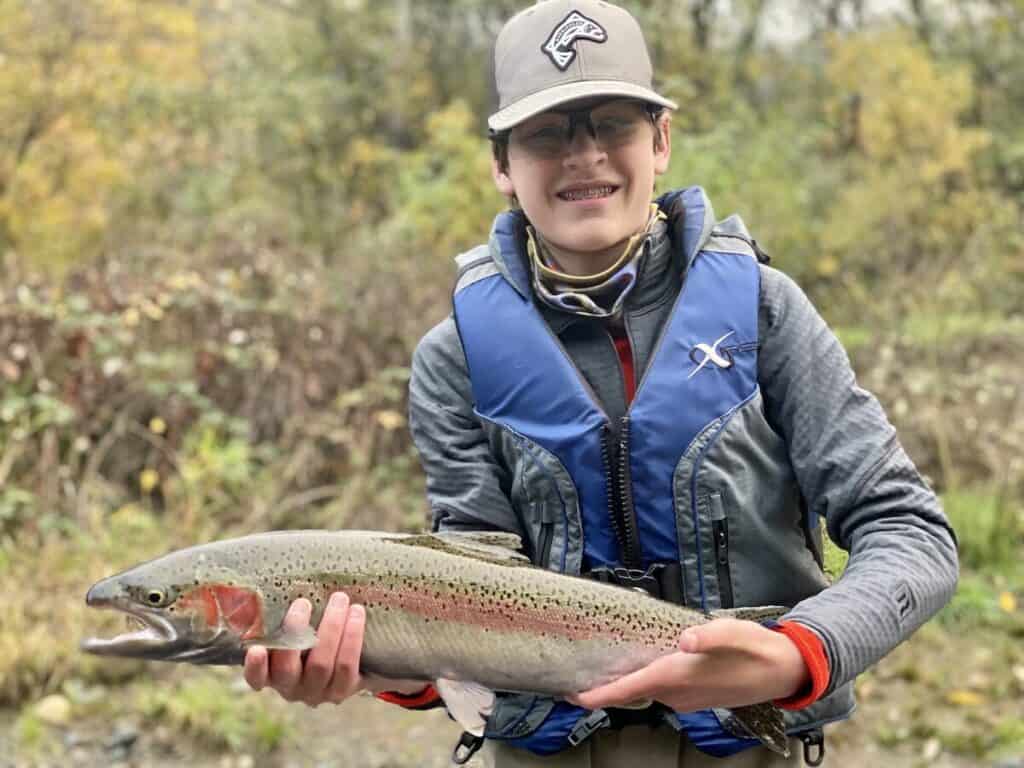 The steelhead runs in the Trinity River are the stuff of legends.
And although the building of the Trinity and Lewiston Dams in the 1960s initially had a devastating effect on these fish, they have since rebounded and some recent years have seen among their best numbers in decades.
Much like the Klamath River, the Trinity River is better known for the sheer abundance of its steelhead than for their size.
Typical adult steelhead run between 4 and 8 pounds in the Trinity, but fish weighing 10 pounds or more are caught every year. Size notwithstanding, these fish are known for brutish strength and lightning-quick speed when hooked.
There is also a substantial "half-pounder" run. Half-pounders are immature yearling steelhead making their first return journey up the river from the ocean, a year ahead of schedule.
They typically measure 15 to 20 inches and, contrary to their name, weigh a pound or two, and they're great fun to catch on light tackle.
The bulk of the steelhead run takes place from fall through winter, but the half-pounders are often the first to arrive, sometimes as early as July.
Steelhead numbers increase throughout September, October and November as more and more of these fish make their way upstream.
These fall-run fish are the most popularly sought-after on the Trinity, not only for their abundance but because the weather is perfect this time of year.
Fish tend to be spread out throughout the entire river in fall, so there are ample opportunities to catch them by dead-drifting nymphs and swinging flies across the current. Egg patterns are also effective, as steelhead are known to feed on salmon eggs.
Many conventional fishermen use real salmon roe as bait or deploy a variety of lures, from spinners and spoons to wobbling plugs and jigs.
Highway 299 parallels much of the river and provides ample access.
Wading is typically easy, though there are strong currents to watch for, and drift boats are needed to get to some of the better holes.
As fall progresses, steelhead become more concentrated in the upper 25 miles of the river from the Lewiston Dam downstream to Junction City.
A somewhat smaller winter run takes place from December through February, and while there aren't as many steelhead in the river during the winter months, this is often when the biggest fish of the year are caught.
For winter fly fishing, nymphing under a strike indicator is the way to go.
Most of the fall-run steelhead in the Trinity River are hatchery-raised fish from the Lewiston Fish Hatchery, but there are always a few wild steelhead mixed in.
These wild fish are more common in the winter run, and they are protected.
All wild steelhead must be released immediately if caught.
Hatchery steelhead are easy to recognize because they are missing their adipose fin, which is the small fleshy fin on the back between the dorsal fin and tail.
Catch More Steelhead
Steelhead Fishing: Simple How-To Techniques and Tips
Best Steelhead Fishing Rivers in California.
Salmon Fishing
Chinook salmon, also called king salmon, offer another substantial fishing opportunity on the Trinity River.
However, during weak run years, salmon fishing may be closed on the river, so be sure to keep up with regulation changes.
Much like steelhead, Chinook salmon make their way up from the Pacific Ocean, through the Klamath River and into the Trinity every year.
There are a couple of distinct salmon runs here; one in the spring and one in the fall.
Spring-run Chinook salmon start to reach the Trinity River in May, but fishing for them typically opens in July.
July offers prime spring salmon fishing for the brightest fish, and you'll find these large, powerful fish in riffles and deep pools throughout the river. Salmon increasingly stack up in the last few miles below the dam as the season progresses, but later fish aren't in as good condition.
Fall-run Chinook salmon follow from September through December, with the peak usually occurring in November in the Trinity.
This is a great season to be on the water chasing both salmon and steelhead, though the tactics used to catch them are often quite different.
While they're on their spawning run, Chinook salmon are more likely to strike out of aggression than hunger. So most anglers tempt them with bright, flashy lures like spinners, spoons and wobbling plugs.
Colors like hot pink, chartreuse and silver are often effective when fishing lures.
Chinook also will fall to bait anglers, and a big glob of cured salmon roe fished in deeper water is another favorite.
Fly fishing can also work for Chinook but isn't easy; many experienced local guides swing big flies cross-current using two-handed fly rods.
Of course, bringing in a determined Chinook salmon on fly tackle is no easy feat. Compared to steelhead, these fish belong in another weight class entirely.
Chinook salmon in the Trinity River average 10 to 20 pounds, and fish over 30 pounds are not out of the question.
Much like steelhead, the best way to get to some of the best salmon fishing holes is to navigate the river using a drift boat, and then hopping out to wade in promising spots.
An experienced local guide can be a great resource, but easy access to the river along State Route 299 also makes the river easy to explore on your own.
The Trinity River also supports a coho salmon run, but recreational fishing for these fish is not allowed in the state of California.
Coho salmon, or silvers, are considered endangered, and the Lewiston Fish Hatchery raises them as part of a restoration project. They typically spawn in the upper Trinity River between October and December.
Catch More Salmon
Salmon Fishing: Simple Techniques and Tips
Best Salmon Fishing Rivers in California
Trout Fishing
Anglers also have the option of pursuing trout in the Trinity River, both above and below Trinity Lake.
These fish tend to be overshadowed by their ocean-run counterparts, but during seasons when there's a lull in the steelhead run—most notably spring through early summer—they have their time to shine.
Native rainbow trout inhabit the Trinity River above Trinity Lake, and this section of the river is prime territory for fly fishing, with a character more like a tumbling mountain stream rather than the broad, often-tumultuous waterway that exists below the Lewiston Dam.
The upper river system's trout population also is supplemented with hatchery rainbow trout not far above Trinity Lake, with periodic plantings from spring into early summer on several of its forks.
Hatchery trout are typically easier to catch than wild trout, so they make a nice outing for young or newer anglers looking for quicker action.
The main stem itself along Highway 3 and its Coffee Creek tributary along Coffee Creek Road are both stocked. Also stocked on a similar schedule is Carville Pond, accessible just west of the intersection of Highway 3 and East Side Road.
The East Fork of the Trinity is planted with hatchery trout above the lake in the vicinity of East Fork Road.
The Stuart Fork of the Trinity, located on the west side of Trinity Lake, is stocked along Trinity Alps Road.
If you're specifically targeting wild trout, it's probably a good idea to find areas of the streams that aren't stocked and are a bit harder to reach, as the fish there won't face the same level of angling pressure. A little hiking and exploring can go a long way when targeting wild trout.
The Trinity River system above Trinity Lake is a great place to wade with a handful of flies and a light 5-weight rod.
Rainbow trout in the 12- to 24-inch range are common, and matching various spring insect hatches is your ticket to catching them.
The Trinity River hosts hatches of March browns and blue-winged olives early in the spring, followed by golden stoneflies a little later in the season. Caddis flies are a major summer hatch here.
In addition to rainbow trout, there are some giant brown trout in the Trinity River.
They inhabit sections of the river below Lewiston Dam and above Trinity Lake. Some of the latter actually spend much of their lives in the lake, and then head farther upstream on a fall spawning run in September and October.
It's possible to catch brown trout weighing over 10 pounds, and these sleek, agile fish are expert fighters. Of course, typically sized trout are more common.
Browns will often strike caddis and stonefly imitations but are also more likely to hunt baitfish than rainbows are. Streamers and nymphs may be effective, along with spinners, spoons and plugs.
Catch More Trout
Thanks to both the trout and steelhead fisheries, the Trinity River made our list of Best Fly Fishing Rivers in California.
You might also pick up some pointers in our simple guide, Trout Fishing: How-To Techniques and Tips.
Smallmouth Bass
Bass and other warm-water game fish aren't a major fishery in the Trinity River, but if you head into the upper reaches above Trinity Lake, there are good opportunities to catch smallmouth bass.
Trinity Lake has a reputation as one of the best smallmouth lakes in the state, and these fish are common in the Trinity River for at least a moderate distance above the lake.
The area where the far upper Trinity River empties into Trinity Lake offers an abundance of rocky banks and steep drop-offs, which are prime smallmouth habitats.
The best time to catch them is during their pre- and post-spawn periods, roughly April through June. Catches should remain good until the water cools way down in the fall.
On the river, smallmouths often inhabit deep pools immediately downstream from a riffle, where they wait for disoriented prey swept down by the current.
Most anglers pursue smallmouth bass by casting jigs, soft plastic lures and jerkbaits on medium-light spinning tackle. Topwater lures can also be effective and are a blast when the fish are willing, which is most likely during lower-light early morning and evening hours.
Fly anglers also catch smallmouths. Bass have been known to strike nymphs and streamers and may even fall for dry flies, especially in spring and early summer while the stoneflies are hatching.
The Trinity River harbors an abundance of 1- to 3-pound smallmouth bass, but don't be too shocked to find a 5-pounder at the end of your line.
More: Learn how to catch more smallmouths and other black bass.
Planning Your Trip
Depending on your target fish species, you can plan a successful fishing trip during any season on the Trinity River.
You may prefer the thrill of peak steelhead season in late fall and early winter, when anglers must vie for a cast at the best spots; or you may favor the solitude of early spring.
Much of the Trinity River flows through the abundant National Forest lands of Trinity County, making it free for the public to access.
Keep in mind that some parcels along the river are privately owned, so be sure to seek permission before fishing on private property.
Naturally, fishing the Trinity River makes a good multi-species fishing excursion, and you might add in some time going after trout, landlocked Chinook salmon and smallmouth bass in Trinity Lake.
Trinity River Access
Each section of the Trinity River is easily accessible to anglers.
The upper Trinity River is a short drive from Interstate 5 at Redding, while lower river sections are convenient to the communities of Eureka, Willow Creek and Weaverville. The nearest airport is the Redding Municipal Airport.
The lower Trinity River is paralleled by California State Route 299, and there are numerous access points just off the highway. These include Indian Creek River Access just outside Douglass City and Sky Ranch River Access in Junction City.
The town of Lewiston is a major fly-fishing hub just downriver from the Lewiston Dam, and you'll find several access points just outside of town along Trinity Dam Boulevard and Rush Creek Road. The Old Bridge River Access is a great place to start.
Above Trinity Lake, California State Route 3 runs along main stem of the river and good roads offer access to major tributaries.
Camping Along the Trinity River
Numerous campgrounds are available on or near the Trinity River, including several that the U.S. Forest Service within Trinity and Six Rivers National Forests operates.
One of the best places to camp for anglers who enjoy roughing it is the Mary Smith Campground, which offers picturesque walk-in tent sites a stone's throw from the Lewiston Dam.
Options farther downriver include the Pigeon Point Group Camp and the Big Flat Campground. The latter is a good option for RVs as well as tents.
On the Upper Trinity River above the lake, there are also Forest Service and privately operated campgrounds available for trout and smallmouth bass anglers.
Numerous campgrounds are also available along the shoreline of Trinity Lake, including several boat-in camping areas.
Know Before You Go
The Trinity River is, for the most part, managed under statewide California fishing regulations, which you can read in full using the links below. There are also a few special regulations in place, including the following:
The section of the Trinity River that extends from 250 feet below the Lewiston Dam to the Old Lewiston Bridge 2 miles downstream is designated "fly-fishing only." Fishing in the fly-fishing-only section of the Trinity River is only allowed from April 1 through September 15.
Although coho salmon are raised at the Lewiston Fish Hatchery and return here every year to spawn, recreational fishing for coho salmon is not permitted in California. They must be released immediately if caught.
Also, know that the flow of the Trinity River is regulated by the Lewiston Dam, which stabilizes flows and makes it fishable and easy to navigate throughout most of the year.
However, the dam releases heavier flows in May and June to mimic spring snowmelt, aid spawning fish, and push young salmon and steelhead smolt out to the ocean.
Anglers should use extreme caution when wading in higher water levels this time of year.
Acknowledgment
Thanks to Alex Ross of The Trinity Guide for helping us make this article more accurate and useful to our readers.