California is, without a doubt, the most geographically diverse state in the United States.
With a coastline stretching over 800 miles from north to south and everything from dense redwood forests to scorching deserts, California has something to offer for every fly fisherman.
When it comes to fly fishing, the vast majority of opportunities are located on the northern side of the state.
The hot, arid climate of southern California is not favorable for productive river conditions – and, although there are a few excellent streams in southern California, they are few and far between.
In the northern half of the state, however, there are scores of rivers and streams that are the stuff of dreams for most fly fishermen.
For these reasons, for the purposes of this article we've chosen to break up the traditional northern half of California into two regions: Northern and Central California.
Northern California will encompass all the rivers from Redding north to the Oregon border, Central California from Redding south to San Francisco, and Southern California being the rest of the state south of San Francisco.
Without further ado, let's jump right into our favorite fly fishing rivers in California!
Best Fly Fishing Rivers in Northern California
Our top choice: Upper Sacramento River
It is difficult to choose from the wealth of pristine rivers that make up California's far north region, and if you were to ask different fly fishermen to pick one, you'd no doubt get plenty of different answers.
However, the Upper Sacramento River stands out as a true gem.
A jaw-dropping 447 miles long, the entire Sacramento is a river to behold, and each stretch offers different opportunities.
The upper stretch, though, is generally considered to be the first 40 to 50 miles from where the river begins below Lake Siskiyou southwest of Mt. Shasta to where it empties into Lake Shasta, loosely running through the Interstate 5 corridor along the way.
From Lake Siskiyou, the Upper Sacramento tumbles its way (in typical freestone fashion) through canyons and around boulders, making much of this river a relatively difficult wading adventure.
The crystal-clear water and difficult wading on the Upper Sacramento can make it a daunting prospect for many anglers, but it's almost always worth the effort.
Many fly anglers choose to fish near the town of Dunsmuir, where there is relatively easy access in addition to a couple of fly shops whose staffs will be able to point you in the right direction.
The Upper Sacramento is a gorgeous river with plenty of access points – but where it really shines, though, is its high numbers of big trout.
Rainbow and brown trout are plentiful in the river, and it's not uncommon to see fish over 20 inches long.
Nymphing typically takes most fish on the Upper Sacramento, but terrestrial patterns can produce well during the peak of summer.
The Upper Sacramento fishes well year-round (in the year-round stretch above the Scarlett Way Bridge in Dunsmuir), but heavy runoff in the spring can make fishing difficult until the river levels settle down.
More: Fly Fishing the Upper Sacramento River
Other Great Fly Fishing Rivers in Northern California
Klamath River
A river that begins as a trout stream in Oregon's Klamath County, the Klamath quickly flows into California and is one of Northern California's best options for excellent steelhead fishing.
Though there isn't much trout fishing to speak of on the Lower Klamath, the summer and winter steelhead runs are popular with spey fishermen.
There are also salmon in the lower reaches of the river, but they get a lot of pressure from conventional anglers and don't venture as far up the river as the steelhead do.
If you want to venture upriver yourself, the upper Klamath River is known for feisty wild rainbows.
More: Klamath River Fishing
Smith River
Undoubtedly one of the most beautiful rivers in California, the Smith River offers plenty of trout, salmon and steelhead fishing opportunities.
Most fly anglers focus their efforts on the large steelhead and salmon in the river – it's known for producing some of the biggest salmon in the country outside of Alaska, and the river also holds the record for the largest steelhead in California.
Because of its legendary reputation, the Smith River gets a lot of pressure – if you're looking to escape the crowds, the upper reaches of the river offer more peaceful fishing for the resident rainbow and cutthroat trout that inhabit the river.
More: Smith River Fishing
McCloud River
The McCloud River is just a few miles from the Upper Sacramento, and often provides non-stop fly fishing action.
The river can be divided into two stretches: the Upper McCloud and the lower river.
The upper river, located above McCloud Dam, is less popular but holds plenty of feisty trout (though they don't grow to be very big).
The Lower McCloud, however, is where most of the attention is paid, and for good reason.
The lower McCloud holds large numbers of the resilient strain of trout known as the McCloud River Rainbow – possibly the most famous and celebrated strain of trout in the world – and offers fly fishermen a chance to try their luck at these aggressive trout.
Numerous hatches throughout the year keep the action going at all times, and there's rarely a dull moment on the McCloud.
Fall River
One of the few spring-fed rivers in California, the Fall River has gained worldwide renown for its crystal-clear water and massive trout.
The Fall could have easily been our choice for the best river in Northern California, but access is limited and the popularity of this river can sometimes be its downfall.
Regardless of the river's popularity, the fact remains: this is a wide, slow-moving river that serves as perfect habitat for healthy, large rainbow trout.
Nymphing and dry-fly tacts are equally effective here, but stealth is key when approaching these wary fish.
Fishing the Fall is unlike fishing any other river in California – stealthy Jon Boats are used to identify and target feeding trout. Much of your day on the fall will consist of moving up and down the river in search of the trophy trout that call this river home.
Trinity River
The Trinity River is one of the best steelhead rivers in Northern California. It's the biggest tributary to the Klamath River, and benefits from the plentiful steelhead runs that go up the Klamath and turn toward the hatchery on the Trinity.
The majority of steelhead fly fishing on the Trinity takes places from Lewiston Dam downstream to the confluence with the North Fork Trinity, below the reservoirs that include giant Trinity Lake.
The Trinity River also offers some pretty good trout fishing, including some browns and good numbers of rainbows (wild and stocked) above the reservoir and the occasional bunker brown below Lewiston Dam.
There's plenty of wading access on the Trinity, so if you're typically a walk-and-wade angler, this is a good option to check out.
More: Trinity River Fishing
Best Fly Fishing Rivers in Central California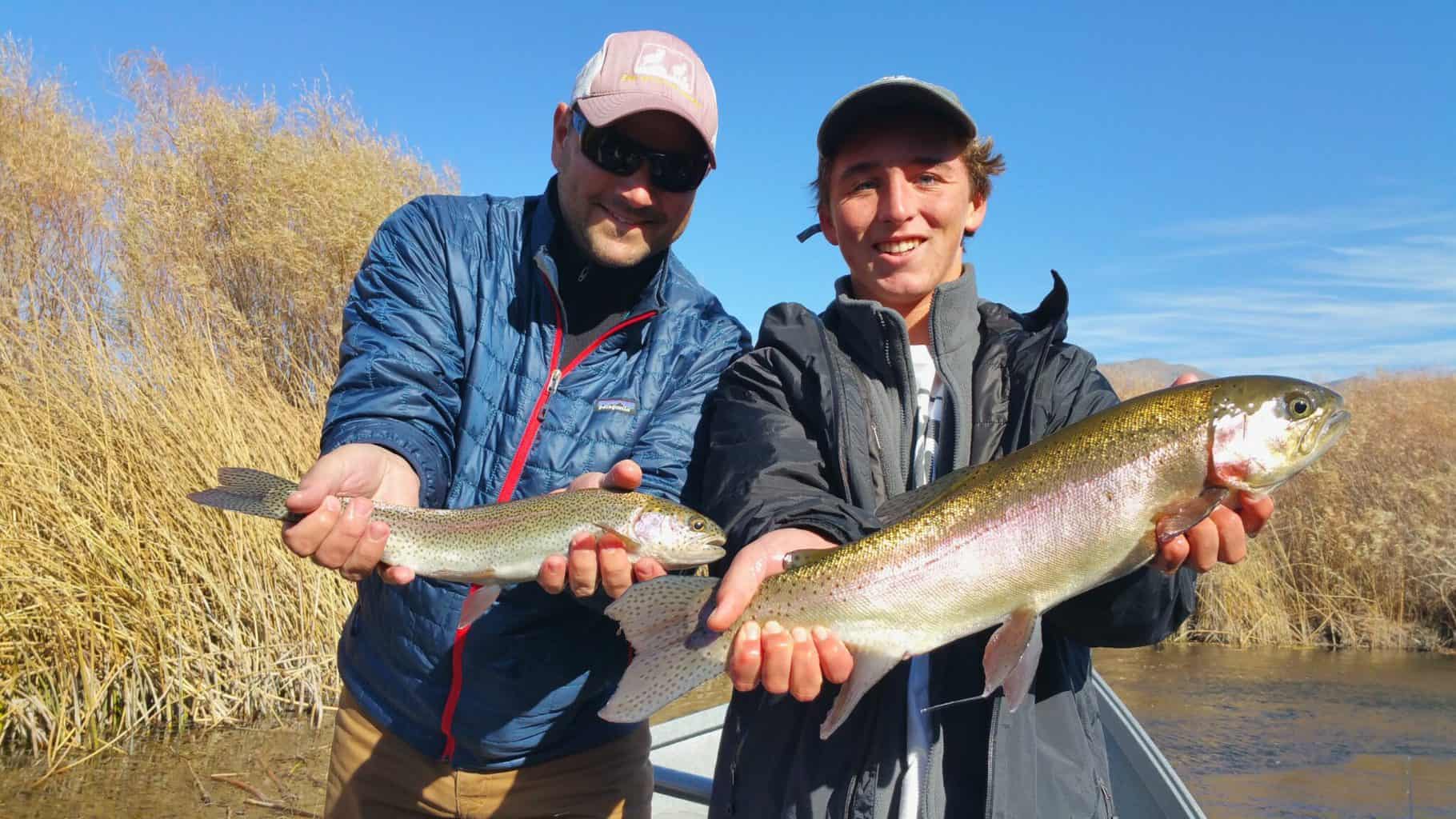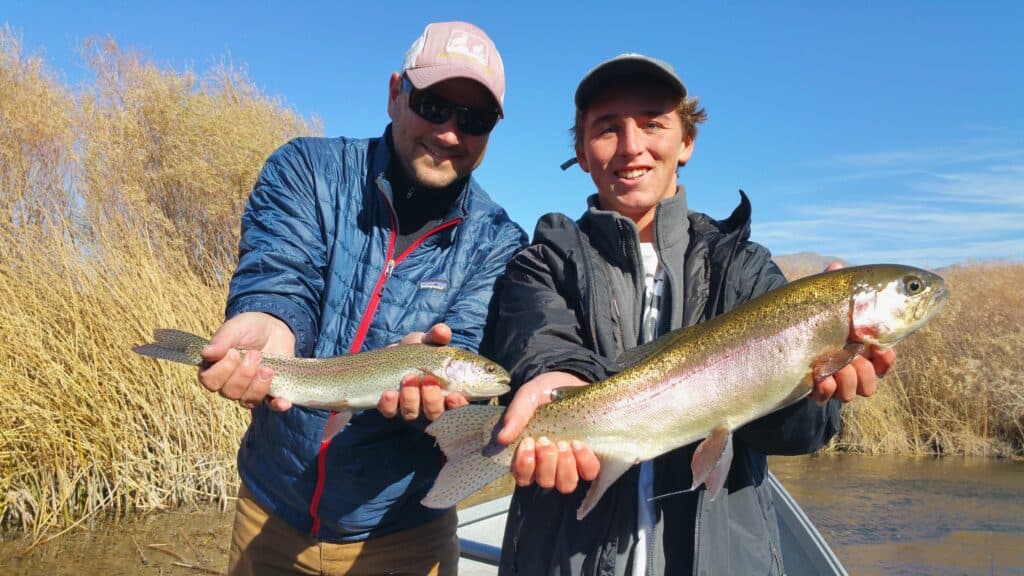 Our top choice: Owens River
Home to the wildly popular Mammoth Lakes area, the fly fishing options in Central California are virtually limitless.
The Owens River is the most productive (and the most picturesque) river in this region, offering dozens of miles of wide-open, technical-but-rewarding trout water.
There are multiple excellent stretches of the Owens, offering plenty of access for drift boats as well as wade fishermen.
The upper river, the stretch above Lake Crowley, is a gorgeous spring creek that winds its way through golden meadows before joining forces with Hot Creek and flowing into the lake itself.
The upper stretch is popular with wade anglers, as it offers excellent bank access and a network of side channels and riffles makes it a blast to explore.
Massive rainbow and brown trout reside in this stretch of the river, growing up to 25 inches and bigger.
Don't be fooled by the small, picturesque stream, though – it can be incredibly challenging to fish.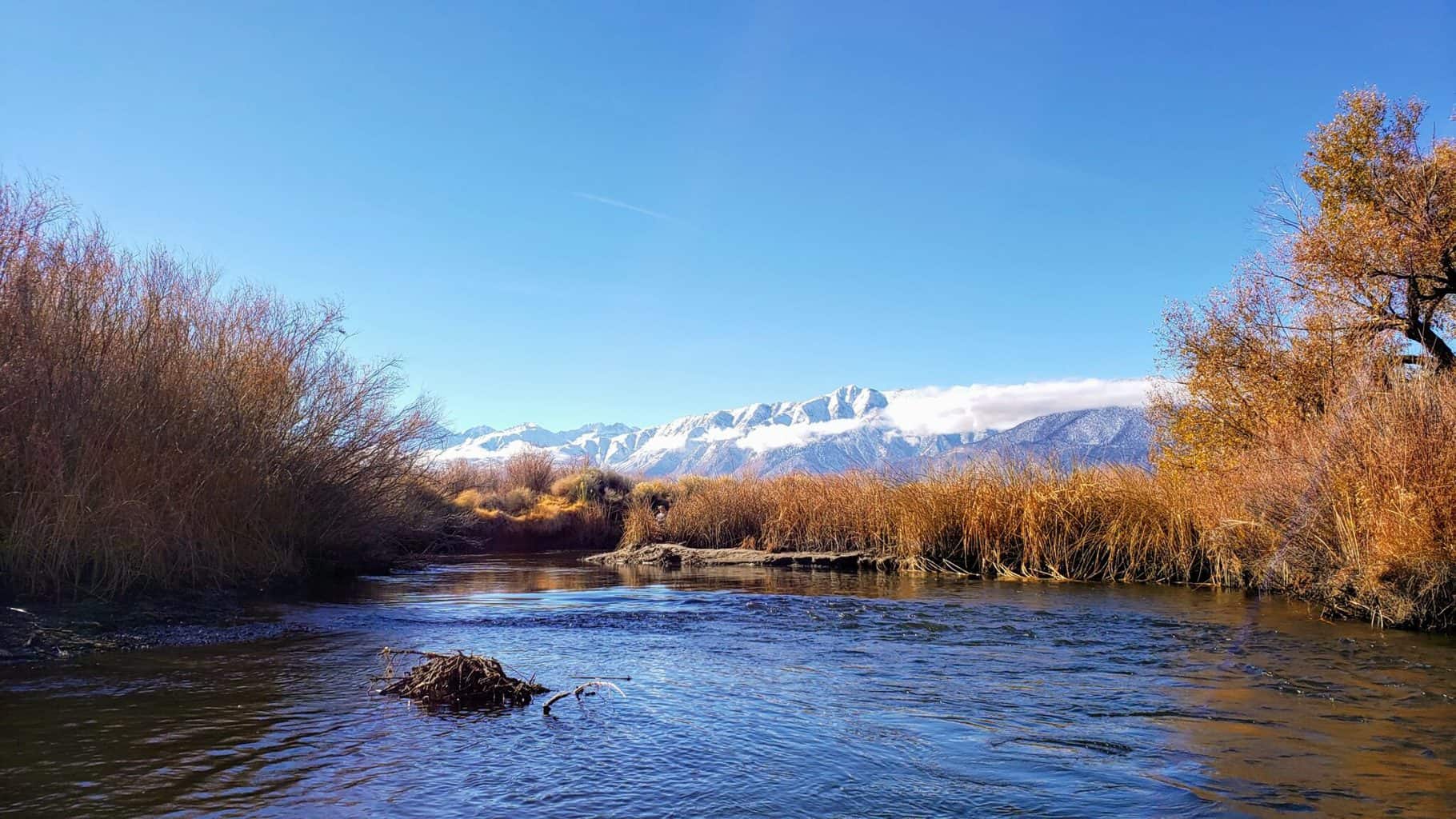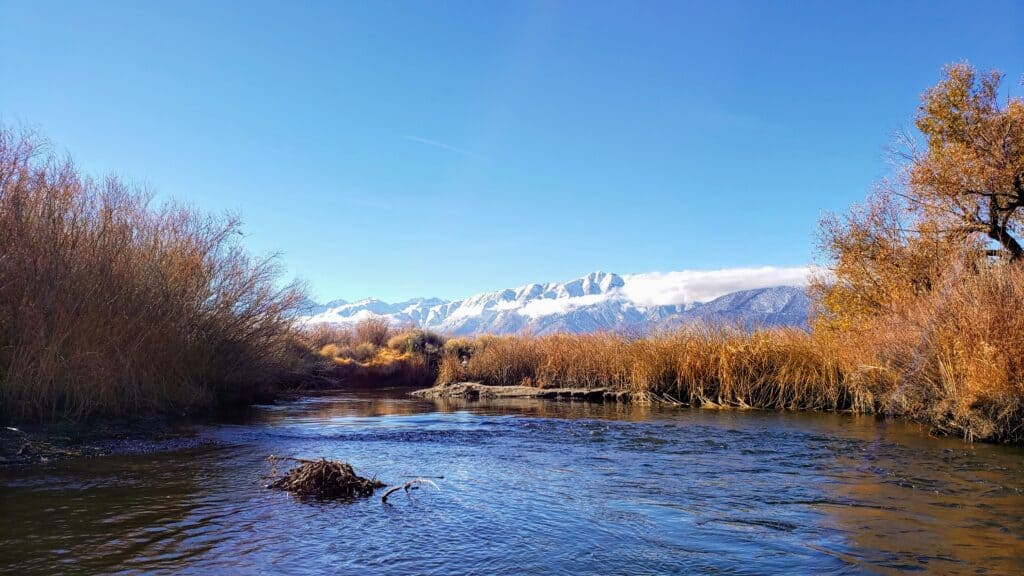 The river (both the upper and lower stretches) can be extremely windy, and fish are picky.
Streamers work well in the undercut banks of the upper river, as well as hare's ears and caddis nymphs drifted under an indicator or fished euro-nymph style.
The middle stretch of the Owens is typically considered to be the water between Pleasant Valley and Tinemaha reservoirs.
This middle section of the river is typically accessed and fished by drift boat, and it is a 40-mile stretch of water, each mile incredibly productive.
The middle river is larger than the upper river, but the same fly patterns work in both stretches.
Fish can grow even bigger in the middle river than they do in the upper, sometimes surpassing 30 inches long. The Owens is a truly unique river, and one that every fly angler should get a chance to fish.
More: Owens River Fishing
More Great Fly Fishing Rivers in Central California
Truckee River
The Truckee River flows in both California and Nevada, and is a very productive fly fishing water in both states.
The California stretch is considered the upper river, and flows from Lake Tahoe to the town of Mystic before heading into Nevada.
This stretch of the river is very productive, and brown trout are the main target here.
Dry flies, terrestrial patterns and traditional nymph patterns like pheasant tails will pick up fish consistently.
Watch the flows on the river: Releases from Lake Tahoe vary by year, and the river levels can determine how productive the fishing will be.
Merced River
Likely the most popular fly fishing destination within the legendary Yosemite National Park, the Merced River offers a bounty of opportunities for fly anglers.
Though the fish in the river typically don't grow very large, they are plentiful and typically aren't very picky.
Perhaps the most enticing aspect about the Merced, though, is its setting – the massive mountains of Yosemite are as good a backdrop as any for a relaxing day or two of fly fishing.
San Joaquin River
The San Joaquin is a tranquil (and not to mention beautiful) freestone stream in a high mountain setting just south of Yosemite.
The San Joaquin is a great river to check out if you're looking to escape some of the more popular rivers nearby and enjoy a casual afternoon with numerous aggressive trout.
The fish in the San Joaquin, as is typical with this type of freestone stream, don't grow very large – many fish don't grow bigger than 12 or 14 inches, but the river sometimes offers up surprises.
This is a small river that runs through wild terrain. If you like exploring, hiking and scrambling down rocky ledges, the San Joaquin is a great option. Dry-dropper rigs are especially popular here in the summer.
East Walker River
Traditional tailwater fisheries are few and far between in California, but the East Walker is one of them.
The river is most commonly fished for trophy brown trout in the first mile or two below Bridgeport Reservoir, as this stretch has ideal conditions for large trout to thrive.
The stretch below the dam can often be quite crowded, so don't be afraid to venture downstream, as there are plenty of excellent opportunities further below the dam.
Like most other tailwaters, the river levels on the East Walker can vary dramatically, from just 20 or 30 cubic feet per second in the winter to nearly 1000 at other times during the year.
Be sure to check conditions before you go out, as anything above 400 cfs can make the river difficult to fish and wade.
Hot Creek
Similar to the Upper Owens, Hot Creek is a small stream with huge fish. It is one of the most productive dry fly waters in Central California, and offers challenges for beginner and experienced anglers alike.
Mayflies and midges make up the bulk of the hatches at Hot Creek, and you'll typically find some sort of hatch no matter what time of year you get out to the creek.
Most of the fish in Hot Creek are small, but don't let that fool you – there are massive trout lurking around every corner.
Hot Creek gets a lot of fishing pressure, so keep in mind that the fish are wary and can be difficult to catch. But when the fishing is on, it's some of the best fly fishing in all of California.
Mammoth Creek
A tributary of Hot Creek, Mammoth Creek is a great – albeit very popular – spot for a casual fly angler to spend an afternoon.
Mammoth Creek is not as well known as other rivers for its huge fish or overly productive fishing, but the fish are eager to take a fly and the scenery is next to none.
Mammoth Creek is consistently stocked with rainbow trout, which are often feisty and provide a great opportunity for a novice fly angler to test their skills.
Best Fly Fishing Rivers in Southern California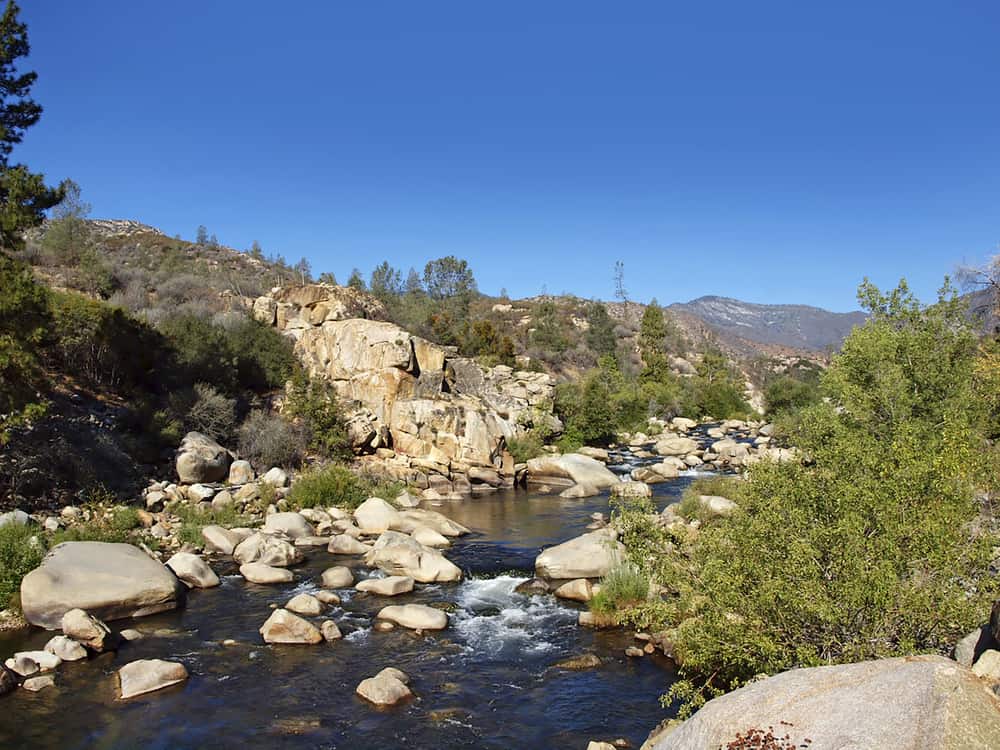 Our top choice: Kern River
Southern California is typically known for its sunny-all-year weather and sprawling beaches, not for its fly fishing opportunities.
There's a good reason for that: productive fly fishing rivers in Southern California are fewer and farther between compared to farther north, but that doesn't mean they don't exist.
The true diamond in the rough is the Kern River.
Located in the Sequoia National Forest northeast of Bakersfield, the Kern is an unlikely spot that consistently produces large rainbow trout.
Golden trout, a rarer cousin of the rainbow trout, are native to parts of the Kern River basin, but they are much more difficult to find than their rainbow-colored counterparts.
The Kern River is popular both above and below Isabella Lake, but for entirely different reasons.
Above Isabella Lake is the Upper Kern River, which is rugged trout country. There are a couple dozen miles of accessible water, though some hiking and scrambling up and down cliffs is necessary to get to some of the less popular water.
Caddis, stimulator and Parachute Adams are great options if you're looking to take some fish off the surface on the Upper Kern, while pheasant tails, zebra midges and frenchies all catch fish if you prefer to nymph.
Below Isabella Lake, the Kern River is slower and warmer, making it an excellent smallmouth bass river.
Streamers and poppers work well to target these aggressive bass – late spring through early fall is the best time of year to fish for smallmouth.
More: Complete Guide to Kern River Fishing
More Great Fly Fishing Rivers in Southern California
Los Angeles River
If you've ever seen the LA River, you might think that its inclusion on this list is a joke – it looks more like a concrete swamp than a river, and for the most part, that's correct. Don't let looks deceive you, though.
Although the river is long since empty of trout and steelhead, carp thrive in the murky waters, which can make for a unique urban fishing opportunity.
Plenty of people enjoy fishing for these "sewer salmon" (which you can read about in this Los Angeles Times article), and they are eager to take everything from wooly buggers to San Juan worms.
Many fly fishing purists would scoff at the LA River – everything about it is the opposite of what most fly fishermen dream of.
However, this uniqueness makes the LA River an important and special place to find fly fishing opportunities in an urban landscape.
West Fork San Gabriel River
Despite its glamorous beaches and big cities, Southern California is not bereft of scenic mountain ranges. One such mountainous region is the San Gabriel mountains, just northeast of Los Angeles.
There are plenty of streams with trout in the area, but the West Fork San Gabriel is the most popular and productive.
Bear in mind, though, that a productive stream in Southern California is very different from a productive stream farther north.
Honestly, if the West Fork San Gabriel had been located in Northern California, it would not have been featured in this article.
Though the fish are quite small and fishing has declined in recent years, the West Fork San Gabriel is still popular amongst locals, and serves as a reminder that finding fly fishing opportunities on the borders of a massive city is still very possible.
San Jacinto Mountains (Various Streams)
Southeast of the San Gabriel mountains lie the San Jacintos, a scenic group of peaks offering modest fly fishing opportunities for anglers willing to explore.
Though there isn't one river in particular that fly fishermen gravitate to, there are dozens of streams in this area that contain healthy numbers of small trout.
Bring your two-weight, a couple attractor dry flies, and get ready to hike. It's always an adventure in the San Jacintos, and if you're equipped with the right gear, it can certainly be a fun one.
Conclusion
California is packed with many of the best fly-fishing rivers in the United States.
Whether you're interested in exploring the densely forested, steelhead-filled regions of the far north or you're excited about fishing for carp in the industrial river in Los Angeles, you'll no doubt have a blast.
Carter Reschke is a freelance writer based in Oregon. Passionate about the outdoors, Carter is a fly fishing aficionado and spends his days on the river when he's not writing.